Touch VPN Review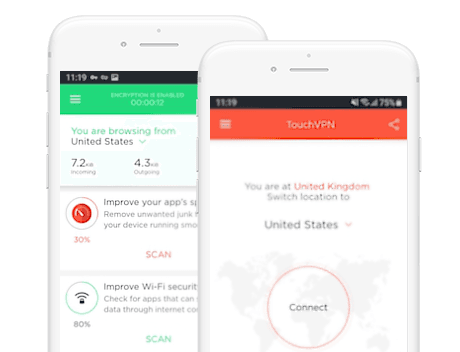 Privacy & Logging Policy
Touch VPN's logging policy is a concern
Touch VPN is owned by Aura, a company incorporated in the US. Aura has a general privacy policy and a VPN specific one, with both logging far too much of your data.
Aura assures readers:
"Aura does not record your VPN browsing activities in any way that can be associated back to you."
The VPN privacy policy then goes on to immediately undermine this statement:
The fact Touch VPN needs to know your "approximate geographic location" based on your IP address goes to show how far it is from being a privacy-friendly VPN.
The service justifies the above by claiming that knowing your location helps "to provide you with [a] better service." How this is supposed to work exactly, we're not quite sure.
Even if Touch VPN didn't log your IP address, your approximate location combined with your internet service provider would be enough to identify you.
Touch VPN talks about how it uses "tracking technologies," such as cookies and page tags. It's basically tracking all of your clicks and activities.
You even have to allow the app to track your phone in your device's settings in order to use it.
The VPN service is also prepared to "allow [its] business partners to place certain tracking technologies in [its] services." These "business partners" include 1Password and Identity Guard.
Overall, Touch VPN's privacy policy is a mess.
SUMMARY
Here's a list of everything Touch VPN logs:
Original IP address (encrypted and deleted after each session)
Duration of VPN session
Bandwidth consumed during VPN session
Domains accessed by users (anonymized so as not to be identifiable to a specific user)
Device hash
Information about approximate geographical location
Internet Service Provider
Timestamps
Referring URLs
"Information about the nature of the requests that you make to our servers"
US-based Ownership
Touch VPN is owned by digital security company Aura, based in the US. The company is also the developer behind Betternet.
Being American-owned is far from ideal, as the United States has extremely intrusive privacy laws and is a founding member of the Five-Eyes intelligence-sharing alliance.
Since Touch VPN openly logs your web activity, being based in the United States is of great concern.
Speed
Fast connection speeds but limited data
We couldn't carry out our full, in-depth speed tests on Touch VPN due to its daily data cap of 500MB.
We were able to conduct speed tests connecting to the UK and US on the iOS app before exceeding our data limit.
On Android, we were able to test our connection to the UK and Germany before we were told to upgrade to a premium plan for a greater data allowance.
The results below use data taken from our Android tests:
Local Speed Test results before using Touch VPN:
Download Speed: 99Mbps
Upload Speed: 98Mbps
Ping: 7ms
Local Speed Test results with Touch VPN:
Download Speed: 90Mbps
Upload Speed: 95Mbps
Ping: 11ms
Download speed loss when Touch VPN is running: 9%
For a free VPN, a 9% speed loss in download speed is excellent on a local connection. Frustratingly, you can't take advantage of these fast speeds for anything other than browsing due to the 500MB data cap.
We couldn't obtain a full set of results as Touch VPN's Android app doesn't offer US servers on its free version and our data limit ran out when testing our long-distance connection to an Australian VPN server.
However, we were able to test our medium range connection speeds to Europe.
Here's our results when connecting to Germany:
Average download speed: 93Mbps
Average upload speed: 92Mbps
Ping: 28ms
These are very fast speeds, especially from a free service. Once again, the usefulness of these speeds is massively limited by the data cap.
We still don't recommend purchasing the premium version for unlimited data due to Touch VPN's intrusive logging policy and poor streaming performance.
Touch VPN performed much worse on desktop. The results below are taken from the Microsoft store app.
Local speed test results before using Touch VPN:
Average download speed: 99Mbps
Average upload speed: 99Mbps
Ping: 7ms
Local speed test results with Touch VPN:
Average download speed: 53Mbps
Average upload speed: 50Mbps
Ping: 14ms
A 46% speed loss is really poor on a local connection. We exceeded our data limit before we could test our connection to longer distance servers but it's likely our speeds would have dropped even further.
Server Locations
Great server network for a free service
24 Countries
29 Cities
Not DisclosedIP Address
Touch VPN's macOS and iOS apps have servers in 24 countries and 29 different cities. This is great for a free service.
There are city-level server options for the US and UK:
United States: Los Angeles, Miami, Newark, San Jose, New York.
United Kingdom: London, Manchester.
The server network is fairly widespread. There are servers available in Asia, including Japan, Singapore, and Hong Kong.
The Android version has an identical server network aside from paywalling the US and Canada servers.
The Microsoft store app has the largest server network at 25 locations, adding a Bulgarian server. Despite the increased coverage, there aren't any city-level options.
Confusingly, the Windows app only offers one server location labeled Optimal. You can connect to this server but the VPN connection collapses as soon as you load a webpage.
Touch VPN's paid version increases the server network to 54 countries and 70 cities.
You won't find any servers in Africa on any version of the VPN service. South America is only represented by servers in Brazil and Chile.
Read our HideMyAss review if you want a wider selection of servers
Streaming
Works with zero streaming services
As with most free VPNs, Touch VPN is unable to access any streaming services.
We found that Touch VPN consistently fails to unblock US Netflix and other streaming services on both its VPN apps and browser extensions.
You also wouldn't be able to stream any content for long with Touch VPN's restrictive 500MB data limit.
According to Netflix's own guidelines on data usage, you would only be able to stream two hours of content on the lowest video quality setting with Touch VPN.
If you want to unblock international Netflix libraries on a budget then use one of these free VPNs to bypass geo-restrictions.
Torrenting
Logs your data & doesn't work
Touch VPN previously didn't support P2P activity on any of its servers. We contacted Touch VPN's support team for clarification and received this reply:
Despite what Touch VPN claims, torrenting still isn't allowed. We ran several torrenting tests and our client paused every single time Touch VPN was active.
Even if Touch VPN did permit torrenting we still couldn't recommend it as it logs far too much of your data and its jurisdiction is in the privacy-unfriendly US.
Moreover, your connection wouldn't be secure enough to torrent with Touch VPN. A VPN kill switch is an absolute must for file sharing, but only the Android app comes equipped with one.
If you're looking to protect your P2P activity, we recommend looking at our best VPNs for torrenting, instead.
Bypassing Web Censorship
No obfuscation to beat censors
Touch VPN is no good if you need to connect outside of China or any other highly-censored country.
There are no obfuscation tools to hide the fact that you're using a VPN, so your government or ISP can detect and block your traffic with little effort if they wanted to.
Even if by chance you're able to bypass China's Great Firewall, or other blocks in censoring countries, Touch VPN doesn't have the necessary security features to maintain your privacy.
Let's not forget its ridiculously intrusive logging policy that means all of your online activity is monitored and stored, meaning it's barely an improvement on not even using a VPN.
Security & Technical Features
Outdated encryption protocol & no kill switch on iOS
| Protocols | Available in Touch VPN |
| --- | --- |
| IKEv2/IPSec | No |
| OpenVPN (TCP/UDP) | Yes |
| Proprietary | Yes |
| PPTP | Yes |
| WireGuard | No |
| Encryption | Available in Touch VPN |
| --- | --- |
| AES-128 | No |
| AES-192 | No |
| AES-256 | No |
| Blowfish | No |
| ChaCha20 | No |
| Undisclosed | Yes |
| Security | Available in Touch VPN |
| --- | --- |
| DNS Leak Blocking | No |
| First-party DNS | No |
| IPv6 Leak Blocking | No |
| Supports TCP Port 443 | No |
| VPN Kill Switch | No |
| WebRTC Leak Blocking | Yes |
| Advanced Features | Available in Touch VPN |
| --- | --- |
| Ad Blocker | Yes |
| Dedicated IP | No |
| Double VPN | No |
| Smart DNS | No |
| Static IP | No |
| SOCKS | No |
| Split Tunneling | Yes |
| Tor over VPN Server | No |
| Tracker Blocker | No |
Touch VPN is not safe.
Its logging policy is incredibly invasive and includes the collection of personal data such as your IP address, location, browsing activity, and device type. This means your data is never secure when using Touch VPN, even if your traffic is encrypted.
We couldn't find any information on Touch VPN's website or applications about the encryption and VPN protocols in use. We asked the support team to clarify the encryption and protocols in use and were told:
"All device that is compatible with Touch VPN is using PPTP encryption and It is automatically set [sic]."
This is troubling. PPTP is an insecure and outdated protocol that should not be used under any circumstances. In fact, it's been shown that a skilled attacker can hack into a PPTP-encrypted VPN connection in just a few minutes.
As none of the Touch VPN applications, aside from Android, provide any information on the protocol in use, we can assume that they all run on PPTP.
We struggled to test Touch VPN's encryption on Windows as the VPN simply doesn't work. The VPN connection would collapse almost immediately so we were unable to analyze the traffic.
However, on the Microsoft store app, we found that our DNS requests were being leaked. This means your real IP address and browsing activity is visible to anyone monitoring your connection.
You won't find a kill switch on any of the free Touch VPN apps, apart from Android. This means your personal data is exposed in the event of a sudden VPN disconnection.
We tested Touch VPN using our kill switch tool to see if the iOS app had a hidden kill switch enabled by default. As expected, Touch VPN leaked our real IP address every time, confirming the absence of a kill switch.
Surprisingly, Touch VPN has introduced a split tunneling feature on both of its mobile apps. The iOS app also comes with its own in-built ad blocker.
The Fireshield ad blocker performed poorly in our testing. It managed to block a meager 22% of the most common advertisements and trackers.
When compared to conventional ad blockers, like uBlock Origin scoring 91%, this is an awful result.
Unlike the other platforms, Touch VPN's Android app gives you a choice of VPN protocols. You can choose between Touch VPN's proprietary HydraVPN protocol and the trusted OpenVPN UDP and TCP.
We asked the support team to clarify whether the Android app automatically uses PPTP or only the protocols listed above:
Their response was confusing. The support agent described PPTP as an encryption cipher, like AES-256, when it's actually a VPN protocol. Mixing up the two doesn't bode well for Touch VPN's security.
Overall, there's no way we recommend Touch to anybody who takes their online privacy and security seriously. We would also like to see the split tunneling and ad blocker features become available across all platforms.
Device & OS Compatibility
Touch VPN's performance varies by platform
Apps
Touch VPN is available to download and install on the following devices:
Windows

Mac

iOS

Android
The available VPN protocols, security features, and overall performance of the app varies significantly by the platform you're using.
We've outlined some of the major differences below:
Touch VPN's Windows Client & App
Touch VPN's Windows app resembles a low-effort browser extension. It consists of a large Connect button and a few basic options on the left hand side of the client. This is the version of Touch VPN that you can download directly from the Touch VPN official website
Clicking the Connect button only ever connects you to the Optimal server location. All other locations are restricted to the paid version only.
You won't be able to load a single webpage or streaming service as the VPN connection collapses immediately. This makes the Windows app completely useless.
Touch VPN has the most support on Windows. There's several FAQs and a text box where you can ask questions and raise issues.
The Settings tab is extremely stripped-back. You can toggle whether the app opens on Windows launch, but that's it. There's no option to change your VPN protocol or even see which protocol is in use.
For a Windows app, this is incredibly poor.
Alternatively, you can use the Touch VPN app downloaded via the Microsoft Store on Windows.
You can connect to 25 different server locations on the Microsoft app but that's its only strong point.
The app leaks your DNS requests, restricts you to a 500MB data cap, and provides no information regarding the VPN protocol in use.
There's also no settings or advanced features whatsoever.
Touch VPN's macOS Client
Touch VPN initially seems to offer a range of features on macOS, however most of them are locked behind a paywall.
Despite being a security essential for any VPN service, Touch VPN restricts its kill switch to the paid version. A VPN kill switch is vital for keeping your data secure in the event of an unexpected VPN disconnection and should be made available as the bare minimum.
Similarly, Touch VPN's ad block feature and its in-app support are both exclusive to the premium version.
The rest of the settings are sparse. You can customize the app's cosmetics and start-up but that's about it.
You can connect to 24 different countries on macOS, including city-level options in the US and UK. This is impressive for a free VPN, however we don't recommend you connect to a single location as Touch VPN uses PPTP on macOS.
Touch VPN's iOS Application
Touch VPN's iOS app is basic and simple to use.
The app is fairly standard, consisting of a Connect button in the middle with the option to change your virtual location below.
There's no information about the VPN protocol in use, if any, as well as no VPN kill switch.
Strangely, Touch VPN's iOS app is the only one to come equipped with a free ad blocker.
Its server coverage is identical to the macOS client with 24 different countries available to connect to.
As with all Touch VPN apps, the iOS application is limited to a 500MB daily data cap.
Touch VPN's Android Application
Touch VPN's Android app exceeds the very low bar the service has set for itself. It's easy to use, encrypts your traffic, and comes equipped with a VPN kill switch.
It features the same large Connect button and white and orange color scheme. Where the Android app differentiates itself is the level of security it can provide.
The app lets you choose between its proprietary HydraVPN protocol and reliable, industry-standard OpenVPN protocols. This will encrypt your traffic and prevent the leaks that the other versions of Touch VPN suffer from.
The Android app is also the only free version of Touch VPN that comes with a VPN kill switch. Although, the kill switch is not built into the VPN app and requires you to enable Android's Always-on VPN feature.
Its server network isn't as extensive as the Apple platforms, only covering 22 countries. This is still excellent for a free VPN but the absence of UK and US servers on the Android app is a significant loss.
Touch VPN offers a serviceable free VPN on Android but we still can't recommend it due to its awful logging policy, poor streaming capabilities, and restrictive data cap.
Browser Extensions
Chrome

Firefox
You can download Touch VPN as a Chrome and Firefox browser extension – although we don't recommend it.
It comes with the option to connect to eight locations, including:
Ascension Island
Canada
France
Germany
Netherlands
Russia
UK
US
We couldn't load a single webpage using the Firefox extension, and the Chrome extension continually assigned us the wrong IP address.
Both browser extensions are tied to the invasive Aura privacy policy so your personal data will be logged when using them.
You should avoid Touch VPN on Chrome and Firefox if you want to keep your online browsing secure and private.
Ease of Use
Extremely simple applications
How to Install & Set Up Touch VPN
Downloading the app on Windows can take several attempts as Touch VPN uses an outdated Microsoft installer.
Installing Touch VPN on Android or iOS is simply a case of accepting the privacy policy at start-up. There's no sign-up, payment details or login credentials required.
The macOS client will present you with a monthly or yearly payment plan following installation. But don't worry, you can click proceed with basic on either option to skip this.
Touch VPN couldn't be easier to add as a Chrome extension. All it requires is a click from the store or website.
All of the apps are simple and easy-to-use. That's one of Touch VPN's few positives, even if that's at the expense of a robust service.
Customer Support
Unhelpful & limited support
| Customer Support | Available in Touch VPN |
| --- | --- |
| 24/7 Live Chat Support | No |
| 24/7 Email Support | No |
| Chatbot | No |
| Live Chat Support | No |
| Email | Yes |
| Email Support via Online Form | No |
| Tutorial Videos | No |
| Online Resources | Yes |
Touch VPN's online resources are non-existent. There's barely any information on its website and clicking on Contact Us immediately redirects you to the customer support email.
You won't be able to ask the support agents anything until you purchase Touch VPN's premium package and provide proof of subscription. It's almost unheard of for a VPN service to limit customer support to paid users.
The Windows client is your best bet for contacting a support agent. It features an in-app ticket system as well as some FAQs.
The macOS support section is almost identical to Windows except it paywalls the ticket system.
The iOS app has a Help tab in its settings which redirects you to the support email when tapped. Again, you need a premium account in order to access this service.
The Android app simply has a Send Feedback section. We tried asking a question through this feature but we never received a response.
The Bottom Line
An insecure VPN that doesn't work properly
Avoid this VPN at all costs.
Touch VPN is a poor quality in almost every aspect.
It provides zero customer support, leaks your DNS requests, and won't work to unblock streaming services.
The VPN protocols for a majority of the platforms are outdated and its invasive logging policy, coupled with its US jurisdiction, puts your privacy at risk.
The 500MB data cap across all devices hugely restricts what you can do on an already limited VPN service.
The website, apps, browser extensions, and customer support are all riddled with typos and false information.
Overall, this is a highly unprofessional and useless VPN that falls far below average for both entertainment and privacy purposes.
We recommend you avoid Touch VPN entirely and consider more established free VPN services.
Alternatives to Touch VPN
Windscribe
Windscribe Free is currently the best free VPN. It's very secure as free services go and picks up some nifty speeds. It protects without costing a cent. Read Windscribe review
Surfshark
Surfshark is just as easy to use as Touch VPN, but without any of the security flaws. It's fast, secure, and of the best VPNs we've reviewed. Read Surfshark review
---
User Feedback for Touch VPN