Disclosure: Top10VPN.com is reader-supported. We may earn commissions if you buy a VPN through links on our site.
TunnelBear Review
Ranked #30 out of 72 VPNs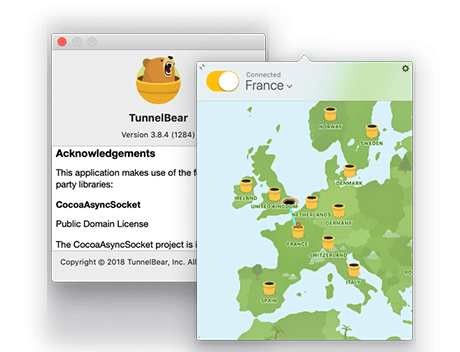 TunnelBear is a quirky VPN that – according to its own website – "millions of people trust."
But are they right to trust this bear-themed VPN?
We've put TunnelBear VPN through its paces to find out how good it really is, and to answer questions like these:
Is TunnelBear safe?
Does it keep logs?
How fast is TunnelBear?
Does it work with Netflix?
Can you torrent using TunnelBear?
Bear with us and we'll answer all these questions and more in our comprehensive VPN review.
You can get TunnelBear for free – we've done a separate review of the complimentary version here.
Before we start, here's a quick look at TunnelBear's pros and cons:
TunnelBear Pros & Cons
Fairly quick VPN speeds
Privacy-friendly logging policy & no IP/DNS leaks
Torrenting permitted on all VPN servers
GhostBear feature works in high-censorship countries
Simple set-up & VPN apps for four popular platforms
Free plan is a great way to test out the VPN software
Very small VPN server network (23 countries)
Doesn't work with Netflix or iPlayer
Based in privacy-unfriendly Canada
Can't install it on routers
No live chat feature
Limited payment options
TunnelBear Key Summary
Data Cap
Speed
Logging Policy
Data Leaks
Jurisdiction
Servers
IP Addresses
Countries
US Netflix
Torrenting
Works in China
Support
Cheapest Price
Official Website
Premium
Free
Unlimited
500MB
77Mbps
52Mbps
Anonymous Server Usage Data
Anonymous Server Usage Data
No
No
Canada (Five-Eyes Member)
Canada (Five-Eyes Member)
Not disclosed
Not disclosed
Not disclosed
Not disclosed
23
23
No
No
Unlimited
Permitted
Unreliable
Unreliable
Email & Online Resources Only
Email & Online Resources Only
$4.17/mo over 2 years
N/A
Tunnelbear.com
Now that you know the basics we'll go into more depth about this VPN service, starting with TunnelBear's history and logging policy.
Who is TunnelBear?
About & Logging
TunnelBear was founded in 2011 and is incorporated in Canada, a nation that shares intelligence data with the US and UK (Five Eyes).
While TunnelBear is required to comply with Canadian law enforcement agencies if supplied with subpoenas, warrants or other legal documents, it doesn't collect any information that could be traced back to you as an individual.
In early 2018 TunnelBear was acquired by McAfee, which is based in the US, another country belonging to the Five Eyes alliance.
There's no reason to worry though – with McAfee now owning TunnelBear nothing has changed. The service is still trustworthy, safe, and secure.
TunnelBear shows its commitment to transparency by issuing a yearly transparency report, which lets users know whether it has handed over user data to authorities.
The 2019 report states that from April 1 2018 to September 30 2019 TunnelBear received 14 requests from authorities. It did confirm that one user had an account (through the user's email address), but supplied no usage data related to the account or any other accounts.
Logging Policy
TunnelBear is very close to being a no-logs VPN, and its privacy policy is one of the most transparent and clearest that we've seen.
The following basic connection metadata is stored and used for TunnelBear customer support and troubleshooting purposes:
Your OS version
The version of the TunnelBear app you use
Total bandwidth used this month
Whether or not you've connected in the last month
Reassuringly, none of these VPN logs can be used to personally identify you.
TunnelBear was recently featured in a report conducted by the CDT (Center for Democracy & Technology) on "Signals of Trustworthy VPNs".
The report discloses that each server is hardened with full disk encryption, malware and intrusion scans, and intrusion protection techniques. These protect users personal information as much as possible to keep you safe online.
Fairly quick speeds on nearby servers, slow over long-distance connections
Speed & Reliability
TunnelBear won't give you impressively fast speeds, but same-country VPN connections will be quick enough for most.
With around a 13% drop-off for download speeds when connected to the nearest VPN server, you should be able to stream in HD with no issues.
Local Speed Test Results
Before using TunnelBear:
88.22

98.6

Ping

ms

3
When connected to TunnelBear:
77.03

71.99

Ping

ms

9
Download speed without TunnelBear: 88.22Mbps
Download speed with TunnelBear: 77.03Mbps
Our download speed loss when TunnelBear is running: 13%
Connecting from the UK to the TunnelBear's US East Coast VPN server doesn't provide the fastest speeds we've seen (61% drop-off), but it'll be good enough for casual browsers.
Have a look at the average download and upload speeds we experienced connecting from the UK to TunnelBear VPN servers in:
USA: 34Mbps (download) & 14Mbps (upload)
Germany: 66Mbps (download) & 50Mbps (upload)
Singapore: 16Mbps (download) & 3Mbps (upload)
Australia: 5Mbps (download) & 1Mbps (upload)
TunnelBear's uploads and ping times – when connected to a nearby server – are also pretty fast, though, which makes it a decent choice for torrenters and gamers.
To find out how we test VPN speeds, please read our page How We Review VPNs here.
Very small VPN server network with just 23 countries
Server Locations
23
Countries
23
Cities
Undisclosed number of
IP Addresses
TunnelBear provides a very small VPN server network comprising of just 23 countries.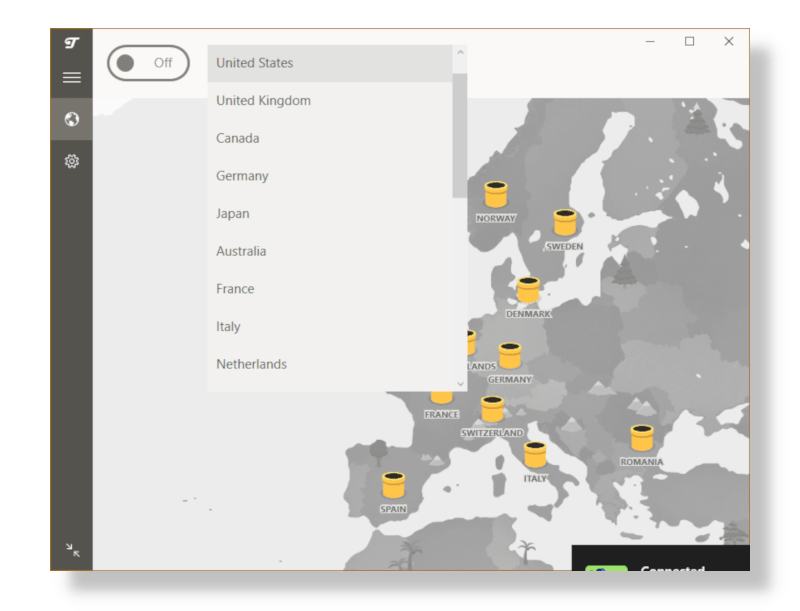 TunnelBear won't reveal the number of physical servers – it has no virtual servers – or IP addresses it maintains, but the company owns all of them, which is reassuring from a privacy point of view.
TunnelBear covers the most obvious locations such as the US, Australia, and the popular countries in Western Europe like France, Germany, the Netherlands, and the UK.
Hong Kong, India, Japan, and Singapore are available for those in Asia-Pacific, while VPN servers in Mexico and Brazil give (minimal) nearby options for those in South and Central America.
TunnelBear has no VPN servers at all in Africa, though.
Should you need more server coverage outside the above areas you're better off going with another VPN service – many VPN services have at least 60 country servers, if not more.
Unfortunately, TunnelBear doesn't offer any city-level VPN servers – if you want to connect to the US you might find not being able to choose a specific state frustrating.
Not good for streaming Netflix, but torrenting is supported
Streaming & Torrenting
We don't recommend TunnelBear for big streaming fans.
For several months now, TunnelBear hasn't worked with either Netflix or BBC iPlayer, which is hugely disappointing.
TunnelBear's lack of VPN city-level server choice is a major hindrance here, so there are no backup options when one server fails.
While BBC iPlayer and Netflix are actively cracking down on VPN services, there are still plenty of VPNs that work to unlock the streaming services' content. You can see our top recommendations here.
Torrenting
TunnelBear is a good VPN for torrenting, especially because P2P activity is now permitted on all of its worldwide server locations.
Thanks to decent upload speeds, a VPN kill switch, and a minimal VPN logging policy, TunnelBear is also a safe VPN for torrenting.
Frequent VPN disconnections make it unreliable for China
Censorship
While TunnelBear certainly has the necessary VPN features to bypass the Great Firewall of China it often doesn't work, with disconnects far too frequent for it to be considered useful.
Despite this, there are some TunnelBear users that still swear by this VPN service for China, having never had any issues, and speeds are fairly quick if you connect to the nearby Singapore server.
If you need a reliable VPN for bypassing Chinese censorship, read our list of the best VPNs for China.
Due to its proprietary GhostBear (stealth) VPN protocol, TunnelBear is still a good choice for connecting out from other high-censorship countries such as Iran or Turkey.
TunnelBear's small server network means that VPN speeds probably won't be brilliant, but in most cases you should still be able to access government-blocked content.
Compatibility limited to five main platforms
Platforms & Devices
Apps
Windows
Mac
iOS
Android
Linux
TunnelBear provides custom VPN apps for four of the most popular platforms:
Microsoft Windows
Apple MacOS
iOS
Android
It is possible to use TunnelBear with Linux, but this does require some manual configuration and there is only a limited amount of support available.
You can use TunnelBear VPN on up to five devices at once on one subscription.
Games Consoles & Streaming Devices
You can't install TunnelBear at router-level, so VPN protection is limited to the supported devices above.
That means that you won't be able to protect any games consoles or streaming devices.
If you're looking for simple plug-and-play solutions for your Sony PlayStation, Microsoft Xbox, Apple TV and more, then read about ExpressVPN's MediaStreamer feature.
Browser Extensions
TunnelBear offers proxy extensions (add-ons) for Google Chrome, Mozilla Firefox, and Opera web browsers. These are all very easy to download and add to your browser with no manual configuration necessary.
TunnelBear's proxy extensions don't include any advanced privacy features, nor do they offer the same level of encryption as the desktop VPN client, but they're definitely useful regardless.
TunnelBear doesn't currently provide a VPN extension for Safari browser.
Solid security features but lacking in configurability
Encryption & Security
Protocols

IKEv2/IPSec

OpenVPN (TCP/UDP)

Encryption

AES-256

Security

DNS Leak Blocking

First-party DNS

VPN Kill Switch

Advanced features

Double VPN
Please see our VPN Glossary if these terms confuse you and would like to learn more.
Despite its playful aesthetic, TunnelBear takes privacy seriously. Its level of encryption and solid VPN security features will effectively hide your IP address and keep you safe online.
TunnelBear uses OpenVPN and IKEv2 for Windows and iOS devices (it automatically chooses the protocol for you) and all other connections (MacOS and Android) exclusively use OpenVPN.
Both of these VPN protocols are secure and perform well, but we would have liked to see the option to choose between more protocols within the apps. You can toggle between TCP and UPD on Windows and MacOS, though.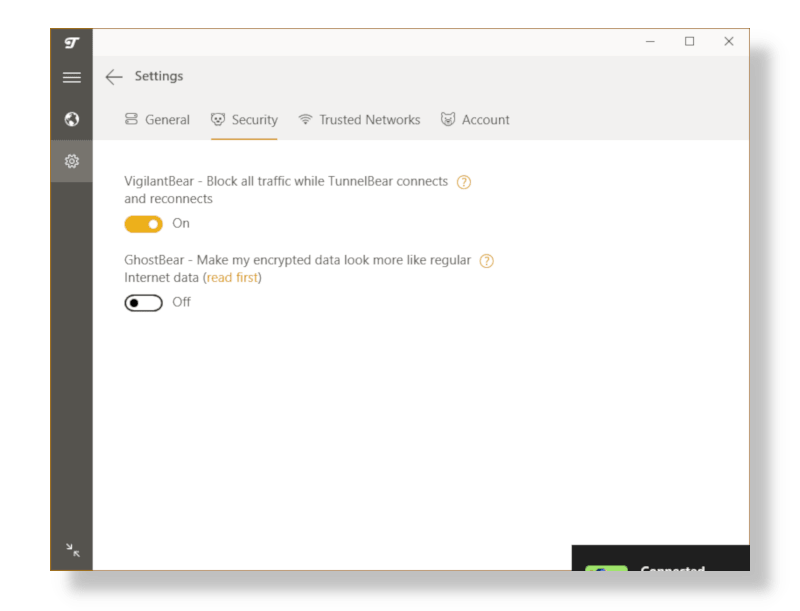 TunnelBear offers encryption via AES-256, a top cipher that's considered 'unhackable'.
We love TunnelBear's VPN kill switch, referred to in-app as 'Vigilant mode', that blocks all web traffic if the VPN connection gets disrupted for any reason, preventing your true IP address from being exposed.
TunnelBear operates its own zero-log DNS servers and it passed all of our independent VPN leak tests with flying colors. The DNS leak protection ensures that your ISP isn't able to monitor your browsing activity at any point.
Another useful feature is TunnelBear's proprietary 'GhostBear' (stealth) protocol, which scrambles your VPN communications and makes it harder for governments, businesses, and ISPs to detect your connection. It also provides you with a secondary layer of encryption.
You can use TunnelBear with Tor browser but it doesn't have any special features or servers for accessing the Onion network, so it'll likely slow down your connection significantly. TunnelBear will definitely go some way to keeping you safe on the dark web, though.
To prove its commitment to transparency and user safety, TunnelBear has undergone yearly independent security audits since 2017, which have looked into TunnelBear's apps, code, and infrastructure. Cure53 published the most recent audit results in January 2020 and the vulnerabilities the team discovered were promptly fixed by TunnelBear.
The audit concluded that TunnelBear is "a clear frontrunner among its VPN competitors when it comes to security."
Fun and simple VPN apps with easy setup
Ease of Use
How to Install & Set Up TunnelBear
TunnelBear's range of custom VPN apps is either cute or gimmicky, depending on either your point of view or how much you like software laden with bears.
The TunnelBear desktop client is incredibly simple to install and use, and the small number of advanced features are easy enough to find and well-organized. The mobile VPN apps are very similarly laid out.
TunnelBear opts for an original approach that's best suited to beginners, so experienced VPN users wanting lots of settings to play with might be better off with a different provider.
Browser Extensions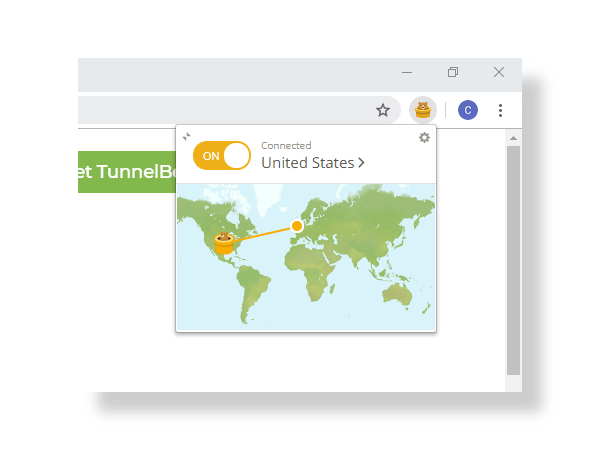 TunnelBear's browser extensions for Chrome, Firefox, and Opera all really quick to set up. Follow the link to the relevant add-on store on TunnelBear's website and download the extension. Log in, connect, and you're all set to browse the web from one of 22 server locations.
Decent online resources with no live chat support
Customer Support
| | |
| --- | --- |
| Email | Yes |
| Online Resources | Yes |
TunnelBear's customer support is largely good enough, but it can't quite compete with top-tier providers like NordVPN.
We were disappointed by TunnelBear's lack of live chat feature, and with email responses sometimes taking more than five hours it can get pretty frustrating if you just have a small query. We also don't like the fact that you have to create an account and sign in to ask a question.
Thankfully the resources on TunnelBear's site are very well-written and make huge efforts to make VPNs accessible to beginners and non-technical people, which is great.
Middling prices & no refunds
Pricing
TunnelBear Coupon
TunnelBear Pricing Plan
TunnelBear offers both a free plan and three different paid plans. Click the link to see our full review of TunnelBear Free.
You can pay for TunnelBear monthly, which costs a fairly reasonable $9.99 per month. If you sign up for the two-year plan you can save 58%, bringing the monthly cost down to $4.17.
TunnelBear accepts a limited range of payment methods:
Credit and debit cards
Bitcoin and BitCash (for one-year plan only)
You can't pay using PayPal, nor can you use other international methods like AliPay and UnionPay.
TunnelBear doesn't offer an official free trial, but you can sign up to the 'Little' (free) plan that comes with 500MB of free data to give you an idea of what it's like to use the software.
Unlike most other VPNs, TunnelBear doesn't come with a money-back guarantee, so if you change your mind for whatever reason you won't be able to get a refund.
Do We Recommend TunnelBear?
The Bottom Line
TunnelBear is cutesy and super simple to use but it takes privacy seriously, so that's why we recommend it for VPN beginners.
There aren't many configurable options and you can't install it at router level, but it does the basics right with minimal logging and no IP, DNS, or WebRTC leaks.
Alternatives to TunnelBear
Unlike TunnelBear, CyberGhost is great for streaming, with dedicated servers that unlock Netflix, BBC iPlayer, and more. It has more configurable options but is still very easy to use. You can install CyberGhost on routers, too. Read CyberGhost review
Surfshark is another beginner-friendly VPN, and it provides over double the number of server locations that TunnelBear has. It also works well with streaming services and devices. Read Surfshark review
You've read our expert review - read on for reviews from real users.
We value your opinion, whether it's positive or negative. Please leave a helpful and informative review, and don't disclose personal information or use abusive language. All user reviews are moderated to ensure they meet our posting guidelines.
Already use TunnelBear? Tell us what you think.
When a review is marked "Verified Customer" it means we've verified that the reviewer has had a genuine experience with the company.