Proton VPN Review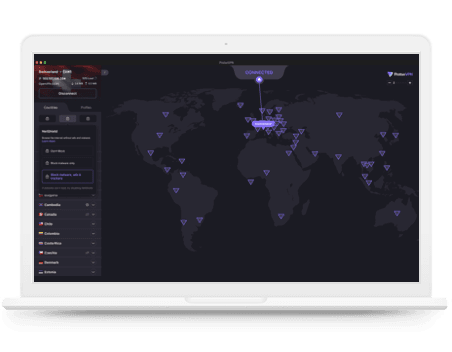 Privacy & Logging Policy
Logs Last Connection Timestamp
Proton VPN claims to have a true no-logs policy, but we found it does log some connection timestamps. However, these logs are minimal and still keep you private and anonymous online.
The VPN logs the specific time of your last successful login attempt, which gets overwritten each time you successfully connect to the VPN.
Proton VPN's support team confirmed this timestamp doesn't contain identifying information, such as your IP address, and is only recorded in order to "protect user accounts from password guessing attacks."
The single timestamp is detached from all other identifying characteristics and can't be used to identify you from your VPN activity.
This was put to the test in January 2019, when a Swiss court approved a request asking for information of a Proton VPN user. Proton VPN was unable to provide any user data, as it simply hadn't stored it.
Proton VPN is part of a small number of VPN services to have had their logging policies verified by a real-world test.
Moreover, Proton VPN has had its logging policy audited by a third party. Published in April 2022 by Securitum, the audit confirmed that Proton VPN doesn't retain any user data.
The only other information Proton VPN retains is your email address, payment information, and support tickets. This is a common practice among VPN providers, but you can enhance your anonymity by signing up using a private ProtonID and Bitcoin.
All stored profile data is encrypted and stored locally on its servers and is immediately deleted when you terminate your account.
Proton VPN is Based in Switzerland
Proton VPN operates under the jurisdiction of Switzerland, which is a good base for a VPN service provider.
Switzerland is a good VPN jurisdiction for these reasons:
Switzerland has strong privacy laws, a history of respecting user privacy, and does not require VPN providers to store data on users.
Switzerland is not part of the EU, allowing it to sidestep all EU data retention laws, like the Data Retention Directive (2006).
Switzerland is not a member of the 14 Eyes alliance or any other intelligence sharing coalition, meaning it does not have a formal structure set up for collecting and sharing surveillance data with other nations.
All of Switzerland's privacy-hostile laws, like BÜPF and NDG, do not apply to Proton VPN since the company isn't considered a "major telecommunication operator" nor a "major internet service provider."
This means Proton VPN benefits from all the advantages of its Swiss base, while also not having to abide by the drawbacks.
How Private Is Proton VPN Compared to Other VPNs?
The table below compares Proton VPN to five other private VPN services based on jurisdiction, data collection, and logging policy audits.
Price & Value
Several Expensive Pricing Plans
Proton VPN Subscription Prices
Proton VPN is unique in that it offers four different pricing tiers. In all, Proton VPN has a free plan and two paid plans: Plus, and Unlimited.
12 Month(s)

US$5.99/mo

Plus Plan: Billed $71.88 for the first 12 months, then $96 every 12 months thereafter
Here is a table comparing the features of each Proton VPN subscription plan:
| | Free | Plus | Unlimited |
| --- | --- | --- | --- |
| Monthly Price | Free | $4.99 | $7.99 |
| Simultaneous Connections | 1 | 10 | 10 |
| US Netflix | No | Yes | Yes |
| Countries | 3 | 66 | 66 |
| Secure Core | No | Yes | Yes |
| Additional Services | None | None | Mail, Calendar & Drive |
Using the table, you can decide what plan is best for you. If you want to use a VPN infrequently, use the free option. If you want more than just a VPN, consider the pricier Unlimited package.
We recommend the Plus subscription as the best option for most people, though. Primarily because it includes access to the Secure Core server network and unblocks streaming sites.
You can purchase the Plus plan monthly, every year, or every two years. The Proton VPN monthly package costs $9.99, or you can lower the cost by 40% to $5.99 if you purchase annually. The two-year plan costs $4.99 a month, which is an overall saving of 50%.
Payment & Refund Options
Proton VPN accepts payment via these methods:
American Express

Bitcoin

Cash

Mastercard

PayPal

Visa
The option to pay via cryptocurrency and physical cash is a nice touch if you don't want your Proton VPN account to be linked with any unique payment method. We rarely see these options from any other VPN provider, so its inclusion is notable.
There aren't any international payment options, like AliPay, if you're based outside of America or Europe.
Proton VPN offers a 30-day money-back guarantee which is no questions asked, and not subject to any data usage restrictions. Just request a refund by emailing the support team and the money will be back in your account within 14 days.
Speed
Fast Download & Upload Speeds
Our speed tests confirm Proton VPN is a fast VPN. But, it doesn't match the speeds of the very fastest VPNs, like those we saw in our Hotspot Shield tests.
The Proton VPN Plus and Unlimited plans deliver the fastest speeds. This is mostly due to less-congested 10Gbps servers and better hardware.
Local Speed Test results before using Proton VPN:
Download Speed: 100Mbps
Upload Speed: 100Mbps
Ping: 1ms
Local Speed Test results with Proton VPN:
Download Speed: 96Mbps
Upload Speed: 82Mbps
Ping: 13ms
Download speed loss when Proton VPN is running: 4%
Proton VPN's local connection speeds are good, dropping just 4% to 96Mbps. Wherever you're located, you'll experience a similar speed drop connecting to a nearby server.
With these fast speeds, we were able to download files quickly and load web pages instantly.
Long-Distance Speed Test Results
We tested Proton VPN's long-distance connection speeds using our same scientific manual speed testing method.
Our results showed that Proton VPN's long-distance speeds are impressive, with fast speeds recorded across the majority of locations.
Here are the full results we recorded when connecting to far-away servers from London, UK with a 100Mbps internet connection:
USA (New York):

Download: 91Mbps (9% slower)
Upload: 82Mbps (18% slower)

Japan (Tokyo):

Download: 75Mbps (25% slower)
Upload: 27Mbps (73% slower)

Germany (Munich):

Download: 95Mbps (5% slower)
Upload: 96Mbps (4% slower)

South Africa (Johannesburg):

Download: 83Mbps (17% slower)
Upload: 49Mbps (51% slower)

Australia (Melbourne):

Download: 65Mbps (35% slower)
Upload: 23Mbps (77% slower)
Proton VPN used to be a slow VPN service, but its long-distance speeds are now consistently fast. As you can see from our results, the VPN impressively maintained download speed losses below 35% across every location.
EXPERT ADVICE: To get the fastest speeds, make sure that 'VPN Accelerator' is enabled in the app's settings. It can be found in the Connection tab.
Proton VPN's Speeds Versus Other Popular VPNs
To ensure our speed test results are as accurate as possible, we also run a series of automated tests on 18 VPN services. That way, you can see live information on how fast Proton VPN is compared to the best VPNs on the market.
The graph below shows the latest download speed results from our New York location when connecting to a server nearby:
Streaming
Proton VPN Streams All Popular Streaming Services
Proton VPN's streaming ability depends on the plan you subscribe to. While its free servers are blocked by Netflix, Proton VPN works with US Netflix on its Plus servers.
Although Proton VPN claims it works with Netflix "in almost every country," our tests reveal it unblocks 10 regions.
Proton VPN Unblocks All Popular Streaming Services
Not only is Proton VPN a great Netflix VPN, it also unblocks Hulu, BBC iPlayer, Disney+, and Amazon Prime Video.
In the screenshot below, you can see us testing Proton VPN with BBC iPlayer.
Below is a list of Proton VPN's servers we tested that successfully unblock popular streaming services:
Torrenting
Fast & Secure Choice for Torrenting
Our P2P tests found that torrenting with Proton VPN is private and secure.
The VPN service provides dedicated servers for P2P file-sharing and a suite of security features including an internet kill switch.
All Proton VPN's server locations allow torrenting through P2P VPN redirect, although there are also high-performance servers specifically optimized for torrenting.
The problem is Proton VPN's torrenting servers are located in only twelve countries: eight in Europe, two in North America, and two in Asia.
Despite this limitation, Proton VPN delivered very fast P2P speeds in our VPN torrent tests.
Proton VPN Supports Port Forwarding
Proton VPN is one of only a few VPNs that support port forwarding. Using this, you can bypass the NAT firewall on your router and download files faster.
Proton VPN is a fast torrenting VPN anyway, but port forwarding increased our P2P speeds by 10%. The only downside is that it's currently only available on the Windows app. We hope Proton VPN adds it to other platforms soon.
Security & Technical Features
Highly Secure and Open Source
| Protocols | Available in Proton VPN |
| --- | --- |
| IKEv2/IPSec | Yes |
| OpenVPN (TCP/UDP) | Yes |
| WireGuard | Yes |
| Encryption | Available in Proton VPN |
| --- | --- |
| AES-128 | No |
| AES-192 | No |
| AES-256 | Yes |
| Blowfish | No |
| ChaCha20 | Yes |
| Security | Available in Proton VPN |
| --- | --- |
| DNS Leak Blocking | Yes |
| First-party DNS | Yes |
| IPv6 Leak Blocking | Yes |
| Supports TCP Port 443 | No |
| VPN Kill Switch | Yes |
| WebRTC Leak Blocking | No |
| Advanced Features | Available in Proton VPN |
| --- | --- |
| Ad Blocker | Yes |
| Dedicated IP | No |
| Double VPN | No |
| Smart DNS | No |
| Static IP | No |
| SOCKS | No |
| Split Tunneling | Yes |
| Tor over VPN Server | Yes |
| Tracker Blocker | No |
Proton VPN is one of only a few VPNs to have open-sourced its apps and published a third-party security audit.
The VPN's Windows, macOS, Android, and iOS apps are all open source. The source code is freely available to view on Github and all vulnerabilities discovered so far have been fixed.
The benefit of open source apps is that anyone can view and contribute to their development. This improves the app's security due to the error checking of a larger community.
This represents a level of transparency and commitment to security we rarely see from other VPN providers — we love that Proton VPN has made the effort to do this.
Proton VPN's Highly Encrypted Connections
As part of our security tests, we inspected Proton VPN's connection logs to assess the level of encryption. We were impressed with what we saw.
Here are Proton VPN's encryption specifications:
Traffic is securely encrypted using the AES-256 cipher.
Connections established via an RSA-2048 handshake.
Perfect Forward Secrecy via an ECDH key exchange.
Authentication is provided using an SHA-384 hash.
Our tests confirm Proton VPN's encryption exceeds the security needs of most users. The VPN's encryption will protect and hide your data from any potential snooper or attacker.
Proton VPN's Advanced Security Settings
Proton VPN's applications include many advanced security and privacy settings. Below we listed the most important app features:
Kill Switch
A VPN kill switch is a key security feature. Without one, you risk exposing your IP address to snoopers if your VPN connection disconnects unexpectedly.
Proton VPN includes a kill switch on its Windows, Mac, iOS, and Android apps. It's not enabled by default, so make sure you turn it on in the 'Connection' tab within the Preferences menu.
We put Proton VPN's kill switch to test by running a series of manual IP and DNS leak tests, while disconnecting the VPN connection. In all cases, the kill switch worked perfectly and did not expose our true IP address.
Split Tunneling
With split tunneling, your VPN creates a separate tunnel that goes directly through your ISP, just like you weren't using a VPN at all.
This feature is particularly useful for retaining compatibility with devices and services that require a local IP address, like a wireless printer, for example.
Proton VPN includes split tunneling on its Windows and Android app, but it isn't included on macOS or iOS. To use it, simply toggle on the apps that you want to be excluded from the encrypted VPN tunnel.
We tested split tunneling from the UK and were able to watch BBC iPlayer and access devices on our local network, all while using a Netherlands VPN server to safely download a torrent file.
EXPERT ADVICE: All apps you exclude from the VPN tunnel will use your true IP address exposed. Never use this setting for sensitive activities, like using free public WiFi.
Proton VPN's IP and DNS Leak Test Results
Before trusting a VPN with your sensitive data, conducting a real-world IP and DNS leak test is a good way to verify the VPN is working properly.
All Proton VPN's apps include IPv6 and DNS leak protection, but we needed to verify these tools actually work. We ran these tests using Proton VPN on both macOS and Android.
To test for any IP address leaks, we used ipleak.net. We connected to several Proton VPN servers, including the US, South Africa, Germany, and Australia. Proton VPN didn't leak our true IP address on any server.
We then used dnsleaktest.com to test Proton VPN for any DNS leaks. DNS leaks occur when your browser routes DNS requests through your ISP instead of the VPN, but we experienced no DNS leaks with Proton VPN.
This is no surprise, as Proton VPN operates its own DNS servers, and therefore directly handles your DNS requests. This removes the risk of leaks from third-parties.
NetShield Is a Poor Ad Blocker
Proton VPN Plus and Unlimited subscribers have access to NetShield, the company's ad, malware, and tracker blocker. You can enable this by clicking on the shield icon from the app home screen.
We found NetShield stops malware and trackers effectively, but it was very poor at blocking ads.
Unlike other ad blockers, NetShield doesn't fully prevent advertising elements from showing on web pages. Instead, it replaces them with a grey box, which is an eyesore.
On top of this, NetShield only works when you're connected to a Proton VPN server. Therefore, you'll have to stay constantly connected to Proton VPN to stop ads from showing.
Server Locations
Large Server Network Spanning 66 Countries
66 Countries
76 Cities
1,888+IP Address
Most of Proton VPN's servers are physical bare-metal servers and are physically located in their listed country. The only exceptions are the virtual servers in the Philippines, India, Vietnam, Cambodia, Egypt, Malta, Nigeria, Puerto Rico, and Thailand.
In other words, most of Proton VPN's server network runs locally and barely uses virtualization software. We prefer this approach, as it improves the security of the VPN service.
That said, Proton VPN rents the vast majority of its VPN servers from third-party data centers. We prefer VPN services to own most of their servers, as it reduces the possibility of server compromise or interference by bad actors.
A Proton VPN representative told us the company has taken extra steps to ensure its rented servers are secure and do not log any information. Proton VPN has always advocated for user privacy and security, so we trust them on this.
Proton VPN does own a small number of its servers, too. These are part of its 'Secure Core' network.
Proton VPN Offers Good Server Coverage
Proton VPN's servers cover every continent relatively well. Servers are located in popular countries like the UK, US, and Australia, as well as locations in other continents.
Proton VPN also lets you connect to city-level servers in the following locations:
Canada (3)
UK (3)
USA (12)
Proton VPN also displays server loads based on how many users are connected to that server and how intensive their activity is. This display lets you pick less congested and therefore faster servers.
Proton VPN's Secure Core Servers
40 of Proton VPN's servers are owned by the VPN provider and make up its 'Secure Core' network.
Enabling this feature, only available on 'Plus' and 'Unlimited' plans, bounces traffic via a Secure Core server before relaying it onto a website or application.
This feature is an example of Double VPN, also known as Multi-Hop. Double VPN typically routes your traffic through two VPN servers instead of one, increasing your security.
Moreover, because Proton VPN owns and has sole access to these servers, Secure Core is even more secure similar solutions like NordVPN's and Surfshark's Double VPN.
But, Secure Core VPN servers are only located in three locations: Switzerland, Iceland, and Sweden. These locations are purposely selected in light of the countries' strong privacy laws.
The drawback of using Secure Core servers is that they noticeably slow down your internet speed.
Below are the download speed reductions connecting from the UK to UK and US normal servers compared to secure server connections:
Normal Server:
UK: 96Mbps (4% loss)
US: 91Mbps (9% loss)
Secure Core Server:
UK: 30Mbps (70% loss)
US: 18Mbps (82% loss)
Download speeds are much slower using the Secure Core network given the increased encryption and distance the connection travels.
Bypassing Web Censorship
Bypass Internet Filters in Russia & Iran
Proton VPN has recently launched a new protocol, named Stealth. Stealth has been developed specifically to bypass web blocks in censored countries.
In our tests, Stealth has been extremely effective at accessing blocked websites and apps in Russia and Iran.
Stealth is only available on the VPN's Android, iOS, and Mac apps. We'd like to see the VPN add compatibility for Windows as soon as possible.
Doesn't Work in China
Our tests found that Proton VPN still doesn't work in China. Over months of testing on our Shanghai test server, we have not been able to unblock websites from China once.
After analyzing Stealth's open-sourced source code, we found that the protocol is essentially WireGuard over TLS. This means the web traffic is encrypted twice, theoretically making it harder for Deep Packet Inspection tools to block it.
However, China's Great Firewall is extremely effective at blocking TLS-based obfuscation tools. In turn, Stealth is unlikely to ever work in the country.
This isn't a surprise, considering many VPNs struggle to work in highly-censored countries. However, a handful of VPNs still work in China, with impressive results.
We'd like to see Proton VPN adopt similar obfuscation methods as these VPNs, like giving users access to a Shadowsocks proxy.
Occasionally, Proton VPN's 'TOR via VPN Server' advanced feature works in China. However, using Tor over VPN is very slow and unreliable. We don't recommend it as a regular solution.
Device & OS Compatibility
Compatible with Many Devices and Platforms
Apps
Windows

Mac

iOS

Android

Linux

Router
Proton VPN for PC
As we've come to expect, the Windows VPN client is the most complete.
The app for PCs includes all Proton VPN's advanced features, including a VPN kill switch, split tunneling, and 'alternative routing' — a feature that bypasses some blocked websites by routing connections to different Proton VPN servers.
Proton VPN for Mac
The macOS client recently added support for OpenVPN, WireGuard, and alternative network routing, which is a big improvement over previous versions. However, it does not support split tunneling.
Proton VPN for Android
The Android app is the best of Proton VPN's mobile apps and it retains most of the same features as the Windows version.
The Android VPN app does include an 'Always-on' feature, which automatically re-establishes a VPN connection in the event of a drop. In our tests, this initiated too late and failed to protect our IP address.
Proton VPN for iOS
In contrast, the iOS app is very limited and does not include split tunneling or alternative network routing. 'Always-on' is present, though.
Proton VPN for Linux
Proton VPN has developed native VPN software for Linux, with a full graphical user interface (GUI). This is rare among VPN services, and worthy of praise.
You can see the full summary of the differences between Proton VPN's apps in the table below:
Games Consoles & Streaming Devices
Amazon Fire TV

Android TV

Chromecast
Proton VPN doesn't have a Smart DNS feature for unblocking video content on devices like Apple TV or PlayStation.
The only workaround is to install Proton VPN on your home router, but it's unlikely your router is supported. The full list of compatible router models is available on the support section of Proton VPN's website.
Alternatively, you can buy a router pre-flashed with Proton VPN. This removes the difficult set-up process but is expensive.
Proton VPN's Android TV App
Proton VPN comes with apps for Android TV and Chromecast with Google TV.
We found the app easy to use and intuitively laid out, so you won't have a problem using it.
Proton VPN's App for Fire TV Stick
Proton VPN's Fire TV app can be installed from the Amazon Appstore. In our tests, it worked with US Netflix, Hulu, HBO Max, and more.
The app uses WireGuard and AES-256 encryption. Sadly, it doesn't include a kill switch.
Ease of Use
Functional Apps with Useful Advanced Features
How to Connect to a Server with Proton VPN
How to Change Settings in Proton VPN
Proton VPN's apps are dominated by a large world map from which you can browse all of Proton VPN's server locations and connect to the one you want. If you don't like map interfaces (we don't, particularly) then you can collapse the app down to a skinny window that's similar to a mobile app.
Although the app is quite simple, it's sometimes difficult to understand what the labels mean if you're inexperienced.
For instance, dedicated torrenting servers are not situated in a discrete section of the app and you can't search specifically for them, forcing you to locate them yourself. They're not clearly labeled either, with an ambiguous two arrow icon the only indication of their functionality.
Profiles Feature Is Useful & Convenient
The most unique aspect of Proton VPN's apps is its 'Profiles' feature. From many combinations, Profiles allows you to create a unique VPN connection to exactly suit your needs. The feature allows you to choose from the type of server, the server location, and whether you want to connect to a specific server. You can even name and color your profile, too.
For example, if you know there is a specific server that always works with US Netflix, Profiles allows you to create a shortcut to that specific server that will remain pinned to the top of the app. This is an advanced feature that's meant for power users, but it's one of Proton VPN's very best features.
Other than that, the Proton VPN functions like most other VPN apps. There's a large button to quickly connect to the fastest server, and the app also shows you information about your current session. You can see your new IP address, the amount of data transmitted during your session, and live information about server load.
Customer Support
Live Chat Support Available but Not 24/7
| Customer Support | Available in Proton VPN |
| --- | --- |
| 24/7 Live Chat Support | No |
| 24/7 Email Support | No |
| Chatbot | No |
| Live Chat Support | No |
| Email | No |
| Email Support via Online Form | Yes |
| Tutorial Videos | No |
| Online Resources | Yes |
Proton VPN recently introduced live chat customer support for all paying subscribers. However, the service needs improvement.
Firstly, the live chat feature is not straightforward to find. To use it, you have to log into your account on the VPN's website. Then, click your name at the top right, select 'Get help', and click 'Chat with us'.
Secondly, unlike other top VPNs, Proton VPN's live chat is not available 24/7. It operates between 9 AM to 5 PM (CEST), which is a poor time for most of the world. For instance, if you live in New York, you can only use this feature between 3 am and 11 am.
If you require assistance outside of these times, you can either use the service's online guides and FAQs, or contact the customer service team via email.
Email support is very slow, sadly. At times, we waited over three days for a response. Time-sensitive and pressing queries, like what servers work with US Netflix, are simply not worth asking.
At least, Proton VPN's support team is knowledgeable and helpful in its responses, despite the long wait.
The Bottom Line
Proton VPN Review Summary
Overall Proton VPN is a top-tier VPN service and we recommend using it if privacy and security is your primary concern.
Although the paid plans are rather expensive, Proton VPN's Secure Core network adds a strong extra layer of encryption to highly-sensitive network traffic.
The VPN also provides a range of servers optimized for fast P2P activity and for connecting to the Tor network.
Recently, Proton VPN has also become a good VPN for streaming, with regular and fast access to US Netflix, Hulu, Disney+, and more.
The main downside of using Proton VPN is its limited device compatibility. There's no Smart DNS feature and no browser extensions. Plus, the streaming device apps lack an internet kill switch.
Proton VPN Compared to Other VPNs
Use the table below to see how Proton VPN compares to other top VPNs in key performance categories:
As you can see, Proton VPN can't quite match the very best VPN services. That said, it stands out in certain categories and, if it continues to improve, it could soon compete at the very top.
Alternatives to Proton VPN
Private Internet Access
Private Internet Access matches many of Proton VPN's privacy and security features but includes a lot more to make it a more fully-featured VPN. PIA is fast, it comes with browser extensions for Chrome and Firefox, and it has 24/7 live chat customer support. Read Private Internet Access review
Mullvad
Mullvad is very similar to Proton VPN. It too has open-sourced its apps, with a primary focus on providing the most advanced primary and security features. It's one of the fastest VPNs, and it's available for a cheap monthly price. Read Mullvad review
---
User Feedback for Proton VPN