Disclosure: Top10VPN.com is reader-supported. We may earn commissions if you buy a VPN through links on our site.
ProtonVPN Review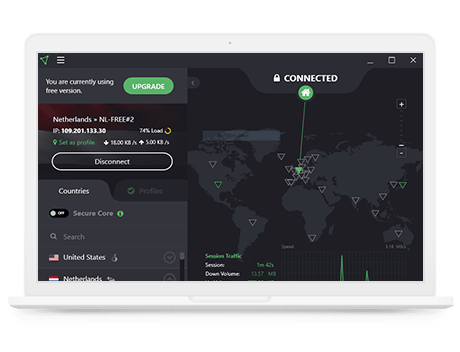 Our Verdict
ProtonVPN is a secure VPN service that's perfect if privacy is your main priority. It has a minimal logging policy and its apps are all fully-audited and open-source. Though it's not the fastest, ProtonVPN is one of the most reliable services for streaming Netflix and BBC iPlayer. We recommend it as a well-rounded VPN for all users.
ProtonVPN is a VPN that wants to make two things known above all else: it's safe, and it's trustworthy.
Can you take ProtonVPN at its word, though? Our unbiased ProtonVPN review reveals:
Is ProtonVPN a fast VPN?
Does ProtonVPN unblock US Netflix?
Is ProtonVPN safe?
Where are ProtonVPN's servers?
Is ProtonVPN safe for torrenting?
And, of course, is ProtonVPN a good VPN?
Read our detailed review of the free version of ProtonVPN here.
ProtonVPN Pros & Cons
Open-sourced, secure & fully audited apps
Minimal-logs privacy policy
Unblocks Netflix, BBC iPlayer & Disney+
Secure Core servers provide extra encryption
User-friendly apps for PC, Mac, iOS & Android
10 simultaneous connections allowed on Visionary plan
Mediocre speed performance
Doesn't bypass Chinese censorship
Torrenting restricted to four server locations
No live chat customer support
No browser extensions
ProtonVPN Key Summary
Data Cap
Speed
Logging Policy
Data Leaks
Jurisdiction
Servers
IP Addresses
Countries
US Netflix
Torrenting
Works in China
Support
Cheapest Price
Official Website
Premium
Free
Unlimited
Unlimited
85Mbps
60Mbps
Anonymous Server Usage Data
Anonymous Server Usage Data
No
No
Switzerland (Privacy Haven)
Switzerland (Privacy Haven)
801
8
801+
8+
50
3
Yes
No
Restricted
Restricted
No
No
Email & Online Resources Only
Email & Online Resources Only
$4.00/mo over 12 Months
Free
ProtonVPN.com
ProtonVPN is both incredibly safe and secure, up there with the very best VPNs on the market. It's far from perfect, though — read on to see what we like about ProtonVPN and what we think needs improvement.
Who is ProtonVPN?
About & Logging
ProtonVPN comes from a company with pedigree in the world of cybersecurity.
ProtonVPN is operated by ProtonVPN AG but shares a management team, office, and resources with Proton Technologies AG – the same company as encrypted email service ProtonMail.
ProtonVPN AG operates under the jurisdiction of Switzerland.
This allows its users to benefit from some of the world's strongest privacy laws, outside of EU data laws and the 14 Eyes surveillance alliance.
While ProtonVPN will disclose the "limited data" it possesses if faced with a Swiss court order, the fact this isn't personally identifiable means it isn't something to worry too much about.
Logging Policy
ProtonVPN maintains a sensible minimal logging policy, which doesn't store any personally identifiable information or log your online activities.
ProtonVPN only logs one thing:
a timestamp (time and date) of your most recent successful VPN login
This log is stored to determine that nobody else is using your account, and is overwritten every time you use the VPN service. Crucially, this data can't be traced back to you in any way.
ProtonVPN doesn't log:
IP addresses
The apps and websites (DNS requests) you visit while connected
Mediocre speed performance
Speed & Reliability
ProtonVPN delivers great upload and download speeds when connected to same-country and nearby VPN servers, which will satisfy both privacy-conscious streaming fans and torrenters.
ProtonVPN slowed down our internet speeds by just 3% when connected to a local VPN server, which is a fantastic result.
Local Speed Test Results
Before using ProtonVPN:
89

88

Ping

ms

14
When connected to ProtonVPN:
86

45

Ping

ms

27
Download speed without ProtonVPN: 88.93Mbps
Download speed with ProtonVPN: 85.89Mbps
Our download speed loss when ProtonVPN is running: 3%
ProtonVPN performs less well over international connections, with a drop-off of 45% when connected to the US VPN server.
However, depending on the speed of your internet (we have a 100Mbps fibre optic connection), this will still be fast enough for general use.
You can take a look at our speed test results connecting from the UK to various ProtonVPN servers below:
USA: 49Mbps (download) & 18Mbps (upload)
Germany: 80Mbps (download) & 41Mbps (upload)
Singapore: 33Mbps (download) & 15Mbps (upload)
Australia: 19Mbps (download) & 6Mbps (upload)
Latency is fairly high on ProtonVPN's servers – and there are better VPNs for gamers to choose from.
Upload speeds don't quite match the pace of downloads, but on some nearby VPN servers (the Netherlands and France) the speed drop-off percentage is only 18%, so ProtonVPN won't leave you hanging around.
If you're interested in how we test VPN speeds check out our page on How We Review VPNs.
How Fast is ProtonVPN Compared to Other VPNs?
You've already seen the results of our manual testing – now you can see the latest results from our custom VPN speed testing tool.
The graph below compares ProtonVPN's average loss of internet speed to other popular VPNs while running on our New York server.
Speed tests run automatically four times per day. Test connection speeds are capped at 100Mbps to recreate a typical home internet connection.
This chart shows the average speed loss experienced by the VPN each week when compared to using a normal 100Mbps internet connection with no VPN at all – the lower the percentage the better.
You can check results as far back as the past eight weeks – that way you can get a good impression of how reliable ProtonVPN is, not just how fast it can be.
Use our Speed Test Tool to compare ProtonVPN's speeds across different cities.
This test is performed by our automated testing tool that runs constantly, seven days a week, to deliver up-to-date and consistent results from all over the world. There's no human bias, and no relying on third-party websites. We own all the servers and infrastructure that we test with, and report the results exactly as we find them.
The results from our speed test tool are damning — ProtonVPN is slower than all other top VPNs. Over the previous eight weeks, the VPN recorded an average download speed loss of 64% on a local connection. This is a terrible result and could grind your internet connection to a halt. 
ProtonVPN's poor speed performance is in contrast to almost all other premium VPNs, including privacy-focused ones like Mullvad and PIA. Over the same period, Mullvad experienced an average speed loss of 7%, while PIA fell by an average of 14% — comfortably beating ProtonVPN. 
ProtonVPN's upload speed results were just as disappointing, sometimes falling as low as 82% — which is one of the worst results we've ever recorded. 
Overall, ProtonVPN is built primarily for privacy and security purposes, so its poor speed performance is not necessarily a dealbreaker. The VPN will be fast enough for general internet use. However, depending on your home internet connection, it may be too slow for streaming and torrenting.
VPN servers spread across 50 countries
Server Locations
50
Countries
71
Cities
801
IP Addresses
ProtonVPN operates a mid-sized server network of over 800 servers in 50 countries. All ProtonVPN servers are physical bare-metal servers and are physically located in their listed country.
ProtonVPN rents the vast majority of its VPN servers from third-party data centers. We typically prefer VPN providers to own as many of their servers as possible as it reduces the possibility of a server being compromised or interfered with by any bad actors.
However, after we reached out to it, a representative from the VPN provider stated that the company has taken extra steps to ensure these rented servers are secure and do not log any information. ProtonVPN has always been a consistent advocate for user privacy and security, so there's good reason to trust its vetting process here.
ProtonVPN does own a small amount of its servers, too. These are part of its 'Secure Core' network, which you can read more on in the section below.
ProtonVPN covers Western Europe and North America well — the most popular locations like the UK, US, and Canada, are all available, as well as some options in each of the other continents.
Hong Kong, Israel, India, Japan, South Korea, and Singapore are available for users in Asia, with Australia not too far away, while Argentina, Brazil, Costa Rica, and South Africa are the only countries that cover Central/South America and Africa respectively.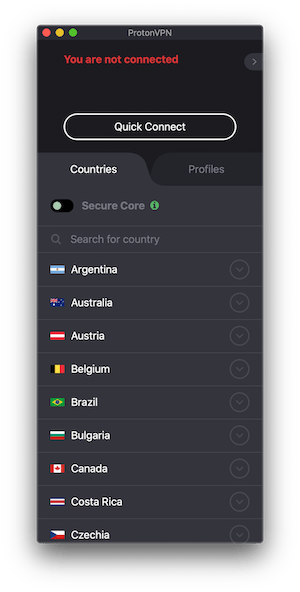 ProtonVPN also allows you to connect to city-level VPN servers in the following locations:
Australia (2)
Canada (3)
UK (3)
USA (12)
Being able to connect to city-level VPN servers is great for speed and reliability, as it reduces congestion and the potential for interruptions on the network.
This is made better by the fact that ProtonVPN informs you of the server's relative load, which is determined by how many users are connected to that server and how intensive their activity is. With this feature, you're able to connect to a VPN server with as little congestion as possible for the very fastest speeds.
If you need VPN servers in more traditionally underrepresented locations it may be best to look into other providers — for example, HideMyAss serves a massive 190 countries worldwide.
Secure Core VPN Servers
40 of ProtonVPN's servers are owned by the VPN provider and make up ProtonVPN's 'Secure Core' network. This feature bounces your traffic via a Secure Core server before relaying it on to your destination of choice.
ProtonVPN only has Secure Core VPN servers in Switzerland, Iceland, and Sweden. These locations are used due to the relatively strong privacy laws in the respective countries.
Secure Core is similar to the Double Hop or Double VPN features you may have seen from other VPNs. In short, it makes you much harder to trace and can prevent any bad actor from identifying you — even if the exit server has been compromised.
However, the drawback of using Secure Core is that it noticeably slows down your internet speed. This happens because your traffic is diverted to another location on its journey, increasing the time it takes for it to get rebounded back to you. ProtonVPN is quite a sluggish VPN in the first place, so this feature does add another layer of frustration.
As a privacy and security focused VPN, we wish ProtonVPN would take the extra step and instead own its entire fleet of servers. By doing this, it would improve the security and reliability of all its VPN servers, and not just the few that are part of the Secure Core network.
Unlocks Netflix & very safe for torrenting
Streaming & Torrenting
ProtonVPN is a great choice for streamers.
ProtonVPN proved reliable in unblocking US Netflix and BBC iPlayer — a feat achieved only by the very best VPN providers.
On top of this, ProtonVPN has recently added support for Disney+, meaning all major streaming services are now free to access when running ProtonVPN.
We particularly like how ProtonVPN can unblock geo-blocked content when connected to any server in the required country.
This means you don't have to waste valuable streaming time hunting down the often ambiguously-named dedicated Netflix server.
ProtonVPN's website also contains a range of handy guides detailing how to connect to your preferred streaming service.
Torrenting
Consistently high upload and download speeds make ProtonVPN good for torrenters, but P2P activity is limited to just three VPN server locations: Switzerland, Netherlands, Iceland, and Singapore.
P2P-friendly servers are marked with an icon showing two arrows. It's a poor spread that may leave users in the Americas or Africa suffering from noticeable slowdown.
Sadly, torrenting isn't permitted at all on the free plan.
That said, ProtonVPN is absolutely secure enough to keep you safe and private while you torrent, and its kill switch will stop your identity from being revealed should its connection drop.
Big P2P user? Take a look at our dedicated guide of the fastest and most private torrenting VPNs.
Secure & open-source VPN with some advanced features
Encryption & Security
Protocols

IKEv2/IPSec

OpenVPN (TCP/UDP)

Encryption

AES-256

Security

DNS Leak Blocking

First-party DNS

IPV6 Leak Blocking

VPN Kill Switch

Advanced features

Split Tunneling

TOR via VPN Server
Please see our VPN Glossary if these terms confuse you and would like to learn more.
ProtonVPN is an excellent choice if you're serious about privacy and you want to stay safe online.
ProtonVPN is one of the first VPN services to publish its source code and become wholly open-source. This means ProtonVPN can be inspected by anyone, ensuring user data is not being mishandled and that ProtonVPN's encryption and security techniques are watertight.
On top of this, ProtonVPN published a third-party security audit of its VPN service on all platforms, with all vulnerabilities being either accepted or fixed.
We love this. We wish more VPN services would take note and implement similar steps to help make the VPN industry as transparent and accessible as possible.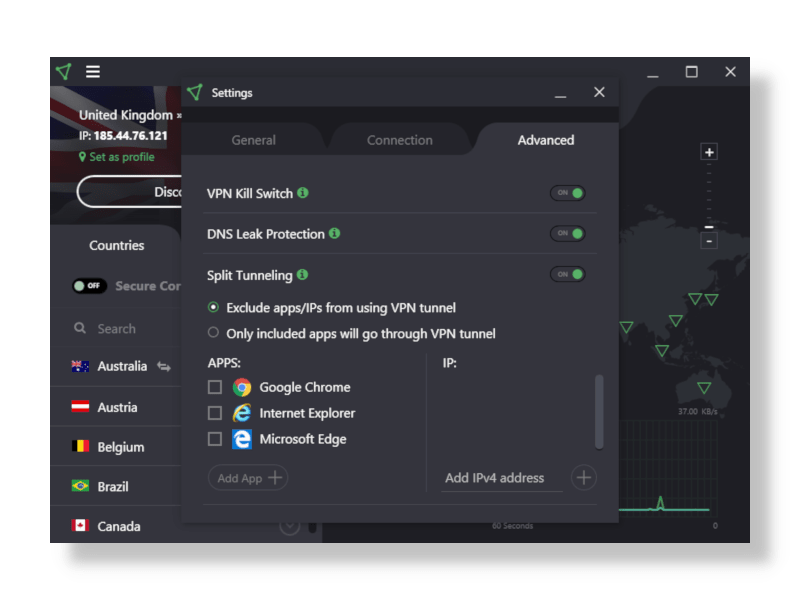 The ProtonVPN desktop app exclusively uses OpenVPN, the most secure VPN protocol, so you can be certain that your web traffic isn't being compromised.
The same is true for iPhone and iPad users, with OpenVPN being the only available VPN protocol.
The fact that you can't choose your protocol is a shame, but given that OpenVPN is our protocol of choice we don't judge ProtonVPN too harshly for it.
The Android app has the most options of all ProtonVPN apps, providing both OpenVPN and IKEv2.
Encryption on all platforms is via AES-256, a top cipher which is widely considered unbreakable.
If you wish to read more about why OpenVPN is our preferred protocol, or wish to learn more about AES-256 and other VPN encryption techniques, check out our guide detailing the basics of encryption.
ProtonVPN's kill switch feature is absolutely essential, as it prevents your true IP address from being leaked should the VPN connection drop for any reason. The same goes for protection against DNS and IPv6 leaks, which our independent leak tests proved to be working effectively.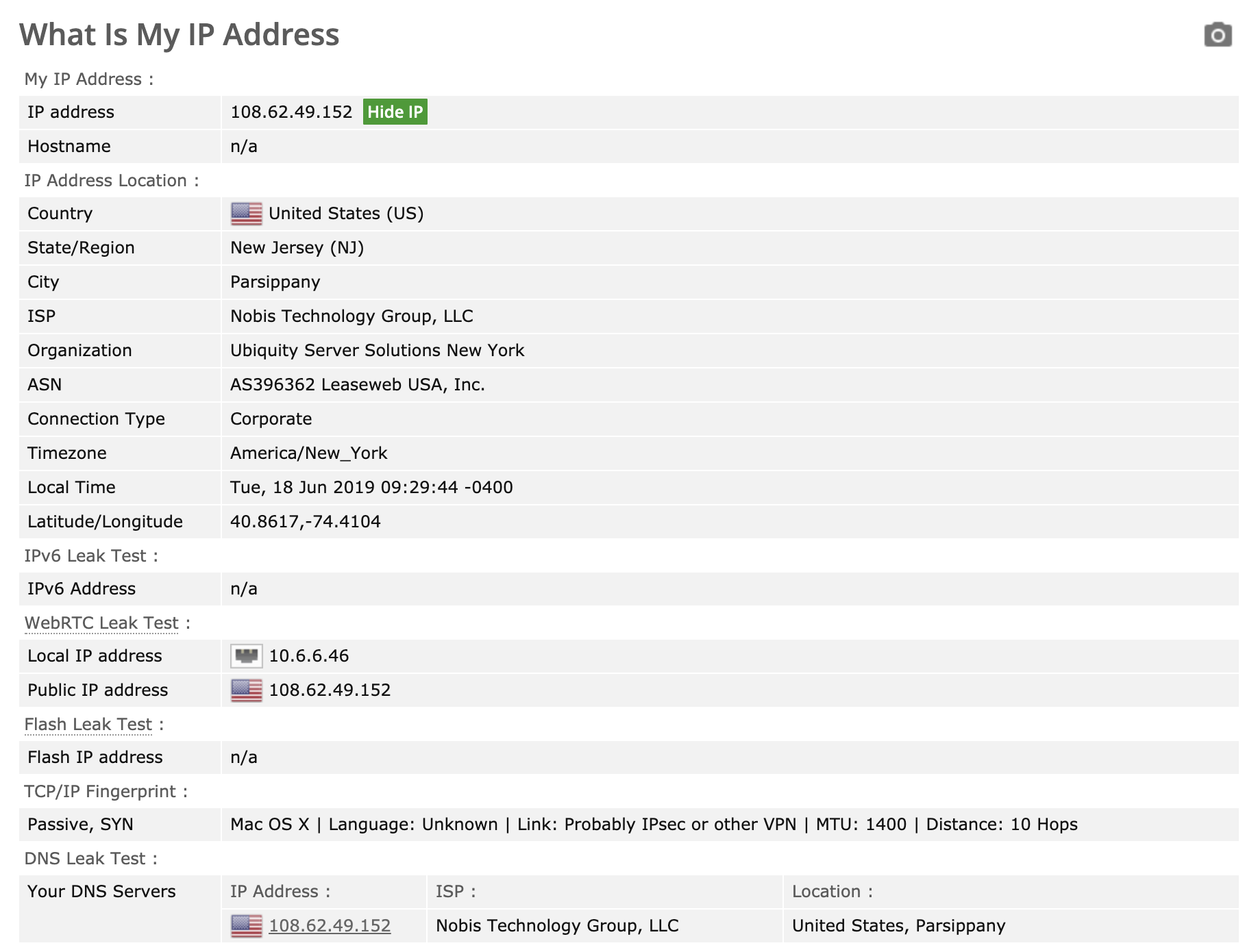 ProtonVPN also offers Secure Core VPN, a mode which forces your traffic through multiple servers before it leaves the VPN network.
These servers operate on ProtonVPN's own dedicated networks in selected countries with strong privacy laws, meaning you're even further protected against cyber attacks.
Split tunneling is available for those who want to route certain internet traffic outside of the VPN tunnel, and servers optimized for Tor are ideal for those seeking even higher levels of privacy.
Not a good choice for China
Censorship
ProtonVPN is not a reliable VPN for connecting out of China, despite ProtonVPN's Secure Core servers and servers optimized for use with Tor.
Customer service reported that many users located in China are struggling to use ProtonVPN. One Reddit user has detailed a workaround that may or may not do the trick for you, but ProtonVPN is far from dependable.
If you need a VPN for use in the country, our guide to the best China VPN services is a good place to start.
ProtonVPN's limited server network also rules it out for other high-censorship countries like Turkey and Russia (follow the links for our dedicated guides), as connecting over long distances will affect speeds.
Limited range of VPN apps, but routers are supported
Platforms & Devices
Apps
Windows
Mac
iOS
Android
Linux
Router
ProtonVPN's custom apps are limited to:
Microsoft Windows
Apple MacOS
iOS
Android
It is possible to install ProtonVPN on Linux but this requires you to download the third-party OpenVPN software, which could be a little fiddly for first-time VPN users.
You can use ProtonVPN on up to three devices at once on the Basic plan, five on the Plus plan, and 10 if you subscribe to the Visionary plan.
Games Consoles & Streaming Devices
AppleTV
Amazon Fire TV
Chromecast
Nintendo
PlayStation
Roku
Xbox
Browser Extensions
ProtonVPN doesn't have any VPN extensions for Google Chrome, Mozilla Firefox, Safari, or Opera browsers (follow the links to find out which highly-rated VPNs do).
Basic customer support with slow email responses
Customer Service
| | |
| --- | --- |
| Email support via an online form | Yes |
| Online Resources | Yes |
ProtonVPN's customer support is fairly limited and will only cover the most basic of queries. ProtonVPN has no live chat support.
The online support center offers a series of FAQs on various general topics, with a handy search feature to look up keywords.
There are also detailed set-up guides for devices that need to be manually configured and some simple troubleshooting advice too.
If your questions are left unanswered by the support pages, you'll have to send an email as there is no live chat option. We found responses to be nowhere near snappy enough, so ProtonVPN will have to up its game if it wants to compete with ultra-customer-focused top-tier VPNs.
Pricing plans to suit different needs & budgets
Pricing
ProtonVPN Coupon
ProtonVPN Pricing Plan
ProtonVPN offers a few different service tiers tailored to suit different use cases, each with the option to pay monthly or yearly. Whatever your surfing habits, there will be a combination to suit you.
The Basic plan is the cheapest option at $3.29 per month on the two-year plan, but this limits you to two simultaneous connections, compared to five on the Plus plan.
The Plus plan is $6.63 a month if purchased on the two-year plan and also comes with servers optimized for use with Tor. This plan also provides Netflix access.
The Visionary plan is the most expensive we've seen from any provider at a whopping $24 per month (or $7.50 a month for two years), but this includes everything in the other packages plus ten simultaneous connections and use of ProtonMail Visionary, which on its own costs $30 a year.
All plans have 30-day money-back guarantee
Payment & Refund Options
| | |
| --- | --- |
| Credit Card | Yes |
| PayPal | Yes |
| Bitcoin | Yes |
You can pay for any of ProtonVPN's plans via:
PayPal
Credit/debit card
Bitcoin
Cash
There aren't any international payment options like AliPay for those based outside of America or Europe.
ProtonVPN offers a 30-day money-back guarantee which really is no questions asked, and not subject to any data usage restrictions. Just request a refund by emailing the support team and the money will be back in your account within 30 days.
If you want to test out the service before committing to a paid subscription, ProtonVPN does offer a free plan that you can use for as long as you like. You can read our independent review of ProtonVPN Free here.
Super simple setup and user-friendly VPN apps
Ease of Use
How to Install & Set Up ProtonVPN
Getting ProtonVPN up and running is incredibly easy and the whole process only takes a couple of minutes from start to finish.
Once you've chosen your subscription, simply log in to your account on the website and download the appropriate software for your device. Follow the simple installation prompts and then log into the app.
ProtonVPN's desktop apps are user-friendly without skimping on detail.
The main screen displays loads of useful information including stats about server load, upload and download speeds, and your new IP address.
The locations are listed alphabetically, making them easy to navigate. Servers compatible with Tor are clearly labeled, as are those optimized for P2P and torrenting.
The settings are limited to pretty basic stuff but this is where you can switch on the essential VPN kill switch and DNS leak protection.
ProtonVPN's Android and iOS apps are sleek but they still lack in some features when compared to the desktop clients.
Do We Recommend ProtonVPN?
The Bottom Line
Yes. We have no problem recommending ProtonVPN, especially if online privacy and security is your main concern.
ProtonVPN is one of the most reliable VPN services around for streaming Netflix and iPlayer, and the fact ProtonVPN has chosen to go open-source and publish a third-party security audit is a huge plus.
It's not the fastest, and its customer support lags way behind higher-scoring VPNs, but ProtonVPN is still a well-rounded and secure VPN for just about everyone.
Alternatives to ProtonVPN
ExpressVPN has the best customer support of any VPN service available. It's friendly, extremely well-informed, and always there to answer questions via live chat when you need it. Read ExpressVPN review
ProtonVPN's mediocre speeds can be frustrating, Private Internet Access is a great VPN if you require good performance. PIA has consistently proven itself in our testing as one of the very fastest VPNs out there. Read Private Internet Access review
---
User Feedback for ProtonVPN