Disclosure: Top10VPN is editorially independent. We may earn commissions if you buy a VPN through links on our site.
Does ProtonVPN Keep Logs?
Logging & Jurisdiction
ProtonVPN is one of the best VPNs for keeping your online activity private and anonymous. The VPN doesn't log any data that could be used to identify you, and its base within Switzerland means it doesn't have to adhere to any data retention laws.
Despite claiming to have a true no-logs privacy policy, we found that ProtonVPN does log some connection timestamps. However, this logging is very minimal and will still keep you private and anonymous online.
The VPN logs the specific time of your last successful login attempt, and this gets overwritten each time you successfully connect to the VPN.
After contacting it, a representative from ProtonVPN confirmed that this timestamp does not contain any identifying information, such as an IP address, and is only recorded in order to "protect user accounts from password guessing attacks."
Although a true no-logs privacy policy is preferable, the single timestamp is detached from all other identifying characteristics and could not be used to identify you from your online activity.
This was put to the test in January 2019, when a Swiss court approved a request asking for information of a ProtonVPN user. ProtonVPN was unable to provide any user data, as it had not stored any relevant information.
This is really impressive and makes ProtonVPN part of a small number of VPN services which have had their logging policies verified by a real-world test. In short, you can rely on ProtonVPN to keep your information away from third-parties and private to you.
The only other information that ProtonVPN retains is your email address, payment information, and support tickets. This is a common practice among VPN providers, but you can enhance your anonymity with ProtonVPN by using a private ProtonID and Bitcoin when signing up.
All stored profile data is encrypted and stored locally on its servers and will be immediately deleted when you terminate your account.
ProtonVPN is Based in Switzerland
ProtonVPN operates under the jurisdiction of Switzerland, which is a great base for a VPN provider.
Switzerland is a good VPN jurisdiction for these reasons:
Switzerland has strong privacy laws, a history of respecting user privacy, and does not require VPN providers to store data on users.
Switzerland is not part of the EU, allowing it to sidestep all EU data retention laws, like the Data Retention Directive (2006).
Switzerland is not a member of the 14 Eyes alliance or any other intelligence sharing coalition, meaning it does not have a formal structure set up for collecting and sharing surveillance data with other nations.
All of Switzerland's privacy-hostile laws, like BÜPF and NDG, do not apply to ProtonVPN as they are not considered a "major telecommunication operator" nor a "major internet service provider." This means ProtonVPN benefits from all the advantages of its Swiss base, while also not having to abide by the drawbacks.
In fact, Proton Technologies (the company behind ProtonVPN) was part of a group that successfully forced the NDG law to be put up for a national referendum after it was swiftly passed by the Swiss government, despite the law eventually passing following a majority vote from the public.
We rarely see this level of privacy advocacy from other VPN providers, which goes to show just how serious ProtonVPN is about protecting its user's privacy.
How Private Is ProtonVPN Compared to Other VPNs?
In the table below, we've collected data on five private VPN services. You can see how ProtonVPN compares to other top VPNs based on its jurisdiction, the data it collects, and whether or not the logging policy has been verified by a third party.
Pricing plans to suit different needs & budgets
Price & Value for Money
ProtonVPN's monthly subscription is typically priced for a reputable VPN service, but the discounts available on the longer-term plans fall far shorter than those available on other VPNs. We recommend most users avoid the Basic and Visionary tiers, too.
ProtonVPN Subscription Prices
ProtonVPN is unique in that it offers four different pricing tiers. In all, ProtonVPN has a free plan and three paid plans: Basic, Plus, and Visionary.
All plans have 30-day money-back guarantee
Here is a table comparing the features of each ProtonVPN subscription plan:
| | Free | Basic | Plus | Visionary |
| --- | --- | --- | --- | --- |
| Monthly Price | Free | $3.29 | $6.63 | $24 |
| # of Devices | 1 | 2 | 10 | 10 |
| US Netflix | No | No | Yes | Yes |
| Torrenting Support | No | Yes | Yes | Yes |
| Countries | 3 | 61 | 61 | 61 |
| Secure Core | No | No | Yes | Yes |
| ProtonMail | No | No | No | Yes |
From the table, you can see that the ProtonVPN Basic plan excludes too many key features to make it worthwhile over the free tier, and the Visionary plan is only worth it for existing ProtonMail customers.
As a result, we recommend all paying customers opt for the ProtonVPN Plus subscription, primarily because it includes access to the Secure Core server network and unblocks streaming sites.
You can purchase the Plus plan monthly, every year, or every two years. The ProtonVPN monthly package costs $10, or you can lower the cost by 20% to $8 if you purchase annually. The two-year plan costs $6.63 a month, which is an overall saving of 34%.
Payment & Refund Options
ProtonVPN accepts payment via these methods:
American Express

Bitcoin

Cash

Mastercard

PayPal

Visa
The option to pay via cryptocurrency and physical cash is a nice touch if you don't want your ProtonVPN account to be linked with any unique payment method. We rarely see these options from any other VPN provider, so its inclusion is notable.
There aren't any international payment options, like AliPay, if you're based outside of America or Europe.
ProtonVPN offers a 30-day money-back guarantee which is no questions asked, and not subject to any data usage restrictions. Just request a refund by emailing the support team and the money will be back in your account within 14 days.
ProtonVPN is a fast VPN service
Speed & Reliability
ProtonVPN's speed performance has improved significantly recently. It's now one of the fastest VPNs on the market, with impressive download speeds across its server network. The VPN's upload speeds aren't quite as quick, but you won't notice this in regular use.
To calculate ProtonVPN's effect on connection speeds and performance reliability, we put it through a succession of manual and automated speed tests.
We found that ProtonVPN is a fast VPN, although it doesn't match the speeds of the very quickest VPNs, like Hotspot Shield or NordVPN.
As you'd expect, paying Plus and Visionary ProtonVPN users benefit from the fastest available speeds. This is mostly due to a greater server capacity of 10Gbps and better hardware, but high-paying customers also benefit from less-congested servers.
You can read the full details of our speed test results in the sections below.
Local Speed Test results before using ProtonVPN:
Download Speed: 100Mbps
Upload Speed: 100Mbps
Ping: 1ms
Local Speed Test results with ProtonVPN:
Download Speed: 96Mbps
Upload Speed: 82Mbps
Ping: 13ms
Download speed loss when ProtonVPN is running: 4%
We found that ProtonVPN's local connection speeds are good, dropping just 4% to 96Mbps. Wherever you're located, you'll experience a similar speed drop when connected to a nearby server.
This allowed us to stream, torrent, and game without any lagging. BBC iPlayer continued to stream in HD and web pages loaded instantly.
Long-Distance Speed Test Results
We tested ProtonVPN's long-distance connection speeds using our same scientific manual speed testing method.
Our results showed that ProtonVPN's long-distance speeds are impressive, with fast speeds recorded across the majority of locations.
Here are the full results we recorded when connecting to far-away servers from London, UK with a 100Mbps internet connection:
USA (New York):

Download: 91Mbps (9% slower)
Upload: 82Mbps (18% slower)

Japan (Tokyo):

Download: 75Mbps (25% slower)
Upload: 27Mbps (73% slower)

Germany (Munich):

Download: 95Mbps (5% slower)
Upload: 96Mbps (4% slower)

South Africa (Johannesburg):

Download: 83Mbps (17% slower)
Upload: 49Mbps (51% slower)

Australia (Melbourne):

Download: 65Mbps (35% slower)
Upload: 23Mbps (77% slower)
Although ProtonVPN used to be a slow VPN service, its long-distance speeds are now consistently fast. As you can see from our results, the VPN kept our download speed loss below 35% across every location, which is very impressive.
EXPERT TIP:
To get the fastest speeds, make sure that 'VPN Accelerator' is enabled in the app's settings. It can be found in the Connection tab.
ProtonVPN's Speeds Versus Other Popular VPNs
To ensure our speed test results are as accurate as possible, we also run a series of automated tests on 18 VPN services. That way, you can see live information on how fast ProtonVPN is compared to the best VPNs on the market.
These automated tests run four times a day on infrastructure owned by us, and we report the results directly from the data. This reduces any risk of biased or misleading information.
The graph below shows the latest results from our New York server when connecting to a server nearby:
Use our Speed Test Tool to compare ProtonVPN's speeds across different cities.
The results from our speed test tool match what we found in our manual testing. In short, ProtonVPN is a quick VPN, but it's not the very fastest on the market.
Over the past eight weeks, the VPN remained above 85Mbps on all local connections. Speeds were above 50Mbps across almost all international servers, which is just as impressive.
ProtonVPN Streams US Netflix
Streaming
Despite working with many streaming sites, ProtonVPN suffers from frustrating technical issues that make it very slow to load Netflix content. We do not recommend ProtonVPN if you prioritize streaming and unblocking video content.
ProtonVPN's streaming ability depends on the plan you subscribe to. All of ProtonVPN's free and 'Basic' servers are blocked by Netflix, but we were able to stream US Netflix using the VPN's Plus servers. These servers are exclusive to 'Plus' and 'Visionary' Plan subscribers.
Although ProtonVPN claims that it works with Netflix "in almost every country," our tests found that the only libraries outside the US that the VPN unblocks are the UK, India, Italy, and Switzerland. This is a relatively small number, with other VPNs, like PrivateVPN and Windscribe, working with more than 30 Netflix libraries from around the world.
More pleasingly, with ProtonVPN we were able to watch content from Hulu, BBC iPlayer, Disney+, and Amazon Prime Video.
The following is a list of ProtonVPN servers we've recently tested that successfully unblock the most popular streaming services:
| Streaming Service | Server IDs |
| --- | --- |
| Amazon Prime Video | US-FL#36, US-CO#11, US-AZ#2 |
| BBC iPlayer | UK#35, UK#11, UK#39 |
| Disney+ | US-TX#18, US-WA#10, US-CA#19 |
| Hulu | US-FL#13, US-IL#40, US-IL#42 |
| US Netflix | US-NY#11, US-CA#14, US-GA#20 |
Streaming Content Loads Slowly
However, we discovered one major drawback that means we do not recommend ProtonVPN if streaming is your number one priority. In short, ProtonVPN is very slow to load Netflix content — often taking longer than 40 seconds to load a TV show or movie.
To discover the cause of this issue, we conducted an in-house analysis of the networking packets and data.
Our research found that when using ProtonVPN with Netflix, our DNS lookups and SSL negotiations took over 10 seconds per request. In addition, many of these requests failed, with perpetual reattempts taking place until the process worked. You can see this in the screenshot below.
We repeated these tests on a range of devices and found the same problem to be consistent across all platforms, including Windows, MacOS, iOS, and Android.
Although these technical issues can sound confusing, it's important to understand their implications. Put simply, these errors cause slowdowns that make ProtonVPN a frustrating and poor VPN for streaming.
ProtonVPN Is Good for Torrenting
Torrenting
ProtonVPN is a good choice for private torrenting, but it is certainly not the best. The VPN comes with an impressive privacy policy and strong security features but is let down by its slow upload speeds and small P2P server network.
Using a VPN while torrenting is essential due to the risks involved with P2P file-sharing. These include exposing your IP address to all others in your torrent network and revealing your download history to your ISP.
Our tests found that ProtonVPN is a safe and secure choice for private torrenting. The VPN comes with dedicated servers for P2P file-sharing, a minimal-logs privacy policy, and a suite of robust security features including an internet kill switch.
Although P2P file-sharing is allowed on many of ProtonVPN's servers (through P2P VPN redirect), the VPN also includes high-performance servers that are specifically optimized for torrenting. These servers are easy to find in the app and are labeled by a two-arrow icon.
Sadly, ProtonVPN's torrenting servers are only available in twelve countries. There are eight torrenting servers in Europe, two in North America, and two in Asia. Although you'll likely experience slower speeds if you're located far-away from these regions, we recommend all torrenters use these servers at all times for extra security.
We tested ProtonVPN with the most popular torrent clients, including uTorrent and BitTorrent, and we were able to download all of our files without any interruptions.
That said, we don't consider ProtonVPN to be one of the very best VPNs for torrenting.
Primarily, this is because ProtonVPN doesn't support port forwarding. This feature allows you to increase the number of torrenting peers and improve your download speeds, so its omission makes ProtonVPN a worse option than some competitors.
Read our in-depth guide for a full investigation of how well ProtonVPN works for torrenting.
Highly secure, open-source VPN with advanced features
Security & Features
ProtonVPN is one of the most secure VPNs available. It uses best-in-class protocols and encryption ciphers and it easily passed all of our leak tests. ProtonVPN can be trusted to mask your true IP address and encrypt your data.
Protocols

IKEv2/IPSec
OpenVPN (TCP/UDP)
WireGuard

Encryption

AES-256

Security

DNS Leak Blocking
First-party DNS
IPV6 Leak Blocking
VPN Kill Switch

Advanced features

Ad Blocker
Split Tunneling
TOR via VPN Server
ProtonVPN is one of only a few VPNs that have open-sourced their apps and published a third-party security audit. The VPN has done this for its Windows, MacOS, Android, and iOS apps. The source code for each is freely available to view on Github and all found vulnerabilities have been fixed.
The benefit of open-sourcing its apps is that anyone can view and contribute to their development. This improves the app's security due to the error checking of a larger community. You can also verify what the app does yourself — ensuring there is no malicious code running the background.
This represents a level of transparency and commitment to security that we rarely see from other VPN providers — we love that ProtonVPN has made the effort to do this.
In addition to this, ProtonVPN's website claims that it utilizes the most advanced security features, ensuring that an "attacker cannot eavesdrop on your connection." To verify this, we inspected the VPN's connection logs and were impressed with what we discovered.
Here are ProtonVPN's encryption specifications:
Traffic is securely encrypted using the

AES-256 cipher

.

Connections established via an

RSA-2048 handshake

.

Perfect Forward Secrecy

via an ECDH key exchange.

Authentication is provided using an

SHA-384 hash

.
Although this may sound confusing, all you need to know is that ProtonVPN's encryption exceeds the security needs of any user. Your data will be protected from any potential attacker and kept private to you.
Kill Switch
A VPN kill switch is an essential feature if you want to guarantee your security online. Without one, you risk exposing your activity to your ISP if your connection suddenly disconnects. Kill switches block all traffic when your connection drops, so you aren't left accidentally exposed.
ProtonVPN includes a kill switch on both its Windows and Mac apps. It's not enabled by default, so make sure you turn it on in the 'Connection' tab within the Preferences menu.
To verify that ProtonVPN's kill switch provided sufficient protection, we ran a series of manual IP and DNS leak tests while disconnecting the VPN connection. In all cases, the kill switch worked perfectly and did not expose our true IP address.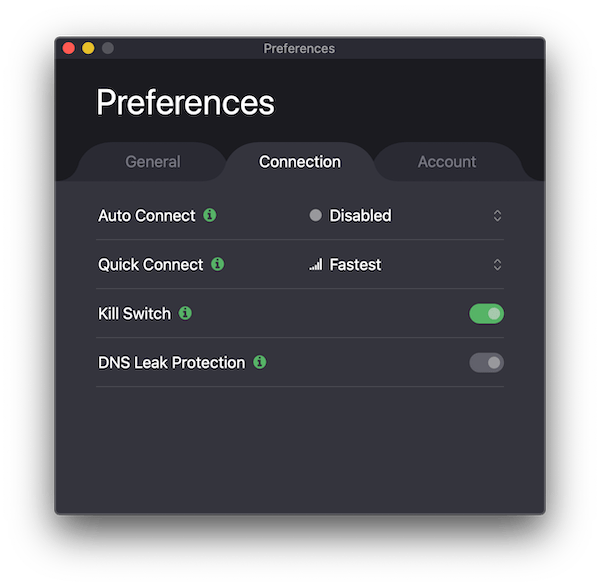 Disappointingly, ProtonVPN's Android and iOS apps do not have a kill switch. The VPN does include an 'Always-on' feature for its mobile apps, which automatically re-establishes a connection to the VPN in the event of a drop. However, this initiates too late and fails to protect your IP address, leaving your connections vulnerable when using ProtonVPN on mobile.
Split Tunneling
With split tunneling, your VPN creates a separate tunnel that goes directly through your ISP, just like you weren't using a VPN at all.
This feature is particularly useful for retaining compatibility with devices and services that require a local IP address, like online banking and a wireless printer, for example.
ProtonVPN includes split tunneling on its Windows and Android app, but it isn't included on MacOS or iOS. To use it, simply toggle on the apps that you want to be excluded from the encrypted VPN tunnel.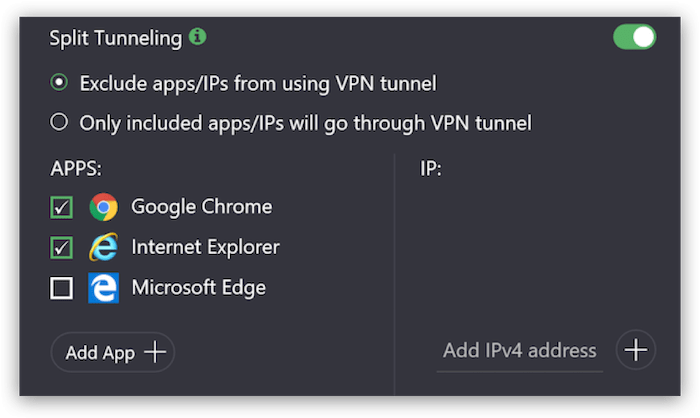 We tested the feature from our base in the UK and were able to watch BBC iPlayer and access devices on our local network, all while using a Netherlands VPN server to safely download a torrent file.
EXPERT TIP:
Remember that all apps you exclude from the VPN tunnel are not encrypted, leaving your true IP address exposed. Never use this feature for sensitive activities, like securing unsafe WiFi networks.
Leak Test Results
Before trusting a VPN with your sensitive data, conducting a real-world leak test is a good way to verify that the VPN is successfully concealing your identity.
All of ProtonVPN's apps include IPv6 and DNS leak protection, but we wanted to make sure they were performing properly. We ran these tests using ProtonVPN on both MacOS and Android.
To test for any IP address leaks, we used ipleak.net. We connected to a range of ProtonVPN servers, including the US, South Africa, Germany, and Australia. ProtonVPN did not leak our true IP address on any server.
We then used dnsleaktest.com to test ProtonVPN for any DNS leaks. DNS leaks occur when your browser routes DNS requests through your ISP instead of the VPN, but we experienced no DNS leaks with ProtonVPN. This is no surprise, as ProtonVPN operates its own DNS servers, thereby removing the risk of leaks from any third-parties.
These results mean that ProtonVPN's security features are as functional as they claim, and the VPN can be trusted to keep you private and your data secure online.
NetShield Is a Poor Ad Blocker
ProtonVPN Plus and Visionary subscribers have access to NetShield, the company's ad, malware, and tracker blocker. You can enable this by clicking on the shield icon from the app home screen.
Although we found NetShield to be effective at stopping malware and trackers, it was one of the worst features we've tested for blocking ads. Unlike other ad blockers, NetShield cannot fully prevent advertising elements from showing on a webpage. Instead, it's replaced by a grey box, which is not much of an improvement over a full ad.
On top of this, NetShield only works when you are connected to a ProtonVPN server. This means that you'll have to stay connected to ProtonVPN at all times, even at home, and you'll always be using up some of your limited simultaneous connections.
We'd recommend you leave NetShield turned off and use a fully-fledged ad blocker instead, like uBlock Origin.
Large server network spanning 61 countries
Server Locations
ProtonVPN operates a wide range of server locations with a total of 1,433 servers in 61 countries. This is a good spread of servers, even when compared to top VPNs, like ExpressVPN and Private Internet Access.
Most of ProtonVPN's servers are physical bare-metal servers and are physically located in their listed country. The only exceptions are the servers in the Philippines, Vietnam, Cambodia, Egypt, and Nigeria, which are virtual server locations.
This means that almost all of ProtonVPN's server network runs locally and does not use virtualization software at any stage. We prefer this approach, as it improves the security of the VPN service.
That said, ProtonVPN rents the vast majority of its VPN servers from third-party data centers. We prefer VPN providers to own as many of their servers as possible, as it reduces the possibility of a server being compromised or interfered with by any bad actors.
However, after we reached out to it, a representative from the VPN provider stated that the company has taken extra steps to ensure these rented servers are secure and do not log any information. ProtonVPN has always been a consistent advocate for user privacy and security, so there's good reason to trust it here.
ProtonVPN does own a small number of its servers, too. These are part of its 'Secure Core' network, which you can read more on in the section below.
Servers Are Well Spread Out
ProtonVPN covers every continent relatively well. The most popular locations like the UK, US, and Canada, are all available, as well as some options in each of the other continents.
ProtonVPN also allows you to connect to city-level VPN servers in the following locations:
Canada (3)
UK (3)
USA (12)
Being able to connect to city-level VPN servers is great for speed and reliability, as it reduces congestion and the potential for interruptions on the network.
This is made better by the fact that ProtonVPN informs you of the server's relative load, which is determined by how many users are connected to that server and how intensive their activity is. With this feature, you're able to connect to a VPN server with as little congestion as possible for the very fastest speeds.
Secure Core VPN Servers
40 of ProtonVPN's servers are owned by the VPN provider and make up its 'Secure Core' network. These servers improve user privacy and data security and are a major benefit of using ProtonVPN.
Secure Core servers are only available to 'Plus' and 'Visionary' subscribers, and they can be enabled by toggling them on within the home screen of the app.
This setting bounces traffic via a Secure Core server before relaying it on to the destination of your choice. It's similar to the Double Hop or Double VPN features used by NordVPN and Surfshark.
However, unlike most of these services, ProtonVPN owns the network, it's the only party with physical access to the machines, and it has implemented stricter security measures. This makes Secure Core more trustworthy than similar options from other providers.
ProtonVPN only has Secure Core VPN servers in Switzerland, Iceland, and Sweden. These locations are purposely selected due to the relatively strong privacy laws in the respective countries.
Although impressive, the drawback of using Secure Core is that it noticeably slows down your internet speed.
Here are the download speeds we recorded when connecting from the UK to a UK and US server via the Secure Core network:
Normal Server:
UK: 96Mbps (4% loss)
US: 91Mbps (9% loss)
Secure Core Server:
UK: 30Mbps (70% loss)
US: 18Mbps (82% loss)
When connected to both locations, our speed was over 65% slower than a typical connection. This is because your traffic is diverted to another location on its journey, the time it takes to get rebounded back to you is
This is to be expected, though, given the increased encryption and distance applied. These speeds will be fine for specific highly-sensitive activities, but we don't recommend you enable Secure Core at all times unless you truly need the maximum level of security.
As a privacy and security-focused VPN, we wish ProtonVPN would take the extra step and own its entire fleet of servers, not just a select few. This would improve the security and reliability of all its VPN servers, and not just those that are part of the Secure Core network.
Does ProtonVPN Work in China?
Bypassing Censorship
We found that ProtonVPN does not work in China. Unlike many other top VPNs, ProtonVPN does not use any proprietary obfuscation technology, nor does it route traffic through proxies. However, its integration with the Tor network is effective in some cases.
The Chinese government's strict enforcement of censorship laws makes it difficult to test VPNs in the country. As a result, most claims of a VPN's ability to circumvent the Great Firewall of China are based on guesswork and not from real tests.
To ensure our information is up-to-date and correct, we rent a test server that's physically located in Shanghai. This server runs Windows 10 and all VPNs are put through the same series of tests. From here, we've tested 68 against the Great Firewall, providing us with the same results you can expect when connecting out from China.
We were not able to connect to the VPN from China, leaving us unable to unblock any websites or apps, including Google, Instagram, or YouTube.
ProtonVPN admits this fact, stating "the Chinese government is blocking access to ProtonVPN [….] we are investigating the situation and working on countermeasures." 
We had more successful results while using ProtonVPN alongside the Tor network, but this still rarely worked. You can read more about Tor in the section below.
If you want a VPN that we do recommend for anyone living or traveling to a high-censorship country, check out our rundown of the best VPNs for China.
Using Tor With ProtonVPN
ProtonVPN exceeds most VPNs as it includes dedicated servers that route all traffic through the Tor anonymity network. After connecting to these servers, we were able to access hidden .onion sites, including ProPublica and SecureDrop.
There are only three Tor-connected servers, with one each in the US, Switzerland, and Hong Kong. For the best performance, connect to the nearest one to your current location.
Within the app, these servers are labeled with an onion symbol and "TOR" within their server ID. You connect to these servers the same as all other servers and ProtonVPN will automatically channel your connections through the Tor network.
Alternatively, you can make use of ProtonVPN's underrated 'Profiles' feature for Tor connections. This feature allows you to create a shortcut for connecting to a specific server, so you can pin your chosen Tor server to the top of the app. You can read more about Profiles further down in this review.
Although Tor can be a useful free tool for avoiding surveillance and unblocking websites from censored regions, we recommend only using this method of anonymization if absolutely necessary. 
Tor over VPN's biggest drawback is that the several layers of encryption will dramatically reduce your connection speeds. Our tests found that our speeds fell by 98% when connected to a Tor-connected ProtonVPN server.
If you're doing anything more intensive than casual web browsing, your internet speed will struggle to keep up.
Compatible with all major devices & platforms
Platforms & Devices
ProtonVPN has apps for Windows, MacOS, iOS, and Android. A fully-featured app with a user interface is also available for Linux. You can use ProtonVPN on up to three devices on the Basic plan, five on the Plus plan, and ten if you subscribe to the Visionary plan.
Apps
Windows

Mac

iOS

Android

Linux

Router
As we've come to expect, the Windows app is the most complete. It includes all of ProtonVPN's advanced features, including a VPN kill switch and split tunneling, as well as 'alternative routing' — a feature that bypasses some blocked websites by routing connections to different ProtonVPN servers.
The MacOS client recently added support for OpenVPN, WireGuard, and alternative network routing, which is a big improvement over previous versions. However, it does not support split tunneling.
The Android app is the best of ProtonVPN's mobile apps and it retains most of the same features as the Windows version. However, it does not include a VPN kill switch. In contrast, the iOS app is very limited and does not include split tunneling, a kill switch, or alternative network routing.
You can see the full summary of the differences between ProtonVPN's apps in the table below:
Games Consoles & Streaming Devices
Amazon Fire TV

Android TV

Chromecast
ProtonVPN does not come with a Smart DNS feature for unblocking video content on devices that are not VPN-compatible. This means you'll be unable to use ProtonVPN with devices like Apple TV or a PS4.
The only workaround is to install ProtonVPN on your home router, but it's unlikely that your router will be supported. You can find the full list of compatible router models on the support section of ProtonVPN's website.
Alternatively, you can buy a router pre-flashed with ProtonVPN. This removes the difficult set-up process but is expensive.
Android TV & Amazon Firestick
ProtonVPN comes with apps for Android TV and Chromecast with Google TV. The app is not available to download directly from the Amazon Appstore, but it can be sideloaded onto a Firestick.
We found that the app is easy to use and intuitively laid out, so you won't have a problem selecting using it. As ProtonVPN is a decent streaming VPN, you'll be able to unblock streaming sites from more than 50 countries on your TV, too.
The only disappointment is that you can't download the app directly on Fire TV devices. We hope ProtonVPN fixes this soon, as most other top VPNs provide this functionality.
Functional apps with useful advanced features
Ease of Use
ProtonVPN's apps prioritize functionality over usability. Though it's simple to connect and disconnect to a nearby VPN server, we would like the app to be better looking and for features to be explained better.
ProtonVPN's apps are dominated by a large world map from which you can browse all of ProtonVPN's server locations and connect to the one you want. If you don't like map interfaces (we don't, particularly) then you can collapse the app down to a skinny window that's similar to a mobile app.
Although the app is quite simple, it's sometimes difficult to understand what the labels mean if you're inexperienced.
For instance, dedicated torrenting servers are not situated in a discrete section of the app and you can't search specifically for them, forcing you to locate them yourself. They're not clearly labeled either, with an ambiguous two arrow icon the only indication of their functionality.
Profiles Feature Is Useful & Convenient
The most unique aspect of ProtonVPN's apps is its 'Profiles' feature. From many combinations, Profiles allows you to create a unique VPN connection to exactly suit your needs. The feature allows you to choose from the type of server, the server location, and whether you want to connect to a specific server. You can even name and color your profile, too.
For example, if you know there is a specific server that always works with US Netflix, Profiles allows you to create a shortcut to that specific server that will remain pinned to the top of the app. This is an advanced feature that's meant for power users, but it's one of ProtonVPN's very best features.
Other than that, the ProtonVPN functions like most other VPN apps. There's a large button to quickly connect to the fastest server, and the app also shows you information about your current session. You can see your new IP address, the amount of data transmitted during your session, and live information about server load.
Support available through live chat and email
Customer Support
ProtonVPN's customer support options fall below what you should expect from an expensive VPN service. Although its customer service team is knowledgeable, the absence of a 24/7 live chat option is disappointing.
| | |
| --- | --- |
| Email support via an online form | Yes |
| Online Resources | Yes |
ProtonVPN has recently implemented live chat customer support for all paying subscribers. The addition resolves one of the biggest criticisms we previously had with the VPN. That said, it still needs improvement.
It is not easy to find. To use ProtonVPN's live chat feature, log in to your account on the VPN's website. Then, click your name at the top right, select 'Get help', and click 'Chat with us'. We'd like this to be more clearly shown on the website's support page instead.
Secondly, unlike other top VPNs, like ExpressVPN and NordVPN, ProtonVPN's live chat is not available 24/7. It operates between 9 AM to 5 PM (CEST), which is a poor time for most of the world. For instance, if you live in New York, you can only use this feature between 3 am and 11 am.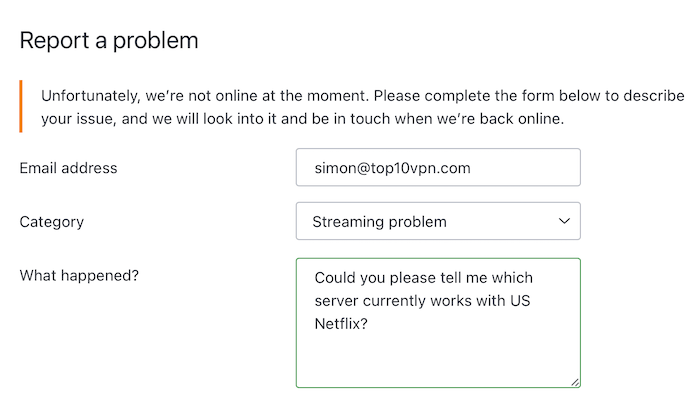 If you require assistance outside of these times, ProtonVPN provides a standard amount of online guides in the support section of its website, or you can contact the VPN's customer service team via email.
The online support center offers a series of FAQs on various general topics, with a useful search feature to look up keywords. There are also detailed set-up guides for devices that need to be manually configured and some simple troubleshooting advice, too.
After contacting the VPN's support team via email, we sometimes had to wait over three days for a response. Such slow response times mean that some time-sensitive and pressing queries, like what servers currently work with US Netflix, are not worth asking.
However, ProtonVPN's customer service team is very knowledgeable and helpful when they do respond. We required assistance regarding the VPN's use of virtual server locations and its torrenting-optimized servers. For every question, we asked, the support agent answered thoroughly and personably.
Do We Recommend ProtonVPN?
The Bottom Line
We recommend ProtonVPN as one of the best services if privacy and security is your primary reason for using a VPN. ProtonVPN has exceeded most other VPNs by open-sourcing all of its apps, and it comes from one of the most highly-respected companies in the cybersecurity space.
Although the plans are relatively expensive, ProtonVPN includes enough features over the free plan to make it worth upgrading to. ProtonVPN's Secure Core network adds an additional layer of encryption to highly-sensitive network traffic, and it includes a range of servers optimized for fast P2P activity and for connecting to the Tor network.
Although it unblocks US Netflix on most of its US servers, its DNS lookup failings make it a poor overall VPN for Netflix. We didn't experience these problems as noticeably with other streaming services, so it may still be a good option if you want to stream sites like Hulu, Disney+, or BBC iPlayer.
Despite the positives, ProtonVPN does not have a native app for Amazon Fire TV Stick and it doesn't include a Smart DNS feature. The VPN's mobile apps lack a kill switch, and ProtonVPN's customer service is the slowest to reply of all top VPN services.
Overall, we rank ProtonVPN as a good VPN and it's a safe option for most VPN users. It includes every desirable feature for privacy and security, but it misses out on being a great VPN due to its poor streaming speeds and poor customer support availability. If you want a feature-packed VPN with the fastest speeds, browser extensions, and 24/7 live chat — there are better VPNs available.
ProtonVPN Compared to Other VPNs
In the table below, you can see how ProtonVPN compares to other top VPNs in key performance categories:
As you can see, ProtonVPN cannot match the very best VPN services. That said, it stands out in certain categories and, if it continues to improve, it could soon surpass them.
Additional research by Luke Williams
Alternatives to ProtonVPN
Private Internet Access
Private Internet Access matches many of ProtonVPN's privacy and security features but includes a lot more to make it a more fully-featured VPN. PIA is fast, it comes with browser extensions for Chrome and Firefox, and it has 24/7 live chat customer support. Read Private Internet Access review
Mullvad
Mullvad is very similar to ProtonVPN. It too has open-sourced its apps, with a primary focus on providing the most advanced primary and security features. It's one of the fastest VPNs, and it's available for a cheap monthly price. Read Mullvad review
---
User Feedback for ProtonVPN