How to Watch the Japanese Grand Prix for Free Using a VPN
If Formula 1 isn't broadcast on free-to-air channels in your country, the only legal way to stream it for free is through a VPN service.
Our tests determined that the best free F1 streaming site is RTBF Auvio. It hosts Full HD live streams of every F1 race, including qualifiers and Grand Prix events.
However, RTBF Auvio is not available on Firestick, Chromecast, or Roku. On these devices, we recommend Servus TV and ORF, which host 50% of races each. But there are several more free F1 streaming websites available.
Here's a quick summary of the methods required to watch F1 for free on different devices:
We provide detailed step-by-step instructions in the following sections.
Desktop or Laptop (Windows & Mac)
Accessing free F1 live streams is easier on a computer than any other device. Simply use a VPN to get a Belgium IP address and then open the RTBF Auvio website.
To watch the race with English commentary, use your VPN's split tunneling feature and access BBC Radio 5 on a separate browser.
Here's how to use a VPN to stream F1 for free on desktop or laptop:
Sign up for a compatible VPN service and download the app: ExpressVPN worked best with free F1 websites in our tests.
Connect to a Belgian VPN server: RTBF Auvio is unavailable without a Belgian IP address.
Navigate to the RTBF Auvio website in your web browser: When prompted, allow your browser to translate the web page.
Create an account: Click Log in at the top right corner of the page and enter your details. Input a random Belgian ZIP code, such as 1930, as this will not be verified.
Start streaming the race: To watch live F1 races, click the Sport button and choose the race under the Live heading.
For English commentary, set up split tunneling:

Configure your VPN to exclude a different browser from the VPN connection. For example, if you're using Chrome to watch the race on RTBF Auvio, exclude Edge from the VPN.
Access the live feed of BBC Radio 5. The BBC actively block VPNs, so it's better to use your regular ISP connection. Radio 5 is available globally, so you won't need to change your geo-location.
Sync up the audio commentary to the live coverage of the race.
You can see us using ExpressVPN to stream a geo-blocked F1 race in the video below: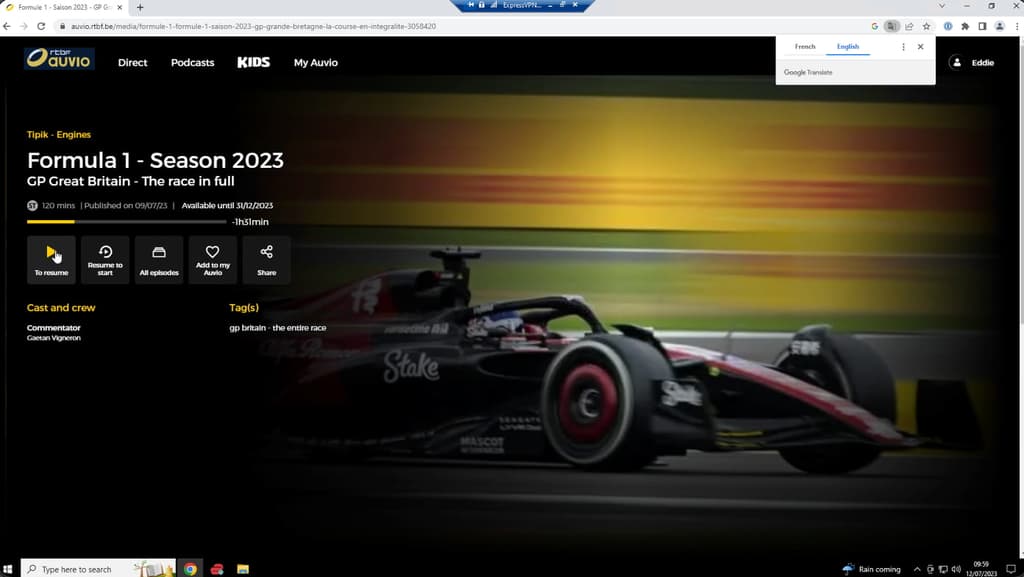 Mobile (Android, iPhone & iPad)
Normally, to access geo-blocked apps on mobile, your Apple or Google account must be linked to a country where the app is available.
However, our research found that you can access RTBF Auvio from a mobile web browser. You don't need to download the app to use it.
Here's how to watch free F1 races on iOS or Android:
Subscribe to a VPN that works with RTBF Auvio and connect to a Belgian VPN server: We recommend ExpressVPN because of its reliable performance.
Open RTBF Auvio on your mobile device's web browser: Create a new account if you haven't already.
Select the race from the home screen: Unlike on desktop, you won't be able to simultaneously access English commentary as mobile devices only allow one audio stream at a time.
Fire TV & Android TV
Sadly, most free-to-air F1 broadcasters are not available on Fire TV or Android TV. To access the apps on these devices, you'll need to create an Austrian Amazon or Google account and download Servus TV and ORF.
Here's how to access geo-blocked free F1 races on Firestick and Android TV devices:
Subscribe to a VPN that works with both Servus TV and ORF: ExpressVPN worked best in our hands-on testing.
Create a new Austrian-based Amazon or Google account: It's easier to do this using a computer or mobile device rather than having to use the TV remote.
Log in to your new account.

Fire TV: Settings > My Account > Deregister. Deregistering your device will take a few minutes. Then, enter your new account details when the set up screen appears.
Android TV: Settings > Accounts & sign-in > Add account. Then, enter your new account details.

Download the Servus TV and ORF apps from the app store: They are named 'ServusTV On' and 'ORF TVthek: Video on demand' respectively.
Connect to an Austria VPN server: This is necessary to access the geo-blocked apps.
Open the app that's broadcasting the race: Races alternate between ORF and Servus TV.
Select the race from the app's home screen: Unlike on a desktop, you won't have the ability to access English commentary simultaneously.
EXPERT TIP: Avoid streaming F1 races for free on Kodi. The platform lacks an official free F1 broadcaster, which means that all of the live streams available there are provided by illegal add-ons.
Chromecast & Roku
As you can't install VPN apps on older Chromecast and Roku devices, the simplest and most effective way of streaming geo-restricted free F1 races is by setting up a virtual router on your Windows computer.
If you don't have access to one, you can buy a pre-configured VPN router, but these are comparatively expensive.
Here's how to share a VPN connection from Windows to streaming devices:
Sign up for a VPN that works with Servus TV and ORF and download the app on Windows: ExpressVPN comes with a 30-day money-back guarantee and always works with these services.
Open Windows Command Prompt on your computer and input the following command: netsh wlan set hostednetwork mode=allow ssid=NETWORKNAME key=PASSWORD. Replace NETWORKNAME and PASSWORD with your own WiFi network's name and password.
Enable your virtual router: Type netsh wlan start hostednetwork and press Enter.
Identify your network name: Press the Windows key + R. Type ncpa.cpl and press Enter. The name of your virtual router will appear in bold.
Activate the Windows mobile hotspot feature: Go to Settings > Network & Internet and toggle Mobile hotspot to on.
Configure the WiFi sharing: Return to Network & Internet in settings and click Change adapter options. Right-click your VPN's Tap Adapter, choose Properties, click the Sharing tab, and tick the box labeled Allow other network users to connect through this computer's Internet connection.
Share the WiFi connection you've just created: Open the dropdown menu labeled Home networking connection and select the hotspot.
Open the VPN app on your computer and connect to a VPN server in Austria.
Connect your streaming device to your new network: This can be done through the device's settings.
Stream the race. Download the Servus TV and ORF apps onto your phone. This will require an Austrian Apple ID or Google Account. Connect to an Austrian VPN server on your phone and cast the video. Alternatively, you can mirror your computer screen.