Is Proton VPN Good for Torrenting?
SUMMARY: Proton VPN is a good, but not the best, VPN for torrenting. Ultimately, it is a safe and reliable service that protects your file-sharing activity with acceptable torrent speeds and no IP address leaks.
Here's a summary of Proton VPN's strengths and weaknesses.
PROS
CONS

P2P traffic support
More than 190 P2P-optimized servers
Privacy-friendly jurisdiction
Minimal logging
Kill switch to protect against connection outages
Strong encryption

Slower speeds than leading torrenting VPNs
Limited choice of locations for P2P-optimized servers
Not all P2P-optimized servers available on Basic plan
Free plan does not support torrenting
Proton VPN also offers dedicated P2P-optimized servers, has a minimal logging policy, and comes with a collection of robust security features.
However, top torrent VPNs like ExpressVPN and Private Internet Access are much faster and have larger server networks. Proton VPN will nevertheless keep you safe when torrenting.
Here is a table comparing the torrenting performance of each Proton VPN subscription plan:
| | Free | Basic | Plus | Visionary |
| --- | --- | --- | --- | --- |
| Supports P2P? | No | Yes | Yes | Yes |
| # of P2P Locations | 0 | 12 | 12 | 12 |
| # of P2P Servers | 0 | 60+ | 190+ | 190+ |
| Simultaneous Devices | 1 | 2 | 5 | 10 |
| Monthly Price (2-year plan) | Free | $3.29 | $6.63 | $24 |
Here are the features that make the premium version of Proton VPN a good choice for P2P file-sharing:
P2P-Optimized servers
Proton VPN offers high-performance servers specially configured for torrenting and other P2P activities. You can find them by looking for the two-arrow icon in the app's server list.
These optimized servers are only available in these twelve locations:
Canada
France
Germany
Hong Kong
Hungary
Iceland
The Netherlands
Singapore
Sweden
Switzerland
UK
US
If you're not based somewhere close to these countries, you'll likely experience some connection slowdowns when connecting to these servers.
Trying to torrent on a non-P2P optimized server may lead to an error message or a P2P VPN redirect. This is because a number of the data centers Proton VPN rents its servers from do not allow P2P traffic.
As a solution, the provider uses a 'Stateful Firewall' that identifies P2P traffic and re-routes it to another VPN server that does permit torrenting.
Importantly, Proton VPN assures us that this firewall works without logging any identifiable information or seeing any of the files you're downloading.
While it is impressive that Proton VPN offers P2P-optimized servers, it is a shame that they are available in a limited number of locations and that you may be blocked from torrenting on Proton VPN's other servers.
Safe Jurisdiction
If you're looking for a safe place to host a VPN service, Proton VPN's home country of Switzerland is a fantastic location for three main reasons:
Switzerland has strong privacy laws, so Proton VPN is not required to store data on users.
Switzerland is outside the EU, so it's not subject to EU data retention laws.
Switzerland is not in the 14 Eyes alliance of countries that engage in mass surveillance of internet users.
You can torrent with Proton VPN comforted by the fact that Switzerland is a safe VPN jurisdiction that is unlikely to force a VPN company to record and store customer data.
Very Private Logging Policy
Some VPN services keep logs of user behavior. This completely defeats the point of using a VPN for torrenting because it means your activity is still being recorded.
For this reason, even otherwise secure VPN services like Avast Secureline are not recommended for P2P.
Thankfully, Proton VPN operates a minimal logging policy. The only thing it stores is a timestamp of when you last logged in, which it uses to protect your account against unauthorized use.
There's no record of where you signed in from, how long you were logged in, or what you accessed. What's more, your previous timestamp is overwritten every time you log in for a new session.
This is about as minimal as logging can be.
If a court ever ordered Proton VPN to disclose user information, it simply wouldn't be able to. There isn't any recorded data to reveal.
This happened in January 2019, when a Swiss court approved a request from a foreign country asking for user data. "As we do not have any customer IP information, we could not provide the requested information and this was explained to the requesting party," wrote Proton VPN.
You can also obtain a Proton VPN account anonymously, without providing any personal identifying information, by paying with Bitcoin (instead of credit/debit card or PayPal).
Speed Tests
Testing ProtonVPN's speeds, we experienced reasonably fast performance when connecting to a local server. We saw just a 7% drop in download speed on a US-to-US connection.
Sadly, Proton VPN does not perform anywhere near as well on international connections. It's easily outperformed when torrenting with Surfshark, or other torrent-friendly VPNs like NordVPN and IPVanish.
This is particularly disappointing given Proton VPN's limited range of P2P-friendly server locations. If they're not near your physical location, your connection speed might suffer.
We also ran a standardized torrenting speed test by downloading a copyright-free video file over our 100Mbps broadband connection.
We timed how long it took to download, and divided the file size by the time taken, so that we could calculate the download bitrate.
The Verdict: Proton VPN has an average bitrate of 3.7MiB/s (or 31Mbps). Several of our top picks, such as ExpressVPN and NordVPN, achieved over 9MiB/s (or 75.5Mbps). Proton VPN is fast enough for us to recommend it, but if you're impatient, faster options are available.
It's important to note that we tested the Proton VPN Plus plan to get these speeds. Download speeds are slower on Proton VPN Basic and Proton VPN Free.
This is because these plans offer fewer servers, and the more congested a VPN server is, the slower the connections.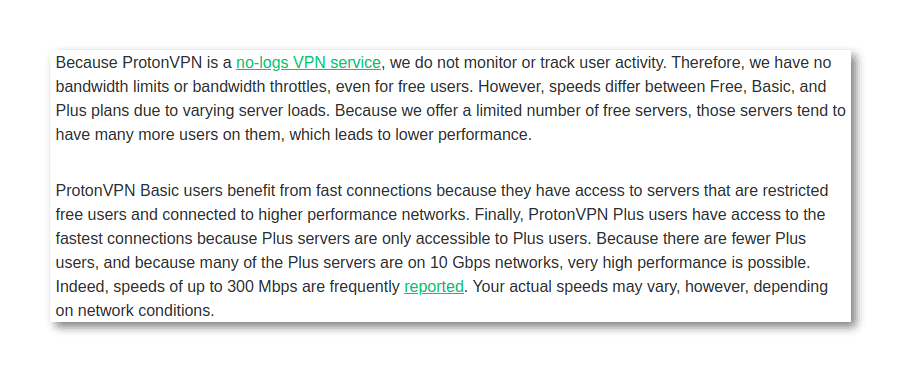 Strong Security Features
Proton VPN has a modern, comprehensive set of security features to protect your data and your privacy, which make it ideal for torrenting. These include:
Secure protocols: OpenVPN is the most secure VPN protocol and it's available in all of Proton VPN's apps. The Android and macOS apps also support IKEv2 as an alternative option. Proton VPN says it doesn't use PPTP or L2TP/IPSec anywhere, even though they're cheaper. That's good news, because both of those protocols offer weaker security than OpenVPN.
Strong encryption: Proton VPN traffic is encrypted using the AES-256 encryption cipher, the pinnacle of data encryption.
Perfect Forward Secrecy: Each VPN session uses a different encryption key. If the encryption key is cracked, only the current session is vulnerable. Previous sessions that may have been stored by bad actors and any future sessions yet to come cannot be decrypted with the same key.
Transparency: Proton VPN is leading the way in transparency. It was one of the first VPN providers to publish the source code for its software, which means that anyone can see how Proton VPN works and check it for security vulnerabilities. The company has also submitted its apps to be audited by an independent third-party.
Kill switch: If your connection to the VPN drops, there is a risk that your real IP address could be exposed to your ISP or other torrenters in the swarm. To avoid this, Proton VPN includes a built-in kill switch for Windows and macOS, which blocks all network traffic if the VPN fails. There's also an 'Always-on' feature for iOS and Android which automatically re-establishes a connection to the VPN server.
Port Forwarding: With Proton VPN's port forwarding functionality, you can bypass your router's NAT firewall and create a direct connection to your torrenting client. This results in much faster P2P download and upload speeds.