How to Torrent with Mullvad
Setting up a VPN for torrenting involves more than just a standard server connection. If you don't configure Mullvad properly, you still risk leaking your IP and revealing your P2P activity.
In the steps below, we'll tell you exactly how to configure Mullvad to maximize the VPN's speed, security, and privacy.
Quick Guide: How To Use Mullvad for Torrenting
Download a safe torrent client: We recommend qBittorrent.
Sign up for Mullvad and download the app onto your device.
Configure the Mullvad app for maximum security: Turn on its ad blocker, kill switch, and IPv6.
Bind Mullvad to your torrent client.
Check for IP and DNS leaks.
1

Choose a safe torrent client

No operating system comes with a built-in P2P client. You'll have to install third party software.

We strongly recommend qBittorrent as the best torrent client. It's open-source, safe, and doesn't include ads. It also allows network binding, for added security.

Other popular options include Vuze, Deluge, uTorrent, and BitTorrent. Whichever you choose, make sure to download it from its official website
2

Download the Mullvad VPN app

Download Mullvad on the device you'll be torrenting on. If you don't already have an account, you can subscribe to Mullvad for $5.50 a month. Mullvad doesn't offer any discounts for longer-term plans.

For greater privacy, we suggest paying via cash or cryptocurrency. This way, it's not possible to link your Mullvad account back to you.
3

Enable all Mullvad security settings

Before connecting to a server, make sure Mullvad is set up with maximum security.

Thankfully, Mullvad doesn't allow the kill switch to be turned off. A kill switch is the most important security feature for torrenting, but there are still some essential features that are not enabled by default.

To change the VPN's security settings, open the Mullvad app and click the settings cog icon in the top right.

We recommend you enable the following Mullvad security settings:
Block ads, trackers, malware: Untrustworthy torrent websites often have lots of ads and sometimes contain malware. Enable this setting to prevent viruses and malware being installed on your computer.
IPv6: If your network supports IPv6, it's possible it can leak and expose your IP address. With this setting turned on, your IPv6 address will be replaced with one from the VPN server. This drastically reduces the risk of accidental leaks.
Always require VPN: This setting prevents your computer from establishing an internet connection until you connect to Mullvad. This guarantees that your torrenting activity is protected, especially if you're someone who forgets to turn the VPN on each time.
4

Bind Mullvad to your torrenting client

For additional security, bind Mullvad to your torrenting client. By enabling this, torrent files will only download when you're connected to a Mullvad VPN server.

In practice, this works similarly to a kill switch. If the connection to the VPN drops or you accidentally disconnect, your torrent file will stop downloading and your true IP address will remain hidden.

Watch the video below to see how we set this up. We used qbittorrent, but the process is the same for most popular torrenting clients.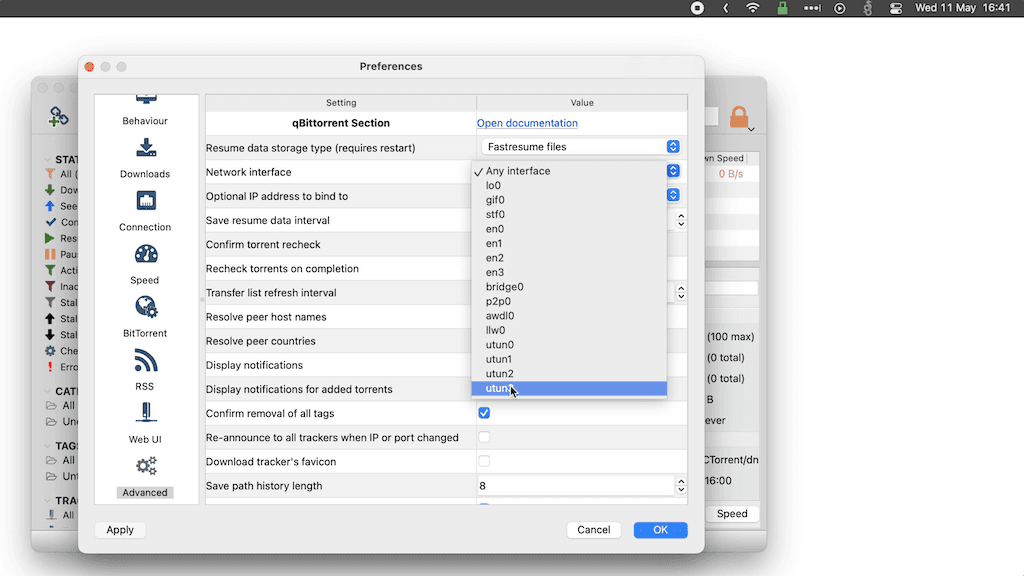 Here's how to bind Mullvad to your torrenting client:
Open qBittorrent. Click the settings cog icon at the top right.
Select Advanced from the left-hand sidebar. Click the dropdown list next to Network Interface and make a note of all the options listed. Then, click Cancel.
Open the Mullvad app and connect to the server you want to torrent from.
Return to qBittorrent and click the settings cog icon. Click the Network Interface dropdown list again. Look for an option that was not there previously. Then, select it.
Press Apply, then Ok.
Your torrent client is now bound to the IP address of the Mullvad server.
5

Test your connection for leaks

The final step is to ensure your VPN and torrent client is set up correctly.

To do this, use our torrent IP leak test tool. It'll check that you're not accidentally leaking any IP or DNS information through the VPN tunnel.

If the tool doesn't detect any leaks, you're ready to download torrent files as you usually do.