How to Torrent Securely with Private Internet Access
EXPERT ADVICE: It's incredibly important to set up and activate your VPN before you start torrenting. This ensures your public IP address is hidden effectively so you can torrent safely.
Torrenting safely with PIA is relatively simple, as long as you remember to activate the optional security features. Here's a video demonstrating how to torrent securely with PIA: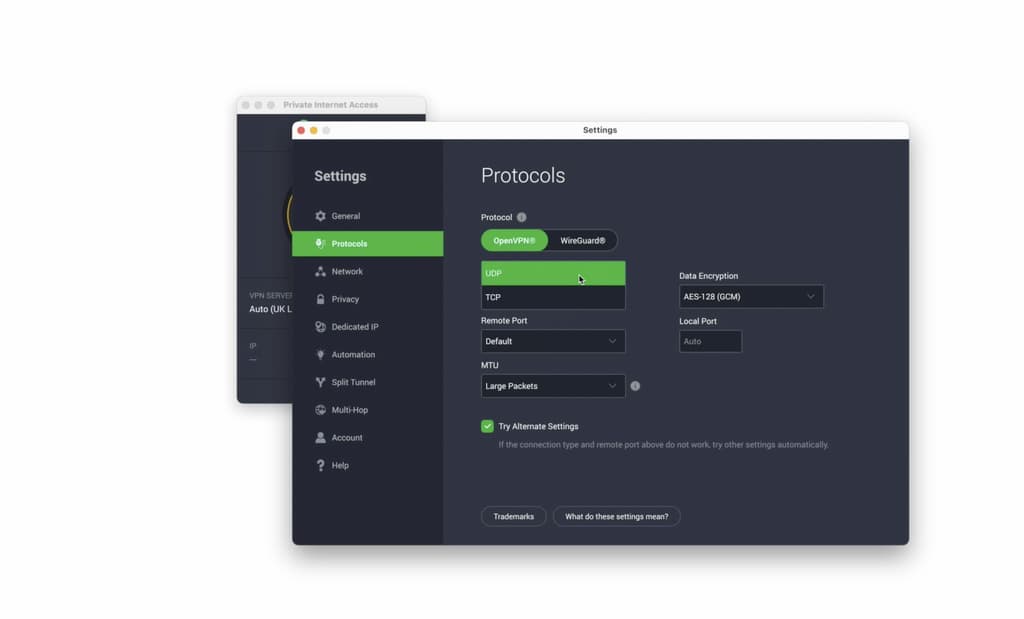 Here are more detailed instructions:
1. Choose a PIA Subscription Plan
Choose your preferred PIA subscription plan. The three-year plan offers the best value at $2.03 per month, including three months for free. All subscriptions come with a 30-day money-back guarantee.
2. Download and Install the PIA App
PIA offers native applications for all operating systems and mobile devices that support torrenting, including Windows, macOS, Linux, and Android. Download and install the app for your device, then enter your activation key.
3. Turn On the Optional Security Features
Open the Settings menu by clicking on the three vertical dots in the top-right corner of the app. In the Protocols section, make sure the Protocol toggle is set to OpenVPN, the Transport is set to UDP, and choose AES-256 under Data Encryption.
In the Privacy menu, ensure the VPN Kill Switch is set to Always. Activating the kill switch will temporarily block all internet traffic if the connection to the VPN server drops.
4. (Optional) Turn on Port Forwarding
PIA is one of the few VPNs to support port forwarding, which can dramatically improve performance, especially when uploading or 'seeding' torrents.
To activate port forwarding go to Settings > Network and check the box labeled Request Port Forwarding. It doesn't work with the VPN's US-based servers either, so you'll need to connect to a server in another country if you have port forwarding enabled.
5. Install A Safe Torrenting Client
Once PIA has connected to a VPN server, it will be safe to download, install, and activate your preferred torrent client. Our tests show qBittorrent is the safest torrenting client, as uTorrent presents some safety risks.