Disclosure: Top10VPN is editorially independent. We may earn commissions if you buy a VPN through links on our site.
Some logs kept by a company with ties to China
Logging & Jurisdiction
Our main concern with X-VPN is its boardroom has ties to mainland China, a country extremely hostile to both VPNs and digital rights in general. In addition to that, X-VPN's logging policy collects connection timestamps, which we aren't comfortable with.
X-VPN is owned by Free Connected Limited, which was incorporated in July 2017 and is based in Hong Kong.
The Free Connected Limited website states that Free Connected Limited believes in "equal and fair access" to an internet "built on privacy, security, and transparency."
From a data retention point of view, Hong Kong is a privacy-friendly VPN jurisdiction. It's not part of the Five Eyes intelligence-sharing alliance either.
However, our free VPN ownership investigation revealed that X-VPN does have links to mainland China, which is a privacy concern.
Jin Li, the company's director, and Chengdu Zhuozhuo Technology Co, the sole shareholder, are based in the Sichuan province of China.
X-VPN also says it will not disclose your information "unless in response to law enforcement requests when the Service is being used contrary to these Terms and applicable laws."
We'll now review X-VPN's logging policy to see how much of a privacy concern this is.
Logging Policy
X-VPN's logging policy is clear and transparent but it does collect quite a lot of user data including:
Chosen VPN server
VPN connection timestamp (date and time)
Choice of VPN protocol
Network type
Server CPU load and bandwidth
These logs are stored for 96 hours before being erased and are collected for troubleshooting and VPN service optimization.
When you open the app, X-VPN also logs:
Device information
App version
Data usage
City-level location
This information is used to help X-VPN with product development, and can be deleted upon request.
X-VPN also collects anonymous aggregated data of the sites visited via its servers, however none of these can be attributed to a specific user.
Most importantly X-VPN doesn't store user IP addresses.
This logging policy should satisfy most users, but read our Private Internet Access review for a top-rated no-logs VPN.
Fast on same-country connections, disappointing over distance
Speed & Reliability
A confusing, secretive selection of protocols doesn't make optimizing X-VPN's speeds easy. We tried our best and managed some surprisingly fast local speeds. However could only get mediocre speeds on long-distance connections no matter which mystery protocol we selected.
Before reading these results you should know that X-VPN doesn't use standard VPN protocols like OpenVPN, which we usually use for our tests.
Because of that it's not fair to compare speeds like-for-like with other VPNs we've reviewed.
X-VPN employs a proprietary protocol named 'Protocol-X', but confusingly this isn't the terminology used within the VPN apps, where you'll find protocols labeled 'Protocol A' through to 'Protocol I'.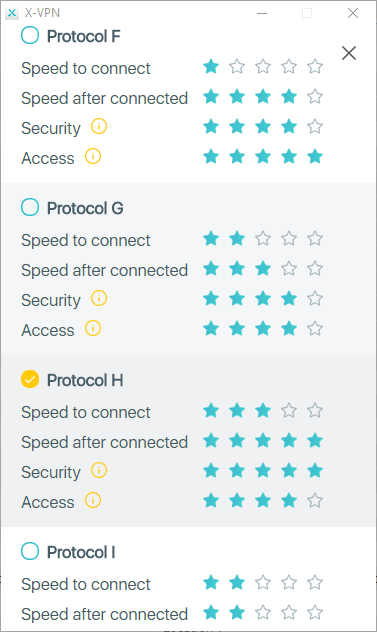 For these speed tests we used protocol H, which claims to provide the highest level of security and the fastest speeds of all the protocols on offer.
Despite selecting the fastest protocol available X-VPN's speeds were fairly mediocre.
The VPN performed well with speedy downloads and low ping times when we connected to nearby servers, losing about 15% of our normal internet download speeds. However, it was slow on longer distance connections, such as the UK to the US and beyond.
Local Speed Test results before using X-VPN:
Download Speed: 93Mbps
Upload Speed: 99Mbps
Ping: 6ms
Local Speed Test results with X-VPN:
Download Speed: 79Mbps
Upload Speed: 44Mbps
Ping: 6ms
Download speed loss when X-VPN is running: 15%
If you don't want to connect into foreign countries then you shouldn't notice much of a difference to your internet speeds when using X-VPN.
The situation is much worse over long distances, though:
USA: 22Mbps (download) & 5Mbps (upload)
Netherlands: 81Mbps (download) & 44Mbps (upload)
Singapore: 29Mbps (download) & 4Mbps (upload)
Australia: 12Mbps (download) & 2Mbps (upload)
As long as you connect to servers close to your physical location, X-VPN should be fast enough for most online activities including 4K streaming, torrenting, and gaming.
Huge network of over 8,000 VPN servers in 60 countries
Server Locations
X-VPN's server network is absolutely outstanding. It's one of the biggest available on the VPN market right now. The 60 countries on its network are very well spread out, and eight of them have a choice of cities. 8,000 individual servers puts X-VPN right up there with the best VPNs on the market.
X-VPN's server network is one of the biggest in the market with over 5,000 individual servers – these are a mixture of bare metal servers and rented virtual servers. The network covers 60 countries, which is an excellent number spread around the world.
The network covers popular locations like Australia, Canada, the UK, and the US, as well as plenty in Asia-Pacific.
What's perhaps most impressive is X-VPNs coverage in regions that normally get ignored. There's servers at both ends of Africa (Egypt and South Africa) plus five locations categorized as the Middle East (Bahrain, Cyprus, Israel, Turkey, UAE). Argentina, Brazil, and Colombia serve South America.
There's also a number of specialized servers for streaming and gaming, including services like Netflix and Hotstar and games like League of Legends and Roblox.
A very good streaming VPN for Netflix & more
Streaming
X-VPN is a great VPN for unlocking streaming services. In our testing it consistently unblocked Netflix in four different regions, including the US, as well as BBC iPlayer. In a time when even the biggest and best VPNs are struggling to provide access to streaming sites, X-VPN is performing very, very well.
X-VPN comes with servers optimized for streaming popular services like Netflix and BBC iPlayer.
Just select one of the servers from the 'Streaming' tab within the app and you'll be able to watch all your favorite shows immediately.
It's very surprising that X-VPN is still able to stream US Netflix and BBC iPlayer, especially the latter. Many VPN services struggle to access the BBC's video platform.
In addition to the US library, we were also able to unlock Netflix in the UK, Spain, and Brazil through their respective dedicated servers.
Other services like Disney+, Amazon Prime Video, Hulu, and HBO Max were no problem at all for X-VPN, all unlocked with ease.
Slow P2P speeds & an untrustworthy privacy policy
Torrenting
X-VPN is a poor torrenting VPN for a number of reasons. The main issue is the company's mysterious ownership and its logging policy, neither of which we trust entirely. Beyond that, though, it simply doesn't download or upload fast enough.
X-VPN may have added a kill switch to its apps, which is incredibly important for private torrenting, it's still a poor torrenting VPN.
Another issue is that there's no mention of torrenting anywhere on X-VPN's website or privacy policy. In the past, live chat support agents have told us that torrenting is only permitted on some servers, but not told us which. When we asked most recently we didn't get a response at all.
Works in China on multiple protocols
Bypassing Censorship
X-VPN might just be the ultimate dark horse of China VPNs. In our testing it worked on multiple protocols with incredible consistency. It was even much quicker and more responsive than some of our favorites for China, like Astrill.
Getting a VPN to work consistently in China is perhaps the greatest challenge any service faces.
Even being able to bypass the Great Firewall just once is impressive, but doing it with consistency over long periods of time is the true test. If X-VPN can keep up this level of reliability over six months to a year then its score will certainly increase.
While using protocols B, D, E, and F on a Windows PC we were able to access blocked sites like YouTube and Wikipedia from our Chinese test server with no issues.
Simple custom VPN apps for wide range of devices
Platforms & Devices
X-VPN is capable of protecting every device in your home. There's dedicated native apps for Windows, MacOS, iOS, and Android, a Terminal command for Linux, and router coverage for everything else. X-VPN also has a browser extension for Google Chrome.
Apps
You can install X-VPN on the following platforms:
Windows

Mac

iOS

Android

Linux

Router
X-VPN has custom apps for:
Microsoft Windows
Apple MacOS
iOS
Android
Linux
You can use X-VPN on up to five devices at any time using just one account.
Games Consoles & Streaming Devices
X-VPN doesn't have Smart DNS for streaming on consoles, but it can be installed on your home router.
AppleTV

Amazon Fire TV

Android TV

Chromecast

Nintendo

PlayStation

Roku

Smart TV

Xbox
If you do this then any device connected to it (including your PlayStation, Xbox, or Nintendo) will benefit from full encryption and IP spoofing.
This is only an option for specific types of routers, though, so be sure to check if yours is compatible before you take out a subscription.
The X-VPN website has setup guides for the following brands of router:
Asus
D-Link
Huawei
Linksys
TP-Link
It also has flashed firmware for any routers that run OpenWrt, DD-Wrt, and Tomato.
However, you can only access five VPN server locations on router:
US-Dallas
Hong Kong
United Kingdom
US-Netflix
New Zealand
There's a simpler solution for Amazon Fire TV Stick users, though. X-VPN has a custom app that can be downloaded straight from the Amazon app store.
Browser Extensions
There's an X-VPN browser extension for Google Chrome, but we wouldn't recommend using it.
Chrome
Not only did it connect us to the wrong country – we selected the US and it gave us a Canadian IP address – but it also leaked our IP address through WebRTC.
WebRTC leaks are a browser issue that expose your true IP address, and usually browser extensions block these leaks, but X-VPN has failed to do so.
This puts your privacy at risk.
Confusing protocols & no extra settings
Security & Features
X-VPN is confusing. We're unable to say for sure just how secure it is as its many, many protocols are all kept anonymous. While we didn't spot any leaks in our testing, we did have issues with X-VPN connecting to IP addresses in the wrong country (on more than one occasion). There has, at least, been a kill switch recently added.
Protocols

Proprietary
Undisclosed

Encryption

AES-256

Security

DNS Leak Blocking
First-party DNS
VPN Kill Switch

Advanced features

Split Tunneling
X-VPN uses proprietary protocols rather than the standard ones – these are labeled from A to I and, according to X-VPN's website, vary in speed and security levels.
While X-VPN claims its proprietary technology is better than the standard protocols, there's no way to know this for sure because the company doesn't publish any technical details about it.
Until we know more details about the technology, we'd rather stick with VPN services that use standard protocols like OpenVPN, which is open-source and has been through thorough testing.
For all we know one of these protocols might even be OpenVPN, but there's no way to find out.
Here's what X-VPN has to say about its proprietary protocol, named 'X':
"Our self-developed protocol X is proven to be highly effective in unblocking heavily restricted/censored networks thanks to its camouflage mechanics which disguises [sic] the data communication patterns.
"While we primarily focusing on circumvent performances of the protocol X [sic], we also implemented multiple unparalleled encryptions & authentication algorithms to ensure its security."
According to X-VPN's website, the service uses AES-256 cipher to encrypt traffic at least, which is considered very secure.
It has also recently introduced a kill switch on Windows, MacOS, iOS, and Android, which is extremely important and long-overdue.
On Android there's a split tunneling feature called Application Control, which allows you to choose which apps go through the VPN tunnel, but that's it for configurable options.
Even then, there's a pop-up warning Windows users that the application control may lead to connection issues.
On the plus side, the main VPN apps didn't leak during our IP, DNS, and WebRTC leak tests:
However, we found something stranger than a normal data leak. When connecting to the US, X-VPN gave us a French IP address multiple times. And when connecting to Germany it gave us a US IP address.
This happened repeatedly until we dived deeper into the server menu and chose a specific city-level server to connect to.
And as mentioned earlier, the Chrome extension doesn't protect against WebRTC leaks.
Simple set up but lacks customization
Ease of Use
X-VPN is extremely easy to use, mostly because of its complete lack of extra features. This naturally lends it more to beginners looking for a simple app. If you have experience with VPNs then you'll likely find X-VPN extremely stripped-back.
How to Install & Set Up X-VPN
X-VPN is really easy to use, at the expense of configurability.
There aren't many settings to play around with, particularly on desktop which doesn't even have a VPN kill switch.
All you need to do is download the custom app for your device from X-VPN's website, run through some installation prompts, select a server location, and connect.
You can choose to route certain app traffic outside the VPN tunnel using the Application control but that's about it.
The main screen is very sparse – it displays the server you're connected to but no other information like your new IP address is supplied.
The most complicated part of the apps is the protocol options. X-VPN doesn't use standard VPN protocols and labels them from Protocol A to Protocol I.
While the desktop apps give some context about the security and performance of the various protocols, the mobile apps don't, leaving users in the dark.
Browser Extensions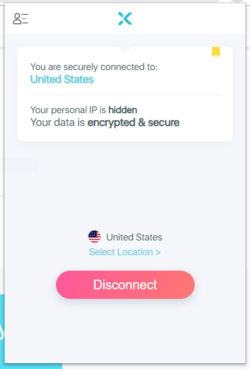 It takes no time to set up X-VPN's browser extension for Google Chrome.
All you need to do is add it to your browser from the Chrome Web Store and log in. There aren't any settings, so just choose and server and click the connect button.
We experienced WebRTC leaks while using the extension, though, so we advise against installing it.
Decent resources, unreliable live chat
Customer Support
X-VPN live chat support is clearly not manned 24 hours-a-day, but it doesn't tell you that. Multiple times we spent hours sat waiting for a response, even when the chat window said that agents were online. The written resources are useful, with some popular topics covered, but are nowhere near as comprehensive as some rivals.
| | |
| --- | --- |
| Live chat Support | Yes |
| Email | Yes |
X-VPN live chat support is not at all reliable.
We were told that live chat is available Monday to Saturday but even within those days we were left waiting hours for a response.
When an agent did eventually answer they lacked technical knowledge and asked us to send an email with our questions for the manager.
It took a couple of days for the manager to reply, and they still didn't answer all of our questions.
X-VPN's online resources are nothing special, either.
There are a few basic setup articles and some general FAQs, but it lacks troubleshooting and technical resources.
There seems to be quite a lot of information on the website that conflicts with what customer support told us, too. While it has clearly been updated recently (and is a big improvement on what it used to be) it still has a long way to go.
Not worth the price
Price & Value
X-VPN is overpriced. While it may offer some solid features and benefits, even at its cheapest monthly rate you could get almost any other VPN on the market - many of them much better than X-VPN.
X-VPN is fairly pricey, particularly because it doesn't provide any long-term plans to bring the monthly price down.
There's a one-month plan for $11.99 or a yearly plan for $5.99 a month.
There are far better VPN services available for less money. Check out the best cheap VPNs here.
All plans have 7-day money-back guarantee
Payment & Refund Options
American Express

Bitcoin

Bitcoin Cash

Mastercard

Monero

PayPal

Visa

Voucher
There's a seven-day money-back guarantee in case you change your mind.
Just get in touch with live chat support to request a refund. The agent may ask you the reason for canceling the service but they will issue a refund, whatever the reason.
X-VPN accepts the standard payment methods like credit card and debit card, as well as PayPal.
You can also pay with cryptocurrencies through CoinPayments for more privacy, as well as via gift card.
X-VPN has potential
The Bottom Line
X-VPN gets a lot of things right: it's easy to use, excellent for streaming, and has a huge server network. It also works in China, which is rare.
Unfortunately, almost every positive is offset by a negative. We have no idea what protocols its using to (often incorrectly) encrypt traffic, it logs too much data, and its owners have ties to China. It's also a poor VPN for torrenting.
Even on a one-year deal, X-VPN is expensive. It's simply not worth the money right now.
Alternatives to X-VPN
CyberGhost
CyberGhost is one of the cheapest VPNs on the market and it's great for streaming and torrenting. CyberGhost also maintains a no-logs policy and comes with all the security essentials you need. Read CyberGhost review
ExpressVPN
A little more expensive than X-VPN, ExpressVPN offers a much better package. It's compatible with loads of devices, uses the most secure encryption and technology, and it works in China. Read ExpressVPN review
---
User Feedback for X-VPN