X-VPN Review
Privacy & Logging Policy
X-VPN Keeps Some Logs & Has Ties to China
Here's a table showing all the information that X-VPN logs:
| Data Type | Logged by X-VPN |
| --- | --- |
| Browsing Activity | No |
| Device Information | Yes |
| DNS Queries | No |
| Individual Bandwidth Usage | Yes |
| Individual Connection Timestamps | Yes |
| ISP | No |
| Number of Simultaneous Connections | No |
| Originating IP Address | No |
| Account Information | Yes |
| VPN Server IP | No |
| VPN Server Location | No |
| Date of Last Connection | No |
X-VPN collects different amounts of data depending on the device in use.
Across all of its apps, X-VPN logs the following:
Device information
Data usage
City-level location
This information is used to help X-VPN with product development, and can be deleted upon request.
While none of the information X-VPN logs is identifiable in isolation, collecting your geo-location and connection timestamp is, in theory, enough to de-anonymize your activity.
On its mobile apps, it collects the following data:
VPN connection timestamp
Choice of VPN protocol
Network type
These logs used to be stored for 96 hours before being erased. Thankfully, X-VPN has since reduced this timeframe to 48 hours, decreasing the risk of your data being compromised.
However, it's still concerning that X-VPN logs connection timestamps for two days. Better VPNs are able to optimize their service without retaining any logs.
We would feel more assured about X-VPN's logging policy if it was verified by an independent audit or even a warrant canary.
Links to Chinese Ownership
X-VPN is owned by Free Connected Limited, which was incorporated in July 2017 and is based in Hong Kong.
From a data retention point of view, Hong Kong is a privacy-friendly VPN jurisdiction. It's not part of the Five Eyes intelligence-sharing alliance either.
However, our free VPN ownership investigation revealed that X-VPN does have links to mainland China, which is a privacy concern.
Jin Li, the company's director, and Chengdu Zhuozhuo Technology Co, the sole shareholder, are based in the Sichuan province of China.
Coupled with its logging practices and close-sourced protocols, we do not consider X-VPN a trustworthy service.
Speed
Slow Speeds in Almost Every Server Location
Before reading the results below, be aware that X-VPN doesn't use standard VPN protocols like OpenVPN or WireGuard, which we usually use for our tests.
X-VPN employs proprietary protocols labeled Protocol A through to Protocol I, without any accompanying description.
We asked X-VPN's support team for the best protocol to use for speed and were advised to use Protocol M while connected to a CF-Line server. Frustratingly, this isn't made apparent in the app nor is it clear that you can access Protocol M by first connecting to a CF-Line server.
EXPERT ADVICE: X-VPN only has CF-Line servers in the UK, US, Germany, Japan, and Singapore. If you need fast connection speeds outside of these locations then we recommend using Protocol B for its slightly more consistent long-distance speeds.
For this review, we used Protocol B to test X-VPN's speeds as it can connect to servers in all 6 continents. We connected to each location weekly, using a 100Mbps connection, and aggregated the results into an average.
Here's a table displaying X-VPN's speed test results:
As the data indicates, X-VPN slowed our download speeds to 64Mbps on a local connection. This is a poor result and means X-VPN is the slowest premium VPN we've reviewed. There are currently 38 VPNs we review that register faster local download speeds than X-VPN.
It's also the slowest premium VPN for international download speed, with an average across all locations of just 32Mbps. This is a poor result, particularly for a paid service.
You can expect data-intensive activities such as HD streaming, torrenting, and online video games to be especially slow while using X-VPN. We'd recommend using one of the leading VPNs for speed, instead.
You can use the chart below to see how poorly X-VPN's speeds compare to top-shelf VPNs over short and long distances: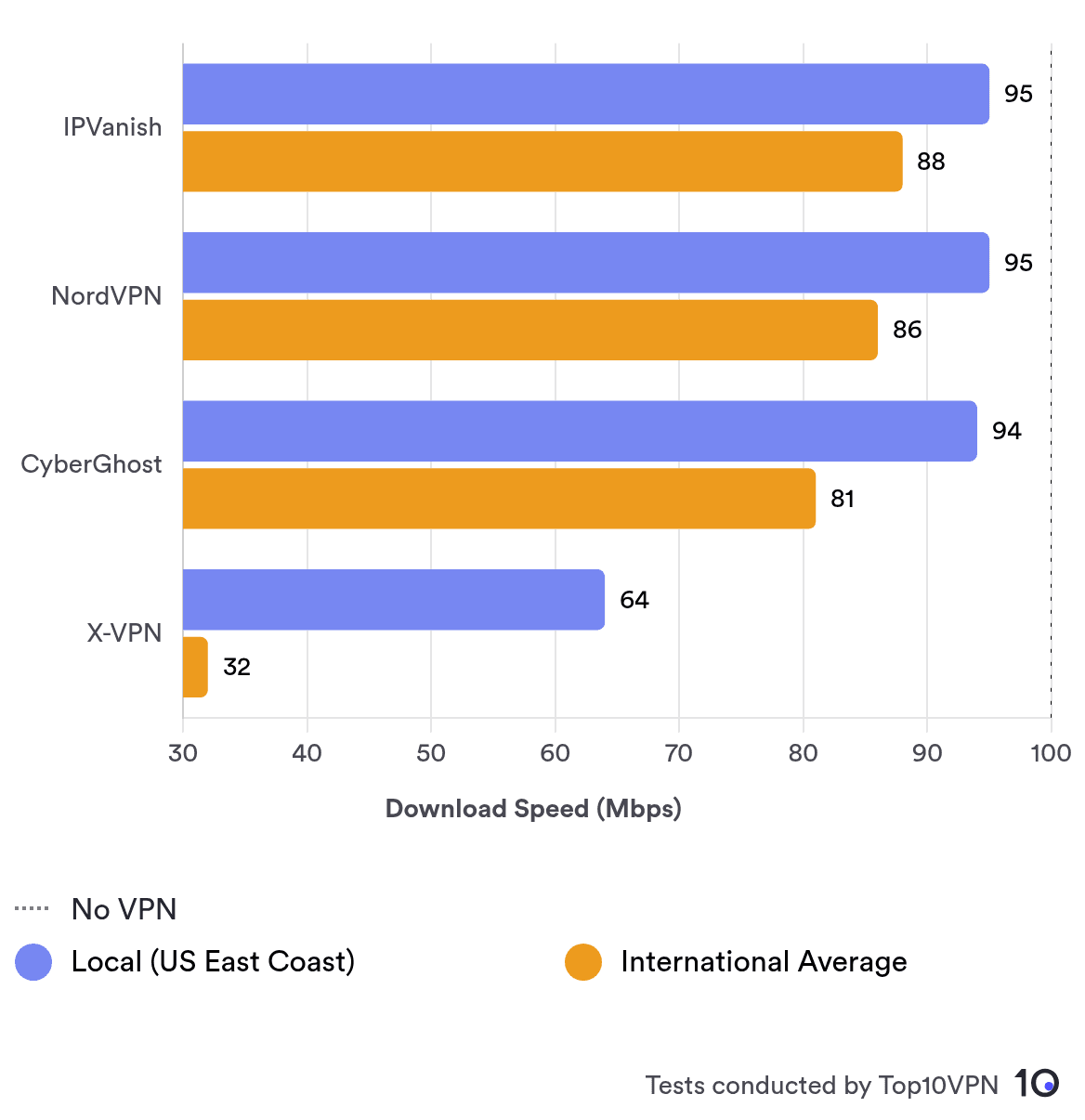 As shown above, X-VPN's local speeds are around 33% slower than the leading VPNs on average. Over international connections, its average download speed is approximately 56Mbps slower than IPVanish.
Which X-VPN Protocol Is the Fastest?
X-VPN provides barely any contextual information about its proprietary protocols, citing 'privacy reasons'. You can find a table on the VPN service's website ranking seven of the 11 protocols by arbitrary categories.
We don't trust X-VPN's rating system. It provides no information on why Protocol H and Protocol C are rated five out of five stars for security but the rest of the protocols are capped at four.
We're also unconvinced by the speed ratings as Protocol D performed best in our tests despite its lowly ranking.
We've compiled the average download and upload speeds of X-VPN's 'fastest' protocols on Windows so you can compare and contrast them to Protocol B.
X-VPN Free's Speed Test Results
We couldn't apply our speed testing methodology to X-VPN Free as our VPN connection was periodically interrupted to encourage an upgrade to the premium version.
To make matters worse, X-VPN Free automatically picks a server location for you, and it may not be close by.
After repeated reconnections, we were eventually able to speed test X-VPN Free's iOS app.
Below are the speed results we recorded using X-VPN's free version:
As expected, X-VPN Free is even slower than its paid counterpart with an average download speed loss of 47%.
Although this isn't the worst result for a free VPN, its non-existent server network and intrusive logging policy means we can't recommend using X-VPN Free.
Server Locations
Large network of 8,000+ VPN servers in 60 countries
60 Countries
87 Cities
8,000+ IP Addresses
X-VPN's server network is one of the largest in the market with 8,000+ individual servers.
The server network covers 60 countries, which is on par with the best VPN services.
What's impressive is X-VPNs coverage in regions typically less served by VPN services. Its network covers popular locations like Australia, Canada, the UK, and the US. Asia is well accounted for too, with X-VPN covering 11 countries.
There are servers at both ends of Africa (Egypt and South Africa), and five server locations categorized as the Middle East (Bahrain, Cyprus, Israel, Turkey, UAE). There are also South American servers in Argentina, Brazil, Colombia, and Mexico.
There's also a number of specialized servers for streaming and gaming, including services like Netflix and Hotstar and games like League of Legends and Roblox.
Previously X-VPN used a mixture of bare metal and virtual servers but has since changed to exclusively the latter. This is a disappointing regression from X-VPN as it means all of its servers aren't really located in the country they say they are.
X-VPN Free's Server Coverage
When you use X-VPN Free it automatically connects you to the nearest server location.
You aren't given a choice in location or any prior information about the region you're connecting to.
X-VPN also couldn't confirm for us how many server locations are available to free users so there's no way of knowing whether you're near a free VPN server until you try it out for yourself.
The full list of premium server locations are included in the apps but if you click on one X-VPN will prompt you to upgrade.
Streaming
X-VPN unblocks US Netflix, BBC iPlayer, Disney+ and more
X-VPN comes with servers optimized for popular streaming services like Netflix and BBC iPlayer.
Selecting Video&Game in the X-VPN app displays a list of services categorized by both region and streaming platform.
Using X-VPN's dedicated American servers we were able to unblock US Netflix, HBO Max, Disney+, and Amazon Prime Video.
On its British equivalent, we were able to access BBC iPlayer, ITV Hub, and All 4.
X-VPN can only unblock the US and Australian Netflix libraries but since the US library is one of the most coveted, this is still a fairly strong streaming performance.
The main issue with streaming with X-VPN is its slow international speeds. While the VPN unblocks many content platforms, the streaming quality isn't what you get with the best streaming VPNs.
We've tested every X-VPN server and summarized the best one for each streaming service below:
| Streaming Service | Best X-VPN Server |
| --- | --- |
| US Netflix | US-Video-N |
| HBO Max | US-Video-N-1 |
| Disney+ | US-Video-D+-1 |
| Amazon Prime Video US | US-Video-A |
| BBC iPlayer | GB-Video-B |
| ITV Hub | GB-Video-iV |
| All 4 | GB-Video-iV |
X-VPN Free's Streaming Performance
X-VPN's Free service is a bad VPN for streaming. The paid version of X-VPN has dedicated streaming servers, but they are not available for free users.
We were unable to access US Netflix, BBC iPlayer, and all other streaming services in our testing. Sadly, most free VPN services don't prioritize streaming access.
X-VPN Free automatically assigns you a server as close as possible to your real-life location which defeats the purpose of accessing geo-restricted content in different regions.
We tried using the free London server to unblock content in the UK but couldn't access a single British streaming service.
We were never assigned a server location outside of Western Europe during any point in our testing.
If you want a free VPN for streaming then consider using Windscribe Free. It can stream 6 Netflix libraries, more than either version of X-VPN, as well as HBO Max, Hulu, and Amazon Prime Video.
Torrenting
Slow P2P speeds and an untrustworthy logging policy
X-VPN's stance on torrenting and P2P activity hasn't been clear in the past so we contacted live chat support and received this response:
This is not made obvious within the VPN client or on the X-VPN website. The 'Ultimate Line' servers are found in the default server list without any accompanying information.
It's also not made clear that Protocol K can only be accessed through the Ultimate Line servers. Selecting Protocol K on a standard VPN server forces the connection to switch to Protocol B with no explanation.
We carried out several torrenting tests using X-VPN's Ultimate Line Frankfurt server and recorded a disappointing average bitrate of 4.1MiB/s.
X-VPN performs marginally better on its standard protocols and servers but it's still not fast enough to qualify as a top torrenting VPN.
Its logging policy isn't good enough to safeguard its customers' privacy, either. For us, using a no-logs VPN for torrenting is critical.
Security & Technical Features
Confusing protocols and features that vary by device
| Protocols | Available in X-VPN |
| --- | --- |
| IKEv2/IPSec | No |
| OpenVPN (TCP/UDP) | No |
| Proprietary | Yes |
| WireGuard | No |
| Undisclosed | Yes |
| Encryption | Available in X-VPN |
| --- | --- |
| AES-128 | No |
| AES-192 | No |
| AES-256 | Yes |
| Blowfish | No |
| ChaCha20 | No |
| Security | Available in X-VPN |
| --- | --- |
| DNS Leak Blocking | Yes |
| First-party DNS | Yes |
| IPv6 Leak Blocking | Yes |
| Supports TCP Port 443 | No |
| VPN Kill Switch | Yes |
| WebRTC Leak Blocking | No |
| Advanced Features | Available in X-VPN |
| --- | --- |
| Ad Blocker | No |
| Dedicated IP | No |
| Double VPN | No |
| Smart DNS | No |
| Static IP | No |
| SOCKS | No |
| Split Tunneling | Yes |
| Tor over VPN Server | No |
| Tracker Blocker | No |
X-VPN uses proprietary protocols rather than the standard ones – these are labeled from A to I and, according to X-VPN's website, vary in speed and security levels.
While X-VPN claims its proprietary technology is better than the standard protocols, there's no way to know this for sure because the company doesn't publish any technical details about it.
We analyzed our data packets when connected to X-VPN using Wireshark and couldn't identify a known VPN protocol. We didn't capture any TLS handshakes and a follow-up test confirmed it didn't use SSL either.
Our traffic was at least encrypted, only displaying incoherent symbols when inspected.
Based on our results we can confirm X-VPN uses a TCP-based protocol that will encrypt your traffic but we can't evaluate its strength or reliability.
According to X-VPN's website, the service uses AES-256 cipher to encrypt traffic at least, which is the industry-standard.
Moving forward we would like to see X-VPN make its protocol open-source so it can undergo proper scrutiny or, even better, use trusted standard protocols like OpenVPN or WireGuard.
We ran X-VPN through our leak testing tool and the results were mixed:
X-VPN didn't leak during our IP test, which is the most important one, but we found an issue with its DNS requests.
Our test revealed that X-VPN doesn't support first-party DNS servers and instead runs all of its requests through Google. This isn't a total breach of anonymity as your information requests will be one of thousands, but it still isn't great from a VPN service.
Reliable but Paywalled Kill Switch
All of X-VPN's apps come equipped with a VPN kill switch but you have to upgrade to premium to use it on iOS and Android.
This is bad practice and puts your personal data at risk if you unexpectedly disconnect from the internet on mobile.
We tested the VPN service using our first-of-its-kind kill switch testing tool. This checks for any IP leaks in two instances: when changing VPN servers and when the VPN disconnects unexpectedly.
X-VPN passed all parameters of our test multiple times confirming that its kill switch works properly.
X-VPN is Safe to Use but Not Private
We ran X-VPN's Windows installer through VirusTotal.com and it only detected one anomalous piece of software.
The tool detected an unknown entity and displayed it as 'Trojan Generic.' This is the default label assigned to any software that VirusTotal doesn't recognise.
Based on our testing, we can confirm that this software is unlikely to be malicious. There is nothing to indicate the presence of malware in any of the VPN's apps.
X-VPN is safe to install on Windows.
We also scanned the Android app with the εxodus tool to see what trackers and permissions it implements:
We're not impressed with the amount of trackers X-VPN uses on Android. Its privacy policy does at least admit to collecting analytic data on mobile to: "help us understand users, plan product development and improve user experience."
This is a poor excuse, other premium VPN services are able to maintain a high quality service without using any trackers.
The presence of advertisement trackers is also concerning. X-VPN's privacy policy insists that these third-party services operate "independently" from the VPN service.
On this basis we can confirm that X-VPN is safe to use on Android, but not entirely private.
Limited Advanced Features
X-VPN's extra features fall short of what we expect from a quality VPN service.
All X-VPN apps come equipped with a split tunneling feature called Application control, allowing you to select which applications enter the VPN tunnel, and a VPN kill switch. Although, both of these features are limited to the premium version.
The Android app exclusively has access to its own private browser. This allows you to browse the web on X-VPN's own browser exempt from cookies and advertisement trackers. Frustratingly, this is also hidden behind a paywall.
Both mobile apps come with support for a proxy server that can be used to tether your VPN connection to a games console. This is another paid-only feature and we can't recommend it on the basis of X-VPN's fluctuating ping speeds and unconvincing logging policy.
Security Features We'd Like to See from X-VPN
X-VPN lacks the security features we expect from a premium VPN service. Here are some features we'd like to see X-VPN add:
Standard VPN protocols to improve the VPN's security, speed performance, and overall trustworthiness.
First-party DNS to eliminate any DNS leaks and maintain your online anonymity.
Double VPN to reduce the likelihood of traffic correlation attacks.
Ad Blocker to ensure a smooth browsing experience free from ads.
Bypassing Web Censorship
No longer works in China
In the past, X-VPN was one of the few VPNs that consistently bypassed the Great Firewall of China. Sadly, that's not the case anymore.
We tested every protocol on multiple server locations nearby to China, but X-VPN failed to connect every time.
We contacted X-VPN's support and were told: "Sorry, X-VPN does not work in China."
Considering X-VPN's lack of VPN obfuscation tools, we suspect it won't work in other restricted countries such as Iran, UAE, and Russia.
Device & OS Compatibility
Simple custom VPN apps for wide range of devices
Apps
You can download and install X-VPN on the following devices:
Windows

Mac

iOS

Android

Linux

Router
X-VPN has custom apps for:
Microsoft Windows
Apple macOS
iOS
Android
Linux
X-VPN can be installed on five different devices simultaneously. Once this limit is reached you'll be forced to change your password effectively logging you out of your other devices.
X-VPN's Windows Client
X-VPN is threadbare on Windows and its 'free' version is confusing. You can either download a version of X-VPN directly from its website or through the Microsoft store. The former is equipped with 12 VPN protocols but its free data limit is exceeded by default (meaning you can't use it) and the latter only has four protocols but you do have access to the 500MB data limit.
Regardless of which version you install you won't be able to establish a VPN connection unless you upgrade to premium. Even if the free version of the app did work, a one-time data limit of 500MB isn't enough to cover the most basic of activities.
The main menu of the Windows app is identical to all other versions of X-VPN, a large connect button with the option to change VPN server and protocol below.
macOS App
X-VPN's macOS application is identical to Windows visually, however, the free version works and supports all 12 proprietary protocols.
You're restricted to a data limit of 500MB on X-VPN's free macOS app which never renews once depleted. This is poor from X-VPN, most free versions of premium VPN services will renew their data allowances daily or monthly.
The paid version of X-VPN operates in the same way as the Windows app. The server network, protocols, and absence of advanced features, are all identical
Android App
X-VPN's Android app is its most developed, supporting the service's full server network as well as several advanced features.
You can use the Android app for free, without any data limits, but you're periodically disconnected without warning to restrict your usage. This puts your personal data at risk as the VPN kill switch is paywalled on Android, allowing your internet connection to continue unprotected.
On the paid version you have access to 13 VPN protocols, one more than Windows and macOS, as well as split tunneling.
There's also a private browser on Android, deleting your history, cookies, and session data every time you exit the app.
You also have access to the VPN tethering feature on Android, allowing you to create a VPN hotspot for your games console.
iOS App
X-VPN on iOS replicates the Android app in most departments but lacks some of the more advanced features.
The iOS app is the only platform not to support split tunneling and its VPN kill switch is restricted to the premium version.
You can use X-VPN on iOS for free but you'll frequently be disconnected without warning to manage your data usage.
The server network is identical to Windows, macOS, and Android with the Boost Streaming button simply redirecting you to the streaming-optimized servers.
You can't access the private browser feature on iOS but the paid version does support the VPN tethering feature for gamers.
Games Consoles & Streaming Devices
X-VPN doesn't have Smart DNS for streaming on consoles, but you can connect to a VPN hotspot on the mobile apps.
Apple TV

Amazon Fire TV

Android TV

Chromecast

Nintendo

PlayStation

Roku

Smart TV

Xbox
Alternatively, you can cover all devices in your household by installing X-VPN on your router.
This is only an option for specific types of routers, though, so be sure to check if yours is compatible before you take out a subscription.
The X-VPN website has setup guides for the following brands of router:
Asus
D-Link
Huawei
Linksys
TP-Link
Xiaomi
It also has flashed firmware for any routers that run OpenWrt, DD-Wrt, and Tomato.
You only have access to the following five VPN server locations on router:
US – Dallas
Hong Kong
United Kingdom
US – Netflix
New Zealand
Considering X-VPNs fluctuating connection speeds and dubious links to China we recommend using one of the best VPNs for gaming instead.
X-VPN also provides a native app for Amazon Fire TV users.
The Fire TV app is very basic but you do have complete access to the X-VPN server network. We didn't encounter any issues using the free or paid version of the Fire TV app but we would like to see X-VPN introduce a kill switch moving forward.
Browser Extensions
There's an X-VPN browser extension for Google Chrome, but we don't recommend using it.
Chrome
We ran the extension through our in-depth testing process and found that although it did encrypt our traffic: our WebRTC, DNS, and geolocation were all leaked.
WebRTC leaks are a web browser issue that exposes your true IP address. The best chrome extensions block these leaks, but X-VPN's fails to do so, putting your privacy at risk.
We also struggled to connect to some of the streaming-optimized servers. Most worryingly, we were unable to connect to a single US-Netflix server.
Ease of Use
Simple set up but lacks customization
How to Connect to a Server with X-VPN
How to Change Settings in X-VPN
X-VPN is really easy to use, at the expense of configurability.
All you need to do is download the custom app for your device from X-VPN's website, run through some installation prompts, select a server location, and connect.
The only exception is the Windows app which varies in protocol depending on where you download it from. Once installed, though, it's simple to use.
The most complicated part of the apps are the protocol options. X-VPN doesn't use standard VPN protocols and labels them from Protocol A to Protocol I.
You're given no context about the protocols and it was only after contacting customer support we were informed that you need to connect to an Ultimate Line server to access Protocol K and a CF Line server to access Protocol M.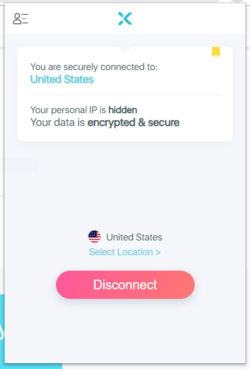 It takes no time to set up X-VPN's browser extension for Google Chrome.
All you need to do is add it to your browser from the Chrome Web Store and log in. There aren't any settings, so just choose a server and click the connect button.
We experienced WebRTC leaks while using the extension, though, so we advise against installing it.
Customer Support
Decent resources, unreliable live chat
| Customer Support | Available in X-VPN |
| --- | --- |
| 24/7 Live Chat Support | No |
| 24/7 Email Support | No |
| Chatbot | No |
| Live Chat Support | Yes |
| Email | Yes |
| Email Support via Online Form | No |
| Tutorial Videos | No |
| Online Resources | No |
X-VPN live chat support is not at all reliable.
We were told that live chat is available Monday to Saturday but even within those days we were left waiting hours for a response.
When an agent did eventually answer they lacked technical knowledge and asked us to send an email with our questions for the manager.
It took a couple of days for the manager to reply, and they still didn't answer all of our questions.
X-VPN's online resources are nothing special, either.
There are a few basic setup articles and some general FAQs, but it lacks troubleshooting and technical resources.
There seems to be quite a lot of information on the website that conflicts with what customer support told us, too. While it has clearly been updated recently (and is a big improvement on what it used to be) it still has a long way to go.
Price & Value
X-VPN is not worth the price
X-VPN is rather expensive, particularly because it doesn't provide any long-term plans to bring the monthly price down.
There's a one-month plan for $11.99, a six-month plan for $8.99, or a yearly plan for $5.99 a month.
In short, there are far better and cheaper VPNs available.
Payment & Refund Options
American Express

Bitcoin

Bitcoin Cash

Mastercard

Monero

PayPal

Visa

Voucher
X-VPN offers a 30-day money-back guarantee in case you change your mind.
Just get in touch with live chat support to request a refund. The agent may ask you the reason for canceling the service but they will issue a refund, whatever the reason.
You can also try out X-VPN's seven-day free trial but this will require your payment details to activate and will renew automatically once the trial period ends.
X-VPN accepts the standard payment methods like credit card and debit card, as well as PayPal.
You can also pay with cryptocurrencies through CoinPayments for more privacy, as well as via gift card.
The Bottom Line
X-VPN has potential, but it's not secure enough
X-VPN is not terrible, and gets some things right: it's easy to use, it unblocks most streaming services, and has a huge server network.
However, it's unclear what protocols the software uses to (often incorrectly) encrypt traffic, it logs too much data, and its owners have ties to China.
We're also not impressed by X-VPN's lack of obfuscation tools and subsequent failure to bypass the Great Firewall of China. We would also like to see an overall improvement to connection and torrenting speeds in the future.
We don't recommend X-VPN Free at all. It doesn't work on desktop and it's limited to the nearest server location on mobile. The lack of a kill switch means it should be avoided at all costs.
Alternatives to X-VPN
Windscribe
Windscribe Free unblocks more Netflix libraries than even X-VPN's paid version and comes with a generous monthly data cap of 10GB. You can connect to servers in 11 different countries and your data is kept secure with a reliable kill switch. Read Windscribe review
ExpressVPN
A little more expensive than X-VPN, ExpressVPN offers a much better package. It's compatible with loads of devices, uses the most secure encryption and technology, and it works in China. Read ExpressVPN review
---
User Feedback for X-VPN
Questions & User Reviews are shown in the original language of submission.