FastestVPN Review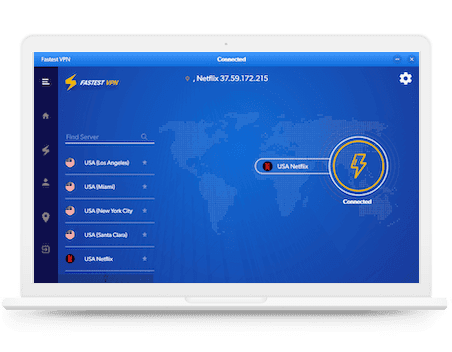 Privacy & Logging Policy
FastestVPN's Privacy Policy Is Audited & Verified
Here you can see a summary of everything FastestVPN logs:
| Data Type | Logged by FastestVPN |
| --- | --- |
| Browsing Activity | No |
| Device Information | No |
| DNS Queries | No |
| Individual Bandwidth Usage | No |
| Individual Connection Timestamps | No |
| ISP | No |
| Number of Simultaneous Connections | No |
| Originating IP Address | No |
| Account Information | Yes |
| VPN Server IP | No |
| VPN Server Location | No |
| Date of Last Connection | Yes |
FastestVPN does a very good job of clarifying exactly what user information it collects and stores. The fact it recently commissioned and passed a logging audit from independent firm Altius IT goes a long way to improve trust, too.
Cayman Islands Jurisdiction
FastestVPN is incorporated in the Cayman Islands, which is a safe-haven for privacy.
There are no mandatory data retention laws like in the EU's Data Retention Directive, and it has no association with anti-privacy intelligence-sharing alliances like the Five Eyes. It has also enacted its own Data Protection Law.
FastestVPN Ownership Is Not Very Transparent
FastestVPN could build trust with us, and other users, by publishing regular transparency reports, detailing any law enforcement requests it has received. This is quite common in the industry.
We'd also like more transparency about the company behind FastestVPN. There is almost no information provided. The website only informs readers that it was founded by "a team of dedicated IT specialists."
This isn't surprising from a privacy company, but we also like to know the corporate structure behind VPN services to make sure they're trustworthy.
When we asked FastestVPN, we were told:
"We would like to tell you that we are located at the Grand Pavilion Commercial Center, West Bay Road, Cayman Islands. Our Marketing and Support teams are located in Dallas, Texas. The brand is owned by Fast Technologies Ltd."
There is hardly any public information available about Fast Technologies Ltd. All we could find out is that it was founded by Pakistani businessman Azneem Bilwani in 2017. Bilwani was the chairman of the Intermarket Group, a manufacturing firm, until 2021.
Streaming
Streams US Netflix, BBC iPlayer & More
Here's a list of popular streaming services that FastestVPN currently unblocks:
| Streaming Platform | Works with FastestVPN |
| --- | --- |
| All 4 | Yes |
| Amazon Prime Video | Yes |
| BBC iPlayer | Yes |
| Disney+ | Yes |
| HBO Max | Yes |
| Hotstar India | Yes |
| Hulu | Yes |
| ITVX | Yes |
| Netflix US | Yes |
| YouTube | Yes |
If you want to know if FastestVPN works with a streaming service that's not listed above, ask us at hello@top10vpn.com and we'll test it for you.
FastestVPN comes with a selection of streaming-optimized servers for a number of countries, including the US, Canada, India, Italy, Japan, and the UK. These are all easily accessed by typing 'Streaming' into the server search bar.
It doesn't specify which streaming services these servers unblock, but we tested them and found that, except for Italy, all work with the listed country's Netflix library, including reliable access to Netflix Japan – and much more.
You can use FastestVPN to sign up for HBO Max from outside the US and also stream Hulu.
FastestVPN also stands out as a streaming VPN for India. It has four India streaming servers that all work to access Netflix India and Hotstar from outside India.
UK streaming sites are easily accessed. FastestVPN streams Channel 4 (All 4) from the US, as well as BBC iPlayer and ITV Player. You can also stream from the Disney+ Star hub from anywhere, which is a UK and Europe exclusive.
Overall, FastestVPN is an excellent VPN for streaming. Italy's streaming server isn't working, and a Germany streaming server would go far, but all other servers work to unblock the most popular streaming sites across the globe.
EXPERT ADVICE: You have to use UDP and TCP protocols to access the FastestVPN streaming servers. These are available via Settings > General.
Torrenting
P2P-Friendly but Slow Torrent Speeds
Here's a summary of how FastestVPN performed in our latest torrenting tests:
| Torrenting Attribute | Result |
| --- | --- |
| Average Download Bitrate | 0.28MiB/s |
| No. of P2P Servers | 550 |
| Logging Policy | No Logs |
| Kill Switch | Faulty |
| Port Forwarding | No |
We don't recommend FastestVPN for torrenting. Connecting to a local server to test its P2P speeds, we experienced an average bitrate of 0.7MiB/s. These torrent speeds are nowhere near good enough.
We expect a good torrenting VPN to be closer to 10.0MiB/s, making P2P file sharing quick and easy.
A torrenting VPN should also offer port forwarding and SOCKS5, which are favorite tools of seasoned torrenters. FastestVPN doesn't have any of these.
We also have security concerns around FastestVPN's kill switch and leaks. Our kill switch tests show that it doesn't always block your real IP address, meaning that an internet disconnection could reveal your true location.
Furthermore, we recorded DNS request leaks and IPv6 leaks using FastestVPN on Windows – which is very serious. Definitely do not use FastestVPN to torrent on Windows devices.
It's a shame as FastestVPN lets you torrent on all of its servers, and its logging policy is more than private enough.
Speed
Fast Local & International Speeds
Each VPN goes through our scientific speed testing process. FastestVPN has a lot of protocols available, but we always tested using WireGuard as we found it to consistently be the fastest.
FastestVPN is more than fast enough for all your internet needs but it's some way off challenging the fastest VPNs on the market.
We found that our speeds consistently dropped the farther and farther away from our real location the FastestVPN server we connected to was. For example an average download speed on a Canada server of 96Mbps is very impressive, but 80Mbps when connecting to the UK is considerably worse.
All of FastestVPN's download speeds more than meet our threshold for what we consider a fast VPN, though – it's FastestVPN's upload speeds that really disappoint. It consistently produced very poor upload speeds around the world on any server other than the one closest to us.
This might not have a huge impact on your daily usage, but if you game online, make a lot of video calls, or regularly torrent, you may find it affects you.
Server Locations
Small Server Network, but Physical
35 Countries
50 Cities
550+ IP Addresses
FastestVPN has servers in the following continents:
| Continent | Number of Countries |
| --- | --- |
| Europe | 22 |
| Asia | 7 |
| South America | 2 |
| North America | 3 |
| Africa | 0 |
| Oceania | 1 |
FastestVPN has just 35 countries to connect to. This is quite a low number compared to many other VPN services. ExpressVPN, for example, has 94 countries.
There are also only 550 individual servers – much smaller than competitors, whose servers often number in the thousands.
The problem with having so few servers is that server overload (when too many people are using the same server) becomes more likely, meaning greater chance of speed loss as well as annoying CAPTCHAS as you browse the web. The more popular FastestVPN gets the worse this will become.
Most server locations are situated in the West, too, meaning if you're in other parts of the world you will struggle to find optimal connection speeds.
Users in Africa, South America, and the Middle East should choose another VPN with a more expansive server network, like Private Internet Access. FastestVPN used to have an Egypt server, but it was removed.
The best served nation is the US, which has 11 city-level choices across 11 US states.
The servers available also depend on your protocol choice, as you can see in the video below: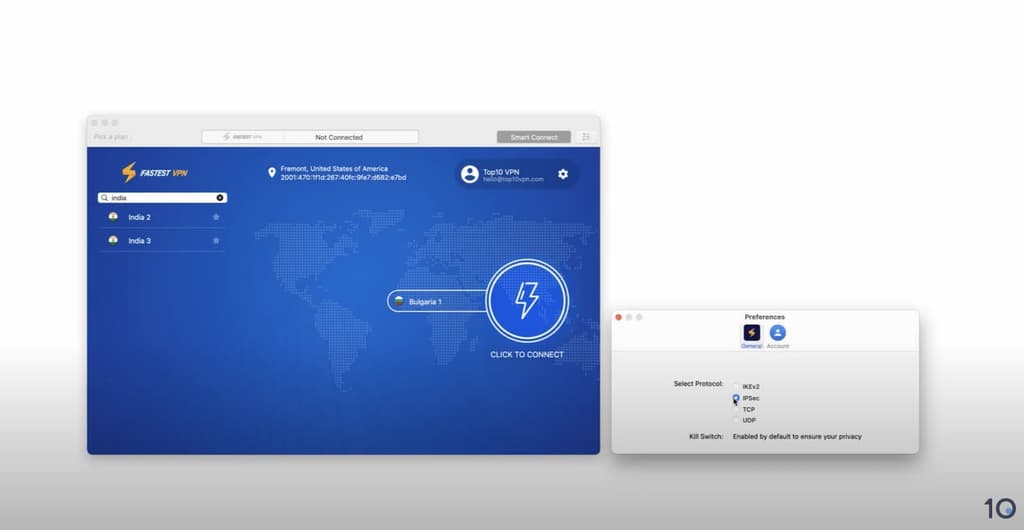 Physical Server Network
All of FastestVPN's servers are physical, bare-metal servers, meaning the servers are actually located in the geographical region listed.
In contrast, virtual servers only provide IP addresses from the country without actually being located in that country.
This helps to explain why FastestVPN has so few individual servers, as physical servers are more expensive to establish and operate. The benefit is that these servers are considered to be more secure and more stable.
The exception is FastestVPN's India servers, which are all virtual in order to avoid India's new VPN data law that requires VPN services to store user data. We approve of this move.
However, FastestVPN was unwilling to tell us whether it owns all of its servers or rents them, as this is considered "confidential." Based on this, we'll assume they're rented, as many VPNs are loud and proud about owning their infrastructure.
Security & Technical Features
Secure on macOS, but Leaks on Windows
| Protocols | Available in FastestVPN |
| --- | --- |
| IKEv2/IPSec | Yes |
| L2TP/IPSec | Yes |
| OpenVPN (TCP/UDP) | Yes |
| PPTP | Yes |
| WireGuard | Yes |
| Encryption | Available in FastestVPN |
| --- | --- |
| AES-128 | No |
| AES-192 | No |
| AES-256 | Yes |
| Blowfish | No |
| ChaCha20 | No |
| Security | Available in FastestVPN |
| --- | --- |
| DNS Leak Blocking | No |
| First-party DNS | Yes |
| IPv6 Leak Blocking | Yes |
| Supports TCP Port 443 | No |
| VPN Kill Switch | Yes |
| WebRTC Leak Blocking | No |
| Advanced Features | Available in FastestVPN |
| --- | --- |
| Ad Blocker | Yes |
| Dedicated IP | No |
| Double VPN | No |
| Smart DNS | No |
| Static IP | No |
| SOCKS | No |
| Split Tunneling | Yes |
| Tor over VPN Server | No |
| Tracker Blocker | No |
FastestVPN is secure and comes with the essentials for internet security, but it's not as advanced as VPNs like NordVPN or Windscribe. There is nothing as sophisticated as double VPN, RAM-only servers, or a GPS spoofer.
At the moment, you can select IKEv2, OpenVPN (TCP & UDP), and WireGuard protocols across FastestVPN apps. We recommend using OpenVPN or WireGuard – the safest (and fastest) protocols.
Split tunneling is only available on the Android app, which is frustrating – is used to be a part of the Windows app but seems to have been recently removed.
Does FastestVPN encrypt your traffic?
The first thing we wanted to test was whether FastestVPN actually encrypts your traffic effectively. We ran it through Wireshark, a packet-sniffing tool.
As you can see in the screenshot below, when connected to FastestVPN our internet traffic became indecipherable, meaning it has been successfully encrypted.
FastestVPN uses AES-256 encryption, which is considered to be the very best. We expect nothing less from a quality VPN.
FastestVPN's kill switch failed our tests
We tested FastestVPN's kill switch using our unique kill switch test tool. We recorded our test so that you can see how FastestVPN fails to block your real IP being exposed. See it below: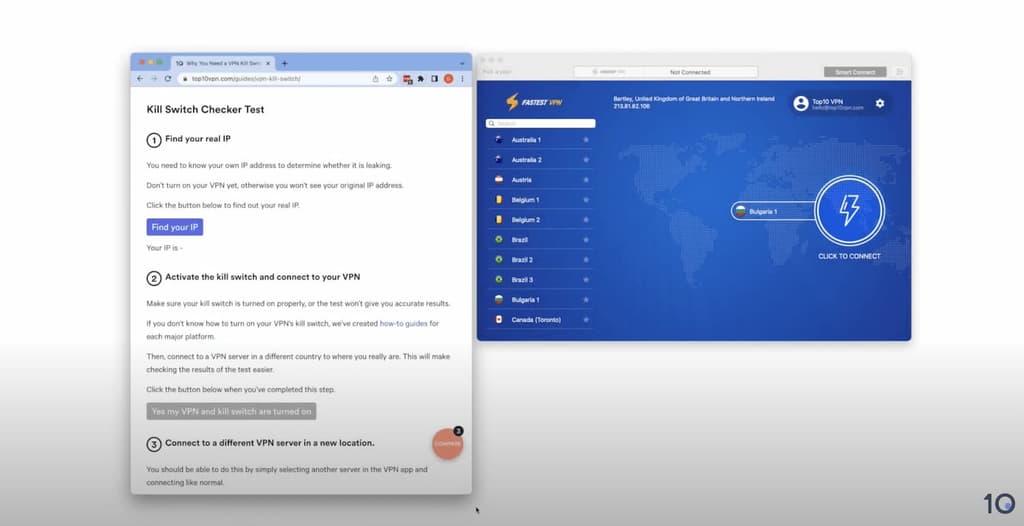 Using FastestVPN on macOS or Windows, your IP address will be exposed whenever you change your VPN server or when reconnecting to the internet after a random disconnection. This is a problem that needs to be addressed.
The kill switch works slightly better on Windows if you also select 'Automatically Reconnect' alongside the kill switch option, but it's still not watertight.
EXPERT ADVICE: The kill switch is only automatic on macOS. You need to switch it on when it comes to other devices. Furthermore, the kill switch is not supported on the IKEv2 protocol on Android.
Leaks, virus & malware checks
We put FastestVPN through a series of tests to ensure there are no leaks, malware, or intrusive trackers. We were disappointed with the results.
After testing it with our leak test tool, we can report that FastestVPN does not leak IP, DNS, WebRTC, or Geolocation data on macOS, but it does on Windows.
Specifically, DNS requests leak when using FastestVPN on Windows. DNS leaks are a big deal because it means that your ISP can still see what websites you're visiting, making the VPN a lot less private. For this reason, we suggest that you don't use FastestVPN on Windows.
IPv6 leaks on Windows
FastestVPN still does not support IPv6 connections. On macOS, FastestVPN outright blocks connections to ensure there are no data leaks.
This is a safe approach, but the best approach is to develop support for new IPv6 connections.
However, it's a completely different story on the Windows app. It doesn't have the same automatic blocking of IPv6 connections and our leak test tool revealed that FastestVPN does leak IPv6 on Windows. This is a huge security flaw.
FastestVPN has, however, at least recently fixed an issue with its certification that may have caused its app to be incorrectly flagged as malware by some antivirus programs.
Poor Ad & Tracker Blocker
FastestVPN claims to have an ad and tracker blocker automatically enabled on all of its apps.
We put FastestVPN's ad blocker to the test by using an ad block test. The result was disappointing: only 56% of ads and trackers were blocked, making it one of the worst we've tested.
The best VPN ad blockers manage to prevent over 90% of ads and trackers.
We also tested FastestVPN's tracker blocker ability using a tool provided by the EFF. The result was disappointing. It said that FastestVPN does not effectively block trackers.
Overall, FastestVPN needs to focus on boosting its security offering: fixing DNS leaks and building IPv6 support, as well as a system-wide kill switch that doesn't leak. That's before advanced features like multi-hop servers, diskless servers, rotating IP addresses, and much more. FastestVPN has a long way to go.
Bypassing Web Censorship
Unable to Access Blocked Websites in China
We tested FastestVPN on our own Shanghai server to see if it can access sites blocked by The Great Firewall. Unfortunately it cannot.
We were unable to login to FastestVPN when connected in China. All of FastestVPN's apps have been blocked.
However, after we used another VPN that works reliably in China, our login worked and we were able to access blocked sites like Instagram and Facebook using FastestVPN.
The requirement to use another VPN before means that we cannot recommend FastestVPN for censorship.
It might perform better in a country with less robust censorship, like Turkey, but the Western-centric nature of its server network means that FastestVPN can't help much in regions where the internet is often blocked and censored.
Device & OS Compatibility
Available on Popular Platforms
Apps
FastestVPN is compatible with the major platforms. This includes:
Windows

Mac

iOS

Android

Linux

Router
While it is possible to use FastestVPN on Linux devices, this is only after some manual configuration, which can be a little tricky for beginners. The best Linux VPNs come with a dedicated GUI Linux app.
Router Installation Does Not Work
When we attempted to install FastestVPN on our LINKSYS WRT 32100 ACN test router, we found the installation process very difficult and, in the end, it failed to establish a VPN connection.
Unable to install FastestVPN on router, we couldn't use it on games consoles and other devices without a dedicated app, including Smart TVs, Apple TV, and Roku. This reduces FastestVPN's compatibility drastically.
Fire TV App Only Works with UDP & TCP Protocol
FastestVPN claims to have a custom, user-friendly Firestick VPN app, but it doesn't appear anywhere in the Fire TV app store.
Instead, it only has a guide for installing FastestVPN manually. We followed these instructions and managed to set it up, but this takes some time and, when we tested it, discovered that the VPN connect button does not work when using IKEv2.
For the Fire TV Stick app to work, you need to select UDP or TCP. To do this, go to Settings > Select Protocol.
You can see us using the app in the video below: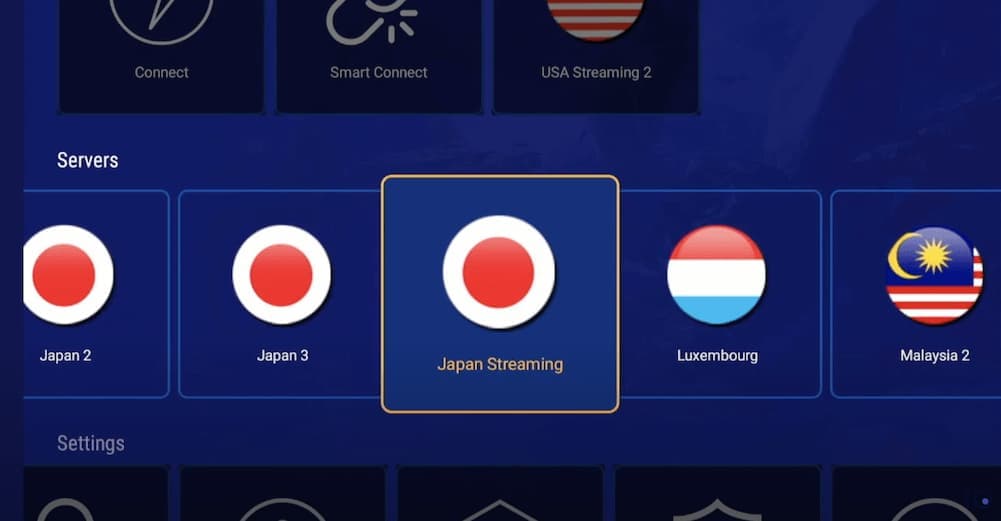 10 Simultaneous VPN Connections
FastestVPN allows you to run 10 simultaneous VPN connections across as many devices as you want.
It's an unlimited allowance as FastestVPN does not log the number of devices associated with your account.
This is a very generous allowance that enables you to protect every device you own.
Browser Extensions
FastestVPN has browser extensions available to install on:
Chrome

Firefox
These extensions have streaming-servers for Netflix, Hotstar, PureFlix, and Prime Video US. There's also some settings, like Block WebRTC and an ad blocker.
However, the browser extension streaming servers do not actually work to unblock the listed sites.
Furthermore, the extension ad blockers performed worse than the desktop ones, blocking only 22% of ads and trackers in our tests.
The FastestVPN browser extensions are quite limited and are not free like the ones offered by Windscribe, CyberGhost, and TunnelBear.
However, if you're a FastestVPN subscriber they do offer a solution to quick and private web browsing. Just remember: extensions are not VPNs and do not encrypt your traffic.
FastestVPN's browser add-ons are HTTPS proxies, which mean that they encrypt browser traffic but leave all traffic outside the web browser unprotected. It shouldn't be a replacement for the full VPN desktop app, which protects all other apps like torrenting clients and email as well.
Ease of Use
Dated Apps, but Perfectly Simple
How to Connect to a Server with FastestVPN
How to Change Settings in FastestVPN
FastestVPN's apps could do with both updates and fixes. At this point, the interface and design is lagging behind other more user-friendly offerings now available on the VPN market.
During our tests, we also experienced technical issues and bugs that made the user experience much worse than it had to be. For example, some servers simply didn't connect and loading times were sometimes unacceptably slow.
At the same time, FastestVPN is so absent of additional features that it remains a foolproof VPN, incredibly simple to use. There's not a lot to it: a home screen with a connect button, a server list, and a cog symbol to take you to settings.
While there aren't many features that come with FastestVPN, you can compare them across platforms using the table below:
FastestVPN on Desktop: macOS & Windows
FastestVPN on macOS only offers the option to change your server and your protocol. There are no other features to speak of. The kill switch is enabled automatically.
This makes it super simple to use, but not necessarily for the better. You can have an advanced VPN that is still easy to use. For example, Surfshark strikes a good balance between usability and technical depth.
The Windows app is slightly more advanced as it includes some ease of use features like Auto-Connect After Launch and Launch at Startup.
However, setting up FastestVPN on Windows is confusing and you have to manually install the TAP adapter. We found that it crashes a lot, too, and that its support for split tunneling was recently removed.
FastestVPN on Mobile: iOS & Android
FastestVPN on iOS is minimal and uncomplicated. It consists of the main home screen with the central connect button, the server list, and a slight settings page that allows you to change your protocol or use Smart Tunneling – a clever feature that allows you to choose specific URLs to be tunneled via the VPN, even if the VPN wasn't turned on.
FastestVPN on Android is equally simple, and is the only FastestVPN app to support split tunneling, but the kill switch needs to be manually set up. You do this via the Android device settings.
Both of the FastestVPN mobile apps are incredibly simple.
Customer Support
Helpful Live Chat
| Customer Support | Available in FastestVPN |
| --- | --- |
| 24/7 Live Chat Support | No |
| 24/7 Email Support | No |
| Chatbot | No |
| Live Chat Support | Yes |
| Email | Yes |
| Email Support via Online Form | No |
| Tutorial Videos | No |
| Online Resources | Yes |
FastestVPN has live chat support via its contact page. When using it, you are quickly connected with a human being (not a bot) and our experience with the support agents has always been positive; they respond quickly and politely.
However, a couple of times they have responded with an answer to a question we never asked. For example, when we simply asked about the number of servers FastestVPN has, it only told us that its Russia servers are under maintenance.
The website resources can be useful for complex manual setups but it's generally lacking in technical depth. The FAQ page is basic and limited.
For more complex questions, it's best to use the FastestVPN support email: support@fastestvpn.com.
Response times are fast, but by no means instant; we sent an email at 4:04pm and got a response at 5:39pm – just over 90 mins. Mullvad only took 13 minutes to reply to our email.
Overall, the support is sufficient enough to answer both simple and complex questions.
Price & Value
Cheap Lifetime Offer Is the Best Deal on the Market
FastestVPN is one of the cheapest VPNs you can get.
There are currently four pricing plans:
$10.00 per month is a standard price for a short term VPN subscription.
The real savings are made with longer-term plans. The yearly plan grants 75% off the normal monthly cost, bringing it down to $2.49 per month (paid in one lump yearly sum).
This is already a cheap VPN, but you can get even cheaper by going for the three-year deal of $1.11 per month – paid as $39.95 every three years.
Best of all is FastestVPN's lifetime offer of just $20.00 — paid once. We bought this plan and can attest that it is legit.
With such a small amount of money at stake, FastestVPN's lifetime deal represents astonishing value, even if it's more likely that you'll outlast FastestVPN. There's no reason to choose any of the shorter and more expensive plans, making FastestVPN easily the best lifetime VPN.
You can also pay $6.00 for each new multi-login you'd like to add. But each plan comes with 10 by default, so it's unlikely you'll need to buy more.
Payment & Refund Options
You can pay for FastestVPN in a number of ways, including:
American Express

Bitcoin

Bitcoin Cash

Mastercard

PayPal

UnionPay

Visa
Alongside the standard credit and debit card options is PayPal and a number of cryptocurrencies.
Cryptocurrency is the most privacy-friendly payment method available. If you want the most private option — cash – you can use a VPN like Mullvad.
There is no free trial option available and FastestVPN operates a stingy 15-day money-back guarantee period. The industry-standard is 30 days, and some go as far as 60 days, like Norton Secure VPN.
If you apply for the refund within the 15 day period it can take a further 15 days before you get your money back.
The Bottom Line
Great Value, but Needs Improvement
FastestVPN has lots of room for improvement. It needs to improve its ad and tracker blocker, invest in advanced security tools like Double VPN, expand its server network, update its apps, and fix bugs.
We want to see FastestVPN made more reliable and less buggy before we can wholeheartedly recommend it. At the same time, it has all the foundations of a great VPN: a no logs privacy policy, incredible value for money, and genuinely impressive streaming capabilities.
With some work, FastestVPN could be a top service. Right now, we recommend it to anyone who wants to use a VPN to stream on a budget. For other use cases, like torrenting or bypassing censorship, there are many better options.
Alternatives to FastestVPN
PrivateVPN
It's hard to beat FastestVPN's low cost, but the absolute best value for money VPN is PrivateVPN. It's a bit more expensive but much better as a VPN service overall. Read PrivateVPN review
NordVPN
NordVPN beats FastestVPN for speed and security and it's reasonably priced. If quality is your chief concern, think about NordVPN instead. Read NordVPN review
---
User Feedback for FastestVPN