Disclosure: Top10VPN is editorially independent. We may earn commissions if you buy a VPN through links on our site.
Our Verdict
FastestVPN is indeed fast, and also safe. It has many features of a good VPN: no logs, good speeds, and high encryption. It also works with Netflix. However, it connection times are rather slow. All in all, FastestVPN is good and affordable VPN for beginners.
FastestVPN is a reasonably new addition to the VPN market and its name alone sets expectations high. It's one of the cheapest VPNs available, which naturally got us asking questions. At that price, can FastestVPN possibly be any good?
We carried out rigorous testing on the VPN service's apps to find out. In fact, we set out to specifically answer key questions like:
Is FastestVPN really that quick?
Is it safe to use?
Does FastestVPN work in China?
Is it easy to use?
Can you watch Netflix and torrent with FastestVPN?
You'll find all the answers in this August 2021 FastestVPN review. Firstly, let's take a quick look at the VPN provider's benefits and drawbacks:
FastestVPN Pros & Cons
Pros
Very fast speeds

Strict no-logs policy & privacy-friendly jurisdiction

Dedicated servers for US Netflix

Extremely cheap lifetime plan

VPN kill switch & no IP, DNS, or WebRTC leaks

Torrenting permitted on all VPN servers
Cons
Small server network (250 servers in 31 countries)

Takes a long time to connect to VPN servers
FastestVPN Key Data
| | |
| --- | --- |
| Data Cap | Unlimited |
| Speed | 90Mbps |
| Logging Policy | No Logs |
| Data Leaks | No |
| Jurisdiction | Cayman Islands (Privacy Haven) |
| Servers | 250 |
| IP Addresses | 250+ |
| Countries | 31 |
| US Netflix | Yes |
| Torrenting | Unlimited |
| Works in China | Unreliable |
| Support | 24/7 Live Chat Support |
| Cheapest Price | $20.00 over lifetime |
| Official Website | FastestVPN.com |
FastestVPN Category Ratings
We test and review every VPN in eight key areas. Here's how FastestVPN performs in each category:
Privacy & Logging Policy: 9.9/10
Encryption & Security: 7.6/10
Speed & Reliability: 8.8/10
Streaming & Torrenting: 7.5/10
Bypassing Censorship: 7.0/10
Ease of Use: 7.3/10
Customer Support: 9.3/10
Price & Value for Money: 9.9/10
To learn more about our methodology, read our full VPN testing process.
Who is FastestVPN?
About & Logging
Privacy & Logging Policy Rating: 9.9/10
There's not much information about the company or its founders on FastestVPN's website, other than that the people behind FastestVPN are "a team of dedicated IT specialists."
That wasn't enough to satisfy us, so we asked the customer support team for more details.
One agent told us that FastestVPN is owned by Fast Technology Ltd. (we couldn't find any information about it online), and was founded by Azneem Bilwani in 2017. Bilwani is a Pakistani businessman, currently the chairman of the Intermarket Group.
FastestVPN is incorporated in the Cayman Islands, which is a plus for privacy at least.
The Cayman Islands doesn't have any mandatory data retention laws and has recently enacted its Data Protection Law.
Logging Policy
FastestVPN's logging policy is pretty short and to the point:
"FastestVPN Does Not Store Any Logs, Period!"
That sentence alone isn't enough to convince us, though.
Thankfully, FastestVPN's privacy policy further clarifies that it doesn't store any logs related to your browsing history, including DNS requests.
It says that the only thing FastestVPN does store is the user's email address, which is deleted upon account deactivation.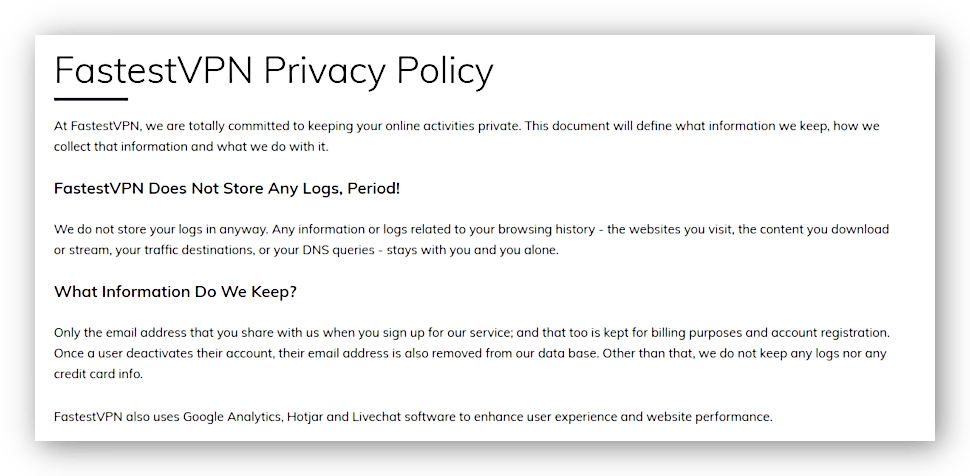 While the privacy policy is pretty threadbare, FastestVPN's customer support team further confirmed that it doesn't log the following information:
Originating IP addresses
Connection timestamps
Bandwidth usage
Chosen VPN servers or server locations
This impressive logging policy paired with its Cayman Islands jurisdiction is enough to convince us that FastestVPN really is safe and private.
Doesn't quite live up to its name but it's still fast
Speed & Reliability
Speed & Reliability Rating: 8.8/10
Unlike its name suggests, FastestVPN isn't quite the speediest VPN around, but it's still very quick.
It didn't slow down our internet download speeds connecting to nearby servers, and was pretty quick over longer distances, too.
Local Speed Test Results
Before using FastestVPN:
Download89.83

Mbps

Upload91.7

Mbps

Ping5

ms
When connected to FastestVPN:
Download89.95

Mbps

Upload92.71

Mbps

Ping5

ms
As you can see, our download speeds, upload speeds, and ping times on same-country connections weren't affected by the VPN connection, which is very impressive.
Here are the speeds it produced over longer distances:
USA: 78Mbps (download) & 20Mbps (upload)
Germany: 65Mbps (download) & 17Mbps (upload)
Australia: 26Mbps (download) & 7Mbps (upload)
Upload speeds took a hit over long distances but this shouldn't affect most users.
Our biggest hangup with FastestVPN's performance was that it sometimes took a really long time to connect, but other than that performance is solid.
Network covering 31 countries
Server Locations
FastestVPN has a very limited VPN server network with just 250 individual servers in 31 countries – contrary to what its website says.
While those in Africa and South America are left wanting (there's a server in Egypt and that's it) if you're in Europe, North America, and Asia-Pacific you have several options each.
You can drill down to city-level in eight US locations, which is not only great for experiencing the best speeds coast-to-coast but also accessing state-specific content.
All of FastestVPN's servers are 'bare metal', which means the VPN service doesn't use any virtual servers.
However, FastestVPN was unwilling to tell us whether it owns all of the servers or rents them, as this information is "confidential."
If you need servers in locations other than the 37 provided by FastestVPN, ExpressVPN is a good alternative. It has thousands of VPN servers in 94 countries and over 160 cities worldwide.
Streaming Netflix made easy with dedicated server, torrenting permitted
Streaming & Torrenting
Streaming & Torrenting Rating: 7.5/10
FastestVPN's new apps come with a server especially designed for accessing US Netflix. It's clearly labeled and worked for us first time. Just be sure to switch the VPN protocol to UDP in the settings menu otherwise you won't be able to see the server in the locations list.
Oddly, the streaming server gave us a French IP address, which we thought might stop us from accessing US-only content, but it didn't. A member of the FastestVPN team told us that this is an intentional feature that helps to overcome Netflix's VPN blocking.
We could also watch Netflix through the US Miami server, and Disney+ through the US Denver server.
Unfortunately the same can't be said for unblocking BBC iPlayer. FastestVPN has struggled to unlock British shows for a long time, so if you require access to BBC iPlayer check out these VPNs instead.
Torrenting
FastestVPN doesn't put any restrictions on P2P traffic, meaning that you can torrent on any of its servers.
Not only that but FastestVPN will ensure your file-sharing activities remain secure and private with a VPN kill switch and a no-logs policy.
However, FastestVPN does discourage P2P activity on its Asian servers because of "speed issues" related to heavy traffic, which is frustrating for anyone connecting in the region.
For the best torrenting experience check out our top VPNs for P2P here.
Not recommended for China
Censorship
Bypassing Censorship Rating: 7.0/10
FastestVPN is a bad choice if you need a VPN for China.
According to the customer support team, the Great Firewall has blocked all of FastestVPN's custom apps.
It is possible to manually configure the VPN using third-party apps such as OpenConnect or Cisco AnyConnect, but this can be unnecessarily tricky.
Even then, the lack of obfuscation tools means FastestVPN is powerless against the Chinese censors during harsh crackdowns, which happen often.
There aren't many VPNs that work reliably in behind the Great Firewall, so we've put together a list of the best VPNs for China to make choosing easier.
You may be wondering whether FastestVPN is a good option for other high-censorship countries like Iran, Turkey, or Russia.
It should fare fine, but it's still not the best option.
Again, the lack of obfuscation tools means that FastestVPN may get blocked in those countries if VPN regulations get tighter. Its small server network may also poorly affect speeds from high-censorship countries, too.
It's best to stick with one of the VPNs that we recommend for China.
Custom apps for a wide range of devices
Platforms & Devices
Apps
Windows

Mac

iOS

Android

Linux

Router
FastestVPN comes with custom VPN apps for:
Microsoft Windows
Apple MacOS
iOS
Android
It's possible to use the VPN software on Linux devices, too, but only after some manual configuration, which can be a little tricky for beginners.
Unlike most VPN services which limit simultaneous connections to five, you can use FastestVPN on up to 10 devices at one time.
Games Consoles & Streaming Devices
AppleTV

Amazon Fire TV

Chromecast

Nintendo

PlayStation

Roku

Xbox
Not only does FastestVPN provide easy solutions for desktop and mobile devices, it also has a native app for Android TV and Amazon Fire TV Stick.
Just head to the app store on your device, download, and connect.
FastestVPN has also released its own portable WiFi router which comes pre-configured with the VPN. It's pretty costly though – $170 for the router and a one-year VPN subscription bundled together.
The portable router runs on OpenVPN and you can easily switch between VPN servers through FastestVPN's simple user interface.
When you connect a device to the router's WiFi network it encrypts the traffic. That means you can protect devices that don't natively support VPNs such as games consoles and smart appliances.
You can also configure your current router if it's compatible with FastestVPN's software.
Browser Extensions
Chrome

Firefox
FastestVPN also provides browser extensions for Google Chrome and Mozilla Firefox, which come with some security extras like WebRTC leak blocking to prevent browser-related IP leaks and an ad blocker.
You can't connect to all 30 countries through the browser extensions, though, as there are only 17 provided.
FastestVPN's browser add-ons are HTTPS proxies, which mean that they encrypt browser traffic but leave all traffic outside the web browser unprotected.
While VPN browser extensions are a handy, lightweight extra if you just want to protect browser traffic, it shouldn't be a replacement for the full VPN desktop app, which protects all other apps like torrenting clients and email as well.
Strong encryption & no leaks
Encryption & Security
Protocols

IKEv2/IPSec
L2TP/IPSec
OpenVPN (TCP/UDP)
PPTP

Encryption

AES-256

Security

First-party DNS
VPN Kill Switch

Advanced features

Ad Blocker
Split Tunneling
Encryption & Security Rating: 7.6/10
FastestVPN provides all the security basics that you need to stay safe online with a VPN. There aren't any flashy options or much configurability, but all the essentials are accounted for.
First things first, FastestVPN uses the strongest and most recommended cipher to encrypt your traffic: AES-256. It's considered unbreakable.
Which protocols does FastestVPN use?
Well, it depends on the app that you're using.
The FastestVPN Windows app allows users to choose between four different VPN protocols:
OpenVPN (TCP & UDP): Our preferred VPN protocol, OpenVPN is open-source, fast, and super secure.
IKEv2/IPSec: This is the next best option. IKEv2 is even faster than OpenVPN, and while it's considered very safe it isn't closed source.
L2TP/IPSec: Has some security issues and should only be used if OpenVPN and IKEv2 aren't available.
PPTP: Avoid this protocol entirely. It's not safe and can be hacked in minutes.
The Windows app gives users the option between IKEv2 and OpenVPN, while the Android app runs through OpenVPN only. We have experienced some issues with connecting through OpenVPN in the past, but this seems to have been resolved now.
The iOS and MacOS apps run on IKEv2 or L2TP – you can toggle between them from within the settings.
FastestVPN also comes with a VPN kill switch available for Windows, MacOS, and iOS, which prevents IP leaks in case of a sudden VPN disconnection.
The kill switch is automatically enabled for both MacOS and iOS but you'll need to toggle it on within the settings for Windows.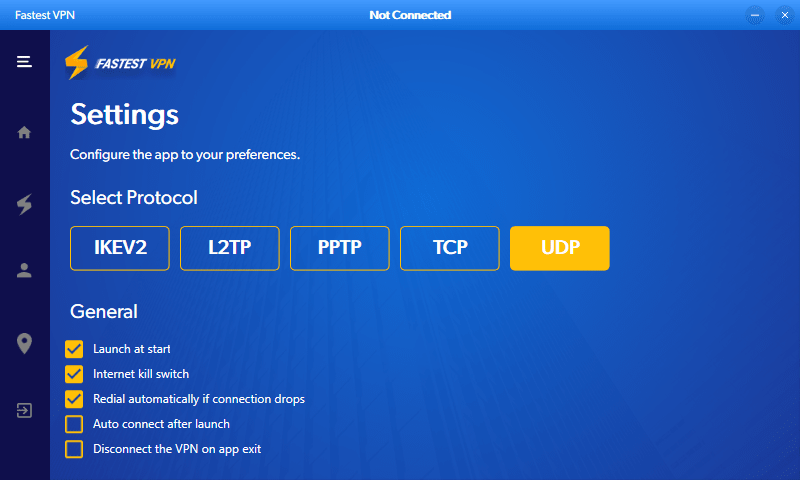 While there isn't an integrated kill switch for Android, there is a simple manual workaround within the Android device settings. There's also a split tunneling option for Android, which is handy if you want to route certain internet traffic outside of the VPN tunnel.
In addition to providing its own first-party DNS servers, FastestVPN passed our IP, DNS, and WebRTC leak test:
There aren't any other security features to mention, though. No VPN servers optimized for Tor, no split tunneling (except for Android), and no manual port selection.
If you're looking for configurability, IPVanish has plenty of advanced options.
New custom apps are a big improvement on the old ones
Ease of Use
How to Install & Set Up FastestVPN
Ease of Use Rating: 7.3/10
FastestVPN has recently updated all of its custom VPN apps, and while they have addressed most of the usability issues that the previous range of apps suffered from, there are still a few niggles that prevent them from top-notch.
The desktop apps remain fairly clunky – one of our biggest gripes is the server locations list which lacks a scroll bar, making it fairly tricky to look through the available servers. There are a few redundant tabs on the apps, too, which make it seem a little cluttered.
Our biggest gripe is server connection times, though. They can be really, really slow. So slow, in fact, that on occasion we didn't think it would connect at all. Thankfully, it did eventually. This is more of an issue for the desktop apps rather than the mobile apps.
Aside from that, they are easy to use and will suit beginners best.
Browser Extensions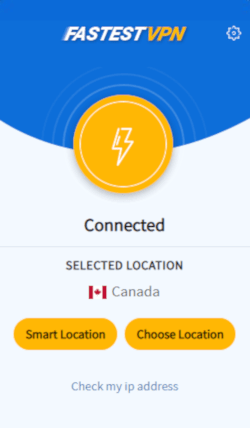 FastestVPN's browser extensions for Google Chrome and Mozilla Firefox are really simple to install – more so than its other apps.
Just click through to the Chrome Web Store or Firefox Add-ons page through FastestVPN's website and click 'Add to Chrome' or 'Add to Firefox' and accept the permissions.
You'll have to log into the extension using your FastestVPN credentials and then you're free to select a server location and click the connect button.
WebRTC leak blocking and the ad blocker are enabled by default, and we recommend keeping it that way for your protection.
Firefox users may have to go into the web browser settings in order for the extension to work. Within the Extensions settings find FastestVPN and toggle 'Allow' next to 'Run in Private Windows'.
24/7 live chat support & online resources
Customer Support
| | |
| --- | --- |
| 24/7 Live chat support | Yes |
| Online Resources | Yes |
Customer Support Rating: 9.4/10
FastestVPN's customer support is pretty good with helpful and responsive 24/7 live chat support and some decent online resources.
The live chat support agents are knowledgeable and friendly, and reply within seconds.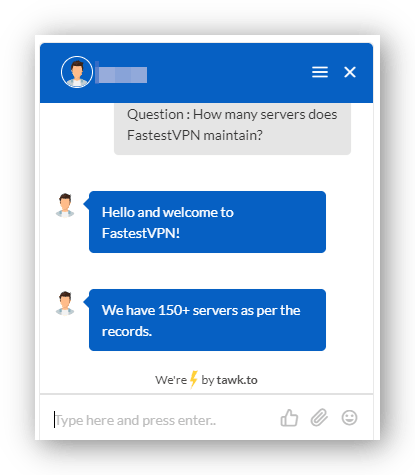 The resources on FastestVPN's website are a little less impressive. There's an FAQs page with some very basic questions and answers, and setup instructions for a range of compatible devices.
The Knowledge Base is missing more technical troubleshooting tips and advice, but live chat support is always on hand to help with any issues.
Cheap VPN, especially on five-year plan
Pricing
Price & Value for Money Rating: 9.9/10
FastestVPN isn't just fast, it's really cheap too.
There are massive savings to be had if you subscribe to a long-term plan. The monthly price is $10 but if you go for the yearly plan you'll get 75% off, which brings the monthly price down to just $2.49.
Best of all, there's a lifetime plan that only costs $20.00. This plan comes with a 15-day money-back guarantee and 15 simultaneous logins.
All plans have 15-day money-back guarantee
The only payment methods FastestVPN accepts is credit or debit card and PayPal.
There's no option to pay with cryptocurrencies for more privacy, or international methods like Alipay or UnionPay.
FastestVPN doesn't have a free trial but it does come with a 15-day money-back guarantee. You can request a refund by email within 15 days of purchase "if you are not fully satisfied with [its] services or feel that FastestVPN does not match your standard needs of a VPN."
It can take up to 15 days to process the refund and return the money to your bank account.
Do We Recommend FastestVPN?
The Bottom Line
FastestVPN is truly fast – and safe.
It has all the foundations of a great VPN – no logging, speedy performance, top-notch encryption, and Netflix access – but there are some usability issues that need ironing out before we can wholeheartedly recommend this service.
While the new custom apps are a vast improvement on the old ones, FastestVPN's server connection times are still painfully slow. If you can live with that, it's a good VPN for beginners who don't need loads of fancy configurable options.
Additional research by David Hughes
Alternatives to FastestVPN
PrivateVPN
PrivateVPN is a really reliable VPN with fast speeds, servers optimized for streaming and torrenting, and simple custom apps. It's fairly cheap too. Read PrivateVPN review
IPVanish
IPVanish is a little more advanced than PrivateVPN, but it's still simple enough to use. It works with Netflix and torrenting, and will satisfy more experienced users, too. Read IPVanish review
---
User Feedback for FastestVPN