PureVPN Review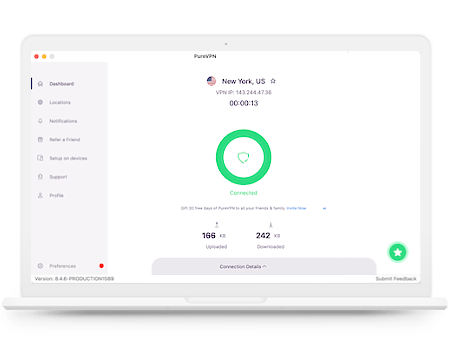 Privacy & Logging Policy
PureVPN logs too much data
PureVPN has a less-than-perfect history when it comes to the logging of its users' data, and its reputation has suffered. But we've noticed that it has been undergoing a clean up act ever since, removing all but what it considers essential logs and moving its headquarters to the British Virgin Islands, where there are no data retention laws at all.
Improvements have been made, but more can be done. Examining PureVPN's current privacy policy, it's clear that it still logs too much data.
Let's break it down. PureVPN logs:
Days you connect to PureVPN (but not the exact time)
VPN server location (but not the exact server)
How long you connect for (but not the specific times)
Your internet service provider (ISP) (but not your personal IP or exact location)
Total bandwidth consumed (but not calculated per session)
Compared to top no-logs VPNs like NordVPN and Private Internet Access, this is a lot of unnecessary information to be logged.
When we asked PureVPN why it considers this data important and whether it runs the risk of exposing users, we were told it was for the benefit of customer experience and strong connectivity.
PureVPN played down the risk to privacy with the suggestion that your activity is linked to a pool of users, not an individual. We were told:
"…we rely on obscurity to reduce the chances of linking a user with a specific activity. Instead, each activity can be linked to a pool of users which gives the users plausible deniability."
Plausible deniability is not the same as a strictly zero logs guarantee. Compared to a VPN like Private Internet Access, which has had its no logs claims proven after server seizures, PureVPN has some catching up to do.
However, the lack of specific information goes a long way to making your activity harder to identify and we appreciate PureVPN's transparency reports that include statistics around intellectual property complaints and legal authority requests. Reassuringly, at the bottom of each is the disclaimer that:
"PureVPN has been unable to comply with these requests as it does not maintain or log any data of its users' online activity."
Although, none of these transparency reports have been updated since December 2021, which should be rectified.
Always-on Audit Policy
PureVPN has elected for an always-on approach to auditing. This means that KPMG International Limited can conduct a surprise audit of PureVPN whenever it pleases.
KPMG has already twice performed audits of PureVPN and confirmed that it follows what's stated in its privacy policy. However, as PureVPN collects some data, this is not quite the same as saying it's a "no logs" service.
We wanted to read these reports for ourselves, but we discovered that they haven't been made public. While PureVPN quotes praise from both reports across its website, it doesn't link directly to them.
Most VPNs do this when audited, so we'd like PureVPN to do the same.
Who Owns PureVPN?
PureVPN operates under the umbrella of the corporate conglomerate disrupt.com.
Disrupt owns Gaditek, a Pakistani company that also runs Ivacy VPN. It's becoming increasingly common for multiple VPN providers to be owned by larger parent companies as the industry matures and consolidates.
But we don't like that Gaditek owns and runs four VPN review sites, which it uses to promote its own products. It also has a history of generating fake social media profiles to promote its products.
Speed
Improved local & international speeds
PureVPN is fast. We tested it locally and on a variety of overseas servers and it recorded fast connection speeds on both.
PureVPN is still lagging behind the fastest VPNs, but its recent speeds are quite impressive. We recorded PureVPN's speeds when connecting to a server in the same city as us (London, UK). Check out the results:
Local Speed Test results before using PureVPN:
Download Speed: 100Mbps
Upload Speed: 99Mbps
Ping: 4ms
Local Speed Test results with PureVPN:
Download Speed: 94Mbps
Upload Speed: 95Mbps
Ping: 12ms
Download speed loss when PureVPN is running: 6%
As a general rule, any VPN which loses less than 10% of your normal internet connection is doing a good job.
Long-Distance Speed Results
Even when connecting to the far side of the world, like the US, Japan, and Australia, PureVPN delivers very good speeds.
We recorded a speed loss less than 50% connecting to the US and Japan. This may seem a sizable drop, but for such a long distance connection it's actually fast. Australia fared worse, but we still recorded up to 29Mbps from our UK base – a respectable score.
However, PureVPN doesn't rank with the very fastest VPNs on long-distance speeds. For example, PIA only loses 15% when connecting to New York, and ExpressVPN only 17%. This is why PureVPN speed scores fare worse.
Which PureVPN Protocol Is the Fastest?
PureVPN is fast, whichever protocol you're using. But we ran tests on them all of its protocols so you can compare and contrast the average speeds below:
As you can see from the results, WireGuard performed the best on every connection except for the US. In this instance, IKEv2 performed better. Based on this, we recommend using WireGuard almost all of the time.
With this in mind, it's odd that PureVPN makes IKEv2 its automatic protocol. Not only is it slower, it's actually less safe than WireGuard.
Server Locations
One of the biggest and best server networks
78 Countries
96 Cities
300,000 IP Addresses
PureVPN gets its selection of servers absolutely right.
6,500 individual servers is a very good overall quantity, more than CyberGhost and NordVPN, which have 9,769 and 5,613 respectively. However, PIA still has the most with an enormous 17,087.
Having such a high number of servers available means that you're less likely to be sharing one with another user. In turn this means that you should see fewer CAPTCHAs around the internet.
In terms of available countries, PureVPN allows you to connect to 78 different nations, which is higher than that offered by NordVPN and IPVanish. But it's still not as high as ExpressVPN or, again, PIA.
Diverse Server Network
It's all too common to see VPNs ignore entire regions, or even continents. They're usually skewed heavily towards Europe and North America.
PureVPN, however, has servers located in 78 different countries around the world. Frequently underserved regions are well represented, including Africa, Asia, the Middle East, as well as Central and South America.
The internet is often blocked in many of these regions, so it's especially important to have VPN servers in neighboring countries.
Multiple City-level Choices, but Less Than Before
There are a number of countries in which you can select city-specific locations, ensuring a greater spread of users and the avoidance of server congestion.
You can connect to multiple cities in:
Australia: Brisbane, Melbourne, Perth, Sydney
Canada: Quebec, Toronto, Vancouver
UK: London, Manchester
US: 13 cities
However, PureVPN has rolled back some of its city-level options. You used to be able to select more than one city in Czechia, France, Germany, Malaysia, and South Africa. But no longer.
That's disappointing, especially when those left are the usual Western nations.
Physical Servers & 20Gbps Infrastructure
PureVPN's server network actually used to be twice the size it is now. It halved the number of countries to focus on quality over quantity – a move we approve of.
Now, 98.7% of PureVPN's servers are physically located in the listed country. This matters because physical servers provide stable, faster connections.
At the same time, PureVPN has retained 69 virtual servers to enable continued access to some locations where physical servers are hard to implement, offering the best of both worlds. These are listed on the website and include countries such as Afghanistan, Bahrain, and Egypt.
PureVPN has also recently invested in 20Gbps servers for London, Manchester, and Washington DC.
Streaming
PureVPN fails to unblock most US streaming sites
PureVPN produces mixed results when it comes to streaming.
Positively, the VPN works with BBC iPlayer and DAZN Canada. It's also one of the VPNs that can still unblock Hotstar.
PureVPN can also access Netflix Japan, Canada, Italy, and France. However, this is nowhere near the 32 Netflix libraries Windscribe unblocks.
Furthermore, PureVPN struggles to work with popular US streaming platforms. It fails to unblock US Netflix, and can't bypass Hulu's VPN blocks.
Here is a list of all the streaming services we test VPNs for and how well PureVPN does:
PureVPN does not list optimized streaming servers like CyberGhost and others do, so you're left to guess which servers work. Some do and some don't.
For example, at the time of testing the UK London server did not work to unblock BBC iPlayer, but the Manchester one did. Likewise, we only managed to unblock HBO Max after testing a number of US server locations.
Torrenting
Some P2P servers, but not risk-free
PureVPN comes with a number of P2P servers optimized for file sharing, but they only make up around half of the network. As a result, some regions suffer. For example if you live in the south of Africa, your nearest torrenting server is in Angola – potentially thousands of miles away.
PureVPN delivers an average torrenting speed of 8.9MiB/s. For context, the best-rated VPNs for torrenting, like IPVanish, record an average bitrate of 9.9MiB. PureVPN's torrenting speeds are very good, but could be faster.
We're more worried about PureVPN's imperfect privacy policy, past logging controversies, and flawed kill switch. This could lead to an accidental exposure of your real IP address, and anonymity isn't guaranteed.
On top of that, port forwarding isn't included as part of the regular PureVPN subscription package, meaning torrenters looking for faster speeds suffer.
VPNs like ExpressVPN don't include port forwarding, either, but others like PIA do. Ideally, users will be given the choice.
There are better, more trustworthy VPNs for torrenting out there.
Security & Technical Features
Gets the essentials right, but not advanced
| Protocols | Available in PureVPN |
| --- | --- |
| IKEv2/IPSec | Yes |
| L2TP/IPSec | Yes |
| OpenVPN (TCP/UDP) | Yes |
| WireGuard | Yes |
| Encryption | Available in PureVPN |
| --- | --- |
| AES-128 | No |
| AES-192 | No |
| AES-256 | Yes |
| Blowfish | No |
| ChaCha20 | No |
| Security | Available in PureVPN |
| --- | --- |
| DNS Leak Blocking | Yes |
| First-party DNS | No |
| IPv6 Leak Blocking | Yes |
| Supports TCP Port 443 | No |
| VPN Kill Switch | Yes |
| WebRTC Leak Blocking | Yes |
| Advanced Features | Available in PureVPN |
| --- | --- |
| Ad Blocker | No |
| Dedicated IP | No |
| Double VPN | No |
| Smart DNS | No |
| Static IP | No |
| SOCKS | No |
| Split Tunneling | Yes |
| Tor over VPN Server | No |
| Tracker Blocker | No |
All the Best Protocols, but Some Connection Issues
PureVPN lets you connect via four security protocols: IKEv2, IPSec (macOS and iOS only), OpenVPN (TCP or UDP), and WireGuard. We're pleased to see PureVPN scrap a range of outdated protocols, too, getting rid of L2TP and PPTP.
While there isn't much customization available via settings, PureVPN does include some toggle options, including Connect to Fallback . This automatically switches to another protocol if PureVPN struggles to find a reliable connection.
Unfortunately, this happens far too frequently, mainly when you're not using the automatic protocol. Our preferred protocol is WireGuard, due to its mix of performance and security, but we experienced connection problems when using it and PureVPN tried to get us to switch to lesser protocols IKEv2 and IPSec.
When testing PureVPN's iOS app, we were unable to establish a VPN connection entirely (Error Code 408) without using its automatic protocol. This makes all other protocol options redundant.
The automatic protocol on macOS is IPSec and IKEv2 on Windows. This is confusing as the two are traditionally combined, with IKEv2 providing authentication while IPSec provides the encryption.
PureVPN uses IPSec as a standalone protocol. But this is particularly outdated. It has even been suggested that IPSec is a compromised protocol.
We'd like to see OpenVPN or WireGuard be made the automatic choice. This way, VPN newcomers who don't know or care about protocols will still be using the best.
Does PureVPN Actually Encrypt Your Traffic?
We wanted to see whether PureVPN actually protects your data transfers. We ran it through a tool called Wireshark that gets under the hood to inspect packets of data.
As you can see in the screenshot below, when connected to PureVPN our data was converted into a random assortment of nonsense and nothing is visible in plain text.
This means that PureVPN effectively encrypts your traffic to make it indecipherable to snoopers.
This is a great result, and it isn't surprising as it uses AES-256 encryption, which is considered the best.
PureVPN also employ "Quantum Resistant Encryption Keys" (QR Servers) across a number of servers, which PureVPN claims offers increased security and increased resistance to hacking attacks. This is only supported on the UDP protocol and on these server locations:
Australia – Brisbane
Australia – Melbourne
Australia – Perth
Australia – Sydney
Canada – Toronto
Germany
Netherlands
Singapore
UK- London
US – New Jersey
US – California
Does PureVPN Leak Your Data?
We ran PureVPN through more tests to see if it leaks your data. The results were all positive.
PureVPN did not leak IPv4 or IPv6, DNS, WebRTC, or geolocation data.
You can test PureVPN, or any other VPN, yourself by using our VPN leak test tool.
Failed Our Kill Switch Tests
It's great that PureVPN has included a kill switch, but thanks to our unique kill switch test tool, we've discovered that it's not guaranteed to hide your IP address should your internet connection fail.
Our tests show that PureVPN won't hide your IP address when you change server location. It is also exposed after you reconnect to the internet following an unexpected disconnect.
A great VPN kill switch will ensure that your IP address is never accidentally exposed, including when changing servers. VPNs like Mullvad, Mozilla VPN, and PIA all achieve this.
To be fair to PureVPN, it warns about this whenever you go to change your server – which is more than many other VPNs. But it's still a flaw.
While the kill switch works to cut your internet connection when you experience a sudden VPN connection drop, you should bear our findings in mind when using PureVPN.
PureVPN Extra Features
PureVPN is nowhere near as comprehensive a security package compared to VPNs like Surfshark or Windscribe, for example. It doesn't have a VPN ad blocker and there's no Double VPN. But you might appreciate its simplicity.
It comes with a few features worth highlighting, but you can see a complete list, and which devices they're available on, further down this page.
Split Tunneling (Windows, Android, iOS): Split tunneling is available on all of PureVPN's devices except macOS. This allows you to manually select which websites run through your encrypted VPN tunnel and which don't. Most quality VPNs include this.
VPN on Demand (iOS) / Always On (Android): These are two names for the same feature. It works by ensuring that you are connected to the VPN before visiting any websites.
Reconnect on Disconnect (Windows & iOS): PureVPN will reconnect you to a server automatically should your internet connection drop. Without it, you'll have to do this manually. It's good security practice to turn this on to avoid accidental exposures.
Port Forwarding Costs Extra
Port forwarding is not available on PureVPN's standard payment plan.
It's such a useful feature for torrenters, capable of greatly increasing download speeds, that charging extra for it really is a shame.
Although it's common for a VPN to charge extra for a dedicated IP, like PureVPN does, it's not common to charge extra for port forwarding. Some VPNs don't have it, but many do: like PIA.
A Stripped-back Approach to Security
Beyond the features highlighted, there's not much else to PureVPN's security package. Since its new apps, PureVPN has actually reduced customization and moved towards an automatic approach.
Most checkboxes have been removed and it automatically enables 256-bit encryption and IPv6 leak protection. This will increase usability for less experienced users, but if you're a more advanced VPN user you might prefer a technical VPN like Astrill or Windscribe.
Bypassing Web Censorship
PureVPN fails against censorship
We tested PureVPN on our virtual Shanghai server to see if it can get around Chinese web censorship. It cannot.
PureVPN was quickly detected by the Great Firewall. We couldn't even login. Only by using another VPN could we get access to our PureVPN account. This makes PureVPN completely redundant as a VPN for China.
It's more likely to work in countries with less robust censorship blocks, and PureVPN's diverse server network comes in useful here. But we don't recommend it, as there are better VPNs to bypass Russian censorship.
PureVPN has invested resources into obfuscation technology, but only for OpenVPN protocol and it's unclear whether it uses Shadowsocks, Obfsproxy, or SoftEther.
Device & OS Compatibility
Lots of dedicated apps & large multi-device allowance
PureVPN Apps
The chances are good that you can use PureVPN on any device you have. You can install and use bespoke PureVPN apps on these devices:
Windows

Mac

iOS

Android

Linux

Router
You can also install it on your router, covering all devices connected to your home WiFi. The DD-WRT router applet is perhaps the most impressive offering. Very few VPNs have dedicated apps for routers, and PureVPN is one of them.
Once installed, you can access a GUI from your router's login page that allows you to choose servers and enable various extra features.
Alongside this are installation guides for many other routers, including Arris, Asus, Belkin, D-Link, Dovado, DrayTek, GLinet, Huawei, Linksys, Mofi, NetGear, pfSense, Tomato, TP-Link, Zyxet, and more.
However, we tried to set up PureVPN on our test Linksys router and found the process difficult. The guide screenshots were out of date and support was poor in assisting us.
If you're a Linux user, you might be disappointed. PureVPN does have installations available for all the most popular distros, but they all work via the command line. It's ugly, impractical, and lacks key features like DNS leak protection. Don't use PureVPN if you want a VPN for Linux.
PureVPN comes with a 10-device allowance, meaning that you can use PureVPN on 10 different devices at the same time. This is a very generous amount for one subscription cost, although not quite as generous as VPNs that have no device-limit, like IPVanish.
Games Consoles & Streaming Devices
You can install PureVPN on these devices:
Apple TV

Amazon Fire TV

Android TV

Chromecast

Nintendo

PlayStation

Roku

Smart TV

Xbox
PureVPN's Amazon Fire TV Stick is not the best one we've come across, but it's still a good choice if you want to unblock the geo-restricted content PureVPN is able to on large screen devices. It's easy to navigate and lets you connect to your chosen server in just a few clicks.
There's also a Kodi add-on, which isn't common among VPN services. PureVPN might not be the best choice for Kodi, however, due to its imperfect logging policy.
Unfortunately there's no Smart DNS available. VPNs like NordVPN are making streaming US content extremely easy with excellent Smart DNS tools, but PureVPN is lagging behind.
The ability to install PureVPN on a router means you can use it when gaming. The ping times were consistently low on our speed tests (6ms on IKEv2 and OpenVPN), meaning there's less chance of lag, too.
Browser extensions
PureVPN has a number of browser extensions available for subscribers. You can install extensions on:
Chrome

Microsoft Edge

Firefox
These extensions are quite useful, and even come with some advanced features, like WebRTC Leak protection.
Perhaps most impressive is the GPS spoofer available on extensions. These are rare to find and are usually exclusive to Android devices, as with Windscribe and Surfshark. It's great to see PureVPN has one available for browsers.
We tested the GPS spoofer to see if our detected location matched our chosen server using a GPS coordinator. We were pleased to see that it worked, as you can see below.
PureVPN could develop extensions for Safari and Opera, and it's important to remember that these are proxies and not VPNs, meaning they change your IP but they don't encrypt your device traffic.
Differences Between PureVPN Apps
The PureVPN apps are quite streamlined, but aren't exactly identical. For clarity, here is a complete list of PureVPN features and the devices they're available on:
Ease of Use
Improved usability across apps
How to Connect to a Server with PureVPN
How to Change Settings in PureVPN
We downloaded and tested PureVPN on every platform it supports to see just how well it works.
PureVPN is now much nicer to use and look at thanks to a recent redesign. It's similar to many other consumer-friendly VPNs now, with an intuitive interface and minimal options.
PureVPN on Apple macOS
The PureVPN macOS app is by far the most stripped-back and simple of the PureVPN clients. This is good if you want simplicity, but it also lacks the most features. It doesn't feature split tunneling, VPN on Demand/Always On, or the reconnect or disconnect options.
There are a number of features designed to make user experience better, including launch on system start-up, VPN auto-connect when starting your device and when it goes to sleep, as well as app auto-updates. These are mostly standard features, but go a long way helping you to control your VPN experience.
PureVPN on Windows
Windows users get the most complete PureVPN experience. As with most VPNs, Windows apps get the most features, and are first to receive new updates. In PureVPN's case, it has split tunneling, whereas macOS users don't.
It's also very similar to the macOS app, which is good for a streamlined experience, and just as clean and simple to use.
Unlike on macOS, there is no auto-connect after wake or prevent auto-sleep option. But these are small variances.
PureVPN on Mobile: iOS & Android
PureVPN on iPhone is clean and simple to use. There aren't many features and settings to play with, but you've got the important ones, like changing your protocol.
Likewise, PureVPN's Android app is refreshingly simple and pleasant to look at.
Neither come with the same level of ease of use settings as the PureVPN desktop apps, but this is partly due to the limitations of mobile.
Both mobile apps come with split tunneling, connect to fallback, and the option to personalize your VPN server selection. But just remember that the kill switch isn't available on iOS.
But we did experience frequent connection failures when using PureVPN on iOS, including Error Code 408, which made the mobile experience a lot more frustrating.
We also struggled to login to different devices with the same login details, despite them being accurate. For some reason, we had to reset our password to login to both Android and Fire TV Stick.
PureVPN's Fire TV Stick App
PureVPN has a dedicated app for Fire TV Stick which is easy to install and use. It automatically connects you to a proxy protocol, which it says is best for streaming, but you can manually select a more private protocol.
You can see how easy PureVPN's Fire TV Stick app is to use in the video below.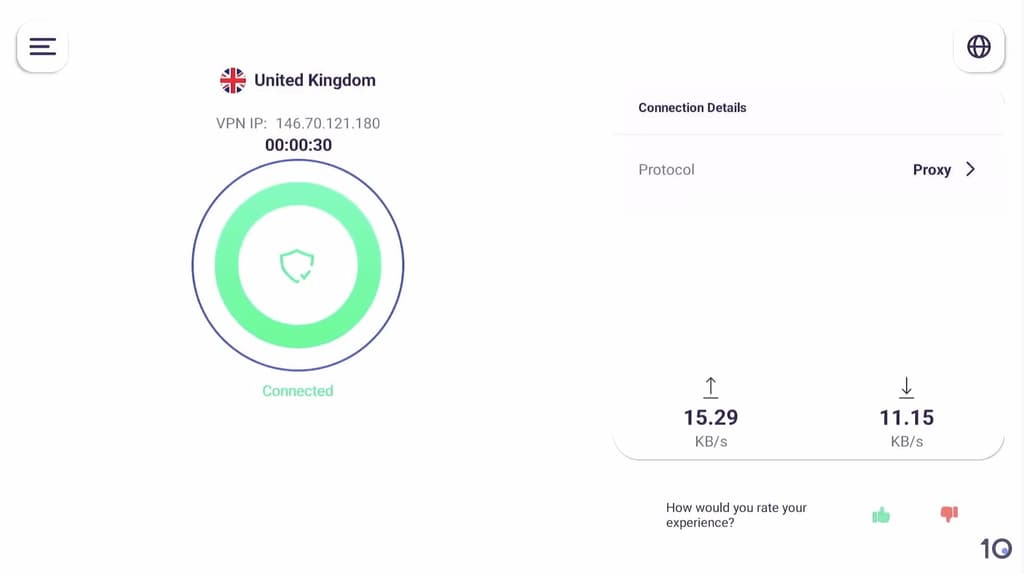 The app is made up of a server list, a settings menu that includes protocols and split tunneling, and the primary connect button. You can filter for P2P servers, mark your favorite servers, and generate information on ping time.
Multiple Language Options Across Most Devices
PureVPN has worked to make its apps as accessible as possible by allowing users to select from 12 languages on Windows, macOS, and Android. Unfortunately there are no language options on iOS.
The available languages include:
Chinese
Dutch
English
French
German
Italian
Japanese
Korean
Portuguese
Russian
Spanish
Turkish
Customer Support
Disappointing live chat, but excellent support center
| Customer Support | Available in PureVPN |
| --- | --- |
| 24/7 Live Chat Support | Yes |
| 24/7 Email Support | Yes |
| Chatbot | No |
| Email Support via Online Form | No |
| Tutorial Videos | No |
| Online Resources | Yes |
Disappointing Live Chat
PureVPN has 24/7 live chat support — because it isn't maintained by humans. It's difficult to get in touch with a real person and response times are slow.
Bots are rarely helpful and, what's worse, you can only select from pre-selected categories. If none of your queries fit the ones listed, it's not obvious what to do.
As you can see in the video below, we had to go through a series of prompts before an automatic support ticket was sent. At no point is the option to chat to a human made available.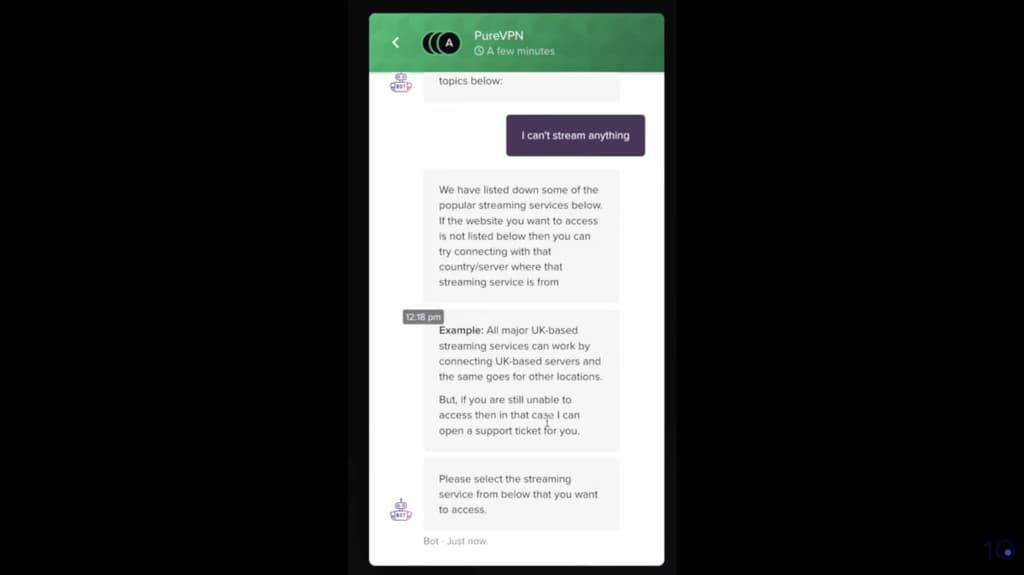 To speak to a support agent, you should type 'get me a human' in the live chat. But we waited 15 minutes for someone to attend to us, and then a further 25 minutes for a reply to our first message. Sometimes our queries were completely ignored.
You're best going straight to generating a support ticket or sending an email. The speed of response isn't ideal, though; we sent an email at 14:21 and received a reply at 20:07 – around six hours response time.
This is disappointing as PureVPN used to have online support agents working around the clock.
Extensive Online Resources
Most impressive is PureVPN's online support center. There are guides and walkthroughs for almost every conceivable scenario. It's one of the best help centers we've seen.
There are hundreds of step-by-step walkthroughs (complete with images, although some need updating) for every platform and process you can imagine. For complex issues, this is your best way of finding a solution.
Price & Value
A cheap VPN if you don't pay for extras
PureVPN is one of the cheapest VPNs on the market, but there are still some VPNs that offer better value for money.
Its prices are now lower than ever, with a two-year subscription offering the best savings. You can check all of the pricing plans below:
As with most VPNs, the longer you subscribe to the service, the cheaper it gets. At $1.99 per month on its two-year deal, you get 82% off PureVPN's normal one-month asking price of $10.95. This is very competitive pricing.
There's also a one-year subscription in case you don't want the longer commitment, which costs $3.24 per month.
As is common practice, PureVPN takes the one-year and two-year subscription payment in one whole.
Alongside these plans, PureVPN also charges for add-ons. VPNs sometimes do this, especially when it comes to dedicated IPs. These are useful for staying off blacklists, maintaining reliable connections, and avoiding CAPTCHAS.
But PureVPN charges for things that other VPNs include in its standard pricing, such as port forwarding.
If you want to get a dedicated IP and port forwarding together, this costs more than the actual VPN.
Here are PureVPN's additional charges in full:
Dedicated IP with Port Forwarding: $3.49
DDos Protection: $3.99 per month
Dedicated IP: $2.99 per month
Port Forwarding: $0.99 per month
We don't recommend paying more for these features. You can get a VPN like PIA, which includes port forwarding under its regular $2.19 asking price.
Payment & Refund Options
You can pay for a PureVPN subscription via a number of payment methods, including:
American Express

Bitcoin

Mastercard

PayPal

UnionPay

Visa
This presents a good number of payment options, including some privacy-friendly ones through cryptocurrency (although this is nonrefundable).
It's not quite as private as Mullvad, though, which allows users to pay with the most privacy-friendly option around: cash.
Does PureVPN have a Free Trial?
PureVPN runs what it calls a seven-day "free trial" for $0.99. This allows users to test the service at very low cost.
The charge means that PureVPN doesn't have a genuine free trial. The best VPN free trials allow you to test its service completely free of charge.
EXPERT TIP: You can get the $0.99 free trial charge back by canceling before the seven days are up.
You can also test PureVPN for free by using its 31-day risk-free money-back guarantee. This is a no questions asked policy, meaning you don't have to explain why you want to cancel. Customer support might ask if there's a technical problem that they can fix first, though.
It's also one of the longest money-back guarantee periods available. Most are capped at 30-days. Only CyberGhost and Norton Secure VPN have more – 45 days and 60 days respectively .
After requesting a refund, it can take up to 30 days for the money to appear in your account.
The Bottom Line
Some improvements are needed
PureVPN is a good, cheap VPN for casual users looking to encrypt their data and select IP addresses from a large variety of countries. Beyond this, it doesn't have much utility.
It doesn't reliably unblock all major streaming sites, it's not ideal for torrenting, it cannot get around harsh web censorship, and we have some security and privacy misgivings due to its flawed kill switch and privacy policy.
We'd like to see PureVPN bring back human support agents, log even less data (although improvements have been made), and develop streaming-optimized servers. Then it will be challenging the best VPNs in the business.
Alternatives to PureVPN
ExpressVPN
ExpressVPN is the very best VPN, much better than PureVPN when it comes to streaming and proving its privacy credentials. It will cost more, but we think it's worth it. Read ExpressVPN review
Private Internet Access
PIA is almost as cheap as PureVPN but more advanced, faster, and better for streaming. Port forwarding is also included. Read Private Internet Access review
---
User Feedback for PureVPN