Tested: Mullvad Fails to Unblock Netflix US
We tested each of Mullvad's 13 US server locations in 2023 and found that it doesn't work to unblock the US Netflix library, or any other library.
These results are significantly worse than we've seen in previous tests. It indicates that unblocking Netflix is not a priority for Mullvad.
Other major VPN services, such as ExpressVPN and NordVPN, openly and actively support Netflix users by providing resources on their websites explaining how best to access the service.
By contrast, Mullvad makes no mention of Netflix or any other streaming service on its website. Nor does it offer any streaming-optimized servers, like CyberGhost and PrivateVPN do.
Simply put, we don't recommend using Mullvad for streaming Netflix.
Last year, Mullvad was able to unblock US Netflix on its San Jose, but in 2023 it no longer works.
Given that streaming does not appear to be a priority for Mullvad, we can't recommend it as a reliable VPN for Netflix.
In the rest of this section, we'll take a more detailed look at using Mullvad for Netflix. Alternatively, you can check out some more reliable VPN alternatives or read our full Mullvad review.
Disappointingly Small Server Network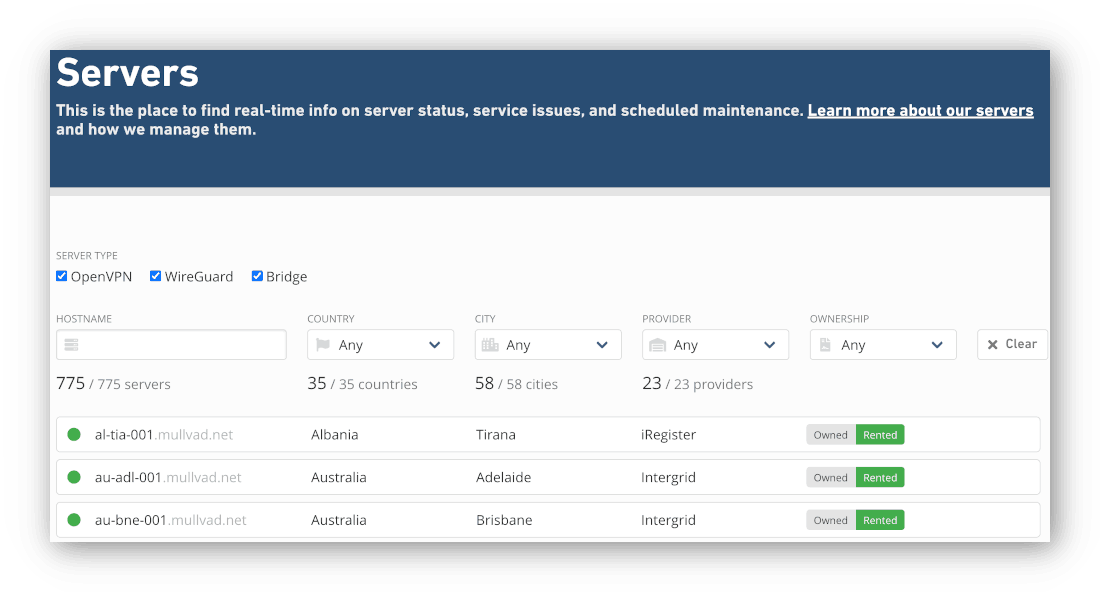 Generally, Netflix blocks VPN users from accessing the service by identifying and blacklisting IP addresses that belong to VPN servers. It's therefore important for VPN services to have large server networks, with thousands of different IP addresses, in order to reliably unblock Netflix.
Unfortunately, Mullvad operates a fairly small server network. It offers just 655 servers, spread across 43 countries. By contrast, our top recommended Netflix VPN, ExpressVPN, has 3,000 servers in over 94 countries.
Mullvad's small network makes it much easier for Netflix to detect and block each and every one of its servers, making it an unreliable service for streaming Netflix.
Fast Streaming Speeds
Mullvad is a very fast VPN service. If the service ever does start working reliably with Netflix, you can expect consistently quick speeds, full HD streaming, and minimal buffering.
In our most recent tests, we recorded an average speed loss of just 7%, with download speeds dropping from 100Mbps to 93Mbps on local, US-to-US connections.
International connections tend to be more important when it comes to streaming. Here, Mullvad still performs very respectably:
| Country | Avg. Download Speed | Avg. Speed Loss |
| --- | --- | --- |
| Germany | 86Mbps | 14% |
| UK | 87Mbps | 13% |
| Japan | 84Mbps | 16% |
| Australia | 77Mbps | 23% |
Our speed dropped 15% on average when connecting to international servers outside the US. This sounds like a lot, but it is still more than fast enough for high-quality streaming. Here are the minimum speeds that Netflix recommends: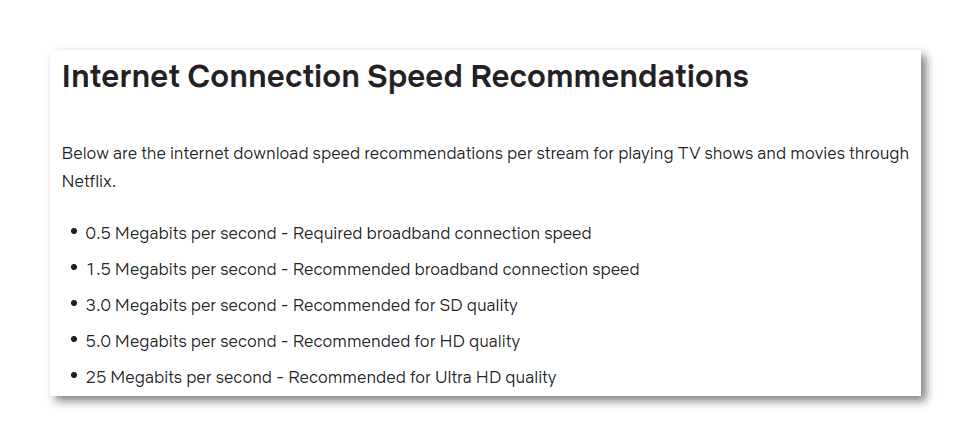 EXPERT TIP: Use the WireGuard VPN protocol to access Mullvad VPN's quickest speeds. You can read more about this in our guide to the fastest VPNs.
Mullvad Doesn't Work Well with Other Streaming Services
Mullvad only unblocks three streaming services, failing to unblock the most popular ones like Hulu and Disney+:
Hulu: Mullvad is unable to bypass Hulu's VPN restrictions.
BBC iPlayer: BBC iPlayer is blocked when connecting through UK-based servers.
Disney+: Mullvad does not work with Disney+.
HBO Max: This was the one of the streaming services that Mullvad could unblock.
Amazon Prime Video: Mullvad is able to unblock Amazon Prime Video, but isn't the most reliable option compared to its competitors.
All 4: The only UK streaming service Mullvad unblocks is All 4.
In short, Mullvad is simply not a good choice for streaming. It doesn't work reliably with Netflix, Hulu, or BBC iPlayer.
NOTE: We've had some recent success unblocking HBO Max with Mullvad, but given the company's seeming lack of interest in supporting streaming, we wouldn't expect this to last for too much longer.
What Other Important Features Does Mullvad Offer?
While the VPN isn't a good choice for Netflix users, it's an excellent VPN in many other respects. Mullvad is great for torrenting safely and is one of the most private and secure VPNs we've ever tested.
Mullvad has an impressive no-logging policy that doesn't log any identifying data. It also doesn't require any personal information when you sign up, which is a great feature for privacy-conscious users and extremely rare among VPNs.
The VPN comes with all the essential privacy and security controls, including AES-256 encryption, DNS and IPV6 leak blocking, and an automatic VPN kill switch. Users can also choose between two popular VPN protocols: OpenVPN and WireGuard.
Finally, Mullvad offers apps for all major desktop operating systems, including Windows, Linux, and macOS. It has a mobile app for iOS devices and Android devices, too.
For a more extensive overview, read our expert's review of Mullvad.
SUMMARY:
Mullvad is not a good VPN for unblocking Netflix. It's a great service for torrenting and it delivers very fast connection speeds, but Mullvad is simply not designed to work reliably with streaming platforms, like Netflix.