HideMyAss Review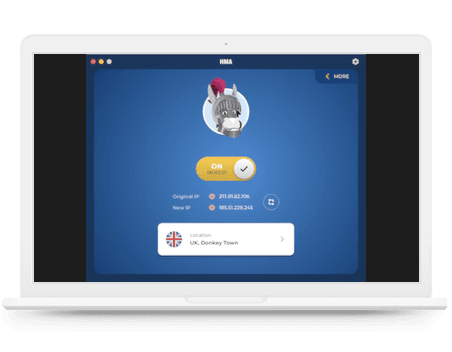 Privacy & Logging Policy
Does HideMyAss keep logs?
HideMyAss collects only the following information:
Date of connection — whether you connect in the morning or evening is also logged
Amount of data transmitted during your session — this data is rounded to the nearest hundred MB
Here is the information as it appears in HideMyAss' privacy policy:
The limited amount of data that HMA does log is aggregated and not tied to any specific user.
HMA's updated logging policy has been verified by reputable cybersecurity consulting firm VerSprite, following an audit of HMA's systems.
VerSprite awarded HideMyAss a "low-risk user privacy impact rating" — the best possible classification. Third-party security audits provide real evidence of a VPN's activities, so you're not forced to rely on what a VPN service claims.
The only personal information HideMyAss retains is your email address and username, which is standard practice among VPNs.
The important thing is that HMA's no-logs policy clearly states your internet activity will not be tracked or logged.
Despite the logging policy improvement, HMA is a VPN service with an extremely poor track record when it comes to safeguarding its customers' anonymity. We'll explain more about this below.
HMA is based in the United Kingdom
HideMyAss launched its first subscription-based VPN service in 2009 under the ownership of parent company Privax Ltd.
The VPN's popularity led AVG, a Czech antivirus company, to acquire it for up to $60 million in 2015. AVG was in turn bought by Avast, another Czech antivirus firm, in 2016.
Despite the parent company, Avast, being based in the Czech Republic, Privax Ltd is still located in the UK.
The UK is a terrible base for a VPN provider, due to its intrusive data retention laws now codified through the UK Investigatory Powers Act, or the 'Snooper's Charter' as it is popularly known.
HideMyAss is subject to all intelligence-sharing agreements contained within the Snoopers Charter. The company admits it will supply information to law enforcement if necessary.
The UK is also a member of the Five Eyes Alliance (FVEY), an international intelligence-sharing agreement designed to collect and share surveillance data among the world's most powerful nations.
HideMyAss shared user logs with law enforcement
Sadly, HideMyAss has an extremely poor track record for logging.
In one instance, a member of the hacktivist group Anonymous was arrested after HMA provided the FBI access to connection logs, following a UK court order.
On another occasion, a Texas judge was arrested for stalking and harassment. He was a HideMyAss user whose identity was uncovered using connection timestamps.
HideMyAss went to some length to justify its behavior, but it was largely seen as a breach of trust for most VPN users.
It must be said that all instances of information sharing with law enforcement happened under the VPN's old privacy policy. The VPN service previously logged sensitive data like user IP addresses and precise connection timestamps.
Such an intrusive policy made it easy for law enforcement to request personally-identifiable information from HMA to identify a specific user.
As we mentioned above, HMA's new privacy policy prevents any repeat of user identities being compromised. As long as the VPN doesn't keep user web logs, it doesn't have sensitive information to pass on.
The company's much improved no-logs policy somewhat offsets its privacy-unfriendly jurisdiction. However, real-world tests and third-party audits are necessary to restore our confidence in HMA.
How private is HideMyAss compared to other VPNs?
As we've discussed above, HMA compares fairly poorly to other VPNs in terms of privacy.
The table below compares the privacy features of HMA and four other VPN services.
Speed
HMA delivers impressive speeds across the board
We compared our internet download speeds before and after connecting to a nearby HideMyAss server. This allows us to see precisely how much HMA slows down our internet connection when connected to the nearest server location.
HMA's speed performance was stable and capable of handling data-intensive tasks like HD streaming, gaming, and video conferencing without issues.
Here are our full local speed test results:
Local Speed Test results before using HideMyAss:
Download Speed: 99Mbps
Upload Speed: 94Mbps
Ping: 2ms
Local Speed Test results with HideMyAss:
Download Speed: 96Mbps
Upload Speed: 92Mbps
Ping: 5ms
Download speed loss when HideMyAss is running: 3%
As shown above, our download speeds dropped just 3% when connected to HMA, from 99Mbps to 96Mbps. You can expect similar results when connecting to a server near you.
These speed test results are really impressive. Recently, HMA added 20Gbps servers to its network, which has helped it narrow the gap with the fastest VPNs on the market.
EXPERT ADVICE: For the fastest local speeds, use the 'Lightning Connect' feature. This automatically connects you to the fastest server based on distance and server load.
Global Speed Test Results
We also tested HMA's long-distance performance by choosing a small group of test servers in the USA, Germany, Singapore, and Australia.
Below are the average speeds we saw when connecting to these locations from London, UK with a 100Mbps internet connection:
USA (New York):

Download: 72Mbps (27% slower)
Upload: 74Mbps (25% slower)

Germany (Munich):

Download: 97Mbps (2% slower)
Upload: 90Mbps (8% slower)

Singapore:

Download: 30Mbps (70% slower)
Upload: 33Mbps (66% slower)

Australia (Melbourne):

Download: 49Mbps (51% slower)
Upload: 31Mbps (68% slower)
International speeds were some of the best we've seen and connection times were great, at around 70Mbps seconds for most locations.
Naturally, HideMyAss' VPN speeds begin to fall when connecting to distant locations. This is due to the longer journey a VPN connection has to make.
Speed is clearly one of HMA's strongest attributes. It's one of the fastest VPNs we've tested, and challenges very quick VPNs like ExpressVPN and NordVPN.
How Fast is HideMyAss Compared to Other VPNs?
To ensure our speed test findings are as accurate as possible, we also tested HideMyAss and other popular VPNs using our bespoke VPN speed testing tool.
Our automated tests run every six hours, and we report the results as we find them, eliminating the possibility of any bias.
The graph below compares HideMyAss' average loss of internet speed to other popular VPNs while running on our New York server.
Compare HMA's speeds around the world
The graph above shows how HideMyAss is one of the fastest VPNs available. On New York to New York connections, HideMyAss is registering a speed loss of less than 10%.
However, speeds dropped more evidently on some international connections. For example, connecting to London from New York resulted in a 40% speed loss. Depending on your internet speed, this could result in buffering and lag on your video streams.
Streaming
HideMyAss easily unblocks US Netflix and BBC iPlayer
HideMyAss has dedicated servers exclusively for the most popular streaming services, for quicker and easier access.
These dedicated streaming servers are very fast and mostly reliable. Most of the time you'll be able to access your favorite streaming sites without issues.
They are also really easy to find in the app and are always available through the sidebar. This makes switching between US, UK, and German Netflix libraries very easy.
These streaming servers aren't obviously labeled, though, so we've identified them for you.
Here are the HideMyAss servers that work with streaming services:
Liberty Island allows you to unblock US Netflix.
Donkey Town successfully unblocks BBC iPlayer.
However, HMA VPN only unblocks the American Netflix library. This is better than nothing, but can't compete with the top Netflix VPNs, which can stream up to 32 regions.
HMA struggles to unblock Disney+
However, we do wish HideMyAss was able to unblock Disney+ more often, like the best Disney+ VPNs can.
In our latest streaming tests, we had to switch between several HMA servers until we found one that works with Disney+.
HMA doesn't work with Hulu or HBO Max
Unfortunately, HMA's streaming capabilities have worsened recently. So much so, the VPN no longer works with Hulu and HBO Max.
Using a VPN with HBO Max and Hulu have become popular activities among VPN users. We tested NordVPN with both platforms, and it worked without a hitch.
HMA's streaming performance compared to other VPNs
We grouped our latest VPN streaming test data in the table below to compare HideMyAss to other popular streaming VPNs.
You can see how many Netflix libraries each VPN works with, whether it has Smart DNS funcionality, and how often it works with popular streaming platforms.
Price & Value
7-day free trial, but too many pricing options
HideMyAss Monthly Subscription Prices
HideMyAss has three main subscription plans, each of which comes with the same features.
As with most VPN services, the longer subscription plans offer significantly better value for your money. You will have to pay the full subscription fee upfront, though.
The yearly plan costs $4.99 per month, which is good value for what you get. HideMyAss' best price comes with its three-year plan, which lowers the monthly cost by 75% to $2.99.
While the price of its long-term subscriptions is reasonable, HMA's short-term plans are unusually expensive. They're also separate from the main pricing page and difficult to find.
You can access the 1-month plan and the 6-month plan via the 'extended' pricing section of the website.
If you want to expand your simultaneous connections limit from 5 devices to 10, you can do so on the website's pricing page.
For 10 simultaneous connections, the 12-month plan increases to $7.99 per month, while the 3-year plan comes to $5.99 per month.
Payment & Refund Options
HideMyAss accepts a good range of payment options, including:
Alipay

American Express

Bank Wire / Direct Transfer

Giropay

Mastercard

PayPal

Visa
HMA's 30-day money-back guarantee
HMA also offers a 30-day refund guarantee, which is truly no question asked.
Even if you consume large amounts of data within 30 days of purchase, you're still eligible for a full refund.
Auto-renewal of subscriptions is enabled by default, which you can disable in the member's area of the website.
HMA's 7-day free trial
HideMyAss offers a 7-day free trial, making it easy for you to test the software without buying it first. You will have to submit payment details on sign up.
Unlike other free trials, HMA's free trial lets you use try the VPN for free on all platforms. You'll have access to all server locations as well as unlimited bandwidth.
Remember to cancel before the end of your trial period, though, or you'll be charged the annual subscription fee of $83.88.
Server Locations
HMA has the largest server location coverage
190 Countries
290 Cities
1080 IP Addresses
HideMyAss is the leading VPN for choice of VPN server locations, with over 1080 VPN servers in more than 190 countries. This means 96% of all countries in the world are covered.
HMA's huge choice of servers makes it an especially good VPN if you're located away from the typical VPN server locations, like Western Europe and the US.
We were especially impressed to see HideMyAss cover regions of Africa and the Middle East far better than any other VPN provider we've tested.
If you are in one of these regions, HMA's nearby servers mean your connection is not routed through servers located far away, resulting in faster speeds.
While other VPN services boast about their large server counts, server presence is concentrated in Europe and North America. We're very happy to see HMA place servers in less-popular locations.
HideMyAss also has a notable amount of city-level server locations, including:
Australia (2)
Canada (3)
France (2)
Germany (2)
Russia (2)
Spain (2)
UK (2)
US (65)
The benefit of city-level servers is less congestion and faster speeds. HMA's choice of 65 US locations specifically helps to bypass US sports blackouts.
Like most other VPN service, HMA has put its city-level servers in the usual countries. We wish there were more city-level servers in Asia, Africa, and South America.
HMA uses many virtual server locations
HideMyAss is able to offer servers in so many countries, because it uses virtual server locations alongside physical ones.
Unlike a 'physically located' server, a virtual or "fake" VPN server location provides an IP address in one country while the server is physically located in another.
The screenshot below shows how when we connected to a Kenyan HMA server, the real physical location of that server was in an Avast server park in Hallandale, Florida.
There are some pros to using virtual locations. For instance, your internet traffic can sometimes take a shorter route, with resulting speed benefits.
Virtual locations also allow HMA to assign IP addresses for geo-locations where hosting physical VPN servers is complicated (e.g. China).
But, virtual server locations also carry certain downsides. Firstly, it can be difficult for you to find out where the physical server is actually located and how it's operated, which poses some security risks.
Secondly, virtual server locations can also lead to connection slowdowns. This occurs when you're connecting to a VPN server supposedly close to you, but which is in fact located far away.
Previous versions of HideMyAss's apps marked each virtual server location as "virtual." To our disappointment, the latest versions of HMA have removed this feature, with this information only available on its website.
Does HideMyAss Rent Its VPN Servers?
Some VPN services choose to rent servers from data centers, instead of owning them outright.
Renting servers helps reduce operational costs, but it adds an element of risk, with another party (the server host) also responsible for the security of your data.
A HideMyAss customer support agent confirmed the company rents a "significant proportion" of the hardware used in its VPN network. According to the agent, HMA retains full control over their installation and management.
When it comes to privacy, we recommend VPN services that own and operate most of their server network outright, reducing the number of third parties involved.
When we reviewed VyprVPN and tested IPVanish, we verified both VPN services operate large self-owned server networks.
HMA does operate some private DNS servers, which are owned by its parent company, Avast. However, we have privacy concerns around these servers.
Torrenting
HMA VPN is not good for torrenting
We can't recommend HideMyAss for secure torrenting because of its previous mistreatment of user privacy, and its history of cooperating with law enforcement.
In the past, HMA users reported accounts suspensions for violating Digital Millennium Copyright Act (DMCA) laws, too.
A HMA representative confirmed that HMA "have no mechanism of identifying individual users following a DMCA report."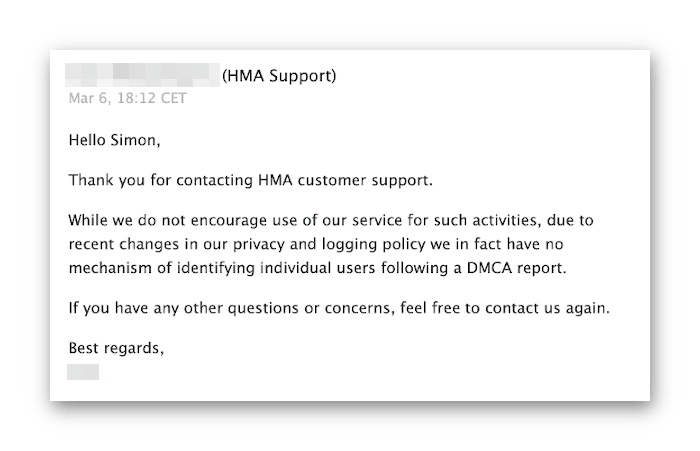 But, HMA's stance on torrenting is muddled and confused. A different HideMyAss support agent stated torrenting copyrighted material is against the VPN terms of service, and threatened this would result in an account suspension.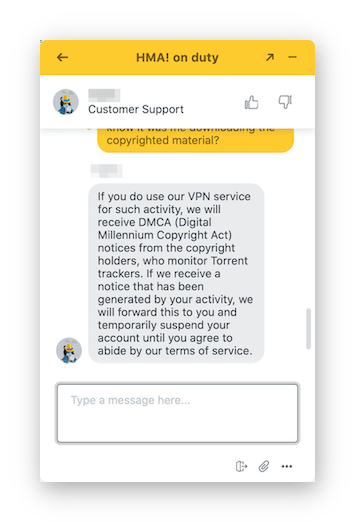 HideMyAss needs to provide much more clarity here. As things stand, and given the commpany's past logging controversies, we advise not to use HMA for torrenting.
It's a shame because HMA's fast torrent speeds and dedicated P2P servers would have made for a very good torrenting VPN.
Security & Technical Features
Is HideMyAss (HMA) safe?
| Protocols | Available in HideMyAss |
| --- | --- |
| IKEv2/IPSec | Yes |
| L2TP/IPSec | Yes |
| OpenVPN (TCP/UDP) | Yes |
| WireGuard | No |
| Encryption | Available in HideMyAss |
| --- | --- |
| AES-128 | No |
| AES-192 | No |
| AES-256 | Yes |
| Blowfish | No |
| ChaCha20 | No |
| Security | Available in HideMyAss |
| --- | --- |
| DNS Leak Blocking | Yes |
| First-party DNS | Yes |
| IPv6 Leak Blocking | Yes |
| Supports TCP Port 443 | No |
| VPN Kill Switch | Yes |
| WebRTC Leak Blocking | No |
| Advanced Features | Available in HideMyAss |
| --- | --- |
| Ad Blocker | No |
| Dedicated IP | No |
| Double VPN | No |
| Smart DNS | No |
| Static IP | No |
| SOCKS | No |
| Split Tunneling | Yes |
| Tor over VPN Server | No |
| Tracker Blocker | No |
HMA VPN's advanced security features
HMA's apps include split tunneling and the Refresh IP tool, which assigns you a new IP address in the same location if your current IP is suddenly blocked.
There is a system-wide kill switch available for the Windows, Android, and Mac clients too. This prevents your data leaking if your VPN connection drops.
HMA's kill switch is not available on iOS devices, and it does not work with macOS.
HMA VPN's encryption and security
We found that HMA's security is very strong. HideMyAss implements its encryption as follows:
Connection is established via a secure RSA-2048 handshake.
Perfect Forward Secrecy is provided via an Elliptic curve Diffie-Hellman (ECDH) key exchange.
Integrity of the data is authenticated using an SHA-384 hash.
Data transmitted during the session is encrypted using the AES-256 cipher.
Using Wireshark (packet-capturing software), we ran tests to ensure the VPN's traffic is truly encrypted. We can happily confirm the VPN securely encrypted our data transfers.
Our internet data was rendered as random strings of text and not plain text. Information like your passwords, email address, and credit card details, are therfore invisible to hackers and snoopers on public WiFi networks.
HMA VPN leak test results
IP address leaks allow advertisers, governments, and websites to see your true location and match your identity back to your activity.
Like most popular VPN services, HideMyAss includes built-in protection against IPv4 and IPv6 leaks.
We ran HideMyAss through a series of leak tests and unfortunately found it leaked our IP address on iOS (due to our VPN connection dropping).
HMA's other software didn't suffer IP or DNS leaks, though. The screenshot below shows how the Windows app hid our real IP address:
HideMyAss also owns and operates its own no-log DNS servers, which resolve all DNS requests as you browse the web. But, these servers are owned by Avast, which was caught in a data-harvesting scandal.
HMA's security shortfalls on Mac and iOS
Although HMA's application security is relatively strong, HMA's macOS and iOS software has a concerning history of security flaws and missing features.
In 2017, several security vulnerabilities were found in the HideMyAss Mac app. These vulnerabilities allowed for malware to be installed on the root of the device if a hacker had physical access.
On top of this, HMA's VPN kill switch does not work on macOS. We reported this big to HMA in December 2019, but it still hasn't fixed it.
Running HMA on macOS Ventura, our true location in the United Kingdom leaked when our VPN connection failed. This happened despite being connected to a Mexican VPN server with the VPN kill switch enabled.
Mmoreover, the HideMyAss iOS app does not have a VPN kill switch at all.
Both the iOS and Mac apps use the IKEv2/IPsec protocol. IPSec is an older VPN protocol, generally less secure and more prone to vulnerabilities than OpenVPN and patched WireGuard protocols.
Bypassing Web Censorship
HMA doesn't work in China
We test HideMyAss every week using a remote connection into Shanghai. sadly, the VPN has never worked. In fact, we've always been blocked from even signing in.
The best VPNs for China use obfuscation technology, which lets them bypass China's VPN ban. Sadly, HMA doesn't possess any obfuscation tools.
Despite these limitations, we found that HideMyAss works in countries with less strict VPN restrictions. In recent tests, HMA worked in the UAE, Russia and Turkey.
Device & OS Compatibility
HideMyAss has well-designed apps for popular devices
Apps
Windows

Mac

iOS

Android

Linux

Router
There are major differences between the HMA apps on different platforms, though, so we have reviewed each one in the section below.
If you want a quick snapshot of the differences between HideMyAss clients on different platforms, just see the table below:
HideMyAss for Windows
HMA's app on Windows is full of features, easy to use, and is very well designed.
The Windows app benefits from a range of security settings. We particularly like the app-specific and system-wide kill switch, and IP Shuffle, which rotates your IP at regular time intervals.
The Windows client exclusively uses OpenVPN (UDP and TCP options), which best balances speed and security. We recommend sticking with TCP; UDP is generally quicker, but is slightly less secure.
WireGuard, our second preferred protocol, is not available on any HMA app, though.
HMA's Windows app is intuitive and makes it easy to view the HideMyAss' 190 server locations. VPN servers are split up into categories, with specific servers for torrenting and streaming clearly labeled.
Surprisingly, split tunneling isn't available on the Windows client – it's only available on the Android app.
HideMyAss for Mac
HMA's macOS app is one of the best-designed, easiest to use VPN apps we've tested on our test Macbooks and iMacs.
The macOS application was also incredibly stable in our testing, and worked consistently without crashing.
However, the Mac app is worse than the Windows client in the following areas:
Only supports the outdated IKEv2 VPN protocol
Lacks split tunneling
Doesn't have app-specific kill switch
Kill switch is broken on macOS
We are particularly disappointed with the lack of kill switch and OpenVPN protocol support. IKEv2 is older and less secure than OpenVPN.
HideMyAss for iOS
While retaining the friendly design, HideMyAss' app for iPhone and iPad is the least functional of all its VPN apps — providing almost no configurability and options.
In fact, 'connection rules' is the only setting and is limited to basic toggles relating to cellular data and trusted WiFi networks.
The HideMyAss iOS app has the following major limitations:
Cannot use OpenVPN
No kill switch
No split tunneling
As you can see below, the lack of kill switch on iOS resulted in our real IP address leaking on our test iPhone, due to the HMA VPN connection dropping.
We're also disappointed IKEv2 is the only available VPN protocol. IKEV2 is less secure and outdated compared to OpenVPN, which remains our favorite.
However, if you're a VPN newbie or you just want VPN to stream US Netflix, the HideMyAss iOS app is good enough. For additional settings and security, there are better iPhone VPNs to choose from.
HideMyAss for Android
HideMyAss' mobile Android app is much better than its iOS counterpart. The app offers far more advanced features and configurability.
HMA's Android app includes the below settings:
Uses OpenVPN by default
IP Shuffle
Split tunneling
Kill switch
Network troubleshooting
These are great advanced VPN features, and we're pleased IP Shuffle setting made its way to the Android app.
Also, the VPN split tunneling feature is only available on Android. This setting lets apps at your choice use your standard internet connection, rather than the encrypted VPN tunnel.
Streaming Device Support
HideMyAss has poor support for streaming devices. It's only compatible with the following:
Android TV
No Firestick app or Smart DNS tool
Disappointingly, HideMyAss doesn't have a native application for Fire TV devices. There is no Android .apk file, either, so you can't side load it onto your Firestick.
Additionally, HMA doesn't offer a Smart DNS tool, so the only way to use the VPN on your Apple TV or games console is to install the VPN on your home router.
VPN router setup is not as convenient as a fully-fledged native app, and requires some technical experience to set up.
If you don't want to deal with the hassle, FlashRouters does provide routers pre-installed with HMA VPN. This is a good yet expensive option.
HMA has an Android TV app
At least, HMA does have an app for Android TV. When we tested it, we streamed US Netflix and BBC iPlayer directly on our TV screen.
The Android TV app runs on all Android-powered smart TVs and streaming devices. You can also use the VPN on a Chromecast with Google TV device.
The Android TV app includes useful settings such as split tunneling, a VPN kill switch, and Refresh IP.
Browser Extensions
Chrome

Firefox
HMA VPN's web extensions consistently unblock US Netflix, have unlimited bandwidth, and are completely free.
The browser extension is limited to only five VPN server locations, though, with just the following locations covered:
Paris, France
Frankfurt, Germany
Amsterdam, Netherlands
London, UK
New York, US
Considering the browser extension is free, we're not overly concerned with the limited server location choice. After all, the countries available are all popular locations.
Be aware that the HMA VPN browser extensions are web proxies, not VPNs.
When you use the HMA web proxy, you only geo-spoof your location. Web proxies don't encrypt your web traffic, and therefore don't hide your browser activity.
The other problem with HideMyAss' web proxy is that it logs too much information:
Your originating IP address
Encoded URLs of the websites you visit
Files accessed on the websites you visit
We don't like this highly intrusive data collection from HMA. We strongly recommend to only use HMA's VPN extensions to unblock geo-restricted streaming websites.
Ease of Use
Easy to use and intuitive VPN apps
How to Change Settings in HideMyAss
HMA Version 5
With its newest update, HideMyAss has removed unneeded clutter and simplified the app.
On the surface, the new design has modernized what was a stale VPN app. This on its own is a fine improvement, but HMA's efforts to simplify the app is the largest improvement.
HMA have removed the ambiguously labeled options of 'Instant Mode', 'Location Mode', and 'Freedom Mode', which were confusing and misleading. There is now just a single switch, making connecting to a VPN server much simpler.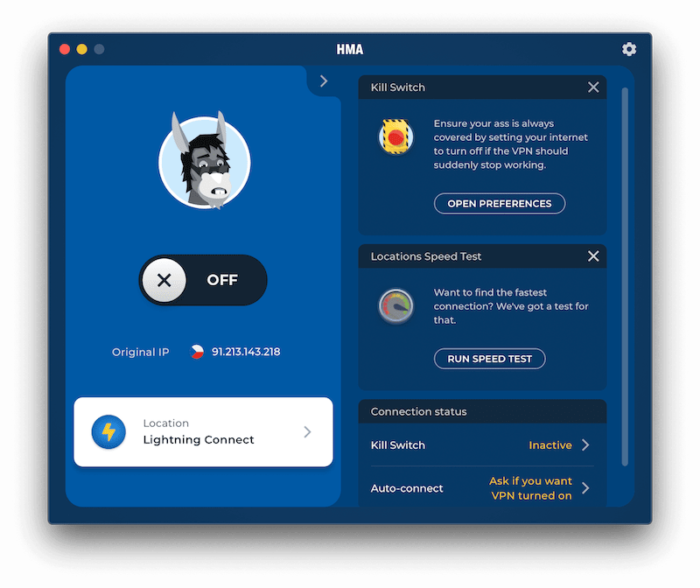 Within the newly added side panel, there are also explanations to some advanced VPN connection settings, which is ideal for VPN beginners.
Customer Support
Useful online support but limited live chat
| Customer Support | Available in HideMyAss |
| --- | --- |
| 24/7 Live Chat Support | No |
| 24/7 Email Support | No |
| Chatbot | No |
| Live Chat Support | Yes |
| Email | No |
| Email Support via Online Form | Yes |
| Tutorial Videos | Yes |
| Online Resources | Yes |
HideMyAss is easy to use and install on all platforms, but you may still run into a few issues.
Thankfully, HMA is backed by an extensive online knowledge base, which includes detailed guides, FAQs, and even video walkthroughs.
But for those times when you absolutely need to get in touch with a human, HideMyAss' customer support is no longer among the best.
HMA's recently demoted the availability of their live chat feature from 24/7 availability to CET 9am to 11pm.
For a VPN provider that prides itself on its global server network, HideMyAss' lack of 24/7 availability is really disappointing.
For example, for Los Angeles VPN users, live chat is only available from 11pm to 2pm. And for those in Sydney, Australia, the hours are 6pm to 9am.
However, when it is available, HMA's live chat support team is extremely quick to respond and often very helpful.
If you're still stuck, you can contact HideMyAss' support by submitting a request ticket through email, by contacting their social media team, or by posting on the HMA community forum.
The Bottom Line
HideMyAss review summary
HideMyAss is a fast, user-friendly VPN and is one of the most consistent VPNs for streaming US Netflix and BBC iPlayer.
HMA's 7-day free trial and 30-day money back guarantee also make it a great choice for beginners that want to test out a VPN before they commit to a subscription.
However, HideMyAss' history of logging user data, a faulty kill switch, and historical cooperation with law enforcement are a big privacy concern.
All in all, HMA VPN is a good VPN for bypassing streaming geo-blocks, but we can't recommend it for users seeking higher levels of privacy and security.
Alternatives to HideMyAss
NordVPN
If you need your VPN to work across all your devices, then NordVPN is a great choice. It has apps for Fire TV, Android TV, and it comes with a free Smart DNS feature. It's also available for a cheap price of $3.29 on its lengthier subscriptions. Read NordVPN review
Private Internet Access
Despite HMA's new logging policy, can you just not trust a VPN provider that's handed over user data to law enforcement in the past? Then Private Internet Access is a great VPN for you. PIA is a truly no-logs VPN service, it also works great for torrenting, and it unblocks US Netflix and BBC iPlayer with ease. Read Private Internet Access review
---
User Feedback for HideMyAss