Disclosure: Top10VPN is editorially independent. We may earn commissions if you buy a VPN through links on our site.
Our Verdict
HideMyAss unblocks Netflix and BBC iPlayer with fast international speeds and a huge server network. It doesn't keep logs anymore, but the company has previously provided user data to third-parties. In all, the VPN's strong security and a 7-day free trial make it great for beginners, but it's not a VPN recommended for privacy.
HideMyAss (HMA) offers access to a huge network of over 1,100 servers in more than 290 locations worldwide. This covers almost every country on the planet, making it a superb choice for accessing geo-blocked or censored content.
With dedicated servers for streaming services like Netflix and BBC iPlayer, fast speeds, and unlimited bandwidth, HideMyAss is also a great VPN for streamers who want to unblock content from around the world.
This VPN might have a remarkable server count, but it's not ideal when it comes to privacy. In this HideMyAss VPN review, we'll explain exactly how the VPN performs when it comes to security, safety, and more.
The VPN uses the gold-standard OpenVPN protocol with AES-256 — the strongest encryption on the market. HideMyAss' no-logs privacy policy is also impressive, but the VPN provider's UK jurisdiction and previous cooperation with law enforcement mean your data isn't as safe as it is with more private VPN providers.
HideMyAss is also one of the most expensive VPNs around, with prices starting at $11.99 a month and falling to $3.99 on longer-term plans. There is a 7-day free trial, though, which is excellent if you're on a budget.
HideMyAss' mobile apps miss out on some essential VPN encryption and security features, with its iPhone and MacOS apps failing to provide a VPN kill switch.
Overall, our research shows HideMyAss is not as safe as its rivals. It doesn't let users customize many settings either, even after the release of its new Version 5 clients. It's still one of the better VPNs around overall – one of its strongest attributes is its download speeds, which you can read more on below.
HideMyAss Pros & Cons
Works with US Netflix and BBC iPlayer

Very fast speeds

The largest VPN server network available

Good logging policy & no DNS/IP/WebRTC leaks

Easy-to-use & intuitive apps
Based in the UK (FVEY jurisdiction)

Previously handed over user data to FBI

Limited encryption and security on Apple platforms
HideMyAss Key Data
| | |
| --- | --- |
| Data Cap | None |
| Speed | 96Mbps |
| Logging Policy | Anonymous Server Usage Data |
| Data Leaks | No |
| Jurisdiction | UK (Five-Eyes Member) |
| Servers | 1,060 |
| IP Addresses | 1,060+ |
| Countries | 190 |
| US Netflix | Yes |
| Torrenting | Unlimited |
| Works in China | No |
| Support | Live Chat |
| Cheapest Price | $2.99/mo over 3 years |
| Official Website | Hidemyass.com |
HideMyAss Category Ratings
We test and review every VPN in eight key areas. Here's how HideMyAss performs in each category:
Privacy & Logging Policy: 7.5/10
Encryption & Security: 9.3/10
Speed & Reliability: 9.6/10
Streaming & Torrenting: 8.5/10
Bypassing Censorship: 8.0/10
Ease of Use: 9.2/10
Customer Support: 8.5/10
Price & Value for Money: 7.5/10
To learn more about our methodology, read our full VPN testing process.
Does HideMyAss Keep Logs?
Logging & Jurisdiction
Privacy & Logging Policy Rating: 7.5/10
HideMyAss is now a true no-logs VPN provider, having finally removed the logging policy that was once the its main drawback.
This means that HMA does not collect or 'log' any data that could be used to identify you from your online activities. Your activity will remain private to you and hidden from HideMyAss.
HideMyAss collects only the following information:
Date of connection — whether you connect in the morning or evening is also logged
Amount of data transmitted during your session — this data is rounded to the nearest hundred MB
Here is the information as it appears in HideMyAss' privacy policy:
The limited amount of data that HMA does log is aggregated and not tied to any specific user. This fact has been verified by reputable cybersecurity consulting firm VerSprite, following an audit of HMA's systems.
The firm awarded HideMyAss a "low-risk user privacy impact rating" — the best possible classification. Third-party security audits are great for users as they provide real evidence of a VPN's activities, so you're not forced to rely on what the VPN service says itself.
The only personal information that HideMyAss does retain is your email address and username, which is standard practice among VPNs. The important thing is that HMA's no-logs policy prevents your online activity from being linked back to you.
Despite the improvement, this is a VPN service with an extremely poor track record. If you mainly want to use a VPN to protect your anonymity and privacy, you should still avoid HideMyAss until its safety has been verified. If you're a streamer who just wants to access US Netflix and BBC iPlayer, then it is still a good option for you.
HMA is based in the United Kingdom
HideMyAss launched its first subscription-based VPN service in 2009 under the ownership of parent company Privax Ltd.
The VPN's popularity led AVG, a Czech antivirus company, to acquire it for up to $60 million in 2015. AVG was in turn bought by Avast, another Czech antivirus firm, in 2016.
Despite its parent company being based in the Czech Republic, Privax Ltd is still located in the UK.
The UK is a terrible base for a VPN provider due to its intrusive data retention laws now codified through the UK Investigatory Powers Act, or the 'Snooper's Charter' as it is popularly known.
The Snoopers' Charter enables the following:
Mass data collection. Security services are authorized to access electronic communications. In some circumstances, this can be done even without a warrant.
Removal of device encryption. The government is legally empowered to force ISPs, communication providers, and technology companies to design deliberate encryption weaknesses and encryption backdoors into their products.
Bulk hacking. Law enforcement agencies are permitted to eavesdrop on communications by hacking into phones, computers, and any other communications device.
The UK is also a member of the Five Eyes Alliance (FVEY), an international intelligence-sharing agreement designed to collect and share surveillance data among the world's most powerful nations.
HideMyAss is subject to all the intelligence-sharing agreements contained within the Snoopers Charter, and admits that it will supply information to law enforcement if necessary.
HideMyAss Shared User Data with Law Enforcement
Sadly, HideMyAss has an extremely poor track record for logging. In one instance, a member of the hacktivist group Anonymous was successfully arrested after HMA provided the FBI access to connection logs following a UK court order.
In 2017, a judge from Texas was arrested for stalking and harassment. He was a HideMyAss user whose identity was uncovered using connection timestamps.
HideMyAss has gone to some length to justify this behavior, but it has understandably been seen as a large breach of trust for most VPN users.
However, all instances of the company passing on information to law enforcement happened under the VPN's old privacy policy. The VPN service previously logged sensitive data like user IP addresses and precise connection timestamps, which made it easy for law enforcement to find a specific HMA user from their online activities.
HMA's new no-logs privacy policy will prevent any repeat of user identities being compromised. As the VPN no longer retains any data, it does not have any information to pass on.
A strong no-logs policy can usually offset the problem of a privacy-unfriendly jurisdiction, but it will take real-world tests and third-party audits to restore our confidence in HMA as a top tool for privacy and anonymity. If privacy is your foremost concern, we do not recommend this VPN.
How fast is HideMyAss?
Speed Test Results
Speed & Reliability Rating: 9.6/10
HideMyAss displayed very fast speeds in our tests, putting it up there with the top-performing VPN services. Our download speeds only dropped very slightly — from 99Mbps to 96Mbps when connected to a nearby server. This is a percentage speed loss of just 3%.
International speeds were some of the best VPN speeds we've seen and connection times were great at around 70Mbps seconds for most locations.
Latency was also impressively low, averaging at 5ms for the majority of locations — making it an ideal VPN for gamers.
This is a very impressive result for both local and international speeds and puts HMA in the top percentile of commercial VPNs. Its performance was stable, which means that it is capable of handling data-intensive tasks like HD streaming, gaming, and video conferencing without issues.
All of HMA's VPN apps also come with a helpful 'Lightning Connect' feature that automatically connects you to the fastest server based on distance and server load.
If you prioritize the fastest VPN speeds above all else — make sure you always connect using this button.
Local Speed Test Results
Before using HideMyAss:
99

94

2
When connected to HideMyAss:
96

92

5
We compared our internet download speeds before and after connecting to a nearby HideMyAss server. This allows us to see precisely how much HMA slows down our internet connection when connected to the nearest location.
Our download speeds dropped just 3% when connected to HMA, from 99Mbps to 96Mbps. You can expect similar results when connecting to a server near you.
These speed test results are really impressive. HMA compares very well to some of the best VPNs on the market when it comes to local speeds, meaning that whatever you choose to do when running HMA, you won't be slowed down.
Global Speed Test Results
We also tested HMA's long-distance performance by choosing a small group of test servers in the USA, Germany, Singapore, and Australia.
We test VPN speeds using a 100Mbps internet connection, which gives us accurate average speeds when connecting to multiple worldwide locations.
International speeds were some of the best we've seen and connection times were great, at around 70Mbps seconds for most locations.
Naturally, HideMyAss' VPN speeds begin to fall when connecting to distant locations. However, its performance is still terrific. Download speeds in Germany were barely affected (just 2% slower), while connections to the US averaged 65Mbps. Even Australia —the most distant server we tested— performed admirably at 44Mbps.
Below are the average speeds we saw when connecting to these locations from London, UK with a 100Mbps internet connection:
USA (New York): 
Download: 72Mbps (27% slower) 

Upload: 74Mbps (25% slower) 
Germany (Munich): 
Download: 97Mbps (2% slower)

Upload: 90Mbps (8% slower)
Singapore:
Download: 30Mbps (70% slower)

Upload: 33Mbps (66% slower)
Australia (Melbourne): 
Download: 49Mbps (51% slower)

Upload: 31Mbps (68% slower)
Speed is certainly one of HMA's strong points. It's one of the fastest VPNs we've tested — if you're looking for reliably strong performance for streaming or browsing overseas, it's definitely worth considering HideMyAss.
How Fast is HideMyAss Compared to Other VPNs?
To ensure our speed test findings are as accurate as possible, we also tested HideMyAss and 17 other popular VPNs using our bespoke VPN speed testing tool. These tests run every six hours, and we report the results as we find them, eliminating the possibility of any bias.
The graph below compares HideMyAss' average loss of internet speed to other popular VPNs while running on our New York server.
Use our Speed Test Tool to compare HideMyAss' speeds across different cities.
We found that HideMyAss is one of the fastest VPN services on the market. When connecting to a local VPN server from New York, HideMyAss is consistently one of the best performing VPNs — averaging a download speed of 90Mbps.
As you can see, HideMyAss' speeds remain steady and consistent over the eight weeks, while some other providers struggle to maintain a reliable connection.
HMA's Speed Test Feature
After being removed in 2017, one of our favorite HideMyAss features finally returns in V5.
HMA's Speed Test tool allows you to check the download speed and ping for a number of HideMyAss VPN server locations before you connect. This removes the guesswork and ensures you're connecting to the fastest VPN server possible.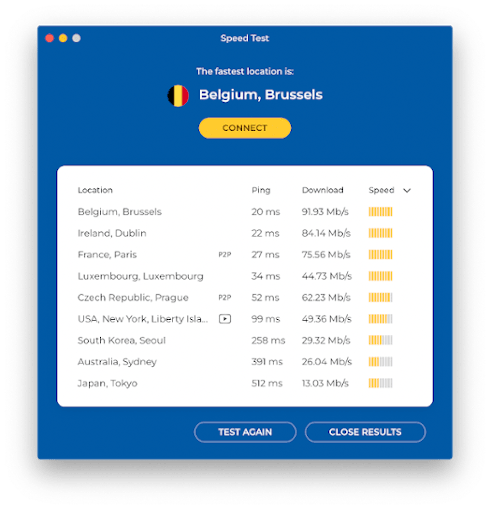 This is a really useful feature for Netflix streamers who want to watch a movie or TV show that is unavailable in their region. With HMA's Speed Test, you can make sure you're connecting to the best VPN server for buffer-free streaming.
To check the validity of HMA's Speed Test tool, we checked the data with our own manual speed tests and the results were almost identical.
Only a few other VPN providers offer this feature and this is by far the most advanced and fully-fledged we've seen.
HideMyAss unblocks US Netflix and BBC iPlayer
Streaming & Torrenting
Streaming & Torrenting Rating: 8.5/10
HideMyAss is an excellent VPN for unblocking streaming content. It consistently unblocks geo-restrictions on services including Netflix, BBC iPlayer, and Amazon Prime Video.
HideMyAss has dedicated servers exclusively for the most popular streaming services, making accessing US Netflix and BBC iPlayer as simple as possible.
These dedicated streaming servers are some of the most reliable we've tested, so you will be able to access your favorite streaming sites without any issues.
They are also really easy to find in the app and are always available through the sidebar. This makes switching between US, UK, and German Netflix libraries super easy.
These streaming servers aren't obviously labeled, though, so we've identified them for you.
Liberty Island

allows you to unblock

US Netflix

.

Donkey Town

successfully unblocks

BBC iPlayer

.
On top of its ability to unblock the main streaming services — HMA's incredibly fast download speeds mean that streaming Netflix and BBC iPlayer is fast and buffer-free, too.
However, we do wish HideMyAss was able to unblock Disney+, as many other VPN providers can do this without any hassle.
Is HMA VPN Good for Torrenting?
HideMyAss is not recommended for torrenting because of its previous mistreatment of user privacy and its history of cooperating with law enforcement.
In the past, HMA users have reported that their accounts were suspended for violating Digital Millennium Copyright Act (DMCA) laws, too.  
After contacting a representative from HideMyAss, we were told that the new logging policy means that HMA "have no mechanism of identifying individual users following a DMCA report."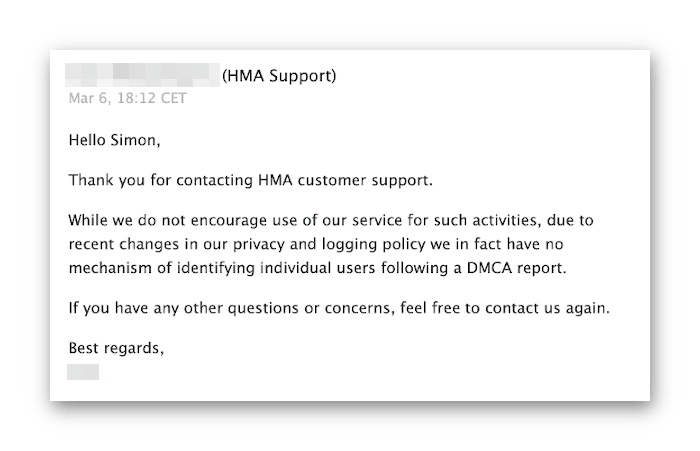 However, HMA's stance on torrenting is muddled and confused. A different HideMyAss representative confirmed that torrenting copyrighted material is against the VPN terms of service, and threatened this would result in a suspension of your HMA account.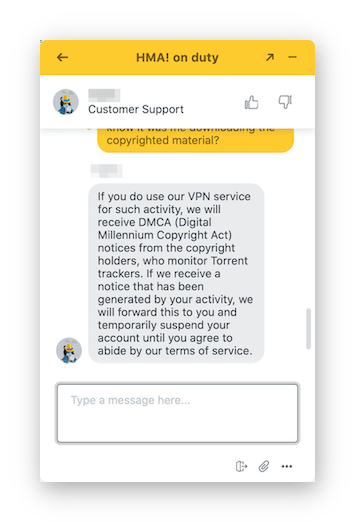 HideMyAss should offer much more clarity here. In all other respects it is a good choice for torrenters thanks to its fast speeds and variety of server locations. Torrenting of non-copyrighted material is permitted on all of HideMyAss' servers and dedicated servers are available for P2P sharing — allowing for speedy leeching and seeding.
These dedicated torrenting servers are neatly organized in their own section of the app, too, making them easily accessible at all times.
There is a limited choice of seven available dedicated P2P server locations though, especially given there's no nearby option for torrenters outside of Europe and North America.
Given its history of DMCA requests and a company-wide policy against copyrighted torrenting, we cannot safely recommend HMA for P2P activity. If you do plan to use a VPN primarily for torrenting, we instead suggest you check out our recommendations for the best VPNs for anonymous torrenting. These services combine minimal-logs privacy policies, the fastest VPN speeds, and a global server network.
Great free trial and price on long-term subscriptions
Pricing & Deals
HideMyAss Pricing Plan
Price & Value for Money Rating: 7.5/10
HideMyAss has three main subscription plans, each of which comes with the same features. As with most VPN providers, the longer subscription plans offer significantly better value for money, though you will have to pay the full subscription fee up front.
The yearly plan costs $4.99 per month, which is good value for what you get. HideMyAss' best price comes with its three-year subscription, giving you a massive 75% saving and lowering the monthly cost to $2.99.
While the price of its long-term subscriptions is reasonable, HMA's short-term plans are unusually expensive. They are also separate from the main pricing page and difficult to find — they can be accessed through the 'extended' section of its website.
If these prices feel too expensive, HMA does offer a great seven-day free trial and a no-questions-asked 30-day refund guarantee, allowing you to test the VPN over a longer period of time.
These are competitive prices, but not the cheapest we have ever encountered. Cheaper alternatives include Surfshark ($2.49 per month for a two-year subscription) and PrivateVPN ($1.98 per month for a two-year subscription).
All plans have 30-day money-back guarantee
Payment & Refund Options
| | |
| --- | --- |
| Credit Card | Yes |
| PayPal | Yes |
| Bitcoin | Yes |
| UnionPay | Yes |
HideMyAss accepts a good range of payment options, including:
Major credit cards (Visa, Mastercard, American Express)

UnionPay

PayPal

Alipay (支付宝)
HMA also offers a 30-day refund guarantee, which is truly no question asked. This means that even if you use unlimited bandwidth and on an unlimited amount of devices, you're still eligible for a full refund. You'll have to fill out the refund request form.
However, you cannot get a refund if you pay via the App Store or Google Play. So, if you do want the option to change your mind, it's best to purchase the VPN directly from HMA.
Auto-renewal of subscriptions is enabled by default, so if you don't want to renew you will need to cancel your subscription in the member's area of the website.
HideMyAss Free Trial
HideMyAss offers a 7-day free trial, making it easy for you to test it out without paying anything.
Unlike some other free trials, HMA allows you to access all of its server locations, gives you unlimited bandwidth allowance, and doesn't throttle your speed.
While you test all the features that HideMyAss has to offer, like its dedicated servers for streaming and torrenting, you will be protected by the same unbreakable AES-256 encryption provided in the paid plan. 
HMA's free trial also allows you to connect five devices simultaneously, so you can use and test the VPN on all your devices.
Be careful, though, if you fail to cancel before the end of your trial period, you will be charged $83.88 for an annual subscription. 
If this worries you, we suggest you avoid the trial period altogether and instead take advantage of HMA's 30-day refund guarantee. This allows you to assess HideMyAss' credentials over a longer time period, while also allowing you to pay the lower price if you stick with it.
The largest VPN server network available
Server Locations
HideMyAss is the leading VPN for choice of VPN server locations, with over 1,100 VPN servers in 190 countries. This means 96% of all countries in the world are covered.
It also offers dedicated servers for streaming and torrenting, which are labelled separately within the app's interface.
HMA's huge choice of servers makes it an especially good VPN if you're located away from the typical VPN server locations, like Western Europe and the US. 
We were especially impressed to see HideMyAss cover regions of Africa and the Middle East far better than any other VPN provider we've tested.
If you are in one of these regions, HMA's nearby servers mean that your connection is not routed through servers located far away — resulting in better performance and faster speeds. 
Most other VPN providers boast about their large server counts, even though most of them are concentrated in Europe and North America. We're very happy to see that HMA has bucked the trend here.
HideMyAss also has a notable amount of city-level server locations, including:

Australia (2)

Canada (3)

France (2)

Germany (2)

Russia (2)

Spain (2)

UK (2)

US (65)
The benefit of city-level servers is less congestion and faster speeds. 
However, it's unfortunate that HMA has chosen to put its city-level servers in the usual countries. We wish that there were city-level servers in Asia, Africa, and South America too.

Virtual Server Locations
HideMyAss is able to offer servers in so many countries because it uses virtual server locations.
A virtual or "fake" VPN server location provides an IP address in one country even though the server is physically located in another. This is opposed to a 'physically located' server, which actually exists inside the country you're connected to.
HideMyAss uses both physical and virtual server locations. As you can see from the screenshot below, when we connected to a Kenyan HMA server, the real physical location of that server was in an Avast server park in Hallandale, Florida.
There are pros and cons to virtual locations. Your traffic can sometimes take a shorter route, which means you're able to get the speed benefits of connecting close to home while still getting an IP address in the country you need.
They also allow HMA to provide VPN locations that would not otherwise be geographically reachable, or do not have the necessary infrastructure to support hosting physical VPN servers. 
However, it can be difficult for you to find out where the physical server is actually located and how it's operated, which poses some security risks.
The idea that your data is being diverted towards a country other than where you want it to go can be worrying, and it can seem disingenuous from the VPN provider.
On top of this, it can seriously affect your internet speeds if you're under the impression you're connecting to a VPN server that is close to you, only for it to end up being the other side of the world. 
Previous versions of HideMyAss identified each server type by marking them as "virtual" within the app. The latest versions of HMA have removed this feature, so it's now impossible to distinguish one from the other.
It's not unusual for a VPN provider to use virtual server locations, and it's hardly surprising given the number of locations HideMyAss has on offer. However, we'd like to see it made clearer which server locations are virtual in the application's interface.
Does HideMyAss Rent Its VPN Servers?
Some VPN providers choose to rent servers from data centers instead of owning them outright. While this helps reduce operational costs, it adds another party that's responsible for the security of your data (the server host).
We spoke to a HMA representative to find out how many VPN servers they own outright. We found that HideMyAss rents a "significant proportion" of the hardware used in its VPN network, but retains full control over their installation and management.
When it comes to privacy, it's preferable if a VPN provider owns and operates their server network outright, reducing the number of third parties your data is subject to. While it's not ideal that HMA's hardware relies on third-party data centers, it's encouraging to see that they retain full control of the installation and management of the servers. 
Although having to rent VPN servers is common practice, some privacy-conscious users prefer to limit the number of third parties involved in handling their data. If you're interested in this, VPN providers like VyprVPN and IPVanish offer a wide server network that is fully self-owned.
HideMyAss' gigantic spread of servers is one of its best features. However, we do wish they were more transparent about exactly how their network is implemented.
Is HideMyAss (HMA) Safe?
Encryption, Privacy & Security
Protocols

IKEv2/IPSec

L2TP/IPSec

OpenVPN (TCP/UDP)

Encryption

AES-256

Security

DNS Leak Blocking

First-party DNS

IPV6 Leak Blocking

VPN Kill Switch

Advanced features

Split Tunneling
Encryption & Security Rating: 9.3/10
Although it's not the most private VPN, HideMyAss is safe to use. It conceals your IP address and DNS requests with AES-256 encryption and first-party DNS servers. There is also a good choice of tunnelling protocols including IKEv2, L2TP, and OpenVPN (TCP/UDP).
Though its security is generally strong, we do not recommend HMA for Mac or iOS users. The VPN has a concerning history of security flaws and missing features when it comes to Apple iOS and MacOS, which we'll cover later in this review.
Advanced features include split tunneling and the IP refresh tool, which gives you a new IP address in the same location if your current address is suddenly blocked.
HideMyAss Version 5 finally adds a system-wide kill switch for the Windows, Android, and Mac clients too — which will prevent your data from leaking if your internet connection suddenly drops.
HMA's kill switch is not available on iOS devices and it does not work with MacOS Catalina, which is the latest release of Apple's desktop operating system.
Encryption & Security
We found that HMA's security is very strong. HideMyAss implements its encryption as follows:
Connection is established via a secure

RSA-2048 handshake

.

Perfect Forward Secrecy

is provided via an Elliptic curve Diffie-Hellman (ECDH) key exchange.

 

Integrity of the data is authenticated using an

SHA-384 hash

.

Data transmitted during the session is encrypted using the AES-256 cipher.
We also manually inspected our data using packet-capturing software to ensure all of HMA's traffic is kept secure.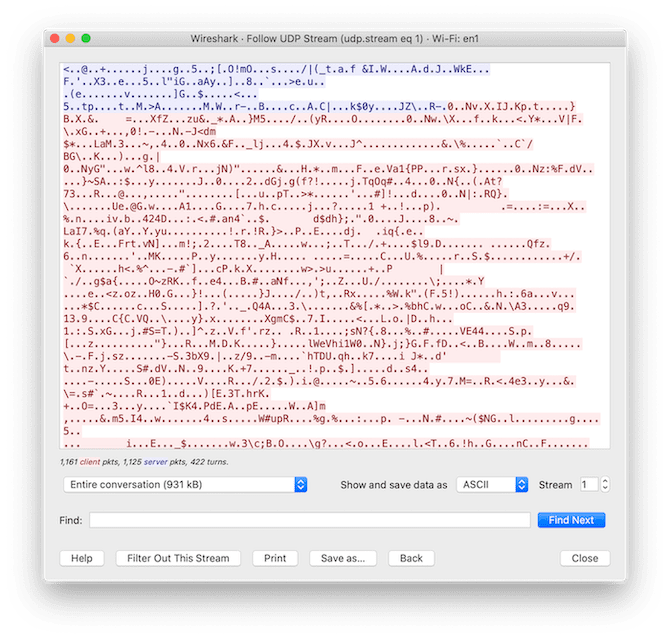 We found that HideMyAss securely encrypts your traffic and keeps your data safe.
Our data was rendered as random strings of text and not plain English, which means your passwords, name, email address, and everything else will be invisible to potential hackers on unsafe public WiFi networks.
Leak Test Results
IP address leaks allow advertisers, governments, and websites to see your true location and match your identity back to your activity.
Like most popular VPN services, HideMyAss includes built-in protection against IPv4 and IPv6 leaks.
We ran HideMyAss through a series of leak tests and found that it does not leak your IP address, DNS requests, or WebRTC address on any platform apart from iOS, which leaked our IP address when reconnecting. 
HMA passed the IP leak test on all platforms except iOS. As you can see from the screenshot below, our real IP address in the UK was hidden when using HMA for Windows, and we appeared to be in Prague, Czech Republic.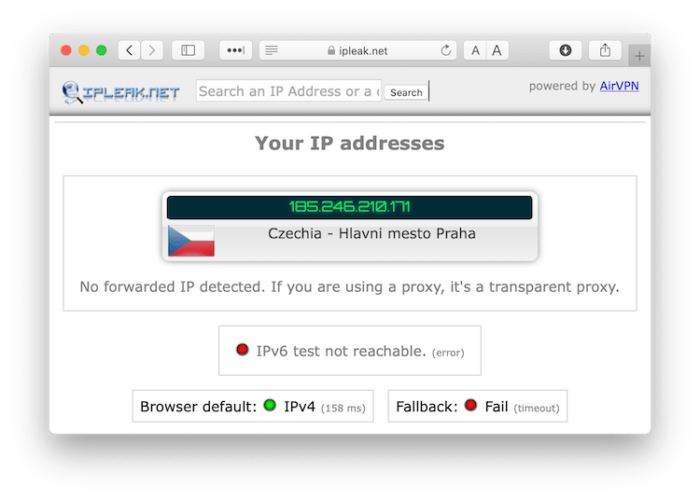 In short, this means that the Windows and Android HideMyAss apps can be trusted to hide your true IP address and keep you private as you browse the web.
HideMyAss also owns and operates its own no-log DNS servers, which resolve all DNS requests as you browse the web. This is a must-have feature for privacy, so we're glad to see HMA cover it.
As the screenshot above shows, the DNS leak test only detected our virtual IP address in Prague, Czech Republic and not our real IP address in London, UK. If you're concerned about security you can use our VPN leak test to check for leaks yourself.
We also ran the HMA installer package through a virus scanner application to make sure that the software isn't up to anything suspicious behind the scenes.
The scan came back clean with no malicious files found. We detected no tracking scripts or other suspicious background activities in the HMA VPN file.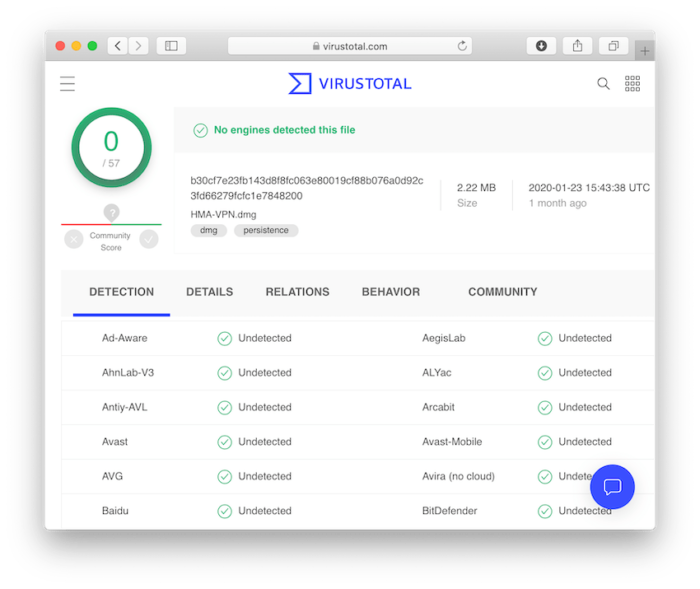 HMA's security is poor on Mac and iOS
Though HMA's security on most platforms is relatively strong, HideMyAss has a concerning history of security flaws and missing features when it comes to Apple's iOS and MacOS platforms.
In 2017, several security vulnerabilities were found in the HideMyAss Mac app. These vulnerabilities allowed for malware to be installed on the root of the device if a hacker had physical access.
On top of this, HMA's VPN kill switch does not work on Mac devices running MacOS Catalina. This has been a known bug since 8 December 2019 but has disappointingly still not been fixed.
As the above screenshot shows, when running HMA on MacOS Catalina, our true location in the United Kingdom was leaked when our connection dropped. This happened despite being connected to a Mexican VPN server with the VPN kill switch enabled.
On top of this, the HideMyAss iOS app does not have a VPN kill switch at all. So whether you're using HMA on Mac or iOS, you are always at risk of exposing your data and revealing your true IP address.
Both the iOS and Mac apps are only available with the IPSec protocol, too. IPSec is an older VPN protocol which is generally less secure and more prone to vulnerabilities than OpenVPN, which is our preferred protocol for security and speed.
In all, both the historic faults and the present problems on iOS and Mac mean we cannot recommend HideMyAss for Apple users who are serious about their privacy and security.
Instead, we suggest you check out or run-through of the best VPNs for Mac and the best VPNs for iPhone and iPad.
HideMyAss has great apps for all popular devices
Platforms & Devices
Apps
Windows
Mac
iOS
Android
Linux
Router
HideMyAss is available on all major platforms, including Windows, Mac, iOS, and Android. Its VPN apps are close to being our favorite — they're easy to use, they're attractive, and they add a bit of fun to your VPN experience.
You can also connect up to five devices simultaneously with one HMA subscription.
There are major differences between the HMA apps on different platforms, though, so we have reviewed each one in the section below. 
If you want a quick snapshot of the differences between HideMyAss clients on different platforms, just see the table below:
HideMyAss for Windows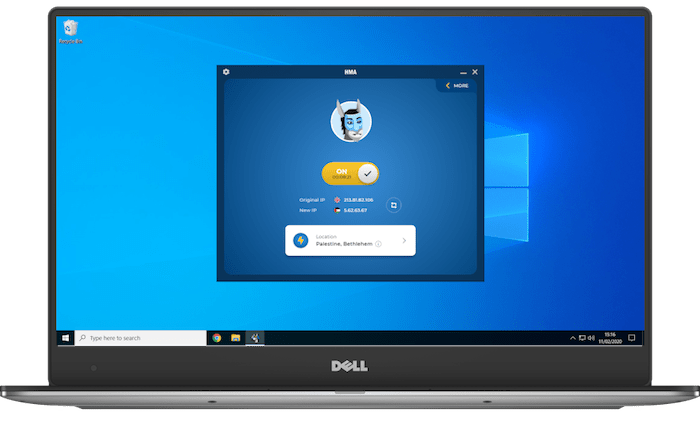 HMA's app on Windows is fantastic. It's full of features, easy to use, and looks great.
The Windows app has the following positive features:
Exclusively uses OpenVPN

App-specific and system-wide kill switch

IP Shuffle
We were happy to see that the Windows app exclusively uses OpenVPN, which is our preferred VPN protocol. OpenVPN is the industry standard VPN protocol, offering the best balance of speed and security, beating out older protocols like L2TP. 
Users get a choice of UDP and TCP, with TCP enabled by default. We recommend sticking with TCP unless you plan on using HMA for gaming or heavy streaming, as UDP is generally quicker but is slightly less secure.
The Windows app is intuitive and makes browsing HideMyAss' 190 server locations a pleasure. VPN servers are nicely split up into categories, with specific servers for torrenting and streaming clearly labeled.
HideMyAss is certainly not one of the cheapest or most private VPN services, but its Windows app is where it shows its value. It's fast, has lots of server locations, unblocks Netflix and iPlayer, and will serve its purpose for most people.
HideMyAss for Mac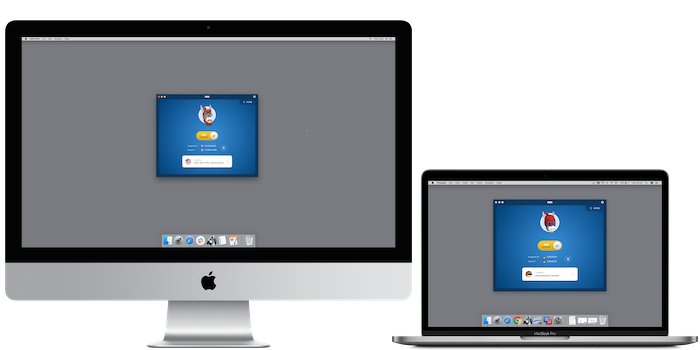 HMA's MacOS app is one of the easiest to use of all the VPN apps we've tested on Mac.
However, despite looking like the Windows version, the Mac app is worse in a couple of areas.
The Mac app has the following negative features:
Only supports outdated IKEv2 VPN protocol

Lacks split tunneling

Doesn't have app-specific kill switch

Kill switch is broken on MacOS Catalina
We are particularly disappointed with the lack of kill switch and OpenVPN protocol support. IKEv2 is older and less secure than OpenVPN, which is the gold standard for VPN protocols.
The HMA Mac app looks great and is very easy to use. It was also incredibly stable in our testing and worked consistently without crashing.
Its huge server count and ability to unblock Netflix and iPlayer means it is a great choice for streamers on MacOS, but a lack of advanced features and its accompanying security issues mean it's not best suited for Mac users concerned with security.
HideMyAss for iOS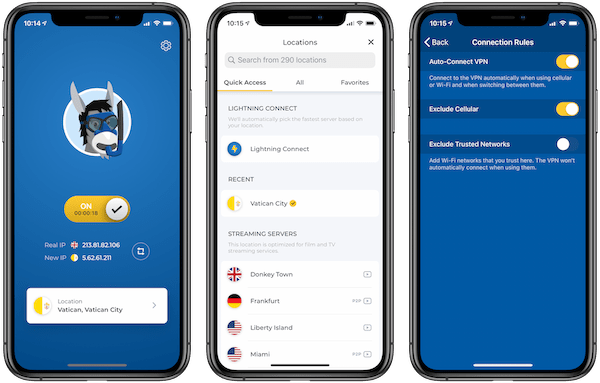 While retaining the friendly design, HideMyAss' app for iPhone and iPad is the least functional of all its VPN apps — providing almost no configurability and options.
In fact, 'connection rules' is the only setting and is limited to basic toggles relating to cellular data and trusted WiFi networks.
The HideMyAss iOS app has the following negative features:
Cannot use OpenVPN 

No kill switch

No split tunneling
These are essential VPN features that we have come to expect from VPN providers, so their absence from HMA is really disappointing.
As the screenshot below shows, the lack of kill switch on iOS meant that our real IP address was leaked after our connection dropped when running HideMyAss on iOS.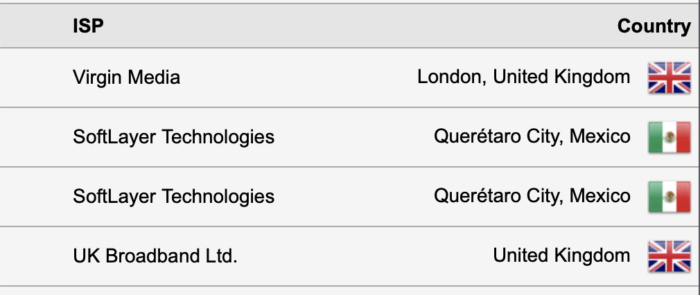 We are also disappointed that IKEv2 is the only available VPN protocol. IKEV2 is less secure and outdated compared to OpenVPN, which remains our favorite.
However, if you're a VPN newbie or a streamer who just wants a VPN that allows you to connect to international Netflix libraries, the HideMyAss iOS app does a good enough job.
If you are an iPhone or iPad user that longs for more features from a VPN service, then check out our recommendations for the best VPNs for iOS devices.
HideMyAss for Android
HideMyAss' Android app is by far the best of its mobile apps, offering far more advanced features and configurability than its iOS counterpart.
HMA's Android app has the following positive features:
Uses OpenVPN by default
IP Shuffle
Split tunneling
Kill switch
Network troubleshooting
These are great advanced VPN features which should satisfy everyone, including advanced VPN users.
We are particularly pleased to see IP Shuffle make its way to the Android app, a feature which periodically refreshes your public IP address — making it harder for advertisers and governments to track you on the web.
HMA's split tunneling feature is only available on Android. Split tunneling is a great VPN feature that allows you to route certain connections outside of the encrypted VPN tunnel, meaning you can retain compatibility with devices on your local network, like your printer or streaming device.
Games Consoles & Streaming Devices
AppleTV
Amazon Fire TV
Chromecast
Nintendo
PlayStation
Roku
Xbox
HideMyAss works with all games consoles and streaming devices, but it does require some configuration.
To run HMA on devices like your PS4 and Xbox, you will need to install the VPN at router level. This is not as convenient as a fully-fledged native app, but it does allow you to blanket all devices on your network with the benefits that a VPN provides.
Or if you don't want to deal with the hassle, FlashRouters does provide routers pre-installed with HideMyAss. This is a good option, but a little pricey.
Apple TV & Amazon Firestick
The benefits of using a VPN on your streaming device are obvious — it allows you to access content libraries from anywhere in the world.
Unfortunately, no VPN apps are allowed on the Apple TV App Store, and only select VPN services provide apps for Amazon Fire TV. HideMyAss is not one of these services.
Like with gaming consoles, then, the only solution for unsupported devices is to manually install HMA on your router. This allows all your devices to access Netflix, iPlayer, and Hulu.
Android TV users are in luck, though, as HideMyAss has recently added an app for all smart TVs and streaming devices running Android TV. The app is packed full of features, too, including split tunneling, a VPN kill switch, and IP refresh.
Browser Extensions
Chrome
Firefox
HideMyAss' web proxy browser extensions are some of the very best we've seen. They consistently unblock US Netflix, have unlimited bandwidth, and are absolutely free.
The browser extension is limited to only five VPN server locations, though, with just the following locations covered:
Paris, France

Frankfurt, Germany

Amsterdam, Netherlands

London, UK

New York, US
The small number of available locations isn't too much of a problem, however, given that the countries with the most desirable streaming libraries are covered and the extension can be downloaded with no fee.
But be warned — like most other VPN browser extensions, they are mere web proxies and not a VPN. This means that when using HideMyAss web proxy, you only geo-spoof your location but do not hide your browser activity, do not encrypt your traffic, and simply do nothing to protect your online privacy.
In fact, HideMyAss' web proxy logs the following information:
Your originating IP address
Encoded URLs of the websites you visit
Files accessed on the websites you visit
This is incredibly intrusive data collection from HMA, although it is fine if you want a thrifty and straightforward way to unblock geo-restricted streaming libraries. 
However, if you're serious about protecting your online anonymity and security, then you should absolutely avoid HideMyAss' web proxy and browser extensions and stick to the VPN.
HMA doesn't work in China
Bypassing Censorship
Bypassing Censorship Rating: 8.0/10
HideMyAss does not work in China, which means access to popular apps and websites like Google, Instagram, and WhatsApp isn't possible.
HMA VPN has more success in other heavily censored regions though. The app works in the UAE, Turkey, and Russia.
Its website is also currently blocked in China. As a result, you're forced to use another VPN provider just to download the HMA app. The provider does offer specialized sign up URLs which seek to bypass the so-called Great Firewall, but even they proved inconsistent and unreliable.
HMA allows you to get a Chinese IP address from anywhere in the world, though, as it has VPN servers in China. As a result, you can get reliable access to Youku, iQiyi, CNTV, or Tudou from wherever you are.
In fact, HMA was one of the ten VPN providers that the Russian media regulator Roskomnadzor targeted as part of its crackdown on VPNs. HideMyAss refused to abide with the Russian state, choosing instead to remove its servers from Russia.
You can still use HMA in Russia, you just won't be able to connect to a Russian VPN server.
If you want to know what VPNs we do recommend for anyone living or traveling to a high-censorship country, check out our rundown of the best VPNs for China.
HMA Version 5: easy to use and intuitive VPN apps
Usability & Features
How to Install & Set Up HideMyAss
Ease of Use Rating: 9.2/10
With its newest update, HMA Version 5, HideMyAss has some of the sleekest and most intuitive VPN apps around. By removing unneeded clutter and simplifying the app, HMA's revamped design is the best part about the latest update.
On the surface, the new design modernizes the app and injects some whimsy into what was a stale VPN app. This on its own is a fine improvement, but HMA's efforts to simplify the app is what's won us over. 
HMA have removed the ambiguously labeled options of 'Instant Mode', 'Location Mode', and 'Freedom Mode', which we have always found to be confusing and misleading. This has now been replaced with a single switch, making connecting to the VPN as simple as it should be.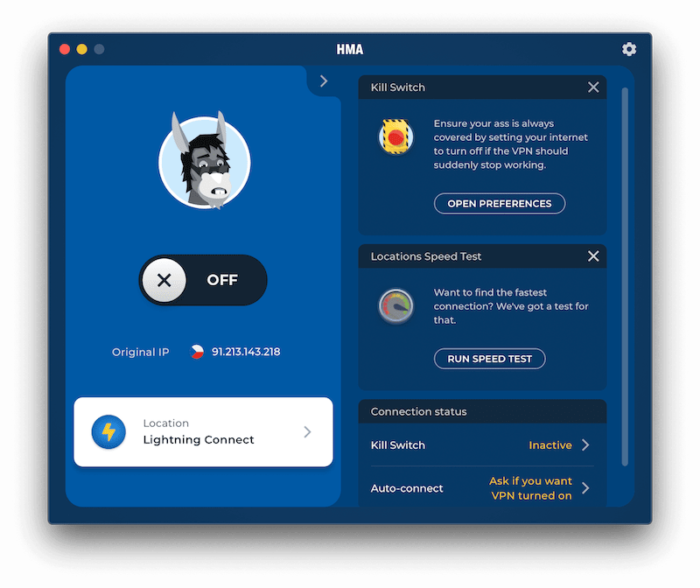 Within the newly added side panel, the HideMyAss app also neatly explains some advanced VPN connection features, making them accessible to even the most inexperienced VPN users.
Useful online support but limited live chat
Customer Service
| | |
| --- | --- |
| Live chat Support | Yes |
| Email support via an online form | Yes |
| Tutorial Videos | Yes |
| Online Resources | Yes |
Customer Support Rating: 8.5/10
HideMyAss is easy to use and install on all platforms, but you may still run into a few issues. 
Thankfully, HMA is backed by an extensive online knowledge base, which includes detailed guides, FAQs, and even video walkthroughs.
But for those times when you absolutely need to get in touch with a human, HideMyAss' customer support is no longer among the best.
HMA's recently demoted the availability of their live chat feature from 24/7 availability to CET 9am to 11pm.
For a VPN provider that prides itself on its global server network, HideMyAss' lack of 24/7 availability is really disappointing. 
For example, for Los Angeles VPN users, live chat is only available from 11pm to 2pm. And for those in Sydney, Australia, the hours are 6pm to 9am.
However, when it is available, HMA's live chat support team is extremely quick to respond and often very helpful.
If you're still stuck, you can contact HideMyAss' support by submitting a request ticket through email, by contacting their social media team, or by posting on the HMA community forum.
HideMyAss Review Summary
The Bottom Line
HideMyAss is a fast, user-friendly VPN and is one of the most consistent VPNs for streaming US Netflix and BBC iPlayer.
While HMA is certainly not the cheapest or most private VPN service, its Windows app is where it shows its value. It's fast, has lots of server locations, and will serve its purpose for most people.
HMA's 7-day free trial and 30-day money back guarantee also make it a great choice for beginners that want to test out a VPN before they commit to a subscription.
However, HideMyAss' history of logging user data, faulty kill switch, and historical cooperation with law enforcement means it is definitely not a VPN recommended for privacy.
We would suggest you stick to using this VPN for low-level privacy requirements like hiding web traffic from your ISP or staying secure on public WiFi. Likewise, if you're a streamer that wants a simple, fast, and reliable VPN then we have no problem recommending HMA. 
Anybody in need of strict privacy levels is advised to look for a more secure service with a verified no-logs policy and foolproof applications. If you are looking for a VPN strictly for anonymity or torrenting, you should absolutely look elsewhere.
Alternatives to HideMyAss
Private Internet Access
Despite HMA's new logging policy, can you just not trust a VPN provider that's handed over user data to law enforcement in the past? Then Private Internet Access is a great VPN for you. PIA is a truly no-logs VPN service, it also works great for torrenting, and it unblocks US Netflix and BBC iPlayer with ease. Read Private Internet Access review
IPVanish
If you need your VPN to work across all your devices, then look no further than IPVanish. In fact, IPVanish is our recommended pick if you want the very best VPN for your Amazon Fire TV Stick. Read IPVanish review
---
User Feedback for HideMyAss