Disclosure: Top10VPN is editorially independent. We may earn commissions if you buy a VPN through links on our site.
Avast SecureLine VPN Review
Our Verdict
Avast SecureLine VPN is good for streaming, but not for privacy. It's fast and it streams US Netflix, but it only has basic security features and collects user web logs. In summary, Avast VPN is not a bad choice of VPN, but it's too expensive for what it offers.
Avast is a big name in the world of internet security, and is mainly known for its antivirus product. But how does its VPN service, Avast SecureLine, hold up under scrutiny?
In this August review of Avast Secureline VPN, you'll learn that it's a good VPN for streaming, but not for online privacy.
While Avast VPN unblocks US Netflix, the amount of user logs it collects is a big concern. For that reason, we cannot recommend it for torrenting or other P2P activity.
As for security, Avast VPN is good enough for VPN beginners, but not for more seasoned users. For example, the VPN kill switch is only available on the macOS app, but not on other platforms.
Despite being a very fast VPN on same-country connections, Avast VPN misses the mark in too many areas.
We took apart each Avast VPN app to ensure we didn't miss anything in our review. Keep reading our Avast VPN review to know all there is about this service.
Before we dive into this Avast Secureline review, scroll down for a breakdown of the VPN's main benefits and drawbacks.
Avast SecureLine VPN Pros & Cons
Pros
Reliable and impressive speeds

Works with Netflix & BBC iPlayer

Servers optimized for torrenting & streaming

Slick custom apps for popular platforms

Connect securely to 34 countries

Protection against DNS & IPv6 leaks
Cons
Confusing pricing plans

Kill switch is only available on Mac

Collects logs

Customer support needs improvement
Avast SecureLine VPN Key Data
| | |
| --- | --- |
| Data Cap | Unlimited |
| Speed | 93Mbps |
| Logging Policy | Some User Logs |
| Data Leaks | No |
| Jurisdiction | Czech Republic (EU Member) |
| Servers | Not disclosed |
| IP Addresses | Not disclosed |
| Countries | 34 |
| US Netflix | Yes |
| Torrenting | Restricted |
| Works in China | No |
| Support | Email & Online Resources Only |
| Cheapest Price | $4.88/mo over 36 Months |
| Official Website | Avast.com |
Avast Secure Line VPN Category Ratings
We test and review every VPN in eight key areas. Here's how Avast VPN performs in each category:
Privacy & Logging Policy: 6.7/10
Encryption & Security: 6.5/10
Speed & Reliability: 8.2/10
Streaming & Torrenting: 8.0/10
Bypassing Censorship: 3.0/10
Ease of Use: 7.2/10
Customer Support: 5.5/10
Price & Value for Money: 6.5/10
To learn more about our methodology, read our full VPN testing process.
Avast VPN logs too much information
Logging Policy
Privacy & Logging Policy Rating: 6.7/10
Avast VPN collects some web usage data. This, it says, is for "technical purposes and to…prevent and detect fraud…or other illicit activity."
The information the VPN logs is as follows:
Your username
A timestamp when you connect and disconnect to the VPN
Total amount of data transmitted during your session
This is one of the more intrusive logging policies we've seen. The data is stored for 30 days on Avast's servers and then deleted.
It used to be worse: Avast did once collect full IP addresses, but it has recently amended that to collect just the anonymized sub-network of your IP address. It's still more than we like to see, but it's an improvement in the right direction.
It's possible to run a VPN service without logging this much information. To use a no-logs VPN with very high levels of privacy, read our review of PIA VPN.
Ownership and Jurisdiction
Avast is a Czech cybersecurity founded in 1988 by Eduard Kučera and Pavel Baudiš, two computer scientists who studied together at university.
It started out as an antivirus company, just as computer viruses were being conceived. It has since established itself as a leading tech company.
Headquartered in Prague, Avast is subject to invasive EU data laws and intelligence agreements with countries like the US.
In its privacy policy Avast states it will "never voluntarily hand over your personal data to a third party unless legally compelled to do so in accordance with English law," which is concerning as it does log your username and timestamps.
Data-harvesting Controversy
In December 2019, Avast's antivirus browser extensions, Avast Online Security and Avast-owned AVG Online Security, were removed by Mozilla for breaking its privacy rules.
Both add-ons had been harvesting and sending data back to Avast.
The data included websites visited, search terms, videos watched, links clicked on, and per-device unique ID. This does not bode well for the company's pro-privacy reputation, at all.
According to Adblock Plus founder Wladimir Palant, who has been monitoring Avast on this, other extensions – Avast SafePrice and AVG SafePrice – also have intrusive permissions and collect data.
Avast defends its data retention as necessary to detect fraudulent websites.
There are no confirmed details about whether Avast's VPN performs the same data harvesting. Avast did remark that:
"Avast's Jumpshot division can still collect your browser histories through Avast's main antivirus applications on desktop and mobile."
Avast's statement doesn't specify its VPN, SecureLine, but as one of the company's applications, it could well be affected.
We're not sure we trust Avast to keep your data private. Having said that, we've yet to find any evidence that it's abusing or selling data from VPN usage.
Impressive short-distance speeds
Speed & Reliability
Speed & Reliability Rating: 8.2/10
Avast VPN's speed are mostly impressive.
Local Speed Test Results
Before using Avast SecureLine VPN:
Download99

Mbps

Upload98

Mbps

Ping4

ms
When connected to Avast SecureLine VPN:
Download93

Mbps

Upload87

Mbps

Ping9

ms
Download speed without Avast: 99Mbps
Download speed with Avast: 93Mbps
Our download speed loss when Avast SecureLine is running: 6%
We recorded very fast speeds on same-country connections, with only a 9% loss in download speed when using SecureLine VPN – that's really good.
We also picked up consistently good speeds on distant connections, like when connecting to Australia and the USA, for example (we're based in the UK).
Strangely, European connections were disappointing. German speeds were hit-and-miss, underwhelming in our testing.
More than that, Avast could improve on its ping and latency. We recorded higher-than-average ping scores, particularly on nearby connections.
Connecting to a UK server, where we would expect the lowest ping, clocked in at 14ms. That's really high, especially for gamers who want to use a VPN – high ping means more lag.
We've reviewed VPN services with much lower ping times, as you can see in our list of top gaming VPNs.
Still, Avast VPN will perform most other tasks easily, including Full HD streaming and speedy downloads.
We put Avast VPN through our scientific speed testing process, and below are the average speeds we recorded connecting to several locations:
USA: 46Mbps (download) & 19Mbps (upload)
Germany: 69Mbps (download) & 45Mbps (upload)
Singapore: 37Mbps (download) & 7Mbps (upload)
Australia: 25Mbps (upload) & 4Mbps (upload)
Small server network focused on Europe
Server Locations
Undisclosed number of
IP Addresses
Avast's VPN server network is small. It has just 34 countries and 54 cities available. That's below what we expect in terms of recommended country coverage.
Like most VPNs, coverage is condensed to Europe and North America, with plenty of city-level options in these countries.
On a worldwide scale, coverage isn't bad, with VPN server networks in Australia, Singapore and Taiwan. In fact, Asia is served rather well.
Good US city coverage
There are also servers in 16 US cities, which is surprising and most welcome.
Furthermore, there are servers on both the East and West coast, which is ideal.
Global city coverage not as good
The problem is Avast only has one city for the entirety of Australia (Melbourne), one city for the entirety of South America (São Paulo, Brazil), one for the Middle East (Petah Tikva, Israel) and one city for Africa (Johannesburg, South Africa).
In other words, if you're living in or connecting to these countries, you'll likely experience server congestion and, therefore, slower VPN speeds.
In Europe, Germany, Russia, Spain, and the UK also have city-level servers.
There's no information about the number of individual IP addresses that Avast maintains.
All servers offer a single shared IP address which can lead to server congestion and slower speeds as Avast VPN's customer base increases.
Avast VPN works with US Netflix
Streaming & Torrenting
Streaming & Torrenting Rating: 8.0/10
Avast VPN streams US Netflix well. We tested access connecting to Miami, New York, and Gotham City, and they all worked. Content streamed quickly with little to no buffering.
Doesn't stream BBC iPlayer
We can't say the same about streaming BBC iPlayer, though. Avast has a dedicated streaming server in the UK called 'Wonderland', but it actually didn't work. Nor did the London or Glasgow servers.
To BBC viewers located outside the UK, we advise you to opt for VPNs verified to stream iPlayer
Not a good torrenting VPN
Avast helpfully marks the servers that are optimized for P2P. These include:
Czech Republic

France

Frankfurt

London

Netherlands 

Miami

New York

Seattle
Eight of 54 server locations isn't a big number, but that's because P2P activity is limited to Avast's data centers for extra security.
That's all well and good. The problem? Avast's privacy policy – it will put torrenters off.
So while P2P is permitted, we don't recommend using Avast VPN for torrenting.
Windows users especially should not torrent with Avast. Its Windows app doesn't have a kill switch, so if your VPN connection drops for any reason, your true IP address will be exposed.
The same can be said about Kodi. The VPN supports Kodi traffic, but, again, the service's privacy policy is a concern.
Won't beat strict web censorship
Censorship
Bypassing Censorship Rating: 3.0/10
Avast SecureLine won't work in China – the litmus test for a VPN's effectiveness at bypassing censorship.
But how about the other high-censorship countries?
Avast won't be much good to you if you're in Turkey, the UAE, Iran or any other country that restricts internet freedom. The VPN lacks the necessary obfuscation tools to hide its traffic from web censors.
For VPN use in high-censorship countries, we recommend you read our Astrill VPN review, our chosen anti-censorship VPN.
We also have definitive lists for the best VPNs that bypass censorship in the following countries:
Computer and mobile apps, but no Firestick app or Smart DNS
Platforms & Devices
Apps
Windows

Mac

iOS

Android
Avast VPN has custom VPN apps for Windows, MacOS, iOS, and Android.
Unfortunately, there are no manual workarounds for other platforms such as Linux.
Nor are you able to configure your router to work with the SecureLine VPN software and automatically secure all internet-connected home devices.
You can use Avast on up to five devices simultaneously (if you subscribe to the multi-platform pricing plan).
Games Consoles & Streaming Devices
Sadly, Avast VPN is rather useless on gaming consoles, such as Xbox and PlayStation, and streaming devices, such as Apple TV and Roku.
This is because it doesn't have a Smart DNS tool or a Fire TV Stick app. You can't even install the VPN on your home router, either.
If you have a Fire TV Stick, Apple TV, or a games console, take a look at our IPVanish review or our evaluation of CyberGhost. Both VPNs are much better suited for use on these devices.
No Browser Extensions
Unfortunately, Avast VPN doesn't come with any VPN extensions.
Most top-tier VPN services provide at least a proxy extension for Chrome or Firefox. These browser add-ons are popular with VPN users, making it easier to web browse with a VPN.
If you're interested in using a VPN extension, we recommend reading our updated review of NordVPN. Or, see our favorite Chrome VPN extensions and Firefox VPN add-ons.
Good security, but no advanced features
Encryption & Security
Protocols

IKEv2/IPSec
L2TP/IPSec
OpenVPN (TCP/UDP)

Encryption

AES-256

Security

DNS Leak Blocking
IPV6 Leak Blocking

Advanced features
Encryption & Security Rating: 6.5/10
Avast VPN is secure enough for beginners. 
For those seeking the highest level of privacy, though, it's not the best option out there. 
The Windows and Android apps operate exclusively on OpenVPN, which is one of the most secure VPN protocols, and there's no way you can connect to a VPN server using another (less secure) protocol.
MacOS and iOS apps use IPsec, which still offers a good level of security. Encryption is via AES-256, a top cipher used by the US federal government – so you can trust it to be robust.
So what's the problem with Avast SecureLine?
Well, Avast VPN doesn't provide any advanced privacy features at all. What you see is what you get.
That's got positives, but plenty of negatives.
For example, there is no VPN kill switch on the Windows app (it's available only on MacOS), meaning that if your VPN connection drops for any reason, your true IP address will be exposed.
Avast is a VPN service that will do just fine if you're looking to protect yourself on public WiFi.
But more privacy-focused users should look into VPN services with advanced privacy settings. Our review of ProtonVPN is a good place to start.
Well-designed apps but missing configurable settings
Ease of Use
How to Install & Set Up Avast SecureLine VPN
Ease of Use Rating: 7.2/10
Avast VPN's custom apps are modern and user friendly – they will appeal to VPN newbies, especially.
Take the main screen: it's clear and simple, displaying a big on/off toggle along with your chosen server location, new IP address and duration of connection. It's informative and easy to navigate. 
The server list is well laid out, with the option to display all available countries or filter by continent. 
It's super easy to see which countries have city-level server choice, and which servers are optimized for torrenting or streaming. If you don't need to connect to a specific country, you can just click/tap on 'Optimal Location' and the VPN app will connect you to the best nearest server.
The major downside of Avast VPN's apps is the total lack of configurable settings. There's no option to manually select a VPN protocol, and there is no kill switch for Windows. The only thing you can enable/disable is auto-protection wh
Frustrating experience with no live chat
Customer Support
| | |
| --- | --- |
| Email support via an online form | Yes |
| Online Resources | Yes |
Customer Support Rating: 5.5/10
Avast's customer support really frustrated us at times. It simply doesn't measure up to the top-class service offered by the best VPN services.
The resources on the website are limited to setup guides and basic FAQs and are incredibly difficult to navigate, but there is a search feature at least.
The FAQs will only cover basic troubleshooting issues, but for anything beyond that you'll need to contact the support team and be prepared to be patient.
There is no live chat feature, and the fact there's no contact email address is also disappointing.
Avast encourages customers to call them for support over the phone, but this seems a bit unnecessary if you just have a quick query.
The other contact option is via an online form and wait for a reply via email, but response times were unacceptably slow.
Expensive and not good value for money
Pricing
Price & Value for Money Rating: 6.5/10
Avast SecureLine VPN has different pricing plans, mixed in among the many other products that Avast sells.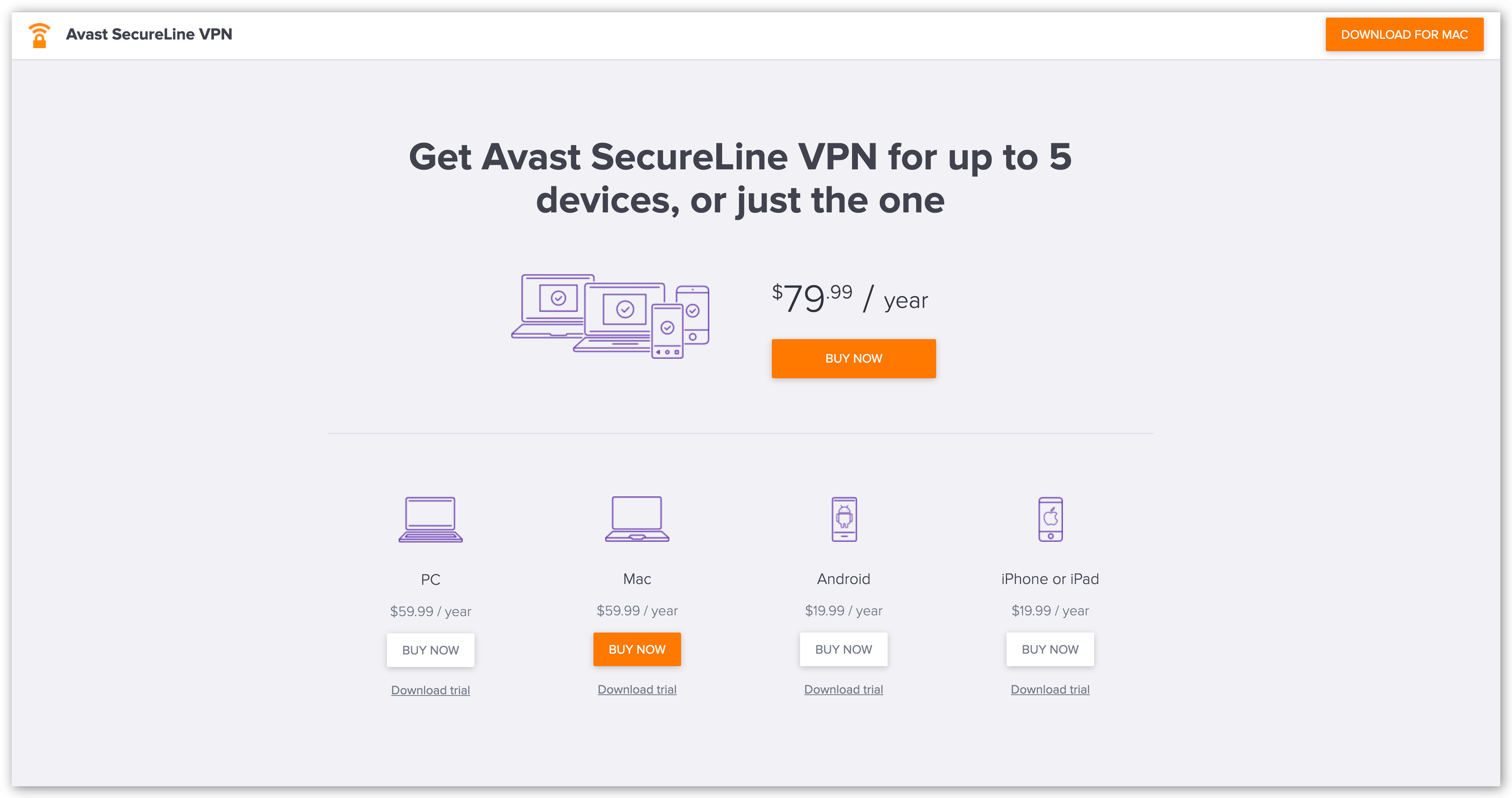 The most expensive price plan is the multi-platform one, which costs $79.99 per year. This plan covers up to five simultaneous connections across all platforms.
A single month is pricey at $8.99, but this drops to $5.33 per month if you opt for a 12-month subscription.
You can also sign up for two years, which comes to $4.99 per month. There's even a three-year plan at $4.88 per month.
Alternatively, you can also buy Avast VPN exclusively for your PC or Mac. This costs $59.99 every year for one device, or $99.99 for up to 10 devices.
If you're looking to protect just an Android or iOS device, then the VPN subscription will cost you either $2.99 per month, or $19.99 per year.
For a VPN that's good for newbies, it's strange that Avast have so many confusing plans. Most VPNs usually vary the price based on the simple duration of a subscription.
All plans have 30-day money-back guarantee
Avast's accepted payment methods are limited. You can only pay using a credit/debit card or PayPal.
Many VPNs also accept cryptocurrency and international payment methods, such as AliPay. Some, like Mullvad VPN, even allow cash payments.
The most privacy-conscious among us usually choose those options, and so they will likely turn away from Avast.
Avast also runs a genuine seven-day free trial. It doesn't require any personal details, and there are no restrictions on data usage or access to servers.
We used the free trial ourselves before upgrading to the paid version, and found little to no difference in speed and access.
Avast also includes a 30-day money-back guarantee. However, it's not a "no questions asked" refund guarantee like ExpressVPN's, and it's subject to a number of terms and conditions.
For example, you won't be eligible for a refund if you exceed 10GB of bandwidth usage, or if you connect to the VPN more than 100 times during the 30-day window.
Avast VPN is a disappointing service
The Bottom Line
We expected a lot more from Avast's VPN service. It collects too much data, has a small server network, and lacks device compatibility.
The VPN's speeds are mostly good, and the service works with US Netflix, but the software needs advanced features and customization options.
The VPN service is also too expensive compared to better VPNs, so there's really no reason to choose it. Ultimately, Avast VPN represents poor value for money.
Additional research by David Hughes
Alternatives to Avast SecureLine VPN
Surfshark
Surfshark does everything Avast does but better and it's much cheaper too. If you're new to VPNs or looking to stream, we suggest you check this out. Read Surfshark review
ExpressVPN
If you simply want the best, we recommend ExpressVPN. It'll cost a tiny bit more than Avast, but it comes with so much more and you won't be left wanting. Read ExpressVPN review
---
User Feedback for Avast SecureLine VPN