Avast SecureLine VPN Review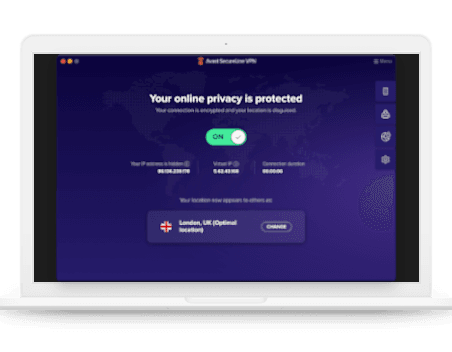 Streaming
Avast VPN streams Prime Video, BBC iPlayer and German Netflix, but not much else
Here's a list showing the popular streaming services that Avast SecureLine VPN unblocks:
| Streaming Platform | Works with Avast SecureLine VPN |
| --- | --- |
| All 4 | Yes |
| Amazon Prime Video | Yes |
| BBC iPlayer | Yes |
| Disney+ | No |
| HBO Max | No |
| Hotstar India | No |
| Hulu | No |
| ITVX | No |
| Netflix US | No |
| YouTube | No |
If you want to know if Avast VPN works with a streaming service that's not listed above, contact us at hello@top10vpn.com and we'll test it for you.
Avast Secure Line has a number of servers optimized for video streaming, although they don't specify which streaming sites they're designed to unblock.
In any case, we tested all these servers with major streaming services like Netflix, HBO Max, Hulu, Amazon Prime Video, BBC iPlayer, and more.
We found Avast SecureLine works with Amazon Prime Video, BBC iPlayer, and All 4.
The UK streaming server easily bypasses Channel 4 geo-blocks and accesses BBC iPlayer. It didn't work with UK Netflix, though.
Amazon Prime Video worked on the US Miami server, but not the Gotham City, New York, or Seattle ones.
In addition, the Germany streaming server worked with German Netflix.
Avast VPN doesn't unblock US Netflix, Disney+ and HBO Max
Sadly, none of Avast's four US streaming servers could stream US Netflix.
None of the streaming-optimized servers worked with Disney+, either. Both HBO Max and Hulu detected our Avast VPN connections and blocked them, too.
Based on our latest findings, there are far more effective streaming VPNs than Avast VPN, especially Netflix VPNs.
Speed
Impressive Local Speeds
We tested Avast SecureLine on servers in six continents to evaluate its speed performance. Here's a table showing the full speed results:
A short-distance speed loss of 97Mbps is an excellent outcome. For local speed test results, it's one of the best we've seen.
However, it's not all positive: Avast's long-distance speeds are quite slow when compared to the fastest VPNs.
To see what we mean, use the bar chart below to compare Avast's local and long-distance speed results against a few top-performing VPNs, like ExpressVPN and StrongVPN: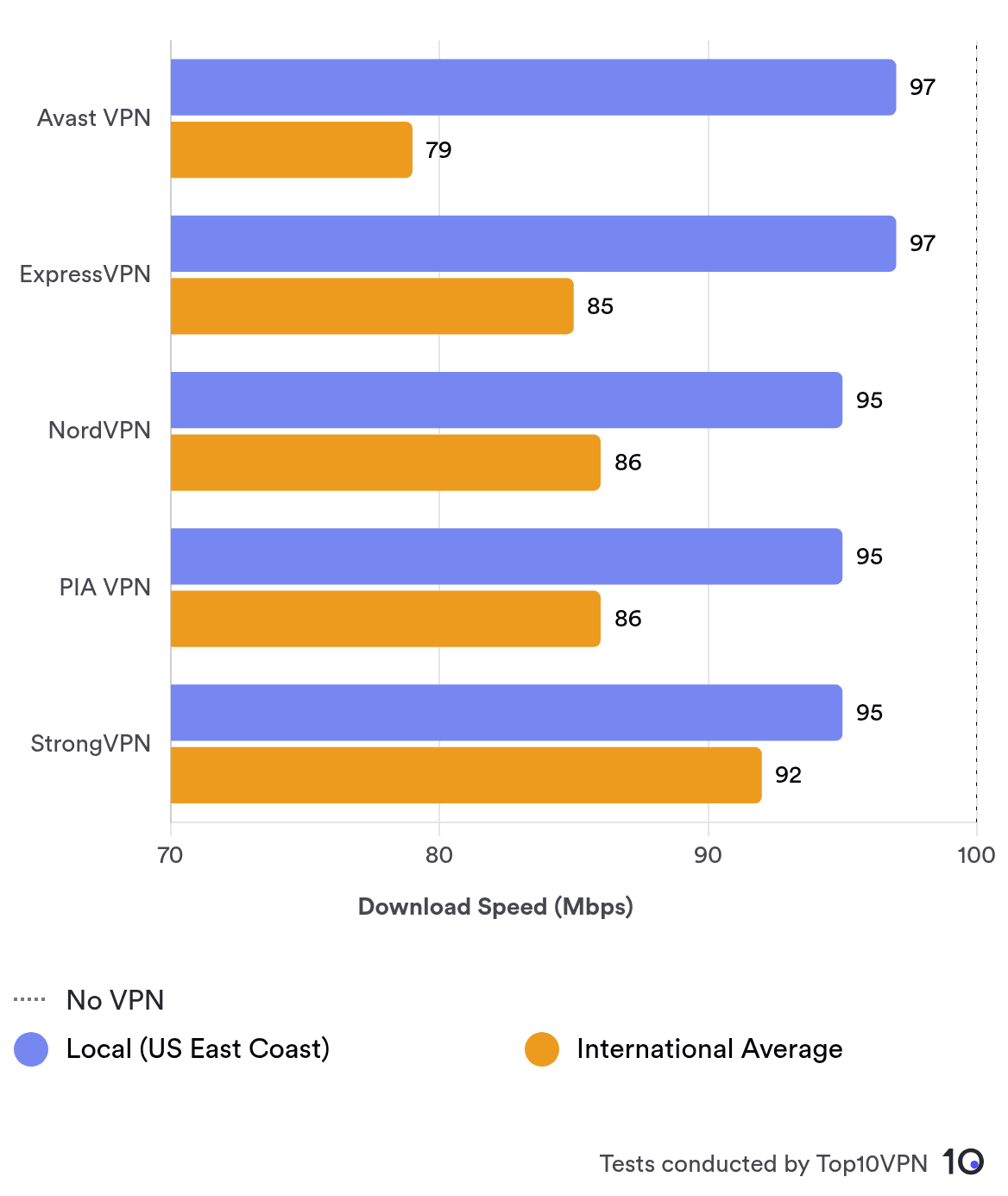 As you can see, Avast's local speeds are very fast. But it's long-distance connections are well behind. The best VPN for international connections is Hotspot Shield, which is only 1% slower than your normal internet speed wherever you connect to.
EXPERT ADVICE: For optimal speed, we recommend using Avast Mimic protocol to connect to distant server locations, and OpenVPN to connect locally. On macOS, which doesn't have OpenVPN, we recommend using Avast Mimic all the time.
Privacy & Logging Policy
Avast VPN Logs Too Much Data & Has Handed It Over
Here's a table summarizing the information that Avast SecureLine logs:
| Data Type | Logged by Avast SecureLine VPN |
| --- | --- |
| Browsing Activity | No |
| Device Information | Yes |
| DNS Queries | No |
| Individual Bandwidth Usage | Yes |
| Individual Connection Timestamps | Yes |
| ISP | No |
| Number of Simultaneous Connections | No |
| Originating IP Address | No |
| Account Information | Yes |
| VPN Server IP | No |
| VPN Server Location | No |
| Date of Last Connection | No |
Avast's VPN privacy policy is clearly written and transparent, but the service logs more data than we're comfortable with.
Avast's servers store your connection data for 35 days, and any client data (account information) for up to two years. There's no real justification for this practice.
At least Avast SecureLine doesn't store your original IP address, DNS queries, or browsing history. This is the most sensitive information that no VPN should keep.
Moreover, Avast has a privacy policy for its VPN specifically (and another for its browser extension), and not a vaguely worded policy for all Avast products, like other antivirus companies have.
The problem is the content of the privacy policy. Sadly, Avast makes it abundantly clear it will hand over your data to government agencies. This is a serious cause for concern.
Avast VPN Operates Under EU Jurisdiction
Avast RSO is a Czech cybersecurity company founded in 1988. It's best known for its antivirus software, but now sells a range of cybersecurity products. It also owns the HideMyAss! (HMA) and AVG VPN services.
Avast is still headquartered in Prague, Czechia, and is therefore subject to invasive EU data retention laws and intelligence agreements with privacy-unfriendly nations like the United States.
In its own transparency report, Avast admitted to providing data to law enforcement in response to legal requests.
In 2017, Avast handed over information concerning 41 of its users – 31% of all legal requests that year.
Its co-operation with law enforcement has since dropped to 0% for 2021 (that could be due to an exodus of trusting users, however).
But it shows that Avast has data to hand over in the first place, and that its legal jurisdiction is inappropriate for a VPN.
Warrant Canary
Avast introduced a tri-monthly warrant canary to warn users of gag orders. Right now it shows that Avast has not received any gag orders and that it has not been compromised.
However, we've noticed that Avast isn't always on time updating its warrant canary, which makes it look like it has received a gag order. Avast should keep on top of this.
Avast Has a Privacy-Unfriendly History
Not only does Avast VPN log too much connection data, and is based in a privacy-unfriendly nation, but the company has also been caught harvesting user browsing data.
In December 2019, Mozilla removed Avast's antivirus browser extensions for breaking its privacy rules.
The antivirus extension had been in fact harvesting and sending data back to Avast. This data included websites visited, search terms, videos watched, links clicked, and unique device IDs.
In January 2020, it was reported that personal data harvested by free Avast add-ons was being monetized and sold to tech companies like Google.
While Avast has abandoned this practice, which doesn't apply to the VPN, service, no privacy company should engage in such activity in the first place.
Torrenting
Fast torrent speeds, but Avast's logging policy is a concern
Here's a quick summary of showing how Avast VPN performed in our torrenting tests:
| Torrenting Attribute | Result |
| --- | --- |
| Average Download Bitrate | 9.29MiB/s |
| No. of P2P Servers | 700 |
| Logging Policy | Some User Logs |
| Kill Switch | Yes |
| Port Forwarding | No |
Avast lists eight servers that are optimized for P2P activity. These are:
Czech Republic
France
Frankfurt, Germany
London, UK
Miami, US
Netherlands
New York, US
Seattle, US
Testing torrent speeds on these P2P servers, we recorded an average download bitrate of 9.3 MiB/s. This is up there with the best torrent VPNs.
The VPN possesses a kill switch, too, ensuring there aren't accidental data leaks or exposures while you torrent files.
But Avast's timestamp logs, data harvesting scandal, and cooperation with government agencies are all red flags. Basically, Avast SecureLine is not safe for torrenting.
The VPN offers no extra features for torrenters either, like a SOCKS5 proxy, or port forwarding.
Security & Technical Features
Avast VPN is sufficiently secure, but rather basic
| Protocols | Available in Avast SecureLine VPN |
| --- | --- |
| IKEv2/IPSec | No |
| L2TP/IPSec | Yes |
| OpenVPN (TCP/UDP) | Yes |
| Proprietary | Yes |
| WireGuard | Yes |
| Encryption | Available in Avast SecureLine VPN |
| --- | --- |
| AES-128 | No |
| AES-192 | No |
| AES-256 | Yes |
| Blowfish | No |
| ChaCha20 | No |
| Security | Available in Avast SecureLine VPN |
| --- | --- |
| DNS Leak Blocking | No |
| First-party DNS | No |
| IPv6 Leak Blocking | No |
| Supports TCP Port 443 | No |
| VPN Kill Switch | Yes |
| WebRTC Leak Blocking | No |
| Advanced Features | Available in Avast SecureLine VPN |
| --- | --- |
| Ad Blocker | No |
| Dedicated IP | No |
| Double VPN | No |
| Smart DNS | No |
| Static IP | No |
| SOCKS | No |
| Split Tunneling | Yes |
| Tor over VPN Server | No |
| Tracker Blocker | No |
Avast uses an experimental protocol
Avast has an in-house proprietary protocol called Avast Mimic, which it describes as "experimental." This doesn't inspire much confidence; when it comes to VPNs, you want data protection to be reliable, not experimental.
When we asked Avast how Mimic works, we were told:
Mimic employs military grade security and can connect to the internet up to 4x faster…it mimics/duplicates the connection to all websites you are visiting during your browsing session, providing fake information about who you are and where you're coming from, making it impossible for anyone to identify you, track you or monitor you.
The protocol certainly delivers fast speeds, but we'd like a clear and transparent explanation of how the protocol protects your data.
OpenVPN is available as an alternative protocol on Windows and Android, but not on macOS, or iOS. We'd like to see it included across all apps, and WireGuard too.
You cannot change protocol on mobile devices (the default is OpenVPN). While the only alternative to Avast Mimic on Mac is the IPSec protocol. IPSec is not an unsafe protocol, but it's not as powerful as OpenVPN or WireGuard, which are the leading industry-standard.
Safe practices, but too basic
Avast SecureLine uses the best encryption cipher, AES-256, and it has a kill switch across all of its applications (this is off by default, so don't forget to turn it on). This shows that it has a solid grasp of VPN security.
However, the VPN would benefit from advanced and customizable protection measures like a malware and ad blocker, DNS leak protection, double VPN (multi-hop), and Onion over VPN.
Avast is basic compared to many leading VPNs, which are moving to RAM-only servers, open source apps, and invisibility on LAN.
One neat feature is that Avast VPN allows you to use a free password leak detector, to check whether passwords associated with your email have been exposed by data leaks or hacks. All you have to do is insert an email.
Smart Mode is a useful split tunneling tool
Avast SecureLine has a feature called Smart Mode, which is essentially an automatic split tunneling feature that selects which websites and apps are encrypted through the VPN tunnel and which are not.
Avast says that its Smart Mode can "tell when you're connecting to a sensitive site," closing the VPN session after you leave. This is usually for banking websites and torrent sites. It also knows whether you're using public WiFi.
You can also customize this feature, choosing which websites you want to encrypt or not. In this way it's like a regular manual split tunneling tool.
Credit to Avast that this is available on Mac; it's rare to find a functioning split tunneling feature on Apple devices. Even top VPNs like ExpressVPN and NordVPN don't have one.
Security tests: Is Avast safe?
We used our leak test tool to test whether Avast SecureLine won't accidentally expose your data. We recorded no leaks of any kind — Avast SecureLine is free of IPv4/IPv6, DNS, WebRTC, and geolocation leaks.
We also ran the Avast SecureLine software through a virus and malware scanner to ensure it's safe to put onto your device.
The results showed that Avast is clean of any malicious content and is safe to install.
We inspected the Android app for unwarranted permissions or trackers, too. We discovered that it has quite a number of trackers and permissions.
This includes access to your exact location and the ability to find accounts on your device. Both of these are considered 'dangerous' according to Google's protection levels. Trackers include Facebook Analytics and Google Firebase Analytics.
Considering this is supposed to be privacy technology, we think there should be very few trackers or permissions. For context, Astrill VPN and Hide.me have zero – which is the gold standard.
We'd like to see Avast respect the privacy of its users more by cutting down the number of Android permissions and trackers.
Bypassing Web Censorship
Avast SecureLine works in China
Does Avast work in China? Yes it does.
Considering Avast SecureLine has no anti-censorship tools to speak of, we were surprised to learn that it gets around the Great Firewall of China.
This isn't speculation: we tested it from our own servers in Shanghai. Using Avast's auto-connect option we established a secure connection to South Korea, fooling the Firewall.
How long this success will last in the absence of obfuscation is not clear. Also, if Avast becomes better-known as an anti-censorship VPN, it can alert the authorities and initiate a harsher crackdown.
The Avast website and all of its products are blocked in China. Because of that, you'll have to download the VPN before going into the country, or while using another VPN that works within the country.
Avast will also work against censorship in countries like Russia and Turkey, which have less robust crackdown methods than China.
For China specifically, we still wouldn't recommend Avast SecureLine over an anti-censorship VPN like Astrill. But, if you're already an Avast user, it's useful to know it works within China.
Server Locations
Avast VPN's small server network only covers 34 countries
34 Countries
54 Cities
700+ IP Addresses
Avast SecureLine VPN runs 700 servers across 34 countries. This is a disappointing range of server locations.
We expect top VPN networks to cover many more countries, like ExpressVPN's 94 countries, or a CyberGhost's 9,769 nations.
Moreover, Avast's server network is largely concentrated in Europe and the US. There aren't many servers covering Asia, Africa, and the Middle East.
City-specific selection is also limited with Avast VPN. You can currently select different city servers in the following countries:
Australia
Canada
Germany
Russia
Spain
UK
US
That's not a lot of choice, but at least there are city-level options in large countries like the US, Canada, and Australia.
Avast's server network is part-owned part-rented
When asked, Avast stated they both own and rent VPN servers. The company refused to disclose any more information for "security reasons."
We don't know which servers are owned by Avast and which are rented.
While it's not uncommon for a VPN service to rent servers for greater coverage, it does increase the risk of your data being mishandled by third-parties.
This isn't an issue if the VPN is diligent when choosing who to work with. Having said that, a few trustworthy VPNs have fallen victim to poor third-party server management, including NordVPN and Windscribe.
For security reasons, some VPNs choose to operate an entirely self-owned infrastructure, such as IPVanish's server network.
Price & Value
There are better cheaper VPNs than Avast VPN
The cheapest monthly price you can get Avast SecureLine VPN for is $3.75. You'll have to commit for three years, though, and pay as $135.00 upfront.
Currently, there is no pay-monthly subscription plan available, which is a shame.
At least, Avast has simplified its pricing plans, which used to be based on device allowance and platform-specific requirements. It was far too complicated.
All the above pricing plans let you use the VPN on up to 10 devices at once.
Payment & refund options
You can pay for Avast VPN with PayPal, American Express, VISA and Mastercard.
American Express

Mastercard

PayPal

Visa
We would like to see more privacy-friendly payment methods included, such as cryptocurrency and cash payments. When reviewing Mullvad, we found it's the only service to offer cash payments to its customers.
Avast VPN's 30-day money-back guarantee
All of Avast SecureLine's subscription plans come with a 30-day money back guarantee.
To claim a refund within 30 days of purchase, you will have to give a reason so it's not strictly 'no questions asked' like most top VPN services.
Be aware, though, that the 30-day refund promise doesn't apply if you bought the VPN via a retail store, a reseller, or the App Store. App Store purchases are in fact subject to Apple's terms and conditions.
Avast VPN's 7-day free trial
Avast also offers a genuine seven-day free VPN trial. You don't have to submit any payment details to access the free trial, and there are no restrictions on data and server usage.
However, while this is good way to test Avast VPN for free, the deficiencies of the VPN service mean there are better VPN free trials for you.
Device & OS Compatibility
Apps for the most popular devices only
Apps
Avast Secure Line is available on the following platforms:
Windows

Mac

iOS

Android
Outside of the major platforms listed above, Avast VPN offers very little device compatibility.
There are no native applications for Fire TV Stick or Android TV, no router configuration, and no Smart DNS functionality. In other words, using the VPN on your TV is practically impossible.
So much so that Avast directs users to its partner VPN, HideMyAss. This is simply unacceptable for existing Avast subscribers. Instead, Avast needs to improve its device support.
If you purchase an Avast SecureLine Multi-Device subscription, you can use Avast VPN on up to 10 devices at the same time. This is a very generous amount, although some VPNs like Surfshark allow an unlimited number of connections at once.
Browser extensions
Chrome

Firefox
Avast SecureLine VPN provides proxy browser extensions for Google Chrome and Mozilla Firefox. Both browser add-ons are easy to set up and use.
But, both extensions are proxies, and won't fully encrypted your web traffic like VPN software does. Additionally, they won't change your IP address on your entire device, just on your web browser.
Ease of Use
Avast VPN is useful for beginners
How to Install & Set Up Avast SecureLine VPN
Avast SecureLine is very simple to understand and use. The apps consist of very little. There is a home screen with a large connect button and a limited selection of settings and advanced options.
The apps are almost completely the same across devices, which is quite rare. Avast SecureLine is certainly user-friendly and so a viable option for VPN newcomers.
Avast VPN's Desktop apps: Windows and macOS
Avast SecureLine is identical on Windows and macOS. Both have easy-to-navigate interfaces. Avast's Smart Mode is available on both, which is noteworthy as split tunneling is rarely available on Mac.
However, Windows has OpenVPN protocol whereas Mac does not. Mac is automatically set to IPSec and you can change to Avast Mimic only. This is done by using the burger menu and heading to Preferences > Experimental.
Avast VPN's Mobile apps: Android and iOS
Avast SeucreLine's Android app comes with a kill switch, split tunneling, and an auto connect feature. It uses the OpenVPN protocol as default.
You can toggle off an automatic sharing of app-usage data that goes to third parties. It shouldn't be there in the first place, really. At least, it should be an opt-in option.
The iOS app, on the other hand, barely comes with anything. None of its servers are listed as P2P servers and it has no customizable settings at all – not even an auto-connect feature.
There's a Help FAQ within both apps, but it's pretty basic. You'll also find a link to the Avast Forum and a contact support option.
The mobile apps have the same number of servers as the desktop, but you cannot change your protocol on either mobile version. This is a big drawback.
As it stands, Avast SecureLine is more advanced and customizable on desktop than on mobile. This is typically the case with most VPN services.
Customer Support
Good 24/7 live chat support
| Customer Support | Available in Avast SecureLine VPN |
| --- | --- |
| 24/7 Live Chat Support | Yes |
| 24/7 Email Support | No |
| Chatbot | No |
| Email | Yes |
| Email Support via Online Form | Yes |
| Tutorial Videos | No |
| Online Resources | Yes |
Avast has upped its game when it comes to support. One time it encouraged you to call it or forced you to patiently wait for an email response. Now it has invested in a neat 24/7 live chat feature alongside traditional FAQs and email enquiries.
The FAQs in the app and on the website are all a little too basic to be truly helpful. We wanted to know how Avast Mimic protocol works, for example, but could find no information on it. This doesn't bode well for transparency. We did get a response from the live chat agent, though.
If you choose customer support you'll be sent to the website where you have to specify what product you need help with (Avast is a company with many). Once you do you can compose a message and send it as an email or enter a live chat.
Customer support is good and effective. There is a live chat feature available 24/7, and it allows you to download transcripts for future reference.
Support was polite, if a little robotic. They were slow in responding, which implied they didn't have the knowledge to hand. But the knowledge they did eventually send was helpful and informative.
You cannot access live chat instantly like you can with some VPNs, though. You have to click a few options and fill out a form beforehand.
What was impressive is that we received a follow up email the next day from support expanding on the agents answers, without us ever having to ask:
"I've reviewed your live chat correspondence and I see that a question was unanswered regarding our servers."
It proceeded to offer a more comprehensive answer. This shows initiative from Avast, and a desire to please its customers.
The Bottom Line
Avast VPN review summary
Since we last reviewed Avast SecureLine VPN, the company has made some progress in improving its VPN software.
The VPN's new Mimic protocol is fast, the apps are consumer-friendly, it's added a very helpful 24/7 customer support system, and the three-tier pricing structure is much simpler.
But, SecureLine remains a mid-tier VPN that doesn't fully protect your internet privacy and security. The VPN logs way too much data and the company has been involved in despicable data-harvesting practices.
Furthermore, the VPN service lacks the range of customizable settings and applications, like a Fire TV Stick app, high-quality VPNs offer. SecureLine doesn't even support router configuration.
Not to mention the VPN's small server network and the inability to unblock most major streaming platforms.
Overall, Avast VPN can be a good VPN for beginners, or those wanting to secure free public WiFi connections. Conversely, we don't recommend the VPN service for streaming and torrenting.
Alternatives to Avast SecureLine VPN
NordVPN
NordVPN is better than Avast on every front, and cheaper too. It's great at unblocking streaming services, is just as user-friendly, and it's pushing boundaries in VPN security. Read NordVPN review
ExpressVPN
Go for ExpressVPN instead if you simply want to get the best that money can buy. It's more expensive than Avast, but it's far more dependable, and does almost everything you want a VPN to do. Read ExpressVPN review
---
User Feedback for Avast SecureLine VPN
Questions & User Reviews are shown in the original language of submission.