How to Use Chromecast with a VPN
The four ways to use Chromecast with a VPN are:
If you're unsure which VPN setup method is right for you, use our helpful flowchart to help you decide:
We'll run through all of the installation methods in the following sections.
1. Install a VPN on Chromecast with Google TV
Using Chromecast with Google TV allows you to download apps from the Google Play Store, so it's easy to install a VPN on the device.
Here's a video demonstrating how simple it is to install NordVPN on Chromecast with Google TV: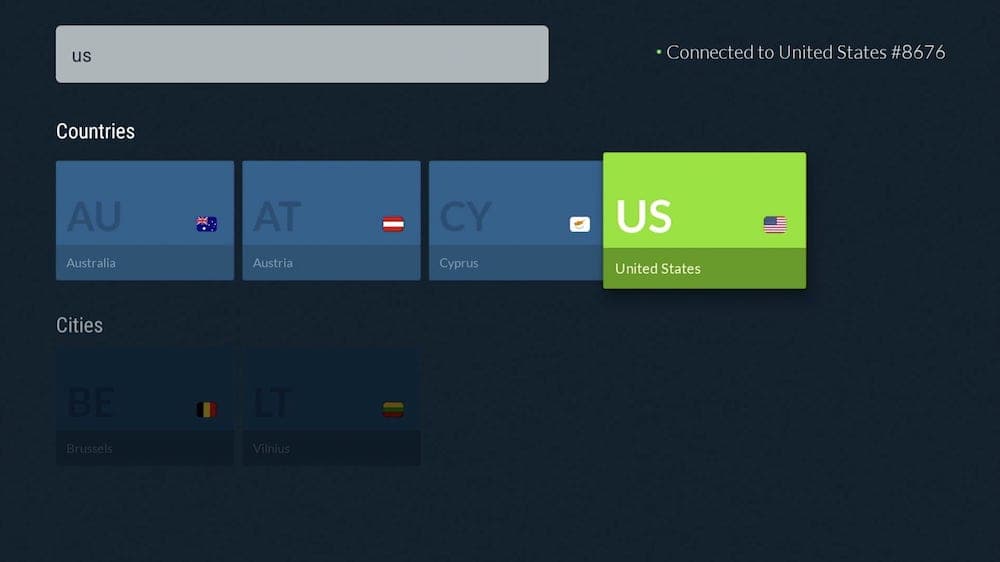 We've also outlined the steps from the video in the instructions below.
To set up a VPN on Chromecast with Google TV:
Hold the Google Assistant button on your remote and say "Install ExpressVPN." If you're using a different VPN, just say its name instead. You can see our top-rated Chromecast VPNs here.
Select Install. The VPN app will now download and install, so it might take a few minutes.
Select Open.

Follow the on-screen instructions. The process varies between VPN services, but you'll have to either log in to your existing account or create a new one.
Confirm the connection request. Your TV will say that your VPN wants to set up a VPN connection that allows it to monitor network traffic. Click OK.

Connect to a VPN server. If you want to watch geo-blocked content, connect to a server in the country hosting the content you want to see. For HBO Max, connect to a US server.
Stream. Open your streaming app and you'll be able to access content from the country you've connected to.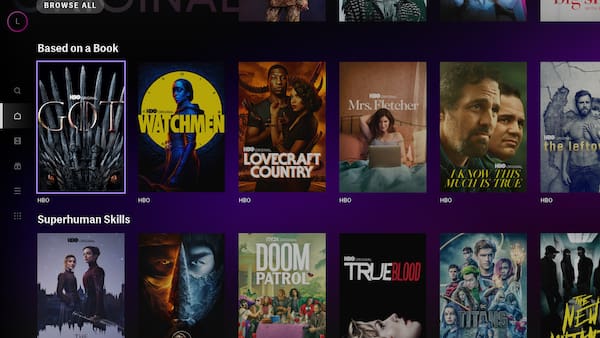 2. Mirror Your Screen to Chromecast
You can mirror your screen from any computer using the Google Chrome browser. Then, connect your computer to a VPN to watch streaming content on your Chromecast.
This is the easiest and quickest way to use a VPN with an older Chromecast dongle.
This method works using Google Chrome on Windows, macOS, Chrome OS, and Linux. However, the streaming quality will be worse than the other methods we cover.
Note: It is not possible to use Chromecast with a VPN on Android or iOS. This applies to the operating system's built-in mirroring functionality, as well as Google Chrome's mobile apps. To mirror your screen to Chromecast, you will have to use a PC or laptop instead.
Here's how to use Chromecast from the Google Chrome browser:
Make sure your computer is disconnected from the VPN.
Open Google Chrome on your computer and click the menu button. This is the three vertical dots or 'kebab' button.
Click 'Cast'.
Click the down arrow next to 'Sources' and ensure the 'Cast tab' is selected.
Choose your Chromecast device as the destination.
Open the VPN app on your computer. Make sure local network discovery is enabled in the app's settings.
Connect to a VPN server. Choose a server in the country where you want to appear to be. For example, to watch US Netflix, connect to a server in the US.
Start streaming. The content will automatically show on your Chromecast.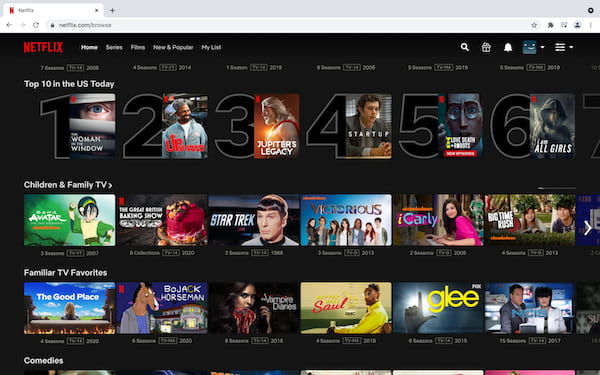 Note: The video quality is noticeably worse when using the above method. Google Chrome browser transcodes and compresses your video when casting your entire screen.
This is in contrast to regular casting, where your Chromecast streams the file directly from the source.
3. Set up a Virtual Router Using Your PC
You can share your VPN connection from your PC to your Chromecast. With this, when you change your PC's location with a VPN your Chromecast will do the same.
However, to do this you need to have the computer available and switched on while you watch your movies. This means it's not great as a long-term solution, but it's an inexpensive and relatively simple way to unblock content on your Chromecast.
The setup method differs depending on what operating your system is running. We have instructions for both Windows and Mac devices.
Check Whether Your Windows Computer Can Share Its Connection
Open the command prompt as administrator. Search for 'cmd', right-click the Command Prompt icon and select 'Run as administrator'.
Let the command prompt make changes to your computer. You'll be asked to confirm this.
View the drivers. At the command prompt, type in 'netsh wlan show drivers'.
Check whether you can share your connection. Look where it says 'Hosted network supported'. If it says 'Yes', you're ready to begin. If it says 'No', your device cannot share a WiFi connection. You may need to add a compatible card to your hardware or update your network drivers.
Set up a Virtual Router on Windows 10
Sharing your connection is easy in Windows 10. Here's how you do it:
Set up your virtual router. Enter the following command in the command line window: netsh wlan set hostednetwork mode=allow ssid=NETWORKNAME key=PASSWORD. Note: NETWORKNAME and PASSWORD are placeholders you need to replace with your own network name and a strong password.
Turn on the virtual router. Enter:
netsh wlan start hostednetwork
Check it's running. It should say "The hosted network started."
Find your virtual router's name. Press Windows key + R and enter ncpa.cpl. Find the WiFi connection you just made and make a note of its name, which is in bold.
Download the VPN app. Subscribe to your preferred VPN and install it on your computer.
Make sure you are disconnected from the VPN.
Turn on the Mobile Hotspot. Use the Start button, then go to Settings > Network & Internet > Mobile hotspot. Turn it on.
Go to your VPN properties. You'll find them in Settings > Network & Internet > Change adaptor options. Look for your VPN's Tap Adapter. Right-click it and select Properties.
Enable other devices to connect to your VPN. Click the Sharing tab and select the checkbox beside "Allow other network users to connect through this computer's Internet connection."
Choose the connection to share. Where it says 'Home networking connection', open the menu and choose the hotspot you created.
Connect the VPN. Open the VPN app on your computer. Set it to use the OpenVPN protocol if available. Connect to a VPN server in the country that hosts the content you want to watch. Choose a US server for US Netflix.
Connect both your mobile device and Chromecast to the new WiFi network. To set up a new WiFi network on Chromecast, forget the existing one in the Google Home app. Go to Settings > WiFi > Forget this network. You can then set up a new WiFi network.
You're ready to stream. You'll now be able to watch geo-locked content on your Chromecast. If you want to change location, just reconnect to a different VPN server on your PC.
Set Up a Virtual Router on macOS
You can also create a mobile hotspot to share your VPN-protected connection from your macOS computer. You will also need an Ethernet cable to do this. If your Mac doesn't have an Ethernet port, use a USB adapter.
Other publications claim you can only share a Mac's VPN connection via the L2TP/IPsec protocol. However, we've discovered that you can actually share the connection via OpenVPN (UDP).
Our method works best with Surfshark. Surfshark allows you to share its OpenVPN connection from Mac, which will give you fast speeds and strong security.
In contrast, ExpressVPN, and most of our other top Chromecast VPNs, only allow you to share a Mac connection using the L2TP/IPsec protocol. L2TP/IPsec has known security flaws. We strongly recommend you don't encrypt any VPN connection using it.
Here's how to share your VPN from your Mac with Chromecast:
Download the Surfshark app from the Mac App Store.
Connect your Mac to your router with an Ethernet cable. This won't work if you connect using WiFi.
Open the Surfshark app. It'll open in your Mac's menu bar.
Use the OpenVPN (UDP) protocol. You'll find this in Settings > Protocol.
Connect to a VPN server in the country whose content you want. For example, to watch BBC iPlayer, connect to the UK.
Add VPN configuration. Two boxes will pop up, click 'Add VPN configuration' on the first and 'Allow' on the second.
Share your VPN connection on WiFi. Return to System Preferences, and click Sharing. Select Internet Sharing and choose 'Surfshark OpenVPN (UDP)' from the 'Share your connection from' dropdown menu
Create a secure connection. Click WiFi Options and use these details:

Network Name: (make up your own)
Channel: leave as the default
Security: WPA2 Personal
Password: (make up your own)

Start sharing. Return to the Sharing menu and tick the Internet Sharing checkbox. When the prompt appears, click Start. Once activated, a green light will appear next to 'Internet Sharing' and the WiFi symbol in your Mac's menu bar will display an upwards facing arrow.
Connect both your Chromecast and mobile device to the new shared WiFi connection. They must be on the same WiFi network. To set up a new WiFi network on Chromecast, forget the existing one in the Google Home app. Go to Settings > WiFi > Forget this network. You can then connect to your new virtual router. Use the password you created in Step 8 above.
4. Install a VPN On Your Router
Installing a VPN on your router protects all of the devices on your network. That includes your Chromecast and the mobile device you use to control it.
Setup is complicated, and VPN routers are less flexible than other approaches. It's harder to switch your server location too, which might be frustrating if you need to change Netflix regions to find your favorite films.
ExpressVPN is one of the only services that provides an app for routers, making it the best Chromecast VPN to use for this method. Alternatively, you can use another top-rated router VPN, like NordVPN or IPVanish, but the configuration will be more difficult.
You have three options to get a VPN on your router:
Buy a router with a VPN pre-installed. This is the simplest solution. FlashRouters provides routers with many popular VPN services pre-installed.
Update your existing router with VPN firmware. Firmware is the software in your router that controls the hardware. Your VPN software will run on top of it. If your router is compatible with VPN software but does not have compatible firmware, you'll need to update the firmware.
Buy a router that supports VPNs. You can remove the difficulty and the risk of setup by getting a router that already has VPN-friendly firmware installed. You simply subscribe to a VPN and follow the VPN provider's instructions to install the VPN on the router. We recommend the Linksys WRT3200ACM and Netgear R6400 as great value options.
For more detailed instructions, read our in-depth guide to installing a VPN on your router.
Once you've installed the VPN, simply connect your Chromecast and other devices to your WiFi network in the usual way. All of the internet traffic sent through your router will now be protected by the VPN.