VPN.AC Review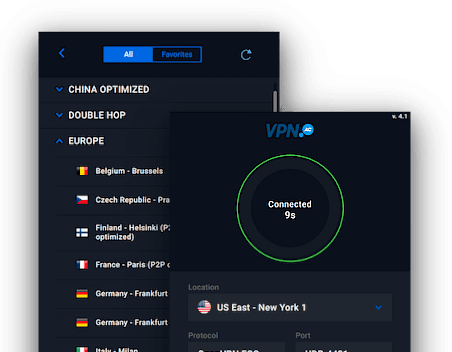 Privacy & Logging Policy
Logs Identifiable Data Temporarily
| Data Type | Logged by VPN.AC |
| --- | --- |
| Browsing Activity | No |
| Device Information | No |
| DNS Queries | No |
| Individual Bandwidth Usage | Yes |
| Individual Connection Timestamps | Yes |
| ISP | No |
| Number of Simultaneous Connections | No |
| Originating IP Address | Yes |
| Account Information | No |
| VPN Server IP | No |
| VPN Server Location | No |
| Date of Last Connection | No |
VPN.AC is incorporated in Romania, owned by a company called Netsec Interactive Solutions. It even lists its full address on its website and LinkedIn profile page: 76 Calea Dumbravii Street, 550399, Sibiu, Romania.
Romania is a solid choice of base for a VPN. While it's located within the EU, data retention is considered illegal by Romanian courts.
When the Romanian government introduced the EU's 2006 Data Retention Directive, in 2009 the Constitutional Court of Romania (CCR) stated these laws were an unconstitutional violation of Romanian citizens' rights to privacy.
As a result, Romania is the only EU country to have successfully thrown out the EU's data retention laws.
Logging Policy
Here is everything that VPN.AC logs of its users:
Originating IP address
Start and end time of VPN connections
Amount of data transferred
However, these logs are deleted "once a session is terminated." That's what transforms VPN.AC's privacy policy from a horrible one into one that is decent.
In order for any of this data to be obtained by hackers, they would have to be physically stood in the same room or connected to the same network as the server you're connected to while you're using the service. This is extremely unlikely to ever happen.
We still recommend privacy-conscious users to seek other options as there are much safer options available, like PIA and PrivateVPN. These alternatives are actually proven no-log VPNs.
Speed
Slower International Speeds
Here are the speeds we recorded while using VPN.AC on a 100Mbps baseline connection:
As expected, VPN.AC's speeds suffer when connected to servers in other continents. For example, our download speeds dropped to 68Mbps on a connection to Japan from the US.
But closer to the US, we only saw a slight drop in speeds to 94Mbps when connected to a local server in New York.
We consider a download speed drop of 5% while connected to a nearby server to be negligible. You should be able to turn it on and forget about it, browsing the internet, downloading files, and streaming just like normal.
To put these VPN.AC's speed test results in context, you can compare its speeds to other top VPNs in the bar chart below: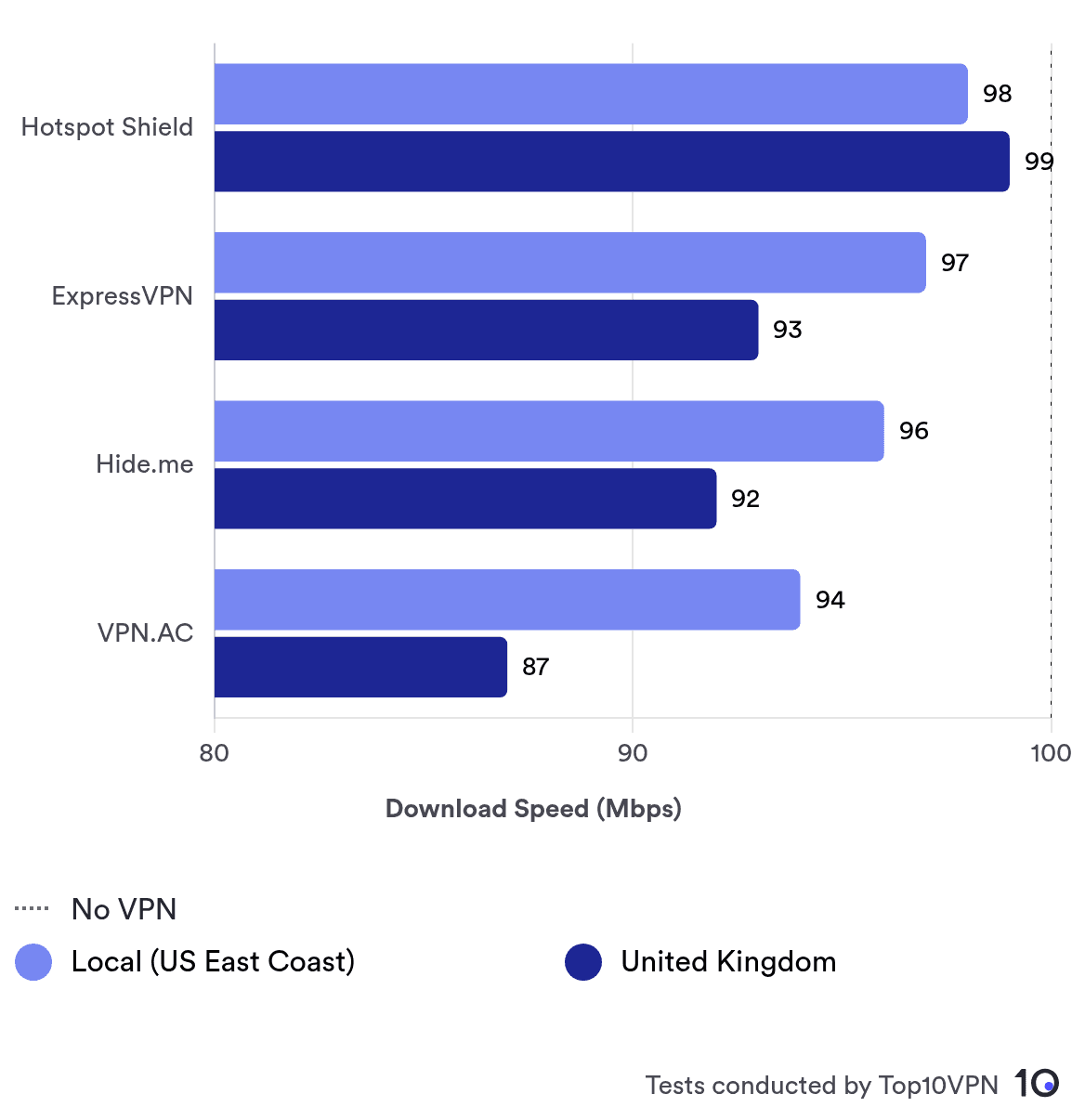 High Ping Times
VPN.AC has abnormally high local and international ping times, which make it a bad choice for online gaming.
We recorded up to 40ms on a local connection, putting it in the worst 10% of VPNs for latency.
This isn't surprising, though, as VPN.AC has historically had higher ping times compared to other top-tier gaming VPNs like ExpressVPN and NordVPN.
Security & Technical Features
Secure Encryption But No WireGuard
| Protocols | Available in VPN.AC |
| --- | --- |
| IKEv2/IPSec | Yes |
| L2TP/IPSec | Yes |
| OpenVPN (TCP/UDP) | Yes |
| PPTP | Yes |
| WireGuard | No |
| Encryption | Available in VPN.AC |
| --- | --- |
| AES-128 | Yes |
| AES-192 | No |
| AES-256 | Yes |
| Blowfish | No |
| ChaCha20 | No |
| Security | Available in VPN.AC |
| --- | --- |
| DNS Leak Blocking | Yes |
| First-party DNS | Yes |
| IPv6 Leak Blocking | Yes |
| Supports TCP Port 443 | No |
| VPN Kill Switch | Yes |
| WebRTC Leak Blocking | Yes |
| Advanced Features | Available in VPN.AC |
| --- | --- |
| Ad Blocker | Yes |
| Dedicated IP | No |
| Double VPN | Yes |
| Smart DNS | No |
| Static IP | No |
| SOCKS | No |
| Split Tunneling | No |
| Tor over VPN Server | No |
| Tracker Blocker | Yes |
WireGuard may be well on its way to becoming the dominant protocol in the VPN industry, but there's still nothing wrong with OpenVPN.
Trustworthy, fast, and safe, OpenVPN is VPN.AC's protocol of choice. On most platforms it actually offers four variants: ECC, 256-bit, 128-bit, and XOR. Here's how they differ:
| | |
| --- | --- |
| OpenVPN ECC | Uses 128-bit AES encryption combined with elliptic-curve cryptography. |
| OpenVPN 128-bit | Uses standard 128-bit AES encryption. |
| OpenVPN 256-bit | Uses standard 256-bit AES encryption. |
| OpenVPN XOR | Uses 128-bit AES encryption combined with XOR obfuscation. |
All of these can be used in either TCP or UDP variants: UDP is quicker but TCP is more reliable.
This is an unusual approach to protocols that we've not seen from any other VPN services. We recommend OpenVPN ECC or 256-bit for everyday usage and OpenVPN XOR when you need to bypass strict censorship (for example if you're in China).
On macOS and Windows there's also the highly-outdated L2TP, which we recommend you never use. iOS has no choice of protocol – it uses IKEv2 by default, which performs very similarly to OpenVPN for speed and security. You can also choose IKEv2 on Windows if you want.
VPN.AC successfully encrypted all of our traffic while connected. We tested this using Wireshark, a packet-sniffing tool, the results of which you can see above.
Kill Switch Has Issues on macOS
The kill switch is the most important part of any VPN's feature set – without it your true IP becomes exposed if the VPN fails at any point, and your traffic is left unencrypted.
The good news is that VPN.AC passed our kill switch test with flying colors on Windows, Android, and iOS.
The bad news is that we had some occasional issues with it on macOS. It worked successfully when we manually disconnected our WiFi, but would sometimes fail when we changed between server locations.
This isn't catastrophic, as changing server locations is usually something initiated willingly by the user. However, it's an inconvenience if you need to change servers while in the middle of a sensitive or private task.
Extra Features Vary by Platform
We always prefer VPNs to have one consistent set of features across all of its apps. VPN.AC can be confusing to use due to how different the options in each of its apps are.
See the table below for an overview of all of VPN.AC's extra features and what platforms they're available on:
Split tunneling is the big miss here. It's not as vital for security as the kill switch, but it's a super popular and useful feature that's present on the vast majority of VPNs. VPN.AC only including it on Android is a very unusual choice.
We also like the inclusion of IPv6 blocking on desktop, which ensures your IPv6 address won't leak (if you have one).
DNS filtering is the latest feature to be added to VPN.AC. It's disabled by default on Windows and Android, but has two other modes: SecureDNS and SecureDNS + local streaming.
When set to SecureDNS VPN.AC will block ads, malware, and trackers, while also letting you access the US Netflix library.
When set to SecureDNS + local streaming it will act as a blocker as above, but while letting you access your usual, local Netflix library.
VPN.AC's content blocker works well, successfully preventing 84% of all ads and trackers – that's above average for a VPN ad blocking tool.
VPN.AC Is Safe to Use on All Platforms
We scanned all of VPN.AC's installers using VirusTotal.com, and the results were all clean: it's safe to install on your personal devices.
We also checked it with the εxodus tool to see what Android app permissions it demands:
It's ordinary to see at least a few permissions here due to the nature of how VPNs work. However there is one which struck us as odd – we do not know why VPN.AC requires permission to read all external storage devices attached to your device.
That said, we still trust VPN.AC on Android.
Streaming
Doesn't Unblock Netflix Libraries
How much use you'll get out of VPN.AC for streaming depends on where you are in the world. It does a great job of unblocking all three major UK-based services: BBC iPlayer, ITV Hub, and All 4. We found it worked on any UK server and any protocol.
This isn't very useful if you live in the UK, but is brilliant if you don't.
It's also pretty good for unblocking US streaming sites: it works for US Netflix, Amazon Prime Video US, and Disney+'s US library.
Getting it to work with some of them isn't straightforward, though. To access Disney+ we had to use the OpenVPN XOR protocol.
With VPN.AC connected to a US server we weren't able to log into Netflix. But, if we logged in with the VPN disconnected, then connected to a US server once signed in, it worked fine.
VPN.AC also seems to use US Netflix as a general fallback for whenever the VPN is connected. This means that, while it failed to unblock any other Netflix region, it unblocked US Netflix no matter what server we were connected to – regardless of the region.
It looked like it was going to work with Hulu, as it allowed us to log in and select a show to watch, but the screen would simply remain black with nothing playing.
HBO Max was similar. We could log in, but it was unable to play anything. It showed us a couple of error codes we'd never seen before: e09e07e0-b551-4356-8799-f4c0210111cc (Something Went Wrong) and simply a generic "Can't Play Title."
However, we then tested those two services while connected to the VPN.AC Chrome browser extension. This time, it successfully unblocked both. The same thing happened with the Amazon Fire TV app, too.
Torrenting
A Decent Choice for Torrenting
While we like that VPN.AC allows torrenting across its entire server network, we were disappointed to find while testing that it seriously caps speeds on non-optimized servers.
We recorded excellent download speeds on the P2P-optimized France and Netherlands servers: an average of 9.0MiB/s versus 10.0MiB/s with no VPN at all is fantastic for torrenters.
However when we connected to a UK server, we found speeds plummeted to just 1.5MiB/s on average. This is because the UK has no P2P-optimized servers.
While we were able to work around this, not everyone will be so lucky. The entirety of Asia, Oceania, and South America are left with no torrenting servers. You can still torrent on your nearest ordinary VPN.AC server, but you'll likely experience the same slow speeds we did when trying the same.
A Secure Choice for Torrenting
VPN.AC has a functioning kill switch and fast speeds, but it isn't the most private VPN available.
There's also no port forwarding, which is a shame, but the VPN.AC knowledge base does have instructions for how to set up the SOCKS5 proxy on qBitTorrent, uTorrent, and Deluge.
It also offers a useful guide on how to set up a torrenting-specific kill switch in Windows. If you follow those steps, your PC will automatically stop all torrenting traffic if the VPN fails, preventing an IP leak.
Server Locations
Decent Coverage in US & Europe
26 Countries
48 Cities
117+ IP Addresses
We want to stress how rare it is for a VPN to use a 100% privately-owned server network with zero virtual server options. VPN.AC has done just this, and the result is a heightened level of security and better speeds.
However, it's a shame that this has meant compromises on the spread of its server network. We appreciate that it's expensive to not use any virtual or rented servers, but it means that an enormous chunk of the world is left with no VPN.AC servers near it.
VPN.AC has servers in 26 countries: 17 of them are in Western and Southern Europe. There are no servers in the Middle East, no servers in Africa, and only one server location in South America (Brazil).
When a server network is this concentrated it effectively limits who can use the service properly. If you live in any of the regions which aren't served by VPN.AC then we strongly advise you consider a different VPN, as good as VPN.AC is.
Excellent Double Hop & China-Optimized Servers
VPN.AC has one of the best ranges of Double VPN servers we've encountered. It's called Double Hop within the app, and it has exit nodes in eight different countries spread well around the world.
Double Hop routes your traffic to a VPN server in one location, before then sending it on to a server in a second location – the one which you will be assigned an IP address from.
This will slow down your internet speeds, but increase security.
VPN.AC also has servers in seven locations specifically optimized for use in China. There's nothing special about them at a glance, but we've found them to be extremely effective for bypassing the Great Firewall.
Bypassing Web Censorship
Good Choice for China
VPN.AC puts a lot of effort and resources into working well in China, and it's paid off. Our testing has found it to be one of the most reliable VPNs for beating strict censorship over the past year.
There's an option within its advanced settings menu labeled "I am in China or other censored country". Toggling this on reveals a list of China-optimized options in the main server list.
Combine one of these servers with the OpenVPN XOR protocol/obfuscation combo offered in all of its apps and you're ready to access websites ordinarily blocked within China, such as Instagram and YouTube.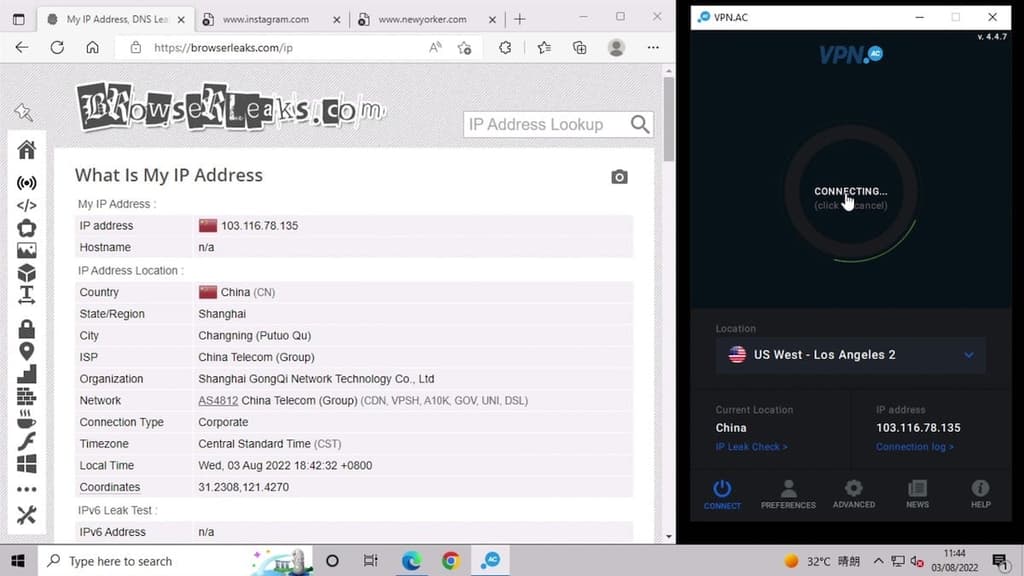 Device & OS Compatibility
Compatible With All Popular Devices
Apps
VPN.AC can be installed on all the most popular devices and platforms:
Windows

Mac

iOS

Android

Linux

Router
We appreciate the consistency in the designs between the most popular choices: VPN.AC looks virtually identical on Windows, macOS, iOS, and Android.
There's also a full-GUI Linux app available for Ubuntu, Debian, and Mint. VPN.AC states that it's officially in beta, but testing it on our Ubuntu 20 system it works well and appears identical to its Windows counterpart. There's also a command line interface option, if you prefer that.
VPN.AC also has custom setup options for routers. There's quite a few options, so here's a breakdown of what you can configure and on what router type:
Games Consoles & Streaming Devices
VPN.AC has a dedicated app for Amazon Fire TV devices. Like many VPN apps for the platform, it doesn't look great and can be a little clunky to use, but it works well. It unblocks all of the streaming services that the desktop can (like Netflix US and Amazon Prime Video US), plus some others that only the browser extensions can (like Hulu and HBO Max).
There's no VPN.AC app available for Chromecast with Google TV, and it's not possible to install VPN apps directly onto other streaming devices or games consoles, but VPN.AC's router configuration files give you a way to protect all of them.
Apple TV

Amazon Fire TV

Chromecast

Nintendo

PlayStation

Roku

Xbox
Browser Extensions
VPN.AC's browser extension, SecureProxy, is available on:
Chrome

Firefox

Opera
VPN.AC's browser extensions are excellent. Not only do they offer you access to even more server locations than are available in the main app, they also work extremely well to unblock streaming services (even unblocking more than the main app can).
It also fully encrypts and effectively geo spoofs your traffic, has a WebRTC blocker, and can be used to bypass internet censorship in China. It also has a website split tunnel, which allows you to choose which sites are tunneled by the browser VPN and which aren't.
It's all of these great features that makes it one of the best VPN browser extensions for Chrome.
Ease of Use
Simple, Customizable Apps
We've already outlined all of the technical differences between VPN.AC on each platform – here's a closer look at each of its apps.
VPN.AC Windows Program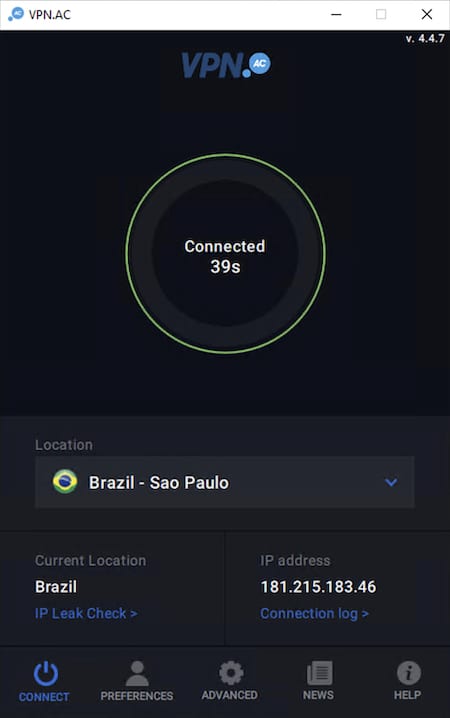 VPNs often prioritize Windows when designing their apps, and VPN.AC is no exception – although not by much.
Whether this is your first time trying a VPN or you're a regular user, we're confident you'll have no issues using VPN.AC's Windows client.
You don't have to worry about anything more than the server list and the connect button if all you want is basic protection, while the advanced features offer enough flexibility to customize the service to your liking.
The only glaring absence is the lack of split tunneling, which is something we consider to be part of a basic VPN feature set on Windows.
VPN.AC macOS App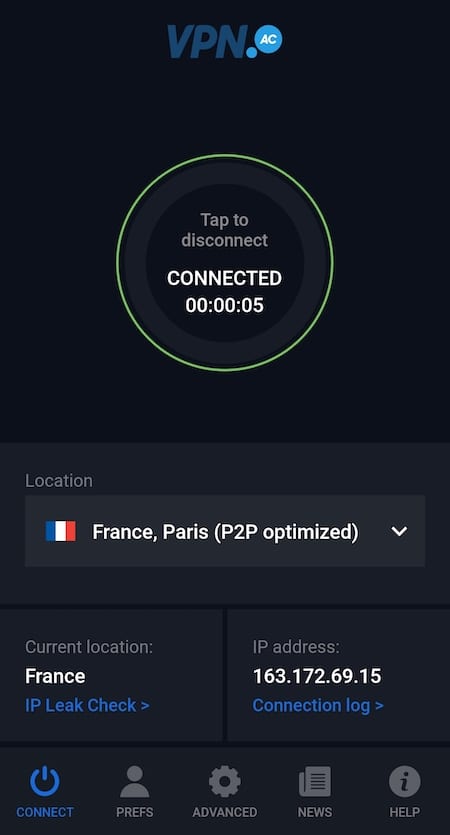 The macOS app looks identical to the Windows one, which is nice – it helps prevent confusion and shows that the VPN.AC development team cares about Mac users (who often get left behind).
All it's missing versus the Windows version is its DNS filtering ad blocker.
VPN.AC Linux GUI Client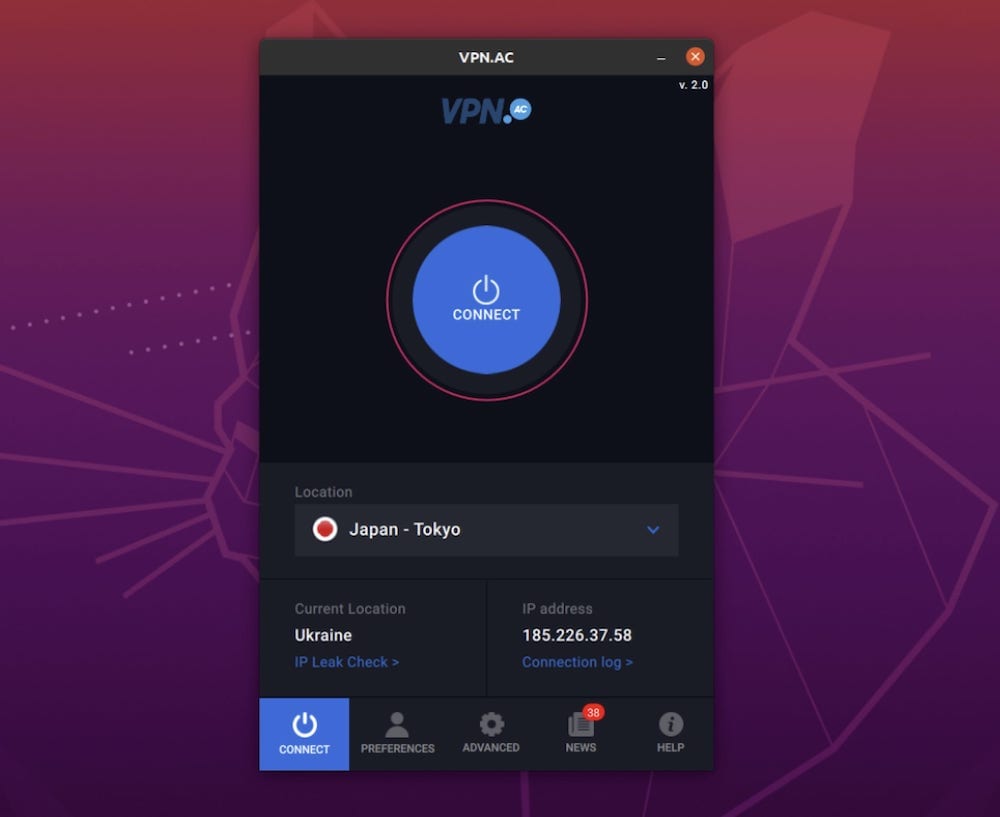 While VPN.AC says that its native Linux app is in beta, we've seen nothing in our testing to indicate that you shouldn't be using it.
Unlike its Windows and macOS siblings it's missing IPv6 blocking, which means your IPv6 address could potentially be exposed if your connection has one.
VPN.AC iOS App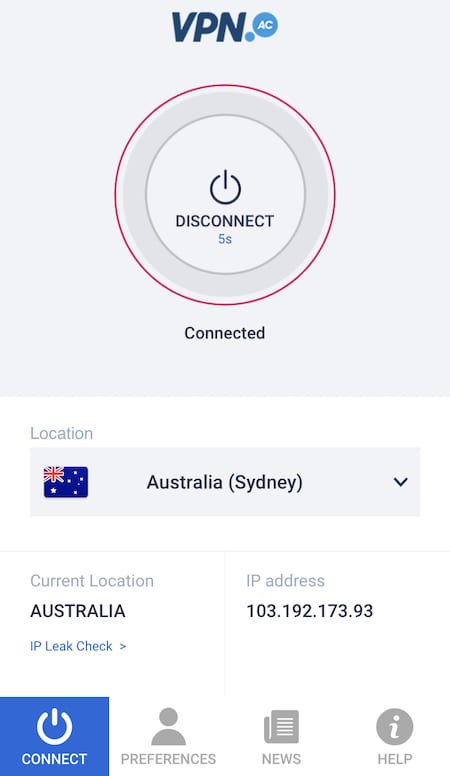 VPN.AC on iOS is very light on features. It has a reliable kill switch, and you can still use China-optimized servers, but that's pretty much all there is. The design may be similar to the desktop versions, but that's all they have in common.
VPN.AC Android App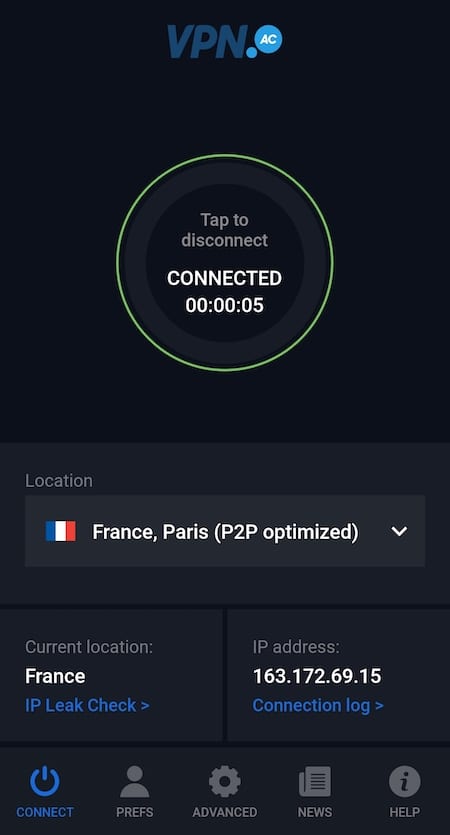 The Android app is the only version of VPN.AC to feature split tunneling, which is highly unusual, but at least one platform has it. With it you can control which apps are protected when VPN.AC is connected and which are left outside of the VPN tunnel.
It looks just like the desktop versions, with the only thing missing being IPv6 blocking.
VPN.AC Fire TV App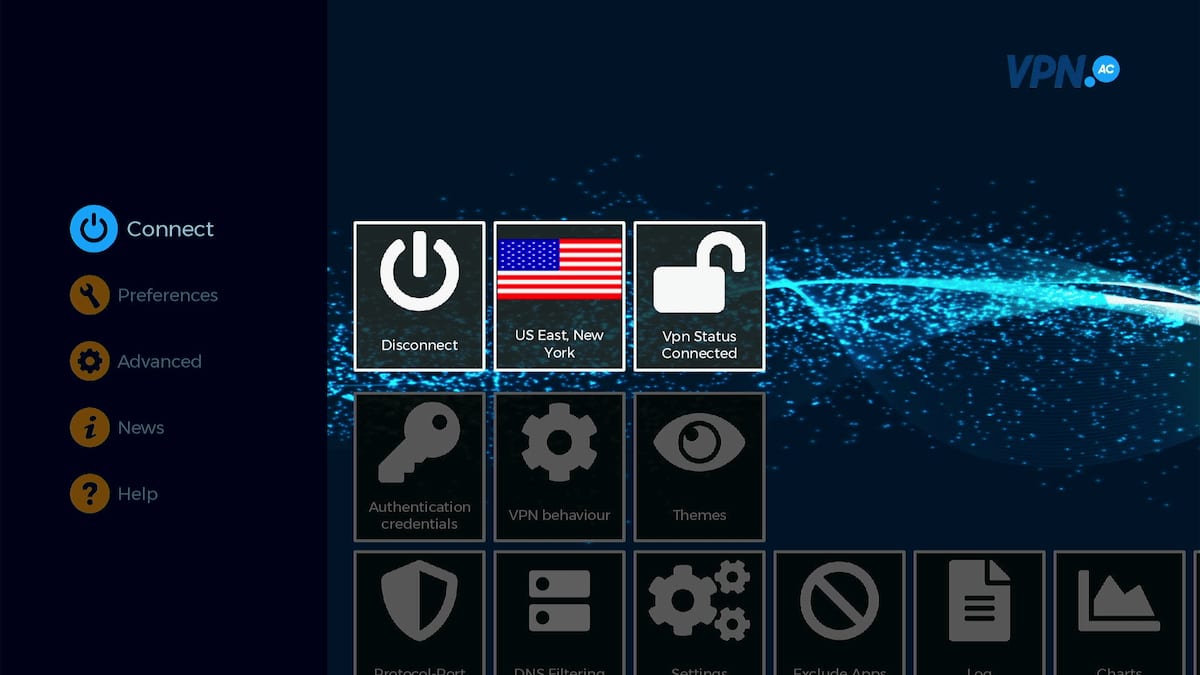 VPN.AC's app for Amazon Fire TV devices is the most visually different of all of them. In our experience VPNs often struggle to make a clean, smooth, usable app for Fire TV – and VPN.AC is no exception.
However it works well, and once you get used to it it's not so bad to navigate. We also like that it also has some of the extra features from the desktop app available within it. For simply connecting to a server and then using your favorite streaming service, it's totally serviceable.
The VPN.AC browser extension is super simple to use.
While it may look a lot like the full desktop app there's far fewer options to worry about. You get access to all the servers, which you can connect to in just a couple of clicks. Then within the preferences menu there's a toggle to reveal the China-optimized servers, a WebRTC leak blocker, and an 'Excluded websites' option.
This essentially acts as a split tunnel, but for individual websites rather than apps. With it you can allow certain websites to operate outside of its VPN encryption – this can be useful for avoiding CAPTCHAs and added security checks for websites like online banking, or if you need to be in your home region to access a certain streaming site.
Customer Support
Good Online Resources But No Live Chat
| Customer Support | Available in VPN.AC |
| --- | --- |
| 24/7 Live Chat Support | No |
| 24/7 Email Support | No |
| Chatbot | No |
| Live Chat Support | No |
| Email | No |
| Email Support via Online Form | Yes |
| Tutorial Videos | No |
| Online Resources | Yes |
VPN.AC has two sections within the support area of its website: tutorials and knowledge base. The tutorials on offer show you how to install the VPN on every available device and operating system – both for the dedicated apps as well as setting up individual protocols via third party software.
The knowledge base covers most other topics. If you have questions regarding the differences between protocols, what the features within the app do, or simply how billing works, we were impressed by the scope and detail of the articles available.
It's a shame, then, that you have to rely on a ticketing system to get any direct queries answered by a VPN.AC employee.
When we submitted a question at around 3pm we had to wait until 8am the following day for a reply.
In fairness to VPN.AC this isn't always the case – we've had conversations before where we've received a response after just 25 minutes. The inconsistency is still an issue, though. If you're struggling to get your VPN to work you want to know that a quick resolution is guaranteed.
Price & Value
A fair price, but we don't like its refund policy
VPN.AC has four different pricing plans, with its two-year deal being the cheapest: an up-front payment of $90.00 is equal to $3.75 per month. We consider anything under $3.00 to be cheap, so for a service as good as VPN.AC we'd say you're definitely getting your money's worth.
What we like even more is the very reasonable $9.00 for a single month-long subscription. That's considerably cheaper than most of the competition, and a great solution if you want to try it out before locking yourself in longer-term.
Given how well VPN.AC works in China, it's also a great solution if you're taking a trip and only need a VPN for the duration
Payment & Refund Options
VPN.AC accepts a good range of payment methods, including:
American Express

Bitcoin

Bitcoin Cash

Giropay

iDeal

Mastercard

PayPal

UnionPay

Visa

WebMoney
It's a shame then that VPN.AC's refund policy is so vague and unusual. First of all, seven days is considerably shorter than the industry-standard 30-day refund period – we'd really appreciate VPN.AC extending it.
Then there's also the confusing wording within VPN.AC's terms of service. On the one hand, it says that it will grant you a full refund "if you are not satisfied with our VPN service or you can't use our service for technical reasons," which is what we're used to seeing.
However it then goes on to say that:
"Refund requests must be based on valid reasons. We do not refund orders for vague reasons like "it doesn't work" without providing us details and letting us help."
It's unclear what exactly is a good enough reason to get your money back.
The Bottom Line
Is VPN.AC Worth It?
Fast, affordable, great in China, and good for unblocking streaming services, VPN.AC has very few real downsides.
It's not as popular as some bigger names on the market, but our testing has found that it consistently performs to a very high level. While there may be other services that do what it does well even better, VPN.AC still has a good combination of strengths that might be enough to entice you into trying it.
Alternatives to VPN.AC
If you're not fully won over by VPN.AC, we'd recommend ExpressVPN for the simple fact that it has more server choices and is our number one recommendation overall. It's more expensive, but that gets you a nearly faultless product.
Our second choice is naturally our second overall recommendation – NordVPN. Like ExpressVPN and compared to VPN.AC you have a greater variety of global server selection. You might be tempted due to its even cheaper price, too.
---
User Reviews for VPN.AC