Turbo VPN Review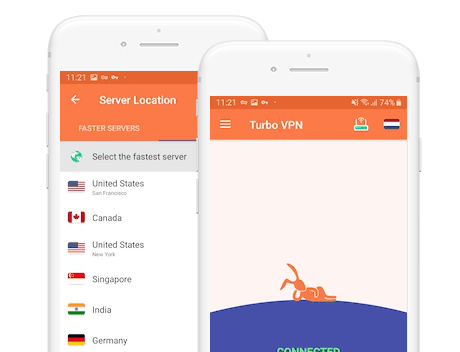 Privacy & Logging Policy
Improved Logging Policy but Dubious Links to China
Turbo's privacy policy isn't the most accessible (the default font size is extremely small) but its logging policy has certainly improved from past iterations.
Turbo collects the following details about your VPN connection:

This is not the worst logging policy we've reviewed and you can't be identified from this. However, Turbo claims that it doesn't store timestamps of VPN connections, but it must log some if it knows when a connection is successful.
Turbo VPN also logs the aggregate amount of data transferred – this is fine and can't be used to identify you.
The privacy policy states that Turbo VPN "may be compelled to disclose your data where [it is] served with a valid court order." This is particularly troubling when coupled with Turbo's suspect past and its ties with China.
Worrying links to China
Turbo VPN is developed by a firm called Innovative Connecting. It has released a number of other basic, free VPNs, including VPN Proxy Master, Snap Master VPN, Solo VPN Pro, and VPN Proxy Master Lite.
It's incorporated at 38 Beach Road #29-11 South Beach Tower, Singapore. Singapore is a nation of intrusive surveillance, government snooping, and has links with the Five Eyes — a US-led intelligence sharing network.
Additionally, our independent research shows Turbo VPN's strong links with Mainland China.
The director of Innovative Connecting is a Chinese national and entrepreneur by the name of Danian Chen, who is also the CEO of LinkSure — the company behind 'WiFi Master Key.'
Once described by Forbes as "one of the most influential young leaders in China," Danian Chen is listed only in corporate filings and has no public association with the company.
The fact that Turbo VPN is owned by a Chinese national, and the service's privacy policy states it will hand over your personal information to legal authorities 'if ordered by a court of competent jurisdiction' is highly problematic.
It's worth noting that Turbo previously had one of the worst logging policies we've seen. While its current policy is a step in the right direction, we have no way of verifying if Turbo VPN follows it in practice.
Speed
Poor & Inconsistent VPN Speeds
Turbo VPN's unique approach of providing a different server network for each platform resulted in varied speed test results.
Our download speeds were throttled across all servers on the Android app, causing even browsing to be slow.
We were restricted to just the 'Fast server' when using Turbo VPN on iOS and macOS. The server didn't live up to its name as we recorded an average download speed of 40Mbps.
On Windows, we were able to test multiple servers without experiencing any throttling. Although, our connection speeds continued to be subpar.
Below are the results of our Windows speed tests:
Local Speed Test results before using Turbo VPN:
Download Speed: 98Mbps
Upload Speed: 98Mbps
Ping: 5ms
Local Speed Test results with Turbo VPN:
Download Speed: 45Mbps
Upload Speed: 39Mbps
Ping: 95ms
Download speed loss when Turbo VPN is running: 54%
These speeds are poor, even for a free VPN. If you are fortunate enough to live near one of Turbo VPN's free servers, though, it should still be fast enough that you can do some light browsing without noticing too much slowdown.
Note: Due to Turbo VPN's limited server coverage, our local speed tests were carried out using a US server despite operating from our London headquarters.
We also tested Turbo VPN's longer-distance server locations on Windows:
Singapore: 70Mbps (download) & 29Mbps (upload)
India: 2Mbps (download) & 16Mbps (upload)
We recorded a 28% speed loss when connecting to its Singapore server which is fairly impressive. However, our connection speeds were immediately throttled when connecting to Turbo VPN's India server and our ping exceeded 160ms.
It's also the case that Turbo VPN is, unfortunately, wildly inconsistent. This is an issue backed up by many user reviews.
Turbo VPN claims to not put any caps on bandwidth or data usage, but it does operate a 'fair usage' policy.
Based on our experience with Turbo VPN's Android app and its India server on Windows, running a few speed tests seems to surpass what it considers to be fair. Expect frequent and server throttling when using Turbo VPN.
Server Locations
Very Small Server Network
VariableCountry
VariesCity
Not DisclosedIP Address
Turbo VPN takes an approach to servers that we've never seen before. The list of available VPN servers changes depending on what platform or device you are using, as well as what protocol you're using. Here's how it breaks down:
This is a needlessly confusing way of doing things, and we can't see any reason for doing so. Your options are clearly better if you're an Android user, although the selection for Windows has its potential uses.
The server spread across all devices is poor, with Asia only being represented by single servers in India and Singapore as well as a total absence of coverage in Africa and South America.
We would also have liked some city-level options in larger locations like the US where a server being located in the East or West Coast could affect your connection speeds.
Streaming
Turbo VPN Is a Bad Choice for Streaming
Turbo VPN is a bad VPN for streaming, across all devices.
Its Windows app was able to unlock HBO Max with ease but its quality was subpar. The Android app could also stream HBO Max on its single US server but it took multiple attempts with awful video quality.
All Turbo VPN applications failed to access Netflix in any region. The VPN also doesn't work with Prime Video, Disney+, or BBC iPlayer.
Some users have claimed to be able to access Netflix, but only through premium VIP servers which are inaccessible to free users.
There are far better streaming VPNs available – do not use Turbo VPN for streaming.
Torrenting
Turbo VPN Can't Be Used to Torrent
Previously, Turbo VPN blocked P2P traffic on its servers and its privacy policy warned that your account could be suspended if you attempted to torrent while using it too often.
In our most recent tests, we were able to successfully torrent on Turbo's US server and any reference to account suspension has been removed from the privacy policy.
However, we contacted the Turbo VPN support team and they confirmed that both torrenting and P2P connections are still banned on the VPN's servers.
Regardless, even if Turbo VPN did work with torrenting, we would still not advise to use it. Historically, its logging policy has not been good enough to entrust the service with your identifiable data.
The absence of a kill switch on the free version is another major drawback for torrenters. A kill switch is a security essential for file-sharing.
Bypassing Web Censorship
TurboVPN Is Useless Against Censorship
Turbo VPN makes it quite clear that the app won't work in China. It claims this is for 'policy' reasons.

Even if it were willing to let you use the VPN in China, it lacks the technologies to effectively beat the Great Firewall.
You may have some luck using Turbo VPN in other censored countries with less effective internet blocks. We don't recommend doing so, though. You shouldn't put yourself at risk by using this bad VPN in countries which frown upon VPN usage.
Security & Technical Features
Unsafe VPN with Weak Encryption, DNS leaks, and Malware
| Protocols | Available in Turbo VPN |
| --- | --- |
| IKEv2/IPSec | Yes |
| L2TP/IPSec | Yes |
| OpenVPN (TCP/UDP) | Yes |
| Proprietary | Yes |
| WireGuard | No |
| Encryption | Available in Turbo VPN |
| --- | --- |
| AES-128 | Yes |
| AES-192 | No |
| AES-256 | No |
| Blowfish | No |
| ChaCha20 | No |
| Security | Available in Turbo VPN |
| --- | --- |
| DNS Leak Blocking | No |
| First-party DNS | No |
| IPv6 Leak Blocking | No |
| Supports TCP Port 443 | No |
| VPN Kill Switch | No |
| WebRTC Leak Blocking | No |
| Advanced Features | Available in Turbo VPN |
| --- | --- |
| Ad Blocker | No |
| Dedicated IP | No |
| Double VPN | No |
| Smart DNS | No |
| Static IP | No |
| SOCKS | No |
| Split Tunneling | Yes |
| Tor over VPN Server | No |
| Tracker Blocker | No |
It's unlikely that you'll find a VPN quite as unsafe as Turbo VPN.
As part of our free VPN investigation we detected unsafe functions, DNS leaks, and virus/malware on the app.
Turbo VPN also uses third-party advertising platforms to obtain sensitive information "for personalized advertising purpose [sic]."
This goes against everything a VPN is supposed to do and what it represents.
Your personal data is not secure, with Turbo VPN not even maintaining its own DNS servers, which means that your web traffic is routed through third-party servers even when you're connected to the VPN.
There are multiple VPN protocols listed within the app (although they vary depending on what device you're using). OpenVPN is the default across all operating systems.
Of the protocols on offer, there are three we've never heard of before: SSR, ISSR, and Trojan. Given how Turbo VPN performs in every other regard, we don't trust a bespoke protocol to properly encrypt your data.
The ability to choose protocols is reserved for the premium version on Windows and macOS.
In another undesirable first for Turbo VPN, we have never before seen a VPN which paywalls its kill switch.
We consider a kill switch to be the most basic, fundamental privacy feature for a VPN. It tells you everything you need to know about Turbo VPN's priorities that it withholds the kill switch for paying users.
Device & OS Compatibility
Free software for all major platforms
Apps
Windows

Mac

iOS

Android
Previously a mobile-only VPN, Turbo VPN is now available on Windows and macOS, in addition to Android and iOS.
Turbo VPN does something which we've never seen from a VPN before: it offers a totally different list of servers depending on what platform you're using.
The Android application gives you access to the largest server list, plus extra settings like split tunneling (only available on the Android app).
On iOS, macOS, and Windows there are no extra features or settings whatsoever.
On iOS and macOS, you can't choose a server, either, instead being stuck with a 'fastest' option (Germany, in our case, which is odd given we're located in the UK).
All the apps are very simple, and look almost identical from platform to platform.
Ease of Use
Simple, but Very Limited Apps
How to Install & Set Up Turbo VPN
All four of Turbo VPN's apps (Windows, macOS, iOS, and Android) are simple to use.
This is largely due to the near-total lack of advanced features. You can choose a server, you can connect, and that's about it.
Turbo VPN started life as a mobile-only VPN, and that much is obvious in the design of its desktop apps. They look identical to the mobile versions, which is lazy and unintuitive to use with a mouse and keyboard.
The main issue with Turbo VPN's apps, though, are the constant advertising popups.
They're disruptive enough on mobile, but on desktop they're a huge nuisance – opening a new browser window full of ads every time you connect or change servers.
Customer Support
Surprisingly Robust Customer Service
| Customer Support | Available in Turbo VPN |
| --- | --- |
| 24/7 Live Chat Support | No |
| 24/7 Email Support | No |
| Chatbot | No |
| Live Chat Support | No |
| Email | Yes |
| Email Support via Online Form | No |
| Tutorial Videos | No |
| Online Resources | Yes |
Turbo VPN has recently performed a complete overhaul of its customer support. Where it was once almost non-existent, it's now actually on a level equal to some of the most popular VPNs.
The biggest contributor to this is its 24/7 live chat. This is accessed from a chat window on the support page. It first runs your query by a chatbot that attempts to find an answer from its minimal FAQs section. However, if you don't get what you need there you can be instantly forwarded to a live support agent.
The agent responded extremely quickly, and was actually helpful in addressing the issue we had, too.
Email support has been improved, too. You now fill out a simple online form and will be emailed a response in the coming hours.
The Bottom Line
Avoid Using Turbo VPN
We do not recommend Turbo VPN under any circumstances. It's unreliable, insecure, and dangerous.
The VPN service doesn't let you torrent on its free servers, and it doesn't work with content platforms like Netflix or BBC iPlayer.
Though you may be able to stream HBO Max, it's not worth the trade-off in terms of privacy, security, and performance. We advise using a secure free VPN, instead.
Even better, we recommend using one of our most highly-rated VPNs, some of which offer VPN free trials.
EXPERT TIP: Surfshark is a top VPN that offers a no-questions-asked money-back guarantee.
The VPN allows fast torrenting and streaming across its 3,200+ servers. Try Surfshark for free for 30 days.
Alternatives to Turbo VPN
Windscribe
Windscribe is our top-rated free VPN. Unlike Turbo VPN, it has reliable download speeds, a good selection of servers and, most importantly, a strong privacy policy. Read Windscribe review
Surfshark
Surfshark is a premium VPN but it comes at a budget price of $2.30 a month. It's a good streaming VPN with fast speeds and several configurable settings TurboVPN can only dream of. Read Surfshark review
---
User Feedback for Turbo VPN
Questions & User Reviews are shown in the original language of submission.