Disclosure: Top10VPN is editorially independent. We may earn commissions if you buy a VPN through links on our site.
Our Verdict
TurboVPN is an unsafe free VPN for iOS and Android. It's riddled with invasive third-party advertising and it logs connection data. We also detected DNS leaks, unsafe permissions, and malware. Using TurboVPN poses a serious risk to your privacy and security.
Turbo VPN has been downloaded by a staggering 300 million users around the world. But does popularity equate to quality?
Unfortunately, the answer is no. Turbo VPN is one of the worst VPNs we've tested, and it poses many risks to its users.
In this Turbo VPN review we will bring to your attention all the concerning issues we've identified. We'll also answer other product-related questions such as:
What logs does Turbo VPN collect?
How unsafe is Turbo VPN?
Is it ok to use it with Netflix?
Who really owns Turbo VPN?
Keep reading our Turbo VPN review to understand exactly why we strongly recommend you don't use this VPN under no circumstances.
Discover our top-rated free VPNs for privacy
For safer and unlimited VPN use, we suggest an inexpensive VPN like Surfshark. With fast speeds, strong security, and a 30-day refund guarantee, we highly recommend it over Turbo VPN.
Before delving into our Turbo VPN review, below is a quick overview of the service's advantages and disadvantages.
Turbo VPN Pros & Cons
Pros
Claims to use OpenVPN – our preferred protocol

Easy setup on Android and iOS devices
Cons
Intrusive logging policy & annoying pop-up ads

Shares user data with China

No extra privacy features

Customer support is non-existent

Inconsistent performance
Turbo VPN Key Data
| | |
| --- | --- |
| Data Cap | Fair Usage Policy |
| Speed | 45Mbps |
| Logging Policy | Intrusive Logging |
| Data Leaks | No |
| Jurisdiction | Five-Eyes member |
| Servers | Not disclosed |
| IP Addresses | Not disclosed |
| Countries | 7 |
| US Netflix | No |
| Torrenting | No |
| Works in China | No |
| Support | Email & Online Resource Only |
| Official Website | TurboVPN.co |
Turbo VPN Category Ratings
We test and review every VPN in seven key areas. Here's how Turbo VPN performs in each category:
Privacy & Logging Policy: 0.2/10
Encryption & Security: 2.0/10
Speed & Reliability: 6.6/10
Streaming & Torrenting: 1.7/10
Bypassing Censorship: 1.0/10
Ease of Use: 3.7/10
Customer Support: 1.6/10
Learn more about our VPN testing methodology here.
Unsatisfactory privacy policy and dubious links to China
Privacy Policy & Ownership
Privacy & Logging Policy Rating: 0.2/10
When we first reviewed Turbo VPN, it had one of the worst privacy policies that we've seen.
Since we contacted Turbo VPN asking questions and pointing this out, we've noticed that it has completely overhauled its privacy policy.
Even so, the new privacy policy is still not great. It's confusing, poorly written, but it at least lists the amount of data it collects.
Turbo VPN may not collect your ISP or IP address, but it does collect this:
Whether a VPN connection is successful
VPN location you are connecting to
Country you are connecting from
Your ISP
Size of data transferred
Usage statistics
Analytics data
The fact that it then calls itself a "no-logs" VPN goes to show the extent to which the term is so freely and wrongly used.
Turbo VPN uses this justification:
The minimal information allows us to provide efficient technical support to you.
But we know you can run a great VPN with far less information collected.
It's obvious this VPN company doesn't want you to read its privacy policy. It's hard to read (the default font size is extremely small), and the information within is awful.
More than that, your data appears to be readily available for the Chinese Communist Party, plus whatever private interests and third-parties it's also sharing it with.
Luckily, we are here to call it out and clearly warn you: avoid Turbo VPN.
Worrying links to China
Turbo VPN is developed by a firm called Innovative Connecting. It has released a number of other basic, free VPNs, including VPN Proxy Master, Snap Master VPN, Solo VPN Pro, and VPN Proxy Master Lite.
It's incorporated at 38 Beach Road #29-11 South Beach Tower, Singapore. Singapore is a nation of intrusive surveillance, government snooping, and has links with the Five Eyes — a US-led intelligence sharing network.
Additionally, our independent research shows Turbo VPN's strong links with Mainland China.
The director of Innovative Connecting is a Chinese national and entrepreneur by the name of Danian Chen, who is also the CEO of LinkSure — the company behind 'WiFi Master Key.'
Once described by Forbes as "one of the most influential young leaders in China," Danian Chen is listed only in corporate filings and has no public association with the company.
The fact that Turbo VPN is owned by a Chinese national, and the service's privacy policy states it will hand over your personal information to legal authorities 'if ordered by a court of competent jurisdiction' is highly problematic.
Unless you want to risk your data being sent to China, we advise you not to use Turbo VPN.
Mediocre and very inconsistent VPN speeds
Speed Tests
Speed & Reliability Rating: 6.6/10
Turbo VPN recorded mediocre results in our speed tests. Download speeds were below-par connecting to a nearby server, but dropped massively connecting to international server locations.
Overall, Turbo VPN's speeds may be acceptable for casual use, but they are far too inconsistent for more regular use of the service.
Below are the results of our speed tests:
Local Speed Test Results
Before using Turbo VPN:
Download47

Mbps

Upload45

Mbps

Ping2

ms
When connected to Turbo VPN:
Download30

Mbps

Upload45

Mbps

Ping13

ms
Download speed without Turbo VPN: 47 Mbps
Download speed with Turbo VPN: 30 Mbps
Our download speed loss when Turbo VPN is running: 36%
These speeds are hit-and-miss, if slightly mediocre. 
Turbo VPN didn't fair much better connecting to further away server locations. Below are the results of our long-distance speed tests:
USA:

16Mpbs

(download) &

31Mbps

(upload)

Germany:

28Mbps

(download) &

40Mbps

(upload)

Singapore:

0.49Mpbs

(download) &

33Mbps

(upload)
The VPN recorded some outright bad speeds, particularly connecting as far as Singapore. We recorded a 97% speed loss, which is one of the worst recordings we've ever seen.
It's also the case that Turbo VPN is, unfortunately, wildly consistent. This is an issue backed up by many user reviews.
Turbo VPN claims to not put any caps on bandwidth or data usage, but it does operate a 'fair usage' policy.
If our experience is anything to go by, running a few speed tests seems to surpass what it considers to be fair, resulting in a steep drop in performance.
Very small server network
Server Locations
Undisclosed number of
IP Addresses
Turbo VPN has a very small server network.
It claims to have 10,000+ servers both on its website and in an email with us.
That seems very unlikely. Even if it was true, it's reserved for premium users.
For the free users out there, you get a choice of seven countries. These are:
Canada

Germany

India

Netherlands

Singapore

UK

US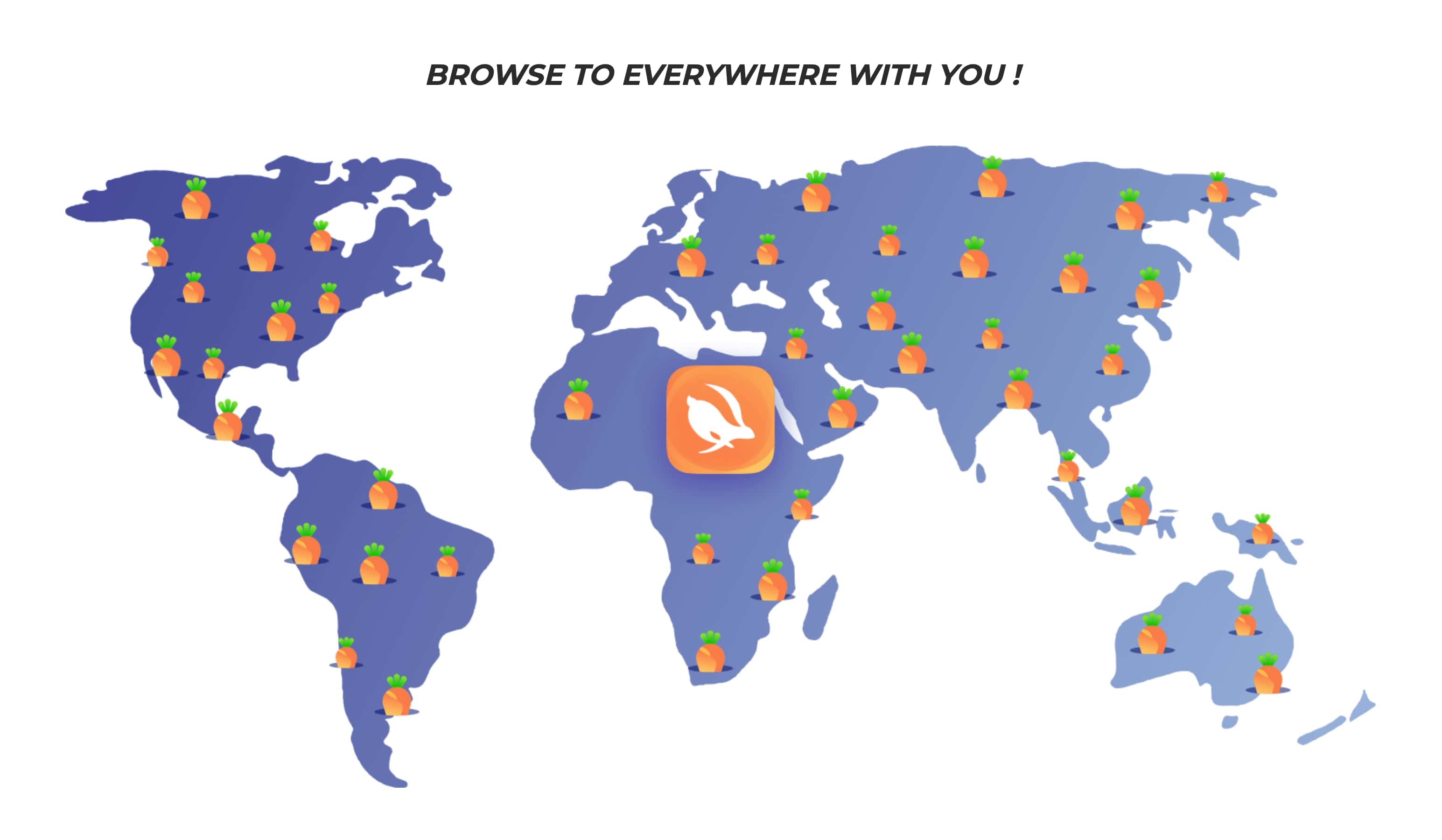 Only the US has a city-level choice — New York and San Francisco on each coast. 
This is by no means the coast-to-coast coverage offered by many top-tier providers, but being able to select East or West Coast depending on your true location goes some way to improving performance.
The Asia-Pacific is represented by India and Singapore only, and users in South America and Africa will be disappointed to find no servers whatsoever. 
If you'll mainly be connecting from these regions, you're better off choosing another provider that has a larger, more diverse server list, like TunnelBear Free.
A bad choice for streaming
Streaming & Torrenting
Streaming & Torrenting Rating: 1.7/10
Turbo VPN is a bad choice for streaming. 
On both of its US servers we failed to access Netflix. 
Some users have claimed to be able to access the site, but only through premium VIP servers, leaving free users high and dry. 
To our surprise, it did unblock BBC iPlayer.
How long this will last, we can't say, but it's a positive for now. 
The BBC has cracked down on VPN providers, so it's likely that Turbo VPN's only UK server will fall victim to this soon.
Torrenting
We really couldn't recommend Turbo VPN for torrenting or P2P activity due to its serious lack of privacy features and intrusive logging policy. 
Turbo VPN also states clearly in its FAQs that users should not access BitTorrent while connected or their account may be blocked.
Useless against censorship
Beating Censorship
Bypassing Censorship Rating: 1.0/10
Turbo VPN makes it quite clear that the app can't be used in China. This is for 'policy' reasons.
The country has cracked down on VPN providers, rendering most VPNs useless when used to connect out from the country.

Mobile VPN Only
Platforms & Devices
Apps
iOS

Android
Turbo VPN is available on Android and iOS devices.
There are, however, no manual workarounds for any other platforms. 
If you want Turbo VPN on any other device, you have to find another VPN service. 
It's also available with Turbo VPN Premium, which removes ads, has a 'faster  connection', and links up to 5 devices. You can sign-up for a 7-day free trial. 
Unsafe VPN with weak encryption, DNS leaks, and malware
Encryption & Security
| | |
| --- | --- |
| Protocols | OpenVPN (TCP/UDP) |
| Encryption | Undisclosed |
| Security | |
| Advanced features | |
Encryption & Security Rating: 2.0/10
It's not likely that you'll find a VPN quite as unsafe as Turbo VPN.
As part of our free VPN investigation, we detected unsafe functions, DNS leaks and virus/malware on the app.
Turbo VPN also uses third-party advertising platforms to obtain sensitive information "for personalized advertising purpose [sic]." 
This goes against everything a VPN is supposed to do and what it represents.
On the positive side, it claims to offer OpenVPN as its default protocol, which is our preferred choice. 
But you can't see this from the app itself, so we can't guarantee it is speaking the truth here.
They confirmed it in an email, but also told us they use IPSec. Considering that you cannot change your protocol, we can't say which you're using on any given server. 
Other than that, there's nothing else to speak of in terms of Turbo VPN's security and encryption methods.  
There's not even a kill switch — an essential privacy feature that blocks internet traffic should the VPN connection drop. 
Your personal data is not secure, with Turbo VPN not even maintaining its own DNS servers, which means that your web traffic is routed through third-party servers even when you're connected to the VPN. 
Visually pleasing and intuitive applications
Ease of Use
How to Install & Set Up Turbo VPN
Ease of Use Rating: 3.7/10
Turbo VPN is super-easy to install and very simple to use. 
It's a smooth, modern-looking app with a pleasing hare-theme design. 
The animation is fun, but don't be distracted; remember that this is a potentially compromising app.
There are plenty of ads to bother you, but that's often the sole source of funding for a free VPN.
Turbo VPN's personalization options in the settings menu are limited solely to choosing whether or not the app connects on startup. 
There's nothing wrong with the design and usability of Turbo VPN—it's all very intuitive—but that hardly makes up for its gaping privacy and security flaws.
Unresponsive customer service
Customer Support
| | |
| --- | --- |
| Email | Yes |
| Online Resources | Yes |
Customer Support Rating: 1.6/10
Turbo VPN claims 'seamless' 24/7 customer service, but our experience was far from that. 
We sent an email to the address provided on the Google Play Store, but got no response. 
The website was no use either — it includes some very generic information about being the 'fastest', 'easiest' and 'most stable' VPN on the market, but lacks any technical information to back that up. 
It also doesn't provide any setup guides or troubleshooting tips.
The app does include an FAQs page but it's very basic and won't solve the majority of issues.
If you have a question or issue with the app, don't expect many answers.
Avoid using Turbo VPN
The Bottom Line
We do not recommend Turbo VPN under any circumstances. It's unreliable, insecure, and dangerous.
Though you may be able to stream BBC iPlayer, this is simply not worth the trade-off in terms of privacy, security, and performance.
We recommend another VPN (almost any other VPN, in fact), but especially these:
Additional research by David Hughes
Alternatives to Turbo VPN
Windscribe
Windscribe is our top-rated free VPN. Unlike Turbo VPN, it's got reliable download speeds, a good selection of servers and, most importantly, a strong privacy policy. Read Windscribe review
Surfshark
Surfshark is a premium VPN but it comes at a budget price of $2.49 a month. It's a good streaming VPN with fast speeds and several configurable settings TurboVPN can only dream of. Read Surfshark review
---
User Feedback for Turbo VPN