What Is Opera VPN?
Opera is a web browser available for Windows, Linux, macOS, Android, and iOS.
Unlike most mainstream browsers, it claims to include a free, built-in virtual private network (VPN), known as Opera VPN.
To activate the VPN feature, you simply need to open up the browser and navigate to Menu > Settings > Advanced > Privacy & Security > VPN and enable it.
An icon will appear in the address bar displaying your VPN status.

The browser VPN add-on lets you choose between three vague server locations in Europe, the Americas, and Asia.
There's no further information on where exactly these servers are located or how many servers are in the Opera VPN network.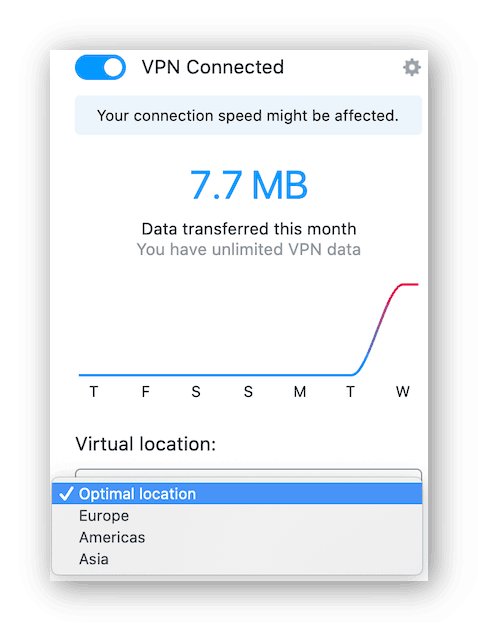 WARNING: When we tested Opera VPN's servers, there were at least six locations: Argentina, Germany, Singapore, Sweden, US, and Vietnam. However, the country we connected to didn't always match the location we selected.
For example, the 'Americas' virtual server location assigned us a Vietnamese IP address.
When you use Opera VPN, only traffic from within the Opera browser goes through the VPN servers. Anything you do outside the browser – such as torrenting or watching Netflix via another app – will remain unprotected.
Opera's service is therefore not actually a full VPN. A proper VPN encrypts and protects all of your internet activity, not just what is sent within the browser.
Instead, Opera VPN is more of a secure proxy service that spoofs your location by hiding your IP address.
Opera VPN is better than most proxies because it actually encrypts your data, but it won't offer the comprehensive privacy and protection that a full VPN provides.
So, given that Opera VPN isn't really a full VPN, is it still safe to use? Let's find out in the section below.