VPN Price Comparison: How Much Do the Best VPNs Cost?
Price isn't always an accurate indicator of quality within the VPN market. That said, the best VPNs aren't free, and you should expect to pay a modest monthly fee to protect your privacy, security, and freedom online.
Based on the cheapest available price for each of our top 20 VPNs, the average monthly cost of a VPN in January 2021 is $3.96. If you only want to pay for a month at a time, the average price rises to $11.32
To get the best deal on a VPN, you'll almost always need to commit to at least a 12-month contract. You'll probably also need to pay for the entire subscription up front.
Purchasing a VPN can therefore feel like quite an investment, so it's worth doing your research. Here's how 15 of the most popular VPN providers around compare in terms of pricing (the links in the table will take you to an in-depth review of each service):
| VPN Provider | Cost Per Month | Required Plan Length | Free Trial Option | Money-Back Guarantee | Our Ranking |
| --- | --- | --- | --- | --- | --- |
| ExpressVPN | $6.67 | 15 months | Yes | 30 days | #1 |
| NordVPN | $3.71 | 24 months | No | 30 days | #2 |
| CyberGhost | $2.75 | 36 months | No | 45 days | #3 |
| IPVanish | $3.33 | 12 months | No | 30 days | #4 |
| PrivateVPN | $1.98 | 24 months | Yes | 30 days | #5 |
| Surfshark | $2.21 | 27 months | Yes | 30 days | #6 |
| PIA | $2.69 | 24 months | No | 30 days | #7 |
| Windscribe | $4.08 | 12 months | Yes | 3 days | #8 |
| ProtonVPN | $4.00 | 24 months | No | 30 days | #9 |
| VPNArea | $2.99 | 36 months | No | 30 days | #10 |
| HideMyAss | $2.99 | 36 months | No | 30 days | #11 |
| VPN.ac | $3.75 | 24 months | No | 7 days | #12 |
| FastestVPN | $0.83 | 36 months | No | 15 days | #13 |
| Hide.me | $4.99 | 26 months | Yes | 30 days | #14 |
| VyprVPN | $1.66 | 24 months | No | 30 days | #15 |
A money-back guarantee is similar to a free trial, but you need to pay for the duration of the subscription first and then claim a refund.
Let's take a detailed look at how much our five highest-rated VPNs cost:
ExpressVPN Price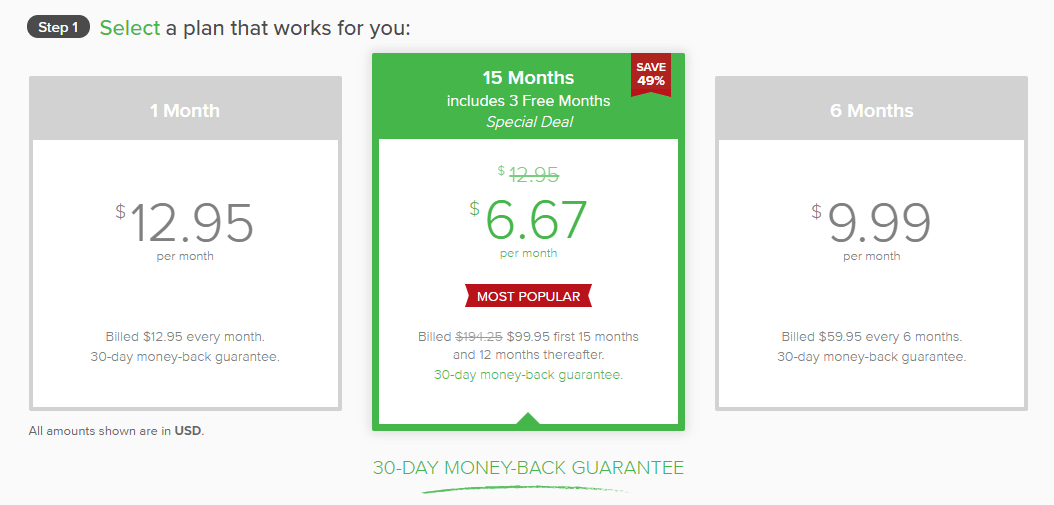 ExpressVPN costs $6.67 per month when you sign up for a 15-month subscription. You'll have to pay the full $99.95 up front to access this price, though. If you'd rather pay every month, it will cost you $12.95.
ExpressVPN accepts payments by credit card, PayPal, Bitcoin, AliPay, and UnionPay, and all payments come with a risk-free 30-day money-back guarantee. There's also a seven-day free trial available to mobile users who download the ExpressVPN app through the Apple App Store or the Google Play Store.
ExpressVPN is one of the more expensive VPNs we review, but it's also the best. For the money, you get unparalleled security and privacy: the company is based in the British Virgin Islands (a privacy haven), it has an independently audited zero-logs policy, and uses industry-leading encryption standards.
It's also an excellent VPN for torrenting and streaming, and is one of the very few services we've seen work reliably in high-censorship countries like China. If you can afford it, you should definitely consider using ExpressVPN.
NordVPN Price

NordVPN costs $3.71 per month if you make a two-year commitment, and $11.95 per month for a monthly subscription. You also have the option of a year-long subscription that costs $59 up front – which works out at $4.92 a month. All subscription plans let you use NordVPN on up to six different devices.
You can pay with a credit or debit card or using cryptocurrency like Bitcoin and Ethereum. NordVPN no longer accepts PayPal, though. All plans have a 30-day money-back guarantee, but there's no free trial offering.
With over 12 million users, NordVPN is one of the most popular VPN services in the world. It has airtight security and an independently audited zero-logs policy that guarantees anonymous browsing and safe torrenting.
NordVPN unblocks various streaming services too, including the US Netflix library, Hulu, BBC iPlayer, and more. It even features an excellent Fire TV Stick app for unrestricted streaming on your TV.
CyberGhost Price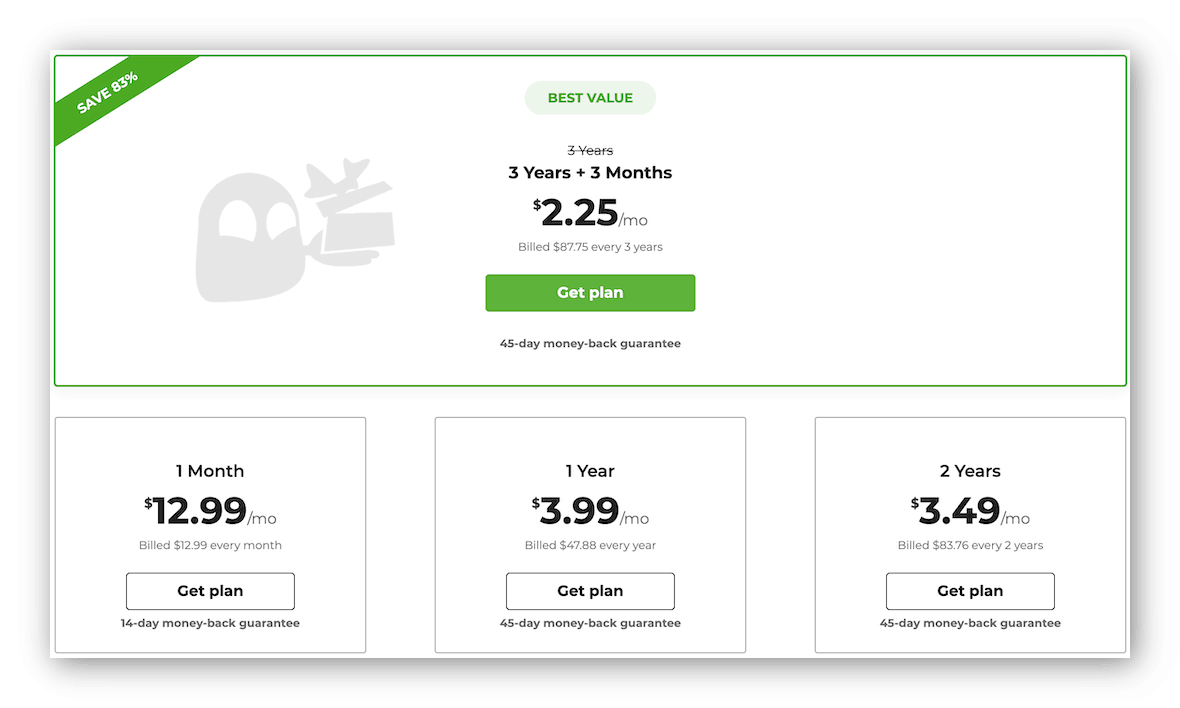 CyberGhost costs as little as $2.75 per month, but only if you're happy to commit to a three-year subscription plan. As a reward, CyberGhost currently gives you an additional three months at no extra cost. It therefore works out as $87.75 for 39 months.
Alternatively, you can pay:
$12.99 for a month
$47.88 for a year ($3.99 per month)
$83.76 for two years ($3.49 per month)
Any plan over a year long comes with a 45-day full refund period, which is the longest we've seen among VPN providers. There's also a one day free trial for desktop users and a seven-day free trial for mobile users – so there's no shortage of ways to test out CyberGhost for free.
CyberGhost is one of the best VPNs around for beginners. It's fast, safe, and has apps that are intuitive and easy to use.
It also works well with popular streaming services like Netflix and Amazon Prime Video, and its unbreakable AES-256 encryption makes it a trusted option for torrenters and P2P users.
IPVanish Price

With a monthly subscription, IPVanish costs $4.99 for the first month and then $9.99 from then on.
You can get a cheaper price if you sign up for a year, but it'll cost you $39.99 up front (equivalent to $3.33 per month). The price then rises to $6.67 per month after the first year.
We'd like to see IPVanish introduce some more anonymous payment methods because currently users are limited to just credit/debit card or PayPal. The company does offer the standard 30-day money-back guarantee, though, and there's a special seven-day free trial on iOS devices.
IPVanish is the best overall VPN service for Kodi and Fire TV Stick users. It uses extremely secure encryption protocols, including OpenVPN and IKEv2, as well as a reliable kill switch, IPv6 leak protection and first-party DNS servers. All of this makes IPVanish an excellent VPN for torrenting and P2P file-sharing. It's also fast, has a huge 1,400+ server network, and reliably unblocks US Netflix.
You won't be able to use IPVanish to bypass censorship in China or stream Disney+ and BBC iPlayer, though.
PrivateVPN Price

PrivateVPN costs a very cheap $1.98 per month if you commit to a 24-month period, or a reasonable $8.49 if you're paying monthly. There's also a three-month plan that works out at $4.99 per month (or $14.97 in total).
PrivateVPN also offers the best and easiest VPN free trial we've seen. Without having to register any personal or payment details, you can get seven days of completely unrestricted use, on any device you want. Read more about PrivateVPN's leading free trial offer here.
The VPN's main strengths are streaming and anonymous torrenting, and it's one of the few VPNs to work consistently in China and other high-censorship regimes.
PrivateVPN is a little let down by its small server network size. With just 150+ servers in 60 countries, the service can get congested at times which causes it to run slowly. But it's one of the cheapest VPNs and we wholeheartedly recommend it.