WireGuard vs OpenVPN: Speed Comparison
WireGuard was designed with speed in mind. OpenVPN was not. As such, WireGuard is considerably faster than OpenVPN.
The WireGuard protocol is optimized to use multiple processor cores at the same time, and it uses faster encryption methods.
WireGuard's own measures suggest their protocol is at least 3 times faster than OpenVPN – with a throughput of 1011Mbps, compared to OpenVPN's 258Mbps.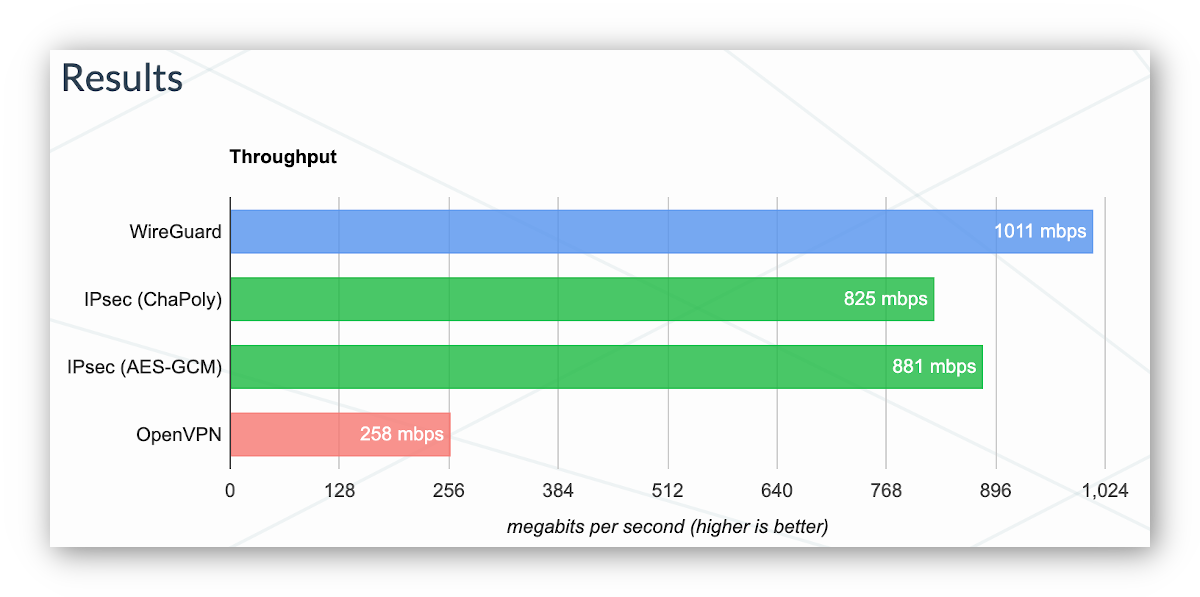 The WireGuard team admits, however, that these results are "old and crusty and not super well conducted."
Therefore, we ran the tests ourselves to see which protocol is faster.
WireGuard Is Faster Than OpenVPN
NordVPN is an excellent VPN service that was one of the first to support both WireGuard and OpenVPN. It's therefore ideal for running a speed test comparison.
We connected to NordVPN servers around the world using either the OpenVPN (UDP) protocol or the NordLynx (WireGuard) protocol, and recorded our connection speeds.
Below is a detailed breakdown of our speed test results comparing OpenVPN and WireGuard across different server locations:
| Server Location | OpenVPN (UDP) | WireGuard (NordLynx) |
| --- | --- | --- |
| US | 142Mbps | 254Mbps (79% faster) |
| UK | 135Mbps | 286Mbps (112% faster) |
| Germany | 131Mbps | 277Mbps (111% faster) |
| Japan | 139Mbps | 269Mbps (94% faster) |
| Australia | 118Mbps | 207Mbps (75% faster) |
Alternatively, here's a visual representation of our OpenVPN versus WireGuard speed findings: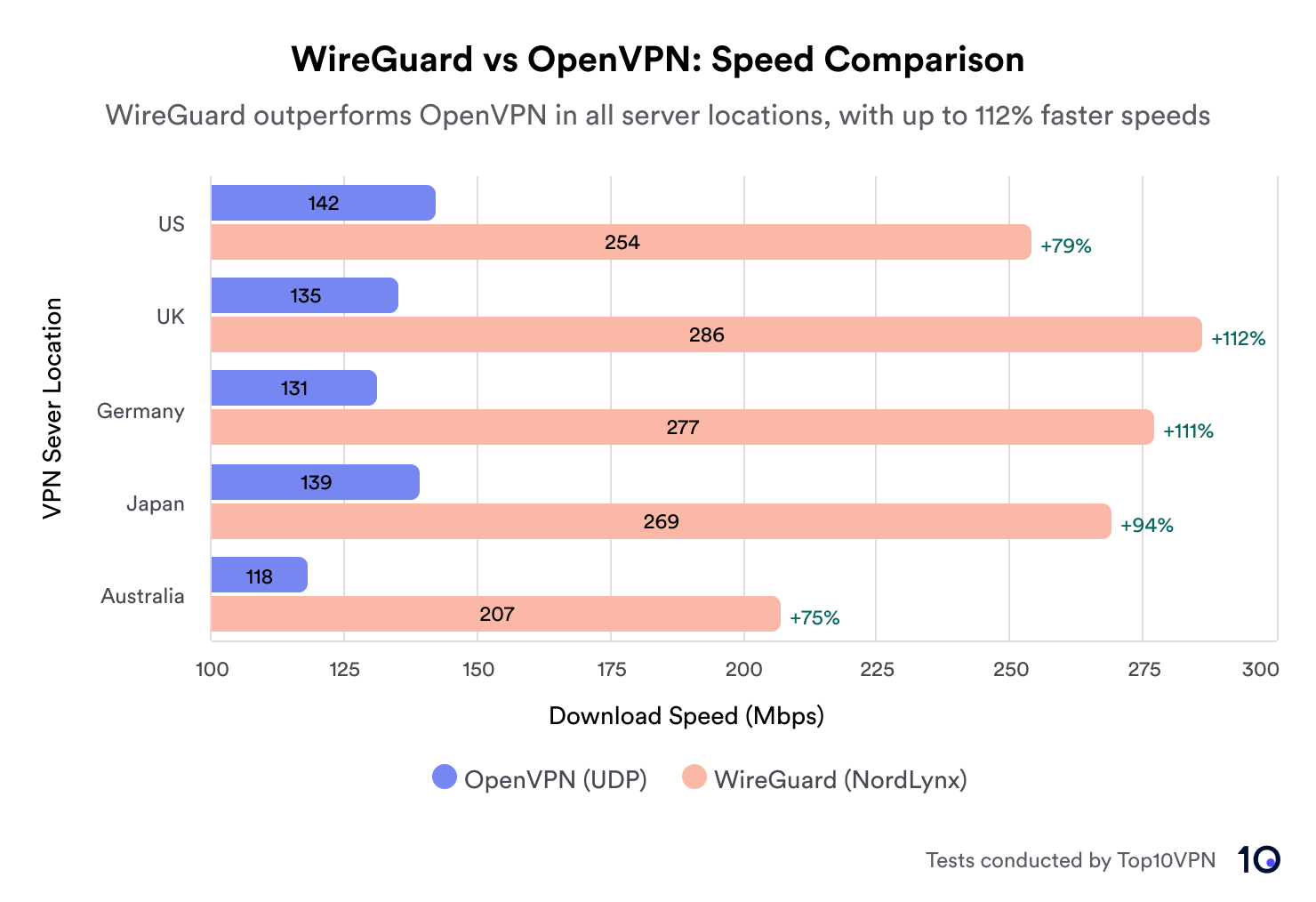 Our results found WireGuard was consistently over 75% quicker than OpenVPN, no matter where in the world we were connecting to.
On shorter-distance connections, the difference was even more pronounced, with WireGuard running at over double the speed of OpenVPN.
These results match what NordVPN themselves saw when comparing NordLynx and OpenVPN. They conducted 8,200 automated tests daily for a month and concluded NordLynx was up to 2 times faster than OpenVPN.
EXPERT ADVICE:
Normally, we conduct all speed tests on a metred 100Mbps connection but for the purpose of this comparison we used a 350Mbps connection. This may be higher than the connection speeds you have on your home network. Consequently, WireGuard's superiority is probably more pronounced here than it would be in everyday usage, because it is better at using all the available bandwidth.
It's certainly the faster protocol, but the differences between WireGuard and OpenVPN may be more marginal on your device than in the data above.
Time to Connect
WireGuard also establishes a connection much quicker than OpenVPN. This is important because if the connection is lost or the VPN tunnel breaks for some reason, you want your VPN to reconnect fast.
An Ars Technica study found that an OpenVPN connection can take as long as 8 seconds to initiate, whereas WireGuard connections take around 100 milliseconds.
SUMMARY:
WireGuard is a much faster protocol than OpenVPN, when correctly integrated into the VPN service. It was designed for that purpose, and it does it well. If you're doing anything speed-sensitive, such as gaming or streaming, use WireGuard.