Perfect Privacy Review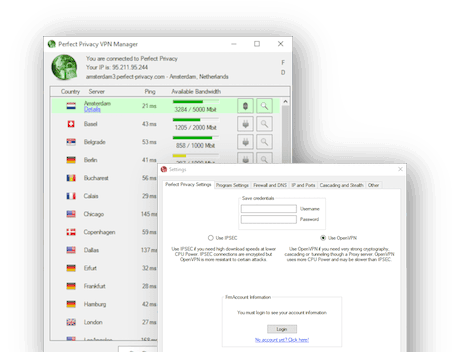 Privacy & Logging Policy
Proven No-Logs VPN based in a secure jurisdiction
Perfect Privacy was created in 2008.
But there's not much information available about who founded the company.
Perfect Privacy does name Vectura Datamanagement Limited Company as the party responsible for processing data on its website and Steffen Wernéry, who is a member of the German Association for Data Protection and Data Security, as the data protection officer.
Vectura Datamanagement Limited Company is Swiss and Wernéry is German.
The website and app are both available in German. A bonus for German speaking users and a clue to it's operation (if not legal jurisdiction).
There's also mention of a Panama-based company Webinvest International SA, which is behind Perfect Privacy's 'technical implementation.'
An email from customer support confirmed that "when it comes to enquiries from authorities regarding the VPN, Panama is normally responsible."
Panama (as well as Switzerland) is considered a privacy haven, removed from international data-sharing nations like the Five-Eyes and the EU.
Logging Policy
Perfect Privacy doesn't log any user information.
That means no browsing history, no IP addresses, no VPN connection timestamps, and no individual bandwidth usage.
This was put to the test in 2016 when Dutch authorities seized two of Perfect Privacy's Rotterdam servers, however, it was confirmed that "no customer information was compromised due to the seizure."
Perfect Privacy goes a step further to show users how safe it is by publishing a regular warrant canary. Here's a recent statement:
"As of Jan 25, 2023, we have received
NO National Security Letters
NO warrants in regards to the Perfect Privacy VPN service
NO domestic or foreign court orders
NO requests to backdoor our service or compromise our customer's privacy in any way
NO gag orders which would prevent us from stating that we have received legal process seeking our users' information"
Speed
Great speeds on nearby servers, much slower when abroad
When connected to servers near our physical location (London, UK), we experienced some impressive speeds, with only a 13% drop in download speed. Strangely, we found the fastest speeds when connecting to the France server with a 12% drop.
Further afield we saw an average decrease of 40% in Germany, which isn't noticeable for most users, but if you have more performance-heavy needs, like for torrenting or gaming, you need better speeds.
Local Speed Test results before using Perfect Privacy:
Download Speed: 96.61Mbps
Upload Speed: 98.17Mbps
Ping: 10ms
Local Speed Test results with Perfect Privacy:
Download Speed: 84.39Mbps
Upload Speed: 82.19Mbps
Ping: 12ms
Download speed loss when Perfect Privacy is running: 13%
Long-Distance Speed Tests
We also tested Perfect Privacy's international speeds by connecting to servers in the US, Singapore, and Australia. These results were really poor.
Here's a full list of average speeds when connecting from London to Perfect Privacy's worldwide servers:
US (New York):

Download: 16Mbps
Upload: 32Mbps
Singapore:

Download: 38Mbps
Upload: 23Mbps
Australia:

Download: 16Mbps
Upload: 8Mbps
Our connection from London to the US East Coast saw a speed loss of over 80%, this is unacceptable.
Unless you just plan on browsing, we don't recommend connecting to Perfect Privacy servers that are far away from your physical location – it'll really slow down your internet speeds.
We also recorded a ping of 195ms in New York and 571ms in Australia which means any users attempting to game online will experience unplayable amounts of lag.
If you can connect to a nearby server then Perfect privacy can provide some first class speeds. But, if you're located outside the server network we recommend an alternative VPN.
Server Locations
Small VPN server network with poor coverage
25 Countries
39 Cities
58+ IP Addresses
Perfect Privacy's poor speeds might be down to its small server network.
There are only 58 individual servers in 25 countries, which means they're likely to get quite congested at peak times.
All of these servers are real, physical objects, though, as Perfect Privacy "renounces" the use of virtual servers.
The servers available are spread quite evenly around Asia-Pacific, Europe, and North America.
However, there are no servers in Africa or South America, which isn't great.
We also noticed some misconfigurations when connecting to the London server, with Perfect Privacy assigning us German and Turkish IPs on multiple occasions.
After three or four connections we were eventually able to connect to a London IP.
Surprisingly, Perfect Privacy allows users to drill down to city level in a handful of countries, including both coasts in the US. This will hopefully provide users with access to even more specific content and faster speeds.
Here's a list of countries that Perfect Privacy offers city-level server locations in:
France (3)
Germany (5)
Netherlands (2)
Sweden (2)
Switzerland (2)
UK (2)
US (5)
Streaming
A poor VPN for streaming
Perfect Privacy clearly favours privacy and security over streaming.
The Android app was incapable of consistently unlocking any streaming services.
The Windows version is even less reliable as the London server bizarrely gave us German and Turkish IP addresses.
Even when successfully connected to a London IP, we encountered further problems with Perfect Privacy's 'TrackStop' filters sometimes blocking our attempts to access BBC iPlayer's homepage on desktop.
We found Netflix to be blocked on all US servers, across all versions of Perfect Privacy. This is true for many similar free services, including VPNBook.
Other major streaming services didn't fare any better, with Perfect privacy failing to unlock Amazon Prime video, Disney + and HBO Max.
If you're looking to stream content, we cannot recommend this VPN.
Torrenting
An excellent torrenting VPN
P2P traffic is permitted on 75% of Perfect Privacy's servers, which is a healthy majority – but it does exclude all five American servers.
American users may find their speeds subpar – the nearest P2P server is in Canada.
Perfect Privacy's torrenting speeds are excellent with an average of 8.3MiB/s. This is a small drop from our no-VPN speed of 10.0 Mib/s.
With a strict no-logs policy and a kill switch, Perfect Privacy will keep you safe while torrenting.
Port Forwarding Tool
Perfect Privacy comes with a port forwarding feature which lets you interact with a greater number of peers in a torrent swarm.
This can significantly increase your P2P speeds.
However, this feature is only available on the Windows app.
There is an option for "general port forwarding" on Mac but it requires a manual installation.
Effective Kill Switch
Perfect Privacy's Windows app comes with a customisable kill switch which will automatically disconnect your device from the internet should your VPN connection fail.
This is essential for torrenters. Your real IP address would be visible to everyone in the torrent swarm if you disconnected from a VPN service that doesn't use a kill switch.
Bypassing Web Censorship
Stealth protocol works - sometimes
Perfect Privacy comes with the right tool for bypassing censorship in China: a stealth protocol.
However, customer support told us that it doesn't always work to get past the Great Firewall.
It's a tricky situation – Chinese censors have gotten very good at spotting and blocking VPN traffic.
In our own testing we haven't been able to bypass the Firewall, although this was made worse by Perfect Privacy's only Tokyo server being under maintenance.
Security & Technical Features
Incredibly secure with a range of unique features
| Protocols | Available in Perfect Privacy |
| --- | --- |
| IKEv2/IPSec | Yes |
| OpenVPN (TCP/UDP) | Yes |
| WireGuard | No |
| Encryption | Available in Perfect Privacy |
| --- | --- |
| AES-128 | No |
| AES-192 | No |
| AES-256 | Yes |
| Blowfish | No |
| ChaCha20 | No |
| Security | Available in Perfect Privacy |
| --- | --- |
| DNS Leak Blocking | Yes |
| First-party DNS | Yes |
| IPv6 Leak Blocking | Yes |
| Supports TCP Port 443 | Yes |
| VPN Kill Switch | Yes |
| WebRTC Leak Blocking | Yes |
| Advanced Features | Available in Perfect Privacy |
| --- | --- |
| Ad Blocker | Yes |
| Dedicated IP | No |
| Double VPN | Yes |
| Smart DNS | No |
| Static IP | No |
| SOCKS | No |
| Split Tunneling | No |
| Tor over VPN Server | Yes |
| Tracker Blocker | No |
Perfect Privacy is one of the most configurable VPNs we've tested; it does the basics very well and provides loads of advanced features for more experienced users.
The apps use two of the most secure VPN protocols available: OpenVPN and IKEv2/IPSec. OpenVPN has a slight edge as it's open-source, but IKEv2/IPSec is still considered very safe.
There's several encryption cipher options available within the app, but we recommend using AES-256 as this is the industry gold standard and practically unbreakable.
It has yet to adopt WireGuard, though.
Perfect Privacy comes with loads of different settings to play with for the ultimate configurability but let's start with the basics.
It has a VPN kill switch. This is an essential feature, which blocks your internet traffic in case of an unexpected VPN disconnection.
What sets Perfect Privacy out from its competitors is the level of customization that comes with its kill switch. Beginners may prefer the 'first stage' which simply deactivates the kill switch every time you disconnect from the VPN server. For veteran users, the second tier will keep the firewall on for as long as the VPN client is running, and the third tier keeps the kill switch active 24/7.
This is a neat feature and lets you further customise Perfect Privacy's service to your needs.
Perfect Privacy also comes with DNS leak protection and supports IPv6 traffic, which is an uncommon but very welcome addition.
Here's the results of our leak test to prove that Perfect Privacy didn't let any of our information leave the VPN tunnel:
Perfect Privacy's flagship AI program 'NeuroRouting' continually analyses your web traffic to work out the fastest possible route to your desired website.
This keeps your web traffic encrypted for as long as possible, with NeuroRouting ensuring that your final destination is at a VPN server as close as possible to the website you're visiting. For longer connections this may even include hopping through multiple VPN servers which NeuroRouting carries out automatically.
A shortened tunnel ensures that there are less access points for attack and the cascading connection makes you harder to track. This feature is not intended to increase your internet speeds.
Although we have no way of testing this feature, it is certainly a welcome bonus which adds an extra layer of security to your web traffic. It isn't helpful in all contexts; we recommend torrenters or those looking to connect to a specific server disable NeuroRouting.
Perfect Privacy allows for port forwarding, which is useful for gaming and torrenting. It's also included in the price of every subscription, rather than a paid extra like with so many other VPNs.
The VPN service also has Multi-Hop VPN, which routes traffic through multiple servers before it reaches the website or service you want to access. This feature can increase privacy, overcome harsh censorship, and prevent some online tracking.
Speaking of tracking, Perfect Privacy also has a feature called TrackStop, which provides protection against tracking cookies, certain types of malware, phishing sites, and more. This feature has to be activated from your account on Perfect Privacy's website, though, not through the app.
We found TrackStop to be a little hit-and-miss in our testing with the 'fake news', social media, and ad filters working as intended, but the child protection filter allowing us to access numerous gambling sites.
The Android app doesn't include the option of multi-hop or kill switch, but the TrackStop filters will be applied once they're activated through the website.
Device & OS Compatibility
Custom VPN apps for most popular devices, except iOS
Apps
Windows

Mac

Android

Linux

Router
Perfect Privacy has custom VPN apps for:
Microsoft Windows
macOS
Android
Linux
You might notice one key player missing, though: iOS.
You can still install the VPN software on iPhone and iPad, but it will require some manual configuration, which complicates things.
On the plus side, you can use Perfect Privacy on as many devices as you'd like – there's unlimited simultaneous connections.
You can also manually configure supported routers – there's detailed setup guides on Perfect Privacy's website – or buy one pre-configured with VPN software.
There are some major differences between the Perfect Privacy apps which we go through in this section. Here's an overview:
Windows
Perfect Privacy's Windows app looks outdated and is difficult to navigate for beginners. Each server is listed next to its available bandwidth and its own individual 'connect' button. This results in a cluttered and overly-technical interface.
Connecting to a new server does not automatically change your connection, instead you must first manually disconnect from your current server. This is frustrating and is not the case with most VPNs.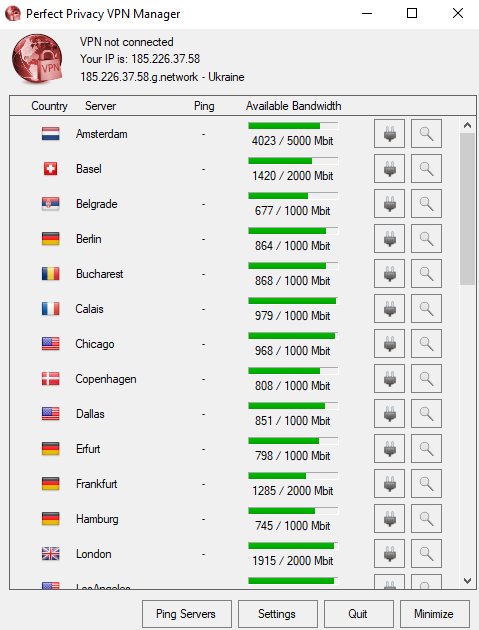 Clicking on 'Settings' opens a separate window detailing all the more advanced options. Upon entering your login credentials, this menu allows you to choose between Ipsec or OpenVPN as your main security protocol.
The 'Program Settings' covers a few basic preferences such as whether the Perfect Privacy app opens upon Windows start-up and in what order you want your server list to appear. This tab also covers the different encryption options for OpenVPN, IPsec does not have any, as well as a toggle for TCP and single server configuration.
The 'Firewall and DNS' tab provides contextual information for each level of Perfect Privacy's kill switch and DNS leak protection.
Similarly, the 'IP and Ports' section is not accessible to beginners, but Perfect Privacy does a decent job of contextualizing each toggle and recommending options appropriate for a first time user.
Multi-hop, stealth VPN and Proxy settings are all grouped together in the penultimate tab. Multi-hop is straightforward to activate and allows you to manually input how many 'hops' you want, up to a maximum of four.
The stealth VPN is simple to use, too, and gives you the option to tunnel your web traffic through SSH, Stunnel, or Obfsproxy.
The proxy settings are difficult to navigate and are in need of a cosmetic upgrade and better accompanying information. Perfect Privacy offers two proxy types: HTTP and SOCKS.
The app operates in the system tray when minimized and there is no way to change this in settings.
The Windows app supports both IPsec and OPenVPN which are great protocols, however, we would like to see Perfect Privacy offer more options to users. WireGuard, for example, would be a welcome addition.
Mac
Perfect Privacy's Mac app is completely different from any of its counterparts. The company logo is changed and a different colour scheme is used.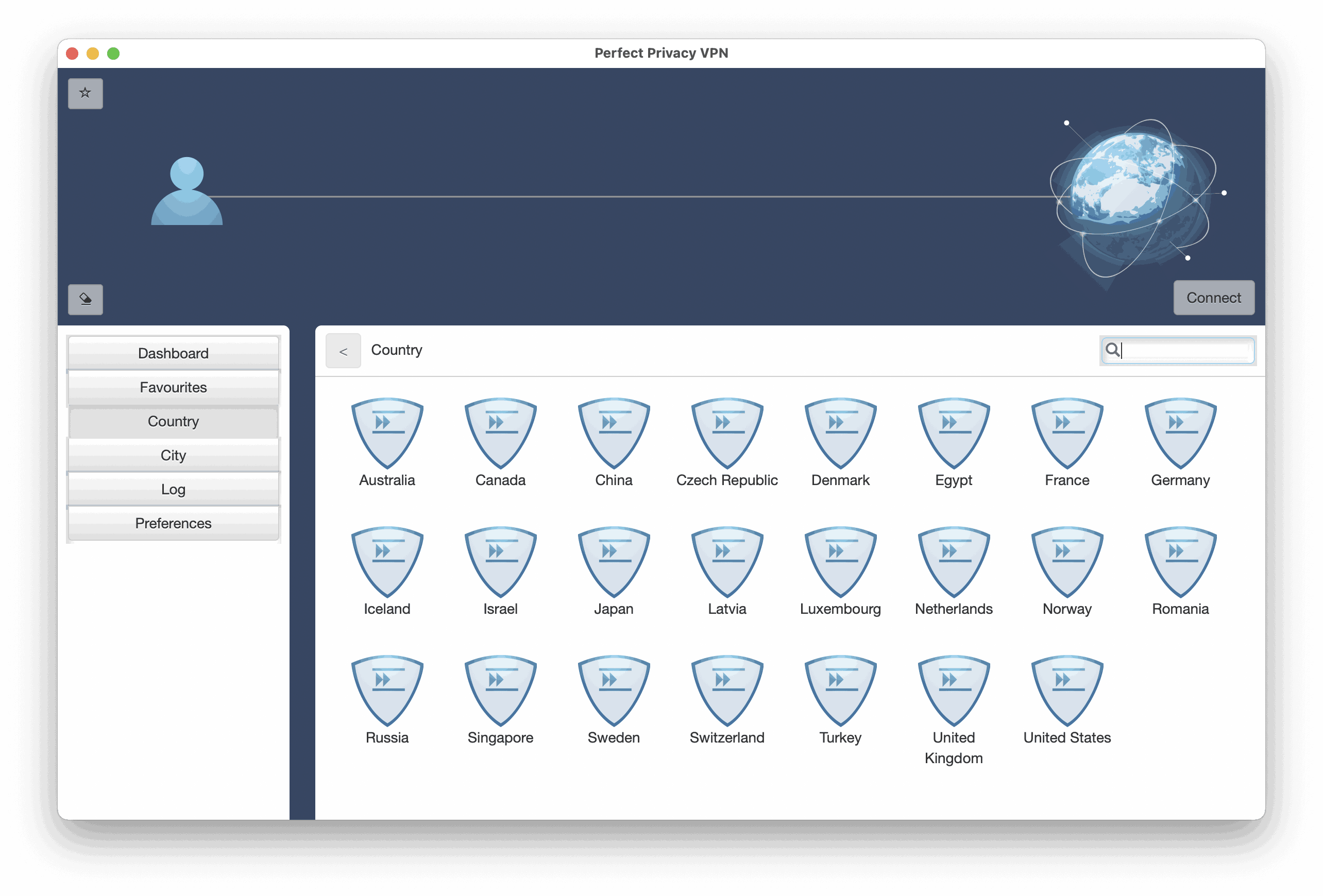 To connect to a server, you first select the desired location and then the 'connect' button in the top right corner of the interface. This is an outdated VPN manager client but we can't fault its simplicity.
The macOS app also features Egypt as a server location despite not appearing on any other other Perfect Privacy app or on its website.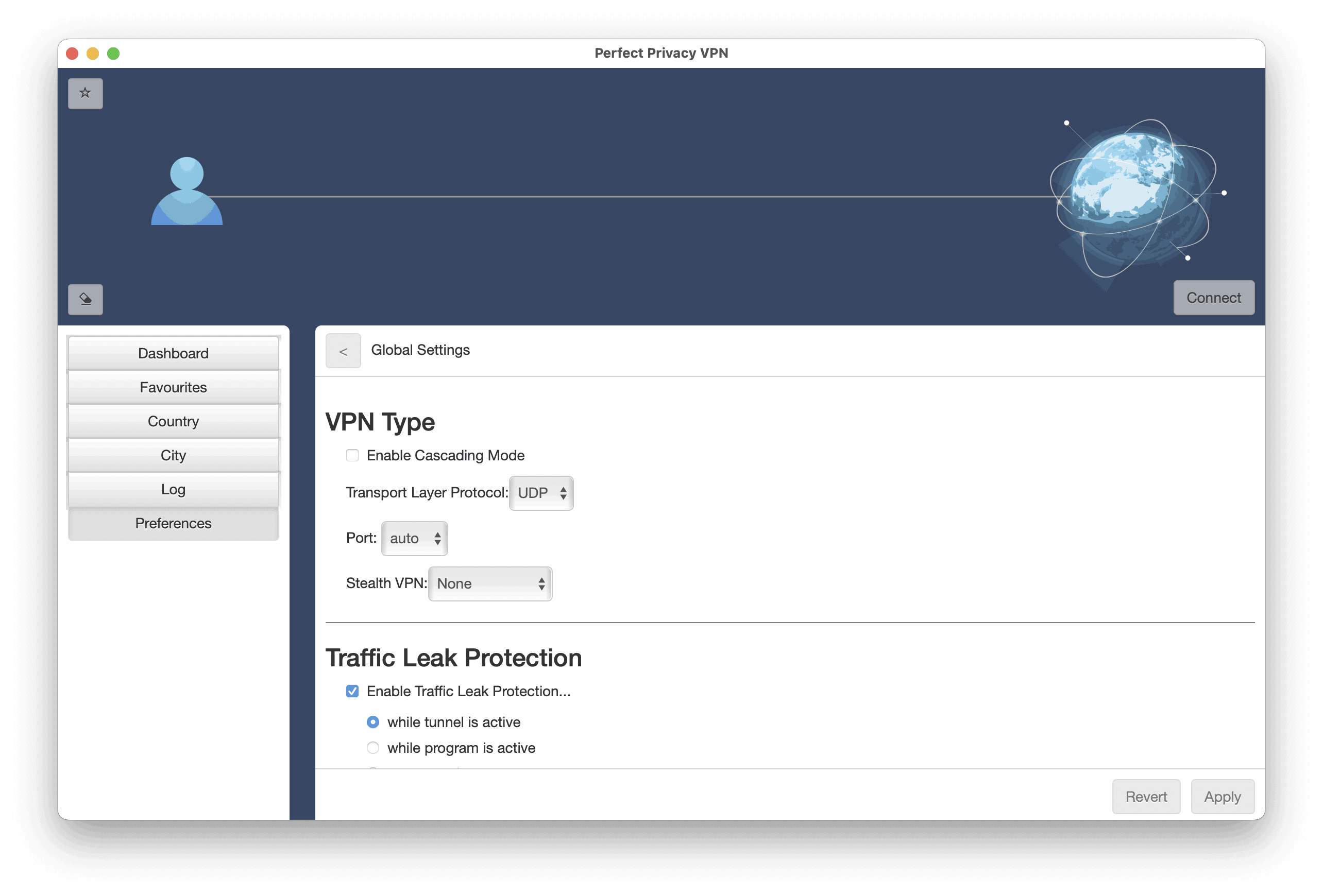 The settings on the Mac are fairly limited. You can enable a cascading connection here but NeuroRouting and TrackStop are restricted to Windows.
You can choose between the two OpenVPN protocols, TCP and UDP, but IPsec is not an option.
There are also options for port forwarding and a stealth protocol as well as traffic leak protection for some added security.
The custom app does not offer proxy connections. You need to install the software 'Secure Pipes' from Perfect Privacy's website to set up HTTP, SOCKS, and Tor proxies. The website does a good job of walking you through this installation but ideally this feature should be integrated within the native app.
Android
Perfect Privacy's Android App lacks the customization and detail of its Windows counterpart but makes up for it with a far nicer layout.
The app is simple and straightforward to use. Unlike on windows, you can automatically connect to a new server without having to first disconnect from your current one.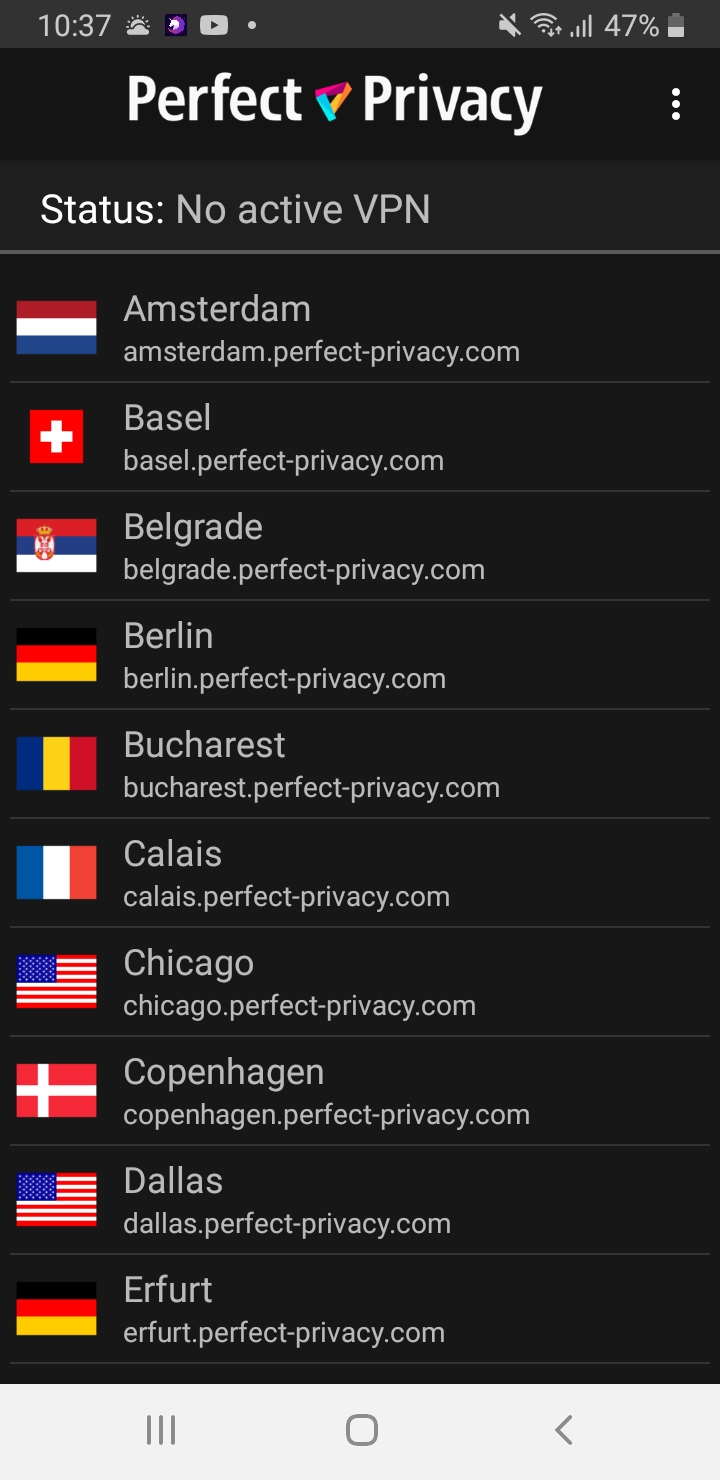 Perfect Privacy's Android settings are sparse. You can select a preferred server to act as your 'Default VPN Profile' and you can toggle whether the VPN is always on or not. There's also an option that disables Android's battery optimization messages.
There's also a 'Get Support' tab which redirects you to Perfect Privacy's website.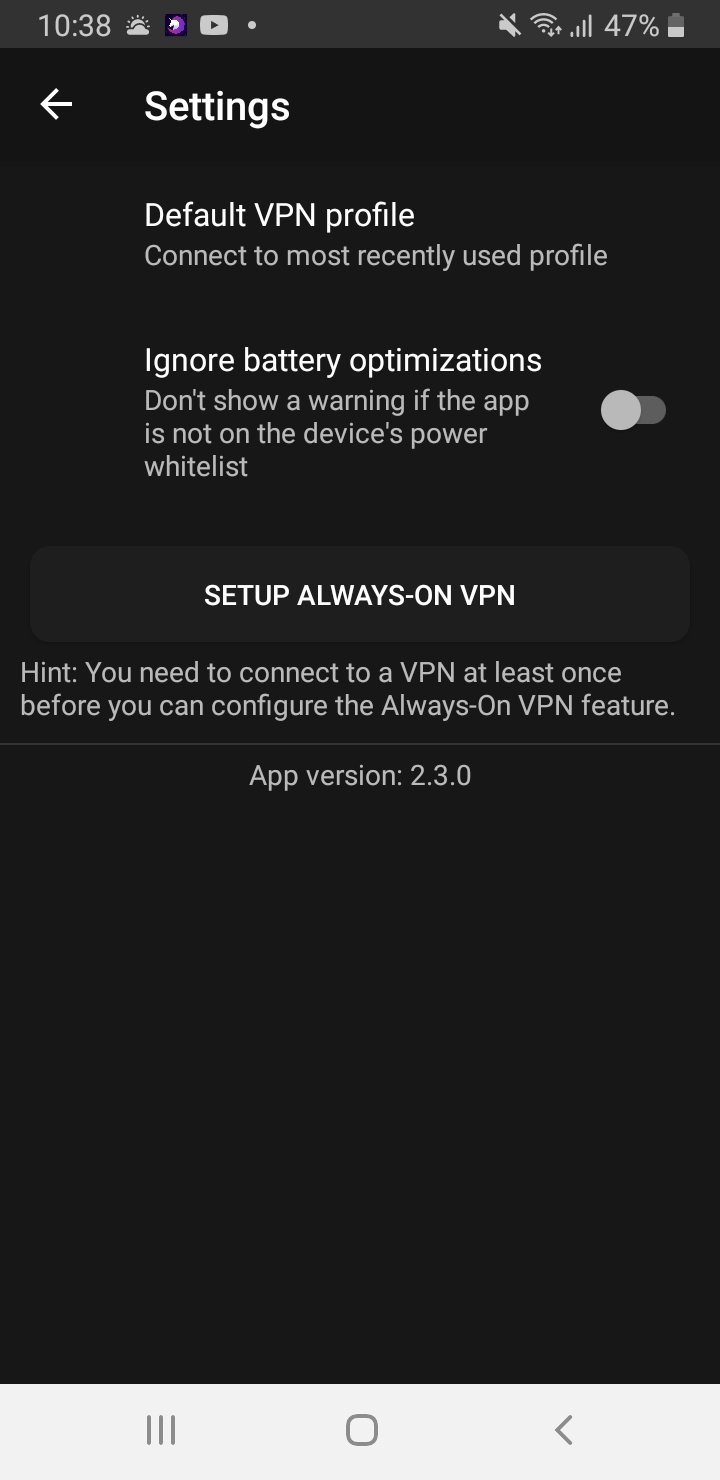 If you want to use a stealth protocol or browse with a kill switch, Perfect Privacy redirects you to OpenVPN and recommends you import its app onto your Android. A feature as essential as a kill switch should be available on the custom app. We would like to see these features streamlined into one app.
Perfect Privacy for iOS
Perfect Privacy does not have a custom app for iOS devices. The 'VPN Apps' section of Perfect Privacy's website provides a series of detailed tutorials explaining how to manually install a VPN profile on iOS.
There's also information about accessing Perfect Privacy's stealth protocol and establishing a proxy connection on iOS.
As helpful as these tutorials are, they're no substitute for providing an actual native app.
We contacted Perfect Privacy's support team and were told that Apple did not permit the TrackStop feature. Perfect Privacy says this is why it is no longer working on a custom app for iOS.
Games Consoles & Streaming Devices
Apple TV

Amazon Fire TV

Chromecast

Nintendo

PlayStation

Roku

Xbox
Perfect Privacy is not a great choice for gamers and streamers. It will keep your web traffic secure with its kill switch and no DNS or IP leaks, however, it has far too much latency for gaming.
Games consoles like PS4, Xbox or Nintendo Switch did not permit native VPN apps so you'll need to install Perfect Privacy on your router. Streaming devices like Apple TV and Roku require the same remedy.
Fortunately, Perfect Privacy supports OpenWrt, Tomato, Asus, dd-wrt, and pfSense routers. Perfect Privacy's site has detailed tutorials for installation on all of these devices.
Amazon Fire TV
Perfect Privacy's website claims that they have an Amazon Fire TV app but we couldn't find it.
We contacted the support team and they told us that they are working to resolve this issue.
Ease of Use
Not very beginner-friendly
How to Install & Set Up Perfect Privacy
It doesn't help that Perfect Privacy's apps look very outdated.
Once you familiarise yourself with them, though, they're fairly easy to use.
Rather than having a big central connect button like most VPN apps do, Perfect Privacy's apps have individual connect buttons for each server, and you have to disconnect manually from one in order to connect to another. It feels pretty clunky.
The macOS app is the exception to this with a singular 'connect' button, however, it still looks archaic and is in desperate need of an overhaul.
The desktop app relegates itself to the system tray when minimized which can be frustrating when trying to access the client.
Perhaps the biggest issue is the lack of custom app for iOS devices. If you're a beginner and an iPhone user, it's best to try one of our best VPNs for iPhone instead.
Customer Support
No live chat support, quick email replies
| Customer Support | Available in Perfect Privacy |
| --- | --- |
| 24/7 Live Chat Support | No |
| 24/7 Email Support | No |
| Chatbot | No |
| Live Chat Support | No |
| Email | Yes |
| Email Support via Online Form | No |
| Tutorial Videos | No |
| Online Resources | Yes |
Perfect Privacy isn't as polished as the top VPNs we've tested, but it's still fairly good.
Admittedly, there's no live chat support so you won't be able to get instant answers to your questions.
There is email support – you have to fill in a form – and the replies are quite regular. It took half a day to receive a response to our first ticket but our second one received a reply within minutes.
The support agents were excellent, providing accurate answers which fully addressed our queries.
Perfect Privacy also has loads of online resources, including in-depth FAQs, useful setup guides, and a community forum.
Price & Value
Expensive and with barely any discounts
At $12.99 (or €12.99) a month it's not cheap. The one year deal is still very expensive at $9.99 (or €9.99) per month. You might want to use a VPN or Proxy to buy Perfect Privacy for a slightly lower price, depending on the exchange rate.
The biggest discount you'll get is on the two-year plan. But at just 31% off ($8.95 per month, paid as $214.95 up-front) it's nothing in comparison to the massive savings offered by other top VPN providers.
Payment & Refund Options
Alipay

American Express

Bitcoin

Bitcoin Cash

Mastercard

PayPal

UnionPay

Visa
Perfect Privacy accepts loads of payment methods, including:
Debit and credit card
PayPal
Bitcoin & Bitcoin Cash
Alipay
UnionPay
A variety of other international methods via Paymentwall
There's also a seven-day money-back guarantee "if you are not 100% satisfied" with the service.
The Terms of Service does encourage users experiencing technical difficulties to get in touch with customer support in order to troubleshoot the issue before requesting a refund.
The Bottom Line
Great for privacy enthusiasts, but limited outside of that
It depends. If you're an experienced techie who's looking for top-notch privacy and security Perfect Privacy is a great choice.
But if you're a beginner or looking to access popular streaming services like Netflix, Perfect Privacy isn't for you. There are far cheaper and more reliable options for that purpose.
Alternatives to Perfect Privacy
IPVanish
Like Perfect Privacy, IPVanish has plenty of configurable options but it's much cheaper. It also works with Netflix, and provides really fast speeds. Read IPVanish review
CyberGhost
Need simple apps and consistent streaming access? CyberGhost is the ideal choice. It doesn't compromise on privacy either. Read CyberGhost review
---
User Feedback for Perfect Privacy
Questions & User Reviews are shown in the original language of submission.