Disclosure: Top10VPN is editorially independent. We may earn commissions if you buy a VPN through links on our site.
KeepSolid VPN Unlimited Review
Our Verdict
KeepSolid's VPN Unlimited is an above-average, beginner-friendly VPN. It's secure, provides quick connection speeds, and even bypasses censorship in China. It works with Netflix and it's easy to use too, which means it's a great option for VPN newbies.
Founded in 2013, Keepsolid VPN Unlimited is a good VPN service that offers quick speeds across its server network. It also provides its users with dedicated servers for streaming and P2P.
It's a relatively basic VPN aimed at beginners, so don't expect advanced features and functionalities that only the very best VPN services come with. However, VPN Unlimited is secure enough, with AES-256 encryption and an effective VPN kill switch.
Keepsolid VPN Unlimited's strongest area is unblocking streaming services. In our latest tests, we found that the VPN worked with US Netflix, BBC iPlayer, Hulu, HBO Max, and more.
But, when it comes to your online privacy, KeepSolid VPN Unlimited is not as good as it may initially seem. In fact, we can't recommend it for anonymity due to its disappointing logging policy and its US jurisdiction.
Overall, Keepsolid VPN Unlimited is an above-average VPN that mainly suits beginners who want unblock streaming content. There are better and more well-rounded VPN options available, though.
Before we dive into our Keepsolid VPN UNlimited June review, lets first take a look at the VPN's main advantages and disadvantages:
KeepSolid VPN Unlimited Pros & Cons
Pros
Fast speeds

Easy access to streaming sites through dedicated servers

Optimized servers for P2P torrenting

Easy set-up on all major platforms

Connect securely to 54 countries

Lifetime subscription available
Cons
Collects too much information

Based in New York (US jurisdiction)

Short money-back guarantee
KeepSolid VPN Unlimited Key Data
| | |
| --- | --- |
| Data Cap | Unlimited |
| Speed | 81Mbps |
| Logging Policy | Some User Logs |
| Data Leaks | No |
| Jurisdiction | US (Five-Eyes Member) |
| Servers | 500 |
| IP Addresses | 500+ |
| Countries | 56 |
| US Netflix | Yes |
| Torrenting | Restricted |
| Works in China | Yes |
| Support | Live Chat |
| Cheapest Price | $99.99 for a lifetime |
| Official Website | Vpnunlimitedapp.com |
VPN Unlimited Category Ratings
We test and review every VPN in eight key areas. Here's how VPN Unlimited performs in each category:
Privacy & Logging Policy: 7.1/10
Encryption & Security: 7.7/10
Speed & Reliability: 6.4/10
Streaming & Torrenting: 7.9/10
Bypassing Censorship: 9.4/10
Ease of Use: 8.2/10
Customer Support: 9.0/10
Price & Value for Money: 8.0/10
To learn more about our methodology, read our full VPN testing process.
Does KeepSolid VPN keep logs?
About & Logging
Privacy & Logging Policy Rating: 7.1/10
VPN Unlimited is owned and run by KeepSolid Inc. It was founded in 2013 by Oleg Bocharnikov and Vasiliy Ivanov, who set up what was then-called Simplex Solutions, a business in Odessa, Ukraine. 
KeepSolid Inc. is now incorporated in the US and its HQ is in New York.
This isn't a good thing. Being based in the US means that US law enforcement agencies can force the company to log and hand over customer data.
This threat is real: in its privacy policy, VPN Unlimited states that it will hand over personal private data in order to comply with laws that require such disclosure. 
We're comforted by VPN Unlimited's policy to only store personally-identifiable information (your IP address) for the duration of your session. But it is worrying that data can be handed over without your consent. VPN Unlimited is not a VPN for total anonymity. 
Logging Policy
KeepSolid VPN Unlimited's logging policy is disappointing. It is private enough for most, but let's look at what it does collect:
Original IP address

Browser type

Operating system

Device ID

Time zone

Connection type

WiFi network name
Yikes. That's a lot of information. However, it is not as bad as it sounds as this data is deleted after each VPN session. 
What it does not delete is:
Total amount of data used for each session

Session dates

Number of devices using KeepSolid products

Version of the app used
This is much less an issue for privacy, but we don't like that the policy doesn't state how long this information is stored for.
Is KeepSolid VPN Unlimited fast enough?
Speed & Reliability
Speed & Reliability Rating: 6.4/10
VPN Unlimited is actually quite limited when it comes to speed.
Local Speed Test Results
Before using KeepSolid VPN Unlimited:
97

97

3
When connected to KeepSolid VPN Unlimited:
81

64

19
Download speed without VPN Unlimited: 97Mbps
Download speed with VPN Unlimited: 81Mbps
Our download speed loss when VPN Unlimited is running: 17%
KeepSolid VPN Unlimited is particularly poor if you connect long-distance to countries in Asia or North and South America (we test from the UK).
The USA delivered very slow speeds, Singapore was better but still hit-and-miss, and if you're in Australia, you're out of luck – VPN Unlimited doesn't have a single server there.
At least local connections were better, with speeds often above average. In recent days, VPN Unlimited has upgraded a number of its European servers to offer 10Gbit/s connection speeds, available on:
Czech Republic
Denmark
Italy
Poland
Spain
Sweden
Switzerland
This is a positive development but we'd like to see them upgrade the overall server network.
How about ping/latency?
Well, that's way too high too. On local UK connections we recorded 19ms, which is simply too high for anyone serious about gaming.
For gamers and torrenters out there, you should find another VPN service due to the sluggish latency/ping and plenty of P2P restrictions. If you're a gamer, you should look for ping times as low as 1ms to prevent lag. There are snappier alternatives out there for this purpose, including ExpressVPN and IPVanish, while you can read our review of the excellent PrivateVPN here.
We put all of the VPNs on the site through a rigorous scientific speed testing process, determining the average speeds from multiple locations across the globe. These are the average speeds we saw when connecting from the UK to the following locations:
Germany:

73Mbps

(downloads) &

13Mbps

(uploads)

USA: 22Mbps (downloads) & 13Mbps (uploads)
Singapore: 42Mbps (downloads) & 6Mbps (uploads)
Good-sized server network
Server Locations
VPN Unlimited offers a decent-sized network. It covers the most popular locations across 80 locations.
But if you need access to servers in less well-covered places there are better VPN services out there to do the job. You should take a look at our review of VPNArea if server locations are what matter most to you.
In terms of individual servers, VPN Unlimited has a fairly small number – just over 500.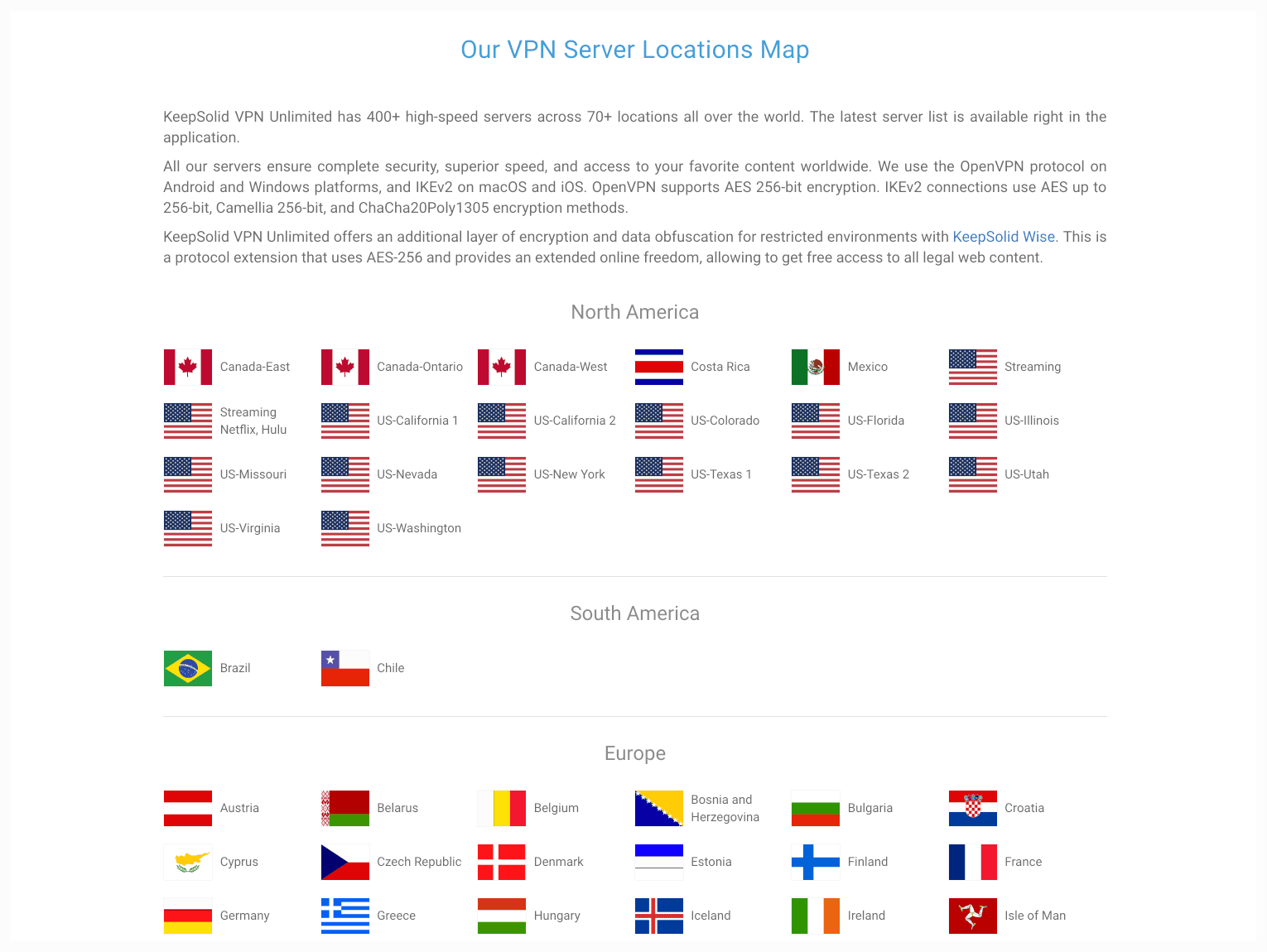 Customer support refused to tell us the number of IP addresses they offer, saying that it's against their policy. This leads us to suspect that there aren't many more than 500.
This is disappointing when compared to the 50,000+ IPs offered by some of its rival services (VyprVPN, for example, has over 200,000). It's likely that the servers will clog up pretty quickly, resulting in poor performance. Not ideal. 
When it comes to the US, the spread is good. 13 different US cities are distributed from East (Florida) to West coast (California), and the South (Texas), too.
Likewise, VPN Unlimited has good European options, with city-level options in UK, France and Germany.
Asia coverage is decent, with VPN Unlimited servers in Hong Kong, Singapore and South Korea and it was pleasing to see two servers in India and one bridging the continental divide in Turkey. Yet South America is limited to Brazil and Chile only, and the sole option in Africa is South Africa.
Quick and easy access to Netflix and BBC iPlayer
Streaming & Torrenting
Streaming & Torrenting Rating: 7.9/10
VPN Unlimited is a good choice for unblocking video streaming platforms around the world.
Due to its optimized servers, VPN Unlimited provides quick, hassle-free access to Netflix and BBC iPlayer. VPN Unlimited also has dedicated streaming servers for:
ESPN+

HBO Now

Hotstar

Hulu

Popcornflix

Rai.tv

Sony Crackle
We've had no problems unblocking online streaming servers with VPN Unlimited – it's extremely consistent, one of the most reliable VPNs on the market.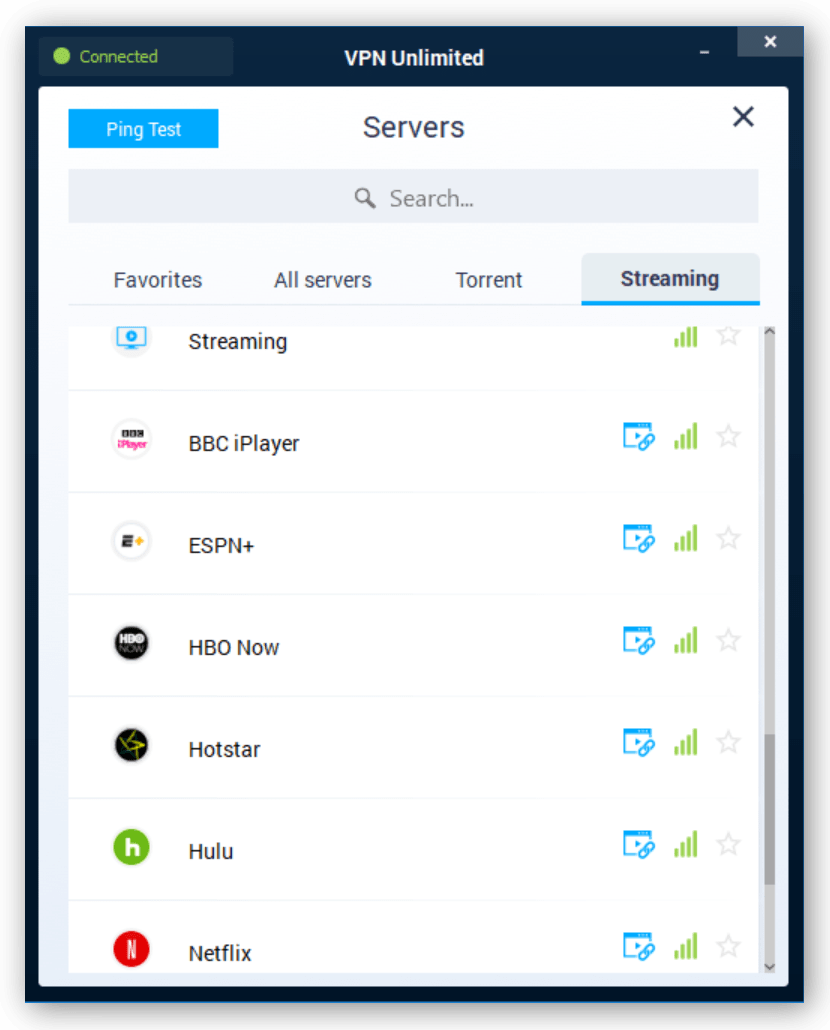 Torrenting
VPN Unlimited's streaming game is strong, but we can't say the same for torrenting.
There are only five VPN Unlimited servers permitted for torrenting. These include:
Ontario, Toronto (Canada)
Paris (France)
Bissen (Luxembourg)
Bucharest (Romania)
California (US)
If VPN Unlimited allows torrenting, it seems to do so reluctantly. In its FAQ VPN Unlimited says: "The primary use of KeepSolid VPN Unlimited is not to download torrents, but to offer online security.'
If P2P is what matters most to you then you should read our review of IPVanish.
Reliable option for bypassing censorship in China
Censorship
Bypassing Censorship Rating: 9.4/10
Even despite China's recent VPN crackdowns, VPN Unlimited is still a reliable option for people wishing to connect out from that country. We've tested it on our own China servers and can report consistent success bypassing the firewall.
VPN Unlimited's KeepSolid Wise protocol enables users from China to overcome the Great Firewall by making their VPN traffic appear as standard HTTPS web traffic. This makes it extremely difficult to detect and block, therefore allowing the majority of people to beat the government censors.
It should be noted that Chinese users only currently have access to five VPN nearby free speech countries, but this does include Singapore which is the best option if you're looking for good speeds.
Due to this proprietary protocol, VPN Unlimited is also a fantastic choice for people in other high-censorship countries such as the UAE, Turkey and Iran. A good-sized global network is helpful here, as it means you'll never be too far from a server in a free speech country.
Good range of custom apps
Platforms & Devices
Apps
Windows
Mac
iOS
Android
Linux
Router
VPN Unlimited is available on a good range of custom apps for the usual platforms, including:
Microsoft Windows

MacOS

Linux

iOS

Android
You can also buy pre-configured WiFi routers with the software already installed, saving you having to setup multiple apps on individual devices.
VPN Unlimited additionally provides a range of manual set-up guides for devices lacking dedicated apps such as Apple TV, Amazon Fire TV, and Chromecast. There are also step-by-step instructions on how to manually configure your existing router to support the software, which are very user-friendly and include lots of helpful screenshots.
Games Consoles & Streaming Devices
AppleTV
Amazon Fire TV
Chromecast
Nintendo
PlayStation
Roku
Xbox
VPN Unlimited can be used on a number of games consoles, including Xbox, Nintendo and PlayStation, as well as streaming devices by connecting them to a configured router or sharing the VPN connection with another device already running the software – a laptop or smartphone.
This includes:
Apple TV

Roku

Amazon Fire TV Stick

Google Chromecast
We would like to see some native apps for these in the future – apps designed for specific consoles and streaming devices – especially as it is offered by rivals, including Windscribe (a VPN that we reviewed here). 
Still, VPN Unlimited is generous enough to allow up to five devices connected to the one VPN subscription simultaneously. That comes in handy.
Also handy are the extensive manual set-up guides for plenty of these devices on the support section of VPN Unlimited's website.
It's rare for a provider to offer so many manual workarounds for such a large range of streaming devices, and we love that VPN Unlimited has gone to so much effort to make the process as simple as possible. VPN beginners rejoice!
Browser Extensions
Chrome
Firefox
VPN Unlimited offers proxy extensions for Google Chrome and Mozilla Firefox browsers.
Be aware that proxies are not VPNs – they're unencrypted connections. But they're helpful for lightweight browsing while hiding your IP and changing the country you appear to be connecting from.
VPN Unlimited's browser extensions are incredibly easy to download and use, available within a matter of seconds if you already have the main program installed.
They also include the WebRTC Leak Blocker. This is a tool that helps to prevent a browser issue that could potentially expose your true IP address. That's all well and good, but we think that should be standard anyway.
Strong security and exclusive encryption protocol
Encryption & Security
Protocols

IKEv2/IPSec

L2TP/IPSec

OpenVPN (TCP/UDP)

Proprietary

PPTP

Encryption

AES-256

Security

DNS Leak Blocking

Supports TCP Port 443

VPN Kill Switch

Advanced features
Encryption & Security Rating: 7.7/10
VPN Unlimited has some solid security features. If you're an experienced VPN user, you may find advanced options lacking.
With VPN Unlimited, you can choose between these protocols:
OpenVPN

IKEv2

KeepSolid Wise TCP/UDP

TLS Encryption

IPSec
KeepSolid Wise TCP/UDP is a proprietary protocol, which is to say it's an exclusive, first-party protocol. It makes use of the TCP 443 port used by secure web traffic (HTTPS).
Tech jargon aside, this means it's far more difficult for ISPs and government censors to detect that you're using a VPN, as your traffic simply appears as that of a normal browser.
However, which protocols you can select are dependent upon the device that you're using. For example, Windows mobile is limited to L2TP encryption. Take a look at what's available on your device: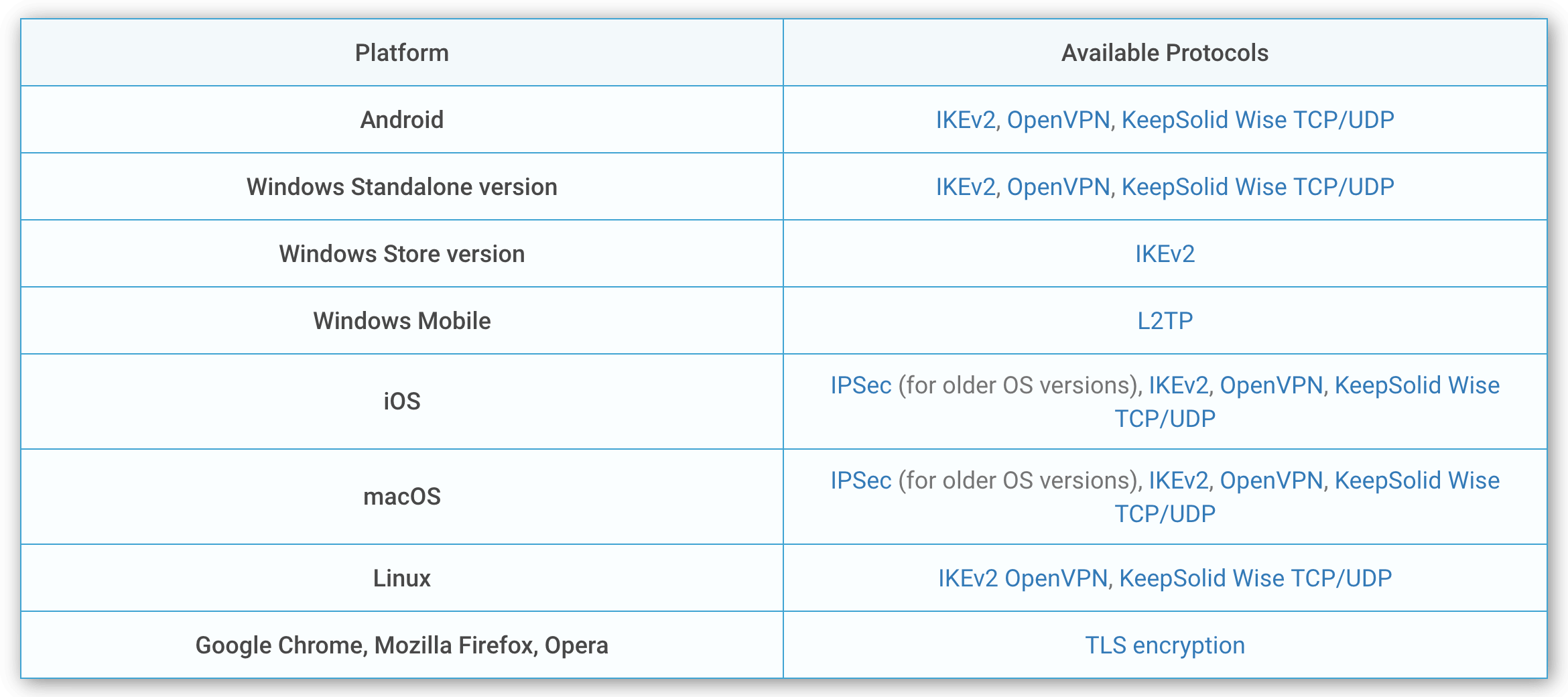 We always recommend selecting OpenVPN where possible. It offers the best balance between performance and privacy.
VPN Unlimited's encryption is also strong. AES-256, as it's called, is a top cipher said to be unbreakable. The US federal government uses it, so you can trust it to be robust.
VPN Unlimited has also introduced the essential VPN kill switch function, which means that if your connection drops for any reason, it will block online traffic, preventing your true IP address from being exposed. 
However, VPN Unlimited could do better by providing its own DNS servers. It currently uses Google Public DNS, which are still considered to provide a very high level of performance and security, though.
VPN Unlimited does have a nice DNS Firewall feature that protects you from malicious websites, phishing web pages, malware infections, and even pop-up ads. You can activate this by going to the KeepSolid user page, logging in with your account, and selecting the types of websites that you wan't to block. Or you can create a custom blacklist.
We also did not detect any DNS leaks when using VPN Unlimited, as you can see:
Nicely designed apps
Ease of Use
How to Install & Set Up KeepSolid VPN Unlimited
VPN Unlimited's custom apps are sleek and user-friendly. 
The main screen of the desktop app displays your connection status, chosen server location and a button to have a look at your new IP address on a pretty (if somewhat redundant) world map.
It would be better to see it a little more streamlined to fit in a smaller window, but you can do much worse than this from a VPN (trust us – we've seen it). 
If you're looking to customize, advanced settings are located behind the burger menu (the three horizontal lines) and are quite neatly laid out with some helpful integrated support regarding the different VPN protocols.
You can turn on the kill switch function in the settings menu (and we recommend you do), but DNS leak protection is hidden within the protocols menu, which is a little confusing. 
We love that you can search for a server rather than having to scroll and scroll through a long list, plus there's a dedicated tab for streaming-optimized servers. Want to watch Netflix? VPN Unlimited makes it easy.
Also, VPN Unlimited servers that allow torrenting are clearly marked to make them easy to find.
High standard of customer support
Customer Support
| | |
| --- | --- |
| Live chat Support | Yes |
| Online Resources | Yes |
Customer Support Rating: 9.0/10
VPN Unlimited offers a high standard of customer support, and has recently introduced a live chat feature.
When we put it to the test, the support agents were helpful, friendly, and quick to respond. We can't ask for much more than that from a VPN service.
Agents often referred us to FAQ pages to find our answer, which is annoying, but they were happy to provide more details if asked.
Unfortunately, this live chat isn't available 24/7, a service most top–tier providers offer. You can email the VPN Unlimited support team around the clock, though. Here the response time was very quick – we often received answers within an hour.
Should you not want to contact the support directly, you can find solutions in VPN Unlimited's online resources section.
This is well organized and comprehensive, and the FAQ search feature enables you to look up keywords rather than scrolling through a long list of answers.
We all know the pain of scrolling through an FAQ for an answer that often isn't there.
As well as a fantastic selection of set-up manuals, there was good material on more general subjects such as online security, bypassing censorship, and data privacy, which is always useful.
Includes lifetime subscription
Pricing
Price & Value for Money Rating: 8.0/10
VPN Unlimited offers a range of pricing plans. They all have the same features but the longer you subscribe, the less you pay each month.
VPN Unlimited has also recently introduced another set of pricing plans that allow up to 10 simultaneous connections, rather than its standard five.
The most expensive option is the single month package at $9.99.
This is reduced by 50% to $4.99 by signing up to the one year plan, billed $59.99 annually.
VPN Unlimited is also one of the only providers we've seen that offers a lifetime subscription. It's $199.99, which is fantastic value for money if you plan on using a VPN for the foreseeable future.
All plans have 7-day money-back guarantee
VPN Unlimited accepts payment via these options:
Major credit and debit cards

PayPal

Bitcoin
Unfortunately, unlike most other VPN providers, you're unable to pay using any international payment methods, such as Alipay or UnionPay. 
If you're looking for a VPN service in which you have more payment options, take a look at our SurfShark review.
Do We Recommend KeepSolid VPN Unlimited?
The Bottom Line
KeepSolid VPN Unlimited is a quick VPN with dedicated servers for streaming and torrenting. It's easy to set up and use so we're looking at a VPN with potential for casual users or newcomers to VPNs.
Beyond that, we can't recommend KeepSolid VPN Unlimited for strict anonymity or privacy due to its US jurisdiction, which is a privacy threat.
This VPN uses an exclusive encryption protocol, which is interesting to see, and it's not too expensive when you consider its three-year plan or even lifetime plan. Though it performs well, there are more well-rounded VPN options out there.
Alternatives to KeepSolid VPN Unlimited
Private Internet Access
Private Internet Access offers a guarantee of privacy and so it makes for a viable alternative. You can also get it cheaper on its best price deal. There's no reason not to consider it. Read Private Internet Access review
Surfshark
You might also want to consider Surfshark as a more user-friendly VPN. It's got all the speed you can dream off, an abundance of extra features, and it comes with one of the most affordable price tags around. Read Surfshark review
---
User Feedback for KeepSolid VPN Unlimited