If you want quick, easy access to your VPN, adding a browser extension in Firefox is the perfect solution, especially for more browser-focused users. Thankfully this can be done in a matter of moments provided you already have the main VPN app installed, so you can be browsing securely in no time at all. If you haven't chosen a VPN provider yet, why not check out our top VPN picks for Firefox.
What You'll Need
In order to create your Firefox VPN connection, you'll need:
The most up-to-date version of Firefox. This is important; Firefox has changed from the old Add-Ons system to a new library of Extensions, so older versions may not work as described here.
The app for your desktop computer. Many browser extensions need the corresponding desktop application to be installed, or they won't work.
An account with a VPN provider. We recommend that you sign up for your account before you begin. Remember to check your email and click the confirmation link to verify your account.
We're going to use ExpressVPN to demonstrate how to add an extension, but the process will be very similar for most other popular providers. If you don't already have a VPN account, ExpressVPN offers a free 7 day trial if you use the link within the extension to sign up. We'll point it out when we get to that step.
How to Install a VPN Extension in Firefox
Open up Firefox, then proceed as follows:
Visit the ExpressVPN website and locate the official ExpressVPN Firefox extension.
Click Quick Install.
You'll see a message at the top of the window asking you to confirm the installation. Click the blue Allow button.
Review the permissions that are required for the extension, and click Add.
A small ExpressVPN logo appears at the far top-right of the Firefox window, next to the 'burger' icon you clicked in step 1.
Click the ExpressVPN icon, then click the round button to connect.
If you see a different interface, there are two possibilities: you've downloaded the wrong extension, or you've not installed the desktop software correctly.
We'll explain what to do in the next section.
Troubleshooting Your VPN Connection
If you have problems connecting to your VPN, you should get your provider's desktop application up and running first. If that won't connect, reach out to their support department for further assistance.
Although we can't cover every other problem here, there are two common problems you may run into with browser extensions. It's worth reviewing these, even if you aren't using ExpressVPN, because the same issues apply to many mainstream providers.
Did You Download a Fake Extension?
Unfortunately, the Mozilla store – and the wider internet – contain 'fake' extensions that could present a privacy or spam risk.
If you're trying to use ExpressVPN, and you're seeing something strange, you might have accidentally downloaded of these bogus extensions. You'll know you have the wrong one if you see an unfamiliar window once it's installed; something like this: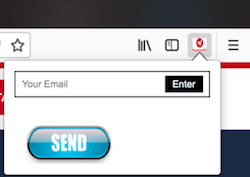 Remember: ExpressVPN doesn't have a space between the words 'Express' and 'VPN', so if you search with a space, you may turn up something fake.
Don't search: be safe:
Get the extension directly from the provider's website as we describe above. Don't install an unknown extension from the store.
Check that the website you're downloading from is on the correct domain; you should see a green padlock that shows it's secure.
Check the extension icon. Fake extensions will almost certainly use a different graphic to the real one.
Is Your Desktop Application Correctly Installed?
Many browser extensions also need the desktop application to be installed, or they won't work. If you haven't installed the desktop application correctly, you may see a different icon. For example, ExpressVPN's icon has a cross at the top if it can't find the application:

If you've installed the desktop application, it's possible that you've installed it in the wrong place on your computer. Try re-downloading it again.