AirVPN Review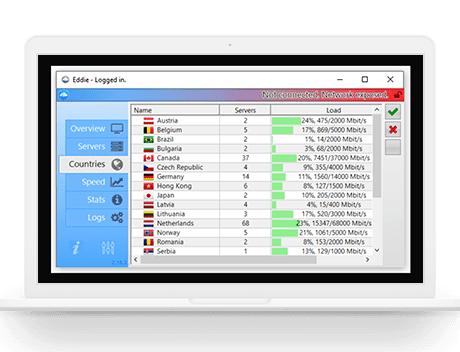 Privacy & Logging Policy
Trusted for privacy
AirVPN has been around for over eleven years, formed in Italy in 2010 by a small group of activists and hackers, with the help of two lawyers. In that time it's never faced any security scandals or been bought out by a larger company.
Originally it was operated by Iridium, a satellite communications company, but AirVPN took over in November 2012. Paolo Brini is listed as the current owner of AirVPN, which is operated from Perugia (Italy).
Even today, AirVPN is operated exclusively by activists and 'security issues aware persons'. It's still based in Italy, putting it within reach of EU data retention laws.
Logging Policy
AirVPN's logging policy is fairly vague, so we contacted customer support for clarification.
After speaking to them we feel confident that AirVPN doesn't monitor anything you do while connected to the VPN. It only collects 'technical data' for server maintenance purposes, but you can request for this to be deleted at any point.
AirVPN also doesn't log any information that could be used to personally identify you, such as date/timestamps or your IP address, making it one of the most privacy-friendly VPN services out there and mitigating its Italian jurisdiction.
Speed
Above-average same-country speeds
While AirVPN isn't reaching the exceptional peak speeds of some of the fastest VPN services, it does stand out for the sheer level of reliability on offer.
Local Speed Test results before using AirVPN:
Download Speed: 96.6Mbps
Upload Speed: 96.44Mbps
Ping: 3ms
Local Speed Test results with AirVPN:
Download Speed: 71.59Mbps
Upload Speed: 74.54Mbps
Ping: 18ms
Download speed loss when AirVPN is running: 26%
These speeds are good enough for buffer free streaming.
It's not an ideal VPN for keen gamers, though, with ping times hovering around 18ms, even when we were connected to a VPN server in the same city as us.
If you're based in the UK, here are the average speeds you can expect from AirVPN connecting out to a handful of popular locations:
USA: 40Mbps (download) & 47Mbps (upload)
Germany: 55Mbps (download) & 72Mbps (upload)
Singapore: 33Mbps (download) & 16Mbps (upload)
Australia: No server available
To read more about how we test VPNs, you can read our full speed testing methodology here.
Server Locations
38 cities spread over 22 countries
22 Countries
40 Cities
200+ IP Addresses
AirVPN offers one of the smallest server networks we've ever seen from a premium VPN service.
AirVPN only provides 200 individual VPN servers, which could lead to server congestion at busier times. Thankfully the 'server load' section on the app makes it easy to see which locations are approaching capacity.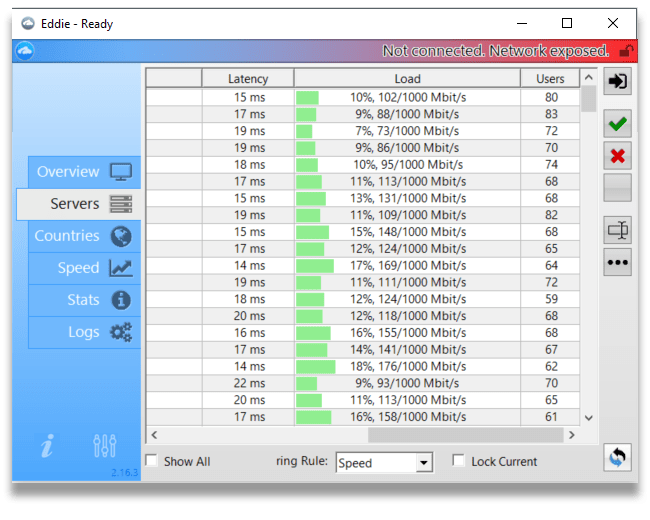 AirVPN has 37 US VPN servers across 10 cities. Users in the US can choose from AirVPN servers in:
Atlanta (5)
Chicago (3)
Dallas (10)
Fremont (3)
Jacksonville (1)
Los Angeles (3)
Miami (3)
New York City (3)
Pennsylvania (1)
Phoenix (5)
AirVPN also has three city-level UK VPN servers (London, Maidenhead, and Manchester) and, three Canadian VPN servers (Montreal, Toronto, and Vancouver). Other countries with city-specific choices include Germany, Spain, and Sweden.
Europe has the best AirVPN coverage with 153 servers spread over 15 countries, while Asia is limited to Japan, and Singapore.
AirVPN used to maintain a Hong Kong server, but this was removed in July 2020 following escalation of China's digital surveillance in the region.
South America is covered only by VPN servers in Brazil, while Africa is ignored by AirVPN altogether.
Streaming
Great VPN for torrenting but not streaming
While certainly fast enough for buffer-free Full HD streaming, AirVPN doesn't work with either Netflix or BBC iPlayer.
Because there are no AirVPN servers optimized for accessing streaming sites, it's a case of trial and error, and we haven't been able to unblock US Netflix for several months now.
It's the same story with BBC iPlayer, which has always been inaccessible via AirVPN's UK-based servers. These VPNs will stream BBC iPlayer, though.
Surprisingly, given the difficulty we've had accessing BBC iPlayer or Netflix, AirVPN was one of the few providers to work with Disney+ at its launch. Which is great to see.
Thankfully, on AirVPN's website there is a list of 'blocked websites' which users can check to see if the situation with these streaming sites ever changes.
Torrenting
P2P allowed on every server
AirVPN is, however, a strong choice for anonymous torrenting and P2P activities. One of the best we've seen.
Its good download speeds and impressive upload speeds, minimal logging policy and suite of advanced privacy tools (including a VPN kill switch) make it ideal for P2P activity.
Advanced torrenters will also like that AirVPN allows port forwarding on up to 20 ports simultaneously, to speed up transfers even more.
You can do this in the 'Client Area' of the AirVPN website. Read more about AirVPN's remote port forwarding here.
How Does AirVPN Compare to Other VPNs for Torrenting?
AirVPN is one of the best VPNs for torrenting, but how does it compare to the competition?
We've put together this table for you to compare AirVPN on factors like bitrate and advanced features:
Bypassing Web Censorship
Should work in China with some manual configuration
Currently, the only way to connect to a VPN server in China is to use the OpenVPN protocol over SSL, which encrypts your OpenVPN 'fingerprint' to make it undetectable. This is simple enough to do on desktop but more complex on mobile.
If you want to connect out from China on mobile devices using AirVPN you'll have to install OpenVPN files and do some manual configuration – there are step-by-step guides on the website to walk you through the process.
AirVPN should work to bypass censorship in Turkey, Iran, and other highly-restricted countries. This is due to its range of additional obfuscation tools such as SSH/SSL tunneling and access to Tor through the VPN.
Its limited server network is bad news for speed, though, as it means you may find yourself having to connect to an AirVPN server far away from your physical location.
Security & Technical Features
One of the most secure VPN services we've seen
| Protocols | Available in AirVPN |
| --- | --- |
| IKEv2/IPSec | No |
| OpenVPN (TCP/UDP) | Yes |
| SSL VPN | Yes |
| WireGuard | Yes |
| Encryption | Available in AirVPN |
| --- | --- |
| AES-128 | No |
| AES-192 | No |
| AES-256 | Yes |
| Blowfish | No |
| ChaCha20 | No |
| Security | Available in AirVPN |
| --- | --- |
| DNS Leak Blocking | Yes |
| First-party DNS | Yes |
| IPv6 Leak Blocking | Yes |
| Supports TCP Port 443 | Yes |
| VPN Kill Switch | Yes |
| WebRTC Leak Blocking | Yes |
| Advanced Features | Available in AirVPN |
| --- | --- |
| Ad Blocker | No |
| Dedicated IP | No |
| Double VPN | No |
| Smart DNS | No |
| Static IP | No |
| SOCKS | No |
| Split Tunneling | Yes |
| Tor over VPN Server | Yes |
| Tracker Blocker | No |
AirVPN is a fantastic choice if pure privacy is your priority. Encryption is via top cipher AES-256 and the software runs on OpenVPN or WireGuard, which offer the best balance between security and performance.
The VPN kill switch is an essential feature to protect you in case of connection drops, and AirVPN also operates its own DNS servers, keeping your personal information confidential.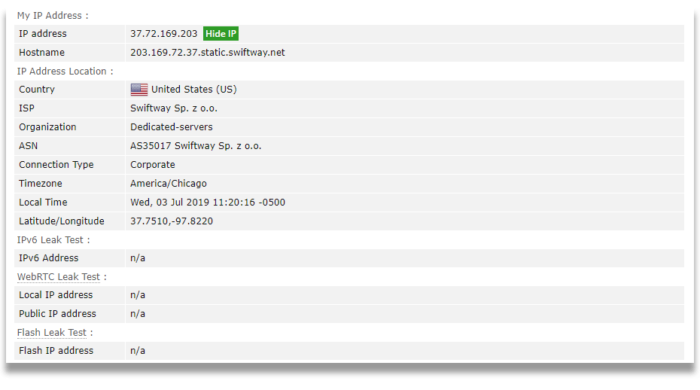 AirVPN's protection against DNS, IPv6, and WebRTC leaks was also proven to be 100% effective in our latest tests.
You can use AirVPN to access the Tor browser, giving you an extra layer of encryption should you need it. The desktop app also offers 'doublehop', a feature that routes your traffic through an intermediate server to help avoid geolocation censorship.
Device & OS Compatibility
Compatible with all major platforms & routers
Apps
Windows

Mac

iOS

Android

Linux

Router
AirVPN offers custom VPN apps for:
Microsoft Windows
macOS
Android
Linux
There is also an AirVPN setup guide for iOS, however, it requires installation of third-party OpenVPN software. We advise iOS users to use VPNs with custom apps for iPhone or iPad instead.
AirVPN is also supported on DD-WRT, pfSense, Tomato, and AsusWRT routers, but again has to be manually installed and configured. This means AirVPN isn't a very good choice if you want a plug-and-play VPN service.
You can have up to five simultaneous connections, too. Other providers offer more, but this should cover most people's devices.
Games Consoles & Streaming Devices
Apple TV

Amazon Fire TV

Chromecast

Nintendo

PlayStation

Roku

Xbox
AirVPN offers a native VPN app for the Amazon Fire TV and Fire TV Stick. It can also be used with a range of other games consoles and streaming devices either by connecting them to a configured router or sharing the VPN connection from another device running the software.
There are no manual set-up or troubleshooting guides for any of these devices, but you can find lots of useful hints and tips in AirVPN's online forums.
Ease of Use
Apps are cluttered, intimidating, and difficult to use
How to Install & Set Up AirVPN
The Eddie client is one of the least accessible we've reviewed.
AirVPN's settings list is separated into tabs, each with loads of different options. This is where it could get confusing for less experienced VPN users, so we like that there's an option to reset all settings to default just in case.
VPN server selection is way more difficult than it needs to be – the list is long and there's no search feature. Even worse, each VPN server is named after a star, which gets frustrating after a while when all you want to do is choose a city and connect.
Customer Support
24/7 live chat makes up for limited resources
| Customer Support | Available in AirVPN |
| --- | --- |
| 24/7 Live Chat Support | No |
| 24/7 Email Support | No |
| Chatbot | No |
| Live Chat Support | No |
| Email | No |
| Email Support via Online Form | Yes |
| Tutorial Videos | No |
| Online Resources | Yes |
AirVPN says that its customer service isn't outsourced in order to provide "high-quality support," however a lack of live chat and slow email replies can be frustrating when you just have a simple question.
We like the extensive knowledge base on AirVPN's website though, which includes a FAQs section divided up by topic. There's also a whole host of AirVPN community forums covering every topic you could think of, so you may find you don't actually need to contact the support team very often.
Price & Value
Longest plan is excellent value for money
Each AirVPN pricing plan includes the same features but they get cheaper on a monthly basis the longer the subscription you sign up for.
A single month of AirVPN is the most expensive option at $7.76, but this can be reduced by 53% on the 2-year plan, which is just $3.65 per month. You can also opt for the 12-month plan which comes out at $4.52, with a saving of 42%.
Payment & Refund Options
American Express

Bitcoin

Bitcoin Cash

Giropay

iDeal

Mastercard

Monero

PayPal

Visa
AirVPN offers a three-day free trial, which can be obtained by sending a message to the support team and using the coupon code they send you.
We received it in less than a day, but people have reported on the forums that they were left waiting for a code for over 24 hours.
There's also a 30-day money-back guarantee, increased from a stingy three days. It is 'no questions asked,' thankfully, and refunds are usually back in your bank within two working days.
AirVPN accepts the largest range of payment methods we have seen from any provider. This includes most major credit cards, PayPal, and a whole array of cryptocurrencies. Lots of international options are also accepted, such as Alipay and Giropay.
The Bottom Line
AirVPN is good - but not for VPN beginners
We do recommend AirVPN, but with one serious warning: AirVPN is absolutely not a VPN for beginners.
In fact, when talking about VPNs that we actually recommend, AirVPN is probably the most intimidating and unfriendly of all. It's still super secure and produces fast download speeds, but be warned that it takes some getting used to.
Alternatives to AirVPN
ExpressVPN
It's our highest-scoring VPN for a reason: ExpressVPN does a lot of things well, but ease of use may be top of the list. ExpressVPN is so simple anyone can use it - and get great performance while doing so, too. Read ExpressVPN review
CyberGhost
If streaming is important to you then you shouldn't download AirVPN. CyberGhost is a much better alternative, thanks to its unflinching access to Netflix, BBC iPlayer, and more. Read CyberGhost review
---
User Feedback for AirVPN