What Is VPN Encryption?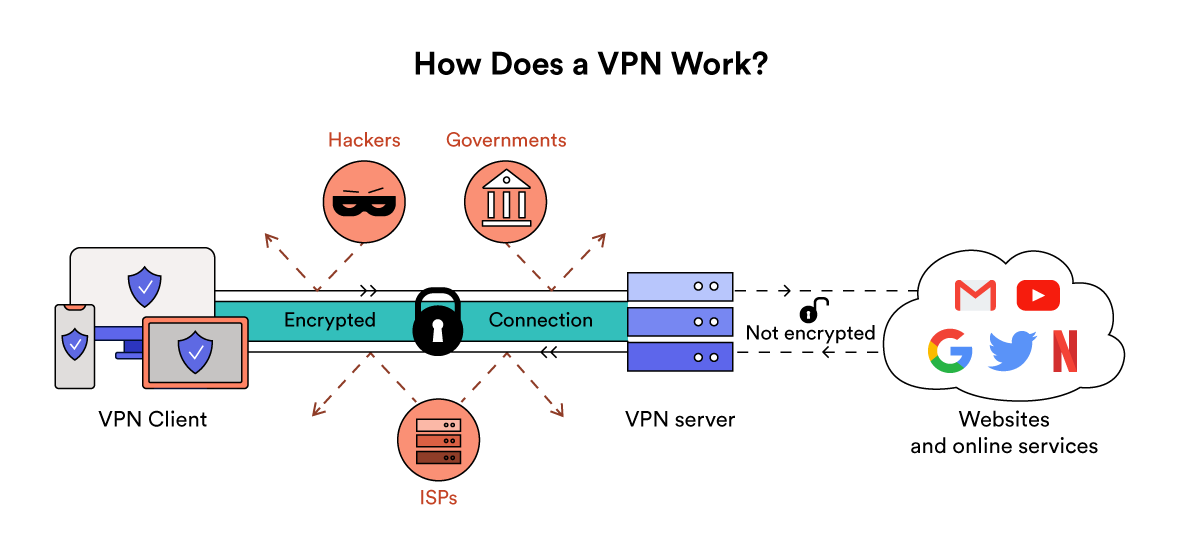 VPN services use encryption to secure your data as it travels between the VPN software on your device and the VPN server you're connecting to.
When you connect to a VPN, your traffic gets encrypted before it is sent to the VPN server. Once it gets to the server it is decrypted and forwarded onto the internet.
Encryption is the process of converting data into an unintelligible code so that unwanted parties cannot access it.
Your data travels through a secure tunnel which prevents internet service providers (ISPs), governments, and other third parties from spying on your internet activity.
VPN encryption protocols are the set of rules that determine how this secure tunnel gets formed. Depending on the protocol in use, your VPN might have different speeds, capabilities, or even vulnerabilities. We'll look at the pros and cons of the most common VPN protocols in the next chapter.
Every VPN protocol uses an algorithm to actually encrypt (and decrypt) the data. This algorithm is known as a cipher. An example of a simple cipher might be substituting every letter in a message with the letter that precedes it in the alphabet. So, privacy would become oqhuzbx.
In short:
VPN protocols are used to create a secure tunnel between your device and a remote server.
Ciphers are used to encrypt the data that flows through the tunnel.
Ciphers usually operate in conjunction with a piece of information known as a key. It is extremely difficult to decrypt a given set of data without knowledge of the key that was used to encrypt it.
When reviewing a VPN provider's encryption, we generally refer to a mixture of cipher type and key length, which refers to the number of bits in a given key.
Blowfish-128, for example, is the Blowfish cipher with a key length of 128 bits.
Generally speaking, longer keys are more secure. A short key length often means poor security as it is more susceptible to brute-force attacks.
The current gold standard for online encryption protocols is AES-256. AES is the cipher, and 256 is the key-length.
256-bit keys cannot be brute-forced because it would take billions of years to run through all of the possible combinations using even the most sophisticated modern-day computers.
Our chapter on ciphers will cover the most common ciphers on the market and evaluate their advantages and disadvantages.