What Are the Benefits of a VPN Router?
Investing in a VPN router for your home or business may seem like a big step, but it can offer several advantages in terms of security, privacy, and convenience.
Here's an overview of the main benefits to using a VPN router: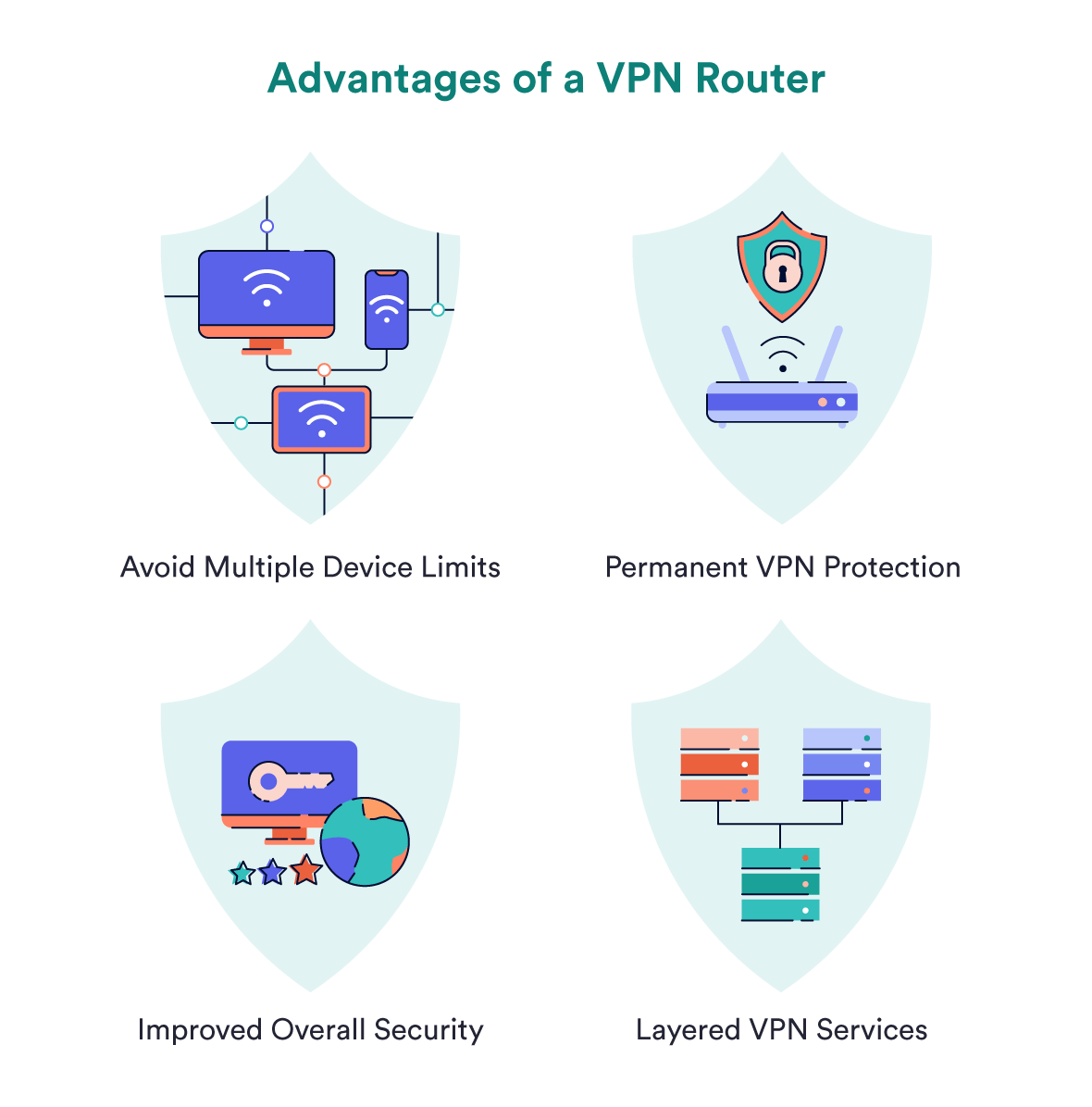 1

Avoid Multiple Device Limits

Most VPN services limit the number of devices you can connect at once. But a VPN installed at the router-level only counts as one connection – even though every device on your WiFi network is protected.

This feature is especially useful for game consoles, media players, and Internet of Things (IoT) devices, many of which do not have native support for VPN client software (even super popular products like the Apple TV or Xbox One).
2

Permanent VPN Protection

Browser-based VPN services require you to activate your connection every time you start a new session. If you're using a VPN router, you never have to worry about turning your VPN on again.

Once your router is set up, your VPN will be running permanently regardless of what device you're using. This severely reduces the risk of leaving yourself exposed online.

Over the past few years, certain countries have passed new legislation that forces internet service providers (ISPs) to monitor and store your browsing history. This is now obligatory in the United Kingdom, United States, Australia, and in certain parts of Europe.

Securing your entire network with a VPN router is one of the best solutions to this problem. All of the traffic between the router and the VPN server is secured and encrypted, leaving your ISP with absolutely no information about your browsing history.
3

Improved Overall Security

Upgrading your router is a good idea from a security perspective. There have been several cases where authorities and criminals have exploited vulnerabilities in routers to spy on people or collect their sensitive data.

If you're using a VPN router for your home, all of the devices connected to your router's network will receive the benefits of your VPN. That means if you have guests or want to use several devices simultaneously, all of your traffic will be protected by default.
4

Layered VPN Services

It is much easier to run two VPN services simultaneously if you're using a VPN router. You can install one service on your router, and another on your desktop. While this will definitely reduce your connection speed, it is a great way of maximizing your protection in case one VPN service is compromised by leaks or crashes.