Kaspersky VPN Secure Connection Review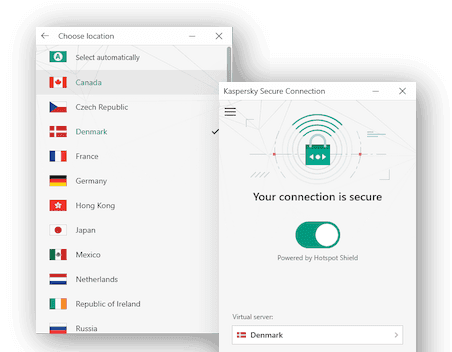 Privacy & Logging Policy
Kaspersky VPN is not private
Kaspersky VPN Secure Connection is owned by Kaspersky Lab, which was founded in 1997 and is still being run by Eugene Kaspersky.
In recent years Eugene Kaspersky has come under fire for alleged connections to the Russian government.
These allegations are concerning, because the Russian government doesn't allow for a free and open internet.
What is certain is that Kaspersky was the only major VPN service not to pull its servers out of Russia following Russia's new laws against VPNs.
The contents of Kaspersky VPN's privacy policy is therefore critical. Anything data the software keeps may be subject to surveillance from the Russian government.
Logging Policy
Kaspersky's focus extends well beyond its Secure Connection VPN, and in the company's 5,000 word privacy policy, the VPN product is mentioned exactly once.
The relevant document for Kaspersky Secure Connection's privacy policy – its End User License Agreement (EULA) – is also extremely hard to find.
You can find the relevant EULA here, by selecting your operating system under the "Kaspersky Secure Connection" header.
The key takeaways of Kaspersky VPN's logging and privacy policy are that the VPN:
Logs information about the software, including a unique ID for your copy and an ID linking it to your "My Kaspersky" account
Logs information about your license to use the software, including another unique ID and and the amount of time until it expires
Logs information about your computer, such as the model, make, type of processor, version of the operating system installed, and geographic location, along with yet another unique ID
Keeps information about whether the user has opted into the excessive additional marketing and technical data agreements or not – we do not recommend opting into any of these
The amount of traffic used over a given time period is monitored
Collects a large amount of information about nearby WiFi networks, including the network name (SSID), the type of encryption being used, timestamps of connection and disconnection from the WiFi network, and available wireless networks
Logs an anonymized SHA256 hash of your local IP address and the IP addresses of any DNS servers being used
Some of this data can help with the running of the VPN network, and to provide users with statistics on their VPN usage.
For instance, you can view your data usage by day, the locations you have connected to, and the timestamps of when you connected and disconnected.
Additionally, the WiFi information the app collects is used for a feature that automatically starts up the VPN in insecure networks.
However, most of the data Kaspersky VPN collects ultimately erodes your internet privacy. The reality is many VPNs operate more effectively and without requiring all this data.
What's even more concerning is that there is no mention of how long Kaspersky retains this data.
If you are based in the EU, in line with GDPR legislation, Kaspersky will delete all your data but only when you delete your account.
Speed
Fast and consistent global speeds
Kaspersky VPN Secure Connection performed keeps performing extremely well in our speed tests.
Since we last reviewed Kaspersky VPN Secure Connection, the VPN's speed performance has further improved.
We experienced only 1% speed reduction on connecting to nearby servers. To put that into perspective, that's faster than NordVPN's short-distance speeds.
Local Speed Test results before using Kaspersky VPN Secure Connection:
Download Speed: 97.24Mbps
Upload Speed: 98.73Mbps
Ping: 4ms
Local Speed Test results with Kaspersky VPN Secure Connection:
Download Speed: 96.19Mbps
Upload Speed: 74.26Mbps
Ping: 10ms
Download speed loss when Kaspersky VPN Secure Connection is running: 1%
Connections were also very stable, and never dropped out during out tests.
Connecting to servers is very fast, too, with changes between servers occurring in just seconds.
Global speeds were also exceptional, with remarkably small drops in download speed to far away countries.
Here are the latest Kaspersky VPN long-distance speed test results:
USA:

Download: 95.23Mbps (2% slower)
Upload: 61.17Mbps (40% slower)

Germany:

Download: 94.44Mbps (3% slower)
Upload: 79.98Mbps (19% slower)

Russia:

Download: 90.06Mbps (7% slower)
Upload: 81.54Mbps (17% slower)

Singapore:

Download: 91.23Mbps (6% slower)
Upload: 3.83Mbps (96% slower)
The international speeds above are exceptional. Not even top VPNs like ExpressVPN and Private Internet Access can match these results.
The VPN service uses Hotspot Shield's very fast Hydra protocol, which in part explains the impressive speeds above.
However, Kaspersky VPN's latency (ping) suffered over longer distances, though. This means online gamers should avoid using this service, unless they're connecting to a nearby VPN server.
Server Locations
VPN servers in only 30 countries
30 Countries
30 Cities
2,000+ IP Addresses
Kaspersky operates 2,000 servers in 30 countries.
While the server count is good, the number of available server locations is very limited for a premium VPN service.
Server coverage is acceptable in Europe and in North America. However, if want to connect to servers outside of these regions, you may be disappointed.
In Asia, only Hong Kong, Japan and Singapore are served. There are no servers in South Korea, Vietnam or Malaysia.
South America and Africa are also poorly served. The only servers in South America are located in Argentina and Brazil, while there are zero servers in Africa.
After some investigation we've identified that, although Kaspersky VPN uses Hotspot Shield's technologies, it has a distinct server network.
Given Kaspersky's close Russian ties, it's not surprising there is a server available in Russia. This is a rarity following Russia's laws surrounding VPNs.
Streaming
Unblocks some streaming platforms but not Netflix
If you're looking to stream HD video, Kaspersky VPN Secure Connection certainly has the speeds for it.
The VPN's streaming capabilities are a mixed bag. The service works with some popular content platforms, but not with others.
In our latest streaming tests, the VPN unblocked popular platforms like Disney+, HBO Max, and Amazon Prime Video.
The VPN also worked with British TV services like BBC iPlayer, All 4 and ITVHub. We were surprised Kaspersky VPN unblocked BBC iPlayer – many VPNs fail to achieve this.
However, we couldn't stream Hulu or any Netflix region. Kaspersky VPN used to occasionally unblock Netflix USA, however it hasn't done so in recent tests.
Torrenting
Not private enough for safe torrenting
Kaspersky VPN allows P2P traffic on all its 2,000 servers.
When we tested the VPN for torrenting, we recorded very fast torrent speeds, found no IP or DNS leaks, and verified the kill switch works effectively.
Despite the positives we've identified above, Kaspersky's is not a good VPN for torrenting.
The issue we have with the VPN service is its over-the-top logging practices.
Sadly, the VPN logs too much activity and device data, which could reveal a file-sharer's identity if it landed in the wrong hands.
It would therefore be risky for a torrenter to use Kaspersky VPN to download or upload torrent files.
Bypassing Web Censorship
Doesn't work in China
Kaspersky VPN has never worked in our China VPN tests, using our test server in Shanghai.
This isn't surprising at all, since the VPN uses Hotspot Shield's Hydra protocol, which doesn't work in China.
Kaspersky even admits its VPN can't be installed in the following countries due to legal limitations:
Belarus
China
Iran
Oman
Pakistan
Qatar
Saudi Arabia
Kaspersky VPN does work in Russia, though, since it complies with Russia's new censorship legislation.
The company is Russian, after all, and still operates VPN servers in the country. We therefore assume that it's allowing Russian authorities to check server logs.
It's very bad for a VPN to agree to actively facilitate censorship. It's in fact one of the worst things a VPN could do, which is why we don't recommend using Kaspersky VPN in Russia.
Security & Technical Features
Kaspersky VPN lacks advanced security settings
| Protocols | Available in Kaspersky VPN Secure Connection |
| --- | --- |
| IKEv2/IPSec | No |
| Hydra | Yes |
| OpenVPN (TCP/UDP) | No |
| WireGuard | No |
| Encryption | Available in Kaspersky VPN Secure Connection |
| --- | --- |
| AES-128 | Yes |
| AES-192 | No |
| AES-256 | No |
| Blowfish | No |
| ChaCha20 | No |
| Security | Available in Kaspersky VPN Secure Connection |
| --- | --- |
| DNS Leak Blocking | No |
| First-party DNS | No |
| IPv6 Leak Blocking | No |
| Supports TCP Port 443 | No |
| VPN Kill Switch | Yes |
| WebRTC Leak Blocking | No |
| Advanced Features | Available in Kaspersky VPN Secure Connection |
| --- | --- |
| Ad Blocker | No |
| Dedicated IP | No |
| Double VPN | No |
| Smart DNS | No |
| SOCKS | No |
| Split Tunneling | No |
| Tor over VPN Server | No |
| Tracker Blocker | No |
As we've mentioned before in this Kaspersky VPN review, the service uses Hotspot Shield's proprietary Hydra VPN protocol.
Hotspot Shield states that Hydra VPN is based on TLS 1.2, uses 128-bit AES encryption, 2048-bit RSA certificates for server authentication, and includes perfect forward secrecy (PFS).
While we would prefer Kaspersky VPN to use either OpenVPN or WireGuard, Hydra VPN is in our experience a secure-enough choice of protocol.
Kaspersky VPN also passed our IP and DNS leak tests with flying colors. The screenshot below shows us connecting to a Ukrainian server from our office in London, UK:
Unfortunately, the VPN's applications lack many advanced security features we expect to see. This is disappointing.
Just about the only option available through the Settings menu is toggling off Kaspersky's additional data collection, which we absolutely recommend doing.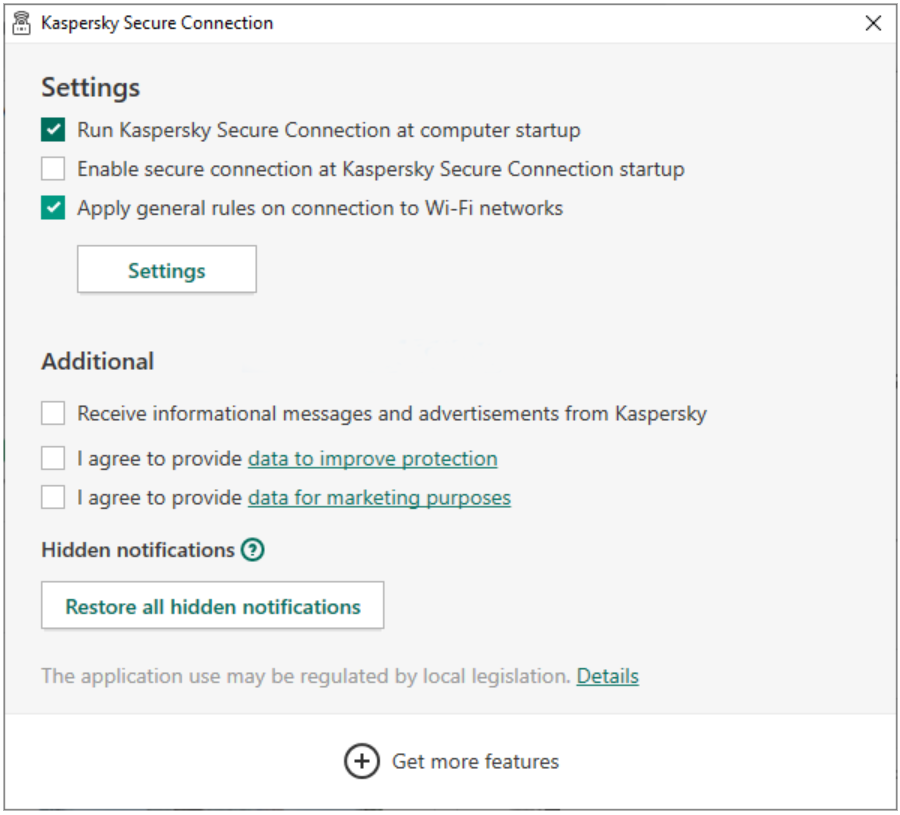 At the very least, there is a VPN kill switch that worked well in our security tests. This tool prevents your IP address from leaking during sudden VPN connection drops.
The desktop application also includes a setting to automatically connect to the VPN when you join an insecure WiFi network.
Device & OS Compatibility
No compatibility beyond standard platforms
Apps
Windows

Mac

iOS

Android
Kaspersky VPN Secure Connection has native applications for all the basic platforms we expect from a VPN service:
Microsoft Windows
Apple macOS
Apple iOS
Google Android
However, the VPN service lacks the advanced compatibility top-rated services offer. For instance, there is no Fire TV Stick application, no Smart DNS functionality, and no way to install the VPN software on a router.
As a result, games console users won't be able to easily use Kaspersky VPN. We recommend Private Internet Access as a good alternative.
Furthermore, there are no VPN browser extensions, and no Linux GUI.
Different device limit policies for free and premium plans
The company allows the use of its VPN on up to five devices with its premium subscription plans.
With the free plan, the device policy is unlimited but the data usage restriction is shared across all devices
Ease of Use
Basic but user-friendly applications
How to Install & Set Up Kaspersky VPN Secure Connection
Ease of Use Rating: 7.0/10
The user interface is consistent across all the VPN applications and pretty intuitive to use.
The app's home screen features a standard On/Off switch, with a straightforward country server list.
All other settings, although there aren't many, are accessible via the burger menu in the top-left corner of the app.
Basically, there isn't much to get wrong with such a simple and basic VPN app.
Kaspersky VPN could have added common features we see in many VPN applications – for example displaying your VPN IP address or the protocol being used – but so far it hasn't.
While some VPNs over-clutter their apps, Kaspersky has gone all the other way to provide very little functionality to its users.
Customer Support
No live chat support
| Customer Support | Available in Kaspersky VPN Secure Connection |
| --- | --- |
| 24/7 Live Chat Support | No |
| 24/7 Email Support | No |
| Chatbot | No |
| Live Chat Support | No |
| Email | Yes |
| Email Support via Online Form | Yes |
| Tutorial Videos | No |
| Online Resources | Yes |
Our experience using Kaspersky VPN's customer support was disappointing. Sadly, it just isn't up to scratch with the leading VPN service providers.
The main downside is that there is no live chat support. Instead, you have to rely on online resources, or a slow ticketing system.
The VPN's online customer support resources are comprehensive, but difficult to find and navigate. In many cases we found them more confusing than helpful.
If you send a query via the ticketing system, it generally takes at least a day to receive a reply. On one occasion we were even told to call an operator instead.
Price & Value
Cheap plans and a 30-day refund policy
Kaspersky VPN's premium plans start at $4.99 on a pay-monthly basis, but the real savings come with the early plan, which costs just $1.25 a month.
This makes Kaspersky VPN one of the cheapest VPNs we've reviewed, although it's not good enough to make our best cheap VPN list.
Kaspersky's free VPN service
Kaspersky also offers a free VPN product, with a daily usage limit of only 200MB.
Although 200MB a day equates to roughly 6GB a month, this allowance is simply too little to allow for meaningful use of the VPN.
There is an option to increase the free data allowance to 300MB per day, if you connect the VPN to your My Kaspersky account.
Payment & Refund Options
Mastercard

PayPal

Visa
Kaspersky VPN offers very few payment options: credit/debit card and PayPal.
There is no option for anonymous payment methods like Bitcoin and other cryptocurrencies.
The VPN service also offers a 30-day money-back guarantee, which essentially lets you try the VPN before fully committing.
The Bottom Line
Comes with too much unsafe baggage
Based on our latest testing results, Kaspersky VPN is still not a good VPN.
It's certainly very fast and it even unblocks some popular video platforms, however the privacy issues affecting the VPN are concerning.
The main issues with the VPN service are its intrusive logging policy, the fact it complies with Russian censorship laws, and it lacks advanced security settings.
There are other VPNs available for a similar price mark that offer more private and secure experience than Kaspersky VPN Secure Connection.
Alternatives to Kaspersky VPN Secure Connection
Hotspot Shield
Kaspersky is built on Hotspot Shield but lacks some of its key features and has a much smaller server network. If you like Kaspersky's speeds, but are looking for a better all round performer, Hotspot Shield is a great choice. Read Hotspot Shield review
PrivateVPN
It's in the same price bracket as Kaspersky, but PrivateVPN has a lot more to offer. For a start its a no-logs provider. It also has a great server network across 59 countries, and works reliably with both BBC iPlayer and Netflix. Read PrivateVPN review
Was this content helpful?
---
User Feedback for Kaspersky VPN Secure Connection
Questions & User Reviews are shown in the original language of submission.