Top10VPN is reader-supported. We may earn commissions if you buy through links on this page. Learn how we make money.
StrongVPN: Ranked #14 out of 98 VPNs that we tested
StrongVPN started back in 1995 selling dedicated servers and in 2005 launched its first VPN service.
It's one of the oldest VPN companies around, but is that enough to make it one of the best VPNs?
We tested StrongVPN extensively to answer common questions like:
How good is StrongVPN?
Is it safe to use?
Is StrongVPN very fast?
Does it work with Netflix?
Is torrenting/P2P allowed?
Does StrongVPN have a kill switch?
After reading our StrongVPN review, you'll know whether this VPN is the right one for you.
Very fast, reliable speeds
Works with Netflix & BBC iPlayer
Torrenting & P2P allowed on all servers
No-logs & no IP, DNS, or WebRTC leaks
Apps for iOS, Android, MacOS, Windows
Up to 12 simultaneous connections
Many servers use PPTP protocol
Small server network
Based in privacy-unfriendly USA
Works with
Netflix, Amazon Prime Video, Hulu, HBO, SlingTV, Torrenting, Kodi
The key takeaways from our in-depth StrongVPN test are summed up in the box above, but if you want to get into the specifics then there's plenty more below.
Let's begin with StrongVPN's connection speeds.
Speed & Reliability
Very impressive same-country speeds
StrongVPN's speeds are more than fast enough for HD streaming, both for same-country connections and longer distance ones. You can expect very quick speeds connecting out to the US from Europe, too.
Speed results from our physical location in London (100Mbps fibre optic connection) to a London test server.
Before using StrongVPN:
93.98

96.28

Ping

ms

3
When connected to StrongVPN:
84.24

74.6

Ping

ms

16
Download speed without StrongVPN: 93.98Mbps
Download speed with StrongVPN: 84.24Mbps
Our download speed loss when StrongVPN is running: 10%
Latency was rather high though, at 16ms on same-country connections. Considering some VPN  services registered ping times of less than 1ms, keen gamers should take a look at these VPNs.
Upload speeds were very fast too, which is great news for torrenters.
We tested StrongVPN's average speeds connecting from the UK out to a range of locations around the world:
USA: 58Mbps (down) & 33Mbps (up)
Germany: 83Mbps (down) & 76Mbps (up)
Singapore: 19Mbps (down) & 1Mbps (up)
Australia: 28Mbps (down) & 7Mbps (up)
Find out more about our VPN speed testing.
Server Locations
46 city-level servers in 26 countries
26
Countries
46
Cities
59,500+
IP Addresses
StrongVPN's network is rather limited, with around 650 servers spread across only 26 countries.
We like to see VPN services serve many countries – ideally 50 or more – and the fact that StrongVPN doesn't serve nations like Argentina, Greece, Indonesia or New Zealand is not ideal.
StrongVPN also operates own its own servers just like its 'sister' VPN IPVanish.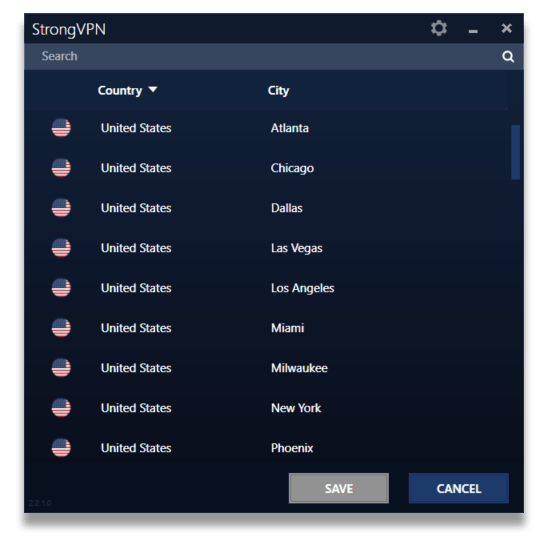 Multi-city servers can be found in:
The only Asian servers you will find are located in Hong Kong, Japan and Malaysia. South America is served by just Brazil, and there aren't any servers in Africa.
You can see the complete list of StrongVPN's servers via the button below, including the VPN protocol available on each server.
On the plus-side, StrongVPN does make a very high number of IP addresses available to its customers – almost 60,000 – which is great to maintain good speeds.
Streaming & Torrenting
Access to Netflix and no torrenting restrictions
StrongVPN recently started working again with US Netflix on several of its US servers, after weeks of being completely blocked.
There are no dedicated streaming servers, which makes the task more difficult, but you shouldn't find it too hard to find a server that works.
Streaming BBC iPlayer is a different story. StrongVPN unblocks iPlayer inconsistently, working on some days but not others. It did work with BBC iPlayer in our most recent tests, though. These VPN services will on the other hand work more reliably with BBC iPlayer.
Torrenting
Torrenting and P2P activity is allowed on all StrongVPN servers. Download and upload speeds were good, and a strict no-logs policy means all your online activity remains private.
What's more, StrongVPN also has a VPN kill switch and we didn't detect any IP, DNS, or WebRTC leaks in our latest round of testing (more on this below).
Bypassing Censorship
A good option for users in China
StrongVPN is still a fairly good option to bypass aggressive web blocks in highly censored countries like China, Iran, Turkey and the UAE.
The additional obfuscation tools you get with StrongVPN are very useful to evade online censorship. It further scrambles your VPN connection, making it very hard to detect.
Keep in mind that the StrongVPN is blocked in China, and possibly in other high censorship countries too, so we recommend you download and set up StrongVPN before you travel there.

Platforms & Devices
Works with all popular devices plus routers
Apps
Windows
Mac
iOS
Android
Linux
Router
StrongVPN provides custom VPN apps for all popular devices:
There's also a set of manual setup guides for other types of devices and platform including Linux, Amazon Kindle and Kodi.
StrongVPN also provides step-by-step instructions on how to manually configure your router to protect all internet traffic in your home.
StrongVPN's 12 simultaneous connection limit is very generous and one of the highest we've seen.
StrongVPN also offers step-by-step instructions on how to manually configure your existing router.
Games Consoles & Streaming Devices
AppleTV
Amazon Fire TV
Chromecast
Nintendo
PlayStation
Roku
Xbox
StrongVPN can be used with consoles and streaming devices by either following the manual configuration instructions or installing StrongVPN on your home router.
There is also a native app for the Amazon Fire TV Stick, but it's just not as good as some of the other Firestick VPN apps available.
Browser Extensions
Encryption & Security
Strong encryption and secure DNS servers
Protocol

IKEv2/IPSec

L2TP/IPSec

OpenVPN (TCP/UDP)

PPTP

SSTP

Encryption

AES-256

Security

DNS Leak Blocking

First-party DNS

IPV6 Leak Blocking

Supports TCP Port 443

VPN Kill Switch

Advanced features
Please see our VPN Glossary if these terms confuse you and would like to learn more.
StrongVPN is a safe VPN service, but it isn't the most secure VPN provider we've reviewed.
On one hand, it has a VPN kill switch which prevents your true IP address from being exposed, it uses AES-256 encryption, and it operates its own DNS servers, meaning none of your web traffic will be routed through third-party servers.
We were also pleased to detect no DNS or IP leaks in our latest tests.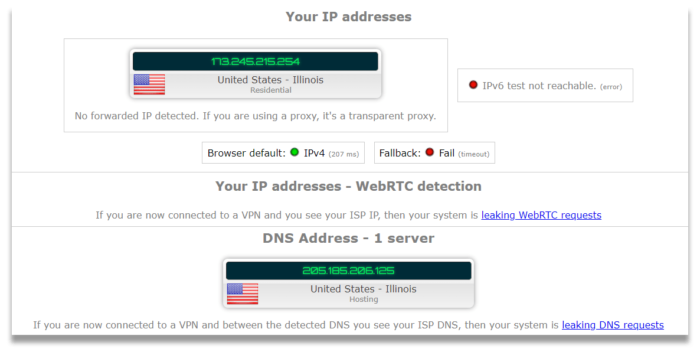 So, why is it not the most secure VPN?
Mainly because the very secure and fast OpenVPN protocol isn't available on all servers – in fact, the vast majority of StrongVPN's servers use the vastly outdated and insecure PPTP protocol.
Logging Policy
Zero-logs provider based in the USA
StrongVPN has a very strict zero-logs policy in place. It states that it doesn't collect or log any traffic or use of its VPN service. This includes even basic connection metadata such as timestamps, chosen server or bandwidth consumed.
Because it collects absolutely no customer data, there is no way any of your web browsing activity can be traced back to you as an individual, which is great news.
Jurisdiction
The StrongVPN VPN service was launched in 2005 by Strong Technology, LLC. StrongVPN has changed hands a number of times over the years, most recently in 2019 when it was acquired by the public company J2 Global.
StrongVPN Technology and J2 Global operate under the jurisdiction of the USA, which is one of the least privacy-friendly locations in the world.
StrongVPN does state that it will comply with valid subpoena requests, but it can't provide information that it does not have.
That's because StrongVPN doesn't collect any customer activity logs so there's no way of tying down any web activity to an individual user.
Ease of Use
Simply, easy-to-use apps for all devices
How to Install & Set Up StrongVPN
StrongVPN has recently updated its set of custom apps to make them far more accessible to inexperienced VPN users. The main screen is very stripped back, displaying only essential connection details.
A limited range of settings can be found behind the cog icon along the top of the app, however these are very basic.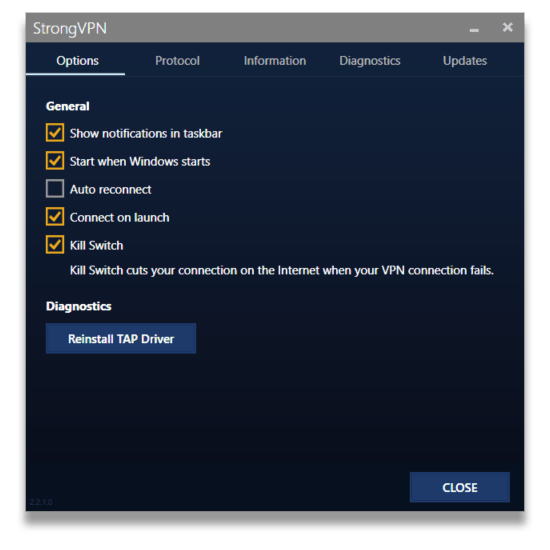 The mobile apps are also very good; simple and effective with a big button in the middle of the screen, but lack some security features, such as a kill switch.
Browser Extensions
Unfortunately, StrongVPN no longer offers any browser extensions. If you want something like this we'd recommend our top pick ExpressVPN.
Customer Support
24/7 live chat and some basic online help
| | |
| --- | --- |
| 24/7 Live chat support | |
| Online Resources | |
Live chat is available 24/7, but most of the time we just ended up talking to a sales agent who copied and pasted answers from the FAQs section.
This was a little disappointing, but whenever they couldn't solve our problems they did forward our details on to the tech team, who were always quick to respond.
The official StrongVPN website provides a great range of setup manuals for many different devices, including video tutorials and screenshots.
For basic instructions, the FAQ section should do the job, but for anything beyond simple help you'll have to contact their customer support team.
Pricing & Deals
Two pricing plans don't provide much flexibility
StrongVPN Coupon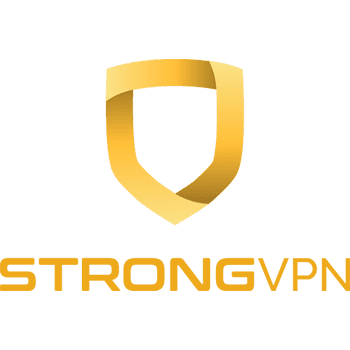 StrongVPN
Get an extra 20% off StrongVPN's 12-month plan
StrongVPN Pricing Plan
StrongVPN offers a couple of different pricing plans to help you decide on the most suitable option. These have the same features but the longer subscription you opt for, the less you pay on a monthly basis.
The priciest option is the single month plan at $10.00, however this is reduced by 42% to a reasonable $5.83 if you sign up to an annual package.
All plans have 30-day money-back guarantee
Payment & Refund Options
StrongVPN offers a 30-day money-back guarantee in place of a free trial. This is for customers who are "less than 100% satisfied with the StrongVPN service," and there are no hidden restrictions or data caps.
StrongVPN accepts the majority of standard payment options including most major credit and debit cards, PayPal and Alipay. It's disappointing to see no option to pay in cryptocurrencies, however.
You've read our expert review - read on for reviews from real users.
User Reviews
Based on 33 reviews
5 star

(31)

4 star

(2)

3 star

(0)

2 star

(0)

1 star

(0)
Share your thoughts to help others
Best Positive Review
Customer since 2010
Verified Purchase
Strong VPN has worked perfectly for me since 2010. I live in the UAE, where some simple sites are blocked, such as Skype and Western TV. I've never had an issue accessing what I wanted with Strong VPN. Each time I have come across an issue with loading Strong VPN onto a new phone or computer, the support staff have emailed me back within minutes, with a solution. The step-by-step solution was easy to follow and I was able to do it myself. If I was unable to follow the steps, the support person would remote access my device and do it for me. I will continue to be a customer of this fantastic service.
Best Critical Review
Works well
Verified Purchase
The installation process is a bit of a pain, but using it is dead easy and it still works with Netflix in a ton of countries. I use it to access foreign language dubs of shows to practice the languages I'm learning, since a bunch of other proxies stopped working after the Netflix crackdown.
Showing 1-3 of 33 Reviews
Verified Purchase

As a diplomat, I live all over the world. StrongVPN has never let me down; I can do my banking and personal business, no matter how hostile the location. We can watch American Netflix, Apple TV, and Amazon Prime as easily as we can when we're in the US. StrongVPN makes my online life simple and safe.

Strong VPN is great for US Expats.

Verified Purchase

We have lived overseas for four years. In order to keep up with our favorite shows and culture, we have used StrongVPN and had no problems accessing popular US sites. We also feel much more secure in our financial transactions.

Verified Purchase

I live in a rural area and after purchasing a new television was told by a professional I would never be able to stream movies because high speed internet was not available to me I then called my cell phone carrier purchased unlimited and thought it was solved I would just hot spot off my phone well unlimited doesn't mean unlimited it means 3 hours of streaming and then nothing but throttling all the rest of the time I was past frustration so U went to the CNET guys to see what I could do that's when I found Strong VPN changed my entire tv watching since becoming a Strong subscriber I have watched movies on netflix every night without any throttling unbelievable so thanks from rural country appreciate you.