SuperVPN Free VPN Client Review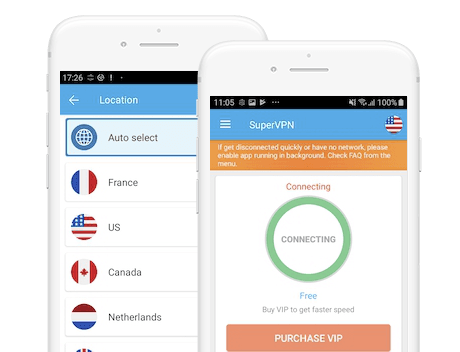 Privacy & Logging Policy
Intrusive Logging Policy & Worrying Links to China
Below is a summary of all the data that SuperVPN logs:
| Data Type | Logged by SuperVPN Free VPN Client |
| --- | --- |
| Browsing Activity | No |
| Device Information | Yes |
| DNS Queries | No |
| Individual Bandwidth Usage | No |
| Individual Connection Timestamps | No |
| ISP | No |
| Number of Simultaneous Connections | No |
| Originating IP Address | Yes |
| Account Information | Yes |
| VPN Server IP | No |
| VPN Server Location | No |
| Date of Last Connection | No |
As the table above shows, SuperVPN logs your real IP address. This is an unacceptable breach of privacy and automatically caps SuperVPN's privacy and logging policy rating at 0.1/10.
SuperVPN logs even more user data than is stated in its privacy policy, but collecting your IP address is already enough to de-anonymize you.
Previously, its privacy policy was hosted on an HTTP server and referenced outdated data privacy legislation. SuperVPN has since moved to an HTTPS server and reduced its privacy policy to a few poorly-written paragraphs.
Confusingly, its policy states that it will log your email address — despite SuperVPN not needing an account or login details to be used.
This discrepancy is deeply suspicious. A proper privacy policy – like this one from Private Internet Access – would help resolve it.
Successive Data Leaks of User Information
SuperVPN has leaked user data in two notable data breaches. Some of its users' personal details, including full names and passwords, were part of the May 2022 data breach which targeted several popular VPN services.
Its May 2023 data leak was even worse, exposing over 133GB of user data. This includes original IP addresses, user email addresses, device data, and geolocation data.
This proves SuperVPN logs a lot more than advertised in its privacy policy. It's also troubling and amateurish that SuperVPN chose to store user data in an unprotected database.
Confusing Ownership with Ties to China
SuperVPN's listing on the Google Play Store claims that it is developed by SuperSoftTech and based in Singapore, but we couldn't find any information to verify this. It doesn't have a website, either.
Its privacy policy is actually hosted on a server in California, not Singapore. This and the Google Play Store listing are the extent of SuperSoftTech's online presence.
A Google search for the support email, goanalyticsapp@gmail.com, reveals the actual developer to be a man named Jinrong Zheng, who is also responsible for (the now removed) LinkVPN on iOS.
LinkVPN features the exact same privacy policy, this time hosted in Germany.
We also found multiple addresses for Zheng, including one in Beijing, China. This is corroborated by our investigation into Free VPN app ownership, which revealed SuperVPN's ties to China.
Coupled with its data breaches, SuperVPN is too risky to install and represents a risk to your online privacy.
We'd like SuperVPN to remove any ambiguity by implementing a proper privacy policy and carrying out a third-party audit of its logging practices. We'd also appreciate SuperVPN providing a working email to clear up any confusion over its jurisdiction and ownership.
Speed
Poor Speeds Across Its Server Network
To calculate SuperVPN's speed score, we conducted weekly speed tests while connected to five SuperVPN servers around the globe. Our standard testing process usually includes nine server locations but we were restricted by SuperVPN's limited server network.
You can use the table below to see SuperVPN's speed test results, in full:
As the data above demonstrates, SuperVPN Free slowed our download speeds by 52% on a nearby server. This is a substantial reduction in speed with similar results seen across its network, including a 50% speed loss when connecting to Canada.
Depending on the speed of your internet connection, you may not be able to carry out data-intensive tasks while using SuperVPN Free. This includes HD Streaming, large file-sharing, and online gaming.
If any of the above is a priority for you, we'd recommend installing Windscribe Free. It's completely free to use, has an average download speed of 90Mbps, and won't log your real IP address.
Server Locations
Limited Server Coverage & Unknown Infrastructure
8 Countries
8 Cities
Undisclosed IP Addresses
Using SuperVPN, you can connect to servers in the following regions:
| Continent | Number of Countries |
| --- | --- |
| Europe | 4 |
| Asia | 2 |
| South America | 0 |
| North America | 2 |
| Africa | 0 |
| Oceania | 0 |
As the table above shows, SuperVPN only has servers in a handful of locations. Europe is best accommodated with servers in the UK, Germany, Netherlands, and France.
Although SuperVPN has an American server location, it doesn't have any US city-level options. As a result, your speeds may fluctuate depending on your location in the US.
If you need to get a US IP address, we advise you to use one of these free VPNs for connecting to the US. They're safer, faster and have specific US city-level servers.
The VPN doesn't have any servers in Africa, the Middle East, South America, Oceania, or Eastern Europe. This is unlikely to change as SuperVPN has had the same server network since 2020.
Undisclosed Server Infrastructure
There isn't any information available on SuperVPN's server network beyond its 8 advertised locations.
It isn't clear how many servers SuperVPN has in total, who owns and maintains the servers, and if the servers are physical or virtual.
We reward VPNs that own their server network to avoid your personal data from being accessible to third-parties. We'd like to see SuperVPN clarify its server ownership in the future to remove this uncertainty.
EXPERT ADVICE: For a trusted VPN service with an entirely self-owned network, we recommend using Private Internet Access. You can try PIA VPN risk-free with its 30-day money-back guarantee.
Streaming
Only Works to Unblock BBC iPlayer
Here's a list of popular streaming services that SuperVPN Fast VPN client currently works with:
| Streaming Platform | Works with SuperVPN Free VPN Client |
| --- | --- |
| Channel 4 | No |
| Amazon Prime Video | No |
| BBC iPlayer | Yes |
| Disney+ | No |
| HBO Max | No |
| Hotstar India | No |
| Hulu | No |
| ITVX | No |
| Netflix US | No |
| YouTube | No |
If you want to know if SuperVPN works with a streaming service that's not listed above, ask us at hello@top10vpn.com and we'll test it for you.
Consistently Unblocks BBC iPlayer, but No Other UK Service
Our most recent tests confirm that SuperVPN still works with BBC iPlayer. This has been the case for over three years of testing and works for both on-demand and live content.
Despite a 68% loss in download speed while connected to its UK server, we were able to stream BBC iPlayer in HD quality.
Having said that, it took several minutes to load a live video and our stream buffered on multiple occasions.
Aside from BBC iPlayer, SuperVPN's UK server failed to unblock UK Netflix, ITVX, or All 4. If UK streaming services are a priority for you, we recommend using Windscribe Free. It's free to use and can reliably unblock all of the above without any buffering or drops in video quality.
SuperVPN Doesn't Work with Any Netflix Libraries
In our testing, we couldn't stream Netflix on any of SuperVPN's servers. We were able to open the Netflix app each time, but our content library was limited to Netflix exclusives.
In other instances, the Netflix app refused to load its content or displayed titles from a different region entirely.
If you need a free VPN to access geo-restricted libraries, try using one of the top free Netflix VPNs. All of the VPNs are optimized for Netflix streaming and work on mobile.
Fails to Unblock Hulu, HBO Max, Disney+ & More
SuperVPN performed badly in our latest streaming tests. We were unable to unblock the vast majority of streaming services, including Hulu, Amazon Prime Video, HBO Max, and Hotstar.
Even if SuperVPN did work with more streaming services, we can't recommend it for streaming due to its slow download speeds and frequent lapses in VPN connection. Plus, its logging practices are a privacy-risk.
Torrenting
SuperVPN Is Not Suitable for Anonymous Torrenting
Here is a summary of how SuperVPN Fast VPN client performed in our torrenting tests:
| Torrenting Attribute | Result |
| --- | --- |
| Average Download Bitrate | 9.7MiB/s |
| No. of P2P Servers | Undisclosed |
| Logging Policy | Intrusive Logging |
| Kill Switch | No |
| Port Forwarding | No |
We tested SuperVPN by connecting to a nearby server and downloading a 1GB torrent test file via the BitTorrent Android app. This process was then repeated multiple times to calculate an average result.
SuperVPN should not be used for torrenting under any circumstances due to its dangerous logging policy and inadequate security features.
All of your torrenting activity is logged by the VPN and can be passed over to law enforcement agencies. Moreover, the absence of a kill switch leaves your real IP address exposed to the torrent swarm in the event of a VPN disconnection.
We strongly recommend you use a trusted free VPN for torrenting, instead. All of our shortlisted VPNs are fast, secure, and won't log your torrenting activity.
It's a shame SuperVPN cannot be trusted with sensitive activities like torrenting, as on our 10MiB/s connection, SuperVPN averaged an exceptional bitrate of 9.7MiB/s. As a result, SuperVPN is the joint-fourth fastest VPN for torrenting that we've tested.
Unclear Torrenting Policy & Ambiguous Jurisdiction
SuperVPN's Google Store listing and privacy policy do not mention torrenting anywhere. There's also no customer support available to clarify the VPN's stance on torrenting and DMCA requests.
The iOS VPN app from SuperVPN's developer, LinkVPN, has a strict no torrenting rule, so we expected SuperVPN to block P2P traffic. However, this was not the case in our testing.
Previously, SuperVPN's privacy policy made reference to storing data on servers in the US and UK – two members of the Five Eyes data-sharing alliance.
Although any mention of this is now gone, the privacy policy continues to be hosted from a server in America which suggests your data may be stored in the same place.
If that's the case, then your torrenting activity falls within the jurisdiction of US law enforcement.
Bypassing Web Censorship
No Obfuscation Tools for Highly-Censored Countries
We were unable to apply our full China VPN testing process to SuperVPN as it doesn't have a desktop app.
Despite some reviews on the Google Play Store claiming otherwise, we find it unlikely that SuperVPN works in China due to its lack of VPN obfuscation technology.
The VPN only supports the outdated IKEv2/IPSec protocol and an undisclosed encryption method, which is unlikely to bypass China's sophisticated censorship.
Furthermore, our investigation into free VPN ownership revealed that SuperVPN has ties with China. As such, using SuperVPN in China represents a real risk to your safety and anonymity.
For a safer and more reliable anti-censorship VPN, we suggest reading our PrivateVPN review. It has no links to China, uses the Shadowsocks Proxy to bypass censorship, and maintains a 82% success rate in China.
Security & Technical Features
Untrustworthy Practices & Weak Security
You can find a full list of the VPN protocols, encryption ciphers, and extra technical features SuperVPN has in the table below:
| Protocols | Available in SuperVPN Free VPN Client |
| --- | --- |
| IKEv2/IPSec | Yes |
| OpenVPN (TCP/UDP) | No |
| WireGuard | No |
| Encryption | Available in SuperVPN Free VPN Client |
| --- | --- |
| AES-128 | No |
| AES-192 | No |
| AES-256 | No |
| Blowfish | No |
| ChaCha20 | No |
| Undisclosed | Yes |
| Security | Available in SuperVPN Free VPN Client |
| --- | --- |
| DNS Leak Blocking | No |
| First-party DNS | No |
| IPv6 Leak Blocking | No |
| Supports TCP Port 443 | No |
| VPN Kill Switch | No |
| WebRTC Leak Blocking | No |
| Advanced Features | Available in SuperVPN Free VPN Client |
| --- | --- |
| Ad Blocker | No |
| Dedicated IP | No |
| Double VPN | No |
| Smart DNS | No |
| Static IP | No |
| SOCKS | No |
| Split Tunneling | Yes |
| Tor over VPN Server | No |
| Tracker Blocker | No |
Outdated Protocols & Unknown Encryption Cipher
No information about SuperVPN's protocol or encryption method is available within its app or Google Play Store listing. This erodes our trust in the service and is another indicator of SuperVPN's poor overall quality.
As a bare minimum, we expect VPNs to disclose their encryption cipher, with top-rated VPNs like PIA going a step further and open-sourcing their apps.
After thorough investigation, we can confirm that SuperVPN uses a version of the strongSwan VPN client and the IKEv2 protocol.
Although strongSwan is open-sourced, it has enabled SuperVPN to embed adware into its apps through APKs. This undermines your online privacy by allowing Google insight into your browsing activity.
We're also concerned by SuperVPN's reliance on the outdated and closed-source IKEv2 protocol. Moving forward, we'd welcome the inclusion of the OpenVPN and WireGuard protocols as safer and more modern alternatives.
Leaks DNS Requests
We tested SuperVPN for IP, WebRTC, and DNS leaks using our in-house VPN leak test tool.
Below you can see an image displaying the results of our tests:
Our IP address remained hidden but SuperVPN leaked our DNS requests. This allows third-parties to view your browsing activity, undermining your online privacy.
We want to see SuperVPN address this issue in the future by adding DNS leak blocking to its VPN software. To go a step further, we'd like SuperVPN to follow ExpressVPN's example of using entirely first-party DNS servers.
Inadequate Security & Missing Features
SuperVPN's suite of security features is subpar compared to top services like PIA and NordVPN. Most notably, SuperVPN doesn't have a kill switch.
We verified this by testing SuperVPN with our kill switch tool. The tool works by monitoring for any IP leaks while switching VPN servers or during an unexpected VPN disconnection.
Without a kill switch, your real IP address and personal data is exposed every time your VPN unexpectedly disconnects. This is particularly troubling considering SuperVPN's connection problems.
SuperVPN lacks any basic or advanced technical features, aside from a rudimentary split tunneling feature labeled 'Smart Proxy'. We've listed the most important ones we'd like to see SuperVPN add in a table below:
AES-256 encryption to protect your personal data and conceal it from third-parties.
WireGuard and OpenVPN support to securely tunnel your network traffic.
VPN Kill Switch to block all traffic, even following a sudden disconnection.
Desktop and iOS apps to improve device compatibility and accommodate more users.
Device & OS Compatibility
SuperVPN Only Works on Android Devices
Apps
SuperVPN is only available on the following platform:
Android
Aside from Android, SuperVPN is incompatible with every major operating system. This has been the case since its launch, with no indication of future expansion onto different platforms.
If you need a free VPN for multiple platforms, we suggest reading our AtlasVPN Free review. It works on desktop and mobile devices and allows unlimited simultaneous connections.
Games Consoles & Streaming Devices
Without Smart DNS or a router app, SuperVPN cannot be used on any games consoles or streaming devices.
Leading VPN services like ExpressVPN and Surfshark overcome this issue by providing Smart DNS tools in their base subscription.
SuperVPN also doesn't provide dedicated apps for Amazon Fire TV or Android TV, and there isn't an .APK file for sideloading.
Browser Extensions
SuperVPN doesn't support a VPN extension or web proxy for any mainstream browser.
Browser extensions are an inessential feature of a VPN service but offer a lightweight solution for encrypting web traffic.
If you need a VPN extension for your browser, we recommend installing ExpressVPN. It's not only our highest rated VPN overall, but also the best VPN Extension for Chrome and the top-rated VPN for Firefox.
Ease of Use
Intrusive Ads & Limited User Interface
To set up SuperVPN, simply go to its Google Play Store listing and click Install. Once the VPN has downloaded, you'll be asked to accept its connection request and to disable battery optimization. We found that tapping Allow for the latter didn't actually change any of our battery settings.
This is much improved from SuperVPN's previous set-up process which requested access to our GPS, USB storage, WiFi, and more. Despite this improvement, we still don't recommend installing SuperVPN.
We've outlined our experience of using SuperVPN's Android app in detail below:
Android
We found SuperVPN easy to use and understand, primarily due to the absence of any features. It uses a simple white background with a large central connect button and a drop down menu for the server list. This is standard for mobile VPNs and accessible for all users.
The ring around the connect button changes from gray to green when connecting, and blue once connected. We found this system helpful for indicating our connection status, especially once we began to experience connectivity problems in our testing.
SuperVPN's app redesign removed the confusing "VPN is ready: Continue" screen upon launch, as well as the large orange button encouraging the purchase of the VIP version. These small changes have made it much easier to use SuperVPN and reduced the number of misclicks.
You can access the server list through the drop down menu on the home screen or by tapping the flag icon in the top-right corner. Frustratingly, you have to manually disconnect each time before changing server locations.
Better designed VPNs, such as NordVPN, allow you to seamlessly change server locations without forcing you to disconnect from the VPN.
We were also left frustrated by SuperVPN's constant unskippable ads. This made using SuperVPN awful and shows the real day-to-day impact of its intrusive adware.
To improve its user experience, SuperVPN needs to create a modern, ad-free VPN app which better integrates into the Android ecosystem. For a well-designed and secure Android app, we recommend installing ProtonVPN Free. Its Android app has the same features as its desktop counterparts as well as the integrated 'Always-on' kill switch.
Customer Support
Threadbare & Unhelpful Customer Support
You can try to contact SuperVPN's customer support team in the following ways:
| Customer Support | Available in SuperVPN Free VPN Client |
| --- | --- |
| 24/7 Live Chat Support | No |
| 24/7 Email Support | No |
| Chatbot | No |
| Live Chat Support | No |
| Email | Yes |
| Email Support via Online Form | No |
| Tutorial Videos | No |
| Online Resources | No |
As part of our VPN testing process, we check the responsiveness, availability, and accuracy of every VPN's customer support team. We can confirm that SuperVPN fails in every department.
Our testing team found an email on SuperVPN's Google Play Store listing, but we received no response when we emailed it. In fact, we've never received a reply from SuperVPN in over three years of testing.
At the very least, we expect a VPN service to acknowledge our query with a response, even if it's unhelpful. Premium VPN services, like Astrill VPN, respond quickly to customer emails with detailed and informed answers.
Aside from its unmanned email, SuperVPN has some FAQs within its app. They provide some basic troubleshooting guidance, but it's not enough to compensate for the lack of actual customer support.
There's also a button you can press in the app for troubleshooting poor VPN connectivity. Tapping this button redirects you to a webpage with instructions for disabling battery optimization on different Android devices.
We advise against clicking this button as the webpage is hosted on an insecure HTTP server which is a privacy risk. We're also unsure as to how disabling battery optimization improves your VPN connection.
To improve its customer support, we'd like SuperVPN to implement at least one channel of support. This could be a manned support email, a live chat feature, or developed FAQs.
The Bottom Line
Is SuperVPN Worth It?
SuperVPN is not a safe VPN and should be avoided at all costs.
By installing SuperVPN, you are risking your online security and privacy by allowing adware onto your device. Furthermore, the lack of fundamental industry-standard features, such as a kill switch or AES-256 encryption, leaves your network traffic and personal data exposed.
Even if SuperVPN was safe to use, it performs too poorly in other testing categories to be worth using. Its speeds are slow in every location, it can't unblock the vast majority of streaming platforms, and it's incapable of bypassing web censorship.
SuperVPN does provide fast torrenting speeds but this isn't enough to mitigate the risks to your online security and anonymity, as well as the poor quality of the VPN service.
There are much safer free Android VPNs available, that won't sell your data, log your real IP address, or ignore your email.
Alternatives to SuperVPN
As one of the worst VPNs we've reviewed, there are a number of alternative VPN services to choose from.
Windscribe Free is one of our top-rated free VPNs and outperforms SuperVPN in almost every metric. Unlike SuperVPN, Windscribe Free can unblock Netflix, including 6 international libraries, HBO Max, and Amazon Prime Video. It's also much faster, has a private logging policy, and uses secure tunneling and encryption.
For a trustworthy and secure free VPN, Proton VPN Free is an excellent choice. Although it's not great for streaming or torrenting, Proton VPN Free is free to use without any limits on bandwidth or data. It's backed by third-party security audits of its open-sourced apps as well as a private Swiss jurisdiction. It's also got a kill switch on all of its apps, including Android.
You can use the table below to see how SuperVPN compares to its alternatives:
---
User Reviews for SuperVPN Free VPN Client
User Reviews are shown in the original language of submission.