Bitdefender VPN Review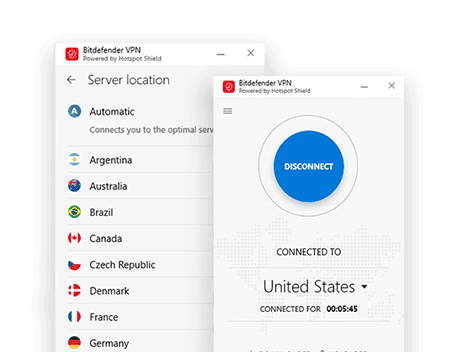 Privacy & Logging Policy
Bitdefender VPN temporarily logs your IP address
The Bitdefender suite of security software (mainly its antivirus) was developed in Romania in 2001, but its predecessor – a program called Antivirus Expert – was developed under the company name Softwin in 1996.
The company continues to be based in Romania, which isn't a member of the Five, Nine or 14 Eyes data sharing agreements.
But, Romania is an EU member state, which is subject to data retention laws. Bitdefender's jurisdiction does make the quality of its logging policy all the more important.
If Bitdefender VPN was no-logs then there wouldn't any internet data to hand over. Sadly, Bitdefender VPN's privacy policy confirms the service collects personally-identifiable information.
Logging Policy
Bitdefender's privacy policy covers all home solution products, and includes just two short paragraphs about the VPN service:


Aura (formerly Pango, and before that AnchorFree) acts as a data processor for Bitdefender. This means that while Bitdefender collects and has authority over your information, Aura processes some of it on Bitdefender's behalf.

Aura has been the subject of some controversy in the past, which you can read about in our Hotspot Shield VPN review. The complaints centered around the company's use of data from the free version of the Hotspot Shield app.
While these issues have been resolved, we think it's important that users know about this before they commit to a VPN product managed in some capacity by Aura.
Because Bitdefender has a very vague privacy policy, Aura's can give some idea of how your data will be handled.
Fortunately, the company does not log any user activity:

But this does not make it truly no logs.
Aura keeps much more than we consider necessary to maintain a VPN service. It tracks:
Your IP address – although encrypted, and only stored for the duration of your connection
Connection timestamps – which are stored for up to three years
Bandwidth used in each session – again, stored for up to three years
Device information – including unique device identifiers, browser type, operating system and wireless network information
Aggregated website logs – at the domain level (i.e. not full URLs) and not associated with the individual
Approximate geographic location – derived from IP information (not GPS), and used to find the nearest VPN server
The only thing Aura guarantees is that it does not collect any data which connects you to your VPN browsing activity.
Since Aura is a data processor, not a data controller, it should only be storing information Bitdefender requests. In the absence of a fleshed out logging policy from Bitdefender, though, it is difficult to say for certain what it does or doesn't log.
Your data should be handled by as few people as possible – having a second company involved is a needless extra step (not to mention confusing).
Speed
Very fast local and global speeds
Here are the speeds we recorded while using Bitdefender VPN:
As the data shows, Bitdefender is fast in every location. We were particularly impressed with its international speeds of 97Mbps, beating top VPNs like ExpressVPN and NordVPN.
Bitdefender can achieve these speeds because it is one of a few VPNs to run on Hotspot Shield's proprietary Hydra VPN protocol.
Bitdefender isn't the only antivirus company to do this. In our McAfee VPN review we explain how its service also uses a Hotspot Shield white-label.
Server Locations
Limited server coverage and no city-level locations
25 Countries
25 Cities
1,300+IP Address
The Bitdefender server list is limited to 25 countries, with 15 of them based in Europe.
Server coverage in North America is good, with servers in Mexico, the US, and Canada. But, there isn't any city-level choices, which can lead to speed issues and problems bypassing US sports blackouts.
Additionally, there are four server locations in Asia: Hong Kong, Indonesia, Japan, and Singapore.
Disappointingly, there are only two South American server locations available (Argentina and Brazil), and no VPN servers in Africa, the Caribbean, or the Middle East.
Overall, Bitdefender VPN's server location coverage is poor. In comparison, our CyberGhost review details how the VPN covers 90 countries, with city-level choice in the US, UK and eight other nations.
Streaming
Streams BBC iPlayer but doesn't work with US Netflix
Bitdefender is quick to claim that its VPN can "unlock media from all over the world." That's not true, though. Bitdefender is in fact a poor VPN for streaming.
In our streaming tests, Bitdefender VPN didn't work with Netflix on any server, including the UK and US servers. It also failed to unblock HBO Max and Amazon Prime Video.
Based on our regular tests, Bitdefender simply cannot compare to the best Netflix VPNs and HBO Max VPNs we've found.
Surprisingly, we unblocked BBC iPlayer through the UK server, which a lot of VPNs struggle to unblock.
Like most other VPNs, Bitdefender VPN also streams geo-blocked content on YouTube, which is valuable if the website is blocked at your school or workplace.
Torrenting
Bitdefender VPN is not safe for torrenting
Torrenting is allowed on Bitdefender's VPN network, and we registered quick file-sharing speeds in our P2P tests.
But, we don't recommend torrenting using Bitdefender VPN.
During our tests Bitdefender VPN suffered from DNS leaks. While DNS leaks don't reveal your download activity on its own, DNS information can used to identify you.
Your ISP won't know what you're torrenting, but it will know when and where you're torrenting.
In short, it's not worth running risks using Bitdefender VPN. Instead, our recent IPVanish P2P tests confirm the VPN service is still one of the safest torrent VPNs to use.
Bypassing Web Censorship
Bitdefender VPN doesn't evade web censorship filters
Bitdefender VPN won't bypass internet censors in countries like China, the UAE, and Turkey.
It's not a surprise, though, considering Bitdefender even states on its website that it restricts use of the VPN in the below countries:
Belarus
China
Iran
Iraq
Oman
Russia
Turkey
UAE
We don't recommend using Bitdefender VPN if you intend to travel to a highly-censored nation, because it just won't work.
To beat aggressive web censorship, use our best China VPNs, Russia VPNs, Turkey VPNs or UAE VPNs, instead.
Security & Technical Features
DNS leaks and very few extra security settings
| Protocols | Available in Bitdefender VPN |
| --- | --- |
| IKEv2/IPSec | No |
| Hydra | Yes |
| OpenVPN (TCP/UDP) | No |
| WireGuard | No |
| Encryption | Available in Bitdefender VPN |
| --- | --- |
| AES-128 | No |
| AES-192 | No |
| AES-256 | Yes |
| Blowfish | No |
| ChaCha20 | No |
| Security | Available in Bitdefender VPN |
| --- | --- |
| DNS Leak Blocking | No |
| First-party DNS | No |
| IPv6 Leak Blocking | Yes |
| Supports TCP Port 443 | No |
| VPN Kill Switch | Yes |
| WebRTC Leak Blocking | No |
| Advanced Features | Available in Bitdefender VPN |
| --- | --- |
| Ad Blocker | No |
| Dedicated IP | No |
| Double VPN | No |
| Smart DNS | No |
| Static IP | No |
| SOCKS | No |
| Split Tunneling | Yes |
| Tor over VPN Server | No |
| Tracker Blocker | No |
In its FAQ section, Bitdefender describes its VPN as a service which "secures your online activity":
But is this VPN software really secure? Not as far as we're concerned.
Bitdefender suffers from DNS leaks
When we tested Bitdefender VPN we didn't find any IPv4 or IPv6 leaks, or any WebRTC leaks. But, we did detect DNS leaks on every single server we connected to.
Here is what our VPN leak test looked like: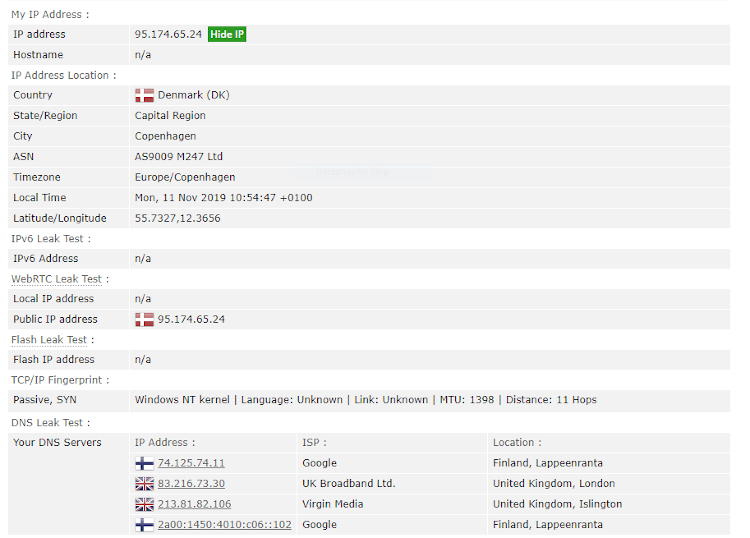 From the screenshot above, you can see we were correctly assigned a Danish IP address, but our UK DNS servers were also visible.
This means that while your ISP won't see what you're doing online, it can see and record every website you visit while Bitdefender VPN is active, and potentially prevent you from accessing any censored sites.
DNS leaks also increase your risk of falling victim to man-in-the-middle attacks.
DNS leaks are a fatal flaw for a modern VPN – particularly since the mainstream adoption of HTTPS means that your non-DNS is already end-to-end encrypted between you and the site you are visiting.
AES-256 encryption and a kill switch
On a positive note, the VPN uses AES-256 encryption, and every application comes with the recently-added kill switch.
VPN split tunneling is also available, in case you want certain apps to use your real Internet address.
VPN protocol selection
The VPN protocol behind Bitdefender VPN is Hotspot Shield's proprietary Catapult Hydra.
The Hydra protocol is very fast, but its make up is less clear than other more mainstream protocols, like OpenVPN and WireGuard.
Sadly, neither WireGuard nor OpenVPN are protocol options within the Bitdefender VPN applications.
Device & OS Compatibility
Basic applications with very few settings
Apps
Windows

Mac

iOS

Android
Bitdefender has dedicated VPN apps for Windows, Android, macOS, and iOS. They're all basic and lack many advanced settings.
Beyond these major platforms, the VPN offers very little additional device compatibility, sadly.
There is no Smart DNS and no router support, meaning you can't use Bitdefender VPN on Apple TV or games consoles. Moreover, there is no Android TV or Fire TV Stick app, either.
To make matters worse, there are no web browser extensions, which are very popular among VPN users.
Ease of Use
Easy enough to use but not a standalone app
How to Install & Set Up Bitdefender VPN
Some VPN apps are easy to use because of great design and others are easy to use because they have almost no features, and it would be difficult to make them hard to use.
Bitdefender VPN fits squarely in the second category.
This doesn't mean the app design is bad – on the contrary it is very easy to use – but its limited functionality won't be getting too much praise from us.
The mobile apps both have a simple layout. The VPN is easy to find, located within one of five tabs at the bottom of the screen.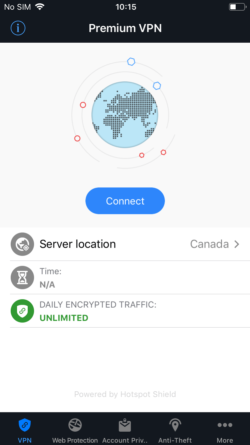 There is a central "connect" button, and an easy to find server select button, too.
The servers are arranged alphabetically by country. Since there aren't too many locations it's easy to find the location you want.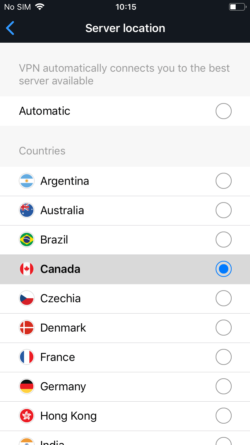 There is also a connection timer, and a meter to track how much data you have left if you're using the free version of the app.
This is the full extent of the VPN's functionality. If you want, you can use the anti-virus and security features in the other tabs, but you won't find any additional VPN settings.
The Mac and PC versions of the VPN require you to have Bitdefender Total Security installed. You can launch the VPN on its own, so unless you plan to use Bitdefender's other features the Total Security app is little more than bloatware.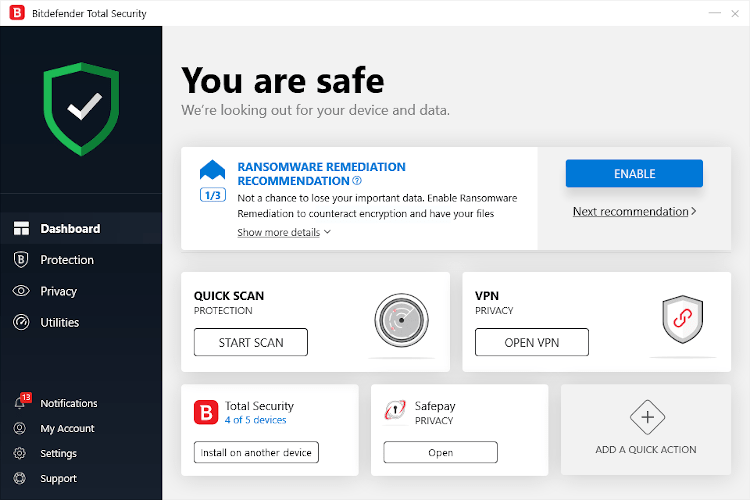 The VPN app itself is even more simple than the mobile version.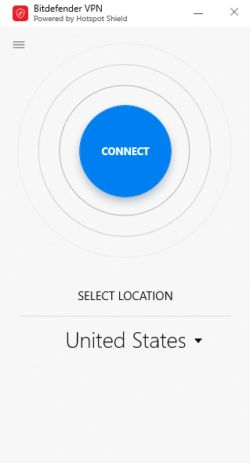 It has an easy to navigate server list, which we like.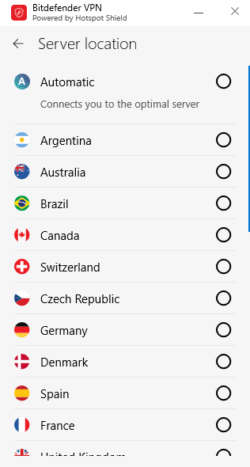 The settings menu is easy to find, but there isn't much there. The feature to automatically launch the VPN when connecting to unsecure WiFi is nice.
Many of the key features we would expect of a top level VPN just aren't here, though. We would really like to see a kill switch option, for instance.
Customer Support
Fast and helpful customer support
| Customer Support | Available in Bitdefender VPN |
| --- | --- |
| 24/7 Live Chat Support | Yes |
| 24/7 Email Support | No |
| Chatbot | No |
| Email | Yes |
| Email Support via Online Form | No |
| Tutorial Videos | No |
| Online Resources | Yes |
When we first reviewed Bitdefender VPN we found its customer support frustrating, but it's made some definite improvements since then.
Livechat is quick and helpful (although not quite available 24/7 in our experience): perfect for customers all around the globe.
Bitdefender also provides setup guides and troubleshooting instructions for most common problems, which are well set out and should solve most issues you may encounter.
The forums are pretty helpful too, although these are mostly user-operated so aren't the most reliable source out there.
Price & Value
Bitdefender VPN is not good value for your money
Like the VPN itself, Bitdefender keeps its payment plans as simple as possible. You have two choices: monthly or yearly.
Paying for a single month of Bitdefender VPN is the more expensive option, coming in at $4.99. However, signing up for a 12-month plan brings the price down to a slightly lower $4.16 per month.
Payment & Refund Options
Mastercard

PayPal

Visa
You can purchase Bitdefender using major credit cards like Visa, Mastercard, American Express, and Discover. You can also pay by PayPal or direct bank transfer.
You won't be able to find more private or anonymous payment methods, though. We'd like to see the option to pay with cryptocurrency or a prepaid credit card, or even cash.
Bitdefender VPN's money-back guarantee
Bitdefender VPN offers a 30 day money back guarantee, which is the standard across VPN services.
To get a full refund, the process is easy: fill out an email ticket stating you want a refund.
Bitdefender's free VPN service
There is a free VPN service which comes bundled with any purchase of a Bitdefender product.
Bitdefender's fee VPN is very limited, though. You have a 200MB daily data cap, and you can't select server locations.
Moreover, the free VPN won't unblock any geo-restricted websites and applications.
All in all, Bitdefender VPN's free service is very disappointing and can't match the best free VPNs we've reviewed.
The Bottom Line
Bitdefender is a mediocre VPN service
Unfortunately, Bitdefender VPN is not a service we recommend our readers use.
It's not good for streaming or torrenting, it lacks many advanced settings, and it even suffers from DNS leaks.
Furthermore, you can't even use the VPN on many devices including Firestick, Apple TV, PlayStation or Xbox.
In summary, Bitdefender is a poor VPN and there are better and more affordable VPNs on the market.
EXPERT ADVICE: ExpressVPN is the best VPN there is. It's perfect for overseas streaming and secure torrenting.
Take advantage of its money-back guarantee and try ExpressVPN for free.
Alternatives to Bitdefender VPN
Hotspot Shield
Hotspot Shield's proprietary protocol - Catapult Hydra - is what helps Bitdefender run so fast. This VPN includes everything in Bitdefender VPN plus far more server options and features. Most importantly it doesn't leak. Read Hotspot Shield review
Surfshark
A great value VPN, Surfshark offers a consistently secure connection which doesn't leak any identifiable information. It also includes a range of advanced security features, such as a kill-switch to keep you safe if your connection fails. Read Surfshark review
---
User Feedback for Bitdefender VPN