Top10VPN is reader-supported. We may earn commissions if you buy through links on this page. Learn how we make money.
Bitdefender VPN: Ranked #-1 out of 98 VPNs that we tested
Bitdefender VPN claims to grant its users "complete online anonymity" while they surf the web, but is this statement really true?
We thoroughly tested all aspects of Bitdefender VPN to discover if it really will keep you safe online, as well as answer questions such as:
Does Bitdefender slow down your internet?
Is Bitdefender a secure VPN service?
Does Bitdefender keep logs?
Will Bitdefender work in China?
How do you install Bitdefender?
But first, here's our brief overview of Bitdefender VPN, including its pros and cons.
Same-country downloads of 75Mbps
No DNS or IPv6 leaks
Torrenting permitted on all servers
Works with BBC iPlayer
24/7 live chat support
Blocked by Netflix
Doesn't work in China
No advanced settings
Vague logging policy
Not a standalone product
Read on for our full review of Bitdefender VPN and how it measures up to VPN services at a similar price point.
Speed & Reliability
Same-country speeds of almost 80Mbps
Bitdefender VPN hardly slowed down our internet speeds at all during our performance tests. In fact, it's one of the lowest percentage drops we've seen from a VPN service.
If you're planning on using Bitdefender to connect to the same country or one nearby, you're in luck, as we clocked speeds of just under 80Mbps connected to the UK server (we test from
London).
Bitdefender is a very fast VPN for connecting internationally, too – the Canadian server returned speeds of almost 50Mbps and the US server wasn't too far behind. Given these results, you shouldn't struggle to do pretty much whatever you want online while connected to Bitdefender VPN.
Speed results from our physical location in London (100Mbps fibre optic connection) to a London test server.
Before using Bitdefender VPN:
92.17

98.75

Ping

ms

2
When connected to Bitdefender VPN:
75.36

87.46

Ping

ms

9
Download speed without Bitdefender VPN: 92.17Mbps
Download speed with Bitdefender VPN: 75.36Mbps
Our download speed loss when Bitdefender VPN is running: 18%
Bitdefender's latency isn't the quickest we've seen but at 9ms on same-country connections, it shouldn't pose too much of a problem for gamers. Connections were very reliable too, with little fluctuation in speeds between tests and no drops at all.
These are the average speeds you can expect connecting out to various countries worldwide:
USA: 39.88Mbps
Germany: 73.02Mbps
Japan: 11.35Mbps
Australia: 9.34Mbps
Server Locations
VPN servers in 27 countries worldwide
27
Countries
27
Cities
?
IP Addresses
Bitdefender's VPN server network is on the small side compared to other VPN services with just 27 countries to choose from. European users have the most choice, with countries on this continent accounting for 16 of the VPN servers on offer.
There's a handful of Bitdefender server options in Asia and two locations in South America (Brazil and Argentina), but Africa currently lacks any choice whatsoever. There's also no way of connecting to a Bitdefender server in a specific city, which could be a problem in larger countries.
There's no indication of how many individual servers and IP addresses Bitdefender provides either, which indicates that the number is likely relatively low. This could lead to server congestion at peak times, such as evenings and weekends.
Streaming & Torrenting
Blocked by Netflix but works with BBC iPlayer and allows torrenting
If you're looking for a VPN that works with popular streaming services like Netflix, Bitdefender VPN is not a good choice. Bitdefender's only US server doesn't work with Netflix and it doesn't look like it has done for some time, either.
When we contacted Bitdefender's customer support, it simply informed us that Bitdefender VPN won't work with Netflix because it has an "anti-VPN policy". While we know it can be difficult for VPN services to bypass Netflix's IP address blocks, several of them are able to do so without any problems, notably NordVPN.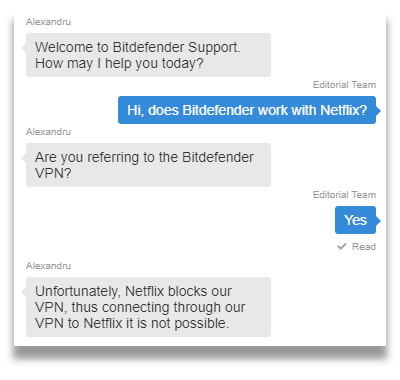 If you want to watch BBC iPlayer, however, you're in luck, as Bitdefender's UK server is currently working to access the service, which is pretty rare given the BBC's harsh crackdowns on VPN providers. The stream's audio and video quality were very good, too.
Torrenting
There's no mention of torrenting on Bitdefender's website, but we spoke to a member of the customer support team and they informed us that torrenting is permitted on all VPN servers. It's also not subject to any sort of speed throttling, which is good news.
Even better for torrenters, Bitdefender has no DNS or IP leaks, which means your information will be protected during P2P activity. The lack of VPN kill switch on iOS and Android is disappointing, though, as is Bitdefender's confusing logging policy. It doesn't look like Bitdefender works with Kodi, either.
Bypassing Censorship
Blocked in China
After contacting Bitdefender's customer support team, we can confirm that Bitdefender VPN is currently not working in China and is therefore no good to anybody that needs to connect out from behind the Great Firewall.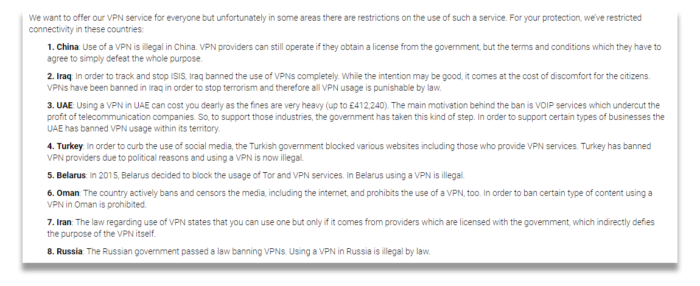 Due to 'regional VPN restrictions', Bitdefender has also blocked VPN connectivity in these countries:
If you're looking for a VPN service that provides reliable access in high-censorship countries, we'd highly recommend Astrill.
Platforms & Devices
Compatible with Windows, MacOS, Android & iOS
Apps
Games Consoles & Streaming Devices
Browser Extensions
Encryption & Security
Strong encryption but no advanced features
Protocol

OpenVPN (TCP/UDP)

Proprietary

Encryption

AES-256

Security

DNS Leak Blocking

IPV6 Leak Blocking

VPN Kill Switch

Advanced features
Please see our VPN Glossary if these terms confuse you and would like to learn more.
Bitdefender VPN seems to be secure enough compared to other VPN services but there's very little configurability within the apps themselves. All of the software is encrypted with top cipher AES-256, though.
Bitdefender's Windows and Android apps use the OpenVPN protocol while MacOS and iOS apps use HydraVPN – a proprietary protocol created by Hotspot Shield, the company that powers Bitdefender's VPN service. It appears to offer a good level of protection but there's not much information on how exactly it works.
Bitdefender does have a VPN kill switch, but this is only available on Windows and Mac, and that's about it for advanced settings. We're pleased to say we didn't experience any IP, DNS, or WebRTC leaks while connected to Bitdefender, though.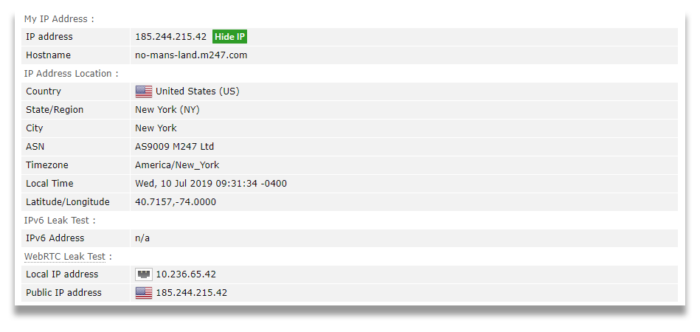 Logging Policy
Confusing logging policy but privacy-friendly jurisdiction
It was incredibly difficult to find Bitdefender's VPN logging policy on its website, which is a warning sign in itself. When we eventually located it, we found it equally difficult to read due to a ton of overly-complex language.
Buried at the bottom of the page is a short section titled 'VPN services', in which it states that Bitdefender does keep some connection logs, namely "randomly generated or hashed user and device IDs, IP addresses and randomly generated tokens".
The fact that Bitdefender collects your originating IP address is very concerning, as this could be used to personally identify you – this isn't something we'd expect from a reputable VPN service.
Your data is also processed by a third party (AnchorFree, owner of Hotspot Shield), which is even more worrying.
Jurisdiction
Bitdefender was founded in 2001 in Romania, and its headquarters are still based in Bucharest. This puts it beyond the reach of any intrusive surveillance laws or intelligence-sharing agreements between countries.
Bitdefender's jurisdiction means that your personal data won't be shared with any third parties unless it receives a valid request from a law enforcement agency. This doesn't make its intrusive logging policy any less concerning, though.
Ease of Use
Easy enough to use but not a standalone app
How to Install & Set Up Bitdefender VPN
Navigating the Bitdefender VPN app is incredibly simple and most likely aimed at VPN beginners. The desktop main screen is stripped back to the basics and only displays a big connect button, your connection time and location, and total amount of bandwidth used.
Changing server locations on Bitdefender VPN is very easy, or there's an automatic setting that selects the best VPN server based on your physical location. It really is a case of clicking connect and you're ready to go.
Our main issue with Bitdefender VPN is that you can't just install the VPN on its own – you have to install the Bitdefender Total Security package, which includes use of its premium VPN service.
This means that you also get malware and ransomware protection for all of your devices – a good thing from a security perspective, but if you already have these services from other providers then it's a bit of a nuisance.
Bitdefender is easy enough to install, though. Simply sign up for an account, enter the activation code sent to your email address and download the software to your device via your Bitdefender Central account.
Customer Support
Difficult to navigate but some useful forums
Bitdefender's website isn't very easy to navigate, so finding where to get the right support could be difficult. Once you know where you're going, however, the resources on offer are actually pretty good, and there's live chat support available 24/7.
Bitdefender also provides setup guides and troubleshooting instructions for most common problems, which are well set out and should solve most issues you may encounter. The forums are pretty helpful too, although these are mostly user-operated so aren't the most reliable source out there.
Pricing & Deals
Reasonably priced but requires a yearly subscription
Bitdefender VPN Coupon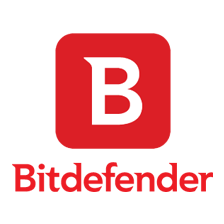 Bitdefender VPN
Get 52% off Bitdefender's 12-month plan
Bitdefender VPN Pricing Plan
Bitdefender VPN only has two different pricing plans – monthly and yearly. You have to sign up for a year of Bitdefender Total Security, which costs $39.99, and then you add the cost of the VPN on to that.
Paying for a single month of Bitdefender VPN is the more expensive option, coming in at $6.99, but this is still pretty cheap compared to other VPN services. If you sign up for a 12-month subscription, however, you could save yourself 52%, bringing the price down to a very reasonable $3.33 per month.
All plans have 30-day money-back guarantee
Payment & Refund Options
Bitdefender also offers both a free VPN service and a 30-day money-back guarantee in order to test out the service. The money-back guarantee is completely no questions asked – simply contact Bitdefender within 30 days of your purchase date and they'll process your refund.
Bitdefender's free VPN service comes with the purchase of any Bitdefender product on Windows, MacOS, iOS or Android. There are some limitations, however – there's a 200MB daily data cap and you'll automatically be connected to the 'optimal' server for your location.
Currently the only way to pay for Bitdefender VPN is via credit card, debit card or PayPal. It's not possible to use any form of cryptocurrency and there are no alternative methods such as AliPay.
You've read our expert review - read on for reviews from real users.
We value your opinion, whether it's positive or negative. Please leave a helpful and informative review, and don't disclose personal information or use abusive language. All user reviews are moderated to ensure they meet our posting guidelines.
Already use Bitdefender VPN? Tell us what you think.
When a review is marked "Verified Customer" it means we've verified that the reviewer has had a genuine experience with the company.