AVG Secure VPN Review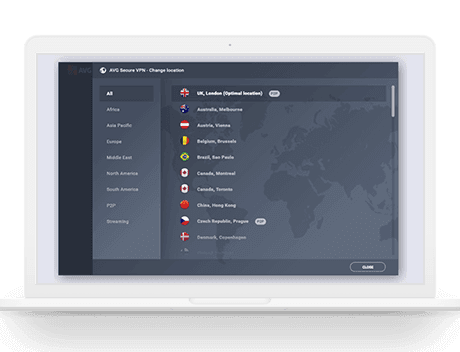 Privacy & Logging Policy
Collects too much user internet data
AVG Secure VPN logs the following information:
A timestamp when you connect to and disconnect from the VPN
The total amount of data transmitted during your session
Note: This data is held by AVG for 35 days.
The VPN previously logged the subnet of your originating IP address and the IP address of the individual VPN server used. We're glad that the VPN provider has improved its privacy policy, but we'd like it to go further.
AVG Secure VPN shares the same privacy policy as Avast SecureLine. However, HideMyAss, another VPN owned by Avast, has a much more private logging policy.
AVG Secure VPN logs the exact time of connection, while HideMyAss only logs the day of connection. AVG VPN collects the exact amount of data transmitted, while HideMyAss only collects the rounded total of data transmitted.
These extra steps help anonymize the traffic, making it harder to work out who you are based on your web activity. As a result, we'd like Avast to have all of its VPNs use a singular private logging policy.
As it stands, AVG VPN logs more user data than is necessary. It should put off anyone who wants a high level of online privacy.
Ownership Overview
AVG (including AVG Secure VPN) was acquired by Avast in July 2016. Avast is a well-known cybersecurity company.
Avast operates its own VPN, Avast SecureLine, and it also owns HMA VPN (see our updated review).
Avast has a poor track record for protecting user privacy and data. You can read more about this in our Avast SecureLine review.
Based in the EU
Avast is headquartered in the Czech Republic. As a result, the company is subject to intrusive EU data retention laws and intelligence-sharing agreements with other countries.
In line with Czech law, AVG would have to provide the data it retains to law enforcement if requested. As the VPN logs some data, such as connection timestamps, your identity could be worked out.
How Private Is AVG Secure VPN Compared to Other VPNs?
To compare how private AVG VPN is, we've collected data about it and four other VPNs in the table below. You'll see each VPN's key metrics, such as its overall privacy rating, logging policy, and jurisdiction.
Speed
Fast speeds across every server location
Here are our full local speed test results when we tested AVG Secure VPN using the Mimic protocol:
Local Speed Test results before using AVG Secure VPN:
Download Speed: 100Mbps
Upload Speed: 100Mbps
Ping: 1ms
Local Speed Test results with AVG Secure VPN:
Download Speed: 94Mbps
Upload Speed: 99Mbps
Ping: 50ms
Download speed loss when AVG Secure VPN is running: 6%
Since the last time we tested it, AVG VPN's download speeds have improved by 42% and by 65% for its upload speeds. We're glad AVG has improved and we hope it can continue to boost speed performance in further product iterations.
The one major downside to the VPN's local speeds is its ping time. We measured a ping rate of 50ms, 50 times higher than the baseline.
International Speed Test Results
Here are the full results we recorded when connecting to server locations from London, UK with a 100Mbps internet connection:
USA:

Download: 85Mbps (15% loss)
Upload: 30Mbps (70% loss)

Germany:

Download: 100Mbps (0% loss)
Upload: 30Mbps (70% loss)

Singapore:

Download: 73Mbps (27% loss)
Upload: 24Mbps (76% loss)

Australia:

Download: 89Mbps (11% loss)
Upload: 10Mbps (90% loss)

Brazil:

Download: 70Mbps (30% loss)
Upload: 1Mbps (99% loss)
AVG Secure VPN's download speeds remain fast on servers around the world. We were particularly impressed with the results from the US and Australia, with our speeds remaining above 85Mbps in both locations.
That said, the VPN's upload speeds are slow. AVG VPN is not an ideal choice if you regularly upload files.
How Fast Is AVG Secure VPN Compared to Other VPNs?
Using the table below, you can compare AVG VPN's speed results to other VPNs. We've collected information about the VPN's download speeds, upload speeds, and ping. We've also given each VPN an overall speed score using our speed testing scoring calculator.
Server Locations
Small VPN server network covering 36 countries
36 Countries
55 Cities
Undisclosed number ofIP Address
AVG Secure VPN's server network isn't very big, covering just 36 countries.
Sadly, AVG's website doesn't list its server network, making it difficult to check whether or not the country you need is available before you purchase.
Thankfully, AVG Secure VPN's servers cover the most popular locations such as the US, UK, Canada, Australia, and many countries in Western Europe.
There are also eight countries available in Asia Pacific, three in South and Central America, two in the Middle East, and one in Africa (South Africa).
AVG Secure VPN allows users to connect to city-level servers in six countries:
Canada (2)
Germany (2)
Russia (2)
Spain (2)
UK (2)
US (15)
City-level server choice is great for optimizing speeds and for accessing geo-specific content. AVG Secure VPN's selection of 15 cities in the US alone is impressive for a server network of this size.
AVG does not disclose how many individual VPN servers (or IP addresses) it provides, nor does it specify whether they are virtual or physical servers.
If you need a wider range of VPN servers, we recommend considering Hotspot Shield, a VPN with servers in over 80 countries.
Streaming
Streams US Netflix and BBC iPlayer
Our most recent tests found that AVG VPN is less reliable at streaming US Netflix than it used to be. That said, it still accessed the streaming service more often than not.
The VPN is a good choice for streaming BBC iPlayer from outside the UK. Over months of testing, AVG was able to access iPlayer each time. Even the very best VPNs, like ExpressVPN, struggle with this.
To access US Netflix, connect to the 'Gotham City' server. To stream BBC iPlayer, connect to the 'Wonderland' server.
Disappointingly, AVG VPN doesn't work with any other streaming service. We were unable to stream Amazon Prime Video, Hulu, HBO Max, or Peacock while connected to the VPN.
Torrenting
Not recommended for torrenting
AVG Secure VPN only allows P2P activity on servers in six countries. These can be found in the 'Torrenting' section of the server list.
AVG Secure VPN's torrenting servers are located in the following regions:
Czech Republic
France
Germany
Netherlands
UK
US (Miami, New York & Seattle)
You can't torrent using any other servers.
As well as the limited server selection, we don't recommend AVG Secure VPN for torrenting due to its logging policy. The VPN stores way too much user connection data.
There are far more private P2P VPNs available. See what we mean by reading our review of NordVPN or our analysis of IPVanish.
Bypassing Web Censorship
AVG VPN doesn't work in China
We've never been able to use AVG Secure VPN in China. The VPN is detected instantly and we're unable to even log into the app.
AVG openly admits the VPN won't work in China "due to Chinese government regulation and policies."
AVG Secure VPN will still work in highly-censored countries like Russia and Turkey, though, which have less-strict VPN bans than China.
While Chinese web filters block many VPN services, there still are VPNs able to bypass the Great Firewall. See our list of the best VPNs for China to learn more.
Security & Technical Features
Strong encryption but basic security tools
| Protocols | Available in AVG Secure VPN |
| --- | --- |
| IKEv2/IPSec | Yes |
| L2TP/IPSec | Yes |
| OpenVPN (TCP/UDP) | Yes |
| WireGuard | No |
| Encryption | Available in AVG Secure VPN |
| --- | --- |
| AES-128 | No |
| AES-192 | No |
| AES-256 | Yes |
| Blowfish | No |
| ChaCha20 | No |
| Security | Available in AVG Secure VPN |
| --- | --- |
| DNS Leak Blocking | No |
| First-party DNS | No |
| IPv6 Leak Blocking | No |
| Supports TCP Port 443 | No |
| VPN Kill Switch | Yes |
| WebRTC Leak Blocking | No |
| Advanced Features | Available in AVG Secure VPN |
| --- | --- |
| Ad Blocker | No |
| Dedicated IP | No |
| Double VPN | No |
| Smart DNS | No |
| Static IP | No |
| SOCKS | No |
| Split Tunneling | No |
| Tor over VPN Server | No |
| Tracker Blocker | No |
Poor Selection of VPN Protocols
AVG Secure VPN uses different VPN protocols for each of its apps:
Windows and Android – OpenVPN (UDP) and Mimic.
macOS – L2TP/IPSec and Mimic.
iOS – IKEv2/IPSec and Mimic.
Mimic is a proprietary VPN protocol developed by Avast. It's exclusive to AVG Secure VPN and Avast Secureline. It's a closed-source protocol that hasn't been audited by a third party. As a result, it's impossible to know how safe and secure it is to use.
Until more details are published, we don't recommend using Mimic for sensitive activities, such as torrenting or online banking. Where it's available, you should use OpenVPN instead.
There's no option to use WireGuard, either. WireGuard is a new VPN protocol that performs well on speed and security. Unlike Mimic, it's also open-source, meaning it can be vetted by third parties.
We'd like to see AVG VPN add OpenVPN as an option on all platforms, as well as support WireGuard.
No Advanced Security Features
AVG's VPN software performs poorly when it comes to configurable settings.
All of AVG VPN's apps use AES-256 encryption, which is considered unbreakable. It doesn't have split tunneling, a feature that allows you to run some apps outside of the VPN tunnel.
There aren't any advanced security features, either, like multi-hop, dedicated IP, or a malware blocker. Instead, AVG's security features are basic and offer no options for customization.
The one upside is that AVG VPN has a VPN kill switch on its Windows and macOS clients.
The kill switch protects your real IP address if the VPN connection drops unexpectedly. The feature blocks all internet traffic and keeps your true IP address hidden.
AVG VPN Hides Your IP Address
We put AVG Secure VPN through a range of security tests to ensure it doesn't leak any personal information. We didn't experience any leaks during our DNS, IP, or WebRTC leak tests.
However, AVG Secure VPN still recommends disabling WebRTC in your browser settings, since the VPN can't disable WebRTC in-app.
Device & OS Compatibility
Doesn't work on many devices
Apps
Windows

Mac

iOS

Android
AVG Secure VPN is incompatible with games consoles and TV streaming devices. It doesn't have a Fire TV Stick app, no Smart DNS tool, and you can't set it up on your home router.
For better streaming and online gaming, we recommend these highly-rated Apple TV VPNs, Fire TV Stick VPNs, and VPNs for gaming.
Lacks browser extensions
AVG Secure VPN doesn't come with any VPN browser extensions.
To use a VPN directly from your browser, we recommend these top Chrome VPNs and these secure Firefox VPNs.
On the plus side, you can use AVG Secure VPN on up to ten devices simultaneously.
Ease of Use
Simple VPN apps with easy set up
How to Install & Set Up AVG Secure VPN
AVG VPN is easy to install, set up, and use on all platforms.
To connect to a VPN server, just click the on/off button from the app's home screen. Servers are conveniently split up into use cases. For example, click 'Torrenting' to find all of AVG VPN's dedicated P2P servers.
Though its apps don't offer many customization options, this means AVG VPN is very easy to use. The app is fine if you want a simple VPN to encrypt web traffic or bypass streaming restrictions.
But if you want a VPN that allows you to benefit from advanced features, you should consider an alternative.
Customer Support
Poor live chat and slow email responses
| Customer Support | Available in AVG Secure VPN |
| --- | --- |
| 24/7 Live Chat Support | Yes |
| 24/7 Email Support | No |
| Chatbot | No |
| Email | No |
| Email Support via Online Form | Yes |
| Tutorial Videos | No |
| Online Resources | Yes |
The best way to get in touch with an AVG support agent is via live chat. Sadly, it't not clear how to do this through the AVG website.
We found that AVG's live chat support team are available through a specialzed URL.
The support team covers both the AVG antivirus product as well as the VPN. We often had to wait over 20 minutes to be put through, and once we were, our query wasn't always answered.
When contacting AVG via a support request form on the website, we sometimes didn't receive any responses at all.
The support section of AVG's website is poorly laid out and it took us a long time to find relevant resources. That's because there's no marked section for AVG Secure VPN.
The FAQ section is basic, but it does include some setup instructions and troubleshooting tips. There are also links to the community forum, with mostly user-generated tips and advice, but little input from AVG's support team.
Price & Value
Not worth the expensive subscription cost
AVG's VPN subscriptions start from a minimum of $4.99 for 12 months. The price drops to $3.99 per month on the two-year and three-year plans. You'll have to pay upfront for each subscription.
Unlike most other VPN services, AVG does not offer a monthly subscription option. Make sure to use the VPN's free trial before paying the upfront fee.
Here are AVG Secure VPN's pricing options in full:
We recommend signing up for a yearly or two-year subscription. You won't benefit from any further discount if you choose the three-year plan.
Simply, there are far better and cheaper VPNs available for less. For example, Surfshark's two-year subscription is 45% cheaper, and Mullvad is available monthly for just $5.95.
The VPN also comes bundled with the 'AVG Ultimate' subscription. This package includes AVG's antivirus and PC optimization software. It's available for an annual subscription of $79.99.
Payment & Refund Options
American Express

Mastercard

PayPal

Visa
It's only possible to purchase AVG Secure VPN using a credit card or PayPal. This limitation puts it well behind its competitors in terms of payment options.
There is no option to pay with cryptocurrencies for greater levels of privacy, nor are there any international options like AliPay or WorldPay.
7-Day Free Trial
AVG Secure VPN isn't free, but you can trial the software for seven days without paying a cent. No personal or payment information is needed for the free trial.
Simply download the VPN on your chosen device and you're good to go. You can only use the VPN on one device during the free trial, though.
30-Day Refund Guarantee
AVG Secure VPN also offers a 30-day money-back guarantee, but it does come with some restrictions.
You are only eligible for a refund if you've used less than 10GB of data during the 30 days, and if you've connected to the VPN service fewer than 100 times in total.
If you do qualify for a refund, simply contact the AVG support team.
The Bottom Line
We don't recommend using AVG Secure VPN
AVG Secure VPN is a mediocre VPN service, but it has improved slightly of late. It logs less user data than it used to, and its speeds are now very fast. However, it doesn't go far enough.
The VPN still logs connection timestamps, and its fast speeds are down to the untested Mimic protocol. As a result, it's not suitable for users concerned about privacy or security.
It's a decent choice if you need to get an IP address from another country quickly. The VPN has servers in 36 countries, with all the main regions covered.
While we were able to watch US Netflix and BBC iPlayer using AVG VPN's streaming-optimized servers, it didn't work with Prime Video or Hulu. Also, its live chat customer support option is poor and email support is slow.
It's fine to use if the VPN comes as part of your existing AVG subscription, but we don't recommend paying for it separately. There's no monthly subscription option, and there are safer and better alternatives available for cheaper.
In short, you should not use AVG Secure VPN and use a different VPN instead. You can find some suggestions in the section below.
Alternatives to AVG Secure VPN
Private Internet Access
Looking for super-fast speeds and top-level privacy? Private Internet Access provides both. It works reliably with US Netflix, too. Read Private Internet Access review
CyberGhost
If it's access to global content you need, CyberGhost is a great choice. With VPN servers in 90 countries. It's also safe, secure, and cheap. Read CyberGhost review
---
User Feedback for AVG Secure VPN
Questions & User Reviews are shown in the original language of submission.