Disclosure: Top10VPN is editorially independent. We may earn commissions if you buy a VPN through links on our site.
Our Verdict
AVG Secure VPN is an acceptable choice for unblocking streaming sites and using public WiFi securely. However, the VPN logs connection timestamps and the amount of data used during a network session. For this reason, we don't recommend using this VPN for privacy.
AVG is one of the biggest antivirus brands in the world, but how good is its VPN service?
Sadly, AVG Secure VPN is not a very good VPN. While its sufficiently secure, it is a privacy unfriendly piece of software, which logs too much user data.
Streaming fans will be happy that the VPN unblocks US Netflix and BBC iPlayer. However, P2P users need to stay away from a service that stores their web activity.
We thoroughly tested AVG Secure VPN to produce a detailed review of this virtual private network, to answer common questions like:
Is AVG Secure VPN fast?
How safe is AVG Secure VPN?
Does AVG VPN allow torrenting?
Is AVG Secure VPN worth the money?
AVG Secure VPN Pros & Cons
Pros
Decent speeds

Unblocks US Netflix & BBC iPlayer

VPN kill switch & no IP, DNS, or WebRTC leaks

Optimized VPN servers for torrenting

User-friendly VPN apps for popular platforms
Cons
Keeps connection logs including timestamps

Very small server network (36 countries)

No configurable options

Doesn't work in China

Terrible customer support
AVG Secure VPN Key Data
| | |
| --- | --- |
| Data Cap | Unlimited |
| Speed | 76Mbps |
| Logging Policy | Intrusive Logging |
| Data Leaks | No |
| Jurisdiction | Czech Republic (EU Member) |
| Servers | Not disclosed |
| IP Addresses | Not disclosed |
| Countries | 36 |
| US Netflix | Yes |
| Torrenting | Permitted |
| Works in China | No |
| Support | Email & Online Resources Only |
| Cheapest Price | $3.99/mo over 24 Months |
| Official Website | Avg.com |
AVG Secure VPN Category Ratings
We test and review every VPN in eight key areas. Here's how AVG Secure VPN performs in each category:
Privacy & Logging Policy: 6.8/10
Encryption & Security: 6.5/10
Speed & Reliability: 6.1/10
Streaming & Torrenting: 8.0/10
Bypassing Censorship: 2.5/10
Ease of Use: 7.7/10
Customer Support: 4.0/10
Price & Value for Money: 6.5/10
To learn more about our methodology, read our full VPN testing process.
Intrusive logging policy
Logging Policy & Ownership
Privacy & Logging Policy Rating: 6.8/10
AVG's privacy policy is extremely long, but at least there is a section dedicated to its VPN service. In this section, we discovered exactly what AVG Secure VPN logs.
The information the VPN service collects includes:
The subnet of your originating IP address (a part of your IP address that can be used to identify your ISP, but not you personally)
The IP address of the individual VPN server used by you
A timestamp when you connect to and disconnect from the VPN
The total amount of data transmitted during your session
This is an unnecessary amount of data to collect for troubleshooting purposes. The data is stored on AVG's servers for up to 30 days, or even longer if they suspect you of breaching the Acceptable Use Policy.
At least AVG states that it does not monitor:
Your full originating IP address
DNS queries while connected
Activity logs: the apps/services/websites you use when connected
Regardless, this is one of the more intrusive VPN logging policies we've seen. It should put off anyone who wants a high level of online privacy.
Ownership Overview
AVG (including AVG Secure VPN) was acquired by Avast Software s.r.o. in July 2016.
Avast operates its own Avast SecureLine VPN, which we also reviewed, and it also owns HMA VPN (see our updated review).
Avast is headquartered in the Czech Republic, which raises a red flag for privacy. In fact, the company is subject to intrusive EU data retention laws and intelligence-sharing agreements with other countries.
AVG's jurisdiction is a problem because of its intrusive VPN logging policy. As we mentioned above, the VPN keeps user connection logs for a minimum of 30 days.
In its privacy policy, AVG even states that it will disclose your personal data to "unrelated third parties" in a few different circumstances, such as:
To satisfy a legitimate government request or order
In compliance with a legal requirement by a court of law or in the public interest
In response to a third-party subpoena
This is not something you want to hear from your VPN service, even if AVG Secure VPN doesn't log your true IP address in full. This attitude towards customer data and consumer privacy is not good.
Adequate internet speeds
VPN Speed Tests
Speed & Reliability Rating: 6.1/10
AVG Secure VPN is not even close to being as fast as the fastest VPNs but speeds are sufficient for most web activities.
Just make sure to test out a couple of nearby servers in order to see which gives you the fastest speeds. For example, we test from the UK, but found the Netherlands server (76Mbps) a fair bit quicker than the one located in our own country (67Mbps).
Here are the full results we recorded when connecting to server locations from London, UK with a 100Mbps internet connection:
Server Location

Download Speed (Mbps)

Upload Speed (Mbps)

Distance (miles)

Starting Speed

95

76

0 mi

UK

67

40

0 mi

USA

43

13

4,484 mi

Singapore

23

4

6,806 mi

Australia

27

4

9,420 mi
Upload speeds were disappointing, though. Clearly, AVG VPN is not an ideal choice if you regularly upload files.
On the other hand, AVG Secure VPN's ping times were acceptable. Low latency is crucial for smoother gaming, but ultimately there are better VPNs for online gaming.
Very small VPN server network covering 36 countries
Server Network
Undisclosed number of
IP Addresses
AVG Secure VPN's server network isn't very big, covering just 36 countries.
Sadly, AVG's website doesn't list its server network, making it difficult to check whether or not the country you need is available before you purchase.
Thankfully, AVG Secure VPN's servers cover the most popular locations such as the US, UK, Canada, Australia, and many countries in Western Europe.
There are also eight countries available in Asia Pacific, three in South and Central America, two in the Middle East, and one in Africa (South Africa).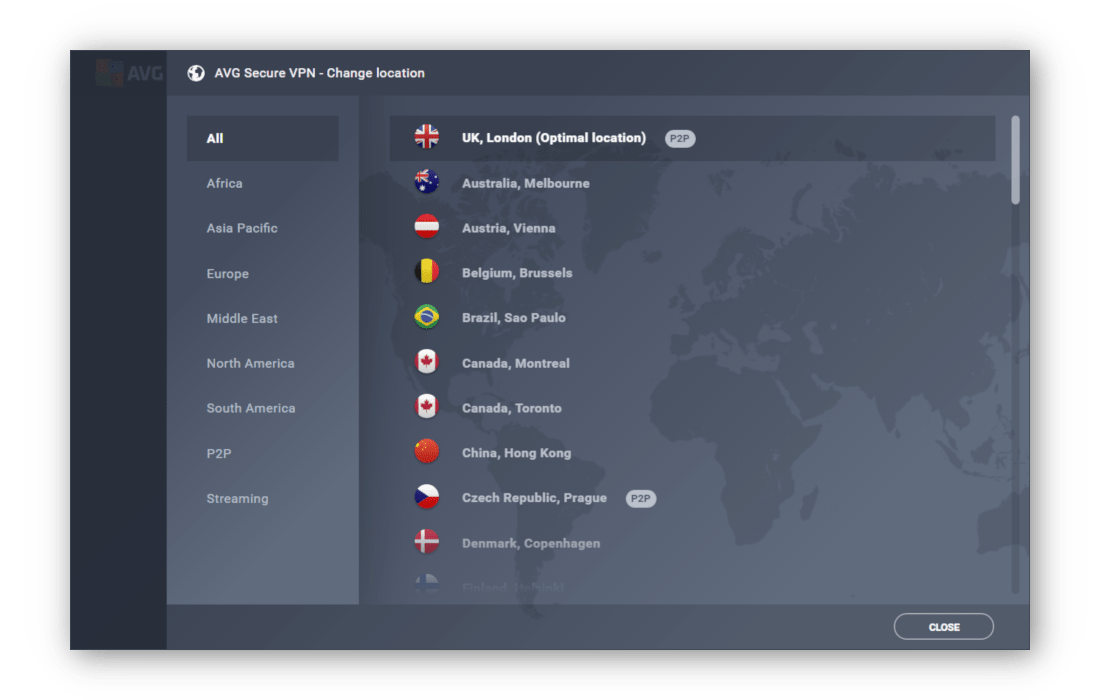 AVG Secure VPN allows users to drill down to city level in six countries:
Canada (2)
Germany (2)
Russia (2)
Spain (2)
UK (2)
US (15)
City-level server choice is great for optimizing speeds and for accessing geo-specific content. AVG Secure VPN's selection of 15 cities in the US alone is impressive for a server network of this size.
AVG does not disclose how many individual VPN servers (or IP addresses) it provides, nor does it specify whether they are virtual or physical servers.
If you need a wider range of VPN servers, read our Hotspot Shield review, a VPN that serves over 80 countries.
Streams US Netflix and BBC iPlayer
Streaming & Torrenting
Streaming & Torrenting Rating: 8.0/10
To our surprise, AVG Secure VPN streams US Netflix and BBC iPlayer on its streaming-optimized servers.
In the past, the VPN service didn't work reliably with American Netflix. However, our recent tests show that AVG VPN has vastly improved its Netflix accessibility.
To unblock US Netflix, we recommend you use the 'Gotham City' server.
Also, the 'Wonderland' VPN server, located in the UK, works with BBC iPlayer effectively. This not something many VPN services can do.
AVG Secure VPN servers that work with Netflix US:
AVG Secure VPN servers that unblock BBC iPlayer:
Torrenting with AVG VPN
AVG Secure VPN allows torrenting, and has several servers optimized for P2P traffic. These servers are labeled 'P2P' in the server list, and are located in:
Czech Republic
France
Germany
The Netherlands
The UK
The US (Miami, New York, & Seattle)
Despite that, we don't recommend AVG Secure VPN for torrenting due to its invasive logging policy. The VPN stores way too much user connection data.
There are far more private P2P VPNs available. See what you mean by reading our review of NordVPN or our analysis of IPVanish.
AVG VPN won't work in China
Bypassing Censorship
Bypassing Censorship Rating: 2.5/10
Don't try to use AVG Secure VPN in China, UAE, Turkey, or any other high-censorship country – it won't work.
AVG Secure VPN's apps don't come with any obfuscation tools or stealth protocols, making OpenVPN – the only VPN protocol included – very easy for censors to detect and block.
AVG themselves opnely admit the VPN won't work in China "due to Chinese government regulation and policies."
While Chinese web filters block many VPN services, there still are VPNs able to bypass the Great Firewall. See our ExpressVPN review or our Astrill review, the two best anti-censorship VPNs we've tested.
Doesn't work on many devices
Devices & OS
Apps
Windows

Mac

iOS

Android
AVG Secure VPN provides custom VPN apps for four popular platforms: Windows, macOS, iOS and Android
Unfortunately, AVG Secure VPN provides no manual workarounds for other devices and platforms, like Linux.
AVG Secure VPN is incompatible with games consoles and TV streaming devices. It doesn't have a Fire TV Stick app, no Smart DNS tool, and you can't set it up on your home router.
For better streaming and online gaming, we recommend these highly-rated Apple TV VPNs, Fire TV Stick VPNs, and VPNs for gaming.
Lacks browser extensions
AVG Secure VPN doesn't come with any VPN browser extensions.
To use a VPN directly from your browser, we recommend these top Chrome VPNs and these secure Firefox VPNs.
On the plus side, you can use AVG Secure VPN on up to ten devices simultaneously.
Strong encyrption but basic security tools
Security Analysis
Protocols

IKEv2/IPSec
L2TP/IPSec
OpenVPN (TCP/UDP)

Encryption

AES-256

Security

VPN Kill Switch

Advanced features
Encryption & Security Rating: 6.5/10
AVG Secure VPN is a rather secure VPN choice for public WiFi usage, but we can't recommend it to anyone with stringent privacy needs due to its logging policy.
AVG Secure VPN uses different VPN protocols for each of its custom apps:
Windows and Android – OpenVPN (UDP), our preferred protocol for its balance between privacy and performance.
MacOS – L2TP/IPSec, an older protocol but still considered secure.
iOS – IKEv2/IPSec, a fairly new VPN protocol that's secure, very fast, and capable of handling network changes efficiently.
You can't toggle between VPN protocols as they are enabled by default in the apps.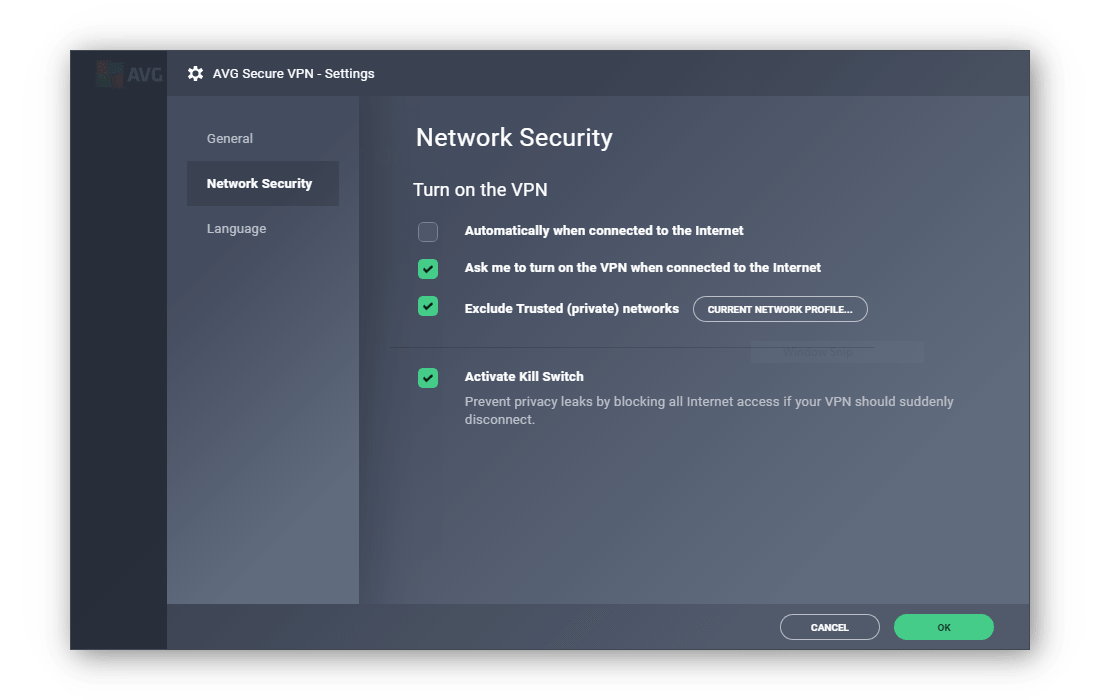 All VPN apps use AES-256 encryption, which is widely considered unbreakable.
There aren't any advanced security features (like multi-hop), but at least AVG VPN has a VPN kill switch on its Windows and MacOS clients.
The kill switch protects your real IP address, if the VPN connection drops unexpectedly. The feature blocks all internet traffic and keeps your true IP address hidden.
No VPN leaks
We didn't experience any DNS, IP, or WebRTC leaks during our tests.
However, AVG Secure VPN still recommends disabling WebRTC in your browser settings, since the VPN doesn't offer a feature to disable WebRTC in-app.
Simple custom VPN apps with easy setup
Ease of Use
How to Install & Set Up AVG Secure VPN
Ease of Use Rating: 7.7/10
AVG's VPN desktop apps are simple to download and install. There are basic setup guides within AVG Secure VPN's FAQs if you need extra help.
The custom apps are well-laid out and very user-friendly, but far too basic.
AVG's VPN software really falls down when it comes to configurable settings. Bar the recently added VPN kill switch, there are none. Not even split-tunneling, to have specific traffic travel outside of the VPN.
There are specific tabs for servers optimized for streaming or torrenting, but there's no way of saving your favorite servers though to easily access them at a later date.
The "Optimal Location" is available for those who want to connect to the fastest server, which is likely the one closest to your physical location.
No live chat and unhelpful email responses
Customer Support
| | |
| --- | --- |
| Email support via an online form | Yes |
| Online Resources | Yes |
Customer Support Rating: 4.0/10
AVG's customer support is disappointing, and not what we expect from a well-established cybersecurity company.
For a start, there's no live chat support, which all top-tier VPN services provide.
The only way to get in touch with a support agent is via a support request form on the website.
You'll only get a response from a human being if you have a paid AVG VPN subscription, otherwise you'll just be redirected to the FAQs.
We received responses to some support queries, after more than 24 hours of waiting, but not to others.
The support section of AVG's website is poorly laid out and it took us a long time to find relevant resources. That's because there's no clearly marked section for AVG Secure VPN.
The FAQ section is basic, but it does include some setup instructions and troubleshooting tips. There are also links to the community forum, with mostly user-generated tips and advice, but little input from AVG's support team.
Not worth the expensive subscription cost
Pricing Plans
Price & Value for Money Rating: 6.5/10
AVG Secure VPN is very expensive for the level of quality it provides. Put simply, there are far cheaper, better, and safer VPN services available for less.
You can choose from three pricing plans, although there is no option to pay for a single month.
Subscriptions start from a minimum of $4.99 for 12-months, which drops to $3.99 per month on the two-year and three-year plans. All subscription lengths include the same product features.
All plans have 30-day money-back guarantee
It's only possible to purchase AVG Secure VPN using a credit/debit card or PayPal. This limitation puts it well behind its competitors in terms of variety of payment methods.
There is no option to pay with cryptocurrencies for greater levels of privacy, nor are there any international options like AliPay or WorldPay.
Seven-day free trial
AVG Secure VPN isn't free, but you can trial the software for seven days without paying a cent. No personal or payment information is needed for the free trial.
Simply download the VPN on your chosen device and you're good to go. You can only use the VPN on one device during the free trial, though.
30-day refund guarantee
AVG Secure VPN also offers a 30-day money-back guarantee, but it does come with some restrictions.
You are only eligible for a refund if you've used less than 10GB of data during the 30 days, and you've not connected to the VPN service more than 100 times in total.
If you do qualify for a refund, simply contact the AVG support team. iOS users will have to do this via the App Store.
AVG Secure VPN is not a good service
The Bottom Line
AVG Secure VPN isn't a bad VPN, but it's not a very good one either.
The VPN service streams US Netflix, but it collects too much user data, isn't particularly fast, and offers no live support.
In short, there are far better VPN services available for the same price, or less.
Alternatives to AVG Secure VPN
Private Internet Access
Looking for super-fast speeds and top-level privacy? Private Internet Access provides both. It unlocks Netflix, too. Read Private Internet Access review
CyberGhost
If it's access to global content you need, CyberGhost is a great choice. With VPN servers in 90 countries, the world's content is at your fingertips. It's safe, secure, and cheap, too! Read CyberGhost review
---
User Feedback for AVG Secure VPN