Disclosure: Top10VPN is editorially independent. We may earn commissions if you buy a VPN through links on our site.
Good logging policy, terrible company history
Logging & Jurisdiction
You can trust Ivacy's very minimal logging policy, but can you trust Ivacy itself? Even with its Singapore jurisdiction we have no issues with what Ivacy logs. Our main issue is Ivacy's suspicious and deceitful past behavior, and its opaque corporate structure.
"There is no ethical obligation to reveal who the people behind Ivacy are."
– Frank, Ivacy Public Relations Manager
Based in Singapore under its parent company PMG Private Limited, Ivacy is particularly evasive about its ownership and operational structure.
After undergoing some research into the company's history, we discovered some unsavory secrets.
You'd never have known it, but Ivacy is actually operated by the same parent company as PureVPN, a Pakistani organization called Gaditek.
Gaditek was founded by the Gadit family, with Umair Gadit being Gaditek's current CEO and fellow co-founder Uzair Gadit being the CEO of PureVPN.
After years of rumors online, Ivacy finally admitted to this, although claiming its association with PureVPN is "only minor."
There's nothing immediately suspicious about this. Several VPN providers are owned and run by the same parent company.
But Gaditek's peculiar, shady business practices, alongside its reluctance to openly discuss the ownership structure, means Ivacy is a VPN to avoid.
Firstly, Ivacy does not name its management team anywhere. Ivacy also refused to disclose this when we reached out to it.
At one point, the Ivacy website did ambiguously name its CEO as 'Mr. Saad', but this has since been scrubbed. A spokesperson also let slip in 2018 that the CEO's name is 'Saad Khan'.
In fact, we believe Ivacy's CEO to be Muhammad Saad Khan. But you'd never know this either, as he does not mention his affiliation to Ivacy anywhere.
He officially states his position as being 'Senior Product Marketing Manager at Cloudways', which is a cloud hosting platform owned by Gaditek.
However, his Quora account has him listed as 'Growth Marketing Strategist at PureVPN'.
He can also be found replying to VPN-related tweets with recommendations for PureVPN, without ever disclosing that he holds a key stake in its parent business and sister company.
As a result, and despite Ivacy's attempts to distance itself from PureVPN, there is a definite relationship between the two. So much so, that it's hard not to see Ivacy as a simple reskin of PureVPN.
On top of the secrecy, Gaditek engages in extremely unpleasant business practices.
Gaditek owns and runs four VPN review sites, which it uses to artificially rank its VPN products in the top positions without ever disclosing its true ownership.
Gaditek also routinely engages in 'astroturfing' – where it creates fake social media accounts to promote its VPN product under the guise of a real person.
Separately, the PR Manager of Digital and Partnerships at Ivacy was caught offering a VPN reviewer a lifetime subscription to Ivacy in exchange for more favorable reviews on his review site.
This is completely unforgivable.
Do you want to put your most sensitive data in the hands of a company that refuses to tell you who it is? And whose marketing strategy is to deceive customers into thinking its product is better than it is?
You shouldn't. For this reason alone, we suggest you think twice about Ivacy.
Logging Policy
Ivacy operates under a minimal-logs logging policy – collecting no information that could be used to identify you from your online activity.
This means Ivacy does not collect your connection logs, duration logs, IP address, connection timestamps, or any DNS queries generated by your end.
Here is the information as it appears in Ivacy's privacy policy:
The only information that Ivacy does gather is your source country, which it claims is to ensure "smooth software functionality."
Ivacy does not reveal how it determines which country you are connecting from, and could not tell us when we contacted it.
This minimal-logs policy is particularly essential for Ivacy, as it is based in Singapore.
Singapore is a popular but bad location to base a VPN. This is because Singapore has a proven track record of collaborating with the Five-Eyes surveillance network and handing over sensitive information to authorities who request it.
So much so, in fact, that Singapore has regularly been dubbed the 'sixth-eye' due to its persistent cooperation with the intelligence alliance.
However, we believe that the minimal logs collected by Ivacy would be of no use to anyone, even a government or police force. This makes the choice of jurisdiction a lot less scary.
Good speeds on local servers, but big dip on international connections
Speed & Reliability
Any VPN inside our top 10 will routinely record faster download speeds than Ivacy on local connections. Ivacy also records mixed results when connecting internationally, too. However, Ivacy is not a slow VPN by any means. Local speeds are fast enough, and you might get lucky when connecting to other countries.
Ivacy delivers decent download and upload speeds.
From our base in London, we saw a 13% drop in download speed and a 43% drop in upload speed when connected to a local London VPN server. These results are good, but certainly not great.
Local Speed Test results before using Ivacy VPN:
Download Speed: 95Mbps
Upload Speed: 98Mbps
Ping: 7ms
Local Speed Test results with Ivacy VPN:
Download Speed: 83Mbps
Upload Speed: 56Mbps
Ping: 16ms
Download speed loss when Ivacy VPN is running: 13%
Ivacy fared a lot worse over far-reaching connections, with a significant download speed dip of 42% when connected to a US East Coast VPN server.
Depending on your internet speeds, this magnitude of drop could make US Netflix streaming a chore.
Using our 100Mbps fiber optic connection, you can view our speed test results connecting from the UK to various Ivacy servers below:
USA: 55Mbps (download) & 14Mbps (upload)
Germany: 82Mbps (download) & 48Mbps (upload)
Singapore: 47Mbps (download) & 13Mbps (upload)
Australia: 15Mbps (download) & 7Mbps (upload)
Latency remained fairly low on our local connection, making Ivacy a great choice for gamers. But there are even better VPN options out there for gaming.
If you want to read more about how we test VPN speeds, check out our page on how we review VPNs.
Unlocks 11 Netflix libraries thanks to dedicated servers
Streaming
Ivacy can get you access to 11 different Netflix libraries from around the world, including the US. It also works with Britain's BBC iPlayer. The rest of its dedicated streaming servers are a little less consistent, but this is still a very strong VPN for streaming.
Ivacy maintains an enormous 64 dedicated streaming servers, with each one designed to gain access to a specific service.
Included are popular broadcasters and services from all around the world like NBC, Amazon Prime, and RaiPlay, but also less common ones like beIN Sports, Hotstar, and FujiTV.
Despite having dozens of servers dedicated to more obscure streaming sites, there isn't one for Disney+. However, we tried multiple US servers and found that Ivacy was able to unlock it anyway.
Fast and unrestricted torrenting on all servers
Torrenting
From a technical standpoint, Ivacy is a terrific VPN for torrenting. You can use any server you like and bitrate was super high in our testing. The all-important kill switch is present to keep your IP protected, and it also allows port forwarding (as a paid extra). Our main problem is that we simply cannot trust Ivacy to protect the privacy of torrenters.
In addition to allowing P2P traffic on its entire server network, Ivacy also has a selection of 'Secure Download' servers.
It's not 100% clear what makes these servers different. The Ivacy app and website state that they use 'real-time threat detection' to provide 'advanced server level virus and malware protection'. You can use them for torrenting, but frankly we're not sure they're necessary.
Port forwarding is a very useful feature for torrenters, as it can increase the speed of your upload and download traffic through BitTorrent. However, it is a paid extra. At only $1.00 per month more on top of your subscription, though, you might want to consider it if you're a prolific torrenter.
Ivacy's kill switch is another important feature if you want to torrent files – but it's not available on every platform.
The kill switch is only available to torrenters on Windows and Android. As such, we recommend that Mac and iOS users avoid using Ivacy for torrenting.
There's also the issue of Ivacy's questionable business practices, which make us hesitant to recommend trusting it with your most sensitive download data.
VPN servers in 64 countries
Server Locations
Ivacy operates 3,500 VPN servers across 64 countries in more than 100 total locations. This is an excellent server network. No matter where you are in the world, Ivacy will have a server near to your location. Aside from covering the most popular countries, Ivacy's support for Asia and Africa is some of the best we've ever seen.
Ivacy's server network is one of the most comprehensively global we've seen. Note that while the Ivacy website only lists 53 countries, we counted a total of 64 in-app
A total server count of 3,500 is one of the highest in the industry, too. We couldn't find information on the number of IP addresses maintained, but given the number of servers there should be plenty to go around.
Ivacy previously operated a huge fleet of virtual server locations, which use masking techniques to conceal their location for WHOIS lookups. This meant that one quarter of all of its servers were not actually located in their advertised location. That number has now decreased to just eight of 64 countries. They are marked within the Windows app with a (v) designation, but are unmarked on MacOS.
Tailor-made app works well in China
Bypassing Censorship
Ivacy Prime is a special version of Ivacy's VPN service specifically designed for use in China. It's a fantastic concept, and it's refreshing to see a VPN put real effort into beating censorship. It doesn't have a 100% success rate in our testing, but it gives you a much better chance within China than most other VPNs do.
Ivacy has a bespoke app just for use in China, called Ivacy Prime. This is tied to your regular Ivacy subscription, so you don't need to pay for two separate applications.
Ivacy Prime is only available on Windows and Android.
Frustratingly, there is no documentation relating to Ivacy Prime on the Ivacy web page, despite big differences between it and the regular Ivacy app.
Firstly, the Ivacy Prime app does not have a kill switch. This means that if your connection drops for any reason, your true IP address may be revealed.
Split tunneling is also not supported, which is less critical, but still a miss.
Ivacy Prime also only supports the OpenVPN protocol, which is fine by us. OpenVPN is open-sourced and has proven to be the best balance between performance and privacy.
The choice of modes has also been stripped back in the Ivacy Prime app — offering just 'Smart Connect', 'Streaming', and 'Social Sites'.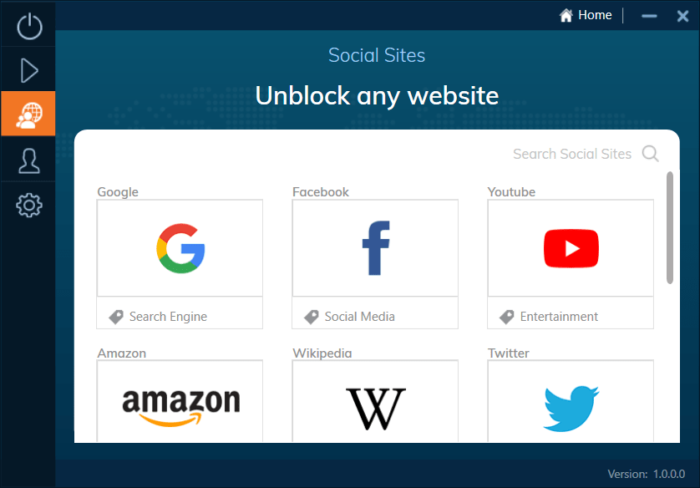 The 'Social Sites' section is the most meaningful addition of the Prime app. This allows you to access popular sites like Facebook, Spotify, and YouTube which have been blocked by the notorious 'Great Firewall of China'.
The usual fare of streaming services, like Netflix and Amazon Prime Video, have their own dedicated servers. There is a notable addition of YouTube TV, but BBC iPlayer is disappointingly absent.
Native apps for all major platforms
Platforms & Devices
Ivacy offers an app or extension for almost every platform we check for. In addition to the most popular operating systems like Windows, MacOS, Android, and iOS, you can also download it for Linux, Kodi, wireless router, and more.
Apps
Ivacy covers the usual suspects with its native VPN apps. These include:
Microsoft Windows
Apple MacOS
Android
iOS
Linux
Smart TV
Windows

Mac

iOS

Android

Linux

Router
Ivacy allows a very generous 10 simultaneous connections per account. This makes it a good choice if you want to protect all your family's devices alongside your own.
However, Apple users be warned – both the kill switch and split tunneling features are unavailable on iOS and MacOS.
This is a huge problem if you plan on using Ivacy VPN on either of these platforms, as if your connection drops your true IP address is at risk of being revealed.
If you're having any issues with downloading, Ivacy does provide helpful walkthroughs on how to install Ivacy VPN on each of its supported platforms.
Games Consoles & Streaming Devices
AppleTV

Amazon Fire TV

Chromecast

Nintendo

PlayStation

Roku

Xbox
Ivacy punches well above its weight when it comes to streaming device support.
Ivacy has dedicated applications for both Amazon Fire TV and Android TV. This means you don't have to fiddle around with manual configurations, but can just download the app and start streaming.
No VPN provider has a native application for any of the major games consoles, so it's not a surprise to see Ivacy lacking support here.
You are still able to run Ivacy on devices like your PS4 and Xbox, though. To do this, you will need to install the VPN at router level, allowing you to cover all devices on your network with VPN security.
Browser Extensions
Chrome

Microsoft Edge

Firefox
Ivacy has VPN browser extensions for Google Chrome, Mozilla Firefox, and Microsoft Edge.
However, like most other VPN browser extensions, they simply work as an internet proxy.
This is fine if you want to use Ivacy just to unblock Netflix or BBC iPlayer, but if you're serious about your online anonymity, we suggest avoiding the browser extension and using the full application.
Robust VPN encryption with a few extra features
Security & Features
Ivacy is a straightforward, feature-light VPN. Windows users get the most for their money (with extras like split tunneling and a kill switch), but there's virtually no additional features on Apple devices. It's secure and doesn't leak, but the lack of a kill switch on iOS and MacOS is a serious concern.
Protocols

IKEv2/IPSec
L2TP/IPSec
OpenVPN (TCP/UDP)
PPTP
SSTP

Encryption

AES-256

Security

DNS Leak Blocking
First-party DNS
IPV6 Leak Blocking
VPN Kill Switch
WebRTC Leak Blocking

Advanced features

Split Tunneling
Ivacy is a solid VPN choice when it comes to encryption and security.
On the Windows app you get a choice of VPN protocols, including OpenVPN and IKEv2 – two of the fastest and safest protocols available.
However, when we first reviewed Ivacy only a small number of its server locations were able to use OpenVPN. We asked a support representative if that had changed recently, and they sent us a list of all OpenVPN-enabled locations.
There are now 38 VPN server locations which support OpenVPN. This is the majority, but it still misses out a large number of servers.
Confusingly, the Windows app doesn't tell you which servers don't support OpenVPN. It won't stop you from connecting to any servers with OpenVPN selected as your preferred protocol, so presumably it automatically changes you to a different protocol – but we don't know which.
MacOS doesn't have a protocol selection. A chat agent confirmed to us that Ivacy on MacOS uses IKEv2 by default.
When using Ivacy VPN all your data is encrypted through the virtually unhackable AES-256 cipher.
Ivacy provides users with a VPN kill switch, DNS, and IPv6 leak protection – all of which work to prevent your true IP address from being exposed in case of an unexpected connection drop.
Our tests found Ivacy to be fully protected from any DNS or IP leaks, too. Ivacy can be relied upon to successfully hide your true IP address.
But be warned – the internet kill switch is only available on Windows and Android. This means iOS and Mac users miss out on a kill switch, which is a huge downside.
The inclusion of split tunneling is a welcome feature. This allows you to safeguard your web traffic while maintaining compatibility with devices on your network, like your printer or streaming device.
But again, split tunneling is only available on Windows and Android.
Apple users are essentially given a second-rate Ivacy product – if you own a Mac, iPhone, or both, then there's not much reason for you to choose Ivacy.
Good value for money on longer plans
Price & Value
Ivacy offers strong value for money on long-term deals, and does very well in offering a wide selection of payment methods. You can also get your money back after 30 days if you're unhappy - a generous refund policy. There's also a 24-hour free trial that requires no payment information.
If you're set on using Ivacy as your VPN provider, it is worth committing to the longer term plans.
If you pay month-by-month, Ivacy is a relatively pricey VPN option at $9.95 each month.
But if you are able to pay $59 upfront for the 2-year plan, the monthly price for Ivacy drops by a massive 75% to just $2.45 a month.
$2.45 a month is a pretty good price for such a capable VPN service. Ivacy is very competitive when it comes to value for money.
All plans have 30-day money-back guarantee
Payment & Refund Options
You can take your pick from a wide range of payment methods when subscribing to Ivacy:
American Express

Bitcoin

Bitcoin Cash

iDeal

Mastercard

Mint

PayPal

Visa
Ivacy has a 30-day money-back guarantee. This guarantee is truly no questions asked and is not subject to any restrictions or data usage caps. If you take out a one-month subscription plan then that refund period is seven days
We found requesting a refund through Ivacy's 24/7 live chat to be swift and painless.
Bad news if you're a crypto-user, though. Payments made via cryptocurrency (as well as the Paymentwall platform) are ineligible for a refund.
You can also register for a totally free one-day trial. Ivacy doesn't make it easy to find on its website, though. You can access it here.
Easy to set up, but clunky to configure
Ease of Use
Simple to a fault, Ivacy is a VPN clearly designed for beginners. We love the different server menus designed to make tasks like unblocking streaming sites and making torrenting more private. However, even on Windows, Ivacy is a very, very simple VPN. If you're a more capable user who wants more extra features or security options then Ivacy isn't for you.
How to Install & Set Up Ivacy VPN
Installing Ivacy is simple, even if you haven't used a VPN before.
You just have to head to the downloads page of the Ivacy website and click 'Get Started' for your preferred platform, then follow the on-screen steps.
Once installed Ivacy is easy to use – although some platforms are definitely simpler than others.
Whatever platform you're using, though, you still get access to Ivacy's four server menus:
'Smart Connect' simply connects you to your nearest Ivacy VPN server
'Secure Download' is for torrenting and P2P traffic
'Streaming' is for unlocking geo-restricted streaming services
'Unblocking' is for connecting to a VPN server in a country of your choosing
Windows and Android have noticeably more features than MacOS and iOS. On Apple devices there are practically no extra features. We're all for simplicity, but the absence of even a kill switch is poor.
On Windows and Android you get the all-important kill switch, as well as access to split tunneling (which allows you to choose certain apps or programs for the VPN to ignore).
There's no real protocol selection on Mac, Android, or iOS. On Android you are offered the choice of UDP or TCP – two variants of OpenVPN.
On iOS the choice is between IKEv2 or IPSec. Chat support wouldn't clarify us exactly what it means by 'IPSec', as that can refer to multiple different protocols. We're left believing that it most likely means L2TP IPSec, which is an insecure protocol that you should avoid. Stick with IKEv2 instead.
On MacOS there's no choice at all – IKEv2 is the default.
Microsoft Windows users get the greatest selection of protocols (although there's still not many). There's OpenVPN (TCP/UDP), IKEv2, and IPSec (which we still don't recommend).
Browser Extensions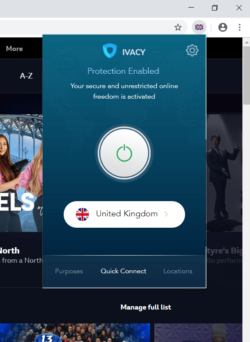 Downloading the Ivacy browser extension for Google Chrome, Mozilla Firefox, or Microsoft Edge is easy.
Just browse to the Ivacy website and click 'Get Started' for your preferred browser.
Much like the fully-fledged application, the Ivacy browser extension is split into multiple sections.
Dedicated servers for streaming can be found in the 'Purposes' tab, as well as a 'Quick Connect' to a local VPN server, and a list of locations around the world to connect to.
Lackluster live chat bolstered by comprehensive online resources
Customer Support
Around-the-clock live chat support is always appreciated. However Ivacy's support agents often had a hard time understanding our questions due to a limited grasp of English and poor technical knowledge. Ivacy's online resources go some way to making up for that, and there's always email support for more complicated queries.
| | |
| --- | --- |
| 24/7 Live chat support | Yes |
| 24/7 Email support | Yes |
Despite being always available, Ivacy's customer support is not as good as we'd like.
Ivacy's 24/7 live chat feature is great if you're in a hurry, but falls flat most of the time.
However, Ivacy makes up for this with a decent knowledge base which should answer the majority of your questions.
The support section on the website is where you'll find FAQs, troubleshooting advice, and manual setup guides for lots of devices.
With more technical questions, we were directed to Ivacy's email support team. Disappointingly, they were not the fastest repliers and were often unable to adequately answer our questions.
More frustratingly, Ivacy's customer support team outright refused to answer some of the questions we had.
For instance, Ivacy refused to tell us how it determines the source country of its users, and ignored all correspondence regarding the company's ownership structure.
Ivacy is a good, but flawed, VPN
The Bottom Line
Ivacy does a lot of things well, but it's not without its weaknesses.
Its inconsistency ultimately means that it can't challenge the very best VPNs.
It's great with streaming and torrenting, but we have a hard time trusting Ivacy to protect your privacy.
Its logging policy is strong, but it's company history is questionable.
It offers 24/7 live chat support, but the help agents often don't know how to answer your questions.
There are certainly worse VPNs available, but you should spend your money on a better one than Ivacy instead.
Additional research by Luke Williams
Alternatives to Ivacy VPN
ExpressVPN
ExpressVPN is the most trustworthy VPN provider around, with its no-logs policy being verified through server seizures and independent security audits. Read ExpressVPN review
PrivateVPN
PrivateVPN is one of the best VPN services on the market. It comes with fast speeds, regular unblocking of US Netflix, and a strict zero-logs policy. Read PrivateVPN review
---
User Feedback for Ivacy VPN