ZoogVPN Review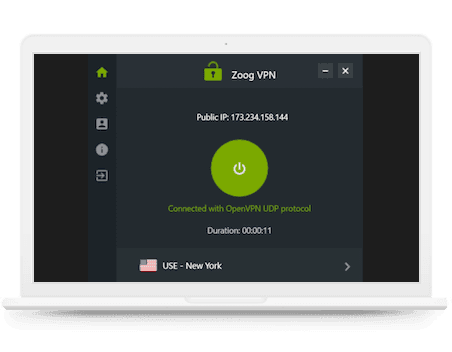 Privacy & Logging Policy
A No-Logs VPN Service
ZoogVPN was founded in May 2013 by "a bunch of networking geeks and techies." Their names are George Agal, Alex Ovan, and Sam Jones. We couldn't find any information about them online, though.
The VPN service is owned by Zoog Services IKE, which is now based in Greece following its incorporation in the Isle of Man, a self-governing British Crown Dependency (and frequent tax haven).
Zoog Services provides an address on its website, which isn't as common in the VPN industry as we'd like it to be.
Greece isn't part of the 14-Eyes international intelligence-sharing alliance. This is a positive. But it is a member of the EU, which still engages in data sharing between member states.
In order to find out what that means for you, let's take a look at ZoogVPN's privacy policy.
Logging Policy
ZoogVPN is based in Greece, which falls under the jurisdiction of the EU. It therefore has to follow the EU's data retention laws.
For the time being, you shouldn't have any concerns regarding ZoogVPN's Greek jurisdiction. This VPN is strictly no-logs.
ZoogVPN's privacy policy clearly states that the service doesn't log:
Usage information on user activity.
The websites or apps the user visits.
Timestamps.
User IP addresses.
The only information Zoog collects, aside from your email address, is aggregated information about the total upload and download data transferred on its servers. This is used to maintain the VPN service.
None of this information is shared with any other company or party, save for customer emails in cases where they're required to verify payment (for example with PayPal or your credit card provider).
ZoogVPN also publishes a regular warrant canary, which currently states that company has received:
0 – National Security letters
0 – Gag orders
0 – Warrants or subpoenas from a government organization
The problem is this Warrant Canary hasn't been updated since March 2022, which is somewhat alarming.
Furthermore, the VPN service's logging policy hasn't been verified by external audit firms, by real-life server seizures, or by court cases.
We're glad to see ZoogVPN take a privacy-focused approach to its logging policy, but we do need to see stronger proof that the service is truly no-logs.
Security & Technical Features
Strong Encryption, Basic Security
| Protocols | Available in ZoogVPN |
| --- | --- |
| IKEv2/IPSec | Yes |
| OpenVPN (TCP/UDP) | Yes |
| WireGuard | No |
| Encryption | Available in ZoogVPN |
| --- | --- |
| AES-128 | No |
| AES-192 | No |
| AES-256 | Yes |
| Blowfish | No |
| ChaCha20 | No |
| Security | Available in ZoogVPN |
| --- | --- |
| DNS Leak Blocking | No |
| First-party DNS | No |
| IPv6 Leak Blocking | No |
| Supports TCP Port 443 | No |
| VPN Kill Switch | Yes |
| WebRTC Leak Blocking | No |
| Advanced Features | Available in ZoogVPN |
| --- | --- |
| Ad Blocker | No |
| Dedicated IP | No |
| Double VPN | No |
| Smart DNS | No |
| Static IP | No |
| SOCKS | No |
| Split Tunneling | No |
| Tor over VPN Server | No |
| Tracker Blocker | No |
ZoogVPN doesn't provide any additional features when it comes to security, but it does include the bare essentials. It supports OpenVPN by default – one of the most secure connection protocols available. Traffic is encrypted with AES-256, a cipher considered uncrackable.
Our tests detected no IP, DNS, or WebRTC leaks, and the VPN kill switch works as intended. Overall, ZoogVPN is a safe and secure VPN service that will effectively encrypt your browsing data and hide your IP address.
As well as OpenVPN, there's also IKEv2/IPSec, L2TP/IPSec, and PPTP protocols available. The first two are fine but we absolutely don't recommend PPTP, as it's very insecure.
There is no WireGuard, which is a newer protocol that we like to see alongside OpenVPN. This speaks to ZoogVPN's basic level of security investment.
The iOS app runs exclusively on IKEv2/IPSec, which is fast, safe, and particularly useful for mobile devices that dip in and out of WiFi and 4G.
ZoogVPN doesn't have any advanced options, like split tunneling or Double VPN. But it does have a VPN kill switch for Windows and Mac, which is responsible for preventing personal data leaks should the VPN connection drop suddenly.
ZoogVPN also passed our tests for IP, DNS, and WebRTC leaks:
As you can see, ZoogVPN relies on third-party DNS servers, which isn't ideal. That said, OpenDNS is secure enough.
ZoogVPN gets the basics of security right, so it's safe to use. But it's not offering anything unique or advanced for experienced VPN users.
Speed
Fast Short & Long Distance Speeds
ZoogVPN's speeds didn't disappoint – the VPN performed well, both over short-distance connections and further afield.
Uploads and downloads were consistently quick enough for HD streaming and smooth torrenting when we connected to nearby VPN servers. This is much faster than other mid-tier VPNs we've reviewed.
Here are our local speed test results in full:
Local Speed Test results before using ZoogVPN:
Download Speed: 96.06Mbps
Upload Speed: 98.9Mbps
Ping: 2ms
Local Speed Test results with ZoogVPN:
Download Speed: 84.35Mbps
Upload Speed: 94.54Mbps
Ping: 15ms
Download speed loss when ZoogVPN is running: 12%
Ping times were a little less impressive, but shouldn't affect the vast majority of users. For a lesser-known product, ZoogVPN's speeds are very, very good.
Here's a quick look at how well ZoogVPN performed internationally:
USA:

Download: 59Mbps (38% speed loss)
Upload: 73Mbps (27% speed loss)
Germany:

Download: 74Mbps (23% speed loss)
Upload: 94Mbps (5% speed loss)
Japan:

Download: 23Mbps (76% speed loss)
Upload: 22Mbps (78% speed loss)
Australia:

Download: 33Mbps (66% speed loss)
Upload: 31Mbps (69% speed loss)
These speeds will enable you to stream, torrent and browse to your heart's content.
ZoogVPN Free Speed Test Results
ZoogVPN's free version speeds are just as fast as the premium version.
Testing local and international free servers, these are the average results we recorded:
UK:

Download: 90Mbps
Upload: 88Mbps
Ping: 8ms
USA:

Download: 65Mbps (23% speed loss)
Upload: 16Mbps (5% speed loss)
Ping: 100ms
Netherlands:

Download: 83Mbps (76% speed loss)
Upload: 38Mbps (78% speed loss)
Ping: 116ms
This makes ZoogVPN one of the fastest free VPNs around, with no sign of speed throttling.
Server Locations
Only 22 Countries On Server Network
22 Countries
34 Cities
50+ IP Addresses
ZoogVPN's server network is underwhelming at 43 physical servers located in 22 countries. The best VPNs have hundreds, if not thousands, of servers.
To make matters worse, we experienced quite a lot of server connection failures during our tests, further narrowing the choice of available locations.
The vast majority of ZoogVPN's servers are situated in Europe and North America, but there are a handful in Asia-Pacific too.
If you live in South America there's no countries at all. For those in Africa the only server on the continent is located in South Africa.
ZoogVPN's website claims that there are "thousands" of shared IP addresses available to users, which should go some way to reducing server congestion.
As is expected for such a small VPN server network, ZoogVPN doesn't provide city-level servers in many countries, but there are two options in Germany and eight in the US.
If you need more server choice then you'll find plenty on our list of the top five VPNs for 2023.
Streaming
No Netflix, HBO Max, or Hulu
ZoogVPN provides a bunch of streaming-friendly servers in several locations – they're clearly marked with a play button symbol.
But they don't always work; we managed to unlock Amazon Prime Video, BBC iPlayer, Disney+, and ITV Hub. We failed to get access to any Netflix library, including the US one.
You can easily find out which servers are intended to work with your favorite streaming service on ZoogVPN's network status page.
As for the video quality, ZoogVPN's speeds are more than good enough for HD streaming with little buffering.
Torrenting
P2P Servers & Kill Switch Fail-Safe
ZoogVPN has P2P servers optimized for torrenting, but only on some of its VPN servers.
These P2P-friendly servers are clearly marked within the app's server locations list. They span 16 countries including Canada, the US, and a handful of servers in Europe and Asia-Pacific.
We picked up a fast average bitrate when using these servers – 9.6MiB/s.
ZoogVPN's no-logs policy will be attractive for torrenting fans. So will the VPN kill switch, which prevents your IP address from being exposed to peers and your ISP should the VPN connection drop.
Bypassing Web Censorship
Obfuscation Tools May Work in China
It's hard to say for sure whether ZoogVPN can be used to consistently bypass internet censors in China. But we find it unlikely.
That said, the Windows and Android VPN apps do have ZoogVPN Shadowing – an extra obfuscation tool designed to make VPN traffic look like normal internet traffic in order to help you beat censorship blocks.
It's a promising sign, and will almost certainly do the trick in slightly less heavily censored countries like Russia and the UAE, but it's a fairly recent development and we can't be sure that it works reliably in China yet.
For now, we recommend you use an effective anti-censorship VPN service like ExpressVPN.
Device & OS Compatibility
Custom Apps for Fire TV & Android TV
Apps
ZoogVPN has apps, or is available to use, on these devices:
Windows

Mac

iOS

Android

Linux

Router
It is possible to install the software on Linux and routers but it requires some manual config.
You can use ZoogVPN on up to five devices at once using just one subscription.
Games Consoles & Streaming Devices
Apple TV

Amazon Fire TV

Chromecast

Nintendo

PlayStation

Roku

Xbox
For those who want to protect their streaming devices, ZoogVPN provides a great solution: custom apps for both Amazon Fire TV Stick and Android TV.
What about smart TVs and games consoles?
Well, you can use ZoogVPN use on pretty much any internet-connected device by installing the software on a supported router. It's a pretty complex process, but ZoogVPN provides simple setup instructions on its website.
Ease of Use
Simple But Unreliable Applications
How to Install & Set Up ZoogVPN
ZoogVPN's apps will be immediately familiar to anyone who's ever used a VPN before, and intuitive to anyone who hasn't.
After a quick and easy setup, the ZoogVPN app displays a big central connect button and a server list sorted in alphabetical order.
There's not many options to play around with – just a choice of protocol and a kill switch toggle.
This is reasonable enough. But when you experience frequent connection failures ZoogVPN's ease of use score plummets. On several occasions, we waited a long time for the VPN to connect only for it to fail altogether.
If you're planning on using a VPN frequently, ZoogVPN might become frustrating quite quickly.
Customer Support
Useful Live Chat Support, Limited Online Resources
| Customer Support | Available in ZoogVPN |
| --- | --- |
| 24/7 Live Chat Support | No |
| 24/7 Email Support | No |
| Chatbot | No |
| Live Chat Support | Yes |
| Email | Yes |
| Email Support via Online Form | No |
| Tutorial Videos | No |
| Online Resources | Yes |
While only available intermittently, ZoogVPN's live chat support is useful for quick answers to simple questions.
For more technical questions we were told to contact 'Level 2 Support' via email.
We waited several hours for a response, but replies were helpful when they eventually came.
There's a basic FAQ section on the ZoogVPN website, along with setup wizards for numerous platforms, but the online resources are far from comprehensive.
Price & Value
Very Cheap & Good Free Version
If a relatively unknown VPN service is to really challenge the best VPN providers, then it also needs to come in at an attractive price point, and ZoogVPN's is an absolute jaw-dropper.
On its two-year deal, ZoogVPN is one of the cheapest fully-featured VPN services we've seen. The prices are as such:
At $1.87 per month on its two-year plan ZoogVPN is one of the absolute cheapest fully-featured VPN services we've seen.
If you're looking for a shorter commitment the 12-month plan is a steal at $2.99 per month. Even if you pay month-to-month, it'll cost you an affordable $9.99.
Payment & Refund Options
You can pay for ZoogVPN with the following payment methods:
American Express

Bitcoin

Mastercard

PayPal

UnionPay

Visa
ZoogVPN accepts the standard payment methods including credit and debit cards, PayPal, and Bitcoin.
It also accepts payments via Paymentwall, which lets you use various international methods such as AliPay.
ZoogVPN offers a seven-day money-back guarantee for users that paid with credit/debit cards or PayPal, but it comes with some terms.
You aren't eligible for a full refund if you've used more than 2GB of data, but ZoogVPN may offer a partial refund at its discretion.
You may only receive a partial refund if "only some of the desired services are not availalbe [sic]."
Even if you do qualify for a refund you'll be subject to a 5% admin fee.
There's a free version of ZoogVPN available, too, but we would strongly recommend you opt for the premium version. The free version of ZoogVPN limits you to 10GB of data and five VPN server locations. It's limited, but it's safe.
ZoogVPN Has One of the Best Free Services
ZoogVPN has a completely free VPN service. You can sign-up easily with no payment details needed.
ZoogVPN Free gives you access to five server locations: US, UK, Poland, Singapore, and the Netherlands.
The service is limited to 10GB of data per month. While this is restrictive, it's actually one of the most generous data allowances around. Only the no-limit Proton VPN Free is better.
Other restrictions include a one-device limit and inferior 128-bit encryption instead of AES-256.
You can stream with ZoogVPN Free. It works to unblock HBO Max. With 10GB you'll be able to watch around 10 hours of content. Its Amsterdam server is also P2P-optimized, which means secure torrenting, too.
We picked up fast speeds, too. On its free London server we recorded 95Mbps local download speeds – a 5% speed loss to our normal internet.
Most importantly, ZoogVPN Free is safe. Its security package is almost identical to the premium version (OpenVPN protocol is available) and is subject to the same zero-logs privacy policy. There's no speed throttling or annoying pop-up ads, either.
If you want a simple, free VPN to browse safely with no strings attached, ZoogVPN is definitely worth checking out.
The Bottom Line
A Promising Mid-Tier VPN
ZoogVPN is promising in some areas – it's a fast zero-logs provider with good security, and it unblocks BBC iPlayer and Disney+.
But its score falls when it comes to stability. ZoogVPN often fails to connect to certain servers, which quickly becomes very frustrating.
ZoogVPN's affordable price is undoubtedly attractive. But there are plenty of other VPN services around that offer much higher levels of quality for around the same monthly cost.
Alternatives to ZoogVPN
Surfshark
For roughly the same price as ZoogVPN, Surfshark is far superior, with top-notch security features and easy access to Netflix. Read Surfshark review
PrivateVPN
PrivateVPN is another really cheap VPN service that doesn't compromise on quality. It keeps no logs, is quick, and works with all your favorite streaming channels. Read PrivateVPN review
---
User Feedback for ZoogVPN