Disclosure: Top10VPN is editorially independent. We may earn commissions if you buy a VPN through links on our site.
Our Verdict
X-VPN Free is a heavily restricted version of X-VPN. It has no data cap, but the free version is limited to mobile devices, has no kill switch, and doesn't work with streaming services. Overall, the lack of server options, desktop support, and constant pop-up ads means X-VPN Free isn't worth downloading.
X-VPN Free claims to host over 50,000,000 users around the world. That means it should be a great VPN service, right?
Well, we don't let numbers speak for themselves – we decided to put this VPN to the test.
Through impartial testing, our experts set out to answer the following questions in this X-VPN Free review:
Is X-VPN Free fast?
How safe is it?
Does X-VPN Free work with Netflix?
Can you use it for torrenting?
Does X-VPN Free have any data caps?
We'll cover the details about this VPN provider later on, but first let's take a look at X-VPN Free's pros and cons.
Read our detailed review of the premium version of X-VPN here.
X-VPN Free Pros & Cons
Pros
Good speeds (if VPN server is nearby)

Unlimited VPN data

User-friendly VPN apps

Live chat support
Cons
No server location options

No VPN kill switch

Doesn't work with Netflix

Unclear torrenting policy

Intrusive and frustrating pop-up ads

Limited to mobile devices
X-VPN Free Key Data
Data Cap
Speed
Logging Policy
Data Leaks
Jurisdiction
Servers
IP Addresses
Countries
US Netflix
Torrenting
Works in China
Support
Cheapest Price
Official Website
Premium
Free
Unlimited
Unlimited
79Mbps
67Mbps
Some User Logs
Some User Logs
Yes
No
Hong Kong
Hong Kong
5,000+
1
5,000+
1+
52
1
Yes
No
Restricted
Restricted
No
No
Live Chat
Live Chat
$5.99/mo over 12 months
N/A
XVPN.io
X-VPN Free Category Ratings
We test and review every VPN in eight key areas. Here's how X-VPN Free performs in each category:
Privacy & Logging Policy: 7.0/10
Encryption & Security: 3.7/10
Speed & Reliability: 6.7/10
Streaming & Torrenting: 1.3/10
Bypassing Censorship: 4.0/10
Ease of Use: 6.0/10
Customer Support: 6.0/10
To learn more about our methodology, read our full VPN testing process.
Who is X-VPN Free?
About & Logging
Privacy & Logging Policy Rating: 7.0/10
X-VPN was incorporated in July 2017 under the name Free Connected Limited in Hong Kong.
Hong Kong is a good place for a VPN to be based as it doesn't have any compulsory data retention laws and it falls outside of Five-Eyes jurisdictions.
However, when we performed a thorough investigation into free VPN apps we found X-VPN has links to mainland China, which is bad news for privacy.
Jin Li, the company's director, and Chengdu Zhuozhuo Technology Co, the sole shareholder, are based in Sichuan province, China.
X-VPN's privacy policy also says that it's willing to disclose user information in response to enforcement requests "when the Service is being used contrary to these Terms and applicable laws."
Read on to find out how that could affect you.
Logging Policy
X-VPN Free's logging policy is exactly the same as it is for premium users – it's neither the most privacy friendly we've read, nor the worst.
Here's what X-VPN collects for troubleshooting and service optimization purposes:
Chosen VPN server
VPN connection timestamp (date and time)
Choice of VPN protocol
Network type
Server CPU load and bandwidth
Thankfully these are only stored for 96 hours before being erased.
X-VPN also stores this information when you open the app for product development purposes:
Device information
App version
Data usage
City-level location
While this data is stored for an undetermined length of time you can request for it to be deleted.
X-VPN also collects anonymous and aggregated data of the sites visited via its servers.
Nevertheless, X-VPN can't link you with your online activities because it doesn't store user IP addresses.
Fairly quick on nearby VPN servers
Speed & Reliability
Speed & Reliability Rating: 6.7/10
There are a couple of things to keep in mind before looking at our X-VPN Free speed test results.
The VPN automatically picks a server location for you, and it may not be close by. While could connect to a VPN server located in the same city as us (London), you might not be as fortunate.
X-VPN uses a proprietary protocol named 'Protocol X'. This means that we can't fairly compare results to those of other VPNs that use standard protocols like OpenVPN.
Now that you've got some context, how well did X-VPN Free perform?
It was okay, but nothing special.
We lost about 30% of our internet speeds when connected to the VPN, which won't affect many online activities too much.
But again, it completely depends on the server location the VPN chooses for you. If it connects you to a faraway country you'll experience much worse speeds.
Local Speed Test Results
Before using X-VPN Free:
Download93

Mbps

Upload92

Mbps

Ping9

ms
When connected to X-VPN Free:
Download67

Mbps

Upload81

Mbps

Ping9

ms
Download speed without X-VPN Free: 93.30Mbps
Download speed with X-VPN Free: 66.60Mbps
Our download speed loss when X-VPN is running: 29%
As you can see, uploads were a little better than downloads, and ping times were very good too.
Having said that, X-VPN isn't a good VPN for torrenting, which we'll explain more about later.
Strong encryption but lacks basic security features
Encryption & Security
| | |
| --- | --- |
| Protocols | Proprietary |
| Encryption | AES-256 |
| Security | First-party DNS |
| Advanced features | |
Encryption & Security Rating: 3.7/10
As we mentioned above, X-VPN doesn't use standard VPN protocols – it uses proprietary technology instead.
According to X-VPN, protocol X uses "unparalleled encryptions and authentications" to protect user data.
It uses nine different types of tunneling protocols, which you can find within the app settings.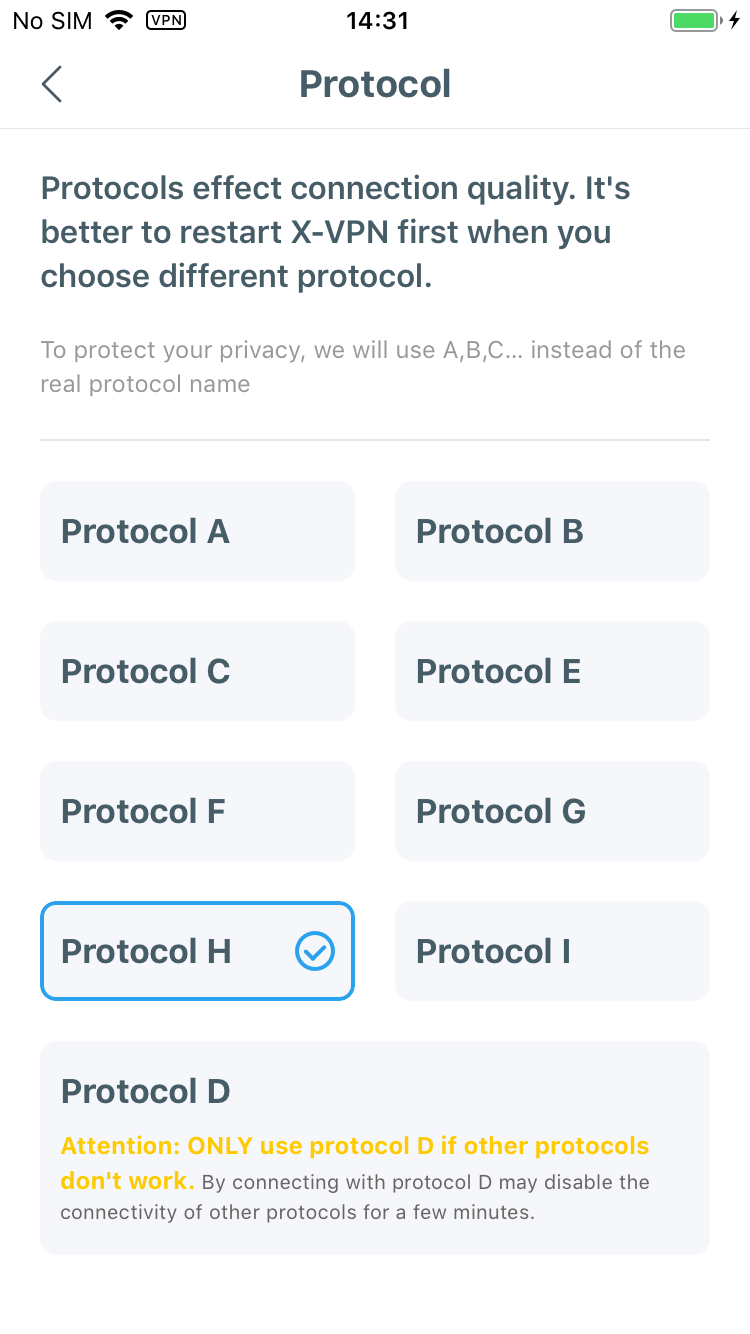 Unlike the desktop apps, X-VPN's free mobile apps give no contextual information about the different VPN protocols, which is very confusing to new users.
There is some information about them on X-VPN's website, though.
While it's nice to have some information about the level of security and speeds offered by each protocol there are no technical details to back up X-VPN's claims.
For this reason, we'd prefer for X-VPN to provide standard protocols, like OpenVPN which is open-source and has been thoroughly audited for vulnerabilities.
Thankfully, all of X-VPN's protocols use AES-256 encryption, a cipher considered unbreakable.
On the other hand, none of X-VPN Free's apps come with a VPN kill switch, which could lead to users' personal data being exposed should the VPN connection suddenly drop.
Annoyingly, the feature is present within the app settings, but you can only enable it if you're a premium subscriber.
It's not all bad, though.
X-VPN didn't leak in our IP, DNS, and WebRTC leak tests:
X-VPN has a while to go before it's as secure as our top-rated free VPNs.
Automatic VPN server location only
Server Locations
Free users of X-VPN can only access one server location – the 'fastest' one.
When you use the VPN service it automatically connects you to the nearest server location.
For example, we're based in the UK so X-VPN automatically connected to a London server.
While this is good for optimizing speeds – the closer you are to VPN server the faster the connection will be – it's not at all ideal for accessing foreign content.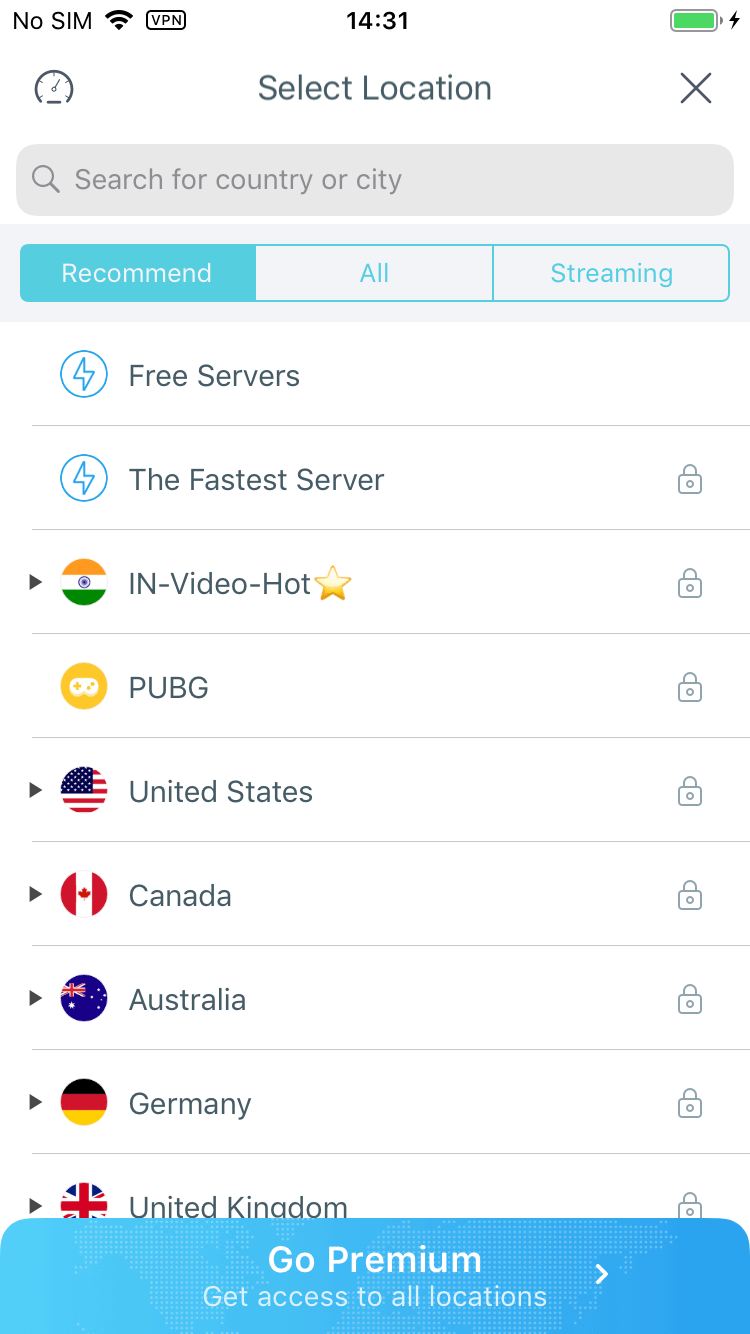 X-VPN also couldn't confirm for us how many server locations are available to free users so there's no way of knowing whether you're near a free VPN server until you try it out for yourself.
The full list of premium server locations are included in the apps but if you click on one X-VPN will prompt you to upgrade.
X-VPN uses a mixture of bare metal servers and virtual servers, meaning that some aren't really located in the country they say they are.
Not designed for streaming or torrenting
Streaming & Torrenting
Streaming & Torrenting Rating: 1.3/10
X-VPN's free service is a bad VPN for streaming. The paid version of X-VPN has dedicated streaming servers, but they are not available for free users.
We were unable to access US Netflix, BBC iPlayer, and all other streaming services in our testing.
Are there any free VPNs that are good for streaming?
Sadly not. Most free VPN services don't prioritize streaming access. Popular platforms like Netflix and Hulu actively block VPN IP addresses, and free VPNs don't put resources into getting around those blocks.
If you really need a VPN for streaming Netflix, then check out our recommendations for the best VPNs for Netflix
Torrenting
X-VPN's stance on torrenting and P2P traffic is unclear.
X-VPN told us that it only supports P2P traffic on some servers, but didn't let us know which ones.
Even then, X-VPN's free apps don't come with a VPN kill switch, which could leave your personal information exposed when torrenting.
It's best to stick to a VPN service that is completely transparent about torrenting – here are the best free VPNs for P2P users.
Doesn't work in China
Censorship
Bypassing Censorship Rating: 4.0/10
A member of the customer support team confirmed that X-VPN doesn't support service in China due to "related policies."
China aggressively blocks VPN traffic and X-VPN won't work there.
Unfortunately, that's the case for most free VPNs. You'll need to opt for a paid VPN service if you travel to China – of all the VPNs we've tested, these are the best for working in China.
X-VPN's free service isn't great for other high-censorship countries either because you can't select the server location, which will affect the content you can access and the VPN's speeds.
Limited to mobile-only apps
Platforms & Devices
Apps
iOS

Android
X-VPN only has free VPN apps for Android and iOS devices.
You can try out the service on desktop for free but users are restricted to 500MB of data, and once it's gone it's gone for good. Most free data allocations renew each month, but not X-VPN.
The mobile apps are free for as long as you need them, though.
While X-VPN's premium service comes with an app for Amazon Fire TV Stick, a browser extension for Google Chrome, and manual setup options for routers, these aren't available for free users.
Simple, user-friendly apps
Ease of Use
How to Install & Set Up X-VPN Free
Ease of Use Rating: 6.0/10
It's super easy to set up X-VPN's free apps since they're only available for smartphones and tablets.
Just find X-VPN within the app store and download. There's no need to sign in, you can just select a server and click the connect button.
There are a couple of settings to play with – be sure to enable the VPN kill switch – but other than that it's a very basic app.
Like many free VPNs, there are intrusive pop-up ads, which are annoying and interruptive when using the app.
Unreliable live chat & basic online resources
Customer Support
| | |
| --- | --- |
| Live chat Support | Yes |
| Online Resources | Yes |
Customer Support Rating: 6.0/10
X-VPN's customer support is pretty good for a free VPN – there's live chat support – but it still manages to disappoint.
Live chat support isn't always available and on occasion we were left waiting hours (or even days) for a response.
The customer support agents aren't very knowledgeable, either.
We were referred to the manager for some simple questions and even then we waited two days for an email reply.
The resources on X-VPN's website are sparse and not very useful. Aside from a few setup guides, there are some very basic FAQs.
The website is in great need of an update – it's tired-looking and some of the information is outdated.
Do We Recommend X-VPN Free?
The Bottom Line
X-VPN Free isn't the best free VPN around – in fact, it doesn't even come close to the competition.
While there's unlimited data on offer, the VPN's lack of server location options, desktop support, and constant pop-up ads were enough to put us off.
This is a mobile-only VPN that's not particularly safe, fast, or effective – we recommend avoiding it if possible.
Alternatives to X-VPN Free
ProtonVPN Free
ProtonVPN is another free VPN service that provides unlimited data, but unlike X-VPN you can use it on all your devices, it's super privacy-friendly, and you can choose between multiple locations. Read ProtonVPN Free review
Windscribe
With a 10GB monthly data cap, Windscribe isn't as generous as X-VPN, but it has no pop-up ads, servers in 10 countries, and is torrenting-friendly. Read Windscribe review
---
User Feedback for X-VPN Free