Disclosure: Top10VPN is editorially independent. We may earn commissions if you buy a VPN through links on our site.
Our Verdict
Hola is one of the worst free VPNs we've reviewed. It logs all your online activity, shares your information, and doesn't encrypt your connection. It is categorically unsafe and anyone that chooses to download it risks their privacy, personal identity, and online security.
Used by "over 199 million people worldwide," Hola VPN Free is a popular choice for people looking for a free VPN to bypass website blocks.
Does this "community powered VPN" deserve such a large following, though? And is it even a VPN?
To cut to the chase: no. Hola VPN isn't secure, or even good for streaming. "Community powered" means the VPN shares your idle bandwidth with other users, allowing unauthorized activity to take place on your network.
We put Hola VPN's apps to the test, deep dived into its privacy policy, and uncovered troubling controversies. In this Hola VPN review we'll answer key questions like these:
Is Hola VPN safe to use?
How fast is it?
Does Hola VPN work with Netflix?
Is it easy to set up and use?
What's a 'peer-to-peer' VPN?
See our best free and safe VPNs
To use a VPN without data or access restrictions, consider using CyberGhost VPN. It's one of our top-rated VPNs and it offers a 45-day money-back guarantee.
Hola Free VPN Pros & Cons
Pros
Fairly easy to set up and use

Unblocks some websites (many are for paid users only)
Cons
Free version doesn't use encryption

Sells free user bandwidth to premium users

Monitors & logs all your online activity

A history of controversy

Doesn't work with Netflix or torrenting
Hola Free VPN Key Data
| | |
| --- | --- |
| Data Cap | Unlimited |
| Speed | 45Mbps |
| Logging Policy | Intrusive Logging |
| Data Leaks | Yes |
| Jurisdiction | Israel |
| Servers | Not disclosed |
| IP Addresses | Not disclosed |
| Countries | 40 |
| US Netflix | No |
| Torrenting | No |
| Works in China | No |
| Support | Online Resources & Email Support |
| Official Website | Hola.org |
Hola Free VPN Category Ratings
We test and review every free VPN in seven key areas. Here's how Hola Free VPN performs in each category:
Privacy & Logging Policy: 0.1/10
Encryption & Security: 1.5/10
Speed & Reliability: 3.0/10
Streaming & Torrenting: 1.0/10
Bypassing Censorship: 4.3/10
Ease of Use: 7.0/10
Customer Support: 4.9/10
To learn more about our methodology, read our full VPN testing process.
Even more important than speeds, Netflix access, and device compatibility is a VPN's privacy.
We'll start by finding out who is behind Hola VPN and what the service logs (hint: it's a lot).
Untrustworthy and potentially dangerous
Ownership & Logging Policy
Privacy & Logging Policy Rating: 0.1/10
Hola VPN is a very privacy unfriendly service. In fact, we rarely see logging policies as intrusive as Hola's.
Here's what Hola VPN stores when you use its service:
The websites you visit
Time spent on those websites
Your true IP address
Connection timestamps
Your browser type
Your name, email address, screen name, payment and billing information
If you choose to subscribe to the VPN through a social network account, Hola has access to even more information including: your home address, birth date, profile picture, friend list, personal bio, and any publicly available information on your account.
Hola tries to reassure its users that it doesn't "rent or sell any personal information," but that doesn't mean it doesn't share it with third parties:
"We may disclose Personal Information to other trusted third party service providers or partners for the purposes of providing you with the Services, storage and analytics. We may also transfer or disclose Personal Information to our subsidiaries, affiliated companies."
What's even worse, Hola will retain all this information for "as long as necessary."
In short, Hola's privacy and logging policy is unsatisfactory. This is not a service you want to entrust all your personal data with.
Who Owns Hola VPN?
Hola VPN was founded by Ofer Vilenski and Derry Shribman under the company name Hola Networks Limited, based in Israel.
The product was launched in 2012, and gained traction in January 2013 when it moved from 80 downloads a day to 40,000 overnight.
Hola Networks Limited provides a free consumer 'VPN' service, as well as a premium subscription and corporate service called Luminati.
Luminati uses free users' bandwidth, which is charged per gigabyte, without reimbursing the free user. This practice has sparked criticism among cybersecurity professionals.
Thankfully, this is now clearly advertised when you download the app, as you can see in the screenshot below.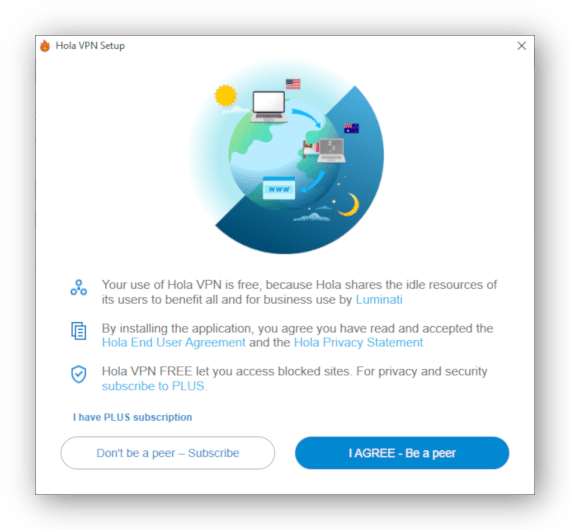 How Hola VPN actually works
Hola VPN is a peer-to-peer overlay network that uses peer-to-peer caching and routing for quick access to blocked content.
This means users of Hola VPN throw their real IP address into a pool of IP addresses for other users to use as they please.
When you use Hola VPN, your internet traffic is routed through other peers (called nodes), but it's not encrypted.
While some subscribers may use Hola VPN as a website unblocker, there's no way to stop others using your IP address to access unlawful content.
Free users also share their 'idle resources' (WiFi and cellular data) with the network, which means that Hola VPN doesn't incur underlying operational costs.
Hola VPN defines 'idle' as "the device is not using battery but is connected to electricity; no mouse or keyboard activity has been detected; and the device is connected to the internet."
Despite its "goal of making a better internet," selling user bandwidth is not the only controversy Hola VPN has been embroiled in to date.
In May 2015, 8chan founder Fredrick Brennan claimed that his website had been DDoS attacked by users exploiting the Hola network, which Vilenski later confirmed.
A website named Adios, Hola!, created by nine security researchers, states that Hola is "harmful to the internet as a whole, and to its users in particular" and labels it a "poorly secured botnet" with "serious consequences."
The researchers at Adios, Hola! discovered various vulnerabilities within the Hola VPN architecture, one of which reportedly allowed anyone to execute programs on your computer.
According to the website, Hola fixed some of the vulnerabilities, but others still remain.
Hola VPN is also vulnerable to IP address leaks and has facilitated data scraping, according to cybersecurity firm Trend Micro.
Hola VPN's jurisdiction
Hola VPN is based in Israel, which isn't an official member of the Five Eyes (or Nine or 14 Eyes) intelligence-sharing alliance, but it collaborates with it.
The VPN company states in it privacy policy that it will "comply with law, regulation, subpoena or court order." It will also hand over your personal information if it has "good reason to believe that it is necessary to."
Fast speeds at the expense of privacy and security
Speed Tests
Speed & Reliability Rating: 3.0/10
We're not going to compare Hola's speeds with the other VPNs we've tested because Hola isn't really a VPN service, it's more like a proxy.
Hola uses an unencrypted connection, resulting in less slowdowns but considerably more risk, and only browser traffic is routed through the peer nodes.
The node you're connecting to can also affect your connection speeds. So, if the peer you're routing your traffic through has poor internet speeds, yours may suffer too.
When we connected to a node in a nearby country, we experienced practically no speed drop off.
Local Speed Test Results
Before using Hola Free VPN:
Download50

Mbps

Upload50

Mbps

Ping4

ms
When connected to Hola Free VPN:
Download45

Mbps

Upload57

Mbps

Ping10

ms
Note: While we typically test on a 100Mbps fibre optic connection, we could only test Hola VPN's speeds using its Android app, and our Android device's speed is capped at 50Mbps.
In our latest tests, Hola's speeds dropped a little over long distances and ping times increased, but that's to be expected. The longer the distance the connection travels, the slower the speed and the higher the latency.
Connecting from the UK to the US, we recorded 35Mbps download speed and 48Mbps upload speed, with a ping time of 97ms.
Fast speeds shouldn't be a reason to use Hola VPN due to the lack of encryption and the security risks associated with the service. See our list of the fastest (safe) VPNs, instead.
Locations vary based on users in the peer-to-peer network
Server Locations
Undisclosed number of
IP Addresses
The way Hola VPN works – by routing traffic through other peers on the network – means there are no fixed number of locations you can connect to.
The availability of locations entirely depends on where the current users are located. However, Hola VPN lists all 195 of the world's countries within its app.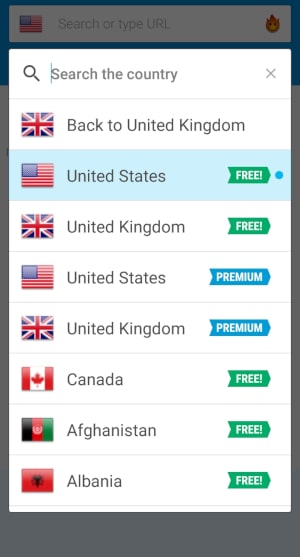 At times, when we selected a particular country, Hola VPN didn't even change our true IP address. This is a big red flag.
We can only assume this happens when no users from that country are using Hola at that moment in time. But, Hola's app indicated we were connected to the country. In other words, the proxy was leaking our real IP address.
To make it worse, some popular websites and services aren't accessible via Hola free VPN, including the BBC news website, for example. If you attempt to visit those websites, Hola will ask you to upgrade.
If you choose not to upgrade, Hola won't route your traffic through its network. In other words, it won't hide your IP address.
Browser extensions don't use the peer-to-peer network
The Chrome. Firefox and Opera browser extensions are not part of the peer-to-peer network. The add-ons only give access to Hola's standard servers.
There are no details about these proxy server locations on Hola's website, but the company's customer support told us the following:
"Hola VPN has servers in over 40 countries. We don't need to have servers in each and every country as we leverage our peer-to-peer network in other countries."
Regardless, when we tried to connect to Bangladesh we were given a UK IP address.

This suggests that Hola's service isn't working as it should.
Free users can't stream Netflix and BitTorrent is blocked
Streaming & Torrenting
Streaming & Torrenting Rating: 1.0/10
The free version of Hola VPN doesn't work with popular streaming platforms like Netflix, BBC iPlayer, or Hulu.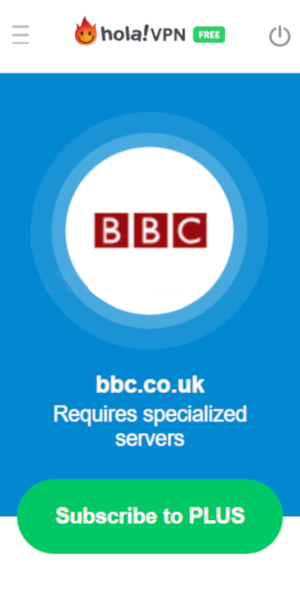 You'll have to pay for the Premium or the Ultra service to unblock these content platforms.
The Premium plan costs $14.95 per month, or $7.69 per month if you commit to a yearly subscription. You can use the Premium account on up to 10 devices at any given time.
Regardless, we advise you to use another VPN service for streaming that doesn't log your online activity.
Not good for torrenting
Hola VPN blocks all BitTorrent traffic. Even if it didn't, this dangerous peer-to-peer VPN shouldn't be used to anonymize your torrenting traffic.
Hola Free VPN provides no connection encryption, and no kill switch either. If your VPN connection fails, your real IP address will be visible to everyone.
If that wasn't bad enough, the VPN service logs and stores your web activity. Moreover, it isn't afraid to hand that information over to authorities.
Instead of using Hola VPN to download torrents, take a look at our list of best VPNs for torrenting or our free torrenting VPN recommendations.
Doesn't work in China and other high-censorship countries
Beating Censorship
Bypassing Censorship Rating: 4.3/10
Hola VPN doesn't come with any obfuscation tools to beat the Chinese censors.
The service's lack of encryption means you won't be able to access blocked content in China, due to the Great Firewall's use of deep packet inspection (DPI).
We tested Hola VPN from our Shanghai test server, and can confirm that Hola VPN does not work in China.
You can read more about using Hola VPN in China in this dedicated guide. Or, consult our main China VPN recommendations, which we've verified to beat aggressive web censorship.
Basic desktop and mobile apps
Platforms & Devices
Apps
Windows

Android
Hola VPN provides free (unencrypted) VPN apps for Windows and Android devices. However these apps don't work like normal VPNs, more like proxy browsers.
Instead of routing all device traffic through the tunnel they only route traffic within the app, which acts as a web browser.
There is an option to route certain external apps through the VPN on the Android app, but it works on an app-by-app basis rather than routing all the device's internet traffic by default.
For MacOS users there is no custom app – you just have to use the browser add-ons for Chrome, Firefox, or Opera.
If you want to use Hola on iOS you'll have to upgrade to the paid-for subscription.
But why would you when there are many safe and free iOS VPN apps available instead?
Games Consoles & Streaming Devices
Hola VPN doesn't have any custom apps for streaming devices or games consoles, but the premium version does come with a DNS proxy that is compatible with smart TVs and routers.
Like all of Hola's software, we don't recommend due to its lack of security and privacy protection.
Browser Extensions
Chrome

Firefox

Opera
Hola VPN provides browser extensions for Google Chrome, Mozilla Firefox, and Opera.
These work at a browser level, so they won't change the IP address of any traffic linked to apps outside of your web browser and don't use encryption.
According to Hola VPN the browser extensions "operate as a standard VPN service" aren't part of the peer-to-peer VPN network, so at the very least your IP address isn't being used by strangers.
No encryption or security tools available
Encryption & Security
| | |
| --- | --- |
| Protocols | Undisclosed |
| Encryption | Undisclosed |
| Security | |
| Advanced features | Ad Blocker |
Encryption & Security Rating: 1.0/10
Hola Free VPN isn't really a VPN – it doesn't encrypt users' internet traffic and only routes traffic within the web browser/client app, not at an OS level (device-wide).
Users' traffic is routed through nodes (other users' devices), and spoofs your IP address (using that device's IP address) to get around website blocks.
That means that other people – complete strangers – are using your IP address to do with as they please. That could get you into a lot of trouble.
According to a member of the customer support team, users' traffic is first sent to Hola servers before it reaches the peer nodes for security reasons, but this still doesn't make Hola secure enough for our liking.

There are no security features – like a kill switch or leak blocking – to keep your personal data safe, either. The Windows app does come with an ad-blocker, though.
We experienced WebRTC leaks during our tests, which means that our true IP address was left exposed.
The very architecture of Hola Free VPN means that your personal data is not secure or private. Hackers can still intercept your traffic and your ISP can still see the websites you visit.
Hola VPN PLUS, which is the paid-for product, does use standard VPN protocols and encryption, and doesn't use your device as a peer, but you'll still be subject to Hola's intrusive logging policy, so we still strongly advise against using it. It's not particulaly good value for such a risky product, either.
Easy to set up and use, with some flaws
Ease of Use
How to Install & Set Up Hola Free VPN
Ease of Use Rating: 7.0/10
It's really easy to download and set up Hola VPN on Android and Windows.
You just download the software from the website or Google Play Store, click through a couple of prompts, and accept that your bandwidth will be sold to unknown corporations for good or bad.
For MacOS users there is no 'app' – even if the downloads page misleads you to think so. The only way to use Hola with MacOS devices is to download the browser add-ons.
However we only found that out after downloading what we thought was a custom app. It turned out to be a shortcut to a web page asking us to download a browser extension.
In a nutshell, both the Windows and Android apps don't work like other VPN apps, either. Instead of routing all your device's internet traffic through the VPN, Hola's apps work more like proxy browsers.
You have to do all your online activities within the Hola app – which is like a web browser – in order to change your IP.
The Android app gives you the option to route other apps through the VPN but you have to do this on an app-by-app basis through the Hola app interface.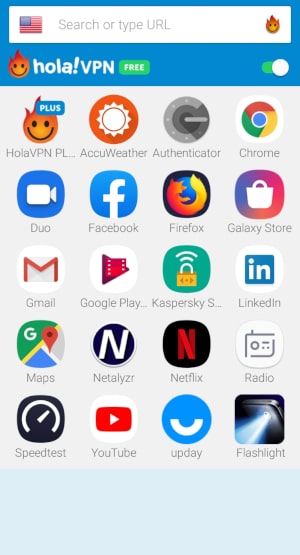 To use the Windows and Android apps, it's pretty simple.
All you need to do is select the service or website you want to access and then choose the country you want to access it from the drop-down locations list. A small flag will indicate which country you are connected to.
The apps have had a visual overhaul and look pretty good, too. That gloss makes Hola look trustworthy, but it doesn't actually address the real dangers of this service.
The proxy browser works tab-by-tab, so one tab could be connected to the USA, while another is connected to Germany, for instance.
But as if Hola VPN weren't dangerous enough, sometimes when you connect to some countries it doesn't actually change your IP address, despite telling you that you're connected.
On other occasions Hola would give us an IP address associated with a different country to the one we selected.
If you have already downloaded it to your device and read this review you're probably wondering…
How do I get rid of Hola VPN?
It's easy.
For the Windows app, go to 'Programs and Features' in Control Panel and uninstall Hola VPN. MacOS users should drag the Hola VPN client from Applications to Trash and restart their computer. Be sure to delete any of the software download files, too.
On Android and iOS it's as simple as long-tapping on the app and clicking Uninstall or Delete.
Browser Extensions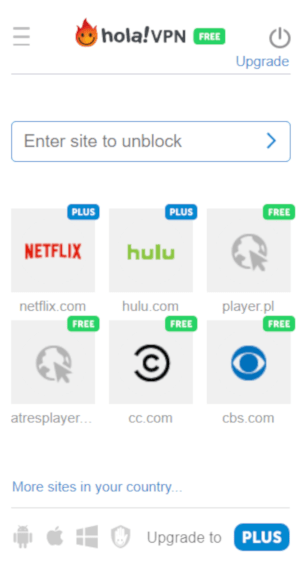 Like all browser extensions, Hola VPN add-ons are very easy to install.
Visit the add-ons store for your web browser (Chrome, Firefox, or Opera) and search for Hola. Then you'd add it to your browser and accept the permissions.
It then works much the same as the desktop and mobile apps. Just select a service or website you wish to access and the country you'd like to appear to be from.
If you want to remove Hola's browser extension, uninstall it from within the browser settings. On Chrome, just right-click on the Hola icon and click 'Remove from Chrome'.
Some FAQs and email support
Customer Support
| | |
| --- | --- |
| Email | Yes |
| Online Resources | Yes |
Customer Support Rating: 4.9/10
On top of all of its privacy and security issues, Hola VPN's customer support isn't very good, either.
There are a bunch of FAQs available on its website, but these read more like a disclaimer than genuine help.
Hola VPN came under scrutiny when it previously didn't disclose the relationship between free users' data and the Luminati corporate service, but that has since been rectified on the FAQs page.
You can find out how the VPN service works (by using your personal information and data), how it makes money (ditto), and some very basic troubleshooting tips.
However, there are no detailed set-up instructions or user guides. There's no live chat support either.
Hola VPN does supply a support email address, and in the past all of our queries were left ignored. However, during our most recent tests we were relieved to finally receive some replies.
The replies we did get were initially unhelpful – just redirecting us to the FAQs. After some perseverence we were able to get the help we needed, though.
Do We Recommend Hola Free VPN?
The Bottom Line
Not at all. Actually, Hola is one of the worst VPNs you could possibly choose. It hijacks your internet connection and undermines your safety and privacy online.
It's not safe to use, and if you do choose to download it your device, personal identity, and online security are at risk.
Take a look at these two free VPNs if you don't want to spend any money.
Additional research by Liam Mullally
Alternatives to Hola Free VPN
Windscribe
Windscribe is one of the best free VPNs around - it's safe, private, and pretty fast. You can connect securely to 10 different countries and you get 10GB of data to use per month. Read Windscribe review
ProtonVPN Free
If you need more than 10GB of data a month you should use ProtonVPN, which provides unlimited data. It's a reliable free VPN that comes with loads of security features for safe browsing. Read ProtonVPN Free review
---
User Feedback for Hola Free VPN