Disclosure: Top10VPN is editorially independent. We may earn commissions if you buy a VPN through links on our site.
Our Verdict
TorGuard is a privacy focused VPN with a no-logs policy and it uses 256-bit AES encryption. It's very fast on local speeds, but not over longer distance connections. While it's good for torenting, we don't recommend it for streaming.
TorGuard is a well-established US-based VPN service that's been around since 2012 and it promises "complete privacy."
We put this claim the test, and in this TorGuard VPN review we'll answer all the important questions you have, like:
How secure is TorGuard VPN?
Does it keep logs?
How do you use TorGuard?
Does it work with Netflix?
And will it work (well) in China?
Before we give you all these answers, though, here's a brief overview of TorGuard VPN's main pros and cons:
TorGuard Pros & Cons
Strong no logs policy

Fast same-country speeds

Wide range of privacy tools

Ad and malware blockers

Free encrypted webmail service
Slow international speeds

Unpolished and dated apps

Inconsistent access to Netflix

Customer support needs organization
TorGuard Key Summary
| | |
| --- | --- |
| Data Cap | Unlimited |
| Speed | 85Mbps |
| Logging Policy | No Logs |
| Data Leaks | No |
| Jurisdiction | US (Five-Eyes Member) |
| Servers | 3,000+ |
| IP Addresses | 3,000+ |
| Countries | 50 |
| US Netflix | No |
| Torrenting | Unlimited |
| Works in China | Yes |
| Support | Live Chat |
| Cheapest Price | $4.16/mo over 24 Months |
| Official Website | Torguard.net |
Can You Trust TorGuard?
About & Logging
TorGuard, which is based in Florida (USA), was founded in 2012 and is owned by VPNetworks LLC, although we couldn't find much information about this company.
Usually, being based in the US isn't ideal for a VPN service, but TorGuard's zero-logs policy means that even if law enforcement request your personal data from TorGuard, it wouldn't have nothing anything to hand over.
We contacted TorGuard's customer support, which told us that it would only comply with an "official court ordered ruling" and, even then, it would only be able to submit "blank hard drives."
In May 2019, TorGuard filed two legal complaints against NordVPN accusing them of blackmail and a potential DDoS attack. As far as we're aware, TorGuard has yet to provide evidence to support its allegations.
Logging Policy
TorGuard claims not to keep any logs, making it a strictly zero logs VPN service.
What's more, it doesn't even temporarily log connection metadata, which isn't uncommon among VPN services. This means nothing you do while connected to a TorGuard VPN server can be linked back to you.
Fast speeds over short distances
Speed & Reliability
TorGuard's international speeds have recently slowed down, and although it's still fast on shorter distances. Overall, it still falls short of the fastest VPN services.
However, if you want a secure VPN for everyday browsing, downloading and streaming, TorGuard will do the job.
Local Speed Test Results
Before using TorGuard:
91.18

97.65

3
When connected to TorGuard:
85.76

90.8

9
Download speed without TorGuard: 91.18Mbps
Download speed with TorGuard: 85.76Mbps
Our download speed loss when TorGuard is running: 6%
TorGuard's speedy uploads, and same-country ping times of just 9ms, make it a great choice for torrenting and gaming.
Also, we didn't suffer from any connection or speed drops while connected. Big plus in terms of reliability.
Here are the average speeds you can expect from TorGuard for the popular locations below (connecting from the UK):
USA: 34Mbps (download) & 35Mbps (upload)
Germany: 74Mbps (download) & 63Mbps (upload)
Singapore: 31Mbps (download) & 20Mbps (upload)
Australia: 20Mbps (download) & 10Mbps (upload)
See how we test VPNs for an in-depth look at how we measure overall VPN performance.
Choose from 64 cities in 50 countries
Server Locations
TorGuard operates 3,000 in 50 countries, covering most popular nations. It doesn't release the exact number of IP addresses (we can guess at least 3,000 – one for every server – but it's probably much higher).
A choice of servers in 10 US cities isn't the best we've seen from a VPN service, but TorGuard has a good spread of locations covering the entire country.
These are:
East coast: Atlanta, Miami, New Jersey, New York
West coast: Las Vegas, Los Angeles, San Francisco, Seattle
Midwest & South: Chicago, Dallas
There's also city-level choice in a handful of other countries (two cities each), such as:
Canada
India
Israel
Singapore
It's pretty unusual to see no city-specific servers in the UK, though.
Also, TorGuard lacks significant VPN server options in South America (two servers in Brazil and Chile) and Africa (two servers in Egypt and South Africa).
If you're located there, or want to connect to those regions, CyberGhost VPN and its much wider range of server locations will better meet your needs.
TorGuard has recently removed it's Luxembourg server location after an "unauthorised equipment seizure by authorities". This is a shame – but it's good to see TorGuard being proactive in protecting its users' privacy and security.
Good for torrenting but no Netflix
Streaming & Torrenting
TorGuard isn't a reliable VPN service for streaming, unless you want to pay an extra $7.99 per month for a dedicated streaming IP address (not good for privacy, though).

Unfortunately, it doesn't work with Netflix anymore, although it previously worked on a handful of US servers.
Also, TorGuard can't unblock BBC iPlayer, which has been the case for several months.
Torrenting
However, TorGuard is an excellent VPN service for torrenting, as P2P activity is permitted on all of its servers.
Good download (and upload) speeds, a VPN kill switch and a transparent no-logs policy are all great features of TorGuard that will satisfy torrenters.
Safe choice for users in China
Censorship
TorGuard claims to work in China, despite the country's crackdown on VPNs. This is thanks to its proprietary Stealth VPN protocol, STunnel.
You can enable Stunnel by simply ticking a box in the TorGuard app's settings, which adds a second layer of encryption to your VPN connection.
Stunnel wraps traffic in a layer of TLS encryption to make it harder to identify as VPN traffic.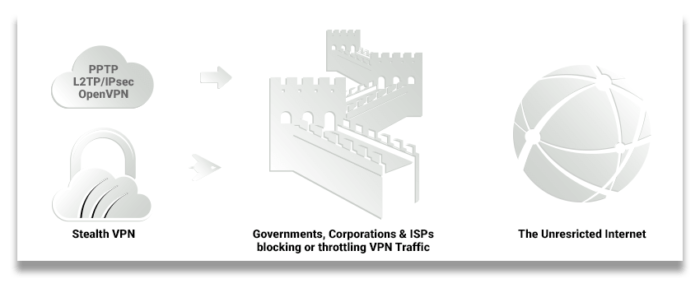 So, using TorGuard makes it easier to bypass the so-called Great Firewall of China and unblock web content.
According to TorGuard's user forums, it works pretty well if you connect to its Hong Kong, Japan, Singapore, Taiwan, or US servers.
Just beware that TorGuard's website is currently blocked in China, so you'll need to download the VPN before you travel.
You can also use TorGuard in other highly-censored countries like Iran, Turkey, Saudi Arabia and the UAE.
Can be installed on all popular platforms, including routers
Platforms & Devices
Apps
Windows
Mac
iOS
Android
Linux
Router
TorGuard has VPN applications for:
Microsoft Windows
MacOS
iOS
Android
It has has an app for Linux devices – it's one of very few VPNs to provide a native GUI client for every distro of Linux.
You can also set up TorGuard on your home router, or you can buy a pre-configured router from TorGuard's website.
Games Consoles & Streaming Devices
AppleTV
Amazon Fire TV
Chromecast
Nintendo
PlayStation
Roku
Xbox
You can use TorGuard with a wide range of games consoles and streaming devices, by connecting them to a router that's running the VPN software.
There's also a custom TorGuard VPN app for Amazon's Fire TV Stick, which is very easy to download and install onto your Firestick.
Browser Extensions
Chrome
Firefox
TorGuard also includes proxy extensions for both Google Chrome and Mozilla Firefox browsers.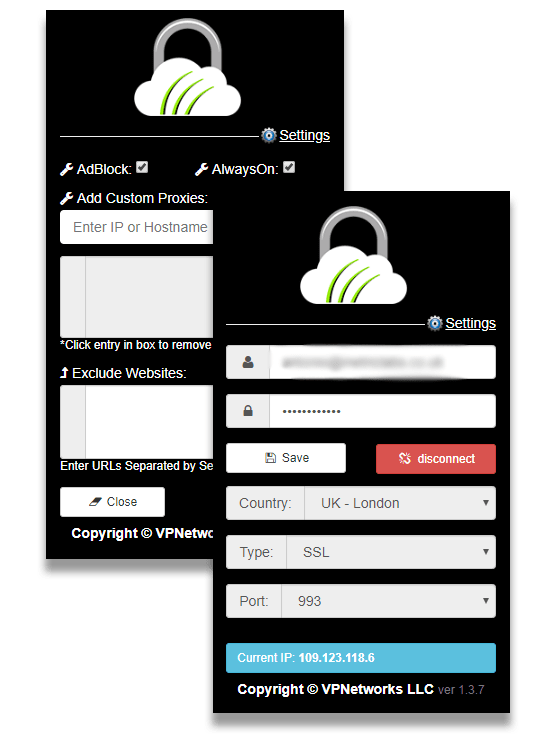 TorGuard's addons are not true VPN extensions as they won't encrypt your browser traffic. For extra security, use them with TorGuard's desktop app running at the same time.
High levels of privacy
Encryption & Security
Protocols

IKEv2/IPSec

L2TP/IPSec

OpenVPN (TCP/UDP)

PPTP

SSTP

WireGuard

Encryption

AES-256

Security

DNS Leak Blocking

First-party DNS

IPV6 Leak Blocking

Supports TCP Port 443

VPN Kill Switch

WebRTC Leak Blocking

Advanced features

Ad Blocker

Dedicated IP

SOCKS
TorGuard is a very secure VPN service and it will keep you safe online.
Not only does it use the highest level of encryption, AES-256, but the TorGuard Windows app also defaults on startup to OpenVPN, currently the strongest VPN protocol.
It also fully supports the ascendent VPN protocol Wireguard on all platforms, and was one of the earlier VPNs to do this.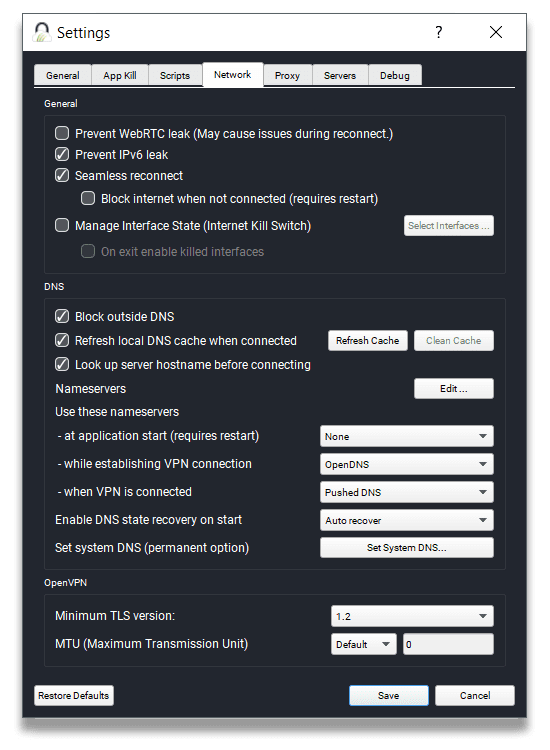 TorGuard includes a VPN kill switch, and it owns its DNS servers, ensuring your personal data is protected.
And, there's a ton of advanced settings to satisfy even the most security-conscious users as well, including:
App Kill (shuts down listed apps when VPN disconnects)
Custom proxy servers
Dedicated IP addresses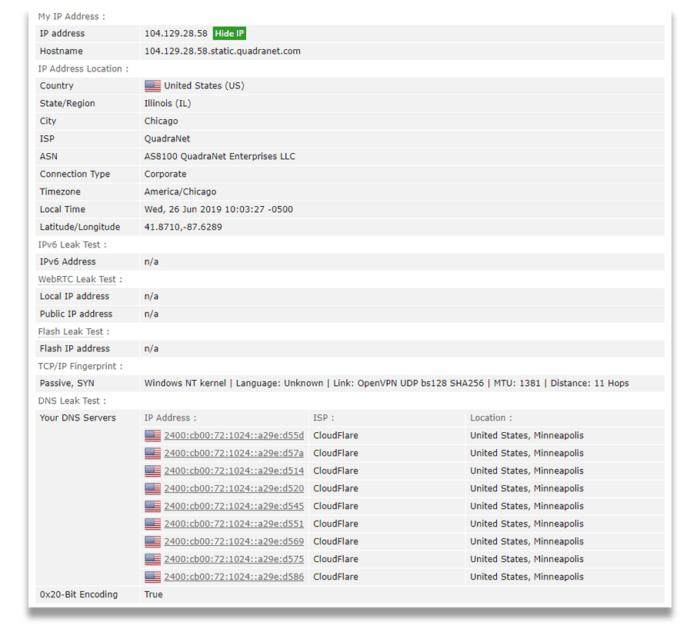 And to top it off, we didn't detect any DNS or IP leaks in our tests.
More suited to experienced VPN users
Ease of Use
How to Install & Set Up TorGuard
TorGuard's custom VPN apps are best for those looking to fine-tune every aspect of the app, right down to the level of handshake encryption being used.
Disregarding the cluttered design, we can confidently say that TorGuard works well and does the job with minimal fuss. The apps operate on the OpenVPN protocol and you can manually select UDP or TCP if you require.
TorGuard has a lot of advanced settings, but thankfully these are very sensibly organized within the apps. These enable you to add extra layers of security, switch to using TorGuard's proxy servers, or even execute custom scripts.
Using TorGuard is as easy as downloading and installing the VPN app from the website. Simply sign up for a TorGuard account, visit the downloads section and click the button for the device you wish to use the VPN on.
Live chat & useful online resources
Customer Support
TorGuard has decent customer support for a budget VPN service.
The website is full of useful information, but it can be difficult to navigate. There's also no real effort by TorGuard to explain complex concepts or use simple English.
The forum is good for finding answers to specific questions, though.
It's good to see live chat is in use, although it isn't available 24/7. Support agents also tend to use pre-written responses, but generally come across as friendly.
Obviously, you can send a support request via email, and replies are generally quick.
Very reasonable price on longer plans
Pricing
TorGuard Coupon
TorGuard Pricing Plan
TorGuard costs $9.99 if you just sign up for a single month, which is pretty reasonable compared to other VPN services, but bigger savings can be found on longer plans. Both the six and 12-month plans are just $4.99 per month, saving you 50%.
Further savings can be found on the 24-month plan, though – but TorGuard's website hides it.
Click on any payment plan and you'll be taken through to 'Step 2' of the sign up process. There you'll see an option to choose the billing cycle – the final option is '$99.99USD Biennially', which equates to a healthy 58% off the standard monthly rate.
Don't forget to use our 50% off lifetime coupon (see above) to get TorGuard for even cheaper.
All plans have 7-day money-back guarantee
TorGuard has a 7-day free trial you can take advantage of. It offers the full service minus the option for a dedicated IP and some streaming compatibility. It is completely 'no questions asked', though, and TorGuard will refund your payment if you are "less than 100% satisfied" with the VPN service.
According to TorGuard's customer support team, you can expect your money to be refunded to your account within 3-4 days.
TorGuard offers an extensive range of payment options including all major credit and debit cards, PayPal and a long list of cryptocurrencies. Options such as Alipay and Neosurf are also available through its partnership with Paymentwall.
Do We Recommend TorGuard?
The Bottom Line
No logs, a good number of servers, fast local download speeds, and it even works in China: overall, TorGuard is a very good VPN.
It's not perfect, though. TorGuard's international speeds need to improve, the apps look old, and it doesn't consistently unlock Netflix or iPlayer.
Basically, it's a good VPN for torrenting but not for streaming. So, if you want a full-package VPN then the two VPN services below will certainly please you more.
Alternatives to TorGuard
ExpressVPN
Where TorGuard fails, ExpressVPN excels. ExpressVPN has the cleanest, simplest VPN app going, it never fails to unlock Netflix, and its international speeds are the best we've recorded. Read ExpressVPN review
PrivateVPN
If TorGuard's high price (or long contract) is proving intimidating, we'd recommend you try PrivateVPN. It's very cheap, and also has a seven-day free trial that requires no payment details to take advantage of. Read PrivateVPN review
---
User Feedback for TorGuard