TorGuard Review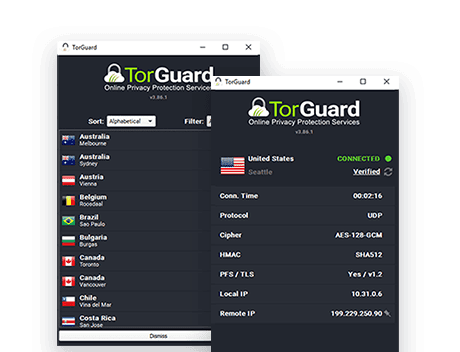 Privacy & Logging Policy
A trustworthy no-logs service
TorGuard was founded in 2012 by VPNetworks LLC. Since then, it's never been acquired or merged with another company.
It's founder and CEO, Benjamin Van Pelt, is the only employee we can find on LinkedIn. Florida's company registration website only lists "Losey PLLC" and "Title Authorized Member" as people associated with VPNetworks LLC.
In short, the company structure is rather unclear. There isn't a lot of information available about TorGuard's employees. This isn't uncommon with VPN service providers, though.
Based in Privacy-Unfriendly US
TorGuard is based in Florida. The US is one the least privacy-friendly countries in the world. This is because the US is a member of the Five Eyes international intelligence-sharing alliance. This means the government can demand surveillance data from companies and share it with an intelligence agency without your knowledge.
TorGuard's customer support did tell us that it would only comply with an "official court ordered ruling," but even then, it would only be able to submit "blank hard drives."
This is because TorGuard has a zero-logs policy, which means it wouldn't have any user web logs to hand over to US authorities. And since it doesn't record any customer activity, there's no way of authorities identifying individual users and their online activity.
Logging Policy
TorGuard states it "does not collect or log any data from its Virtual Private Network (VPN) or Proxy services." We analyzed the service's logging policy and can confirm it does not appear to collect user activity data.
TorGuard collects the following data:
Payment information
Anonymized website analytics
Apache web server logs, which are regularly deleted
Any correspondence with customer service via email
The company only collects anonymous statistical network data to determine server loads. TorGuard doesn't log any information that could be used to identify your web activity.
Not Independently Audited
We're disappointed to see TorGuard hasn't been externally audited. This would be able to verify the no-logs claim and provide the service with ways to improve their security and service.
There's also no warrant canary on TorGuard's website. A warrant canary is published on a website to warn its users that the company has been served a subpoena, and that the company may have to give up your data to the authorities.
These features aren't necessary for a VPN service to be useful and secure, but they absolutely provide a level of trust and transparency from a service that could have access to your browsing activity.
Speed
Very impressive same-country speeds
We recorded an average speed loss of 6% when connected to a TorGuard server close to our location in London, UK, which is an extremely impressive result. That's better than higher-rated VPNs like IPVanish.
International download speeds have also improved, jumping from an average 63% drop to 37% drop when connecting to the US. Upload speeds were also strong, reaching as high as 85Mbps.
Here's how TorGuard performed in our local speed tests from our office in London, UK.
Local Speed Test results before using TorGuard:
Download Speed: 100Mbps
Upload Speed: 99Mbps
Ping: 9ms
Local Speed Test results with TorGuard:
Download Speed: 94Mbps
Upload Speed: 85Mbps
Ping: 15ms
Download speed loss when TorGuard is running: 6%
TorGuard ping time has increased from an average of 9ms to 15ms in our latest tests. Previously we would have recommended it for gaming but now that is increased, there are far better options available.
Long-distance speed test results
We tested StrongVPN's connection speeds from our location in London, UK, by connecting to servers in the US, Germany, Canada, Singapore, and Australia.
Here are TorGuard's latest global speed test results (connecting from the UK):
US (New York):

Download: 63Mbps (37% slower)
Upload: 67Mbps (31% slower)
Germany (Frankfurt):

Download: 91Mbps (9% slower)
Upload: 94Mbps (4% slower)
Canada (Toronto):

Download: 84Mbps (16% slower)
Upload: 73Mbps (25% slower)
Singapore:

Download: 19Mbps (81% slower)
Upload: 32Mbps (66% slower)
Australia (Sydney):

Download: 59Mbps (41% slower)
Upload: 30Mbps (69% slower)
Download speeds in Germany (9% slower) and Canada (16% slower) absolutely surpassed our expectations. These speeds are more than enough for online browsing, streaming and torrenting.
Meanwhile, connections to the US (37% drop) and Australia (41% drop) were a bit disappointing but not terrible.
We saw the worst results connecting to Singapore (81% drop). This percentage drop in connection while connecting from the UK to Asia is pretty common, though.
TorGuard performed exceptionally well on local connections in the same country and continent. It's not only on par with many top tier VPN providers in this category, it even outshines some industry leaders. However, it's not the fastest VPN for every region – that would be Hotspot Shield.
TorGuard is Bad for Gaming
We tested the VPN by connecting to a server in New Jersey and accessing a US gaming lobby.
Unfortunately, the ping was much too high for smooth gameplay. We experienced a lot of lagging.
We wouldn't recommend using TorGuard for gaming with a VPN. If you want to use a VPN with your Xbox, we recommend checking out our list of the best VPNs for gaming.
Server Locations
Network of 3,000+ servers across 50 countries
50 Countries
68 Cities
3,000+ IP Addresses
TorGuard has a good amount of servers. It operates 3,000+ servers in 50 countries, and 60 cities, covering most popular locations.
In comparison, CyberGhost has an extensive server network, located in 90 countries and 110 cities.
TorGuard hasn't released the exact number of IP addresses it offers, but it's going to be over 3,000 – at least one for every server.
There's plenty of options in the US, including 11 city-level servers, which are all spread out evenly across the country.
TorGuard has servers in the following US states:
California (2 cities)
Florida
Georgia
Illinois
Nevada
New Jersey
New York
Texas
Utah
Washington
We've recently seen some downsizing of TorGuard's server network. There's now only four countries with SOCKS proxy support: Canada, Switzerland, the Netherlands, and Sweden.
TorGuard used to have multiple servers in Africa, but there's now just one in South Africa. There's also two servers in the Middle East, in Dubai and Israel.
TorGuard has servers in the following countries:
| Continent | Country |
| --- | --- |
| North America | Canada, US |
| South America | Brazil, Chile, Mexico |
| Europe | Austria, Belgium, Bulgaria, Czech Republic, Denmark, Finland, France, Germany, Greece, Hungary, Iceland, Ireland, Italy, Moldova, Netherlands, Norway, Poland, Portugal, Romania, Serbia, Slovakia, Spain, Sweden, Switzerland, Turkey, Ukraine, UK |
| Asia | Australia, Hong Kong, India, Indonesia, Japan, South Korea, New Zealand, Singapore, Taiwan, Thailand |
| Africa & Middle East | Israel, South Africa, UAE |
If you're in South America or Africa, or need to connect to those regions, we recommend looking for a better alternative such as PIA. It has servers in four countries in Africa and five countries in South America.
Streaming
US streaming requires a premium upgrade
TorGuard's standard subscription is awful for streaming. It didn't unblock any Netflix libraries and it failed to block other US streaming platforms. However, it does give you access to all UK streaming platforms, including BBC iPlayer and All 4.
TorGuard doesn't stream Disney+, HBO Max or Hulu
TorGuard was quickly detected and blocked by Disney Plus, HBO Max, and Hulu. You should avoid using TorGuard's standard plan for streaming on US platforms.
Hulu didn't even let us login with the VPN service connected. Instead, we received this reminder:
"Error: Hulu is available in the U.S. only, and cannot be used with an anonymous proxy service."
TorGuard Is Surprisingly Good at Unblocking UK Platforms
We were pleasantly surprised to see TorGuard did a great job at unblocking BBC iPlayer, ITV Hub, and All 4. We didn't experience any buffering, either.
But we don't know how long it will be working for. Its standard servers are not the most reliable when it comes to streaming.
EXPERT ADVICE:
Make sure to use TorGuard's Manchester server for streaming — its London server is much more unreliable.
Dedicated Streaming IP Address
You can pay an extra $7.99 per month for a dedicated streaming IP address, which is more likely to get around streaming geo-restrictions.
You can purchase streaming IPs in:
Canada
France
Germany
Italy
However, this is poor value as other VPNs, including VPNArea and CyberGhost, offer multiple streaming servers included in their standard pricing.
Additionally, if you sign up to the Pro plan, you get a dedicated IP address for free with your subscription.
Streaming Residential IP Address
If you want almost guaranteed access to geo-blocked streaming content, you can pay an extra $13.99 per month for a residential IP address in the US.
You can buy residential IP addresses in three different locations:
Los Angeles, California
Tampa, Florido
Dallas, Texas
A residential IP address is rented from an ISP based in the country. It makes the connection look much more authentic and difficult for streaming platforms to detect.
It can also improve your browsing experience as you can often bypass annoying captchas.
However, it's not the cheapest option if you want an annual subscription. Windscribe offers residential IP addresses to its premium subscribers for a one-time annual fee of $96.00, which translates to $8 per month. You can also choose from more countries, such as Canada, Germany, Spain and the UK.
TorGuard's Streaming Bundle
TorGuard offers a streaming bundle that includes a standard subscription plus two dedicated IP addresses for streaming.
Despite the claim it lets you "Stream What You Want, Whenever You Want," you're restricted to only two IPs addresses in either the US, UK, or Japan.
We don't recommend purchasing the bundle because you only get access to two countries' streaming platforms. Whereas with other VPNs, you can get access to multiple countries, all without having to pay for an add-on.
Additionally, you only get dedicated IP addresses, not residential IP addresses, so you could still encounter geo-blocks.
Here's a quick table comparing TorGuard's streaming bundle with ExpressVPN's standard subscription.
Torrenting
TorGuard is a good choice for torrenting
While TorGuard isn't good for streaming, it's an exceptionally good VPN for torrenting.The VPN service allows P2P traffic on all its servers, and it doesn't log any user web activity.
In practice, we've found it consistently outperforms competing VPNs for torrenting. In our P2P benchmark tests TorGuard achieved an average download speed of 9.3MiB/s, compared to 10MiB/s without a VPN.
It also features a must-have VPN kill switch and a transparent no-logs policy. All necessary attributes of a torrenting VPN.
Seeders can also use port forwarding with the VPN, although this is limited to ports above 2048. It's supported through protocols OpenVPN, WireGuard and OpenConnect.
US Servers Banned from BitTorrent
On 13 March 2022, TorGuard settled a case in court with 27 film studio companies which accused it of saving no user logs and promoting torrenting of copyrighted material.
TorGuard settled to "use commercially reasonable efforts to block BitTorrent traffic on its servers in the United States using firewall technology."
Despite the final outcome of the court case, there are three key takeaways which affirm TorGuard's status as the one of the best VPNs for torrenting.
First, TorGuard did not expose any customer data during the course of the legal battle, which means it stuck to its no-logs policy and protected its users' data. If a VPN has an intrusive logging policy, it is not safe to use for torrenting. For example, Avast SecureLine is not recommended for torrenting.
TorGuard has not been forced to log network usage data. Due to the nature of shared IPs and related hardware technicalities of how TorGuard's network was built it is impossible for us to do so.
Second, TorGuard is only taking steps to block BitTorrent traffic on its US servers. This means users are free to continue P2P activity on servers in other countries. If you're in the US, there are nearby servers in Canada or Mexico.
Third, TorGuard is not the only VPN to be sued by major film studios and settle to block traffic on US servers. In January 2022 VPN Unlimited similarly agreed to block BitTorrent and even more torrenting websites, including PirateBay and Popcorn Time.
As of 15 March 2022, our testing found that this block hasn't come into effect on TorGuard. But the court has allowed 120 days for TorGuard to implement the firewall.
How Does TorGuard Compare to Other Top VPNs for Torrenting?
This table shows how TorGuard compares to other VPNs for important torrenting features like P2P speed, server count and features.
Security & Technical Features
Fully secured apps
| Protocols | Available in TorGuard |
| --- | --- |
| IKEv2/IPSec | Yes |
| L2TP/IPSec | Yes |
| OpenVPN (TCP/UDP) | Yes |
| PPTP | Yes |
| SSTP | Yes |
| WireGuard | Yes |
| Encryption | Available in TorGuard |
| --- | --- |
| AES-128 | Yes |
| AES-192 | No |
| AES-256 | Yes |
| Blowfish | No |
| ChaCha20 | No |
| Security | Available in TorGuard |
| --- | --- |
| DNS Leak Blocking | Yes |
| First-party DNS | Yes |
| IPv6 Leak Blocking | Yes |
| Supports TCP Port 443 | Yes |
| VPN Kill Switch | Yes |
| WebRTC Leak Blocking | Yes |
| Advanced Features | Available in TorGuard |
| --- | --- |
| Ad Blocker | Yes |
| Dedicated IP | Yes |
| Double VPN | No |
| Smart DNS | No |
| Static IP | No |
| SOCKS | Yes |
| Split Tunneling | Yes |
| Tor over VPN Server | No |
| Tracker Blocker | No |
The TorGuard settings give you an incredible amount of control but aren't for the faint-hearted.
There's a lot of advanced settings — though we wonder how many are actually useful on a day-to-day basis. There's eleven different options for customizing the app's appearance.
Nevertheless, these additional settings let you add extra layers of security, enable ad blocking, switch to using TorGuard's proxy servers, or even execute custom scripts.
Also, TorGuard followed ExpressVPN in updating its server infrastructure to purely RAM-based (diskless) servers. This means no data is ever recorded on server disks.
Powerful Encryption
TorGuard uses AES-256-CBC encryption and secure VPN protocols. Alongside OpenVPN, TorGuard fully supports WireGuard on all platforms, and was one of the earlier VPNs to do so.
A strong selling point is that it owns private no-logs DNS servers. This means that it encrypts all your DNS requests (the websites you visit) while using the VPN. Only a few VPN services offer this level of protection, including VyprVPN and StrongVPN.
Complicated Kill Switch
TorGuard includes a VPN kill switch and owns its own DNS servers, ensuring your personal data is protected.
The kill switch stops your internet connection entirely in the unlikely event your VPN connection drops. In doing so, your true IP address is never exposed.
EXPERT ADVICE:
After enabling the kill switch, make sure to restart the TorGuard app. Otherwise, the kill switch won't work.
When we tested the Arm killswitches after first successful connection option, we found that it didn't turn on the kill switch or the app kill feature. Even when we restarted the app, it didn't come into effect. TorGuard's customer support team confirmed that this feature was being "phased out."
And, there are plenty of advanced settings to satisfy even the most security-conscious. The most notable features are:
App Kill
Custom proxy servers
Dedicated IP addresses
Ad blocking DNS servers
TorGuard Doesn't Leak Your IP Address or DNS
We ran TorGuard through multiple IP, DNS, and WebRTC leak tests. It passed all the tests and didn't leak any of our personal information.
We connected to a server and Germany before running the tests. As you can see in the screenshot below, the test didn't detect our network details in the UK.
Virus & Malware Checks
We ran a malware and virus check on TorGuard's app installer to make sure it didn't contain any viruses. TorGuard was completely clean and virus-free.
Single Server Breach
In May 2018, TorGuard suffered a security breach.
TorGuard immediately disclosed in a blog post that the attackers had gained root access to the VPN's servers. However, the attacker was not able to decrypt user traffic or launch DDoS attacks because the key is kept strictly off the server.
TorGuard issued the following statement:
TorGuard VPN or proxy traffic was not compromised during this isolated breach of a single VPN server and no sensitive information was compromised during this incident.
Despite the minimal impact of the server breach, the handling of the situation was questionable. Following the attack, TorGuard and NordVPN were entangled in a bizarre scandal, where TorGuard filed a lawsuit against NordVPN citing hacking and blackmail.
Copycat Code
In July 2015, VPN.AC released a blog post accusing TorGuard of copying code from its browser extension and putting its users at risk of cyber attacks.
TorGuard was using VPN.ac's geo-location API server address, which meant its users' IP addresses could've been exposed to VPN.ac.
The browser extension has been since updated to remove the security concern.
TorGuard's Security Initiatives
TorGuard has taken steps towards preventing security breaches:
Bug bounty program
Diskless RAM servers
However, there are a few missing initiatives that would further ensure security:
Infrastructure security audit
Vendor security assessment
Warrant canary
Bypassing Web Censorship
Stunnel protocol should work in China
TorGuard can sometimes work in China and bypass the country's crackdown on VPNs. This is thanks to its proprietary Stealth VPN protocol, Stunnel.
Stunnel wraps traffic in a layer of TLS encryption to make it harder to identify as VPN traffic. You can enable Stunnel by ticking a box in the TorGuard app's settings.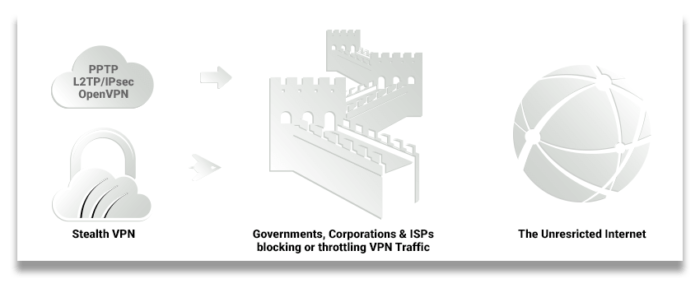 You can connect to its Hong Kong, Japan, Singapore, Taiwan, or US servers for better internet speeds out of China.
Just beware that TorGuard's website is currently blocked in China, so you'll need to download the VPN before you travel.
The Stunnel protocol also works in other highly-censored countries like Iran, Turkey, Saudi Arabia and the UAE.
Device & OS Compatibility
Compatible with all popular devices
Apps
Windows

Mac

iOS

Android

Linux

Router
TorGuard has VPN applications for Windows, macOS, iOS, Android, and even Linux. Very few VPN services offer a native Linux client with a graphical user interface.
You can also set up TorGuard on your home router, or you can buy a pre-configured router from TorGuard's website. This lets all devices in your home use the VPN connection.
Windows App
TorGuard's Windows app isn't the best on the market. Immediately after we installed it, our test device started lagging.
To switch protocols, click on the hamburger icon. You can choose between OpenVPN, WireGuard, and OpenConnect. There's a ton of different port options, including 443, 80, 9201, and 1198.
Click on the cog icon for advanced settings. Here, the options are conveniently organized into tabs:
General: set automatic connections and appearance settings.
App Kill: select apps you would like to close if TorGuard disconnects.
Scripts: add custom scripts before or after connections.
Network: enable TorGuard's IPv6 leak protection, the kill switch, ad blocker DNS, or customize protocol settings.
Proxy: add your own custom proxy server.
Server: add and configure your dedicated or residential IP address.
Debug: identify and show errors in TorGuard's software code.
If you purchase a residential IP address, dedicated IP address or streaming bundle, make sure to register your new IP address in settings, under Server.
macOS Client
TorGuard is much better on macOS than it is on Windows. It doesn't cause any lag and connects very fast.
We're disappointed there isn't a search bar. But you can filter servers alphabetically and filter servers by specialized type or region.
It's also missing a couple of options that are on the Windows client, including the option to install TUN/TAP adapters, block outside DNS, and a few design features. But, unless you're a highly advanced user, we don't think you'll miss these features.
TorGuard's setup process is complicated compared to other VPNs. When we first installed it, we had to enable an uncomfortable number of permissions.
We don't often see this many requests for permissions on macOS VPN clients. Asking for permission to view System Events and perform actions in the app is a bit concerning.
On the flip side, VPNs must have a certain amount of permissions to run properly and it might use this information to detect bugs or software failures.
Android App
You can choose between OpenVPN (UDP and TCP) and WireGuard (UDP) protocols. In settings, you can also toggle for whether you want the VPN to attempt reconnecting if the connection drops and to turn on IPv6 leak protection. You can also configure your own dedicated IP address, static DNS, or proxy.
However, TorGuard doesn't offer a kill switch on Android.
TorGuard offers a split tunnel feature called Restricted Apps on Android devices. This gives users the ability to include or exclude apps from their VPN connection, so you can use your original IP address when necessary.
Just like in the desktop apps, you can sort by alphabetically, in reverse alphabetically and by proximity. You can also then filter by specialized server type or region.
iOS App
The iOS app features far fewer customizable settings and a different design to the other clients.
TorGuard's iOS app offers more protocol options than its Android counterpart. You can choose between:
IPSec
IKEv2
OpenVPN
WireGuard
It has a couple of negatives. First, it doesn't have a functioning kill switch. It didn't matter whether we toggled on or off, restarted the app or kept it running, it never stopped the network connection when we disconnected.
Secondly, servers are listed either alphabetically, by proximity, or showing your favorites. You can't filter servers by region or by specialized server type, such as stealth or dedicated IP, like you can in the Android and desktop apps.
Amazon Fire TV App
TorGuard has a user-friendly Fire TV app. You can choose between trusted protocols, WireGuard and OpenVPN.
However, TorGuard's standard subscription doesn't unblock any international Netflix libraries. If you have a standard subscription, you'll only have access to Netflix's own library of content. We also don't like that there isn't a kill switch.
Below is a video of TorGuard's app in action on our Fire TV Stick: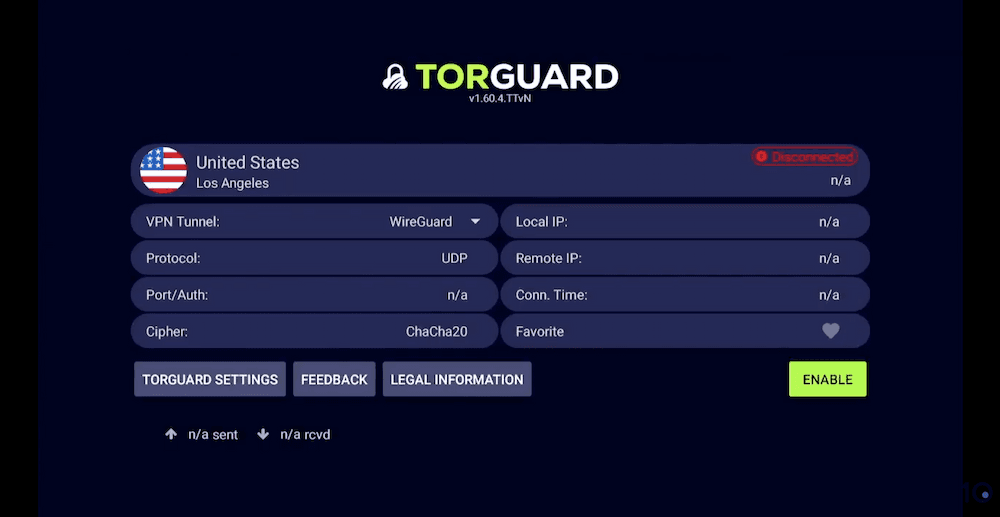 Games Consoles & Streaming Devices
Apple TV

Amazon Fire TV

Chromecast

Nintendo

PlayStation

Roku

Xbox
There's also a custom TorGuard VPN app for Amazon's Fire TV Stick. While it's not very to stream popular content platforms, it's well-suited for watching Kodi streams anonymously.
You can also use TorGuard with a wide range of games consoles and streaming devices, by connecting them to a router that's running the VPN software.
However, there are VPN services that have a Smart DNS tool, which TorGuard doesn't. Smart DNS lets you change the DNS settings of devices such as Apple TV, Roku, Xbox and PlayStation, with those of a VPN server.
Using Smart DNS is a lot easier than setting up a VPN on your router. We recommend using Surfshark VPN on devices that don't support native VPN apps.
Browser Extensions
Chrome

Firefox
A TorGuard subscription also comes with extensions for Chrome and Firefox browsers. Both extensions have the exact same layout, settings, and number of server locations.
There's a huge selection of countries to choose from (43 in total) and even some city-level servers. We're pleasantly surprised to see it's one of the few VPN browser extensions that fully encrypts your traffic (using SSL). This means it's much more secure than other browser extensions which are just proxies.
In settings, you can also enable TorGuard's DNS filtering ad block tool and exclude certain websites from the proxy connection.
All these features worked well in our latest tests. Nevertheless, we would still recommend connecting to TorGuard's VPN as it gives you greater flexibility in choosing protocols and adjusting the settings.
Ease of Use
Complex and difficult to use apps
TorGuard's Windows and macOS apps are identical, which is extremely rare for a VPN. Despite this, they run completely differently on the two operating systems. The macOS client is much faster and didn't cause any bugs like the Windows' client did.
Both desktop apps have an incredibly long list of customizable settings and features. A few of the options are a bit redundant and the amount can be intimidating to a VPN beginner.
To improve your user experience, we recommend ticking Remember Credentials on every app before logging in. This saves you having to enter your details each time you connect to a server.
Customer Support
Email and useful online resources
| Customer Support | Available in TorGuard |
| --- | --- |
| 24/7 Live Chat Support | No |
| 24/7 Email Support | No |
| Chatbot | No |
| Live Chat Support | No |
| Email | No |
| Email Support via Online Form | Yes |
| Tutorial Videos | Yes |
| Online Resources | Yes |
To test out TorGuard's customer service, we submitted a ticket requesting more information about its servers. We were glad to receive a response in just under an hour. However, the support agent directed us to a different email address. We followed up with the new address and received the answer in also under an hour.
The Support Center has a searchable database of articles, which greatly improves user experience. However, the answers in the FAQ are rather sparse, and we saw a couple out-of-date images.
TorGuard has a very active community forum. Customer support agents typically reply to questions asked there within the same day.
The Support Center links out to TorGuard's YouTube channel, which has around 18 videos. However, a majority of these were posted six years ago and haven't been updated since then.
Price & Value
Not the best value for your money
TorGuard offers two types of product plans: Standard and Pro.
The Standard plan offers eight simultaneous device connections, while the Pro subscription allows up to 12, with a dedicated streaming IP address included.
The TorGuard Standard package costs $9.99 per month, if you sign up to the rolling monthly plan. However, subscribing to the annual Standard Plan reduces the monthly price to $4.99. You can get the lowest price, $5.83 by subscribing to a 3-year subscription.
The Pro plan costs $12.99 per month on a rolling basis, $9.99 per month on a yearly subscription, or $6.94 with a 3-year subscription.
If you apply the promo code TGLifetime50 at checkout, you'll receive a 50% lifetime discount on your subscription.
Payment & Refund Options
American Express

Bitcoin

Mastercard

PayPal

Visa

Voucher
TorGuard offers an extensive range of payment options including all major credit and debit cards, PayPal and a long list of cryptocurrencies.
Options such as Alipay and Neosurf are also available through its partnership with Paymentwall.
Seven-Day Money-Back Guarantee
TorGuard offers a seven-day refund guarantee on all subscription plans.
It is a completely 'no questions asked' guarantee, and TorGuard will refund your payment if you are "less than 100% satisfied" with its VPN service.
You can expect your money to be refunded to your account within 3-4 days.
TorGuard Has a Seven-Day Free Trial
In April 2022, TorGuard introduced a seven-day free trial so you can test it out before committing to a subscription. It's available on Windows, macOS, Android and iOS.
But, TorGuard requires you to hand over your payment details upon signing up. So make sure to cancel your free trial before it expires, otherwise you will be billed when it automatically renews.
To use the free trial on Android, follow these steps:
Download the TorGuard app from the Google Play Store.
Open the app and tap Sign up.
Choose your preferred Billing Cycle. In case you forget to cancel free trial, we recommend choosing the $9.99 monthly cycle.
Skip past add-ons and tap Continue.
In Anonymous VPN, tap Choose Another Category.
Select Anonymous VPN Trial.
Tap Order Now.
EXPERT ADVICE:
Remember to cancel your trial subscription as soon as you sign up or a few days after because TorGuard can charge before the period is actually over. Despite this, you can request a refund as it has a seven-day money-back guarantee.
In its Terms of Use, TorGuard states it will "autorenew at least 24 hours before the end of the current subscription period," and your account will be "charged within 24 hours before the end of current period." This means that TorGuard can renew and charge you for a subscription a full day before your subscription expires.
The Bottom Line
TorGuard is a good no-logs VPN
We definitely recommend TorGuard. It doesn't keep logs, has a good number of servers, delivers fast local download speeds, and it even works in China.
TorGuard is a great VPN for torrenting. It records acceptable download bitrates, has a kill switch, and gives you the option to port forward.
It's not perfect, though. TorGuard's international speeds are relatively slow, and the VPN can't unblock streaming platforms like US Netflix, Disney+, and Hulu. You'll have to pay for the Pro plan or an add-on to stream on US platforms.
Overall, TorGuard is a great option that's definitely worth considering if streaming doesn't interest you. It's a high quality mid-tier option that specializes in torrenting.
Alternatives to TorGuard
ExpressVPN
Where TorGuard fails, ExpressVPN excels. ExpressVPN is the best VPN for streaming, a wide range of server locations and very high international speeds. Read ExpressVPN review
Windscribe
Windscribe also offers residential IP addresses at a cheaper and unlimited simultaneous connections. It's also got better server coverage and permits P2P on most servers. Read Windscribe review
---
User Feedback for TorGuard