Top10VPN is reader-supported. We may earn commissions if you buy through links on this page. Learn how we make money.
VyprVPN: Ranked #10 out of 98 VPNs that we tested
VyprVPN counts over 2 million customers worldwide, but can it really be considered the "most trusted VPN service"? That's what it bold claims on its website homepage – but how do you back up a statement like that?
We took an in-depth look at VyprVPN to see if it really can be trusted, and how it compares to some of its big-name VPN rivals.
As well as trustworthiness, we also set out to answer other big questions, such as:
How much does VyprVPN cost?
Is VyprVPN safe?
How do you use VyprVPN?
Is VyprVPN good for torrenting?
Where is VyprVPN based?
Does VyprVPN work in China?
Does VyprVPN work with Netflix?
We didn't stop there though – our impartial review has answers to any question you might have, so that if you decide to subscribe to VyprVPN you can do so with confidence.
You can see what we think are the most important pros and cons of VyprVPN just below.
Fairly quick same-country speeds
No-logs policy & No IP, DNS & WebRTC leaks
Works with Netflix & in China
Torrenting & P2P works on all servers
Easy-to-use apps for PC, Mac, iOS, & Android
Good server network across 64 countries
Speeds can be unreliable
Limited online support guides
Best features on 'Premium' plan only
Great for torrenting, secured against all IP and DNS leaks, and a reliable VPN for China, VyprVPN is a really good product.
It's not all perfect though, as we explain further down this page. First, though, how fast is VyprVPN?
Speed & Reliability
Moderately quick same-country speeds
VyprVPN isn't as fast as our overall best VPN services but it's certainly no slouch, with speeds more than quick enough to do almost anything you want online. It's improving in our speed tests every week, too.
Speed results from our physical location in London (100Mbps fibre optic connection) to a London test server.
Before using VyprVPN:
95.71

97.24

Ping

ms

4
When connected to VyprVPN:
83.05

54.01

Ping

ms

11
Download speed without VyprVPN: 95.71Mbps
Download speed with VyprVPN: 83.05Mbps
Our download speeds loss when VyprVPN is running: 13%
VyprVPN's upload speeds are also pretty quick, at around 60Mbps on same-country connections, making it well-suited to torrenting. Speedy ping times of just over 10ms mean it's an ideal VPN for keen gamers, too.
We also found VyprVPN to be very reliable overall, with very little fluctuation in speed from one server location to the next. As long as you have a stable internet connection, you shouldn't have any issues with VyprVPN's performance.
We connected out to various locations around the world using VyprVPN, and here are the average speeds (from the UK):
USA: 21Mbps (download) & 10Mbps (upload)
Germany: 76Mbps (download) & 48Mbps (upload)
Singapore: 17Mbps (download) & 3Mbps (upload)
Australia: 23Mbps (download) & 4Mbps (upload)
Server Locations
Over 200,000 IP addresses in 64 countries
64
Countries
73
Cities
200,000+
IP Addresses
VyprVPN's huge VPN server network of over 200,000 IP addresses is one of the biggest we've seen from any VPN service – it's a truly massive number, and great news for reliable speed performance.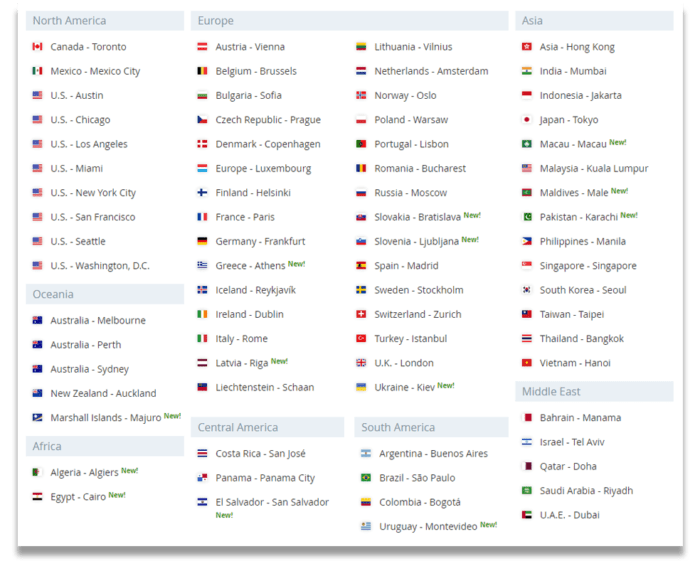 The choice of 73 cities spread over 64 countries is a much more normal number, but still a good selection for VyprVPN subscribers. The servers are pretty evenly spread around the world, too, although the choice in Africa is fairly limited, with just Algeria and Egypt on offer.
We were shocked at the lack of city-level servers, though – Vypr VPN only currently offers city-specific choice in two countries (USA and Australia).
Users in the USA can choose from VyprVPN servers in:
Austin
Chicago
Los Angeles
Miami
New York
San Francisco
Seattle
Washington D.C.
Server choice in Australia is a little more limited, with Melbourne, Perth, and Sydney to choose from.
Unusually, there's no city-level choice in Canada or the UK. If that's important to you, head over to our best Canada VPNs and best UK VPNs guides.
Streaming & Torrenting
A good VPN for Netflix & torrenting
VyprVPN works well with Netflix on most of its US servers.
True, occasionally you'll find the odd server that doesn't work, but in our most recent tests all of the VPN servers we checked had access to Netflix first time. Even better, the video quality was excellent.
If you have any problems streaming Netflix, check out VyprVPN's support page that has a series of troubleshooting tips. In our experience, the live chat agents are always happy to help, too.
Hulu fans are also in luck – VyprVPN works without any issues.
Streaming on VyprVPN's non-US servers is very frustrating however, with services like BBC iPlayer very rarely accessible, which is a shame.
We had been able to stream BBC iPlayer through UK servers for a few weeks, but that's no longer the case. For reliable access to BBC iPlayer, we recommend using one of these VPN services instead.
Torrenting
VyprVPN is good for torrenting, as it treats all VPN traffic equally. This means that P2P activity is permitted on all of VyprVPN's servers, and it works great, too.
Torrenters can also take advantage of VyprVPN's kill switch feature, first-party DNS servers and independently audited no-logs policy, ensuring your personal information is protected during filesharing.
Bypassing Censorship
Great solution for China
VyprVPN works well in China – in fact, it's one of the best VPN services for getting around the so-called Great Firewall, although it's not the very best.
VyprVPN's proprietary 'Chameleon' protocol masks your online activity to help you beat the Chinese censors, and it's currently available on every VPN server, too. Just be sure to download VyprVPN before you travel to China, as it's currently banned in Chinese app stores.

If you want to connect out of China, keep an eye on VyprVPN's subreddit, too. The company posts regular updates about how its service is performing in China as well as troubleshooting tips for any potential issues.
It's not just China, either – VyprVPN works in other high-censorship countries like:
UAE
Saudi Arabia
Turkey
Russia
Its good-sized server network means you should always find a server near you and enjoy the best possible speeds.
Platforms & Devices
Works with all popular devices
Apps
Windows
Mac
iOS
Android
Linux
Router
You can use VyprVPN on the most common mobile and desktop operating systems, including:
Microsoft Windows
MacOS
iOS
Android
It's also possible to manually set up VyprVPN on devices for which VyprVPN doesn't have native VPN apps, like Linux or BlackBerry. This is done by setting up the VPN on your router, which can be a little more tricky but there's a setup guide on VyprVPN's website, or you can read our guide on how to set up a VPN on your home router.
Games Consoles & Streaming Devices
AppleTV
Amazon Fire TV
Chromecast
Nintendo
PlayStation
Roku
Xbox
There's a custom VyprVPN app available for the Amazon Fire TV Stick too.
You can cover all your other streaming devices and games consoles by installing the VPN on your router.
Browser Extensions
VyprVPN doesn't currently have any VPN extensions, which is a shame.
If you're looking for a VPN add-on for your browser, take a look at our top choice ExpressVPN. You can also check out our top five VPN extensions for Google Chrome and Mozilla Firefox.
Encryption & Security
One of the most secure VPNs on the market
Protocol

L2TP/IPSec

OpenVPN (TCP/UDP)

PPTP

Encryption

AES-256

Security

DNS Leak Blocking

First-party DNS

Supports TCP Port 443

VPN Kill Switch

Advanced features
Please see our VPN Glossary if these terms confuse you and would like to learn more.
VyprVPN is incredibly safe, providing just about everything we look for in a VPN when it comes to security.
VyprVPN is encrypted with gold standard AES-256 and uses OpenVPN as its default VPN protocol, which we always look for.
It also has built-in protection against DNS leaks, which we confirmed to be 100% effective in our most recent tests:
VyprVPN also operates its own zero-log DNS servers, meaning that all your Web traffic flows through their own servers and is never logged.
It even has a NAT firewall to block unwanted incoming traffic and Port 443 support to hide the fact you're using VyprVPN at all.
Logging Policy
Independently audited zero-logs policy
After an independent audit conducted by an external company discovered that VyprVPN was collecting personally identifiable user data, VyprVPN took swift action to put a stop to it.
The result is that VyprVPN is now a truly no-logs VPN service, and this has been independently verified. Its VPN servers retain no user data whatsoever – in fact, it's one of the best logging and privacy policies we've seen.

Jurisdiction
VyprVPN was developed by Golden Frog, an internet privacy company, back in 2009. Golden Frog is based in Switzerland, which is a big plus for user privacy.
In its own words, Golden Frog (and therefore VyprVPN) optimizes internet connections to increase performance and speed, enable privacy and provide access to a free and open Internet.
Located outside of the EU and any other sort of surveillance agreements, there's virtually no chance that any VyprVPN data could possibly be accessed by the Swiss government or law enforcement – not that any information is logged in the first place, anyway.
Ease of Use
Clear, simple, uncluttered apps
How to Install & Set Up VyprVPN
Clarity is the obvious priority here, as VyprVPN's simple and uncluttered desktop apps are incredibly easy to set up and use.
Choosing a server location couldn't be simpler, and VyprVPN keeps all the advanced options you may want to tinker with in one place, clearly explained in plain English.
The VyprVPN mobile apps can be a little fiddly by comparison, but once you're up and running it's smooth sailing.
Customer Support
Friendly live chat agents
| | |
| --- | --- |
| 24/7 Live chat support | |
| Online Resources | |
Getting in touch via the 24/7 live chat is by far the best way to get help from VyprVPN. Responses can take a few minutes, but the customer support agents always helpful and friendly.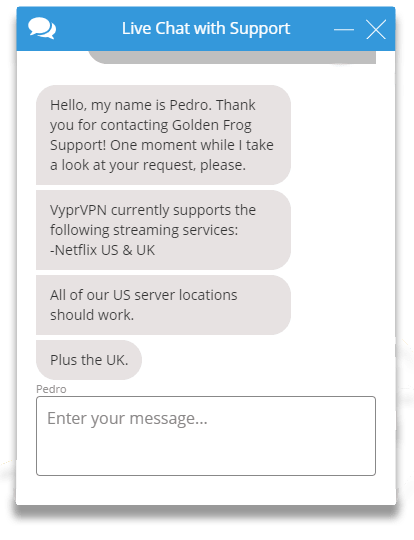 The response we got when we asked which VyprVPN servers work with Netflix
It's a good thing too, as VyprVPN's online resources are pretty poor compared to other top VPN services. There are no video tutorials and there's not much in-depth advice on advanced issues. The setup guides are very useful, though.
Pricing & Deals
Best value on the 12-month plan
VyprVPN Coupon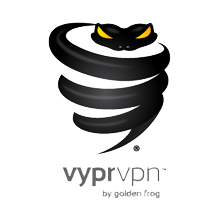 VyprVPN
Get 61% off VyprVPN's 12-month plan
VyprVPN Pricing Plan
There are two different packages on offer with VyprVPN: Standard and Premium – we would always recommend you opt for Premium.
VyprVPN Premium increases your simultaneous device limit from three to five and is the only way to get Chameleon encryption.
The best price you can get for the Standard plan is $3.75 per month, and $5.00 per month for the Premium plan.
All plans have 30-day money-back guarantee
Payment & Refund Options
You'll always have access to a three-day trial before buying VyprVPN, but the 30-day money back guarantee is anything but assured. It runs as a promotion fairly often, but not always.
With so many VPN services offering 30-day free trials as standard this is a pretty sizable disappointment.
VyprVPN accepts a decent enough range of payment methods including most major credit and debit cards, PayPal and Alipay.
It doesn't accept any forms of cryptocurrency and international options are very limited compared to top-tier VPNs.
You've read our expert review - read on for reviews from real users.
User Reviews
Based on 61 reviews
5 star

(34)

4 star

(20)

3 star

(3)

2 star

(3)

1 star

(1)
Share your thoughts to help others
Best Positive Review
stable, easy, multi purpose
Verified Purchase
I wasn't a big fan of most of the VPN services I tried, but VyprVPN is truly acing it. The encryption is always stable, even if I'm on holiday in exotic places (Malaysia, Cuba). I used it for all my desktop systems (Mac & PC), mobile/iOS and on my NAS.
Best Critical Review
The past 6 months have been a struggle
Verified Purchase
Used to be great, but its now not connecting time and time again, then stops responding then I have to kill the process till that finally hangs all of my apps and I end up having to restart the laptop. This happens 2-3 time a week. Its really a shame that its so buggy as other than that is a decent product.
Showing 1-3 of 61 Reviews
Connection with android was fine when it worked but a lot of connection errors. Connnection with windows only ever worked during the free trial period. As soon as I paid for the service I could never connect again using a PC. Repeated conversations and emails with Vypr support could not resolve this. After a couple of months repeated attempts to connect via windows I requested a refund from Vypr. Even though they admitted that I had not received the service I had paid for they would not give a refund. Terrible service, terrible support.

Verified Purchase

i like your vpn a lot. big fan of the 'connect with untrustworthy wifi's'-feature. also very happy about the new no logs policy. sometimes the ios app has trouble connecting and in some cases i have to restart my device to be able to connect to a wifi network. and one other thing, wich would be nice. being able to circumvent more netflix vpn blockers. thanks and keep up the good work

Good,but still have improved

Verified Purchase

I use it almost everyday. It can connect in most of time,and many time is very fast. But still sometimes can't connect, or is very slow, and can't use YouTube. Had use manual disconnect and connect many times.