Disclosure: Top10VPN.com is reader-supported. We may earn commissions if you buy a VPN through links on our site.
Our Verdict
VyprVPN is a secure swiss-based VPN with a no-logs policy, AES-256 encryption and a large self-owned server network. It's not the fastest VPN, but its speeds are good enough for HD streaming and torrenting. VyprVPN unblocks US Netflix, BBC iPlayer and it even works in China.
VyprVPN's website states the following: "Your Data. Our Servers. No 3rd Parties." This statement is at the core of the VPN service's offering, which is ownership of its entire server network through parent company Powerhouse Management.
Based in Switzerland, VyprVPN is a very secure VPN service with a no-logs policy and AES 256-bit encryption. Equally, it didn't leak IP or DNS information in our in-house leak tests, and when we scanned it for malware, it came out clean.
Futhermore, its proprietary Chameleon™ protocol successfully bypasses aggressive online censorship in countries like China, Turkey and the UAE. This demonstrates the high standard of VyprVPN's encryption and obfuscation techniques.
It's also a good VPN for streaming, reliably unlocking several Netflix libraries and BBC iPlayer. The service also allows P2P file-sharing on all its servers.
VyprVPN isn't perfect, though. Its speeds certainly need improving, although they're generally fast enough to stream in HD and download files quickly. Also, it doesn't have a native app for the popular Fire TV devices, and there are no VPN extensions, either.
Keep reading our January 2021 VyprVPN review to find all the information you need to decide if it's the right VPN for your needs.
VyprVPN Pros & Cons
Unblocks US Netflix & BBC iPlayer
Torrenting & P2P allowed on all servers
Verified no-logs policy & no IP address leaks
Chameleon protocol often works in China
Self-owned DNS server network in 64 countries
Advanced features including kill switch
Slower & unreliable speeds
Limited online support guides
iOS app lacks several features
No VPN browser extensions
No Smart DNS solution
VyprVPN Key Summary
| | |
| --- | --- |
| Data Cap | Unlimited |
| Speed | 77Mbps |
| Logging Policy | No Logs |
| Data Leaks | No |
| Jurisdiction | Switzerland |
| Servers | 700+ |
| IP Addresses | 300,000 |
| Countries | 64 |
| US Netflix | Yes |
| Torrenting | Unlimited |
| Works in China | Yes |
| Support | 24/7 Live Chat |
| Cheapest Price | $1.66/mo over 36 months |
| Official Website | VyprVPN.com |
VyprVPN is trustworthy and doesn't keep logs
Ownership & Logging Policy
VyrVPN is owned and operated by Golden Frog, itself owned by Powerhouse Management. Powerhouse Management, Golden Frog, VyprVPN, and all related companies belong to Ron and Carolyn Yokubaitis, who have been working in internet access and networking since they started Texas.net in 1994.
In 2009 the couple founded Golden Frog in a direct response to the Room 641a scandal, where it was discovered the NSA had been surveilling AT&T's networks. They also took the Snowden Revelations that occurred four years later as validation of the company's goals.
VyprVPN's proposition of eliminating as many third parties as possible asks you to put a lot of trust in them. Like all VPN providers VyprVPN has the ability to monitor everything you do online, but this VPN goes a step further by taking control of your DNS requests through parent company Powerhouse Management. You can learn more about VyprVPN's first-party DNS system later on in this review.
We don't think you should give that kind of trust to just anybody, so we've dug into VyprVPN's privacy policy and company history.
Logging Policy
VyprVPN is now a truly no-logs VPN. In its current privacy policy, it explicitly states that:
They do not log a user's IP address
They do not log the IP address assigned to the user when using VyprVPN
They do not log connection start or stop time
They do not log a user's traffic or the content of any communications
They are network neutral. They do not discriminate against devices, protocols, or applications
They do not throttle or rate limit your Internet connection
This is a very clear and detailed logging policy that sets out a principled vision for the relationship between user and network provider.
Being network neutral is a key detail: it means VyprVPN won't run real-time analysis of your traffic or block certain kinds of activity. Importantly it means you can torrent on any server you want.
Similarly, by agreeing not to log your IP address or connection times VyprVPN makes it impossible for a third party to trace an IP back to you, even with a warrant. Again, this is good news for file-sharing users, but we'll go over this in more detail later in the review.
A few years ago VyprVPN's logging policy far exceeded what we consider reasonable. It has since remedied this, and we now feel comfortable recommending VyprVPN as a private service.
You can still see the old privacy policy using the Wayback Machine.
The old privacy policy used to state that Golden Frog retains "the user's source IP address, the VyprVPN IP address used by the user, connection start and stop time and total number of bytes used" for 30 days. That information was enough to totally deanonymize users, and there are many examples of VyprVPN using this data to hand over its users' information to DMCA trolls.
Thankfully, Golden Frog updated it's approach to user data. It was even one of the first VPN providers to commission an independent audit of its logging policy in 2018. The audit was carried out by Leviathan Security Group, a consultancy firm specializing in information security and policy.
While the audit did initially find issues with how personally identifiable information was being handled, VyprVPN took swift action to remedy this and Leviathan later confirmed that its VPN servers no longer log personally identifiable user data.
However, it's been years since the audit and another audit is overdue. Not just of its logging policy, but also of its app and server security.
Jurisdiction
While it's operated from Texas, US, Golden Frog is incorporated in Switzerland. This is a plus for user privacy, although not as big as some believe.
Switzerland is often called a 'privacy haven' because it isn't in the EU, or in a major data sharing alliance like the Five Eyes or SIGINT. This means it doesn't have formal agreements for sharing surveillance data.
But Switzerland does sometimes share information with other countries. It also has data retention laws, the BÜPF & VÜPF, but they are comparatively lax compared to those of other countries.
The significant difference is that there is no law compelling VPN providers to keep logs in Switzerland, and sharing of data can't be done casually. Crucially, Golden Frog doesn't log any user web data in the first place, so you can use VyprVPN safely.
Over 700 servers in 64 countries, all self-owned
Servers
64
Countries
73
Cities
300,000+
IP Addresses
VyprVPN's huge range of 300,000 IP addresses is the largest we've seen from any VPN service. While the choice of 700+ servers in 73 cities and 64 countries is more normal, the server list will likely satisfy most people.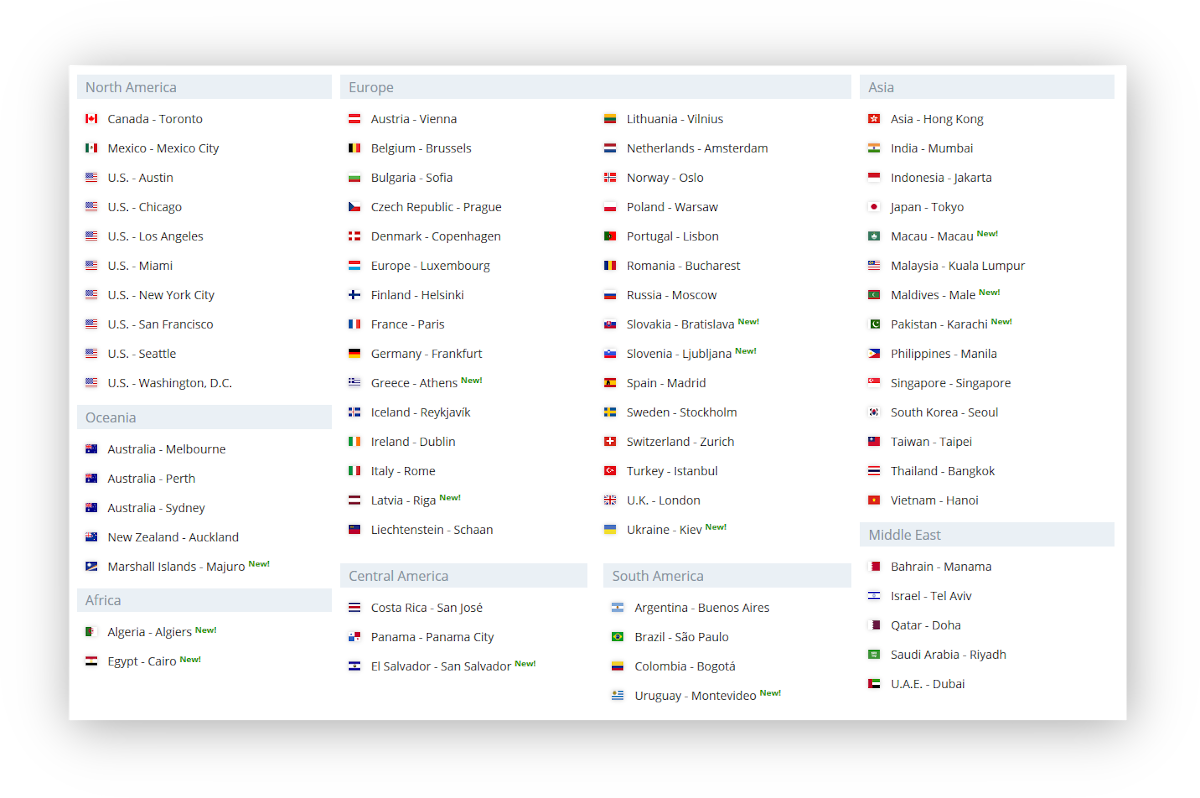 In fact, the server locations are evenly spread around the world, including 14 locations in Asia, seven in Central and South America, five in Oceania, five in the Middle East, and two in Africa. The choice of server locations in Africa is fairly limited, with just Algeria and Egypt on offer, although that's rather common among VPN services.
However, we were disappointed by the lack of city-level servers. VyprVPN currently offers city-specific choice in only two countries: the United States and Australia.
VyprVPN's US servers are located in:
Austin
Chicago
Los Angeles
Miami
New York
San Francisco
Seattle
Washington D.C.
Servers in Australia are located in Melbourne, Perth, and Sydney.
Unusually, there's no city-level choice in Canada or the UK. If that's important to you, head over to our VPN recommendation lists for Canada and the UK.
On the plus side, VyprVPN owns and operates all of its own servers and therefore can offer "end-to-end" privacy. Having "no third parties" involved is perhaps VyprVPN's biggest selling point.
It represnts a strong step towards privacy by design, as it eliminates the security risks that are associated with renting servers. Combined with Golden Frog's in-house DNS service, VyprDNS, this means you only need to trust one party when you connect to the internet – VyprVPN itself.
VyprVPN also employs dynamic server switching, which seamlessly changes your server depending on load and server availability. This helps to maintain a consistently high quality connection without interrupting your service. Combined with the VPN kill switch, this hugely reduces the risk of your IP or DNS leaking. In practice, we've never once seen VyprVPN leaking.
VyprVPN is safe and secure
Privacy & Security Tests
Protocols

IKEv2/IPSec

L2TP/IPSec

OpenVPN (TCP/UDP)

Proprietary

WireGuard

Encryption

AES-128

AES-256

Security

DNS Leak Blocking

First-party DNS

Supports TCP Port 443

VPN Kill Switch

Advanced features

Split Tunneling
Please see our VPN Glossary if these terms confuse you and would like to learn more.
VyprVPN always performs well in our security testing and we recommend it as a secure VPN service. It's one of the safest and most secure VPNs, encrypted with gold standard AES-256. It also uses OpenVPN: an open-source VPN protocol, which is widely considered the most reliable and rigorously tested option.
It even has a NAT firewall to block any unrequested traffic coming into your device when connected to VyprVPN.
On top of this, it features an all-important kill switch, which stops your traffic from being exposed even if your VPN connection drops out momentarily.
There's no support for port forwarding in VyprVPN's apps, though, which some advanced users might miss.
There's some variation between different platforms when it comes to advanced security features. For instance PC features a "public wifi protection" option not available on Mac, and Mac features split tunneling and a malware blocker absent from the PC app. We've broken down all these features by app later in the review.
As of a recent update, VyprVPN also offer WireGuard, an emergent VPN protocol which might just be the future of VPNs. It's available as an alternative to the other protocols offered by VyprVPN, so there's no need to change over if you don't want to.
We've already briefly mentioned VyprDNS, Golden Frog's DNS network, but it's an important element of what makes VyprVPN so secure. We're going to investigate it in even more detail here, as well as test it to make sure it's working.
According to VyprVPN, its in-house DNS service holds these benefits:
No DNS logs: VyprDNS is "zero-knowledge," which means it doesn't retain logs of hotnames, IP addresses, geolocation data or anything else.
No DNS censorship: DNS servers can be used to censor access to specific websites at the request of governments or ISPs, but VyprDNS tunnels your data to prevent this from happening.
No DNS location errors: DNS servers located in different countries to your VPN server can cause issues when accessing geo-locked content. VyprDNS avoids this by putting a DNS server in the same country as each VPN server.
No injected content: it is technically possible for a DNS provider to inject ads or content into your browser's DNS requests (Hotspot Shield was caught injecting code into users' browsers in 2017). VyprVPN DNS servers don't manipulate any of the content on the websites you visit.
The service is turned on by default, but you can toggle it off if you'd stick to public DNS servers provided by companies like Google and Amazon.
VyprVPN Leak Tests
We thoroughly tested VyprVPN to check for data leaks, malware, and assess the strength of its encryption. In short, the results came out completely clean. Our IP address, WebRTC, and DNS all appeared under german IP addresses, and didn't give up our true location in London, UK.
Here's what we found when we ran VyprDNS through a leak test:
As you can see, the DNS servers aren't showing up as VyprVPN, Golden Frog, or even Powerhouse Management, but as the very companies the service is supposed to help you avoid: Google and Amazon.
We were concerned this might mean that VyprDNS wasn't working properly. We reached out to VyprVPN, which clarified that it uses a DNS relay system.
This means that before your DNS traffic reaches any public DNS servers it is routed through a DNS proxy, fully anonymizing your traffic. This isn't quite the same as total end-to-end elimination of third parties, but it gets about as close to eliminating third parties as is possible without signalling to websites that a VPN is being used.
But that's just DNS. Here are the results of another, full leak test:
These top-level checks are good, and show that VyprVPN wasn't leaking any other data. However, they don't guarantee your data is fully encrypted and protected from third parties.
We've gone a step further than other websites and inspected the packets of data being sent by VyprVPN to make absolutely certain it is properly encrypted.
We use Wireshark to inspect individual packets of data in DNS, TCP, and UDP traffic to make sure absolutely nothing is visible in plain text.
Here are our results:
This is an excellent outcome; exactly what we would expect from a top tier provider like VyprVPN.
We always want to be extra vigilant, so we've also scanned the VyprVPN desktop app using Malwarebytes looking for any potentially dangerous or malicious content.
Thankfully, it came out both virus- and malware-free.
Closed Source Apps
One thing we would like VyprVPN to work on is making its apps open-source, so they can be scrutinised by the wider information security community.
It doesn't look like this is going to happen; CTO Michael Douglass even wrote a piece passionately opposed to open-sourcing VyprVPN in 2016.
His argument is that obscurity helps to keep VyprVPN secure, and that the specific workings of its software helps to maintain a competitive edge in the market-place.
This is an inadequate explanation which places VyprVPN's direct commercial interests before transparency for its users.
Aside from the fact that "security by obscurity" has been widely debunked as a concept in the industry, we believe it is important that users be given total transparency, particularly because VPNs hold such responsibility for what happens to user data.
VyprVPN isn't as fast as other top-tier VPNs
Speed Test Results
VyprVPN isn't as fast as some of the other top VPN services, but its speeds are more than quick enough to do almost anything you want online.
We recorded an average speed loss of 16% when connected to a nearby server, which is an above average result. And there have been big speed improvements on international connections, too.
We registered our connection speeds before and after connecting to VyprVPN's servers to measure the impact on our internet speed. VyprVPN's upload speeds were really strong – an improvement over the last time we tested them – reaching as high as 87.71Mbps.
Local Speed Test Results
Before using VyprVPN:
91.58

97.72

Ping

ms

7
When connected to VyprVPN:
77.2

86.09

Ping

ms

17
Download speed without VyprVPN: 91.58Mbps
Download speed with VyprVPN: 77.2Mbps
Our download speed loss when VyprVPN is running: 16%
VyprVPN is very reliable, with very little fluctuation in speed from one server location to the next. As long as you have a stable internet connection, you shouldn't have any speed issues. That said, if speed is your primary concern, there are certainly faster VPNs on the market.
Ping times of just over 10ms between London and European servers also make VyprVPN a good choice for gaming. Golden Frog clearly has experience in this area, and alongside VyprVPN, it runs Outfox, a dedicated gaming provider.
Long-Distance Speed Tests
As in our previous tests, we saw speeds on same city connections stay about the same, but international speeds improved significantly. This is important if you're looking to unblock websites or stream content from abroad.
To show the improvement, we've compared our results from June 2019 with those taken in January 2020.
Download Speed
US server speed up from 21.13Mbps to 54.82Mbps between tests
France server speed up from 70.35Mbps to 74.69Mbps between tests
Japan server speed up from 8.99Mbps to 34.22Mbps between tests
Singapore server speed up from 16.98Mbps to 19.21Mbps between tests
Australian server speed up from 23.26Mbps to 33.13Mbps between tests
Upload Speed
US server speed down from 54.01Mbps to 44.41Mbps between tests
France server speed up from 49.89Mbps to 87.78Mbps between tests
Japan server speed up from 0.19Mbps to 14.51Mbps between tests
Singapore server speed up from 2.87Mbps to 14.29Mbps between tests
Australia server speed up from 3.89Mbps to 8.86Mbps between tests
On almost all connections we saw notable speed improvements for both uploads and downloads. While global speeds have been a past weakness for VyprVPN, this is clearly no longer the case.
How Fast is VyprVPN Compared to Other VPNs?
In addition to the above results of our manual testing, below you can see the latest speed results from our automated VPN speed test tool.
These automated speed tests run every day, four times per day. Test connection speeds are capped at 100Mbps to recreate a typical home internet connection.
The graph below compares VyprVPN's average loss of internet speed to other popular VPNs, on a New York to New York test connection. The results go back eight weeks, to give you a good idea of how reliable VyprVPN is, not just how fast it can be.
Use our Speed Test Tool to compare VyprVPN's worldwide speeds.
Unfortunately, VyprVPN hasn't quite been able to match other top providers for several months. On a New York to New York connection we achieved download speeds drops of as much as 50%, compared to consistent drops of less than 10% for providers like ExpressVPN and Private Internet Access on the same connection.
Internationally, the results have been very similar, but VyprVPN has performed surprisingly better on very long-distance connections. For example, connecting from New York to Singapore, its download speed has stayed above that of Private Internet Access, and is not far behind NordVPN or ExpressVPN.
VyprVPN's Chameleon protocol still works in China
Beating Censorship
VyprVPN usually works in China, although lately it's been rather inconsistent. Over the last month we've only been able to connect once from our test server in Shanghai. We run weekly checks, so we'll see in the coming weeks if VyprVPN becomes more stable.
The reason why VyprVPN usually works in high-censorship countries is because of its proprietary Chameleon protocol. This VPN protocol was specifically designed to bypass aggressive censorship and VPN blocks in countries like Russia, China and UAE. It's currently available on every VPN server, too.
In countries with advanced censorship infrastructure like China's Great Firewall, just encrypting data is not enough. These countries will run something called deep packet inspection (DPI) to determine if certain packets of data belong to a VPN.
If they identify a VPN they will simply block the connection, keeping you from accessing the free and open internet.
VyprVPN's Chameleon protocol works by scrambling the metadata of each OpenVPN packet, preventing it from being identified through DPI. This allows it to avoid detection from governments, ISPs, and other network administrators like your employer, school or university.
Underneath the obfuscation technology lies the unmodified OpenVPN protocol, with tried and tested AES-256 encryption. This means you can overcome censorship without giving up security – a really strong feature.
The company released Chameleon 2.0, the latest version of their proprietary protocol, in January 2020. The update comes with new cloaking technology, improved reliability, and additional compatibility with Windows, Android, MacOS, and iOS.
Chameleon 2.0 is still called "Chameleon" in current versions of the app, and is not shown as a separate protocol. To use it, simply choose the Chameleon protocol option in the application's interface and click connect. If you haven't downloaded VyprVPN yet, make sure you download the latest version of the VPN app from your VyprVPN account.
If you choose to use VyprVPN in China, make sure you download the VPN before you travel there, since VyprVPN is banned in Chinese app stores.

If you want to connect out of China, keep an eye on the VyprVPN subreddit, too. The company posts regular updates about how its service is performing in China as well as troubleshooting tips for any potential issues.
Currently, you need to be using the beta version of the app to get reliable access in China for PC or iOS.
In addition to China, VyprVPN also works in other high-censorship countries like:
UAE
Saudi Arabia
Turkey
Russia
Thailand
Syria
Its global network of bare-metal servers means a VPN server is never that far away. So you should get good VPN speeds from any of these regions, too.
A good VPN for US Netflix & torrenting
Streaming & Torrenting
VyprVPN unblocks US Netflix on most of its US servers as well as Hulu, and BBC iPlayer on its UK servers.
There are one or two US servers that don't work with Netflix, but in our most recent tests all of VyprVPN's US servers worked and the video quality was excellent. What's more, VyprVPN also unblocks the British, Canadian, Japanese, and German Netflix libraries.
If you have any problems streaming Netflix, VyprVPN's support page has a series of useful troubleshooting tips. The live chat support agents are always happy to help, too.
Historically, we've struggled to stream BBC iPlayer using VyprVPN, however the newest app versions are currently working with BBC iPlayer. This is no easy feat, as many top-tier VPNs have struggled unblocking the streaming service lately.
VyprVPN can also unblock Disney+. Setting up a Disney+ account isn't as easy as Netflix or iPlayer, but you can see how to do it on our dedicated Disney+ VPN page.
You can also access region specific content on YouTube too, although we've yet to see a VPN which doesn't unblock the video platform.
While there aren't dedicated "streaming" or "torrenting" servers, plenty of VyprVPN's servers unblock streaming services so it doesn't really matter.
Torrenting
VyprVPN allows torrenting and P2P activity on all its VPN servers, and it works great, too.
While VyprVPN used to engage in controversial practices when it came to torrenting activity, that's no longer the case.
VyprVPN's kill switch feature and first-party DNS servers are great pluses, and protect your real IP address during file-sharing.
As covered in the logging section of this review, Golden Frog has significantly changed its privacy policy although the copyright policy remains broadly unchanged.
At first the current policies seem to hold some conflict. The Copyright Policy states that "it is Golden Frog's policy:
to remove or disable access to the content identified in the notice of claimed infringement;
to notify the subscriber that it has removed or disabled access to the content; and
to terminate in appropriate circumstances subscribers who are repeat infringers."
There are several concerning things about this policy. It implies that VyprVPN might be running real-time analysis on its users' traffic to identify torrenting of prohibited content, or it might be keeping a record of users' IP addresses and connection times, then cross-referencing this information with DMCA requests from copyright holders.
Either of these practices would contradict privacy policies promised by Golden Frog: that it "treats all traffic equally" and that it doesn't log IP addresses or connection times.
Thankfully, VyprVPN's actions don't mirror this conflict. We haven't seen any examples of customers receiving such notices or having accounts locked since VyprVPN changed its policies.
The copyright policy appears to have remained mainly for the benefit of copyright holders, with VyprVPN having taken a privacy by design approach which allows them maintain a strict no-infringement policy without the capacity to identify any infringement.
Good device compatibility, but not the best
Device Support
Apps
Windows
Mac
iOS
Android
Linux
Router
You can use VyprVPN on the most common mobile and desktop operating systems, including:
Microsoft Windows
MacOS
iOS
Android
The device limit is five, which should be enough to get all your devices connected. It's also pretty standard in the industry. If connecting lots of devices is a priority for you, take a look at a provider which offers unlimited connections, like Surfshark or IPVanish.
Here is a list of all of VyprVPN's apps and supported platforms.
It's also possible to manually set up VyprVPN on devices for which VyprVPN doesn't have native VPN apps, like Linux or BlackBerry. This is done by setting up the VPN on your router, which can be a little more tricky but there's a setup guide on VyprVPN's website, or you can read our guide on how to set up a VPN on your home router.
Digging deeper, we also took a look at the trackers and permissions within the Android app using the exodus tool.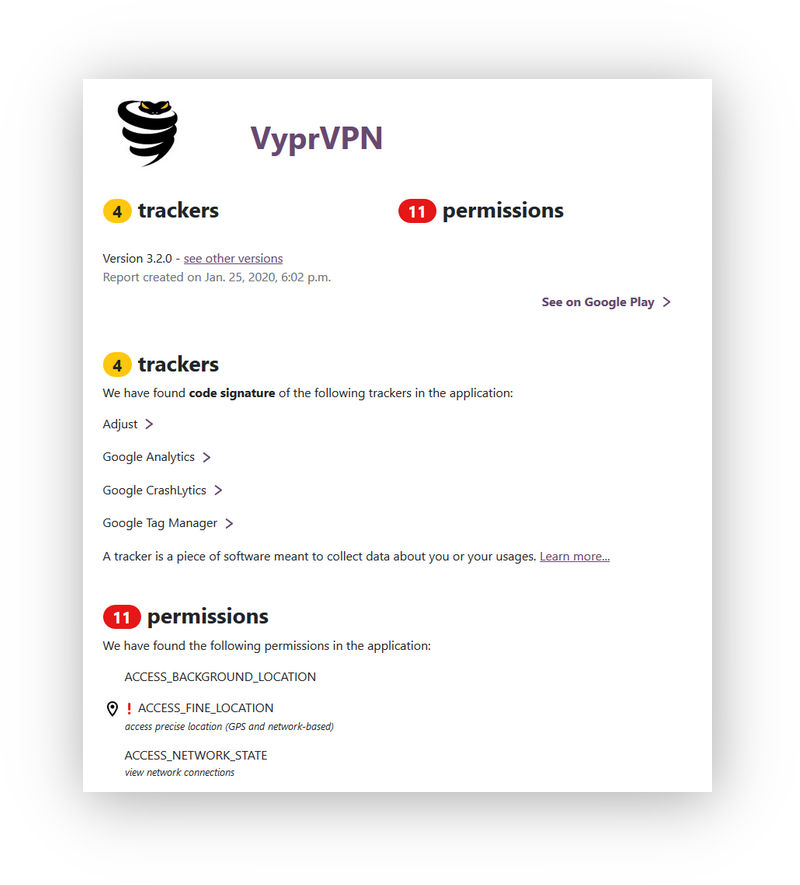 The results show that the VyprVPN app contains four third party trackers: Adjust, Google Analytics Google CrashLytics, and Google Tag Manager.
This is more than we would like, and undermines the idea that the app is anonymous.
All the trackers are analytics, so there's nothing too concerning here, but other providers, like Astrill, have made their apps completely tracker free.
On top of this, VyprVPN's Android app asks for 11 permissions from your phone, including "ACCESS_FINE_LOCATION," a special permission which allows access to both GPS and network based location.
We know why some VPNs include this, it's a quick way to determine the location of your device for a "fastest" connection to the nearest server. But pinging servers to find the quickest connection is not only more accurate, it also doesn't unnecessarily gather data about users.
Hopefully this is something VyprVPN will address in the future.
Games Consoles & Streaming Devices
AppleTV
Amazon Fire TV
Chromecast
Nintendo
PlayStation
Roku
Smart TV
Xbox
VyprVPN has a native app for Fire TV Stick, which is very popular with streaming and Kodi fans. It also has an Android TV app – great for users of the Xiaomi Mi Box, Sony smart TVs, Nvidia Shield, or Razer Forge TV box.
You can also sideload VyprVPN's apk file into Android devices not compatible with VPN applications.
For devices where a native VyprVPN apps isn't available, you can install the VPN on a compatible router. This allows you to route the traffic from all your router-connected devices through the VPN. These devices include:
PlayStation 4
Xbox One
Nintendo Switch
Most smart TVs
Apple TV
Chromecast
NAS
Roku
Another benefit of using a VPN router is it allows you to connect more than the limited number of devices, since the router only counts as one device.
VyprVPN is also fairly unique in maintaining a custom router app. This adds a level of usability many VPN router setups lack.
The app itself is compatible with Tomato flashed routers – although it has specific hardware requirements.
VyprVPN also provides manual setups for the following firmware:
Browser Extensions
VyprVPN doesn't currently have any VPN extensions for your browser, which is a real shame. They're becoming very popular among VPN users and we expect major VPN services to have them.
If you want a VPN that also comes with a Chrome or Firefox VPN browser add-on, read our guides to the best VPN extensions for Google Chrome and Mozilla Firefox.
Clear, simple, uncluttered apps
Ease of Use
How to Install & Set Up VyprVPN
Clarity is clearly a priority in all VyprVPN's apps. The simple and uncluttered desktop apps are incredibly easy to set up and use.
Choosing a server location couldn't be simpler, either, and VyprVPN keeps all the advanced options you may want to tinker with in one place, clearly explained in plain English.
The features and interface on offer do vary a bit by device though:
Windows
The VyprVPN Windows app feels great to use.
It has a big central "Connect" button, with a country select button just above. At the bottom of the screen there are three tabs: customize, connection, servers. This is simple and easy – everything we want from a VPN app.
The customise tab reveals a set of useful features, from toggles like public wifi protection and a kill switch to more complex controls for DNS, VPN protocol, and TAP Adapter settings.
You can customize what notifications you receive on desktop, too, a great little feature.
By default Windows uses OpenVPN to connect – our protocol of choice – but you also have IKEv2 and VyprVPN's obfuscation protocol, Chameleon, to choose from.
MacOS
The MacOS app does all the same things as the Windows app, offering easy access to all VyprVPN's servers as well as toggles for advanced features.
Unlike the Windows app, though, it includes both split tunneling and a malicious site blocker.
The malicious site blocker is a good feature, although it's made redundant by several free security browser extensions that do a better job.
Split tunneling, on the other hand, is an exceptionally useful feature which allows you to route some traffic inside the VPN while keeping other traffic outside. This allows you, for instance, to have your web browser within the VPN but a gaming connection outside, or your email client within the VPN and a web browser outside.
There are some downsides compared to the Windows app, too.
You won't be able to set the Mac app to run on start-up, or access the TAP adapter controls.
The default VPN protocol on Mac is IKEv2. We tend to prefer OpenVPN for desktops but this is a secure and well tested alternative.
Both OpenVPN and the Chameleon protocol are available, too, so you can switch to those if necessary.
Android
The Android app is slick and visually very similar to the design of the desktop apps. Its features are pretty much on par with the MacOS and Windows apps, too.
You get split tunneling, a kill switch, VyprDNS, and plenty more. The only features absent from the Android app are TAP adapter controls and a malicious site blocker.
It can run on either OpenVPN or the Chameleon protocol, both good choices. If you're in a censored region or you suspect your network provider might block a VPN go for Chameleon, otherwise the default OpenVPN is your best choice.
If you don't want to or can't download the app from the Google Play Store VyprVPN also offer an apk for you to sideload directly onto your device.
The Android app is our favorite of the bunch.
iOS
The iOS app functions in much the same way as the Android one. It's quick and easy to use and navigate, like all of VyprVPN's apps.
It lacks some of the features of the other apps, though. There is no kill switch, for instance, which is a pretty major omission (although there aren't many VPNs that have one on iOS). There also isn't split tunneling, which limits the utility of the app somewhat.
VyprDNS is available, but it is always on and can't be toggled on or off.
IKEv2 is the default protocol. This isn't our favorite for PC or MacOS but is particularly strong on mobile connections, so we think it's a good call here.
You can still access the Chameleon protocol, too, which is a plus.
Router
The custom router app only works on certain Tomato flashed routers, but offers great utility with explicit router level considerations.
On top of the basic VyprVPN operation, it includes port forwarding controls, access restriction, per device controls, and support for all VyprVPN's protocols (including Chameleon and OpenVPN at the AES-256 level of encryption). A great suite of features.
It also has USB and NAS controls which allow you to get the most out of your local network while still running the VPN at router level.
The VyprVPN router app gives you the ability to trace your bandwidth usage over time (stored locally). While not totally necessary, this does let you keep a close eye on the levels of activity in your local network.
Most of all, it facilitates quick and easy connection changes for all your home devices to anywhere in the VyprVPN network.
Smart TV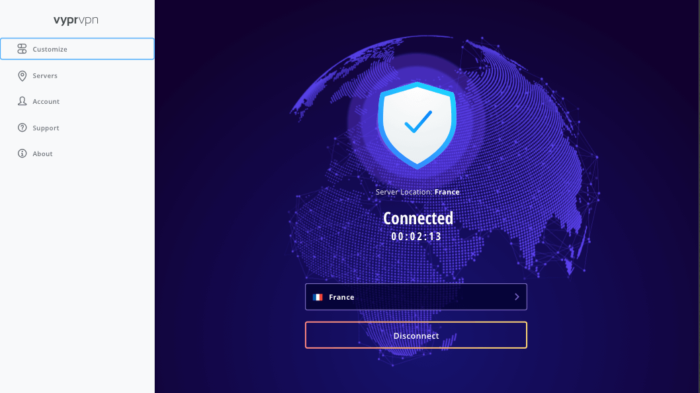 Available for Android TVs and Amazon Fire TV devices, the VyprVPN smart TV app differs in user interface from the other apps on offer – a good thing considering the radically different capabilities of a TV remote compared to a touchscreen or mouse.
The app has been simplified even more, meaning some features are absent, too. It has WiFi protection for unsafe networks and a kill switch – both great features – but nothing else.
This isn't a surprise for a smart TV app, as they tend to be fairly limited.
There are some reporting settings – app data, crash reports and (locally stored) connection logs – which are all turned on by default.
This kind of telemetry to improve performance is fine when users consent, but we VyprVPN should be more upfront that it's happening.
Uniquely among the VyprVPN apps, the smart TV app has an option for both AES-128 and AES-256 encryption (the other apps only offer the more secure AES-256).
VyprVPN claims the AES-128 encryption option can be faster, but we wouldn't recommend using it as it is less secure than AES-256, which has become the industry standard.
Friendly live chat, limited online resources
Customer Support
| | |
| --- | --- |
| 24/7 Live chat support | Yes |
| Email | Yes |
| Online Resources | Yes |
We've seen better support than VyprVPN offer, but it's certainly satisfactory and offers more to international audiences than other providers.
VyprVPN has online support resources in multiple languages, including:
This many options is surprisingly rare among VPN providers. A good start.
Less impressive is the scope of those resources. Compared to other VPN providers, VyprVPN's online resources are pretty poor. There are no video tutorials and there's not much in-depth advice on advanced issues.
The setup guides are very useful, though.
Getting in touch via the 24/7 live chat is by far the best way to get help from VyprVPN. Responses can take a few minutes, but the customer support agents are always clear, helpful and friendly.
Longer-term plans come at a very good price
Pricing Plans
VyprVPN Coupon
VyprVPN Pricing Plan
VyprVPN isn't usually among the left some customers upset, though. In this case a user subscribed to the "Pro" account just before "Premium" replaced it – meaning they had to pay more money for fewer features. When they contacted customer support about this, they were informed they could pay a surcharge to move over to the new plan.
Golden Frog should have handled this incident better, and it leaves a stain on our otherwise very positive assessment of its customer support.
Fast-forward to now and all the new VyprVPN pricing plans include the same features as the "Premium" plan used to: up to five simultaneous connections, unlimited bandwidth, and access to the proprietary Chameleon protocol.
One thing we've noticed is that prices are the same in Pound Sterling and US Dollars. This means that if you're based in the UK, you may want to connect to a US server from a trusted free VPN like Windscribe in order to get a cheaper subscription.
All plans have 30-day money-back guarantee
Payment & Refund Options
| | |
| --- | --- |
| Credit Card | Yes |
| PayPal | Yes |
| UnionPay | Yes |
VyprVPN offers a 30-day refund guarantee, so you have proper time to get to know the service before committing.
We think this is great for users, and are glad the 30-day refund guarantee is becoming standard for high profile VPN providers.
VyprVPN accepts a few different payment methods including most major credit and debit cards, PayPal, and UnionPay.
It doesn't accept any forms of cryptocurrency, though, and international options are very limited compared to top-tier VPNs. Don't expect a totally anonymous process.
Do We Recommend VyprVPN?
The Bottom Line
We can confidently recommend VyprVPN to anyone looking for greater online security and privacy.
The VPN service comes with an effective kill switch, an audited no logs policy, successful leak protection, access to US Netflix, well designed apps and competitive pricing. Not to mention that the Chameleon security protocol can bypass even the most aggressive of web blocks.
That said, VyprVPN isn't without fault, and it must work on improving its connections speeds, and releasing browser extensions for Chrome and Firefox. It also needs to reduce the number of third-party trackers built into its Android VPN app.
As a privacy-focused VPN service, we'd also welcome the introduction of more anonymous payment methods and more regular audits. This would help erase the shadow of VyprVPN's past torrenting policy, which is still present, even if the company has resolved the issue.
If any of the drawbacks above give you pause for thought, then you may want to look into an alternative VPN. However, it is safe to say that VyprVPN is a very good VPN.
Alternatives to VyprVPN
ExpressVPN
ExpressVPN sets the standard in VPN usability. It gets you access to a much larger range of streaming services and has an even wider server network available. It doesn't have some of VyprVPN's unique features though, like VyprDNS. Read ExpressVPN review
ProtonVPN
Whereas VyprVPN hasn't been audited for a few years, ProtonVPN received full audits for all its apps in late 2019. It is also open-source on all platforms, meaning you can fully trust ProtonVPN is doing what it claims. The VPN itself comes with a full suite of features, including a kill switch, access to Netflix and core integration with the Tor network. Read ProtonVPN review
---
User Feedback for VyprVPN