Disclosure: Top10VPN.com is reader-supported. We may earn commissions if you buy a VPN through links on our site.
Thunder VPN Review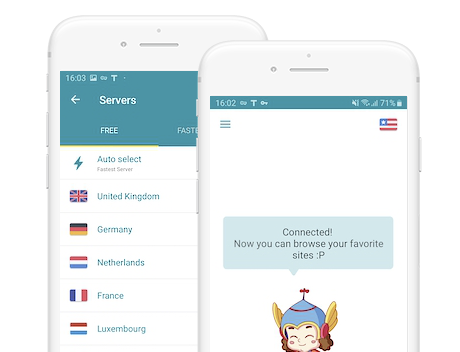 Our Verdict
Thunder VPN is a free VPN that suffers from slow speeds, an invasive logging policy, and zero customer support. Its encryption is weak and the VPN doesn't work to unblock Netflix or other streaming services. Thunder VPN's app might be free, but it comes with considerable risk to your privacy and security.
Unlimited bandwidth
Simple & friendly app
Works with BBC iPlayer
Invasive logging policy
Outdated encryption
No kill switch
Extremely slow speeds
No torrenting support
Will not beat censorship
With over 10 million installations on the Play Store, it's important that Thunder VPN is held to account and reviewed by an expert assessor. That's what we're here to do.
Thunder VPN is a free, Android-only VPN that offers unlimited free bandwidth. While it isn't the worst VPN we've reviewed, it comes close. Thunder VPN performed badly in almost every category we tested including checks for speed, security, and streaming quality.
We recorded massive speed losses when using Thunder VPN on all available servers. The VPN does not work to unblock US Netflix and it does not support torrenting, although we had some small success unblocking BBC iPlayer.
Its invasive logging policy includes the collection of your IP address, which means any activity can be traced directly back to your identity. Combined with outdated SSL encryption and a lack of essential features like a VPN kill switch, it's clear that this is not a VPN you should trust with your data.
Though you could use Thunder VPN to stream BBC iPlayer, this comes with a considerable risk to your security and privacy. Let's take a look at our quick summary of Thunder VPN's pros and cons.
Thunder VPN Key Summary
| | |
| --- | --- |
| Data Cap | None |
| Speed | 2Mbps |
| Logging Policy | Intrusive Logging |
| Data Leaks | No |
| Jurisdiction | US (Five-Eyes member) |
| Servers | Not disclosed |
| IP Addresses | Not disclosed |
| Countries | 8 |
| US Netflix | No |
| Torrenting | No |
| Works in China | No |
| Support | Online Resources & Email |
| Official Website | Thunder.free-signal.com |
Who is Thunder VPN?
About & Logging
The geographical location of a VPN service is important to know, as they are obliged to follow the laws of that country or region – laws that can differ greatly in relation to a free internet.
The company behind Thunder VPN is the app developer Signal Lab. They are also behind Secure VPN – another popular free app. 
Signal Lab actually doesn't have a company website, but has threadbare sites for its apps. There isn't much to learn from any of these. 
The only reference to itself as a company is a link to an (unprofessional) gmail address.
The corporate structure behind Thunder VPN is shrouded in mystery.
Its corporate address is listed as a US address in Arkansas (but the zip code is actually based in California).
But this address is for payment processes only. Our independent research discovered that Thunder VPN are, in fact, "independent developers from Hong Kong".
And yet, there are no companies called Signal Lab currently registered in Hong Kong.
This lack of transparency is a cause for concern. When you use a VPN, you are trusting them to protect your data and secure your privacy; you are essentially handing your data to it. Not knowing who is behind it should give you pause before you sign up. 
Logging Policy
Thunder VPN claims a "strict no-logging policy" on its Google Play Store listing, and reiterates this claim on its FAQ. A no logs policy implies not storing online activity details of users, including their IP address.
But Thunder VPN is not that. 
Its privacy policy is actually found in its terms of service and it's only 272 words long.
It's a short word count, but there's more logs than only a lumberjack should be comfortable with. Thunder VPN collects:
IP Address

ISP (Internet Service Provider)

OS version 

Language of the device

App identifier

App version

Independent device identifier

Ad identifier

Device manufacturer and model

Email address

Time zone

Network state (WiFi)

Times when connected to our service

Choice of server location

Total amount of data transferred per day
It then bookends all of this, as if not enough, with "etc." A blah blah blah attitude to your personal data and private information doesn't impress us very much. 
We can return this dismissive attitude when we read: "We store this to be able to deliver the best possible network experience to you." We hear this as a justification a lot, and it's a shame many use it as an excuse, illegitimately s. 
To be clear: there is no excuse for logging this amount of data. There is no detail about deletion policies, metadata, retention period or anything else. 
When we tasked ThunderVPN with an explanation, they told us that they "keep it for one month for analysis". A VPN isn't a therapist or an economist – it shouldn't be analysing anything. This directly contradicts its prior assurance, which is quite frankly dishonest. As such, Thunder VPN DOES log and is not a good choice for privacy-focused users.
Like most VPN providers who collect data, Thunder VPN claims that this is done in the name of a 'better service' but we recommend using a VPN service that doesn't log your activity.
One of the slowest we've tested
Speed & Reliability
We recorded massive speed losses when using ThunderVPN on all of its available servers. Check it out:
Download speed without ThunderVPN: 52.2 Mbps
Download speed with ThunderVPN: 1.93 Mbps
Our download speed loss when ThunderVPN is running: 96%
Local Speed Test Results
Before using Thunder VPN:
52.2

54.3

Ping

ms

4
When connected to Thunder VPN:
1.93

34.06

Ping

ms

10
This amount of speed loss on local connections is quite terrible. 
From our testing lab in the UK, we measured ThunderVPN's average speeds connecting out to various locations worldwide. These were the results:
USA:

1.93Mbps

(download) &

32.66Mbps

(upload)

Germany:

1.94Mbps

(download) &

44.70Mbps

(upload)
ThunderVPN is at least consistent, but consistently bad. 
Fake IPs and small server list
Server Locations
8
Countries
10
Cities
?
IP Addresses
Thunder VPN presents the option of eight available countries to connect to.
It used to have nine available countries, including Japan, but this has since been removed. 
Perhaps its removal was best because whenever we connected to Japan we would register IP addresses in other countries. 
Either way, ThunderVPN makes no effort to serve Asian users. The furthest Eastern point of connection is Germany.
This is a heavily Euro-centric list, leaving almost everyone else beside North America by the wayside. 
We've experienced fake connections in other countries too. For example, The Netherlands would constantly connects us to a French IP. They seemed to have sorted this out since our original criticisms, but ThunderVPN isn't the most reliable. 
There are also no city-level options, with the exception of the US that has options for East and West.
These are the available nations as it appears in the app:
Canada

France

Germany

Italy

Luxembourg

Netherlands

United Kingdom

United States
This is somewhat limited. We suggest you use free VPN services such as Avira VPN or TunnelBear that provide a good number of (working) server locations.
BBC iPlayer unblocked
Streaming & Torrenting
Thunder VPN works well with BBC iPlayer and has done so for a while to its credit. 
It's free UK server presents no issues; there is barely any buffer time required and the content streams at good quality. This is good news for fans of the streaming service. 
But ThunderVPN has made no progress in unblocking US Netflix. Both its US East and US West servers don't deliver the streaming goods, failing to bypass its proxy detection. 
If you need a VPN for the purpose of streaming, check out our pick of the best here.
Torrenting
Thunder VPN make the point in its terms of service that there are certain activities that can lead to a termination of your account, including "Uploading, downloading, posting, reproducing, or distribution of any content protected by copyright."
This means that you should be careful not to torrent copyrighted material when using the service. If you do, Thunder VPN states:
"You may be held responsible for any and all damages incurred by Thunder VPN , including any amounts charged by any outside entity due to said violation(s)."
It's unlikely you'll be tempted when using Thunder VPN, as it's slow and lacking security features. 
The Thunder VPN app claims to work for torrenting, on services like BitTorrent, but that wasn't the case when we tested it. These free VPNs will work, though.
Not equipped to beat censors
Censorship
Thunder VPN comes with no obfuscation tools — the thing required to beat sophisticated censorship regimes.
There's little chance that Thunder VPN is going to work in China, UAE, Russia, Turkey or anywhere else where censorship is rife. 
If you're living or travelling to a high censorship country, we highly recommend you use a paid VPN that can beat aggressive web filters, such as ExpressVPN or VyprVPN.
Only Available on Android
Platforms & Devices
Apps
Android
Thunder VPN is an Android-only VPN. 
You'll have to look elsewhere if you have an iPhone, laptop or desktop computer. Take a look at our free VPN picks for iOS, macOS and Windows, if that's what you're looking for.
There is an identically-named app on the iOS store, but iPhone should users should be aware that it is an unrelated product that we are not testing here.
Outdated protection & no kill switch
Encryption & Security
| | |
| --- | --- |
| Protocols | SSL VPN |
| Encryption | Undisclosed |
| Security | |
| Advanced features | |
Please see our VPN Glossary if these terms confuse you and would like to learn more.
There is very little information about the measures and VPN protocols used to protect user data by Thunder VPN. The FAQ page of Thunder VPN's website reads, "we use SSL to encrypt your internet data."
That may sound impressive, but SSL (Standard Layer Security) is an archaic and sub-standard protection made in 1995. 
It's updated version is TSL and our favorite is OpenVPN, as security protocols go. We contacted Thunder VPN to get more details but haven't heard back.
Thunder VPN lacks a VPN kill switch but, surprisingly, the VPN passed our leak tests, which is one positive among many negatives.
Functional & fun
Ease of Use
How to Install & Set Up Thunder VPN
The Thunder VPN app has a functional, simple to use design and it's also pleasing to the eye.
The main page features an adolescent Thor who suddenly jumps into lightning action when you connect to a server. 
While this is very far from the god of VPNs, there is a degree of care in design and branding that elevates it above some of the more lazily produced free VPN providers that we see. 
It's simple, but also rudimentary. There are barely any customization or configuration options at all. You can select an option for automatic connection and toggle notifications, but that's the extent of it. 
As is the way with free VPNs, there are pop-up ads throughout. It's more annoying than usual with Thunder VPN, as a lot of ads run for a minimum duration before the option to exit. It's usually about five seconds, which doesn't sound long – but certainly feels it.
It's also worth mentioning that some customers have reported connections cutting out randomly, or when the phone is asleep. Added security like a VPN kill switch would help with that flaw, but that's not an available feature.
Barely any help
Customer Support
| | |
| --- | --- |
| Email | Yes |
| Online Resources | Yes |
Thunder VPN has a FAQ for customer support, which is welcome but far from exhaustive.
If you don't find an answer here (and it's likely you won't), there is a contact email address, but it can't be seen on the app. Head to the website and you can contact an (unprofessional) Gmail address, the same one it uses for an identical VPN service called Secure VPN.
In the app, you can head to 'Feedback' and then describe 'Other problems' if the limited tick box choices don't cover it, tying in your email to generate a ticket. 
The website itself is very basic: a mere landing page with little to discover. It's more than a lot of other free VPN services provide (many don't have websites), but with such little help or information to be gained, you wonder why Thunder VPN even tried.
Do We Recommend Thunder VPN?
The Bottom Line
They say lightning never strikes the same place twice – and we certainly won't be using Thunder VPN a second time.
While it isn't the worst free VPN we've tested, it has a lot of improvement to undertake before we can recommend it.
Poor speed, a bad logging policy and zero customer support are major problems.
The only thing you may want to use Thunder VPN for is to stream BBC iPlayer, but these benefits come with considerable risks in security and privacy.
Best look elsewhere.
Alternatives to Thunder VPN
Windscribe's free app is about as good as free services get. If you're interested in ThunderVPN because you don't want to crack open the wallet, we've got you: Windscribe free is worth a look. Read Windscribe review
Paid VPNs are always going to be better, for obvious reasons. Surfshark is a top VPN but costs half of the price of most of its competitors. For this reason, we recommend it as an alternative. Read Surfshark review
---
User Feedback for Thunder VPN
User Questions & Answers
Typical questions asked are:
Does this VPN have a free trial?
Is this VPN safe from logging?
Does it unblock Netflix?
Don't see the answer the answer that you're looking for?
We value your opinion, whether it's positive or negative. Please leave a helpful and informative review, and don't disclose personal information or use abusive language. All user reviews are moderated to ensure they meet our posting guidelines.
Already use Thunder VPN? Tell us what you think.
When a review is marked "Verified Customer" it means we've verified that the reviewer has had a genuine experience with the company.
Showing 1 out of 1 reviews
It's a slow VPN, but it's so outdated that it isn't blocked by school wifi. You should probably avoid it if you want a secure, fast VPN.