Disclosure: Top10VPN.com is reader-supported. We may earn commissions if you buy a VPN through links on our site.
Thunder VPN Review
This score is calculated using our 10-step testing process.
Ranked #69 out of 74 VPNs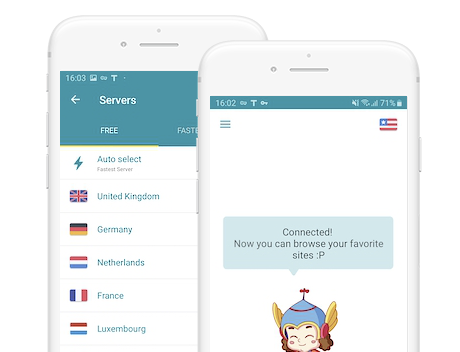 They say lightning never strikes the same place twice – and we certainly won't be using Thunder VPN a second time.
While it isn't the worst free VPN we've tested, it has a lot of improvement to undertake before we can recommend it.
Poor speed, a bad logging policy and zero customer support are major problems.
The only thing you may want to use ThunderVPN for is to stream BBC iPlayer, but these benefits come with considerable risks in security and privacy.
Overview
Thunder VPN Pros & Cons
Unlimited bandwidth
Simple but friendly app
Works with BBC iPlayer
Logs Data
Very slow speeds
Limited server locations
Dated security
Unclear jurisdiction
Thunder VPN Key Summary
| | |
| --- | --- |
| Top Download Speed | - |
| Logging Policy | No Logs |
| IP, DNS or WebRTC Leaks | No |
| Jurisdiction | - |
| Servers | Not disclosed |
| IP Addresses | ? |
| Countries | 9 |
| US Netflix | No |
| Torrenting | No |
| Works in China | No |
| Support | - |
| Official Website | Thunder.free-signal.com |
About & Logging Policy
Who is Thunder VPN?
The geographical location of a VPN service is important to know, as they are obliged to follow the laws of that country or region – laws that can differ greatly in relation to a free internet.
The address on the Google Play store lists a US location in Arkansas (but the zip code is actually based in California…).
However, as our free VPN investigation revealed, the company behind Thunder VPN, Signal Lab, only uses the listed US location for payment purpose and states that the VPN app was created by "independent developers from Hong Kong." Rather confusingly, though, there are no registered companies in Hong Kong called Signal Lab.
This lack of transparency doesn't inspire confidence.
Logging Policy
Thunder VPN's privacy policy is at least about its VPN service, unlike some of the other free VPNs we've reviewed.
But, it's a short 272 words with little to no information concerning data retention, deletion policies or metadata.
Thunder VPN claims a "strict no-logging policy" on its Google Play Store listing, and reiterates this claim on its FAQ. A no-logs policy implies not storing online activity details of users, including their IP address.
However, only a few lines down from these promises and it reads: "When you use our app we may collect the following information: IP address, Internet service provider, OS version, language of the device, app identifier, app version, independent deice [sic] identifier, ad identifier, devide [sic] manufacturer and model, email address, the time zone and the network state (WiFi and so on), times when connected to our service, choice of server location, and the total amount of data transferred per day, etc."
This directly contradicts its prior assurance, which is quite frankly dishonest. As such, Thunder VPN DOES log and is not a good choice for privacy-focused users.
Like most VPN providers who collect data, Thunder VPN claims that this is done in the name of a 'better service' but we recommend using a VPN service that doesn't log your activity.
Speed & Reliability
Very Slow Speeds
Not exactly lightning fast, Thunder VPN underwhelmed in our speed tests.
Particularly when it came to downloads, it struggled to get over a meagre 2Mbps. Only Germany performed such a feat, earning a respectable average of 28Mbps, an inexplicable leap from the rest.
Uploads were much better: 51Mbps for UK (our base of operations) and decent averages for other tested servers – 36Mbps for Germany, 51Mbps for France and 27Mbps for Canada.
But ping times were poor – 19ms for UK. With a good VPN you'd be looking at a digit closer to 10ms or below when connecting from your base, especially if you were a gamer keen for a smooth playing experience. A VPN like Hotspot Shield performs at 8ms locally.
To read about our speed testing methodologies, please read How We Review VPNs.
Server Locations
Only 10 Server Locations
9
Countries
10
Cities
?
IP Addresses
Thunder VPN presents 10 server locations but some of these are illusionary. For example, The Netherlands, as far as we can tell, isn't actually available as a server. When connecting to that server we only ever got a French IP.
It is the same with the Japan server, which connects you to China. This means Thunder VPN is a terrible choice for VPN users in Asia, seeing as there are no available servers that exist in a privacy-friendly nation close-by.
There are also no city-level options, with the exception of the US that has options for East and West.
We suggest you use free VPN services such as Avira VPN or TunnelBear that provide a good number of (working) server locations.
Streaming & Torrenting
iPlayer Access but No Netflix
Thunder VPN surprisingly worked with BBC iPlayer, which is good news for fans of the streaming service. There was little buffer time required (four or five seconds) but the content streamed at good quality.
The same, however, cannot be said for Netflix, as it failed to bypass its proxy detection.
Torrenting
Bypassing Censorship
Won't Work to Beat the Censors
Thunder VPN is unlikely to work in highly censored countries, especially in countries like China and UAE. The VPN lacks obfuscation features required to crack web censors.
If you're living or travelling to a high censorship country, we highly recommend you use a paid VPN that can beat aggressive web filters, such as ExpressVPN or VyprVPN.
Platforms & Devices
Only Available on Android
Apps
Android
Encryption & Security
Dated Protocol & Poor Security
| | |
| --- | --- |
| Protocol | SSL VPN |
| Encryption | Undisclosed |
| Security | |
| Advanced features | |
Please see our VPN Glossary if these terms confuse you and would like to learn more.
There is very little information about the measures and VPN protocols used to protect user data by Thunder VPN. The FAQ page of Thunder VPN's website reads, "we use SSL to encrypt your internet data."
That may sound impressive, but SSL is an archaic and sub-standard protection compared to something like OpenVPN. We contacted Thunder VPN to get more details but haven't heard back.
Thunder VPN lacks a VPN kill switch but, surprisingly, the VPN passed our leak tests, which is one positive among many negatives.
Ease of Use
Functional & Fun
How to Install & Set Up Thunder VPN
The Thunder VPN app has a functional design. The main page features an adolescent Thor who suddenly jumps into action when connecting to a server.
While this is very far from the god of VPNs, this shows a degree of care in design and branding that elevates it above some of the more lazily produced free VPN providers.
As is the way with free VPNs, there are pop-up ads throughout. It's more annoying than usual with Thunder VPN, as a lot of ads run for a minimum duration before the option to exit. It's usually about five seconds, which doesn't sound long – but certainly feels it.
It's also worth mentioning that some customers have reported connections cutting out randomly, or when the phone is asleep. Added security like a VPN kill switch would help with that flaw, but that's not an available feature.
One interesting feature of Thunder VPN is a list of apps that are good for use with the VPN (210 in total), something we don't come across too often. However, considering BitTorrent didn't work – when it's included on the list – we have to question just how many of these apps will actually work with Thunder VPN.
Customer Support
Very Limited Assistance Available
Thunder VPN has an FAQ for customer support, which is welcome but hardly exhaustive.
If you don't find an answer in here, there is a contact email address, but it can't be seen on the app. Head to the website and you can contact an (unprofessional) Gmail address, the same one it uses for an identical VPN service called Secure VPN.
The website itself is very basic: a mere landing page with little to discover. It's more than a lot of other free VPN services provide (many don't have websites), but with such little help or information to be gained, you wonder why Thunder VPN even tried.
You've read our expert review - read on for reviews from real users.
We value your opinion, whether it's positive or negative. Please leave a helpful and informative review, and don't disclose personal information or use abusive language. All user reviews are moderated to ensure they meet our posting guidelines.
Already use Thunder VPN? Tell us what you think.
When a review is marked "Verified Customer" it means we've verified that the reviewer has had a genuine experience with the company.
Showing 1 out of 1 reviews
It's a slow VPN, but it's so outdated that it isn't blocked by school wifi. You should probably avoid it if you want a secure, fast VPN.