Disclosure: Top10VPN is editorially independent. We may earn commissions if you buy a VPN through links on our site.
Our Verdict
Avira Phantom VPN is a basic VPN availbale on its own or as part of a security suite. It masks your IP address and keeps you private online, with good short-distance speeds. It has very few advanced features, though, and it doesn't unblock major streaming platforms.
Avira is well-known for its antivirus software, and in 2016 it ventured into the world of VPNs with the introduction of Avira Phantom VPN.
This self-proclaimed 'ultra-secure' VPN service has received mixed reviews, like many other VPNs launched by antivirus companies.
Overall, Avira Phantom Pro VPN (the paid version) is mediocre. It's very basic and only good for absolute beginners.
It does hide your IP address, and secure your WiFi connections, but it's no good VPN for streaming or for circumventing online censorship. It's also expensive considering it's various limitations.
Keep reading our updated Avira VPN review, to find out much more about this VPN.
Here are some of the popular questions we'll answer in our review:
Is Avira Phantom VPN Pro safe?
Does it work with Netflix and Disney+?
Is it good for torrenting?
Will Avira VPN work in China?
Avira also offers a free VPN service with a 1GB monthly data cap. You can read our review of Avira Free VPN here.
Avira Phantom VPN Pros & Cons
Moderately fast same-country speeds

Fast torrenting on free & paid plans

Protection against DNS leaks

Simple, streamlined VPN apps

Connect securely to 25 countries
No access to Netflix or BBC iPlayer

Small VPN server network

Very limited customer support

Apps lack advanced settings
Avira Phantom VPN Key Data
Data Cap
Speed
Logging Policy
Data Leaks
Jurisdiction
Servers
IP Addresses
Countries
US Netflix
Torrenting
Works in China
Support
Cheapest Price
Official Website
Premium
Free
None
1GB
73Mbps
51Mbps
Anonymous Server Usage Data
Anonymous Server Usage Data
No
No
Germany (14-Eyes Member)
Germany (14-Eyes Member)
150+
150+
Not disclosed
Not disclosed
34
1
No
No
Restricted
Restricted
No
No
24/7 Live Chat
Online Resources Only
$6.50/mo over 12 Months
N/A
Avira.com
Is Avira VPN safe?
About & Logging
Avira was founded in 2006, but its anti-virus software was developed back in 1986 by its predecessor, H+BEDV Datentechnik GmbH. Avira launched Avira Phantom VPN in 2016.
It isn't the only security software company to create a VPN product: McAfee (see our review), Kaspersky VPN(read more here) and other antivirus services have launched their own VPNs.
Avira's headquarters are located in Tettnang, Germany. It also has offices in China, the Netherlands, Romania, and the US.
Germany isn't the ideal jurisdiction for a VPN service. It falls under EU data retention laws and is also part of the 14 Eyes intelligence-sharing alliance. However, Avira Phantom's very minimal logging policy means this isn't too much of a concern.
Avira also states in its privacy policy that it will comply with data requests from public authorities, but it can't hand over any personally-identifiable information as it doesn't store any.
In December 2020 NortonLifeLock, which operates Norton VPN (read our review), acquired Avira.
Logging Policy
Avira Phantom logs the bare minimum of connection metadata in order to ensure the service operates as well as it possibly can. Annoyingly, however, there is no link to the privacy policy on the homepage of Avira's website.
We eventually found it after some digging. The only information Avira Phantom collects is:
Total amount of bandwidth consumed
Amount of time a user is online
Whether the account is Free or Premium
Avira Phantom VPN does not log or monitor your browsing activity, IP address, or the VPN server you connect to, meaning there's no way of it tracking your online activity back to you.
You can also choose to send Avira your diagnostic data to help with product improvements, however this is totally optional and can be switched off in the settings menu of the VPN app.
Pretty quick on same-country connections
Speed & Reliability
Avira Phantom's speeds have really improved in recent months, especially if you're planning on connecting to a server in the same country as your physical location.
However, Avira VPN is still struggling over longer distances. It's simply unable to compete with our fastest VPN services on connections from the UK to the US and Asia.
It will still be more than quick enough for most everyday users, even if you're planning on using the VPN on multiple devices at the same time.
Local Speed Test Results
Before using Avira Phantom VPN:
97.18

99.3

2
When connected to Avira Phantom VPN:
73.13

84.95

4
Avira VPN's latency was surprisingly low, making it a solid choice for keen gamers – we recorded around 4ms latency connecting to its UK server (we test from London). Good same-country upload speeds mean it's not too bad for torrenting either.
Avira isn't the most reliable VPN service we've seen – we still experienced very few connection drops and speeds did vary more between tests.
Connecting out to various worldwide locations from the UK, these are the average speeds we experienced:
USA: 19Mbps (download) & 32Mbps (upload)
Germany: 64Mbps (download) & 33Mbps (upload)
Singapore: 11Mbps (download) & 10Mbps (upload)
Australia: 9Mbps (download) & 11Mbps (upload)
46 cities spread over 37 countries
Server Locations
Avira VPN has a limited server network covering a fairly limited 37 countries.
We were also unable to find out exactly how many individual servers and IP addresses Avira maintains. We asked Avira for more information, but they refused to disclose any specific details. This likely means the overall number of servers and IP addresses is small, which can lead to slower speeds at busy times.
Avira VPN's server coverage is best in Europe, which accounts for 24 of its total locations. There's four server locations in Asia (Hong Kong, India, Japan, and Singapore), but only one in South America (Chile), and none at all in Africa.
The only two countries with city-level choice are Australia (Melbourne and Sydney) and the US. US-based users can choose from Avira Phantom servers in 12 different cities, including:
Atlanta
Chicago
Dallas
Las Vegas
Los Angeles
Miami
New York City
Newark
Phoenix
San Francisco
Seattle
Washington DC
12 US cities is impressive considering Avira's small server network. However, we would have traded this to see Avira Phantom Pro serve a wider range of countries.
Avira doesn't work with Netflix
Streaming & Torrenting
If you're looking for quick, one-click access to major streaming services, Avira Phantom isn't the right VPN for you.
The VPN service doesn't stream any Netflix library. We tried all US servers and none unblocked the American library.
The same applies to Disney+.
It's the same story with BBC iPlayer, which Avira's sole UK VPN server has never unblocked. Luckily, there are a handful of VPNs that work well with BBC iPlayer.
Acceptable Choice for Torrenting
Avira Phantom VPN Pro is a decent choice for torrenting and P2P file sharing.
While Avira's website confirms that its VPN can be used for torrenting, there's no additional information about this.
Nevertheless, Avira's minimal logging policy, decent same-country speeds, and its VPN kill switch are good features for anonymous P2P activity.
However, Avira's limited server network could be an issue depending on your location. For the fastest and more secure file-sharing experience, use one of these VPNs for torrenting, instead.
Won't work in China or Turkey
Censorship
Avira Phantom VPN doesn't work in China and in most other highly-censored countries.

We also can't recommend Avira Phantom for use in Turkey, Russia, the UAE or Iran.
The service doesn't have any obfuscation tools to hide your VPN connection. Also, the apps use the OpenVPN protocol, which is very easy for censors to detect and block.
Work with major platforms , but incompatible with routers
Platforms & Devices
Apps
Avira Phantom provides the usual range of custom VPN apps for various devices, including Windows, MacOS, iOS and Android.
Unlike many other VPN services, Avira isn't compatible with any routers, meaning you have to download the VPN software onto each of your devices.
At least, Avira allows you to use the VPN on an unlimited number of devices at the same time.
No Firestick App and No Smart DNS
Avira VPN doesn't offer any dedicated app for Fire TV devices.
It also doesn't have a Smart DNS solution. Combined with the lack of router support, this means you can't easily use Avira VPN on devices that don't support native VPN apps.
If you want a VPN for Apple TV, or for your games console, there are far better VPNs out there. See our review of Surfshark for example, a VPN with a great Smart DNS tool.
Browser Extensions
Chrome
Avira Phantom has recently introduced a browser extension for Google Chrome.
Unlike the proxy extensions many other VPN services provide, this is a true VPN extension that uses the same level of encryption (AES-256) as the desktop client.
It's great for masking your IP address but it's not a complete substitute for the desktop VPN app, as it only secures your browser connections.
There is no Firefox add-on, sadly. If you're a Firefox user, consider using one of these recommended VPN addons, instead.
Secure VPN but lacks advanced settings
Encryption & Security
Protocols

IKEv2/IPSec

OpenVPN (TCP/UDP)

Encryption

AES-256

Security

DNS Leak Blocking

First-party DNS

VPN Kill Switch

Advanced features
Although Avira Phantom doesn't have as many advanced privacy settings as other top-tier services, it will keep you safe online.
All the native VPN software runs on OpenVPN, the most secure connection protocol, apart from the iOS app, which uses IKEv2. Encryption is ensured via the 'unhackable' cipher AES-256.
The VPN kill switch is a very useful feature, as it protects your IP address in the event of a sudden VPN connection drop.
The VPN service also operates its own DNS servers rather than renting them from third parties, and protects you against DNS leaks, too.
If you still want more advanced settings to play with, head over to our IPVanish VPN review.
Cluttered apps with some usability flaws
Ease of Use
How to Install & Set Up Avira Phantom VPN
Avira Phantom is a very simple one-button VPN that's almost identical on both desktop and mobile. Avira's main screen only displays an on/off button and your current virtual location – we would like to see some more connection information here.
Avira really falls down when it comes to advanced features – or rather its lack of them.
Aside from a VPN kill switch and the option to automatically secure untrusted WiFi networks, there are no advanced settings at all, putting Avira well behind its rivals in terms of configurable options.
The Avira Phantom apps also lack any protocol options, and even fails to inform you what protocol you are using. If we didn't know that Phantom was based on OpenVPN, which Avira confirmed to us, we wouldn't feel very confident in its security.
If you're looking for a VPN with uncluttered and accessible software, Avira is a great choice. However if you like having lots of advanced features to choose from, you're better off looking elsewhere.
24/7 live chat makes up for limited resources
Customer Support
| | |
| --- | --- |
| Email | Yes |
| Online Resources | Yes |
Sadly, Avira Phantom limits personalized customer support to paying users only, meaning free users or potential customers won't be able to take advantage.
Thankfully email responses were quick and professional, although clearly it's company policy not to reveal too many details about Avira's VPN server network.
The knowledge base on Avira's website is pretty limited, with the main feature being a list of a few simple FAQs.
However we have to admit that when a product is this simple, there's a limit to the amount of resources that can be created.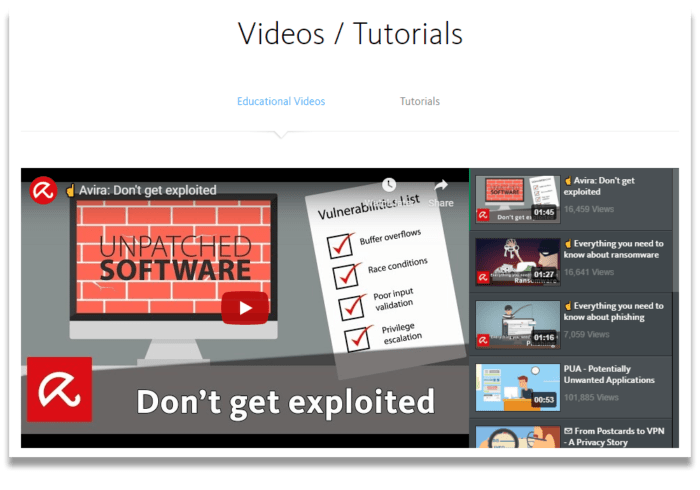 The company has recently introduced a handful of video tutorials to the site, which are very helpful and informative.
The 'chat bot' is another recent addition by Avira, but all it ever seemed to do was redirect us to the FAQs or prompt us to leave a message for the customer support team.
Longest plan is ok value for money
Pricing
Avira Phantom VPN Pricing Plan
Avira Phantom offers three different pricing plans. They all offer the same features, but the longer you sign up for, the less you pay each month.
A single month is the most expensive option at $10 and is reduced by 35% to a reasonable $6.50 if you commit to a 12-month plan. That will cost you $78.00 upfront.
Additionally, you can opt for a mobile-only plan, which costs $5.99 per month, but you'll be limited to VPN access only on your smartphone.
Avira Phantom Free
There's also a free version of Avira Phantom available.
For a free service, it offers a reliable service and a strong privacy policy (just like the paid version). It isn't great for streaming and comes with a 1GB monthly data cap, but it does allow P2P traffic.
It offers a good service for privacy oriented users who don't use too much data. Because of this it holds a place in our top five free VPN services.
All plans have 30-day money-back guarantee
Avira offers a 30-day money-back guarantee for those who aren't satisfied with their purchase, or 14 days for monthly subscribers. This is a genuine 'no questions asked' guarantee with no restrictions or fair usage policies, simply contact cleverbridge (Avira's billing partner) and it will process your refund.
If you don't want to commit to a paid plan right away, Avira Phantom also offers a free trial that you can use for as long as you like. This does give you an idea of what Avira is like, but you are limited to a monthly data limit of 500MB and miss out on some key privacy features.
We love that you don't have to provide any personal details to access the free service, however Avira offers to double your monthly data allowance if you provide your email address.
Avira Phantom doesn't offer a very large range of payment options, particularly in comparison to top-tier VPN providers. It does accept most major credit and debit cards, as well as PayPal, but there is no option to pay using cryptocurrencies or international methods.
Do We Recommend Avira Phantom VPN?
The Bottom Line
It's difficult to recommend Avira VPN when there are much better VPN services available.
It's certainly more private than other "antivirus" VPNs out there, but that's more or less all it has going for it.
Its speeds are only 'ok' and it won't unblock US Netflix or BBC iPlayer. It also won't work in high censorship nations like China or Turkey.
Overall, Avira VPN is a mediocre VPN, built for beginners keen to protect their online privacy.
But, it's certainly not a good VPN for optimal speeds, streaming or torrenting. It's also expensive, considering all its limitations.
Alternatives to Avira Phantom VPN
Private Internet Access
PIA VPN is an extremely fast VPN. If speed is important to you, then this VPN is for you. It's cheaper than Avira, but it works with Netflix and BBC iPlayer, and it's one of the best VPNs for torrenting. Read Private Internet Access review
NordVPN
NordVPN is also a very good alternative to Avira VPN. It's one of the best VPNs for streaming, with access to Netflix and Disney+. It allows torrenting on most servers, and it generally bypasses the strictest of web blocks. Read NordVPN review
---
User Feedback for Avira Phantom VPN