Disclosure: Top10VPN.com is reader-supported. We may earn commissions if you buy a VPN through links on our site.
Psiphon Review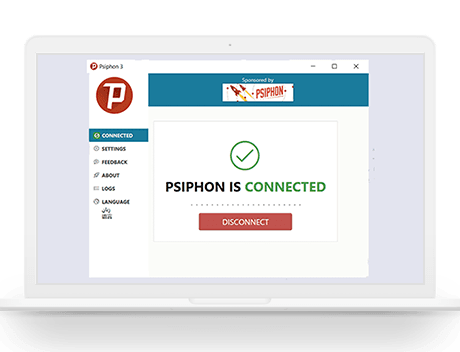 Our Verdict
Psiphon is a free censorship circumvention tool with apps for Windows, iOS, and Android. The proxy is designed to unblock content in countries like China and it does this very well. However, the VPN's encryption is limited, it doesn't support Netflix or torrenting, and its speeds are slow. Overall, this service is good for bypassing censorship, but bad for security and privacy.
Psiphon is a free censorship circumvention tool, highly-regarded among internet freedom advocates such as Access Now, but is its VPN service really that good?
Psiphon says that it "strives to deliver the best, fastest, easiest, and most open circumvention solutions." So, we've put its claims to the test.
Psiphon provides a couple of distinct (and free) services within its desktop and mobile apps: its circumvention proxy technology, and its VPN service. We've tested both services in order to answer questions like:
Will Psiphon keep you safe online?
Is Psiphon fast?
Does Psiphon VPN work in China?
Are the apps easy to use?
Does Psiphon work with streaming sites like Netflix or torrenting services?
Before we go into more details, take a look at Psiphon's pros and cons.
If you're looking to protect your online privacy, take a look at the best free VPNs of 2020.
Psiphon Pros & Cons
Free apps for Windows, iOS and Android devices
No email address required to use
Provides effective proxy tool for China
Open source code increases transparency
Very small server network
Very slow speeds
No apps for MacOS, Linux, or routers
Doesn't work with Netflix or torrenting
Explicitly says that it's not a privacy tool
No VPN kill switch & leaks DNS requests
Psiphon Key Summary
| | |
| --- | --- |
| Data Cap | Unlimited |
| Speed | 5.39Mbps |
| Logging Policy | Some User Logs |
| Data Leaks | No |
| Jurisdiction | Canada (Five-Eyes Member) |
| Servers | Not disclosed |
| IP Addresses | 22+ |
| Countries | 22 |
| US Netflix | No |
| Torrenting | Unlimited |
| Works in China | Unreliable |
| Support | Email & Online Resources Only |
| Official Website | Psiphon.ca |
If you're still interested in knowing more about Psiphon's VPN (and proxy) service, read on.
We have tested every one of Psiphon's VPN apps thoroughly, and we'll tell you just how well it did in this review. We'll start with Psiphon's background and logging policy.
Who is Psiphon?
About & Logging
Psiphon started as a project at Citizen Lab, University of Toronto, but since 2007 it became a part of Psiphon Inc., an independent corporation.
That Psiphon is based in Ontario, Canada, makes it subject to highly intrusive surveillance laws and intelligence-sharing agreements (Five Eyes) with other countries such as the UK and USA.
When sharing information with third parties, Psiphon claims to 'only ever [provide] coarse, aggregate domain-bytes statistics' – meaning it never shares per-session information or any other information that could link your online activity back to you.
However, Psiphon clearly states that its software should not be considered a privacy tool and, therefore, we don't recommend it as one. Here are some privacy-friendly VPNs you should consider instead.
Logging Policy
Psiphon collects detailed connection logs but this is explained in great detail in its extensive privacy policy. It collects the following information:
Connection timestamps
Region codes (country and city)
Chosen connection protocol
Session count and duration
Total bytes transferred and bytes transferred for some specific domains
Psiphon admits to inspecting domain names (websites) users visit while connected, but not full URLs. It should be noted that Psiphon doesn't store user IP addresses "in the normal course of operation" so it would be very difficult to trace your online activity back to you as an individual.
Psiphon is supported by ads, and it does share statistics with sponsors so they can see, for example, how often their sites are visited through Psiphon and from which countries. These are further aggregated by date, sponsor and region.
All of the data Psiphon collects is discarded after 60 days, which is a little longer than we'd like.
The logs are used mainly for troubleshooting purposes and to 'determine the nature of major censorship events', where sites and services can be suddenly blocked without warning.
Psiphon specifically states that it will not give detailed or 'potentially user-identifying information' to partners or any other third parties, but we still don't recommend it for those seeking high levels of privacy.
Slow VPN speeds, even slower proxy speeds
Speed & Reliability
The free version of Psiphon VPN isn't very fast, in fact its Android and iOS apps restrict VPN speeds to 2Mbps, which is painfully slow.
Psiphon's free VPN for Windows doesn't seem to have the same speed restriction in place but the speeds are limited by Psiphon's automatic server location, which doesn't seem to correspond to your physical location.
Local Speed Test Results
Before using Psiphon:
97.69

98.52

Ping

ms

3
When connected to Psiphon:
5.39

1.42

Ping

ms

259
Download speed without Psiphon: 97.69Mbps
Download speed with Psiphon: 5.39Mbps
Our download speed loss when Psiphon is running: 95%
Psiphon doesn't allow you to select a VPN server in a specific country when you're using the Windows VPN service, so we were only able to test performance on the automatically selected server, which was located in Singapore. Not great considering we test from the UK.
We clocked speeds of around 1Mbps up and 5Mbps down, which is super slow and just about enough for general browsing and low definition video streaming. Of course, you may get better speeds if Psiphon connects you to a nearby VPN server, but this isn't guaranteed.
While the apps for Android and iOS allow you to choose from around 20 server locations, they throttle VPN (and proxy) speeds to just 2Mbps up and down.
You can pay for the premium version of Psiphon to experience "maximum speeds", but $9.99 a month for just 5Mbps is a terrible deal.
Psiphon isn't intended to be used for HD streaming, torrenting, or gaming, so if you're looking to unblock censored sites, slow speeds shouldn't be too much of an issue.
20+ locations available on mobile, no server selection for Windows
Server Locations
22
Countries
22
Cities
22+
IP Addresses
The number of Psiphon VPN servers available depends on the app you're using. Psiphon's iOS app provides the most choice with 22 VPN server locations in total, the Android app follows just behind with 21:
Austria
Belgium
Bulgaria
Canada
Czech Republic
Denmark (available for Android, but not for iOS)
France
Germany
Hungary
India
Italy
Japan
Netherlands
Norway
Poland
Romania
Sweden
Singapore
Slovakia (available for iOS, but not for Android)
Spain
Switzerland (available for iOS, but not for Android)
United Kingdom
United States
Psiphon's Windows app does have 22 proxy server locations but if you want to use the Psiphon's VPN service, you can't choose which VPN server to connect to. Instead the app chooses for you, and it may not be a server location that's convenient for you.
The majority of Psiphon's VPN servers are in Europe and North America, covering popular locations like the US, Canada, the UK, and France. There are three servers located in Asia-Pacific: India, Japan, and Singapore.
Psiphon provides no servers in South America, Africa, or Australasia, and you can't drill down to city level in any of the country locations. If you need access to country-specific content, be sure to check that Psiphon provides a server in that location.
Usually being so far away from a VPN server would negatively impact performance, but considering speeds are throttled to 2Mbps on the basic plan, it won't really make a lot of difference whether you connect to a nearby country or not – Psiphon will always be slow.
Psiphon doesn't state how many servers it maintains nor whether it owns those servers or rents them from a third party.
Not intended for streaming or torrenting
Streaming & Torrenting
Psiphon isn't a good VPN for those seeking quick, hassle-free access to popular streaming sites such as Netflix, as this simply isn't what it's designed to do.
We could watch BBC iPlayer during our tests on the Android and iOS apps – we could connect to a UK server on these – but it took a long time for the video to load due to slow speeds. Netflix was blocked during our tests.
If you're looking for reliable access to these kinds of sites, you're better off opting for a provider with lots of city-level choice in countries such as the US and UK, or, even better, dedicated streaming servers, like those provided by CyberGhost.
Torrenting
We don't recommend using Psiphon for torrenting/P2P due to the sluggish upload and download speeds and the fact that Psiphon explicitly says that it's not a privacy tool.
Psiphon doesn't come with a VPN kill switch and it leaks DNS requests on the Windows app. The privacy policy is pretty intrusive too. Psiphon doesn't provide the necessary security tools to keep you safe while torrenting.
Proxy service works in China, the VPN service doesn't
Censorship
Psiphon's main attraction is its ability to bypass censorship and get past harsh government firewalls. In fact, according to Michael Hull, president of Psiphon, there are 200,000 daily active users of the service in China.
But, it's not the VPN service that achieves that – it's Psiphon's proxy service that works in high-censorship countries like China, Turkey, and Iran.
Psiphon warns users that the VPN configuration (L2TP, or Transport Mode) does not have strong censorship circumvention capabilities. In other words, Psiphon VPN will probably be blocked in China.

The only way to connect out from these high-censorship locations is by using Psiphon's proxy servers, as they provide additional layers of obfuscation (SSH+).
While the SSH proxies do encrypt traffic, encryption is limited to your browser traffic, leaving other apps unprotected. This means that users seeking high levels of privacy should steer clear.
Psiphon openly states that it isn't designed to increase your online privacy, and shouldn't be considered or used as an online security tool.
There are VPN services out there that work reliably in China, while providing strong privacy and security. You can read about our main VPN recommendations for China here.
One of the reasons that Psiphon's proxy service is so popular in countries like China is that it provides a simple way for users to download the software from countries that block VPN websites and download pages, including Psiphon's.
Users can send an email to get@psiphon3.com in order to receive the downloads and bypass government blocks.
For that reason, users who find themselves unable to download one of our recommended China VPNs may find Psiphon a very useful tool for getting past government blocks. But be aware that Psiphon is not the most secure option.
Those who want to use a privacy-focused premium VPN service for China can use Psiphon's free service to unblock the VPN website and download its software.
Limited to three popular platforms
Platforms & Devices
Apps
Games Consoles & Streaming Devices
Browser Extensions
Strong encryption but lacking in any other security/privacy features
Encryption & Security
Protocols

L2TP/IPSec

Encryption

AES-256

Security

Supports TCP Port 443

Advanced features

SOCKS

Split Tunneling
Please see our VPN Glossary if these terms confuse you and would like to learn more.
Psiphon is very transparent about online privacy on its website and says that the software "does not increase your online privacy, and should not be considered or used as an online security tool", so it's hardly surprising that there's not much to say in terms of encryption and security.
The VPN operates exclusively on L2TP/IPSec rather than our preferred protocol OpenVPN, however this is still pretty secure when used with 'unhackable' cipher AES-256.
The proxies use SSH, SSH+ (obfuscated), and HTTP configurations. You can use the split tunneling tool with proxy configurations which tunnels server requests made within your home country outside of Psiphon's servers, giving you faster access to these sites and reducing ISP data usage costs
Because Psiphon's main goal is to access blocked content through the SSH+ proxy service, the apps don't provide many advanced privacy settings at all. There's no VPN kill switch feature, which would help to prevent your IP address from being exposed in the case of a connection drop.
While Cure53's 2017 security audit of Psiphon revealed "no noteworthy security risks", we did experience a few leaks during our testing which affected both the VPN and the proxy service. We found WebRTC leaks while testing the proxies and DNS leaks while testing the Windows VPN. Both of these security flaws leave your personal data exposed to any snooping third parties.
If privacy is your priority there are more reliable (and cheap) options out there, such as PrivateVPN which is a no-logs VPN. If you can't pay for a VPN at the moment, there are a handful of quality free VPNs that will keep you safe online.
Quick setup & easy to use but lacks contextual help
Ease of Use
How to Install & Set Up Psiphon
The Psiphon apps are super quick and easy to download and set up, requiring no registration or email address.
Once installed, they are pretty simple to use but do have a few annoying features that could catch you out if you don't know what to look out for.
Each time you connect to the VPN a separate browsing tab opens displaying your new IP address. We'd much prefer this to be displayed within the app.
The Windows app also defaults to proxy mode, as this is Psiphon's main anti-censorship tool, so if you want to use the VPN you'll need to go to 'Transport Mode' in the settings tab and toggle on L2TP/IPSec mode.
For Android, you need to make sure that 'Tunnel Whole Device' is enabled in order to use the VPN, and for iOS be sure to use the main Psiphon app and not Psiphon Browser for iOS, which is a proxy.
Very basic online resources and substandard customer support
Customer Support
| | |
| --- | --- |
| Email | Yes |
| Online Resources | Yes |
Psiphon's customer support is incredibly limited, which is hardly surprising considering it's a free product.
There are some FAQs on the website which will cover basic troubleshooting issues, app compatibility and a few other potential problems but not much else. The user guide shows you how to use the Windows and Android apps too.
The only way to get in contact with the Psiphon support team is via the email address we found on the website. We have sent them a few queries in the past and they did reply with a very comprehensive, helpful response, but our most recent email has gone unanswered.
Primarily a free service, with an expensive premium plan
Pricing
Psiphon Pricing Plan
Psiphon is free to download and use on Windows, Android and iOS devices, however mobile users have the option of 'upgrading' to an ad-free version that isn't capped at 2Mbps, granting them "maximum speeds," which are only 5Mbps.
The cost of this varies by device and length of subscription – the longer you sign up for the cheaper it works out on a monthly basis.
The ad-free plans costs $2.99 per week for iOS or $4.99 for Android. You can pay monthly, which is $9.99 for both Android and iOS. iPhone users can also save just under 20% by signing up to the yearly plan, which works out at $8.33 a month.
Android and iOS users wishing to upgrade to Psiphon Pro are limited to the payment options accepted by the App Store and Google Play Store:
Major credit and debit cards
PayPal
Unfortunately there's no way of paying with cryptocurrencies for more privacy or using any international methods such as AliPay or UnionPay.
Psiphon is primarily a free service but offers a 30-day free trial to those who choose to sign up to Psiphon Pro for Android or a three-day free trial for iOS.
Because this is done in-app, just be sure to cancel via the App Store or Google Play Store before the end of the free trial to avoid being charged. This is a great way to run a few speed tests and investigate whether or not the performance boost is worth spending a little bit extra on each month.
Psiphon has also recently launched a new way to enjoy subscription benefits for iOS and Android called PsiCash, an in-app currency which users can spend on a temporary speed boost. PsiCash is earned simply by using the application or by opting in to watch a short video.
---
User Feedback for Psiphon
User Questions & Answers
Typical questions asked are:
Does this VPN have a free trial?
Is this VPN safe from logging?
Does it unblock Netflix?
Don't see the answer the answer that you're looking for?
We value your opinion, whether it's positive or negative. Please leave a helpful and informative review, and don't disclose personal information or use abusive language. All user reviews are moderated to ensure they meet our posting guidelines.
Already use Psiphon? Tell us what you think.
When a review is marked "Verified Customer" it means we've verified that the reviewer has had a genuine experience with the company.
Showing 1 out of 1 reviews
Psiphon does not slow down my connection at all.

I downloaded Psiphon today, i live in UK & i have to say that the speed figures that you give are nothing like mine, wiith Psiphon disconnected my speeds were: Download 113.03 Mb/s, Ping 27ms and Upload 10.39 Mb/s. When connected to Psiphon (Vienna, Austria) my speeds were: Download 113.64 Mb/s, Ping 39ms and Upload 10.13 Mb/s.. almost no difference except for the ping value, and the download speed was slightly faster using Psiphon. Perhaps you ought to run another speed test to update this review?

Simon | Top10VPN Expert

Hello and thank you for your review. Our review outlines the speeds for Psiphon's free VPN product, and not for the proxy service, which may be faster. We have just retested the VPN speeds to be sure and found that them to be as slow as our previous tests.