Do VPNs Work with Amazon Prime Video?
Amazon Prime Video detects your location based on both your Amazon account details and your IP address. Unlike Netflix, Prime Video content does not change even if you physically travel to another country.
Fortunately, you can still use a VPN to unblock Prime Video content from other regions. To do this, you need to use a VPN with servers in the country you want to unblock, and then create an Amazon account registered in the same country.
We demonstrate this process in the video below. We used ExpressVPN to set up a US Amazon account and stream a geo-blocked movie from the US Prime Video library, even though we're in the UK: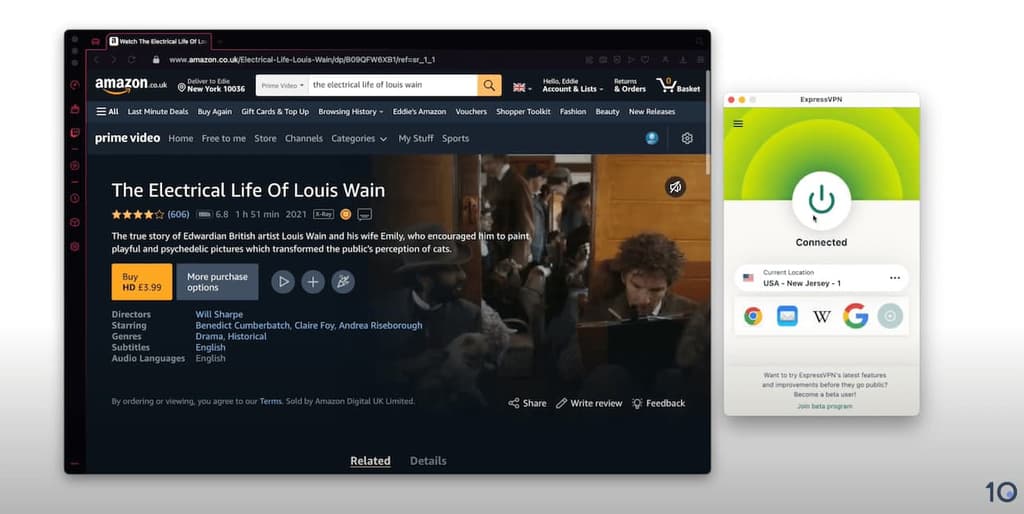 EXPERT ADVICE: If you use a VPN to access a different Prime Video region but you haven't set up an account in that region, Amazon will only offer a selection of Prime Original content. This content is not geo-restricted, and you do not need a VPN to access it. But it is limited compared to the full Prime Video library.
Amazon's licensing agreements only allow it to show content in certain regions. A VPN enables you to bypass these geo-restrictions, so Amazon does not allow VPNs and attempts to block VPN users. This is why only a select few services actually work to bypass the site's geo-restrictions.
The wrong VPN may actually prevent you from streaming even Prime Originals, because it risks being detected and blocked. You'll know your VPN is blocked by Prime if you get error codes 4601, 1042, or the HTTPS proxy error message:
"Your device is connected to the Internet using a VPN or proxy service. Please disable it and try again."
The best VPNs for Amazon Prime Video go undetected and provide reliable access to both Prime Originals and the complete geo-restricted Prime Video library.
To find out how, skip to our section explaining how to watch Amazon Prime Video from anywhere.