Disclosure: Top10VPN is editorially independent. We may earn commissions if you buy a VPN through links on our site.
Free VPN by FreeVPN.org Review
Our Verdict
Free VPN by FreeVPN.org is one of the slower, less transparent VPNs we've reviewed. It has a vague privacy policy, minimal customer support, and invasive adverts. If you need a free VPN there are safer and more effective options than this service.
Discover the best free VPNs of 2021
The Google Play Store and iOS App Store are both littered with bizarre, generic, free VPNs.
"Free VPN by FreeVPN.org" might just take the cake on this front, but does it have more going for it than just the domain name?
This is not the first time we've reviewed FreeVPN.org. It's been around for a while now – since at least 2015 under its current ownership – and we were hopeful it would have used the past few years to improve its free VPN service.
Every time we look at a VPN we start from scratch to give it a fair and objective assessment, and FreeVPN.org is no exception.
In this FreeVPN.org review you'll find out:
Who owns FreeVPN.org?
Can I use Free VPN to stream Netflix?
Can you trust this free VPN with your data?
Is the FreeVPN.org app safe?
Is FreeVPN.org a real VPN?
What devices can I use this free VPN on?
In our research we found that FreeVPN.org isn't what it presents on the surface. Keep reading our FreeVPN.org review to find out how.
Free VPN by FreeVPN.org Pros & Cons
Works with BBC iPlayer

Adverts aren't overbearing

No hard data cap or speed throttling
Unconvincing privacy policy

Poor customer service

No transparency

Poor performance

Third party adverts

Flawed server list
Free VPN by FreeVPN.org Key Data
| | |
| --- | --- |
| Data Cap | Unlimited |
| Speed | 30.5Mbps |
| Logging Policy | Some User Logs |
| Data Leaks | No |
| Jurisdiction | US (Five-Eyes member) |
| Servers | 11+ |
| IP Addresses | 14+ |
| Countries | 8 |
| US Netflix | Yes |
| Torrenting | Unlimited |
| Works in China | No |
| Support | Unmonitored email |
| Official Website | FreeVPN.org |
Can you trust Free VPN by FreeVPN.org?
About & Logging
The FreeVPN.org website comes nowhere near the kind of transparency you need in a trustworthy VPN service.
There is no about or team page and none of the social media links lead to actual accounts.
We wanted to find out who is really behind FreeVPN.org.
It certainly isn't the group of happy young people displayed on the website – they are easily identifiable as the stars of a royalty-free stock photo titled: "Group of happiness students with raised hands."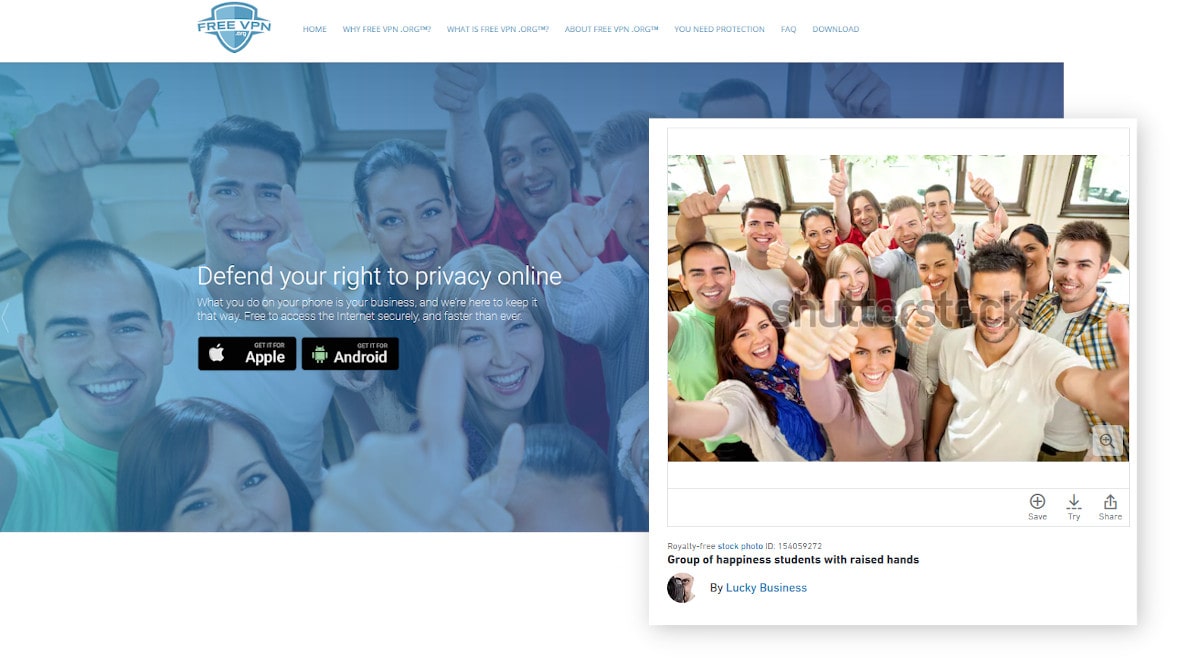 There is an address on the website: 1070 Gray Fox Circle, Pleasanton, California 94566. This just points to a detached house in a Californian suburb, though.
A reverse search for the domain provides more information. FreeVPN.org is hosted on the same server as just 11 other sites, including dashvpn.io and open-vpn.org.
Some of the domains hosted on this server, like freedomvpn.org, redirect to the FreeVPN.org site.
Several of these pages, including DashVPN, point to the same Pleasanton address, too. It is safe to say that they belong to the same individual or organization.
After some investigation, it has become apparent that all these companies exist beneath ActMobile Networks Inc., which is fronted by president Matt Snyder, CFO Tim Bush, and CTO Pankaj Kulkarni.
A more elusive figure is Andrew Foss. ActMobile.com is registered under his name, and he is listed as CEO on an archived version of its website, but we can't find any record at all of him online.
Matt Snyder's LinkedIn account describes ActMobile as producing "consumer-facing apps… under the FreeVPN.org umbrella":

ActMobile is unambiguously the parent company of FreeVPN.org.
While the company is incorporated in the US, and both Tim Bush and Matt Snyder appear to be based in America, the CTO of the company and most (or possibly all) of its workforce are based in Bangalore, India.
Kulkarni and the other Bangalore-based engineers were absorbed into ActMobile when the company acquired Colimetrics in 2014, shortly before the development of FreeVPN.org began.
Being incorporated in the States is a huge privacy red flag. Revelations in recent years have shown the US to be one of the most privacy hostile nations on Earth.
If you can trust your provider not to keep logs, jurisdiction isn't necessarily a big deal. As we have just seen, though, FreeVPN.org isn't very transparent.
We also have some doubts about how seriously it takes data security.
Currently, the website doesn't redirect to HTTPS by default, leaving users without HTTPS Everywhere to the HTTP version of the site.
This is insecure, dangerous, and frankly not something we expect to see from a VPN provider in 2021.
The question is raised: if ActMobile can't even secure its own sites properly, how can you trust FreeVPN.org with your data?
Logging Policy
Back in 2016, FreeVPN.org had a comprehensive and well written (if invasive) privacy policy. But, bit by bit, it has swapped comprehensiveness out for short, crowd-pleasing declarations.
In big letters at the top of the page there is a question and answer:
"What Information Do We Collect?
"None."
The mobile app also includes an information tab with an encouraging statement: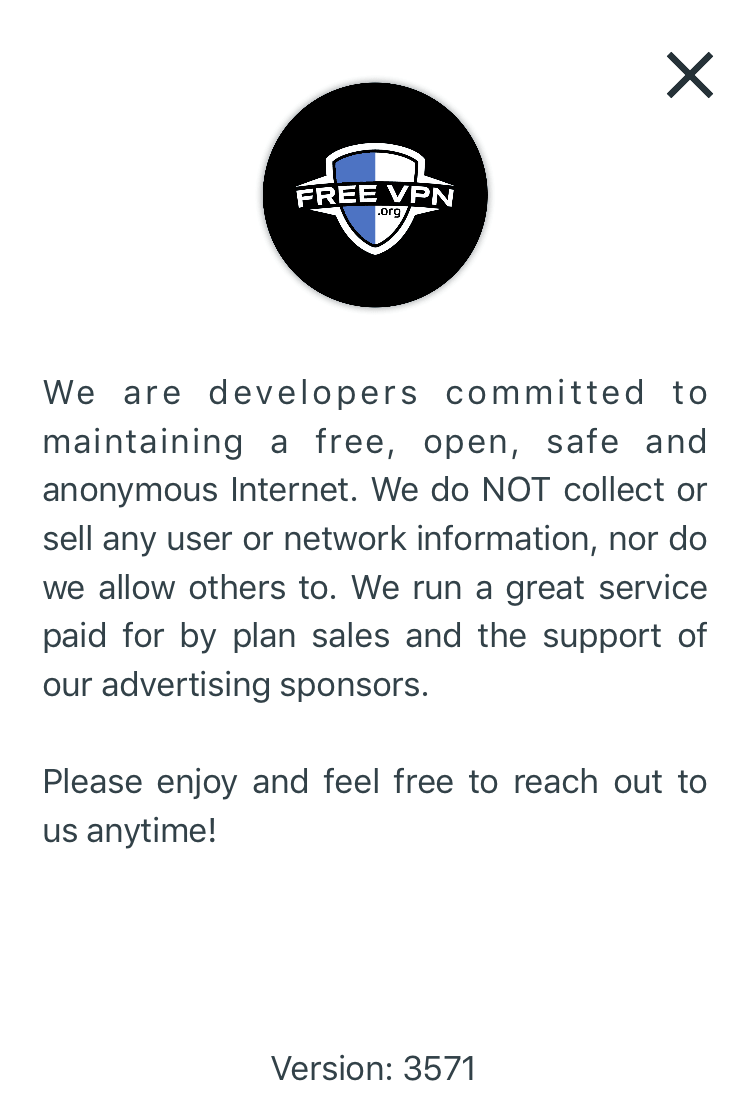 On their face, these changes all seem positive. Not keeping data is surely good, isn't it?
But it isn't that simple. Lots of VPN providers will claim not to log – but investigation often reveals they have a very loose definition of what logs actually are.
A privacy policy can promise lots, but you need to be able to trust it, otherwise it is meaningless.
We hoped that this privacy policy rewrite meant that FreeVPN.org was making its service more secure and trustworthy. Instead, FreeVPN.org is only getting less transparent – it seems to care more about making money than being honest about user privacy.
For instance, the privacy policy states:
It does not use cookies
It does not collect or share any information about its users
It has advertising partners but doesn't share any information with them
iOS and Android apps generally do not accept cookies in the same way as a computer browser would – advertisers have other methods of tracking your activity.
The FreeVPN.org app uses Facebook Ads, one of the largest networks of targeted advertising and surveillance online. Any page you visit with a Facebook "Like" button, or even an invisible 'Facebook Pixel' collects information about your activity.
The ads within the FreeVPN.org app are no different. They will send information back to Facebook – even if ActMobile isn't explicitly sending it to the company itself.
On the website FreeVPN.org give instructions for deleting your personal data – but we found no way to do so in the app.

The suggestion of the existence of a personal profile is worrying on its own – as it suggests that FreeVPN.org is logging something about its users.
Slow and unreliable connection speeds
Speed & Reliability
We don't expect the best speeds from free VPNs – within reason. A VPN still needs to hit some basic levels of performance in order to function properly.
While FreeVPN.org certainly isn't the slowest VPN we've ever reviewed, it consistently underperforms.
Local Speed Test Results
Before using Free VPN by FreeVPN.org:
77.9

87.7

5
When connected to Free VPN by FreeVPN.org:
25.5

23.4

16
Download speed without Free VPN by FreeVPN.org: 77.9Mbps
Download speed with Free VPN by FreeVPN.org: 25.5Mbps
Our download speed loss with Free VPN by FreeVPN.org: 67%
Latency was also poor across the board. Our best connection was to the UK (London to London), which gave us a ping of 16ms. Our worst connection was to Hong Kong, which reached 240ms.
Again, we've seen higher pings than this, but it pretty much eliminates the option of playing online mobile games while connected.
The speeds achieved by FreeVPN.org scale pretty directly with distance, so we don't think they are being throttled, just that they are not set up to effectively serve the volume of traffic passing through them.
These are the speeds we saw world-wide:
USA: 4.5Mbps (download) & 13.2Mbps (upload)
Germany: 29Mbps (download) & 30.9Mbps (upload)
Hong Kong: 6.6Mbps (download) & 11.9Mbps (upload)
Nearby connections aren't great but global ones slow down to a crawl. Even if we thought FreeVPN.org were a trustworthy organization, speeds like these would make its service difficult to recommend.
Weak security and very little transparency
Encryption & Security
| | |
| --- | --- |
| Protocols | SSL VPN |
| Encryption | Undisclosed |
| Security | |
| Advanced features | |
The app features no advanced security features, not even a kill switch. These kinds of tools are vital to keeping your data safe from governments and hackers, but completely absent from FreeVPN.org's VPN service.
We'd like to talk a little about about the VPN protocol and encryption being used – but neither the website or the app disclose anything about these, though.
There also aren't any settings which allow you to change protocol.
Since FreeVPN.org doesn't monitor its email we weren't able to find anything out from the company directly, either.
Our research has found that FreeVPN.org uses TLS (Transport Layer Security) 1.2, the second most up-to-date version of the SSL (Secure Sockets Layer) VPN protocol.
This is the same protocol as Microsoft uses for its corporate networking, and can be considered generally secure.
That said, it is not the most recent version of the protocol, or the most secure. TLS 1.3 has performance improvements over 1.2, while also reducing the risk of successful attacks.
The app only allows you access to the VPN for fixed amounts of time, and this results in a significant security flaw. Once your time has run out the VPN connection simply cuts out without warning, completely exposing your data.
As we have already mentioned, when we visited FreeVPN.org it didn't automatically redirect us to the HTTPS version of the site. This is insecure and exposes any visitors to potential Man-in-the-Middle attacks.
(If you do visit the site, make sure there is a padlock in the URL bar to show you have a HTTPS connection. If the padlock is open or crossed out, make sure to add https:// before the URL to connect to the secure version of the site).
This security flaw applies only to the website, not to the VPN itself, but it doesn't give us any faith that FreeVPN.org is up to the task of securing a global network of VPN traffic.
With all that said: we found no DNS or IP leaks, which is a positive sign.
Some more transparency around this would do a lot to boost our faith in this VPN provider.
Sometimes works with BBC iPlayer
Streaming & Torrenting
You won't be able to watch US Netflix using FreeVPN.org.
This is pretty normal for a free VPN, but we still can't let it off easily.
FreeVPN.org will get you access to BBC iPlayer, though. The slow speeds (even on a same city connection) don't let you get the most out of the platform, though.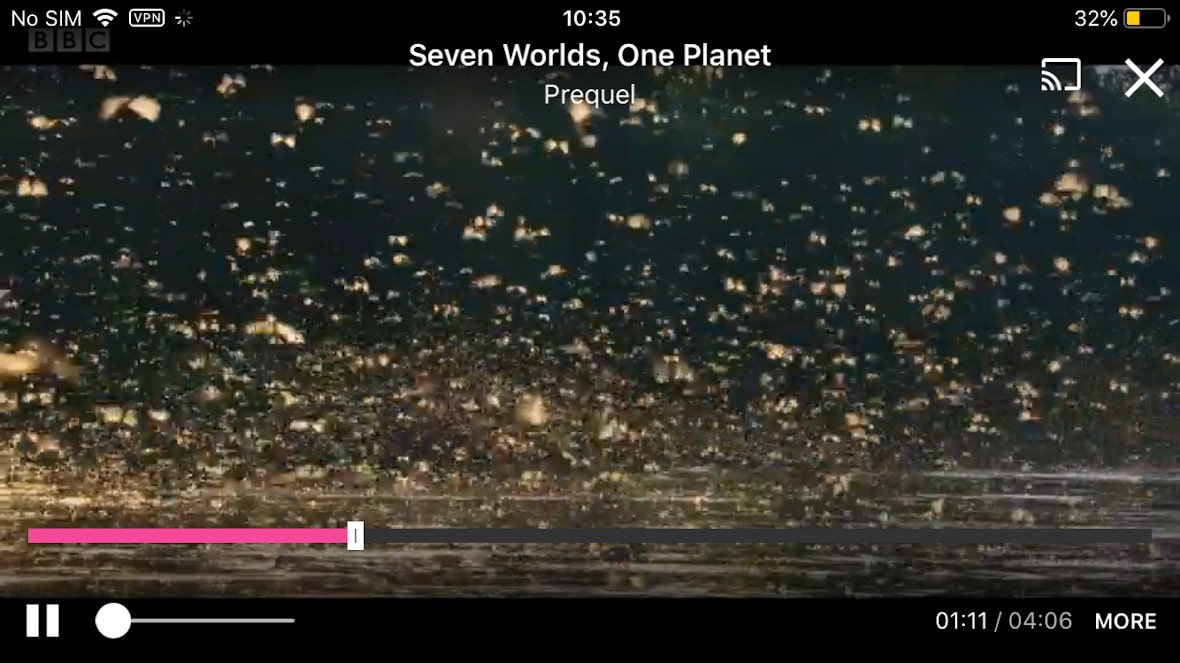 Watching from London we saw consistent compression artifacting which was frustrating, but tolerable. If you're trying to connect from the US it probably isn't even worth bothering, as your speeds will be even worse than ours.
Torrenting
FreeVPN.org doesn't have an official policy on torrenting anywhere on its website or in the app. We reached out for information on it but haven't received a reply.
While it seems to permit it, we do not recommend using this VPN for torrenting.
There are a few reasons for this:
The terrible speeds available from Free VPN by FreeVPN.org will make torrenting slow and frustrating
FreeVPN.org's US jurisdiction is notoriously hostile to torrenting
The VPN company has a vague and poorly written logging policy which we do not trust
If you want to torrent it is absolutely vital you're using a trustworthy VPN. There are only a few free VPNs that are appropriate for torrenting – we've rounded them all up here.
Tiny server network, pretends to be larger than it is
Server Locations
When you load up the server locations list in Free VPN by FreeVPN.org's app, it looks fairly strong.
It isn't comprehensive by any degree, but for a free VPN it has a decent number of options and at least something in every continent except Africa.
Ideally, we would like to see more across Asia, South America, and of course Africa than is on offer here, but poor coverage in these areas sadly isn't at all unusual for a free VPN.
Put simply, if the server list accurately reflected what the VPN actually does when you connect it would be right in the middle of the pack: modest but respectable.
Unfortunately, in our tests, we discovered that the server options in the app were consistently misleading.
The continent-level server location choices were often just duplicates of a country-level server location – not just at the country, city, or even server level, but even giving us the same IP address at times. This was the case with the China and Asia servers, which connected to the same IP address in Hong Kong.
This is pretty misleading, but not outright lying… yet.
Things get worse.
The South America, Japan, and US West server options all connected us to the same server, located in Arizona, US.
Even by the standards of misleading free VPNs, it's pretty shocking to have options from three different continents all connect to the same server.
In real terms, this contributes to FreeVPN.org's slow speeds over longer connections – and will likely bottleneck the speeds of anyone attempting to connect at peak times, even if they are located nearby.
It also suggests that FreeVPN.org is operating a very small server network across the board. We reached out for more specific numbers, but it hasn't given us an answer.
After connecting to every server location several times we can conclude that FreeVPN.org doesn't have 18 server locations across at least ten countries as the server list suggests, but around 11 server locations across eight countries.
As recent events have shown, when a VPN provider doesn't effectively secure its server network that puts your data in jeopardy. The lack of transparency (and occasional lying) on show here is a big red flag.
Unlikely to work in China
Censorship
We've seen little evidence that Free VPN by FreeVPN.org will work is censored regions, although when we spoke to the app's developers they claimed to have users in China.
Only very well designed VPN with dedicated obfuscation technology can work in censored regions – you might want to give FreeVPN.org a try in censored regions, but we wouldn't count on it working.
If you need a VPN for a censored region do yourself a favour and get a better one – take a look at our best VPNs for China, the UAE or Turkey to get an idea of the options available.
Available only on mobile devices
Platforms & Devices
Apps
iOS
Android
The number of devices FreeVPN.org produces apps for is extremely limited.
It has an app for iOS and an app for Android and nothing else.
There is no Windows app. There is no Mac app. There is no router compatibility.
You cannot use FreeVPN.org on game consoles or smart TVs, and there aren't any browser extensions.
If you want anything more than smartphone or tablet coverage, look elsewhere.
Ugly, poorly designed applications
Ease of Use
How to Install & Set Up Free VPN by FreeVPN.org
The FreeVPN.org app offers just the very basics, and doesn't present them very well.
The main screen of the app is perfectly usable, if unattractive.
The country scroll wheel is fiddly and difficult to navigate, though.
On top of this there are no settings available at all, which we find shocking.
FreeVPN.org operates on an "Earn VPN Time" system which asks you to watch up to 10 adverts before you start using the VPN. If you watch 10 adverts you unlock 24 hours of VPN use.
These are the only full-screen adverts you'll encounter in the app itself – and they aren't too obnoxious either.
We like that FreeVPN.org doesn't just throw ads at you unexpectedly. From an ease of use perspective frontloading the adverts like this makes sense (even if they bring privacy and security issues).
This advert system is new since the last time we reviewed FreeVPN.org, and we think it shows a marginal improvement.
No online resources, just an unmonitored email
Customer Support
FreeVPN.org doesn't have particularly good customer service.
Most free VPNs at least have a guide section, or a blog which can give its users some help, but when you click the "Blog" link on the FreeVPN.org website it just refreshes the page – no help to be found.
In fact, FreeVPN.org appears to be made up of just three pages: the homepage, a privacy policy, and a download page for a .apk of the app.
None of the social media buttons actually lead to social media profiles, either.
Without online resources the only option users are left with is to email a support email (support@freevpn.org).
We tried doing just this, but got no reply.
FreeVPN.org has informed us that it monitors customer service questions that come from the app itself, not the email listed on its site.
Do We Recommend Free VPN by FreeVPN.org?
The Bottom Line
We don't think it's a good idea to use FreeVPN by FreeVPN.org. There are faster, more trustworthy free and affordable VPNs available.
FreeVPN by FreeVPN.org also lacks many of the benefits of VPNs, like getting around censorship or keeping your data out of the US.
If you've already downloaded FreeVPN.org's free VPN app, we recommend uninstalling it immediately.
Alternatives to Free VPN by FreeVPN.org
Windscribe
Unlike FreeVPN.org, Windscribe Free is a free VPN which actually delivers on lofty promises. It gives you good speeds, a decent server network, computer and mobile apps, and a better guarantee of privacy and security. Windscribe Free doesn't have ads, but implements a 10GB data cap. Read Windscribe review
PrivateVPN
One of the cheapest VPNs we recommend, PrivateVPN is great for streaming global content without punishing your wallet. It has a no logs policy we trust and apps for all your devices, not just mobile. It is also consistently very fast, over twice as fast as FreeVPN.org in our tests. Read PrivateVPN review
---
User Feedback for Free VPN by FreeVPN.org