The simplest method is to use the app provided by your chosen VPN service, which is much the same as installing any other app. Just log in, tap 'connect', and that's it. Fortunately all major VPN providers offer an Android app of some sort, so you won't ever be forced to use other methods unless you want to. You can also check out our latest VPN recommendations to make your decision easier.
We'll also look at alternative methods to use a VPN on your Android phone, including setting it up manually. Broadly speaking, the instructions in this guide are the same for Android tablets, too.
What You'll Need
First, you'll need an Android device. This guide was written using a Pixel XL running Android 8.1.0 (Oreo). You can use a VPN on an older Android phone; the steps and screens may differ slightly from the ones in this guide.
You'll also need an account with a VPN provider. There are two ways to do this:
Visit a few providers' websites and sign up for the one you prefer; it's a good idea to log in and find the device setting pages before you continue
Download your preferred provider's app from the Google Play Store and sign up for a new account in the app.
Method 1: VPN App
Once you've signed up on the web, you'll need to download the provider's app from the Google Play Store to complete these steps.
We've used ExpressVPN because it has a beautifully simple Android app, and it offers a free trial. If you have chosen a different VPN provider, you will need to follow a slightly different process, but this guide will give you the basics.
Installing the VPN app provided by your VPN service is the easiest way to get up and running quickly. In most cases, it'll also provide convenient and user-friendly access to different servers, which is handy if you want to switch between them.
Getting set up should take less than five minutes:
Download the ExpressVPN app from the Google Play store.
Open the ExpressVPN app on your Android phone and tap Sign in.
Check your email to verify that your account sign-up was successful. You may receive important login information via email too.
Log into your account using the username and password you use to log in to your ExpressVPN account on the web (you will have received these in your welcome email). If you don't have an account, tap New user? to start a free trial.
On the next screen, tap OK to allow ExpressVPN to create the VPN connection on your Android device.
You'll see a system message that confirms this, and explains that you'll see the key symbol in your status bar when your VPN is on. Tap OK to continue.
Tap Allow to let ExpressVPN capture technical details about your VPN connection. This is anonymised, but you might still want to avoid transmitting anything related to your connection. No problem. If you prefer not to provide this information, tap Don't allow.
And that's it. ExpressVPN has automatically configured your Android phone to use your VPN account.
To connect, click the large grey circle button in the app: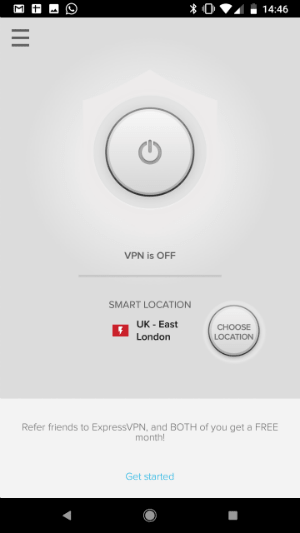 ExpressVPN will choose the best server available each time you open the app. This is marked Smart Location, and will usually provide the best speeds. You can customize this as follows:
To change the VPN server location, tap the Choose Location button and select your chosen server from the list.
To set a favorite location, tap the Choose Location button and tap the star next to the location to add it to your Favorites.
Now that your ExpressVPN connection is set up, it will stay connected in the background, and you can use your phone normally. Just glance at the status bar and look for the key to verify that your phone is connected.
Method 2: OpenVPN
If you don't want to use the app from your VPN service provider, you can use a third-party VPN app instead, such OpenVPN for Android or OpenVPN Connect.
You use these third-party apps to connect to your provider's server network using account credentials they provide you for a similar overall experience to using your provider's own app.
There are a few reasons for using this method. Importantly, some of these apps are open source, meaning that their code can been independently scrutinized to make sure that there's nothing suspicious lurking within it. They also tend to be highly configurable and even permit you to use multiple providers within a single app. There's also the fact that they only use the OpenVPN, our preferred VPN protocol that is itself open source.
The username and password you'll need for this process are probably different to the ones you used on the web. But you don't need to write them down. You can retrieve the details you need from your VPN provider's website as you work through this guide.
For this demonstration, we'll use the official OpenVPN for Android app. It looks daunting, but it's actually one of the easiest to set up, and it has protection from IPv6, IPv4, and WebRTC leaks.
If you do choose another app, stick to trusted and verified apps on the Google Play Store.
Creating an OpenVPN Connection
During this process, you'll need to download a configuration file from your VPN provider's website. You'll usually find configuration files in your account area after you've logged in.
It makes sense to download the configuration files directly to your phone so that you can easily locate them as you run through these instructions.
Note: OpenVPN for Android has many configuration options; we're just showing the basics here, but you can come back and customise your VPN profile later.
To create your OpenVPN connection:
Log in to to your VPN account on the web using your phone browser.
Tap the green Set up ExpressVPN button.
Tap Show other devices, then scroll down and tap Manual Config.
Tap the blue OpenVPN button to show the settings you'll need.
Download at least one OpenVPN configuration profile to your phone.

We're going to download UK – Berkshire, but you can download as many as you want here. If you're new to this, just pick out one in your own country for now.
Leave your phone browser on this page so that you can come back to it in a second.

On your device, open the OpenVPN for Android app.
Tap the open file icon (the + symbol) at the top-right of the screen.
Locate the file you downloaded in step 4 and tap to select it. OpenVPN for Android will read the file's contents. Tap the orange disk button to save the profile.
Repeat steps 7 and 8 for any additional profiles that you want to add to the app. You can add as many as you wish.
You'll see your new profile(s) in the Profiles tab. Tap the one you want to use, then tap OK to confirm the connection request.
Some providers include login credentials in the configuration file, while others require you to add them separately. If necessary, switch back to your browser and copy the username, then paste it into the Username field in the app. Repeat this process to paste the password.

To save the password, check the Save Password checkbox. This is optional, and less secure, but more convenient than copying it into the app every time you use it.

Tap OK.
Tap Add.
You will now see your new VPN connection listed in the app. Just tap it to connect. Once connected, you'll see the words Connected: SUCCESS under the list item, and you'll also see the key icon appear in your phone's status bar.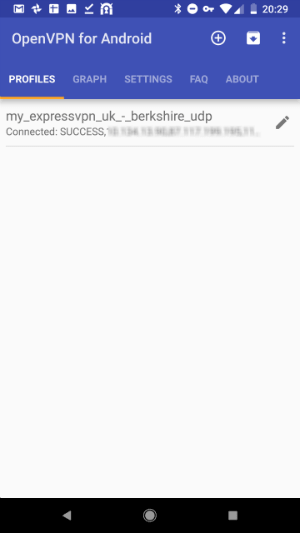 Method 3: Manual Settings
When you connect to a VPN manually, you don't need to use any apps at all. If you don't have much free space on your phone, this is the option for you.
The manual connection method will vary slightly depending on the connection and the device, but the process is similar enough for you to get the gist from these instructions, and the process is painless either way.
We'll use ExpressVPN in this example, and we'll create an L2TP/ IPSec connection. We're using Android 8.1.0. In other versions of Android, the location and appearance of the VPN settings screens may be slightly different.
To create your VPN connection manually:
On your Android device, navigate to Settings, then Network & Internet, and then VPN.
Tap the + icon at the top-right of the screen to create a new VPN connection.
Switch to your phone's web browser, and log in to to your VPN account on the web.
Locate your L2TP/IPSec connection credentials on your provider's website. If you use ExpressVPN, you'll find these at https://www.expressvpn.com/setup#manual.
Copy and paste the information from your browser to the VPN connection screen as follows:

Name: any name you want to use for the VPN connection.
Type: the connection protocol; we're using L2TP/IPSec PSK here.
Server address: switch back to your browser, and locate the server that you want to connect to from the list. Copy its address, and paste it in this field.
IPSec preshared key, Username, Password: As provided on your VPN service provider's website. Note: these credentials are not the same as the username and password you use to log in on the web.
Leave the remaining fields blank, unless your VPN provider advises you to fill them in.

Save. Then, in the list, tap the new VPN entry to connect.
As with the other connection methods we've mentioned so far, the key icon appears in your taskbar once your phone has connected to the server.
Once it's connected, you can close the Settings app and use your device as you usually would.
Method 4: Router
You can secure your Android device by using a VPN on your router. This will protect all of the traffic that flows through the router, essentially providing the benefits of a VPN to all of the devices in your home at the same time.
Not all routers support VPN services. If you're in the market for a new router, it's worth checking your VPN provider's website to check compatibility first.
Points to Remember
Connecting to a VPN through your router is the easiest way to protect all of your devices. But it is a little different to connecting using an app, or the settings on your phone:
If your Android device disconnects from WiFi, it will use your data connection, which won't be protected by the VPN. You may be able to get around this by using a service like IFTTT to automatically enable your WiFi when you are at home, but you'll need to enable location services for this to work.
The server location you use will be applied to all of your devices, so you don't get the same control that you get if you install a VPN on each device on the network.
You won't see the key icon in your Android taskbar to confirm that your VPN is active.
Setting Up a VPN on Your Router
For this example, we'll use a Netgear Nighthawk router connecting to ExpressVPN:
On your computer, log into your ExpressVPN account. Locate the instructions for setting up a router.
Click the red Download Firmware button.
Navigate to your Nighthawk router's admin panel and log in.
Click Administration, then Router Update, and upload the firmware you downloaded in step 2.
Reboot the router, then visit expressvpnrouter.com on your computer.
Log in using the default username and password, which are admin and admin.
Copy and paste your ExpressVPN activation code into the router's admin panel, and click the green Activate button.
If you're unlucky, your router won't support your provider natively. You'll need to set up the connection manually, which is a similar process to the one described further up in this guide.
Getting More Help With Your VPN
It's impossible for us to provide instructions for every router here, and some Android devices — particularly those running old version of Android — will look different to these instructions.
If you get stuck, your VPN service provider should be your first port of call. They'll be able to walk you through the process and get you up and running with your VPN on your Android phone.