There are three ways of installing a VPN on an iPhone, thanks to integrated support for the LT2P/IPSec protocol (the less popular Cisco IPSec protocol is also supported). You can install your provider's own app, use a third-party app, or enter the details manually into your iPhone settings.
We'll look at them all in this guide and you'll be connected securely and privately to the internet in no time.
What You'll Need
In order to set up your VPN, you'll need an iPhone capable of running the latest version of iOS. We're using an iPhone 8 Plus running iOS 11.3.
You'll also need an account with a VPN provider. You can check out our top VPN picks for iPhone if you haven't already chosen one or you can begin with a free trial if you're not ready to pay for a monthly subscription yet. Please note though that providers typically only offer free trials if you sign up via the app once it's downloaded rather than their website.
If you're new to VPNs, we recommend that you begin by downloading your provider's app from the App Store and running through the steps in "Method 1", below. Once you verify that everything's working, you can experiment with Methods 2 and 3, which are slightly more advanced.
Method 1: VPN App
All major providers offer their own app and using this is the easiest way to connect to your VPN. We're using the ExpressVPN app in this guide, but the steps we show here will be broadly the same for all providers.
Once you connect to the VPN, the connection should remain active until you turn it off or restart your phone.
Before you start, we recommend that you sign up with a provider, then check your email to confirm your new account.
It's also a good idea to check in the Software Update section of your Settings app before you begin so that you have the latest version of iOS installed.
Find and download the ExpressVPN app in the App Store.
Open the app and tap Sign In. You could also create a new account here if you don't have one already, but remember to check your email and verify your account before you continue.
Sign in to the app using the same login details that you use to sign in on the ExpressVPN website.
Tap Allow to let the app create the VPN connection on your iPhone. It'll ask you to confirm this with Touch ID.
Choose whether you'd like to allow the app to send notifications. This is optional.
Tap Allow if you'd like to send connection details to ExpressVPN for analysis. Again, this is optional, and refusing won't affect your VPN connection.
That's it. ExpressVPN is now installed and configured on your device.
The app will automatically choose the best one for your current location and connection, but you can change it if you need to. Just tap Choose Location to switch.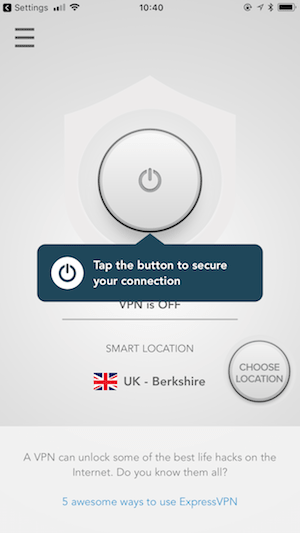 Note that a VPN icon appears at the top-left of your screen to confirm that you're successfully connected.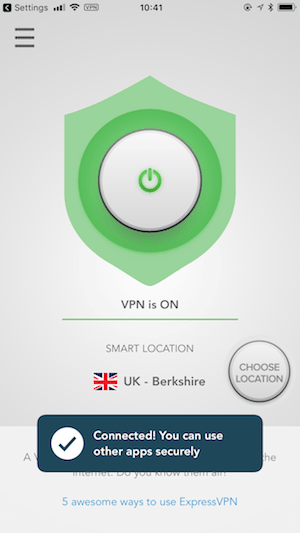 Method 2: OpenVPN
OpenVPN Connect is an open source VPN app for iPhone. If your VPN provider offers downloadable .ovpn profiles, you can use OpenVPN Connect to set up your connection instead of using the provider's own app.
This third-party app will connect to your provider's server network via the OpenVPN protocol only, using credentials supplied by your provider. As well as the protocol and app both being open source, the app is a lot more configurable than many first-party apps.
There are a couple of things to note if you choose this method:
Each server has a different .ovpn file. If you just want to connect to one or two, this process is quick. If you need access to dozens, you will need to set aside more time to get set up.
You may get a 'fragment directive' error. This is easy to overcome if you run into it; you'll just need to edit the .ovpn file in a text editor and remove a line. We'll show you what to do below.
Finding Your .ovpn File
To get your first server set up, the quickest way is to download the .ovpn file from your provider's website, and then email it to yourself. You can then open the file in your iPhone email app to get started.
If you're security-conscious, there are better alternatives, such as using cloud storage such as Dropbox or Google Drive. If you are on a Mac , you can use Airdrop. However, we'll go with the easy option to demonstrate how it's done.
Creating an OpenVPN Connection on the iPhone
Log on to your VPN provider's site on the web.
Find your settings for a manual configuration using OpenVPN. If you're using ExpressVPN, for example, you'll find these by logging in, clicking Set Up ExpressVPN, then clicking Manual Config at the bottom of the list.
On the right-hand side of the screen, you'll see a list of server locations. Click a continent, and then click a server to download the .ovpn profile.
Attach the profile to an email, and send it to yourself, or save it as a Draft message.
Leave this browser window open; you'll need the username and password in a moment.
On your iPhone:
Open the app you use to check email, and locate the email you sent to yourself. Open it, and tap the file attachment.
The email app shows a choice of applications that you can use to open the file. Find OpenVPN and tap to open.
OpenVPN confirms that the file is ready to import. Tap the green plus icon.
Tap Allow to set up the VPN connection. You'll need to confirm this with Touch ID.
At this point, you need to switch back to your desktop computer and look at the Manual config instructions that you used earlier:
On your iPhone, type the Manual config username and password provided by your provider into the User ID and Password fields. Remember: these details are not the same as your login details for the web. So if you type, for example, your email address, it won't work.
If you want to save your details, tap the Save slider to switch it on.
Tap Connect to test your connection, and then click Yes.
How to Deal with the Fragment Directive Not Supported Error
If your connection fails, you may see a message about the fragment directive not being supported by the app.
To fix this, go back to your computer, and open the .ovpn file in a text editor.
Locate the line beginning with the word fragment, delete it, and save the file. It's important not to change anything else, and to ensure that the file extension is still .ovpn.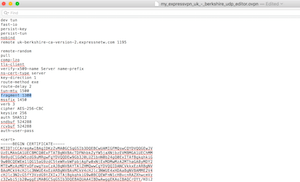 Email the file to yourself again, and repeat the second and third section of the above sequence.
Method 3: Manual Settings
Setting up a VPN connection manually is a surprisingly quick process. It's also a good way to save space on your device, since all of the connection details are saved in the iOS Settings App. It just takes a few more minutes to set up.
If you're already using an app to connect, you might want to remove it from your iPhone before you proceed.
Be aware though that you will be limited to using the L2TP/IPSec protocol and will miss out on the additional functionality – such as a killswitch – you get by using an app.
You don't need to download anything for this process. You'll need to find the manual configuration details from your provider's site. If you're using ExpressVPN, make sure you select Manual Config, then LT2P/IPSec to reveal the correct information.
Then proceed as follows:
On your iPhone, open your Settings app, tap General, then tap VPN.
Tap Add VPN Configuration…
Tap the Type and select L2TP.
Fill in the other fields as follows:

Description: Any text you choose
Server: Type in the server name provided by your VPN provider
Account: Your username for L2TP/IPSec
RSA SecurID: Off
Password: Your password for L2TP/IPSec. This is optional. If you leave this field blank, your iPhone will prompt you to type the password each time you connect.
Secret: 123456
Send All Traffic: Switched on.
Save the profile, then tap the switch to connect. Your VPN will remain connected in the background as you use other apps.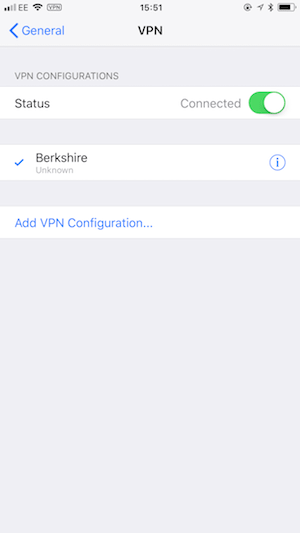 Where to Get Help
Setting up a VPN on your iPhone should be fairly straightforward, but different providers have slightly different connection requirements. If you have problems, contact your provider's support department with details of the problem you're having.
In most cases, using the official provider app will present few issues, and you should be up and running with your iPhone VPN within minutes.