Installing a VPN is really straightforward on a Mac, and there are three ways to get started. We'll begin this guide by using a provider's native Mac app, which is the quickest and easiest way. Then we'll look at OpenVPN, an open source application for Mac, and the final section will show you how to set up the VPN using the network settings built into Mac OS X.
With the help of the instructions below, you'll be browsing securely in no time at all. If you haven't chosen a VPN for your Mac, why not have a look at the latest picks from our experts.
What You'll Need
You'll need two things before you start:
A Mac running an up-to-date version of Mac OS X. We're using High Sierra version 10.13.2 for this guide. For security, always update to the most recent version.
A VPN account. You can use a free trial or a paid account. We're using a paid subscription to ExpressVPN in this guide.
Before starting, it's a good idea to ensure that your VPN account is confirmed. This normally means you'll need to sign up, then check your email and click a confirmation link. If you don't do this, you may find you can't log on later.
Method 1: VPN App
Most popular VPN providers produce native apps for Mac OS X, and this is by far the easiest way to get online if you're new to VPNs. For the purpose of this guide we're using ExpressVPN, but the majority of the steps we show here will apply to all providers.
Before you start, it's a good idea to check that you have the latest version of OS installed (you can find this out in the Software Update section of your Settings app). Once you've down this simply download the app, and then follow the provider's instructions to get logged on. Here's a demonstration of how it's done:
Log on to ExpressVPN's website and download the Mac installer.
Double-click the installer package to begin the installation process. If you see a dialog like this, click Continue.
Click Continue again to start the installer.
If you want to change the install location, now's your chance. Otherwise, click Install, and enter your password to confirm when prompted.
When the installation completes, you can move the installer file to the Trash.
ExpressVPN opens automatically. Click Sign in to continue, assuming you've already got your account set up.
At this point, you'll be prompted for an activation code. You'll find this in your account area on the ExpressVPN website. It's on the page you see as soon as you sign in, right underneath the green Set Up ExpressVPN button.
Remember: your activation code is unique, so don't share it with anyone else or send it via an unsecure channel like email.
To pick up the installation:
Copy your activation code into the ExpressVPN app, then click Sign in.
Click Allow if you'd like ExpressVPN to open when you boot up your Mac.
Click Allow if you're comfortable sharing anonymous data about your connection. If you click Don't Allow, your information won't be shared.
The installation process is now complete, and ExpressVPN opens, ready for you to initiate a connection.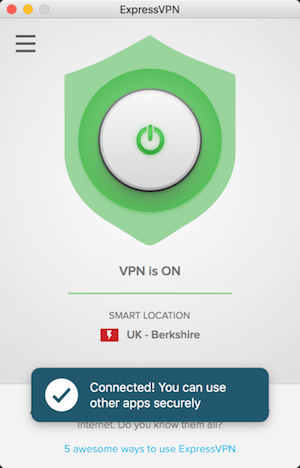 One of the benefits of using the ExpressVPN app is the choice of server locations. With the other installation methods here, you'd have to install each of these manually, but the app has them all set up and ready to go.
Of course, if you don't need a server in a particular location, it's best to use the Smart Location, which is the best server available for your connection at that time.
Method 2: OpenVPN on the Mac
If security is critically important to you, open source software is likely to be more attractive than a provider's VPN app. You'll also get access to some extra configuration options.
For the Mac, we recommend Tunnelblick.
To set it up:
On the Tunnelblick website, click the green arrow to download the latest stable release of the software.
When it's downloaded, open the disk image, then double-click the Tunnelblick icon to start the installation process.
If prompted, confirm that you'd like to install the software and enter your password.
Once installed, you'll be prompted to add a configuration.
In your Mac's menu bar, click the Tunnelblick icon, and then click VPN Details…
At this point, you'll need to log on to the ExpressVPN website to get some information:
 Log in, click Set up ExpressVPN, then click Manual Config. You'll see your OpenVPN connection information on the right.
In the list underneath your connection credentials, you'll see a list of locations. Click a location, and locate the server that you'd like to connect to first.
Download the connection profile to your Mac. It's a file with a .ovpn extension.
Keep this browser window open, and switch back to your desktop:
In your Downloads folder, locate the .ovpn file you downloaded in the last step. Drag this file into the left-hand pane in Tunnelblick. Note: if you drag it to the right-hand pane, nothing will happen.
Click Only Me if you'd like to be the only person that can use this VPN server, or click All Users if you'd like it to be available to the other user accounts on your Mac. Type your password if prompted.
Click Connect at the bottom-right of the Tunnelblick window.
You'll see a pop-up window asking for your username and password. It's important that you don't type in your ExpressVPN login details here, because you won't be able to connect. Instead, you'll need to find the username and password for OpenVPN on the ExpressVPN website. If you kept your browser when you downloaded the .ovpn file, you'll see this just above the list of servers that we used earlier.
Copy and paste the username and password into the Tunnelblick window, and choose whether you'd like to save the username and password in the application.
Click OK to connect.
You'll see the diagnostic output as the application connects to the server. Once you're connected, you'll see the Disconnect button become active, and the appearance of the menu bar icon will also change to a solid black color.
Method 3: Manual Settings
Mac OS X has built-in VPN functionality. If you don't want to use an application, you can actually connect to your VPN using the Network Preferences section of the System Preferences application.
There are downsides to this. You don't get some of the benefits of using an app, like killswitch protection, so that's worth weighing up before you continue. You also need to manually set up each server location rather than automatically having access to a provider's entire – and typically sizeable – VPN server network.
For a manual connection, you'll need your L2TP/IPSec connection details. You'll normally find these in your online account when you log in to your VPN provider's website.
Using ExpressVPN as an example, here's how to quickly get it set up:
Log in on the web and navigate to the Manual config settings page. This time, we'll click the L2TP/IPSec button on the right-hand side to reveal the connection information. Note that your OpenVPN credentials are different, and they won't work here.
On your Mac, open System Preferences, then click Network.
Click the small plus icon at the bottom-left to add your connection.
Select VPN from the Interface drop down, and then L2TP over IPSec in the VPN Type drop-down that appears.
Name the service however you wish. You might want to use the location of the server you're going to connect to so that it's easy to refer to later. Then, click Create.
Leaving the Configuration as Default, copy the server address that you want to connect to from the ExpressVPN Manual Config page, and paste it into the Server Address field. Copy your username into the Account Name field.
Click the Authentication Settings button.
Copy and paste the L2TP/IPSec password from the ExpressVPN Manual Config page, and paste it into the Password field.
In Shared Secret, type 12345678, then click OK to close the dialog.
Click Advanced…
Tick the Send all traffic over VPN connection checkbox, then click OK to close.
Tick Show VPN status in the menu bar, then Apply.
At the top-right of your Mac display, you'll see an icon that looks like a tiny progress bar. That's your VPN connection.

Click the first list item to connect. As your Mac establishes the connection, you'll see the VPN icon gradually change color.
If you need to disconnect or check your connection status, click the icon again.

Troubleshooting Your VPN
If you have difficulty connecting to your VPN, your first step should be to download your provider's official app to your Mac, and try connecting with that. If you're successful, there's a good chance that your account is working, but your settings are wrong. Try removing them and starting from scratch.
Tunnelblick outputs lots of useful logging data that can be useful when troubleshooting.
At the end of the process, if you still have issues, contact your VPN provider for further advice.