Mozilla VPN Review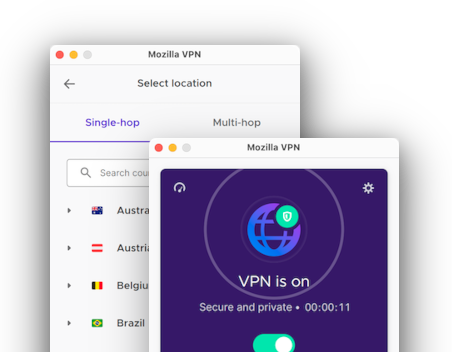 Privacy & Logging Policy
Mozilla VPN's Logging Policy Is a Little Confusing, but Ultimately Impressive
While it's fairly common for bigger tech brands to rent servers from or use the infrastructure of dedicated VPN services, they usually have fairly straightforward logging policies. Mozilla VPN's is a little confusing, by comparison.
As Mozilla is its own entity, but uses Mullvad's server network and technologies for its VPN, it has a logging policy which is a combination of both companies'.
We reached out to Mozilla for clarification and it was happy to explain to us how data collection and logging works for Mozilla VPN users. We've summarized this information in the table below:
Our main concern was that Mozilla's standard privacy policy would apply to users of its VPN. However, while that data is collected at the creation of your Mozilla account (which is required to use the VPN) it is not associated with your Mozilla VPN account usage.
The only personal data logged by Mozilla VPN which is actually tied to your usage is information about your device, such as model and operating system.
All Mozilla VPN usage data is handled and processed by Mullvad. As we said in our review of Mullvad VPN, it's an exceptional no-logs policy.
You can 100% trust Mullvad to treat your privacy with complete respect, with next to nothing being logged on its global server network.
US & Swedish jurisdictions are poor choices
Our only real complaints with the two logging policies at play here are the jurisdictions of the two companies involved.
Firefox is incorporated in the US, while Mullvad is based in Sweden. The US is one of the worst countries on Earth for online privacy and is a part of the intrusive Five Eyes Alliance.
Sweden isn't as bad as the US, but is still an EU member and as such is part of various international data-sharing agreements.
The good news here is that, with so little data logged, it's unlikely you'll need to worry about these jurisdictions. They are still a factor though, if a minor one.
We connected to Mozilla VPN servers in nine cities spread across six different continents. We test using a 100Mbps internet connection, similar to the baseline speed of your home internet connection.
Here's a table showing Mozilla VPN's speed test results:
When connected to a nearby server in New York, US, Mozilla VPN suffers just an 4% download speed loss – this is very good. You'll barely notice any difference to your internet speeds with Mozilla VPN connected to a server near you.
It also performed very well in a selection of extremely distant locations like the US West Coast and Germany, and when connected to a server in neighboring Canada downloads slowed by an indistinguishable 1%
When Mozilla VPN is running at its absolute maximum it comes close to the fastest VPNs on the market. While conducting multiple tests over a longer period of time we did notice some fluctuations, but not enough to seriously concern us.
Mozilla VPN records very impressive numbers for both upload and download speeds, wherever you are in the world. This is partly down to its total commitment to WireGuard, one of the fastest VPN protocols available.
We also want to give special credit to Mozilla VPN for being so quick to connect. Establishing a connection to a server takes no longer than a split second after you click the 'connect' button – it's one of the consistently fastest we've ever tested.
Server Locations
Mozilla VPN Uses Mullvad's Respectable Global Server Network
43 Countries
68 Cities
655+ IP Addresses
Sharing Mullvad's server network means that Mozilla VPN enjoys all the same strengths and suffers the exact same weakness as Mullvad.
The main drawback is that Mozilla VPN's server network completely ignores Africa, Central America, the Middle East, and large parts of South Asia, with no servers in those regions at all. Leaving billions of potential users with no option but to use servers thousands of miles away is extremely disappointing.
The rest of the world sees good coverage, though. Mozilla VPN has city-level server coverage in seven countries:
Australia
Canada
France
Germany
Japan
Sweden
UK
US
There's also servers in 15 different US cities from coast-to-coast, so if that's where you're based you should get optimal speeds no matter what.
One Fifth of Mozilla VPN's Servers Are Owned by Mullvad
Most VPNs rent their server network from third party providers. Mullvad is a little different in that it owns almost 20% of its server network itself. All of those privately owned servers are in Western Europe and Scandinavia.
While there's nothing wrong with renting servers, knowing that your VPN provider owns its own provides that little extra bit of security. While these servers are owned by Mullvad and not Mozilla itself, the principle still stands – Mullvad is an extremely secure and trustworthy VPN.
EXPERT TIP: You can see a full technical breakdown of all of Mozilla VPN/Mullvad's servers on its official website.
Multi-Hop Is Available on Almost Every Server
Double VPN (or multi-hop as Mozilla VPN calls it in its app) is a technology which routes your device's web traffic through two servers instead of one.
This can make your traffic harder to track and thus increase your privacy online. This comes at the cost of speed, though, as your data has to move through an additional location before its final destination.
Mozilla VPN's multi-hop is impressive because it doesn't limit you to a handful of entry or exit nodes – almost the entire server network is available for you to select at both stages.
If you're curious as to how it works and why you might want to use it, we have a whole guide dedicated to explaining Double VPN.
Streaming
Mozilla VPN Is No Good for Streaming
Here are the few services that we found Mozilla VPN worked with in our testing:
| Streaming Platform | Works with Mozilla VPN |
| --- | --- |
| All 4 | Yes |
| Amazon Prime Video | No |
| BBC iPlayer | No |
| Disney+ | No |
| HBO Max | Yes |
| Hotstar India | No |
| Hulu | No |
| ITVX | No |
| Netflix US | No |
| YouTube | Yes |
Mozilla VPN's ability to unblock streaming libraries is unfortunately tied to Mullvad's ability to do so, as it operates using Mullvad's infrastructure. Despite being a great VPN, Mullvad is terrible for streaming – and therefore Mozilla VPN is too.
The good news is that we were able to unblock HBO Max, an excellent US streaming service with lots of unique content – we just connected to Mozilla VPN's US – Raleigh server and it let us stream straight away.
We were also able to watch UK-based streaming service All 4 by using the United Kingdom – Manchester server.
Those two services are the limit of Mozilla VPN's streaming abilities. Every other popular service we attempted to access blocked us immediately or, in some cases, wouldn't even let us log in.
A good streaming VPN should be able to unlock plenty of services, as well as multiple Netflix libraries from around the world to give you access to as much content as possible. ExpressVPN is the best VPN for streaming – it unblocks 10 Netflix libraries, BBC iPlayer, and more.
Torrenting
A Safe but Inconsistent VPN for Torrenting
You can torrent on all 655 Mozilla VPN servers without any data limits or throttling. We've verified through testing that the kill switch works properly (even if there's no way to toggle it on or off in the app) so you don't need to worry about your IP address being revealed if your connection drops.
The only real problem when torrenting with Mozilla VPN is that we found its speeds to be extremely inconsistent. Our test torrent file downloads at 10.0MiB/s without a VPN. One set of four tests with Mozilla VPN turned on logged an average download bitrate of almost 9.5MiB/s – that would make it one of the fastest torrenting VPNs we've tested.
However, a further set of tests measured Mozilla VPN at a much slower average download bitrate of 5.1MiB/s. We tried everything to recapture those initial blazing-fast speeds, but nothing worked.
You might be fortunate and consistently experience the first set of speeds, but we consider them to be a fluke rather than the standard.
Mozilla VPN's only other flaw for torrenting is a lack of port forwarding, which is not available on any platform. If you want a technical VPN with plenty of features (plus excellent speeds), our AirVPN review found it to be an excellent choice.
Bypassing Web Censorship
Mozilla VPN Does Not Unblock Internet in China
We test a VPN's ability to beat online censorship by installing it on our remote test server located in Shanghai, China.
The issue we ran into while testing Mozilla VPN against censorship is that our test server runs Windows 10. Mozilla VPN's Windows client does not have access to an advanced feature labeled in-app as 'Tunnel VPN through port 53/DNS'.
This feature is available on macOS, Android, and Linux – only Windows is missing it. It's meant to be used to obfuscate VPN traffic with the specific goal of masking it and therefore helping you beat censorship. However, that one restriction means that we can't properly test it.
Mozilla VPN might work in China – so long as you aren't using Windows. We found that without port 53 enabled we were still blocked by the Great Firewall of China.
However, Mozilla VPN uses Mullvad's network for its servers. Mullvad has never worked in China in our testing. It's unlikely that Mozilla VPN would be any different.
Mozilla VPN's download page is also blocked in China. If you're planning on using it in a country which censors its internet then you'll need to download it before traveling.
Our regular testing has found Astrill VPN is the best VPN for China. It will also beat censorship in countries like Russia and the UAE.
Device & OS Compatibility
Only Available On the Five Most Popular Platforms
Apps
Windows

Mac

iOS

Android

Linux
You can only install Mozilla VPN on the five most popular mobile and desktop platforms.
This is disappointing, but it wouldn't be so bad if Mozilla VPN could be installed on Linux – however, it can't. That means that there's no easy way to protect any of your devices which can't have a Mozilla VPN app installed directly on them, like games consoles.
There's also no apps for streaming devices, like Amazon Fire TV. Even if there was one, though, Mozilla VPN is so poor for unblocking streaming services that you probably wouldn't want to use it anyway.
There's also no Smart DNS service to help you bypass streaming blocks, and there's no browser extensions either – not even one for Firefox, a browser made by Mozilla itself.
Mozilla VPN is still relatively new, so we can excuse its poor range of apps for now. We really want to see it broaden its scope in the near future, though.
Mozilla VPN Can Only Be Installed on Five Devices at Once
Perhaps the most annoying drawback, though, is Mozilla VPN's five-device limit. Ordinarily a VPN will limit your number of simultaneous connections, but will let you install it on as many devices as you like. With Mozilla VPN, you can only be signed in on five devices at once, regardless of how many are actually being used at the same time.
Security & Technical Features
Mozilla VPN Has No Leaks & Industry-Standard Security
| Protocols | Available in Mozilla VPN |
| --- | --- |
| IKEv2/IPSec | No |
| OpenVPN (TCP/UDP) | No |
| WireGuard | Yes |
| Encryption | Available in Mozilla VPN |
| --- | --- |
| AES-128 | No |
| AES-192 | No |
| AES-256 | No |
| Blowfish | No |
| ChaCha20 | Yes |
| Security | Available in Mozilla VPN |
| --- | --- |
| DNS Leak Blocking | No |
| First-party DNS | Yes |
| IPv6 Leak Blocking | No |
| Supports TCP Port 443 | No |
| VPN Kill Switch | Yes |
| WebRTC Leak Blocking | No |
| Advanced Features | Available in Mozilla VPN |
| --- | --- |
| Ad Blocker | Yes |
| Dedicated IP | No |
| Double VPN | Yes |
| Smart DNS | No |
| Static IP | No |
| SOCKS | No |
| Split Tunneling | Yes |
| Tor over VPN Server | No |
| Tracker Blocker | No |
We can't fault Mozilla VPN for its security. It passed every leak test we put it through, using the excellent WireGuard protocol as standard.
What's less conventional, though, is that WireGuard is the only protocol available across all of its apps. Ordinarily VPNs will let you choose from a selection, but not Mozilla VPN. While it's unusual, though, it doesn't bother us much as WireGuard is one of the best VPN protocols currently available – it's super fast and super safe.
Nowhere in the Mozilla VPN app or on the Mozilla website does it clarify what encryption cipher is used. We reached out to Mozilla support which stated that all apps use ChaCha20 encryption. This is standard encryption for WireGuard and, while it varies slightly to the more conventional AES-256, is just as secure.
We then used Wireshark to confirm that Mozilla VPN properly encrypts web traffic – and it does.
One of Mozilla's few extra features is custom DNS, which allows you to pick from ad blocking servers, tracker blocking servers, both at once, or a custom DNS of your own choosing (such as Google or Cloudflare's).
The ad and tracker blockers work well, but they don't catch everything they should. However, almost every VPN in-built ad blocker struggles, as we discovered in our in-depth testing on whether or not VPNs actually block ads.
MozillaVPN also offers split tunneling, but only on Windows and Android. It's not labeled exactly like that in the app, though. To access it you have to head to Settings > App permissions then toggle Protect all apps with VPN to the Off position.
Now you can choose which apps will travel outside of the encrypted VPN tunnel.
Ease of Use
Extremely Clean & Simple Apps
How to Connect to a Server with Mozilla VPN
How to Change Settings in Mozilla VPN
When it comes to VPN apps, simpler is better – even if you're an experienced user. Mozilla VPN is as simple as can be, and that makes using it a pleasure.
Mozilla VPN looks exactly the same on almost every platform, with only a feature changing here or there between them.
You can see what Mozilla VPN looks like on every platform below, as well as what's different about each one.
Mozilla VPN Windows Client
While Windows is often the main focus for VPN developers, Mozilla VPN is unusual in that its Windows app is actually the only one missing one big feature.
'Tunnel VPN through port 53/DNS' is a feature used to help beat web censorship, but you can't access it on Windows.
Everything else is present. The simple home screen lets you connect or disconnect, select a server, and also see how many devices you're currently logged into your Mozilla VPN account on.
You can then access a handful of advanced features, like custom DNS and LAN access, through the settings cog. You can also find split tunneling here, but Mozilla VPN calls it 'App permissions'. Turn off the toggle labeled 'Protect all apps with VPN' to choose which apps to split tunnel.
Mozilla VPN macOS Client
The macOS app is exactly the same as the Windows app, except for a couple of features.
It has the port 53 feature which was missing on Windows, mentioned above, but is missing split tunneling. While this isn't ideal, it's also unfortunately common among VPNs due to restrictions in Apple's operating system.
Mozilla VPN Linux Client
Mozilla VPN has an excellent Linux app.
Not only does it have a full GUI, something a huge majority of even the best VPNs neglect, it also has the full range of features.
You get split tunneling, port 53, double VPN, and custom DNS – it's the only desktop platform with no compromises.
Mozilla VPN iOS Client
The iOS app is identical to the macOS app, which is always nice to see. It has the same simple, bright design and all of the same features as its Apple desktop counterpart (including no port 53 mode and no split tunneling – again, down to iOS limitations).
The only thing which might put you off here if you're an iPhone user is that there's no night mode, and Mozilla VPN uses white backdrops throughout.
Mozilla VPN Android Client
Just like Linux, Android gets Mozilla VPN's most complete app. All features are available here, wrapped up in a package that looks identical to its desktop counterparts.
Customer Support
No Live Chat, but Excellent Email Support
| Customer Support | Available in Mozilla VPN |
| --- | --- |
| 24/7 Live Chat Support | No |
| 24/7 Email Support | No |
| Chatbot | No |
| Live Chat Support | No |
| Email | No |
| Email Support via Online Form | No |
| Tutorial Videos | No |
| Online Resources | No |
Mozilla is a large company with many products, but we still wish that it offered live chat support for its VPN service. It can be frustrating having to wait for an email reply if something is wrong with your product here and now.
That said, we were really impressed with Mozilla VPN's email support. We fired off a series of fairly technical questions and the Mozilla VPN representative replying to us answered with a level of accuracy and knowledge far higher than what we're used to seeing from other VPNs.
There's a Mozilla VPN online resource hub for doing your own troubleshooting, but it's limited to just the basics: installation, setup, billing, and other topics like that.
Alternatively, there's an extensive and active array of forums dedicated to all of Mozilla's products – including its VPN. Any question you post there is likely to be answered by another user rather than Mozilla staff, but it might be quicker for you than waiting on email support.
Price & Value
Too Expensive, Even On Its Longest Plan
Mozilla VPN is a hard sell. It simply isn't priced competitively enough. While its one-year plan compares fairly to the same plan from other VPNs, Mozilla VPN loses out by not offering an even longer plan for greater savings.
So you can get a clearer idea of how much a VPN should cost, here's how Mozilla VPN compares to some of the best services on the market:
As always, bear in mind that to get the best price you will have to pay the entire cost of the VPN's subscription up-front.
Payment & Refund Options
American Express

Mastercard

PayPal

Visa
Mozilla VPN's payment options are disappointingly limited. You can use a credit or debit card, or PayPal. There's no option for cryptocurrency, direct bank transfer, or any international payment cards.
Every subscription plan comes with a 30-day money-back guarantee which you can get quickly and easily by contacting support. Mozilla VPN states on its website, though, that this can only be redeemed once and on your first subscription period.
That means that you can't resubscribe in the future then ask for your money back again, nor can you let your one-month subscription renew for a second month and ask for the money back on it.
The Bottom Line
Mozilla VPN Is Fast & Safe, but Has Its Drawbacks
There are a few obvious scenarios in which you should not subscribe to Mozilla VPN. For starters, it might not be available in your country. It's also quite expensive, has a server network missing some major global regions, and it's no good at unblocking streaming sites. It's also highly unlikely to work in China.
While that may sound like a lot, though, it's so good at everything else that those points may not matter to you. It has a lovely clean app for all the major platforms, it has exceptional download speeds, and you can 100% trust it to keep your data safe (with almost no logs whatsoever).
Alternatives to Mozilla VPN
Mullvad
You can't discuss Mozilla VPN without mentioning Mullvad. Given that Mozilla VPN uses Mullvad's network infrastructure and logging policy, you may be better off simply using the VPN that it's so heavily based around. Read Mullvad review
Surfshark
Cheaper and much better for streaming, but without compromising on security, Surfshark is one of the best VPNs we've tested. Read Surfshark review
---
User Feedback for Mozilla VPN
Questions & User Reviews are shown in the original language of submission.