VPNArea Review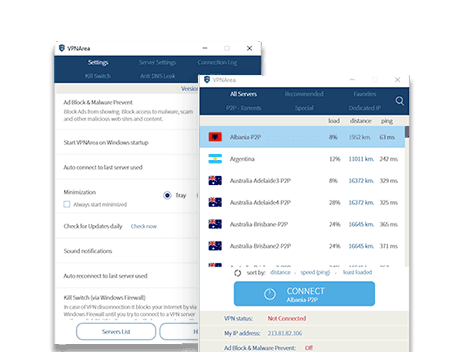 Speed
Lightning-fast same-country speeds
We measured the impact of VPNArea on our internet speed by comparing download speeds before and after connecting to a nearby VPN server.
Here are the results:
Local Speed Test results before using VPNArea:
Download Speed: 97Mbps
Upload Speed: 98Mbps
Ping: 10ms
Local Speed Test results with VPNArea:
Download Speed: 95Mbps
Upload Speed: 95Mbps
Ping: 5ms
Download speed loss when VPNArea is running: 2%
A 2% speed drop is extremely impressive – even rivalling top rated VPNs like ExpressVPN.
It's a strong choice for gamers, too, thanks to its quick same-country latency of just 5ms. It also produced very fast upload speeds, which is ideal for torrenting.
International Speed Test Results
We recorded the exact same speed loss of 2% when connected to Germany, even though we're based in the UK. A 12% speed drop when connected to a server in Canada is also very good.
However, VPNArea performs much worse when it comes to other, more long-distance connections.
Here are our latest VPNArea international speed test results:
US:

Download: 45.23%Mbps (53% slower)
Upload: 61.94Mbps (31% slower)

Canada:

Download: 85M.85bps (12% slower)
Upload: 72.21Mbps (26% slower)

Germany:

Download: 95.04 (2% slower)Mbps
Upload: 94.91 (3% slower)Mbps

Singapore:

Download: 18.4Mbps (81% slower)
Upload: 25.09Mbps (74% slower)

Australia:

Download: 9.96Mbps (90% slower)
Upload: 5.2Mbps (95% slower)
You can expect a 90% drop in download speeds when connecting to servers on the other side of the globe.
Overall, it was quick and easy to connect to a majority of the servers. But we did experience difficulties connecting to some of the servers – for example Singapore and the United Kingdom streaming server.
For more information on exactly how we measure VPN performance, take a look at how we test VPNs.
Privacy & Logging Policy
Strong zero-logs policy but hasn't been independently audited
VPNArea only collects three pieces of data:
Email address
Username and password
Transaction ID for refunds
Apart from this, VPNArea is a no-logs service:
"We do not monitor, record or store any login dates, timestamps, incoming and outgoing IP addresses, bandwidth statistics or any other identifiable data of any VPN users using our VPN servers. We do not log or track any DNS requests sent to our DNS servers."
VPNArea Adheres to EU Data Laws
Offshore Security LTD is based in Varna, Bulgaria and is subject to EU data retention laws. This means VPNArea might have to share you collected data with law enforcement authorities.
We believe Switzerland has been emphasized because it is a privacy haven. In theory, having your data processing system in this jurisdiction should provide some level of privacy.
But in reality, VPNArea's country of incorporation is the most important when it comes to data retention and sharing laws that it must comply with.
Privacy Policy Is Not Third-Party Certified
VPNArea's strict no-logs policy is great at first glance. It has all the elements that make up a privacy-first VPN.
VPNArea does not record:
Browsing activity
IP address
Server IP
Connection timestamps
Bandwidth usage
Server location
However, it not been independently audited or (to our knowledge) summoned by government agencies to share data.
Ideally, VPNArea would invest in an audit that can certifiably prove it is a no-logs service. We would also like to see VPNArea to specify how long it stores the data it has collected.
Unclear Ownership
It's a bit difficult to find out who owns Offshore Secure LTD.
There are two people associated with Offshore Security LTD on Linkedin. Dimitar Dobrev is listed as the Founder of VPNArea. Pastor Awitta, based in Kenya, is the Managing Director at Offshore Security LTD.
Beyond this information on LinkedIn, we were unable to find the company in the Bulgarian Unified Trade Register.
This is not necessarily a deal-breaker when it comes to a VPN. However, it's nice to have assurances when it comes to your personal data and web activity.
Server Locations
Servers located in 55 countries
55 Countries
88+ Cities
165+ IP Addresses
VPNArea has good worldwide coverage, but it has reduced its number of servers from 165 to 130 in the last few months. We would also like to see an increase of servers in Africa, since there are currently only three.
Here's a breakdown of VPNArea's countries with servers in, by region:
Europe: 34
Asia: 11
North America: 3
Africa: 1
South America: 4
Oceania: 2
Lots of City-Level Servers
VPNArea has a truly impressive amount of city-level servers. There are city-level servers in Japan, Austria, Russia, Germany, Italy, and many more locations.
You can take advantage of this by choosing a city-level server near you for faster speeds.
EXPERT ADVICE:
On Windows you can see which VPN servers are working without having to connect to them. Just check if all three sections (load, distance, and ping) are filled in.
On Mac, it displays 0%, 0yd/km, or N/A in those sections if the server isn't working.
Streaming
VPNArea unblocks US Netflix & BBC iPlayer
VPNArea is a solid choice for streaming on most platforms. It unblocks:
All 4
Amazon Prime Video
BBC iPlayer
Disney+
HBO Max
ITV Player
Netflix
However, if you plan to watch BBC iPlayer or Hulu often, we recommend choosing a VPN that works reliably with BBC iPlayer and Hulu.
Dedicated Servers for Netflix
VPNArea currently has five dedicated servers for unblocking Netflix. They are labeled in the app with "NFLX." For example, to stream US Netflix, connect to "USA-0-NFLX." For UK Netflix and iPlayer, connect to "UnitedKingdom-0-NFLX."
We had mixed results when streaming with VPNArea. The main issue we had was connecting to the UK streaming server.
Ideally, we would like to see more dedicated servers in different locations. This can give you access to more Netflix libraries and act as back-up servers if some are not working.
We tested VPNArea to see which servers unblocked Netflix. Here are the results:
Ideally, we would like to see more dedicated servers in different locations.
We also reached out to VPNArea's customer support to ask which Netflix libraries are available with its servers. They confirmed it works with the Canada, Italy, the UK and the US Netflix libraries.
Inconsistent with Unblocking BBC iPlayer
In our latest tests, we had mixed experiences streaming BBC iPlayer with VPNArea. We easily connected to UnitedKingdom-0-NFLX, which is the only dedicated server to UK streaming, and saw no lag.
This is not always the case though. The server seems to work some days and not others.
Torrenting
Torrenting allowed on all servers
In our latest torrenting speed tests, we recorded an average bitrate of 8.4MiB/s, which is on par with FastestVPN's test results (8.5MiB/s) and a little below Surfshark (8.7MiB/s). In comparison, the fastest speed we recorded was 10MiB/s with Astrill and Ivacy. You can see these results in full in our list of top torrenting VPNs.
VPNArea has a kill switch, torrenting-friendly zero-logs policy, and port-forwarding. The first two will help prevent your IP address from being exposed or recorded as you torrent, while the third will give you faster speeds.
Navigating the server list to find a specific P2P server is simple and straightforward. Servers for torrenting are labeled "P2P." For example, "Canada-Toronto2-P2P" is a server for torrenting based in Toronto, Canada.
EXPERT ADVICE: Log in to VPNArea's online dashboard, click Server Status, and track how many users are on each servers. Choose a servers with fewer users for the fastest speeds.
Bypassing Web Censorship
Good for China (desktop-only)
VPNArea is one of the best VPNs for China with a 82% uptime in the past three months.
It offers effective obfuscation: X-Stunnel servers in Canada, Japan, Singapore and more. As a result, you can connect to a nearby location for the best possible speeds.
Here's a video from our China tests showing VPNArea's obfuscated servers bypassing the Great Firewall: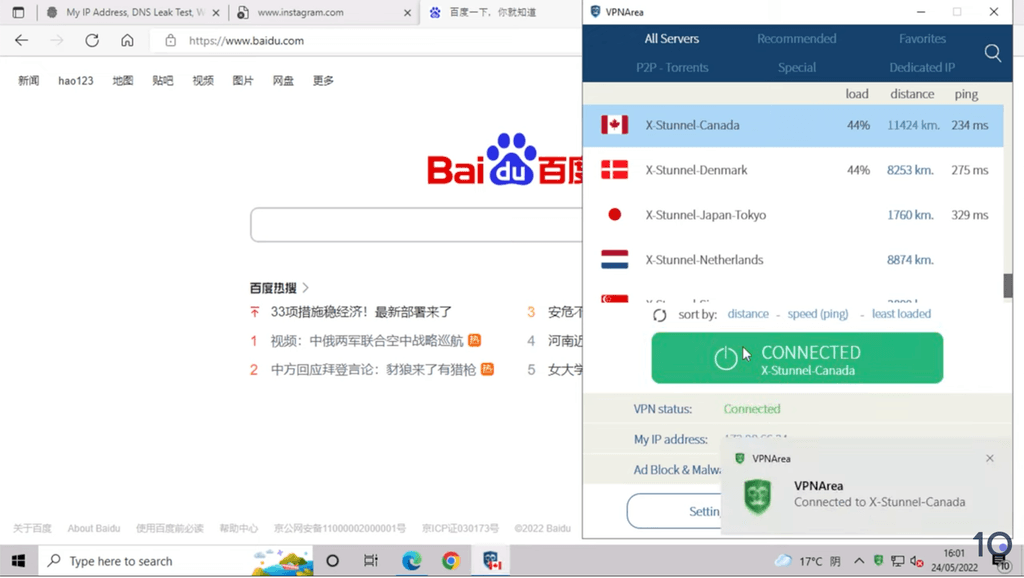 These X-Stunnel VPN servers are only available on Windows and Mac devices, though, and there are no manual workarounds for iOS or Android. Mobile users should avoid using VPNArea's iOS and Android apps in China.
VPNArea's obfuscated servers mean that it's also a reliable VPN service for those in other countries with oppressive censorship regimes such as Turkey, Saudi Arabia, Iran, and the UAE.
Security & Technical Features
Strong privacy features will protect you online
| Protocols | Available in VPNArea |
| --- | --- |
| IKEv2/IPSec | Yes |
| OpenVPN (TCP/UDP) | Yes |
| WireGuard | No |
| Encryption | Available in VPNArea |
| --- | --- |
| AES-128 | No |
| AES-192 | No |
| AES-256 | Yes |
| Blowfish | No |
| ChaCha20 | No |
| Security | Available in VPNArea |
| --- | --- |
| DNS Leak Blocking | Yes |
| First-party DNS | Yes |
| IPv6 Leak Blocking | Yes |
| Supports TCP Port 443 | Yes |
| VPN Kill Switch | Yes |
| WebRTC Leak Blocking | Yes |
| Advanced Features | Available in VPNArea |
| --- | --- |
| Ad Blocker | Yes |
| Dedicated IP | Yes |
| Double VPN | Yes |
| Smart DNS | No |
| Static IP | No |
| SOCKS | No |
| Split Tunneling | No |
| Tor over VPN Server | No |
| Tracker Blocker | No |
Dependable Kill Switch
VPNArea includes a kill switch feature, which protects you from any potential connection drops. We recommend you only use a VPN with a kill switch if you live in a region that has banned the use of VPNs.
On Windows, you can choose between a "Kill Switch (via Windows Firewall)" and "Kill Switch (Nuclear option)." Whereas on Mac, there is only the option to turn on the "Kill Switch (Nuclear option)." The "Nuclear option" is more secure because it completely disables your WiFi, so your IP address can't be exposed.
IP & DNS Leak Test Results
It also prevents DNS, IPv6 and WebRTC leaks. Even better, it operates its own zero-log DNS servers to keep your personal information private.
Double VPN
Additionally, VPNArea operates Double VPN servers, providing you with an extra layer of privacy when you're connected to the VPN. There's also a built-in ad-blocker and malware protection.
Port forwarding
Port forwarding is available on VPNArea – but you'll need to get in touch with support to request it be enabled on your account.
Dedicated IP Addresses
You can also get a VPNArea dedicated IP for an extra annual fee. There is a limit of one IP address per account. If you would like to know the current IP addresses available and their locations, you will need to contact the VPN service's customer support.
Device & OS Compatibility
Can be used with tons of different devices, including routers
Apps
Here's the full list of platforms that VPNArea can be downloaded on:
Windows

Mac

iOS

Android

Linux

Router
There's some big differences between the VPNArea apps. Here's an overview:
Interestingly, automated IKEv2 is only available in the iOS app. If you want to use it on Windows, macOS, or Android, you have to manually set it up yourself. On the plus side, there are clear guides to do this in the online dashboard.
The default option for all devices is OpenVPN, our preferred protocol.
VPNArea for Desktop
VPNArea's desktop app has some excellent features but also a few annoying quirks that ruined the experience for us a little. There's no main screen as such, so you're just redirected to the VPN server list once you've logged in.
You also have to manually disconnect and connect to a different server if you want to switch locations.
It's also one of few VPNs to offer an app that's exactly the same on both macOS and Windows.
VPNArea for Android
VPNArea's Android app is much better than iOS. Not only are there more servers available, including streaming and DoubleVPN, there's more options in the settings.
Don't worry if the mobile app looks completely different to the desktop version. You have the right VPN, it's just a new design and layout. Most of the useful features in the desktop version are in the Android app too.
Similar to the desktop app, you can choose filter servers based on functionality. For instance, "Special" shows you streaming and DoubleVPN servers. If you buy a dedicated IP address, you can use it on Android, but not on iOS.
You can switch on the VPNArea Anti-DNS Leak System, which automatically connects you to VPNArea's DNS servers instead of your internet service provider's.
If you turn on Persistent VPN tunnel the VPN will automatically reconnect to the last server used if your internet connection is disrupted. Since this information wasn't included in-app, we reached out to customer support and they replied within several hours.
The Android app does not have a kill switch, ad-blocker, or split tunneling.
A kill switch cuts off your internet connection should your VPN fail, even for a second. We highly recommend you only use VPNs with a kill switch.
VPNArea for iOS
The iOS app is a bit more simplistic than the Android app and desktop versions.
VPNArea's iOS app gives you the option to choose between IKEv2 and OpenVPN in Settings. But there is no further explanation about what the difference is.
We recommend sticking to the default settings, OpenVPN, because it is more secure than IKEv2.
Similar to the Android app, the iOS app does not come with a kill switch, ad-blocker, or split tunneling.
Fire TV App
VPNArea's Firestick App is disappointing. We tested it on the Amazon Fire TV Stick, second generation. It was simple to download but we had trouble logging in.
The app was almost the same as the Android version. But it was more difficult to navigate. The accent colour was hard to make out. There also wasn't any animation or sound effect to highlight what option we were selecting.
In comparison, the ExpressVPN Firestick App is much easier to use.
Games Consoles & Streaming Devices
Apple TV

Amazon Fire TV

Chromecast

Nintendo

PlayStation

Roku

Xbox
VPNArea can be used with loads of different games consoles and streaming devices by connecting them to a router running the VPN, as this will automatically protect all of the internet-connected devices in your home.
VPNArea can be installed on Amazon's Firestick and on Kodi too, with some manual configuration. If you want a simpler setup, take a look at our recommended VPNs for Firestick and the best VPN services for Kodi.

VPNArea isn't the best option if you're looking for a plug-and-play solution for your games console, but it'll do the job well enough. If you're looking for something a little more straightforward, take a look at our ExpressVPN review – its MediaStreamer service makes life a lot easier.
If you're going to be installing VPNArea on individual devices, you can use it on up to six of them at the same time – that's about the average we see from most VPN services.
Ease of Use
Cluttered apps with some usability flaws
How to Connect to a Server with VPNArea
How to Change Settings in VPNArea
To connect to a VPN server, click the server, then click the big blue "CONNECT" button and enter your username and password.
We recommend saving your username and password when prompted, so you don't have to enter it each time. Disappointingly, we experienced some trouble while trying to log in.
For usability, VPNArea offers settings to:
Launch the VPN on system startup
Automatically connect to the last used VPN server
Save your username and password
The VPN server list is split up into useful tabs such as torrenting, streaming, and obfuscated – you can sort the servers by distance, speed, or percentage load too. There is a big search bar at the top of the window, which you can use to search for Netflix, Stunnel, or torrenting servers.
The VPN settings all come with simple on/off toggles but we would like the app to include more contextual information.
There's an international-friendly function where you can switch between showing the server distance in kilometers and miles. The app is a tray when minimized, but on Windows you can change it to taskbar in Settings – though this isn't available on Mac.
Customer Support
24/7 live chat & useful resources
| Customer Support | Available in VPNArea |
| --- | --- |
| 24/7 Live Chat Support | Yes |
| 24/7 Email Support | No |
| Chatbot | No |
| Email | No |
| Email Support via Online Form | No |
| Tutorial Videos | No |
| Online Resources | Yes |
On the website, there are loads of in-depth FAQs covering a variety of topics from encryption to the security of different VPN protocols.
Disappointingly, some of VPNArea's resources (such as setup guides) are limited to paying customers only.
We were pleasantly surprised that VPNArea offers a genuine 24/7 live chat feature. We always received a response within a matter of minutes. The agents were helpful, but did not hold up against scrutiny when asked more detailed questions. They did send us a follow-up email with more information, though.
Paying Customers Have Access to More Resources
Behind the paywall, resources are high quality. There are setup guides for all platforms and devices they provide a service for.
These guides are simple, concise, and include screenshots that give you a good idea of the installation process.
The Help section of the dashboard is clearly laid out with multiple options, including a PGP Public Key for privacy-conscious customers. PGP or (Pretty Good Privacy) is an encryption method for secure emails. Created in 1991, some argue it's out of date but many are still fans of the feature. VPNArea also offers direct email addresses to the refunds and management team.
Disappointingly, the Knowledge Base is difficult to navigate and has a few bugs which could easily be fixed. We would like to see the web page updated to make the experience more enjoyable.
VPNArea's customer support is efficient and comprehensive. It's easy to get access to a real person through live chat and email.
Price & Value
Longest plan is good value for money
Here are VPNArea's subscription options in full:
Payment & Refund Options
Alipay

American Express

Bank Wire / Direct Transfer

Bitcoin

Bitcoin Cash

Mastercard

PayPal

UnionPay

Visa
VPNArea offers loads of different payment options, including all major credit and debit cards, PayPal and Bitcoin. You can also pay using a ton of international methods, such as WebMoney, Alipay and Hipercard, which is great for those living abroad.
VPNArea doesn't provide a free trial, but instead offers a 'no questions asked' money-back guarantee, which is a different length depending on the plan you signed up for. The 12-month and three-year subscriptions come with a 30-day refund period, whereas the 1-month option is 14 days.
In order to apply for a refund, all you have to do is contact VPNArea via live chat or email, and your refund will be sent to you within 48 hours (VPNArea claims that 98% of users receive their refund within just 15 hours).
The Bottom Line
VPNArea is a very good VPN service
VPNArea is something of a hidden gem. It's far from the most popular VPN on the market, but we have no hesitation in recommending VPNArea.
It's one of the best VPNs for China, with effective obfuscation and no IP leaks. VPNArea is very fast on local connections and can handle torrenting on all servers.
It's not perfect (the app can be frustrating at times), but VPNArea's excellent list of features and super-secure logging policy are real highlights.
The only main concern we have is the lack of independent audit.
Alternatives to VPNArea
ExpressVPN
ExpressVPN excels in most areas, but it's an especially good choice if you don't want to have to worry about a frustrating or clunky app - ExpressVPN is as easy to use as they come. Read ExpressVPN review
CyberGhost
Put off by VPNArea's inconsistency with BBC iPlayer? CyberGhost is a super cost-effective way to access iPlayer, not to mention tons of other popular streaming services. Read CyberGhost review
---
User Feedback for VPNArea