Top10VPN is reader-supported. If you buy a VPN through our links, we may earn commissions. Learn more.
Windscribe Free: Ranked #51 out of 99 VPNs that we tested
Reliable local download speeds
Good selection of servers
Strong logging policy
Extremely easy to use
Available on lots of devices
Data usage is capped
Could be better for streaming
Speed & Reliability
Local speeds approaching 30Mbps
Speed results from our physical location in London (100Mbps fibre optic connection) to a London test server.
Before using Windscribe Free:
98

86

Ping

ms

10
When connected to Windscribe Free:
28

29

Ping

ms

17
Download speed without Windscribe Free: 98Mbps
Download speed with Windscribe Free: 28Mbps
Our download speed loss when Windscribe Free is running: 71%
Despite the high percentage speed loss, for a free VPN service, Windscribe's speeds are still very promising – even if they don't quite match up to the premium version of Windscribe.
Windscribe Free's performance is less consistent when connecting out (from London, UK) to the US and Canada, though.
Overall the speeds we recorded with Windscribe Free were good, although if minimal speed loss is fundamental to your needs then you may want to consider Hotspot Shield VPN instead.
Server Locations
Servers in 22 cities spread over 10 countries
10
Countries
22
Cities
5,000
IP Addresses
Considering that this is a free version of the premium Windscribe VPN service, the 10 server countries provided is a very good start, but it's Windscribe's city-specific server choice that really impressed us.
The 'US East' location, for example, allows you to pick between Windscribe's VPN servers in Chicago, New York and Washington DC, plus two in Miami.
There are two city-level options each in the US Central, US West and UK locations, too.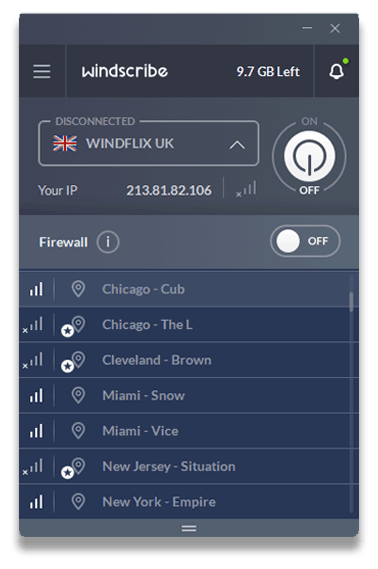 Sadly, Windscribe doesn't have any server options available in South America, Africa or Australia, and the entirety of Asia is funneled through one VPN server in Hong Kong.
If you want access to servers in those locations, plus dozens more, you'll need to upgrade to the premium version of Windscribe VPN.
Streaming & Torrenting
Won't work with streaming but torrenting is allowed
A mixture of good and bad, this is where Windscribe Free VPN most shows its deficiencies compared to the paid version.
Windscribe's streaming servers (known as 'Windflix') are reserved for paid users, so it's hardly a surprise that we haven't been able to watch Netflix for over a month now. BBC iPlayer is also difficult to stream, and has been inaccessible to Windscribe Free users for some time.
If streaming is very important to you then you should really think about using a paid VPN service. Check out our best VPNs for streaming, or alternatively take a closer look at our overall best VPN, ExpressVPN.
Torrenting
Torrenting worked well for us in testing, and appears to be permitted on the majority of Windscribe Free's VPN servers, which is great. Windscribe is our current favorite free VPN for torrenting.
The 10GB monthly data cap will always be a limiting factor here, though.
Bypassing Censorship
Reliable option on desktop but less so on mobile
With the sheer number of VPN protocols available, at least on desktop, Windscribe Free should be a reliable option for bypassing censorship in places like China.
When we asked Windscribe how effectively it believes its VPN apps can bypass censorship blocks, Windscribe told us that it can be 'hit-and-miss' on mobile, but should operate trouble-free on desktop.
Platforms & Devices
Compatible with all major platforms
Apps
Windows
Mac
iOS
Android
Linux
Router
We tested Windscribe's free VPN apps on our full suite of operating systems and devices, including Windows, MacOS, iOS, Android and Linux, and were consistently impressed throughout.
You can also install Windscribe at router level, and there's no limit on the number of simultaneous connections you can have, although a router install on your home network would drain your data cap far too quickly.
Games Consoles & Streaming Devices
AppleTV
Amazon Fire TV
Chromecast
Nintendo
PlayStation
Roku
Xbox
Windscribe Free is even available on a whole host of extra devices, like the Amazon Fire TV Stick and Apple TV, which is rare for a free VPN service.
Be warned though – those devices will still eat data from the same allowance as all the other devices you have Windscribe installed on.
Browser Extensions
Chrome
Firefox
Windscribe also has browser extensions for Mozilla Firefox, Google Chrome and Opera Browser which work extremely well and offer a vast array of options and features.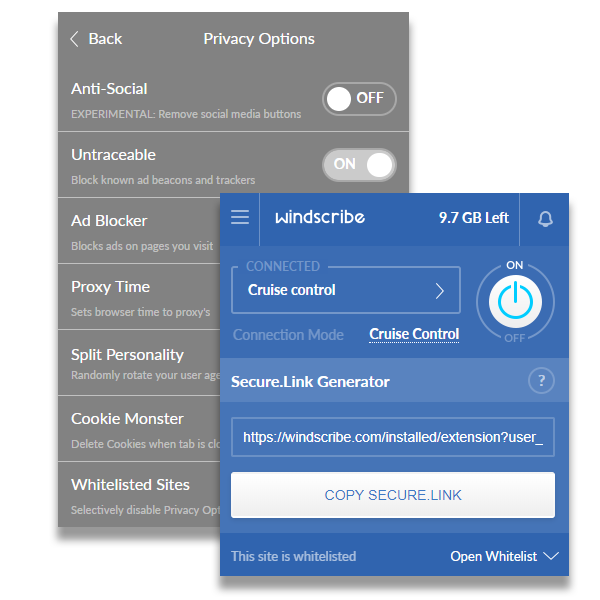 That said, it's important to remember that these aren't the same as Windscribe's full VPNs, and will only encrypt your browser traffic.
Encryption & Security
Just as secure as the paid version
Protocol

IKEv2/IPSec

OpenVPN (TCP/UDP)

Proprietary

Encryption

AES-256

Security

DNS Leak Blocking

IPV6 Leak Blocking

Supports TCP Port 443

VPN Kill Switch

Advanced features
Please see our VPN Glossary if these terms confuse you and would like to learn more.
Windscribe Free allows you to access exactly the same array of privacy settings granted in the full version of the app, meaning you can choose from five different VPN protocols.
Windscribe Free comes with a VPN kill switch feature, a huge bonus, and you can even choose to set an IP address manually.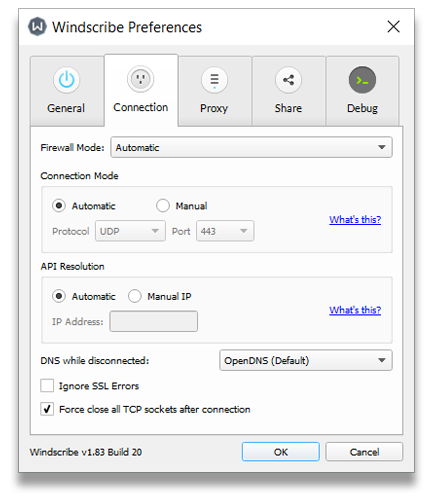 There are also some advanced VPN settings on Windscribe's desktop app, from proxy configuration to how you'd like your servers sorted. It's just a shame that almost all of these features are unavailable on the mobile app.
We also tested Windscribe Free VPN for IP and DNS leaks and it passed both with flying colors, proving it will keep you safe online.
Logging Policy
One of the most private free VPNs out there
Windscribe's VPN logging policy is good, as it outlines in no uncertain terms just how little is truly collected. It only collects:
The amount of data transferred in a 30-day period
Timestamp of your last VPN connection
These figures are reset at the start of every month.
When you're actively connected to one of Windscribe's VPN servers, the server temporarily stores:
Your OpenVPN/IKEv2 username
Time of connection
Amount of data transferred
Once you end your Windscribe session, the VPN connection information is deleted.
Jurisdiction
Windscribe is based in Canada. Canada is part of a data-sharing agreement with several other major Western nations, which is less than ideal for a VPN service.
In this instance, though, we're not too concerned: there's so little data retained by Windscribe that even if it were forced to turning over its logs by the government there would be nothing to see.
Ease of Use
Modern and easy to use
How to Install & Set Up Windscribe Free
Regardless of platform, the Windscribe free VPN app looks exactly the same as the premium version. That means you get a simple, intuitive and slick user experience.
There's no ads, either, which is a welcome breath of fresh air in the world of free VPNs.
Windscribe presents you with a VPN server network and a power button: simply choose your location, switch it on and you're up and running in seconds.
Customer Support
Handy online resources but no live chat
| | |
| --- | --- |
| Email support via an online form | |
| Online Resources | |
Windscribe has no live chat support, which is disappointing for a VPN provider of its size. The closest thing you get to live chat support is an automatic chat bot – which proved utterly useless whenever we asked it a question.
Fortunately there's an array of handy help guides and FAQs online, plus you can always submit a support ticket if you still can't find what you need.
You've read our expert review - read on for reviews from real users.
User Reviews
Based on 2 reviews
5 star

(2)

4 star

(0)

3 star

(0)

2 star

(0)

1 star

(0)
Share your thoughts to help others
Its really fast and premium options are so cheap toooo , and every month you can get 15 gb free thats so huge for me thank you so much

Easy to install, start/stop and operate. For intermittent use, monthly data cap is no problem. DNS Leak tests have always been successful.