Disclosure: Top10VPN.com is reader-supported. We may earn commissions if you buy a VPN through links on our site.
Windscribe Free Review
This score is calculated using our 10-step testing process.
Ranked #39 out of 74 VPNs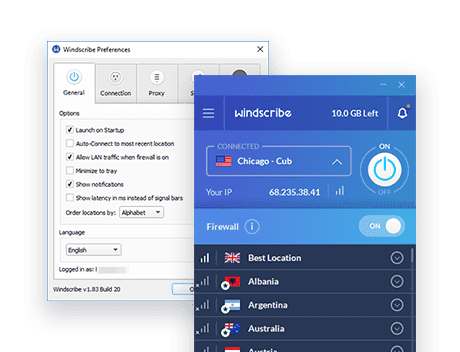 Read Windscribe Free user reviews
Windscribe's Free VPN claims to offer a "generous" free service for those "on a tight budget", but is it possible to offer a premium product at absolutely no cost?
We put the free version of Windscribe through its paces in order to discover:
Why is Windscribe free?
How secure is Windscribe VPN?
Does Windscribe have a kill switch?
Is Windscribe good for torrenting?
Does Windscribe hide your IP?
We reveal the answers to all of these, along with lots of other important questions, in our full-length VPN review.
This review is just for the free version of Windscribe VPN. You can check out our review of the full, premium version of Windscribe here.
Overview
Windscribe Free Pros & Cons
Reliable local download speeds
Good selection of servers
Strong logging policy
Extremely easy to use
Available on lots of devices
Data usage is capped
Could be better for streaming
Windscribe Free Key Summary
| | |
| --- | --- |
| Top Download Speed | 54Mbps |
| Logging Policy | Anonymous Server Usage Data |
| IP, DNS or WebRTC Leaks | No |
| Jurisdiction | Canada (Five-Eyes Member) |
| Servers | Not disclosed |
| IP Addresses | Not disclosed |
| Countries | 10 |
| US Netflix | No |
| Torrenting | Unlimited |
| Works in China | Unreliable |
| Support | Email & Online Resources Only |
| Official Website | Windscribe.com |
Read on to find our more details about Windscribe Free, as well as the results of our in-depth VPN testing.
About & Logging Policy
Who is Windscribe Free?
Windscribe was founded in 2016 in Ontario, Canada, and it still has its headquarters there today.
Usually this would be far from an ideal location for a VPN service, as Canada is part of the Five Eyes data-sharing alliance. However, thanks to Windscribe's minimal logging policy, however, this isn't really a concern at all.
There's so little data retained by Windscribe that even if it were forced to turn over its logs by the government there would be nothing to see.
Logging Policy
Windscribe's VPN logging policy is good, as it outlines in no uncertain terms just how little is truly collected. It only collects:
The amount of data transferred in a 30-day period
Timestamp of your last VPN connection
These figures are reset at the start of every month.
When you're actively connected to one of Windscribe's VPN servers, the server temporarily stores:
Your OpenVPN/IKEv2 username
Time of connection
Amount of data transferred
Once you end your Windscribe session, the VPN connection information is deleted.
This information is only collected to ensure Windscribe's service can operate smoothly and with as few issues as possible – none of it can be used to trace your online activity back to you.
Speed & Reliability
Local speeds approaching 30Mbps
Despite the high percentage speed loss, for a free VPN service, Windscribe's speeds are still very promising – even if they don't quite match up to the premium version of Windscribe.
Windscribe Free's performance is less consistent when connecting out (from London, UK) to the US and Canada, though.
Overall the speeds we recorded with Windscribe Free were good, although if minimal speed loss is fundamental to your needs then you may want to consider Hotspot Shield VPN instead.
Speed results from our physical location in London (100Mbps fibre optic connection) to a London test server.
Before using Windscribe Free:
98

86

Ping

ms

10
When connected to Windscribe Free:
28

29

Ping

ms

17
Download speed without Windscribe Free: 98Mbps
Download speed with Windscribe Free: 28Mbps
Our download speed loss when Windscribe Free is running: 71%
Windscribe Free's upload speeds were, in most cases, even quicker than its download speeds, making it a good choice for torrenting (be aware of the data cap, though). Same-country latency of 18ms isn't ideal for lag-free gaming, however.
Connecting out to the US from the UK you can expect speeds of just over 20Mbps, which isn't bad at all. Windscribe's European speeds are largely similar to those we measured in the UK.
Thankfully, just like its paid counterpart, Windscribe Free was pretty consistent and speeds didn't tend to change much from one test to the next. We also didn't experience any connection drops during our tests.
We currently test speeds using the OpenVPN protocol, as this is widely available among VPN services and therefore helps us maintain a high level of consistency in our results.
It should be noted, however, that Windscribe's apps default on startup to IKEv2, which it claims is the best protocol, so you could see slightly faster speeds if you connect this way.
If you'd like to know more about how we test VPN performance, take a look at our VPN speed testing methodology.
Server Locations
Servers in 22 cities spread over 10 countries
10
Countries
22
Cities
Undisclosed number of
IP Addresses
Considering that this is a free version of the premium Windscribe VPN service, the 10 server countries provided is a very good start, but it's Windscribe's city-specific server choice that really impressed us.
The 'US East' location, for example, allows you to pick between Windscribe's VPN servers in Chicago, New York and Washington DC, plus two in Miami.
There are two city-level options each in the US Central (Atlanta & Dallas), US West (Los Angeles & Seattle) and UK locations, too.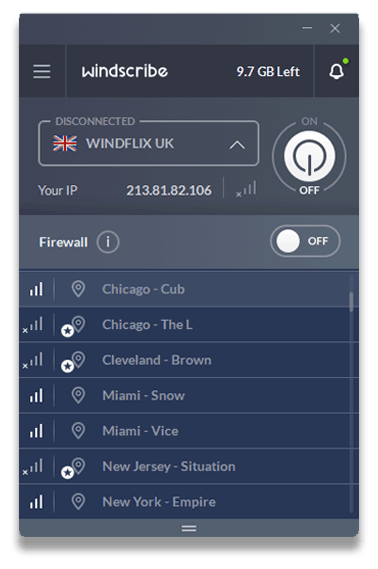 Sadly, Windscribe doesn't have any server options available in South America, Africa or Australia, and the entirety of Asia is funneled through one VPN server in Hong Kong. There's also no indication of exactly how many VPN servers or IP addresses it operates, which is disappointing.
If you want access to servers in those locations, plus dozens more, you'll need to upgrade to the premium version of Windscribe VPN.
Streaming & Torrenting
Won't work with streaming but torrenting is allowed
Windscribe Free is a poor VPN for streaming.
Windscribe's streaming servers (known as 'Windflix') are reserved for paid users, so it's hardly a surprise that we weren't able to unblock US Netflix in our testing.
BBC iPlayer is also difficult to stream, and we weren't able to access it in our most recent tests. We've had more luck streaming through Windscribe's browser proxy, though, but this doesn't offer the same kind of security as the full VPN.
There's no information in Windscribe's FAQs about accessing streaming services, nor was 'Garry' the live chat bot very helpful, so it's a case of checking back regularly to see if the situation changes.
If streaming is very important to you then you should really think about using a paid VPN service. Check out our best VPNs for streaming, or alternatively take a closer look at our overall best VPN, ExpressVPN.
Torrenting
Torrenting worked well for us in testing, and appears to be permitted on the majority of Windscribe Free's VPN servers, which is great. Torrenters will also benefit from Windscribe's kill switch feature, DNS leak protection and solid privacy policy.
It's hardly surprising, then, that Windscribe is our current favorite free VPN for torrenting. The 10GB monthly data cap will always be a limiting factor here, though.
Bypassing Censorship
Reliable option on desktop but less so on mobile
With the sheer number of VPN protocols available, at least on desktop, Windscribe Free should be a reliable option for bypassing censorship in places like China.
When we asked Windscribe how effectively it believes its VPN apps can bypass censorship blocks, Windscribe told us that it can be 'hit-and-miss' on mobile, but should operate trouble-free on desktop.
When we checked Windscribe's subreddit, it looked promising for users in China, with some stating it's the most reliable service for the country there is.

This means that the free version of Windscribe should also be an effective VPN solution for those in other high-censorship countries such as Turkey, Iran, and Saudi Arabia, although the limited server network means your speeds will probably suffer.
Platforms & Devices
Compatible with all major platforms
Apps
Windows
Mac
iOS
Android
Linux
Router
We tested Windscribe's free VPN apps on our full suite of operating systems and devices, including Windows, MacOS, iOS, Android and Linux, and were consistently impressed throughout.
You can also install Windscribe at router level, and there's no limit on the number of simultaneous connections you can have, although a router install on your home network would drain your data cap far too quickly.
Games Consoles & Streaming Devices
AppleTV
Amazon Fire TV
Chromecast
Nintendo
PlayStation
Roku
Xbox
Windscribe Free is even available on a whole host of extra devices, like the Amazon Fire TV Stick and Apple TV, which is rare for a free VPN service.
Be warned though – those devices will still eat data from the same allowance as all the other devices you have Windscribe installed on.
Browser Extensions
Chrome
Firefox
Windscribe Free shares the Google Chrome and Mozilla Firefox browser extensions with its premium equivalent. They've been updated and we really like how they work and feel.
The browser extension is a proxy, rather than a full VPN – but this is pretty common practice and Windscribe don't try to hide it (we wish the same could be said of all VPN providers).
Unlike a proper VPN, the proxy won't fully protect your data and it will only redirect traffic which passes through your browser. On the other hand it is much better than nothing at all, and is an effective measure to spoof your location.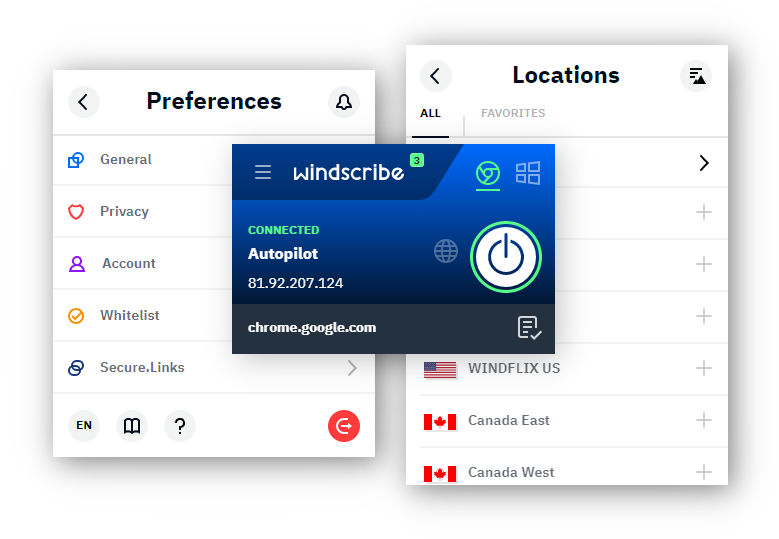 The add-on includes some great, privacy focused features, like an ad blocker, a firewall and tools to prevent you from being tracked by advertisers online, alongside advanced tools to help you spoof the location and time of your browser.
You can randomly allocate your user agent, too, which prevents your browser from being able to determine what OS and browser you are using.
All these features are available for both free and paid accounts – the only difference is the number of locations available.
We really like this privacy and security focused suite. Plus its minimal design allows it to feel lightweight even with all these features.
One feature we would like to see more of is desktop app integration. As of right now the add-on only lets you see whether or not your computer wide VPN is running. Hopefully this will eventually be upgraded to allow full VPN control from your browser.
Encryption & Security
Just as secure as the paid version
Protocols

IKEv2/IPSec

OpenVPN (TCP/UDP)

Proprietary

Encryption

AES-256

Security

DNS Leak Blocking

IPV6 Leak Blocking

Supports TCP Port 443

VPN Kill Switch

Advanced features
Please see our VPN Glossary if these terms confuse you and would like to learn more.
Windscribe Free allows you to access exactly the same array of privacy settings granted in the full version of the app, meaning you can choose from four different VPN protocols:
OpenVPN (our favorite)
IKEv2
Stealth
WStunnel
Windscribe Free also comes with a VPN kill switch feature, protecting you from any potential connection drops, and you can even choose to set an IP address manually.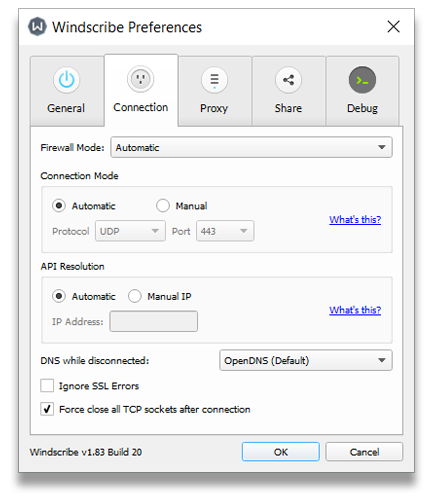 There are also some advanced VPN settings on Windscribe's desktop app, from proxy configuration to how you'd like your servers sorted. It's just a shame that almost all of these features are unavailable on the mobile app.
We also tested Windscribe Free VPN for IP and DNS leaks and it passed both with flying colors, proving it will keep you safe online.
Windscribe also recently announced the introduction of a new ad-tracker and malware-blocker, known as R.O.B.E.R.T, which is available on both the free and paid apps. This differs from those offered by other VPN services as it includes eight individual blocklists as well as a custom whitelist feature. You can read more about R.O.B.E.R.T. here.
Ease of Use
Modern and easy to use
How to Install & Set Up Windscribe Free
Regardless of platform, the Windscribe free VPN app looks exactly the same as the premium version. That means you get a simple, intuitive and slick user experience.
There's no ads, either, which is a welcome breath of fresh air in the world of free VPNs.
Windscribe presents you with a VPN server network and a power button: simply choose your location, switch it on and you're up and running in seconds.
Customer Support
Handy online resources but no live chat
| | |
| --- | --- |
| Email support via an online form | Yes |
| Online Resources | Yes |
Windscribe has no live chat support, which is disappointing for a VPN provider of its size. The closest thing you get to live chat support is an automatic chat bot – which proved utterly useless whenever we asked it a question, and simply directed us to submit a support ticket so we could 'speak to a human'.
Fortunately there's an array of handy help guides and FAQs online, plus you can always submit a support ticket if you still can't find what you need. We also found Windscribe's subreddit to be particularly useful, asking our more specific queries in great detail.
You've read our expert review - read on for reviews from real users.
We value your opinion, whether it's positive or negative. Please leave a helpful and informative review, and don't disclose personal information or use abusive language. All user reviews are moderated to ensure they meet our posting guidelines.
Already use Windscribe Free? Tell us what you think.
When a review is marked "Verified Customer" it means we've verified that the reviewer has had a genuine experience with the company.
Showing 2 out of 2 reviews
User experience and protection is very good. Speeds could be better. Should have added few more servers in Asia.

Easy to install, start/stop and operate. For intermittent use, monthly data cap is no problem. DNS Leak tests have always been successful.