Atlas VPN Review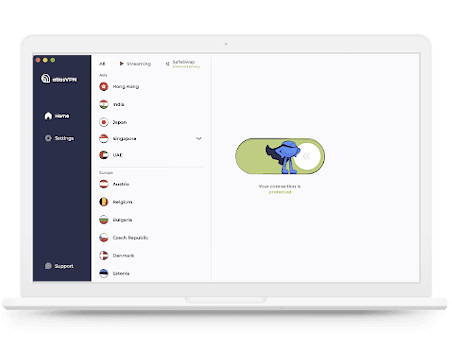 Streaming
Atlas VPN Works Well for Streaming
| Streaming Service | Test Result |
| --- | --- |
| US Netflix | ✓ |
| HBO Max | ✓ |
| Hulu | ✓ |
| Amazon Prime Video | ✓ |
For premium subscribers, Atlas VPN includes streaming-optimized servers in 12 countries. Although Atlas VPN says they are tuned "to tackle buffering, lags, and other issues," we found them to be functionally identical to its other servers.
We tested Atlas VPN's streaming performance on Windows, macOS, iOS, and Android TV. In each case, the VPN service's performance was the same, meaning you'll get the same decent experience across all of your devices.
You can see a more detailed view of our Atlas VPN streaming tests in the following sections.
Tested: Atlas VPN Streams US Netflix
In our tests, Atlas VPN unblocked American Netflix on all 8 of its US servers. We found the New Jersey server to be the fastest and most reliable.
Although Atlas VPN claims it can stream 11 other Netflix libraries, we found it works with just five more.
After testing all of its server locations, we found Atlas VPN works to access Netflix libraries from:
Australia
France
Poland
Singapore
Spain
This means Atlas VPN doesn't work with most popular Netflix libraries, including the UK, Italy, Canada, and Japan.
If you need access to these regions, we recommend you consider PrivateVPN. PrivateVPN is similarly priced to Atlas VPN, and it always works with the main Netflix libraries.
As for other US-based streaming sites, Atlas VPN works as well as any VPN in its price category. In our tests, the VPN worked every time with Amazon Prime Video, Disney+, HBO Max, and Hulu.
Atlas VPN Unblocks BBC iPlayer
Using Atlas VPN, we could bypass BBC iPlayer's geo-blocks. We were able to stream TV shows, like Top Gear and Doctor Who, without any buffering.
We also found the VPN to be a good choice for other UK streaming services. It worked with ITV Hub and All 4 without any issues.
The only downside is that Atlas VPN has just one server location in the UK. If the server stops working with UK streaming sites, you can't try a different server in the country.
Atlas VPN Free Streaming Tests
Like the vast majority of free VPN services, Atlas VPN Free doesn't work with any streaming services.
When connected to its free New York server, we were blocked from accessing Hulu and HBO Max, and we could only stream Netflix originals. As there's no free server in the UK, we couldn't even attempt to access BBC iPlayer.
Atlas VPN says the free VPN should be used to improve security, and not for bypassing geo-restrictions.
If you want a free streaming VPN, read our list of the best free VPNs for Netflix.
Speed
Fast Speeds Across All Server Locations
When reviewing every VPN service, we always follow the same scientific speed-test process. We also perform the tests using the VPN's fastest protocol. This makes our tests fair and representative of what you'll experience at home.
Here are our results when we tested speeds on a local premium Atlas VPN server:
Local Speed Test results before using Atlas VPN:
Download Speed: 100Mbps
Upload Speed: 100Mbps
Ping: 1ms
Local Speed Test results with Atlas VPN:
Download Speed: 97Mbps
Upload Speed: 96Mbps
Ping: 29ms
Download speed loss when Atlas VPN is running: 3%
With these results, you won't notice any download or upload speed loss in regular use. Atlas VPN is more than fast enough for streaming and torrenting large files.
EXPERT TIP: Unlike most other VPNs, Atlas VPN doesn't have an option to automatically connect you to the fastest server. Instead, connect to the nearest server to you for the best speeds.
International Speed Test Results
We also measured Atlas VPN's speeds when connected to premium servers in different continents around the world.
In general, the further away a VPN server is, the slower the speeds will be. However, we make sure to measure these as international speed performance is key for unblocking geo-restricted content libraries.
Here are the full results we recorded when connecting to premium Atlas VPN server locations from London, UK with a 100Mbps internet connection:
US (New York):

Download: 96.59Mbps (3% speed loss)
Upload: 66.43Mbps (34% speed loss)

Germany (Frankfurt):

Download: 95.31Mbps (5% speed loss)
Upload: 95.80Mbps (4% speed loss)

Japan (Tokyo):

Download: 68.89Mbps (31% speed loss)
Upload: 68.31Mbps (32% speed loss)

Australia (Melbourne):

Download: 75.74Mbps (24% speed loss)
Upload: 20.99Mbps (79% speed loss)
As you can see from our results, Atlas VPN is fast in every location. Its performance in the US was particularly impressive, with barely any speed loss. This meant we could stream US Netflix with ease.
Download speeds were slower in Japan and Australia, but still above what we typically see – even from more established VPNs that cost a lot more.
Upload speeds dropped significantly in some locations, as much as 79% in Australia. That said, upload speed is far less important on international connections than it is on local ones.
However, it performed better on cloud gaming services. As these are streamed, Atlas VPN's fast download speeds made the experience almost identical to when we played locally on the device.
We were also able to access geo-blocked cloud gaming services, like Google Stadia and Xbox Game Pass.
Atlas VPN's Ping Is Too High for Gaming
We found that Atlas VPN is too laggy for gaming on faraway servers. We tested the VPN when connected to a server in New Jersey to access a US gaming lobby.
Our ping increased from 1ms to 82ms, which was far too high for fast-paced games like CS:GO. This is much worse than the best gaming VPNs, like ExpressVPN and Windscribe. These VPNs have an average ping of 3ms, making them better options for lag-free online gaming.
Atlas VPN Free Speed Tests
Atlas VPN Free is fast for a free VPN service. In our tests, we measured a speed loss of just 3% when connected to our nearest server location in the Netherlands. As it stands, this is the fastest local speed result of any free VPN we've tested.
However, as there are only two countries that you can connect to, your experience will vary significantly based on where you are. For example, if you're located in Japan, your nearest Atlas VPN free server is 8,000 miles away, which will cause slower and less reliable speeds.
Here are the full results we recorded when connecting to all three Atlas VPN Free server locations from London, UK with a 100Mbps internet connection:
| Server Location | Download Speed (Mbps) | Upload Speed (Mbps) | Ping (ms) | Distance (miles) |
| --- | --- | --- | --- | --- |
| No VPN | 100 | 100 | 1 | 0 mi |
| Netherlands | 96.61 | 95.72 | 17 | 328 mi |
| US (New York) | 49.63 | 22.66 | 115 | 3,459 mi |
| US (Los Angeles) | 72.75 | 18.10 | 148 | 5,437 mi |
Atlas VPN Free's international speeds are above what we expect from a free service, but it doesn't come close to its premium speeds.
Atlas VPN told us that it does not throttle its free servers and that all of its free servers are identical to its premium ones. As a result, the slower speeds we experienced can only be down to server congestion. This is when too many people have connected to a server at once.
What stood out from our results is that, despite being further away from us, the Los Angeles server repeatedly outperformed the New York server. As more users instinctively connect to New York, this further suggests that Atlas VPN's free servers have an issue of overcrowding.
Unfortunately, unlike other free VPNs, like Windscribe and Proton VPN, the Atlas VPN app doesn't provide any information about server load nor does it have multiple servers to connect to in these locations.
In a future update, we'd like Atlas VPN to provide more server options for free users. Or at the very least, provide information about server load so users can manually connect to a less-congested server.
Price & Value
Free & Premium Subscriptions Are Excellent Value
Here are all the payment plans available for the premium version of Atlas VPN:
Although the three-year plan comes with the biggest savings, the 12-month plan is the best choice for most people. It costs $3.29 per month, and you don't have to deal with a three-year commitment.
Payment & Refund Options
You can purchase an Atlas VPN subscription using the following payment methods:
American Express

Bitcoin

Mastercard

PayPal

Visa
Atlas VPN Free
Atlas VPN is one of only a few safe VPNs to offer a free tier. It can be used without having to create an account and without entering any payment details, which is great for privacy.
It's one of the best free VPNs we've tested, beating out established services, like Avira and TunnelBear, in our testing.
Disappointingly, the VPN recently halved its free data allowance from 10GB to 5GB.
This is still higher than the 500MB restriction imposed by many free VPNs. But lower than top free VPNs, like Proton VPN and Windscribe, that offer unlimited and 10GB free data respectively.
As with all free VPN services, Atlas VPN comes with significant limitations. Here are the key drawbacks of Atlas VPN Free compared to its premium alternative:
| Atlas VPN | Atlas VPN Free |
| --- | --- |
| Unlimited bandwidth | 5GB monthly data cap |
| 750 servers in 34 countries | 3 servers in 2 countries |
| 24/7 live chat | Email support |
| Streams US Netflix, BBC iPlayer & more | Doesn't work with streaming sites |
More positively, Atlas VPN Free can be used for torrenting and even works in China.
How Does Atlas VPN Free Compare to Other Free VPNs?
In the table below, see how Atlas VPN Free compares to other top free VPNs in terms of our overall rating, data cap, server locations, and more.
As you can see, Windscribe matches or exceeds Atlas VPN Free in all of our key testing categories.
Privacy & Logging Policy
Can You Trust Atlas VPN?
Atlas VPN claims to be a no-logs VPN, but this is not quite true. The VPN retains some device data, such as the model of your device and the operating system version.
Here is all the data that Atlas VPN collects:
Device model and operating system
Email address for account creation
As this data is aggregated and non-identifying, it's nothing to worry about. You can trust Atlas VPN to keep your data private.
We're pleased that Atlas VPN has recently improved its logging policy. Previously, we were concerned that the VPN logged the city from which a user was connecting, as well as their unique device ID. Potentially, this could have been used to identify you from your online activity.
That's all gone now. Here's an excerpt from Atlas VPN's improved logging policy:

Privacy Policy Hasn't Been Audited
As Atlas VPN is a relatively new service, its privacy policy hasn't yet been tested by a real-world incident. As a result, it's impossible to know whether the claims in its privacy policy are truthful.
More established VPNs, like Private Internet Access, have had their logging policies verified through multiple real incidents. PIA has been subpoenaed by the FBI on several occasions and has been unable to provide user data each time.
After contacting Atlas VPN, we were told that:
"If a court order [..] is issued to us [..], we will have to give out the customer details that we have. We have nothing to provide, however, owing to our strict no-logs policy."
An alternative option would be for Atlas VPN to commission an independent audit to verify its logging claims. Sadly, the VPN service has not yet conducted such an audit.
We expect this to improve in the future, following Atlas VPN's acquisition by Nord Security. As part of the announcement, it was promised that Atlas VPN would have regular third-party audits, in line with the standards of NordVPN.
Who Owns Atlas VPN?
In 2021, Nord Security, the parent company of popular VPN service NordVPN, acquired Atlas VPN. Atlas VPN is still registered under Peakstar Technologies Inc. in Delaware, US.
Atlas VPN has recently started to list employees on its website's about page, including CEO Dainius Vanagas. We found that all of these employees used to work for companies owned by Nord Security. None of these employees worked for Atlas VPN prior to its takeover.
Previously, Atlas VPN refused to disclose details of its ownership team. We were once told in a statement that "protecting our [Atlas VPN's] team and their privacy is one of our top priorities."
We're pleased Atlas VPN has chosen to improve the transparency of its ownership. This helps to build trust between users and the VPN service.
Torrenting
Atlas VPN Premium & Free Are Safe for Torrenting
We tested Atlas VPN with many torrent clients, including qBittorrent and uTorrent. In each case, we were able to download a 3GB torrent file in under 10 minutes.
All of Atlas VPN's desktop apps include a kill switch, AES-256 encryption, and the safe WireGuard protocol. Together, these security features mean Atlas VPN can be trusted to hide your sensitive torrenting activity.
Atlas VPN Is One of the Fastest Torrenting VPNs
We also put Atlas VPN through our proprietary P2P speed test process. Atlas VPN registered an average bitrate of 9.4MiB/s, which is one of the fastest speeds we've recorded.
By comparison, top VPNs, like Surfshark and CyberGhost, have a download bitrate of 8.7MiB/s and 3.9MiB/s respectively.
No Port Forwarding
Unlike the best torrenting VPNs, Atlas VPN does not allow for port forwarding on any servers. As a result, you might not be able to seed torrent files for other users. Some torrenting clients will throttle your download speeds if you don't seed as well as leech.
Overall, Atlas VPN is a good choice if you want a VPN to secure your torrenting activity. Its speeds are excellent, and it's one of the only free VPNs to support P2P file-sharing. Just be aware that some advanced features are missing.
Security & Technical Features
All the Basics, but No Advanced Security Features
| Protocols | Available in Atlas VPN |
| --- | --- |
| IKEv2/IPSec | Yes |
| OpenVPN (TCP/UDP) | No |
| WireGuard | Yes |
| Encryption | Available in Atlas VPN |
| --- | --- |
| AES-128 | No |
| AES-192 | No |
| AES-256 | Yes |
| Blowfish | No |
| ChaCha20 | Yes |
| Security | Available in Atlas VPN |
| --- | --- |
| DNS Leak Blocking | Yes |
| First-party DNS | Yes |
| IPv6 Leak Blocking | Yes |
| Supports TCP Port 443 | No |
| VPN Kill Switch | Yes |
| WebRTC Leak Blocking | Yes |
| Advanced Features | Available in Atlas VPN |
| --- | --- |
| Ad Blocker | No |
| Dedicated IP | No |
| Double VPN | No |
| Smart DNS | No |
| SOCKS | No |
| Split Tunneling | Yes |
| Tor over VPN Server | No |
| Tracker Blocker | No |
Safe Encryption & VPN Protocols
Atlas VPN's encryption methods are what you expect from a paid-for VPN service.
When you connect to an Atlas VPN server, your traffic is encrypted using the AES-256 cipher. This is a virtually unbreakable encryption method used by almost every VPN on the market. You can trust it with your most sensitive data.
Atlas VPN's protocol choice is slightly more limited. All of its apps automatically default to IKEv2. We strongly recommend manually changing the protocol to WireGuard. In contrast to IKEv2, WireGuard is safer, it's faster, and it uses far less data.
Ideally, we'd like to see Atlas VPN drop support for IKEv2 entirely and replace it with OpenVPN.
Kill Switch Worked in Our Tests
Atlas VPN's kill switch feature disconnects your device from the internet if your VPN connection drops for any reason. This prevents your true IP address from leaking.
The kill switch is enabled by default on all of its apps, including iOS. Very few VPNs feature a kill switch on iPhone and iPad, so we're pleased Atlas VPN has made the effort to keep functionality the same across platforms.
You can disable the kill switch in the 'App settings' section of the Settings menu, but we strongly recommend that you leave it turned on.
To test whether Atlas VPN's kill switch works correctly, we forcibly dropped our VPN connection while running an IP checker tool. Each time, Atlas VPN blocked our internet traffic and no data was sent outside the VPN tunnel.

Atlas VPN Passed Our Leak Tests
We also ran Atlas VPN through our IP, DNS, and WebRTC leak tests. The VPN passed all of our tests and none of our personal information was leaked.
As you can see in the screenshot below, our true network details in the UK weren't visible during any of our tests.

We were particularly impressed to see that Atlas VPN gives you an IPv6 address. Mullvad is the only other VPN we've tested with this feature.
Most other VPNs merely try to block IPV6 connections, which can result in privacy concerns. For example, we found that Surfshark sometimes leaked our real IPv6 address due to its faulty blocking technology.
MultiHop+ Servers Encrypt Traffic Twice
Atlas VPN's paid-for subscriptions include a Double VPN feature, named MultiHop+. Double VPN sends your internet traffic through two different VPN servers. A regular VPN connection only uses a single server.
These servers can be found in the Privacy Pro tab of the app. There are only two Options: Europe and North America.
We wish you could connect to a Double VPN server in a specific country, rather than an entire continent. When choosing 'Europe', we were given a different country IP address each time.
As a result, Multihop+ isn't suitable for bypassing internet geo-restrictions as you can't choose the destination of your exit server. Other options, like Surfshark, allow you to choose server location and have faster speeds than Atlas VPN.
However, unlike many other Double VPN features we've tested, MultiHop+ encrypts your traffic at both VPN servers. For example, some top VPNs, like Proton VPN, only encrypt traffic at the final server.
This isn't necessary, but it's a slight improvement for security. Double encryption is not advertised on Atlas VPN's website. We discovered this by running encryption tests using Wireshark.
SafeSwap Servers
Paying subscribers to Atlas VPN get access to its SafeSwap servers. Unlike a traditional VPN server, which assigns you a static IP address until you disconnect, SafeSwap rotates your IP address as you browse the internet.
SafeSwap servers are only available in three countries: the US, the Netherlands, and Singapore.
Atlas VPN claims that this makes it more difficult for "snoopers, authorities, your Internet Service Provider (ISP), and advertisers to spy on your online activity." However, it makes no difference to snoopers, authorities, or your ISP, as your data is already hidden from these parties.
It also makes little difference to advertising tracking, as your IP address gets refreshed each time you connect to a traditional VPN server anyway.
Atlas VPN also claims SafeSwap is "one-of-a-kind," but we've seen similar features from other VPN services. For instance, HMA VPN's IP Shuffle feature allows you to get a new IP address by clicking a button. The only difference with SafeSwap is that it's done on the fly.
In use, SafeSwap ends up being just a gimmick and doesn't provide much of an improvement for privacy. We'd rather Atlas VPN implement more needed security features instead, like the ones we've listed in the following section.
Missing Security Features
Atlas VPN doesn't include many security features we've come to expect from premium VPN services. Here are some features we'd like Atlas VPN to add in a future update:
Tor over VPN to allow you to quickly and easily access the Tor network.
RAM-only VPN servers to guarantee user data can't be extracted off a VPN server.
Split tunneling to allow you to encrypt sensitive internet traffic but maintain compatibility with local streaming sites and online banking. Currently, only the Android app supports this feature.
Atlas VPN's lack of advanced security features is one of its key drawbacks. It has a lot to improve to compete with the top VPN services.
Server Locations
What Countries Does Atlas VPN Have?
34 Countries
37 Cities
750+ IP Addresses
Here are all the countries that Atlas VPN has servers in:
| Continent | Country |
| --- | --- |
| Europe | Albania, Austria, Belgium, Bulgaria, Czech Republic, Denmark, Estonia, Finland, France, Germany, Hungary, Ireland, Italy, Latvia, Netherlands, Norway, Poland, Portugal, Romania, Serbia, Slovakia, Spain, Sweden, Switzerland, UK |
| Asia | Hong Kong, Israel, Japan, Singapore, UAE |
| North America | US, Canada, Mexico |
| South America | Brazil, Chile |
| Oceania | Australia, New Zealand |
There are lots of servers in Europe, but no options for Africa, and missing coverage in parts of Asia and South America.
Some major countries aren't available, such as South Africa, and South Korea. At the very least, we'd like Atlas VPN to add these locations in a future update.
The servers that are available are as basic as you can get. For instance, there are no specialized servers for features like dedicated IP or obfuscation. There's also no labeling in the app for information such as server load and ping, which can make it hard to figure out what server to connect to.
On Windows, the server list is also difficult to navigate. The countries are listed in a random, non-alphabetical order, and they're not arranged by continent. You also can't connect to your nearest server automatically. The Mac and mobile apps don't have these problems.

Atlas VPN Free Only Has 3 Server Locations
Atlas VPN's free version only has servers in three cities in two countries: New York and Los Angeles in the United States, and Amsterdam in the Netherlands.
This compares poorly to the top free VPNs, like Windscribe and Hide.me, that let you use servers in up to 10 countries. On the other hand, we're glad a European IP address is available, as many low-scoring free VPNs just offer a US server.
All Atlas VPN Servers Are Rented
All 750 of Atlas VPN's servers are rented from a third party. After we contacted it, Atlas VPN confirmed it does not undergo a vetting process for each server provider, which is slightly concerning for security.
Atlas VPN claims to implement its own security measures on each rented server. But it would not detail exactly what these security measures are.
Given its acquisition by Nord Security, we hope Atlas VPN can soon mimic some of NordVPN's server security practices. For example, NordVPN runs colocated servers and RAM-based servers. Both of these would massively reduce the risk to user data posed by an untrustworthy third-party server provider.
No Virtual Server Locations
Every Atlas VPN server is physically located in its respective country. This means that the IP address it assigns and its true location are in the same country.
We prefer this approach, as it means you're not unknowingly connecting to a server that's far away. On the other hand, it does limit the number of countries that Atlas VPN can provide server locations.
Bypassing Web Censorship
Atlas VPN Works in China
After contacting it, Atlas VPN said it cannot guarantee the VPN will bypass the Great Firewall as the VPN doesn't use any advanced obfuscation technology.
Despite this, 80% of the Atlas VPN servers we tested worked in Shanghai, China. For a more reliable connection, we recommend connecting to the Japan or Singapore server locations.
As Atlas VPN has servers in Hong Kong, you can also use it to access Chinese streaming services and websites when you're outside of the country.
The free New York and Los Angeles servers could access blocked websites, too. Windscribe is the only other free VPN that works in China.
The only real downside is the slow connection times. When using the VPN in China, it often took over 80 seconds for a server connection to be established.
In the video below, you can view our tests examining Atlas VPN's performance in China.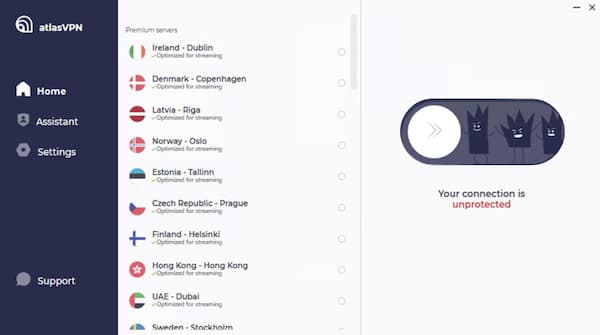 We did find that we couldn't log in to the Atlas VPN app when in China. If this happens to you, we recommend using the free version to log in, then connect to a premium server.
EXPERT TIP: The Atlas VPN downloads page is blocked in China and cannot be accessed without a VPN. Make sure to download the VPN app before entering the country.
Device & OS Compatibility
Simple Apps for All Popular Devices
Apps
Atlas VPN has native applications for the following platforms and devices:
Windows

Mac

iOS

Android

Linux
Here are a few key difference between Atlas VPN's apps:
Here's a more detailed overview of how Atlas VPN differs across different device types:
Windows Client
Contrary to most other VPNs, Atlas VPN's Windows app is less usable than on other platforms. Most significantly, the app lists servers in a random order. They are not alphabetized or arranged by distance.
The main problem we have with Atlas VPN's Windows app is that it can't be resized. As the app window is quite large, it ends up taking up a lot of screen space. We'd prefer it if we could shrink it down to a single column.
As well, the app now requires an email address to use it for free. Previously, it could be used without the need for any personal details, which was great for privacy.
macOS App
Atlas VPN's Mac app is better looking and easier to use than the Windows version.
The server list is arranged more intuitively, with countries arranged alphabetically and grouped together by continents.
Until recently, the Mac app allowed you to use 2GB of data per day. It's now just 5GB per month.
The problem with the Mac app is that it has slightly fewer features than the others. Firstly, it doesn't include Atlas VPN's ad and tracker blocker. This means you'll have to install a third-party extension on your Mac if you want to stop seeing ads.
It also doesn't include Atlas VPN's data breach monitor. This security tool notifies you if your email address has appeared in any data breaches.
We wish Atlas VPN allowed you to do this through its website, rather than within the app.
iOS App
Atlas VPN began as a mobile-only VPN, so it's no surprise its apps look better on phones and tablets.
The iOS app has a large connect button in the center of the screen. One tap will connect you to the last server you used.
We were pleased to see that the iOS app includes a kill switch. Atlas VPN won't leak your true IP if your iPhone or iPad connection drops. Even some top VPNs, like PrivateVPN, don't include a kill switch on iOS.
Android App
Atlas VPN's for Android is the most full-featured of all its applications. It comes with all the usual features, but it's the only version that supports split tunneling.
The Android app looks and works similarly to the iOS version. The one issue we had was that the app initially opens with a large promotional banner to try and encourage upgrades to its premium subscription. We didn't encounter this while using the iOS app.
Like the others, the Android app supports IKEv2 and WireGuard, as well as an ad blocker.
Games Consoles & Streaming Devices
You can also use Atlas VPN on the following devices, either via an application or by installing it on your home router:
Apple TV

Amazon Fire TV

Android TV

Chromecast

Nintendo

PlayStation

Roku

Smart TV

Xbox
Amazon Fire TV Stick & Android TV
Atlas VPN has recently released apps for Android TV and Fire TV. Both apps are easy to use and support WireGuard connections.
Using Atlas VPN's TV apps, we could use Kodi, stream US Netflix, and access Disney+. Disappointingly, neither app has a kill switch or any other security features.
Ease of Use
Atlas VPN Is Beginner-Friendly
Setting up Atlas VPN is very easy. You download the VPN app through the website or app store, then, just click the big connect button to start a VPN connection.
Atlas VPN is one of the simplest VPNs we've used. It's perfectly suited for beginners who have no experience with VPN software.
However, this simplicity makes Atlas VPN a poor choice for advanced users who want more customization, such as choosing the strength of encryption and configuring an additional proxy server.
Customer Support
Helpful Customer Support
| Customer Support | Available in Atlas VPN |
| --- | --- |
| 24/7 Live Chat Support | Yes |
| 24/7 Email Support | No |
| Chatbot | No |
| Email | Yes |
| Email Support via Online Form | No |
| Tutorial Videos | No |
| Online Resources | Yes |
When testing Atlas VPN, we contacted its support on over 30 occasions. Almost every time, we received a satisfactory reply within a minute. For technical queries that the agent couldn't answer, we were sent a follow-up email within 24 hours.
As the live chat functionality is only for paying users, you'll have to log into the Atlas VPN website to use it. Then, click the blue "Support" button at the bottom-right of the screen.
Atlas VPN says it's live chat operates 24/7, but it won't be accessible during peak times of the day. However, we were always able to speak to a live chat agent when reaching out in the morning, afternoon, and evening.
Free users can only contact customer support via email. You do this by submitting a support ticket through the Atlas VPN website. You don't need to be logged in, but you do need to provide a contact email address.
We sometimes had to wait three days to receive a reply using email support, which is far too slow for many questions. That said, the replies were always helpful and resolved any questions we had.
The Bottom Line
Is Atlas VPN Worth It?
On the whole, Atlas VPN is a VPN service targeted at first-time VPN users. Its free version is excellent, especially if you want to anonymize your torrenting traffic and connect from China.
It is now owned by Nord Security, which hugely improves Atlas VPN's trustworthiness. Despite being available for free, it's now held to the same standards as NordVPN — including third-party audits and more private logging.
The paid-for subscriptions are also the second-cheapest on the market. You can get the VPN for as little as $1.99 per month on a three-year plan.
For this, you get access to US Netflix, BBC iPlayer, and Hulu. You can also connect to 34 countries on fast servers using WireGuard.
That said, it's not close to competing with the best premium VPNs on the market. It doesn't include many key features, including Smart DNS, split tunneling, and browser extensions.
Atlas VPN Compared to Other VPNs
The table below compares Atlas VPN to four other VPN services in the same price range:
Alternatives to Atlas VPN
NordVPN
NordVPN is a huge upgrade over Atlas VPN. Both VPNs are owned by Nord Security, but NordVPN beats Atlas VPN in all of our key testing categories. It has a Smart DNS feature, browser extensions, and its logging policy has been audited. Read NordVPN review
Proton VPN Free
If you want a 100% free VPN, Proton VPN Free is a great alternative to Atlas VPN. It gives you unlimited free data on servers in the US, The Netherlands, and Japan. It also utilizes the WireGuard protocol for fast speeds, but it can't be used for torrenting. Read Proton VPN Free review
Was this content helpful?
---
User Feedback for Atlas VPN