Avira Phantom Free VPN Review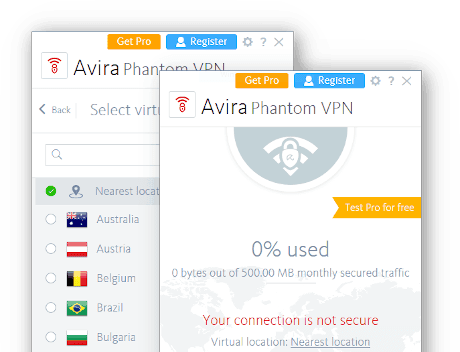 Privacy & Logging Policy
Who is Avira Phantom Free VPN?
Avira launched Avira Phantom VPN in 2016, but the company itself has been around since 2006.
Even before then, Avira's antivirus software was developed back in 1986 by its predecessor, H+BEDV Datentechnik GmbH, so the company has been around for a long time.
Avira currently has its headquarters "by the shores of Lake Constance" in Tettnang, Germany, but it also has offices in China, the Netherlands, Romania, and the US.
Normally we'd advise steering clear of VPN services based in Germany. It's part of the 14 Eyes data-sharing alliance, and is also subject to EU data retention laws.
Avira's minimal logging policy means its jurisdiction isn't an issue, though.
Even better, Avira states in its privacy policy that although it will comply with data requests from public authorities, it can't hand over personally-identifiable data as it doesn't collect any.
Logging Policy
We were a little disappointed at how difficult it was to find Avira Phantom's privacy policy on its website. We eventually located it after a long period of trial and error.
We discovered that Avira VPN only logs a very minimal amount of anonymous connection metadata.
The only information Avira Phantom Free collects is:
Total amount of bandwidth consumed while connected
Amount of time a user spends online
Whether a user's account is Free or Premium
We really like that Avira Phantom Free doesn't log or monitor any websites you visit, your true IP address, or the VPN server location you connect to.
In other words, Avira has no way of tracing your online activity back to you.
There is an optional setting which sends your diagnostic data back to Avira to help with product improvements, however, you can switch this off at any time within the VPN app.
Speed
Same-country speed loss of 47%
Avira Phantom Free is by no means the quickest free VPN we've seen.
Connecting to the 'Nearest location' server option gave us speeds of just over 50Mbps (on a 100Mbps test line).
Local Speed Test results before using Avira Phantom Free VPN:
Download Speed: 96.63Mbps
Upload Speed: 97.93Mbps
Ping: 2ms
Local Speed Test results with Avira Phantom Free VPN:
Download Speed: 51.03Mbps
Upload Speed: 72.87Mbps
Ping: 19ms
Download speed loss when Avira Phantom Free VPN is running: 47%
A speed percentage loss of 47% may seem a lot, but as far as free VPNs go, it's not too bad. Avira's upload speeds were very quick, too, at over 70Mbps.
Avira's latency isn't the lowest we've seen at just under 20ms, but unless you're a serious gamer this shouldn't affect you too much.
Overall, Avira Phantom's speeds are satisfactory enough for the everyday user. See our review
Server Locations
Lots of server available on mobile but not on desktop
33 Countries
47 Cities
47+ IP Addresses
Avira used to offer as many locations on its free version as it did on its paid version, before removing choice of servers for free users altogether.
However, our recent testing has found that Avira has reverted that decision on mobile. Free iOS and Android users once again have access to the full array of Avira servers – that's a choice of 33 countries and 47 cities.
While there are premium VPNs which offer a far greater number, this is a terrific choice for a free VPN.
For Windows or macOS users, though, you can only connect to the nearest server.
Streaming
Poor choice for streaming
The free version of Avira Phantom isn't brilliant for streaming, however we were able to access US Netflix and the UK's All4.
We consider that to be the most important streaming library. That does appear to be the limit of its abilities, though, as it wouldn't work with the Germany, Japan, or France libraries.
This only works on mobile, though, as on Windows and macOS it isn't possible to select the US server.
Torrenting
Limited data for fast torrenting
There are no clear rules on torrenting with Avira Free, and there's actually no mention of it on the website.
When we tried using the VPN to torrent, though, it worked really well. It only narrowly misses out on being one of our best free VPNs for torrenting.
The main drawback is the 500MB / 1GB data cap, which is only enough to download one or two files a month.
There's also no kill switch though, meaning there's a risk your IP address could be exposed during use.
Bypassing Web Censorship
Not a good VPN service for China
The free version of Avira Phantom is not a good VPN service for users in China, and it looks like that has unfortunately been the case for quite some time now.
One user took to Avira's customer forums to let others know that they'd tested Avira Phantom with various ISPs such as China Mobile and China Unicom, and the VPN wouldn't work while connected to any of them.

This is most likely due to the fact that Avira uses OpenVPN, which is very easily detected and blocked by government censors, and it has no additional obfuscation tools to hide your VPN connection in any way.
Take a look at our Best VPN Services for China for a comprehensive overview if you're planning on connecting out from that country.
Security & Technical Features
Offers a basic level of security with no kill switch
| Protocols | Available in Avira Phantom Free VPN |
| --- | --- |
| IKEv2/IPSec | No |
| OpenVPN (TCP/UDP) | Yes |
| WireGuard | No |
| Encryption | Available in Avira Phantom Free VPN |
| --- | --- |
| AES-128 | No |
| AES-192 | No |
| AES-256 | Yes |
| Blowfish | No |
| ChaCha20 | No |
| Security | Available in Avira Phantom Free VPN |
| --- | --- |
| DNS Leak Blocking | Yes |
| First-party DNS | Yes |
| IPv6 Leak Blocking | No |
| Supports TCP Port 443 | No |
| VPN Kill Switch | No |
| WebRTC Leak Blocking | No |
| Advanced Features | Available in Avira Phantom Free VPN |
| --- | --- |
| Ad Blocker | No |
| Dedicated IP | No |
| Double VPN | No |
| Smart DNS | No |
| Static IP | No |
| SOCKS | No |
| Split Tunneling | No |
| Tor over VPN Server | No |
| Tracker Blocker | No |
As a bare minimum we'd expect to see a VPN kill switch, but Avira Phantom Free doesn't even provide one of these. This means that if the VPN connection were to drop without you noticing, your true physical location could be exposed.
One very good feature of Avira Phantom Free is that it operates its own VPN servers, and there's also built-in protection against DNS leaks, which we found to be 100% effective in our latest tests.
If you're looking for loads of configurable settings to fiddle with, Avira Phantom isn't for you, but it does a decent job at protecting you online – we really would insist on seeing a kill switch in the future, though. iOS users should also note that the iPhone and iPad app uses IKEv2 rather than OpenVPN.
Device & OS Compatibility
Works with most devices but not routers
Apps
Windows

Mac

iOS

Android
There are free Avira Phantom VPN apps for most popular devices, including:
Microsoft Windows
macOS
iOS
Android
Sadly, it isn't possible to install Avira Phantom at router level, so you the only way to use it is to individually download and install it onto all of the devices you wish to protect.
The good news is that you can use Avira Phantom on as many devices as you want at the same time. Remember, however, that these all use data from the same stingy allowance of just 1GB per month, so be careful.
Browser Extensions
Chrome
Avira Phantom currently provides a free browser extension for Google Chrome users.
It's really easy to install and add this to your browser, and it works in exactly the same way as the desktop and mobile apps.
Unlike the proxy extensions most VPN services offer, Avira Phantom provides a VPN extension, which encrypts all your browser traffic.
Ease of Use
Simple apps lack advanced features
How to Install & Set Up Avira Phantom Free VPN
Avira Phantom's free VPN apps couldn't really be any easier to use, regardless of whether you're on mobile or desktop. Avira's home screen is limited to an on/off button, your VPN server location, and the amount of data you've consumed so far.
You can view Avira Phantom's full list of VPN server locations by clicking on 'Nearest location', but they are all labeled as 'Pro' and you won't be able to connect to them. Clicking the 'On' button will connect you to Avira's closest free VPN server.
Avira's settings are behind the cog icon in the top right-hand corner. These are very minimal, though, and are pretty much limited to whether or not you consent to sending your diagnostic data to Avira.
Avira Phantom is a great free VPN solution if you're just looking to click-and-forget, but it's not a good choice for those who want a ton of configurable settings.
Customer Support
No personalized support for free users
| Customer Support | Available in Avira Phantom Free VPN |
| --- | --- |
| 24/7 Live Chat Support | No |
| 24/7 Email Support | No |
| Chatbot | No |
| Live Chat Support | No |
| Email | No |
| Email Support via Online Form | No |
| Tutorial Videos | No |
| Online Resources | Yes |
Avira Phantom's free users are currently unable to access any personalized customer support. This means users with free VPN accounts can't email or call Avira support agents unless they upgrade to premium subscriptions, which we unfortunately see all too often from free VPN services.

Avira Free users are only able to access the FAQs and 'Educational Videos' on the website – thankfully, these are fairly comprehensive and should cover most problems.
You're also able to view questions and answers on the user forums, although these aren't updated very frequently.
The Bottom Line
Avira Free is held back by its data cap
Since Avira Phantom Free is a safe and secure VPN, we can recommend it to users who don't mind the drawbacks and want a free service, but it just doesn't compare to premium services.
This VPN is especially good for torrenting, but its data cap really restricts how much you can download.
You also can't do any streaming with this free service.
---
User Feedback for Avira Phantom Free VPN