Top10VPN is reader-supported. If you buy a VPN through our links, we may earn commissions. Learn more.
Hotspot Shield Free: Ranked #79 out of 99 VPNs that we tested
Download speeds of up to 80Mbps
User-friendly apps for popular platforms
Kill switch and IPv6 leak protection
24/7 live chat support
Only US server accessible
Stingy 500MB daily limit
Past controversies around selling user data
Doesn't work with Netflix or BBC iPlayer
Speed & Reliability
Surprisingly fast downloads across long distance connections
Speed results from our physical location in London (100Mbps fibre optic connection) to a London test server.
Before using Hotspot Shield Free:
94.31

93.78

Ping

ms

3
When connected to Hotspot Shield Free:
80.21

19.76

Ping

ms

200
Download speed without Hotspot Shield Free: 94Mbps
Download speed with Hotspot Shield Free: 80Mbps
Our download speed loss when Hotspot Shield Free is running: 15%
Considering we test from the UK and the only option we had was to connect to a US server, Hotspot Shield's free VPN app performed pretty well in our speed tests.
Download speeds this fast make streaming super smooth, however the stingy 500MB data cap will massively restrict your online activity.
As is to be expected when connecting over such a long distance, Hotspot Shield's latency is extremely high and uploads mediocre. Gamers and torrenters ideally want to be able to connect to a local server for the best possible performance, so if you're located outside of the US, it's definitely worth looking at other options.
Server Locations
You have no choice but to connect to the US
1
Countries
1
Cities
?
IP Addresses
Hotspot Shield Free VPN users only get access to one server location – the US. While this probably won't be an issue for those living in there, for those based in Europe or Asia this is far from ideal.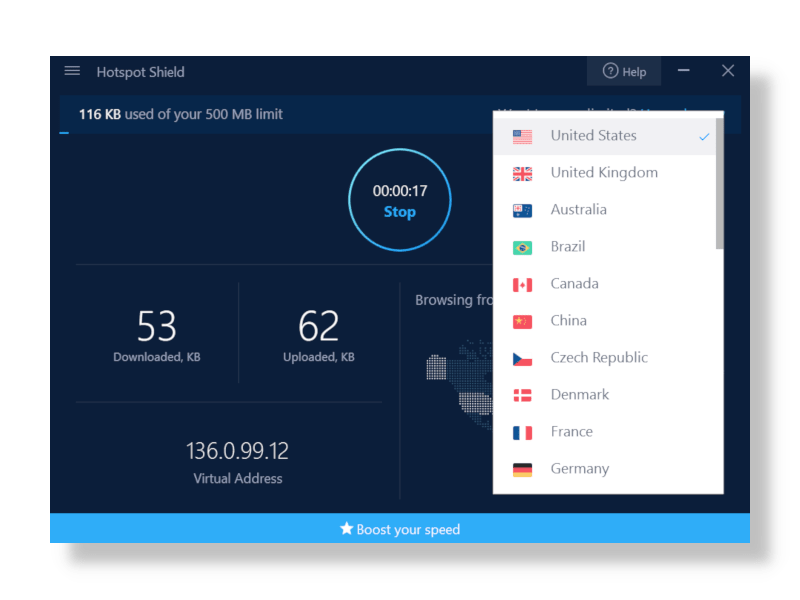 Annoyingly, this isn't made clear on Hotspot Shield's website, nor is it mentioned on the app. You're can even see the full 'premium' server list, but if you try and click on any other location you're simply prompted to upgrade to one of the paid plans.
If you need access to more locations, consider using either Windscribe or TunnelBear which are still free and provide more server locations.
Streaming & Torrenting
Streaming and torrenting aren't supported
It's impossible to stream on popular sites like Netflix, or torrent, using the free version of Hotspot Shield VPN.
Because you can only connect to the US server, you can't even attempt to stream video content from UK-based sites like BBC iPlayer.
We weren't able to access US Netflix either, despite being connected to the US – in fact, a warning pop-up notified us that "access to this content is a premium feature".
Torrenting
Hotspot Shield VPN's free server didn't allow us to torrent so if you're looking for a free VPN for P2P traffic, consider using one of these free VPNs for torrenting.
Bypassing Censorship
Intermittent connectivity in China
Hotspot Shield states on its website that connection may be 'intermittent' in countries where ISPs and governments are known to block VPN services, and has even included a list of the countries currently affected, including China, Iran, and Turkey.
These issues are most likely due to the lack of additional obfuscation tools available in-app, making it really easy for censors abroad to detect you're using a VPN and block your connection.
Hotspot Shield also explains that while the VPN may be blocked on one platform, it might be possible to use it on another, so expect a lot of trial-and-error.
Platforms & Devices
Limited custom apps & manual config not possible
Apps
The free version of Hotspot Shield VPN is available on Microsoft Windows, MacOS, iOS, and Android.
There's no way to manually configure Hotspot Shield Free to work with routers or any other devices, but with the very limited daily data cap of 500MB it's unlikely that you'd want to install it at router level anyway.
It's also only possible to use Hotspot Shield's free app on one device at a time (unlike with the premium version of the service), so if you want to protect your family's devices as well as your own you'll need to upgrade.
Browser Extensions
Chrome
Firefox
Encryption & Security
Past controversies taint solid encryption & security extras
Protocol

Proprietary

Encryption

AES-256

Security

IPV6 Leak Blocking

VPN Kill Switch

Advanced features
Please see our VPN Glossary if these terms confuse you and would like to learn more.
Hotspot Shield has had a few controversies to deal with in the last couple of years (see below), making it difficult for us to recommend it to those with stringent privacy needs.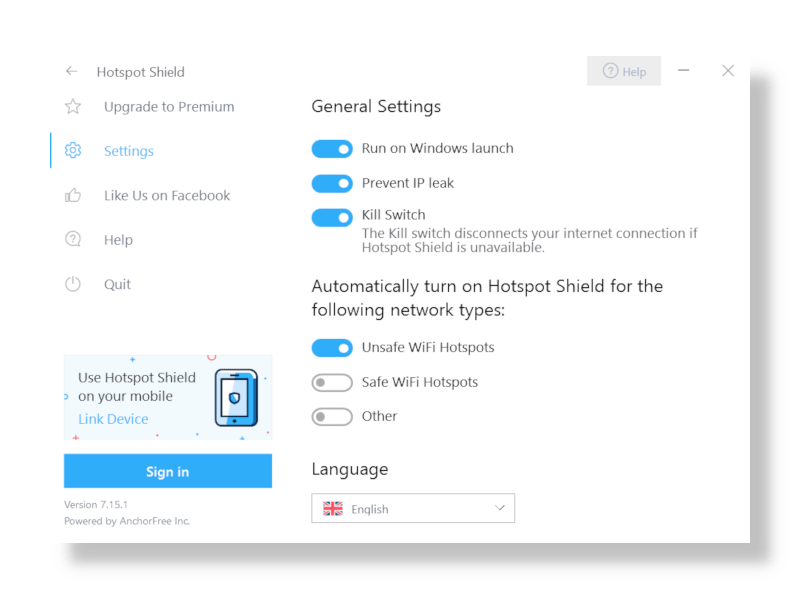 The Hotspot Shield Free uses exactly the same VPN protocol as Hotspot Shield Premium, but the level of security provided by HydraVPN isn't completely clear, so it's difficult for us to compare it directly to our preferred protocol OpenVPN.
Hotspot Shield Free encrypts your data using top cipher AES-256, though, which is considered impossible to hack.
Hotspot Shield Free VPN also comes with a couple of advanced features, including a VPN kill switch and protection against IP leaks, which prevent your true IP address from being exposed in case of a VPN connection failure.
We didn't experience and IP or DNS leaks during our testing of Hotspot Shield Free.
Sadly, this is where the positives end, as there have been allegations made in recent years that would be enough to put off even the most committed of subscribers.
In August 2017, it emerged that Hotspot Shield had allegedly been injecting affiliate links into users' traffic in order to monetize it – you can read the full complaint by the CDT (Center for Democracy & Technology) here.
While this was, at the time, fully disclosed in its privacy policy (which has since been completely rewritten), it massively violated user privacy and went against everything VPNs stand for.
Up until then, Hotspot Shield also didn't class user IP addresses as 'personal information', therefore it could (falsely) claim not to collect 'any Personal Information about you when you use the Service', which was an outright lie.
Another recent controversy was a software flaw that made it possible for hackers and snoopers to view your true location through your WiFi network name – this was discovered in February 2018 and you can read more about it here.
AnchorFree (Hotspot Shield's parent company) dismissed these claims as 'unfounded', but Paulos Yibelo, who found the bug, said it only took him a few seconds to write the code and expose users' true IP addresses.
Hotspot Shield said it would remove any software components capable of leaking 'generic information', which is good to hear, but it shouldn't have taken a security flaw this serious to make it realize that it needed to make a software change.
Events like these leave a bitter taste, but it has to be acknowledged that Hotspot Shield has made a lot of improvements since and is now moving well and truly in the right direction.
Logging Policy
US-based VPN that passes certain information onto advertisers
Hotspot Shield doesn't monitor anything you do (as an individual) while you're connected to the VPN, but it does collect the following:
Your originating IP address (encrypted and deleted upon disconnecting from the VPN)
Aggregated sites that users visit while connected (for troubleshooting purposes)
Your device's advertising ID, IMEI, MAC address and wireless carrier (shared with third parties)
We don't like that Hotspot Shield Free shares certain information, including your city-level location, with third parties in order to display personalized ads.
Hotspot Shield privacy policy even states that these companies "may be able to access your IP address if your device is not connected to the Hotspot Shield VPN", which is very concerning.
Avoid Hotspot Shield Free if online privacy is your priority.
Jurisdiction
The US may be one of the least privacy-friendly jurisdictions in the world, but that's where Hotspot Shield is based.
This makes Hotspot Shield subject to intrusive surveillance laws and intelligence-sharing agreements with other nations such as the UK, Canada, and Australia.
In its privacy policy, the company states that it will share any of your personal information it has if required to do so by law or 'in the good faith that such action is appropriate'. Given that your online activity isn't linked to your IP address, this makes us slightly less concerned by the wording of the statement.
Also, Hotspot Shield released a Transparency Report in January 2019, stating: "[we have] never provided the identity or other personal information regarding our users to a government, law enforcement agency, or other third party," which goes some way to reassuring us that your personal information is safe.
Ease of Use
Very simple to set up and use
How to Install & Set Up Hotspot Shield Free
The Hotspot Shield Free app is exactly the same as the Hotspot Shield Premium version in terms of design, bu there are less features.
The fact that you're only able to connect to the US server isn't made clear, and this can be frustrating to new users. When you try to access other locations you are simply prompted to upgrade.
Once you're connected to Hotspot Shield Free you can see your new virtual location and IP address, along with information about your data usage – you'll also receive an alert when you've used 50% of your daily allowance, which is helpful.
Browser Extensions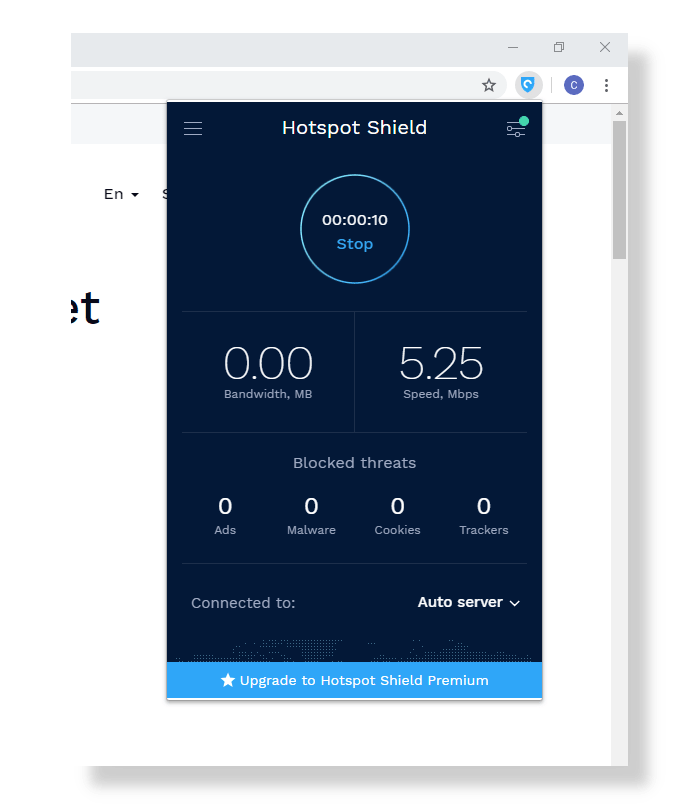 Setting up Hotspot Shield's free browser extensions for Chrome and Firefox is even easier than installing the desktop app. Just find the software on the Chrome Web Store or Mozilla Add-ons site, download it, and connect.
Customer Support
Useful live chat support makes up for restricted online resources
| | |
| --- | --- |
| 24/7 Live chat support | |
| Online Resources | |
Free users of Hotspot Shield aren't able to access the same level of customer support as Hotspot Shield Premium users. This is most evident when looking at the resources on the website, as some articles are limited to paid subscribers only.
On the whole, Hotspot Shield's online resources are rather poor, only covering basic troubleshooting topics.
Nevertheless, Hotspot Shield has recently improved live chat support to be available 24/7, for Free and Premium users.
You've read our expert review - read on for reviews from real users.
User Reviews
No reviews yet
5 star

()

4 star

()

3 star

()

2 star

()

1 star

()
Share your thoughts to help others