Disclosure: Top10VPN.com is reader-supported. We may earn commissions if you buy a VPN through links on our site.
Hotspot Shield Free Review
Ranked #59 out of 74 VPNs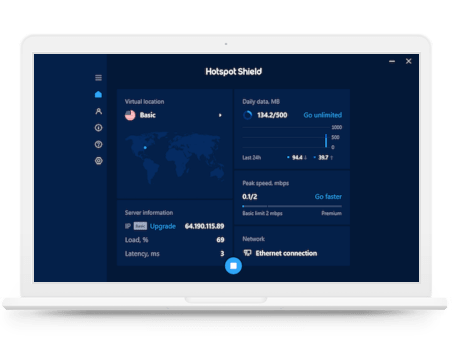 Read Hotspot Shield Free user reviews
Hotspot Shield Free VPN has over 50 million downloads on the Google Play Store alone, so can that many VPN users be wrong?
According to its website, Hotspot Shield's free VPN provides users "world-class privacy and protection for every device."
But we don't take any VPN services at their word. We've thoroughly tested this free VPN service to find out exactly how private it is.
We answer questions like:
Can Hotspot Shield VPN be trusted?
Is Hotspot Shield's free VPN any good?
Does it work with Netflix?
Is it safe to torrent using Hotspot Shield Free?
How fast is it?
Before we answer all of these questions (and more) in depth, take a look at Hotspot Shield Free's pros and cons.
If you're looking for a review of Hotspot Shield's premium VPN, though, follow this link.
Overview
Hotspot Shield Free Pros & Cons
Fast speeds, even over long distances
VPN kill switch and DNS leak protection
User-friendly VPN apps for popular platforms
Free browser extension for Google Chrome
Past controversies around selling user data
US-based & shares data with third parties
Stingy 500MB daily data cap
Limited to the US VPN server location
Doesn't work with Netflix, iPlayer, or torrenting
Unreliable for China
Hotspot Shield Free Key Summary
| | |
| --- | --- |
| Top Download Speed | 44Mbps |
| Logging Policy | Some User Logs |
| IP, DNS or WebRTC Leaks | No |
| Jurisdiction | US (Five-Eyes Member) |
| Servers | Not disclosed |
| IP Addresses | Not disclosed |
| Countries | 1 |
| US Netflix | No |
| Torrenting | No |
| Works in China | Unreliable |
| Support | Online Resources Only |
| Official Website | Hotspotshield.com |
As you can see, there are quite a few privacy issues with Hotspot Shield Free, but its speeds are some of the best in the free VPN market.
Read on to find out who's behind this VPN.
Who is Hotspot Shield Free?
About & Logging
Released in 2008, Hotspot Shield is owned by Pango (formerly AnchorFree), which has developed other VPN apps like Betternet and TouchVPN.
Pango is based in the US, one of the least privacy-friendly jurisdictions in the world.
This makes Hotspot Shield subject to intrusive surveillance laws and intelligence-sharing agreements with other nations such as the UK, Canada, and Australia (the Five Eyes).
However, Hotspot Shield released a Transparency Report in January 2019, stating: "[we have] never provided the identity or other personal information regarding our users to a government, law enforcement agency, or other third party," which goes some way to reassuring us that your personal information is safe.
Logging Policy
Hotspot Shield Free VPN doesn't monitor anything you do (as an individual) while you're connected to the VPN, but it does collect the following:
Your IP address – encrypted, only for the duration of your session, and not linked with your activity while using the VPN.
Your approximate geographical location – derived from your IP address and shared with third-party advertisers.
Connection timestamps – used to monitor, support, and optimize VPN services, and stored for three years.
Bandwidth used per user, per session – used to monitor, support, and optimize VPN services, and stored for three years.
Device-specific information, such as device identifiers, browser types, device types and settings, operating system versions, mobile, wireless, and other network information (such as internet service provider name, carrier name and signal strength), and application version numbers
Non-personal logs of websites (domain names, not specific URLs) visited via Hotspot Shield's VPN servers – these are aggregated on a monthly basis.
We don't like that Hotspot Shield's free VPN shares certain information, including your city-level location, with third parties in order to display personalized ads. It's certainly not a no-logs VPN.
Hotspot Shield's privacy policy states that these companies may be able to access your IP address if your device is not connected to the VPN.
Avoid Hotspot Shield Free VPN if online privacy is your priority – it's definitely not the safest free VPN out there.
Surprisingly fast downloads across long distance connections
Speed & Reliability
Hotspot Shield's free VPN is very fast – you'll experience the best speeds if you live in North America, though.
Considering we test from the UK and the only option we had was to connect to a US server, Hotspot Shield's free VPN app still produced great speed test results.
Hotspot Shield Free VPN's fast download speeds make streaming super smooth, however the stingy 500MB daily data cap will massively restrict your online activity.
Speed results from our physical location in London (100Mbps fibre optic connection) to a US test server.
Before using Hotspot Shield Free:
98.51

99.99

Ping

ms

2
When connected to Hotspot Shield Free:
44.4

8.86

Ping

ms

117
Download speed without Hotspot Shield Free: 98.51Mbps
Download speed with Hotspot Shield Free: 44.40Mbps
Our download speed loss when Hotspot Shield Free is running: 55%
As is to be expected when connecting over such a long distance, Hotspot Shield's latency is extremely high and uploads poor.
Gamers and torrenters ideally want to be able to connect to a nearby server for the best possible performance, so if you're located outside of the US, it's definitely worth looking at other options.
No choice but to connect to the US VPN server
Server Locations
1
Countries
1
Cities
Undisclosed number of
IP Addresses
Hotspot Shield Free VPN users only get access to one server location – the US. While this probably won't be an issue for those living in North America, it's far from ideal for those based in Europe, Asia, or Africa.
Annoyingly, the VPN server limitation isn't made clear within the app, where you can see the full 'premium' server list on the app. If you try and click on a location other than United States you're simply prompted to upgrade to one of the paid plans.
It's unclear how many physical servers are available to free users – Hotspot Shield Premium has 3,200 VPN servers and allows users to connect to 82 countries worldwide.
Unlike the premium version of the VPN service, free users of Hotspot Shield can't drill down to city-level in the US.
If you need access to more locations and don't want to pay for a VPN, consider using TunnelBear.
Streaming & torrenting aren't supported
Streaming & Torrenting
It's impossible to stream Netflix with the free version of Hotspot Shield VPN. In fact, when we tried to access US Netflix, a payment wall notified us that "access to this content is a premium feature."
Because you can only connect to Hotspot Shield VPN's free US server, you can't even attempt to stream video content from UK-based sites like BBC iPlayer.
If you upgrade to Hotspot Shield's premium service, however, you'll be able to stream Netflix, BBC iPlayer, and more in no time.
Torrenting
Hotspot Shield Free VPN isn't a good choice for P2P users – its free server didn't allow us to torrent.
When we asked support if P2P is permitted on the free VPN server, an agent confirmed that it wasn't allowed due to restricted bandwidth on the free plan.
Even if torrenting were possible, we wouldn't recommend Hotspot Shield's free VPN for that purpose due to past incidents that violated users' privacy.
If you're looking for a free VPN for torrenting/P2P, consider using one of these free VPNs for torrenting.
Intermittent connectivity in China
Censorship
Hotspot Shield states on its website that connection may be 'intermittent' in countries where ISPs and governments are known to block VPN services, such as China, Iran, and Turkey.
These issues are most likely due to the lack of additional VPN obfuscation tools (or stealth protocols) available in-app, making it really easy for censors abroad to detect you're using a VPN and block your connection.
Hotspot Shield also explains that while the VPN may be blocked on one platform, it might be possible to use it on another, so expect a lot of trial-and-error.
If you need a VPN for China or any other country that blocks VPNs see our dedicated guide here.
Limited custom VPN apps & manual config not possible
Platforms & Devices
Apps
The free version of Hotspot Shield VPN is available on:
Microsoft Windows
Apple MacOS
iOS
Android
Hotspot Shield Free provides native VPN apps for those four platforms only.
There are no manual workarounds for other devices, including Linux.
Games Consoles & Streaming Devices
There's no way to manually configure Hotspot Shield Free VPN to work with routers or any other devices like games consoles or streaming devices, but with the very limited daily data cap of 500MB it's unlikely that you'd want to install the VPN at router level anyway.
Hotspot Shield provides a list of unsupported devices:
Apple TV
Roku
Chromecast
Windows phones
Kindle devices
Blackberry phones
Rooted or jailbroken devices
Linux OS
Game Consoles
Custom router configurations
While the Premium version of Hotspot Shield comes with custom VPN apps for Android TV and Amazon Fire TV Stick, these are not available for free users.
Browser Extensions
Chrome
Hotspot Shield has a free proxy extension (click the link to read our guide explaining the difference between proxies and VPNs) for Google Chrome for users that need a more lightweight web browsing experience.
This free proxy is super simple to set up, but shouldn't be a replacement for a full-featured VPN app as they don't encrypt traffic device-wide.
There are no browser extensions for Mozilla Firefox, Safari, or Opera at this time.
Past controversies taint solid encryption & security extras
Encryption & Security
Protocols

Proprietary

Encryption

AES-128

AES-256

Security

DNS Leak Blocking

IPV6 Leak Blocking

VPN Kill Switch

Advanced features
Please see our VPN Glossary if these terms confuse you and would like to learn more.
Hotspot Shield has had a few controversies to deal with in the last couple of years (see below), making it difficult for us to recommend it to those with stringent privacy needs.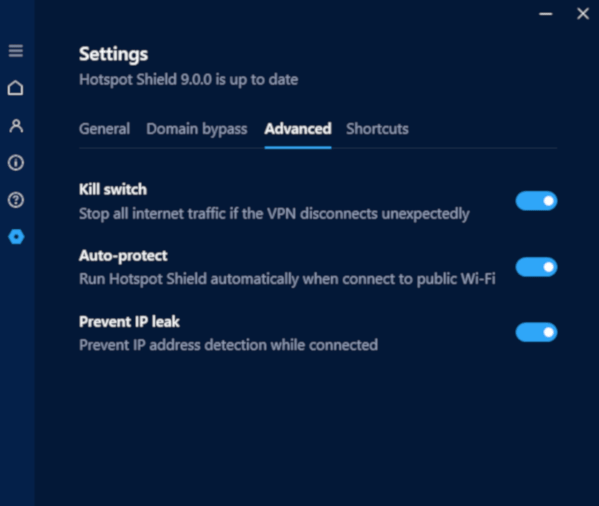 The Hotspot Shield Free uses exactly the same VPN protocol as Hotspot Shield Premium, but the level of security provided by HydraVPN isn't completely clear, so it's difficult for us to compare it directly to our preferred protocol OpenVPN.
Hotspot Shield Free encrypts your data using top cipher AES-256 (and AES-128, too), though, which is considered impossible to hack.
Hotspot Shield Free VPN also comes with a couple of advanced features, including a VPN kill switch and protection against IP leaks, which prevent your true IP address from being exposed in case of a VPN connection failure.
We didn't experience any IP or DNS leaks during our testing of Hotspot Shield Free.
Sadly, this is where the positives end, as there have been allegations made in recent years that would be enough to put off even the most committed of subscribers.
In August 2017, it emerged that Hotspot Shield had allegedly been injecting affiliate links into users' traffic in order to monetize it – you can read the full complaint by the CDT (Center for Democracy & Technology) here.
While this was, at the time, fully disclosed in its privacy policy (which has since been completely rewritten), it massively violated user privacy and went against everything VPNs stand for.
Up until then, Hotspot Shield also didn't class user IP addresses as 'personal information', therefore it could (falsely) claim not to collect "any Personal Information about you when you use the Service," which was an outright lie.
Another recent controversy was a software flaw that made it possible for hackers and snoopers to view your true location through your WiFi network name – this was discovered in February 2018 and you can read more about it here.
AnchorFree (Hotspot Shield's parent company, now branded as Pango) dismissed these claims as 'unfounded', but Paulos Yibelo, who found the bug, said it only took him a few seconds to write the code and expose users' true IP addresses.
Hotspot Shield said it would remove any software components capable of leaking 'generic information', which is good to hear, but it shouldn't have taken a security flaw this serious to make it realize that it needed to make a software change.
Events like these leave a bitter taste, but it has to be acknowledged that Hotspot Shield has made a lot of improvements since and is now moving well and truly in the right direction, slowly regaining users' trust.
Very simple to set up and use
Ease of Use
How to Install & Set Up Hotspot Shield Free
The Hotspot Shield Free VPN app is exactly the same as the Hotspot Shield Premium version in terms of design, but there are fewer features.
The fact that you're only able to connect to the US server isn't made clear, and this can be frustrating to new users. When you try to access other VPN locations you are simply prompted to upgrade.
Once you're connected to Hotspot Shield Free VPN you can see your new virtual location and IP address, along with information about your data usage – you'll also receive an alert when you've used 50% of your daily allowance, which is helpful.
Browser Extensions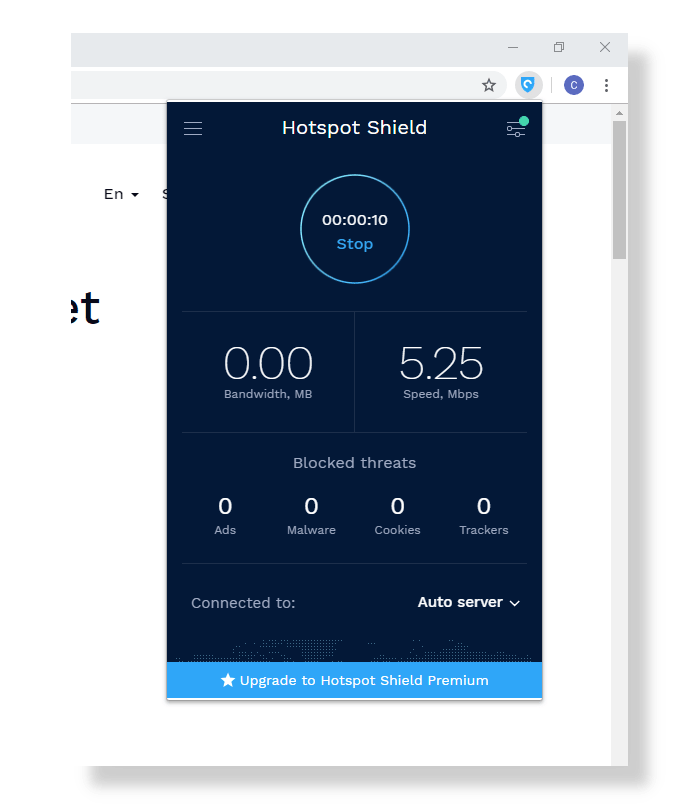 Setting up Hotspot Shield's free browser extension for Google Chrome is even easier than installing the desktop app. Just find the software on the Chrome Web Store, download it, and connect.
No live chat support or email, FAQs only
Customer Support
Free users of Hotspot Shield VPN aren't able to access the same level of customer support as Hotspot Shield Premium users.
You won't be able to make use of Hotspot Shield's 24/7 live chat and email support, which leaves you with just the online resources.
Even some of those are restricted to premium subscribers.
The FAQs – which are available to free users – cover basic queries and troubleshooting tips, but lack more advanced solutions.
Do We Recommend Hotspot Shield Free?
The Bottom Line
Hotspot Shield is a very popular VPN, but unlike its premium counterpart we don't recommend it. It may be fast, but Hotspot Shield still doesn't meet our standards for free VPNs.
With a history of selling user data and a very limited service (just 500Mb per day, and one server location), it's neither the most private nor the most convenient free VPN available.
Alternatives to Hotspot Shield Free
Windscribe's free VPN is the best complimentary service we've ever tested. It's private, safe, and you can choose from 10 VPN server locations around the world. Read Windscribe Free review
ProtonVPN Free grants users unlimited data - a welcome rarity for free VPN services. With minimal logging and plenty of advanced features, it's also one of the most private and secure free VPNs around. Read ProtonVPN Free review
You've read our expert review - read on for reviews from real users.
We value your opinion, whether it's positive or negative. Please leave a helpful and informative review, and don't disclose personal information or use abusive language. All user reviews are moderated to ensure they meet our posting guidelines.
Already use Hotspot Shield Free? Tell us what you think.
When a review is marked "Verified Customer" it means we've verified that the reviewer has had a genuine experience with the company.
Showing 1 out of 1 reviews
It works for me with Netflix

*This review is for the premium plan* I had the fortune to get a lifetime offer for this VPN for 100 USD. I use this VPN mostly in my Android Phone. I never have any problems with the connection. Is a good option to connect in public places like hotels and airports. Using it in Windows, I have troubles to connect, but this due to an app error, because it only works when a fresh new app running is happening. If after a connection I disconnect and want to use the VPN again, It wont' work and I have to restart the app in Windows. A great thing is that I can use Netflix, connected to VPN's US servers in my Android device and then cast it to the TV or Chromecast as well.